It's no surprise that I love my salads and so do many of my readers since some of my most popular recipes are salads. So here's another one that I hope you all enjoy!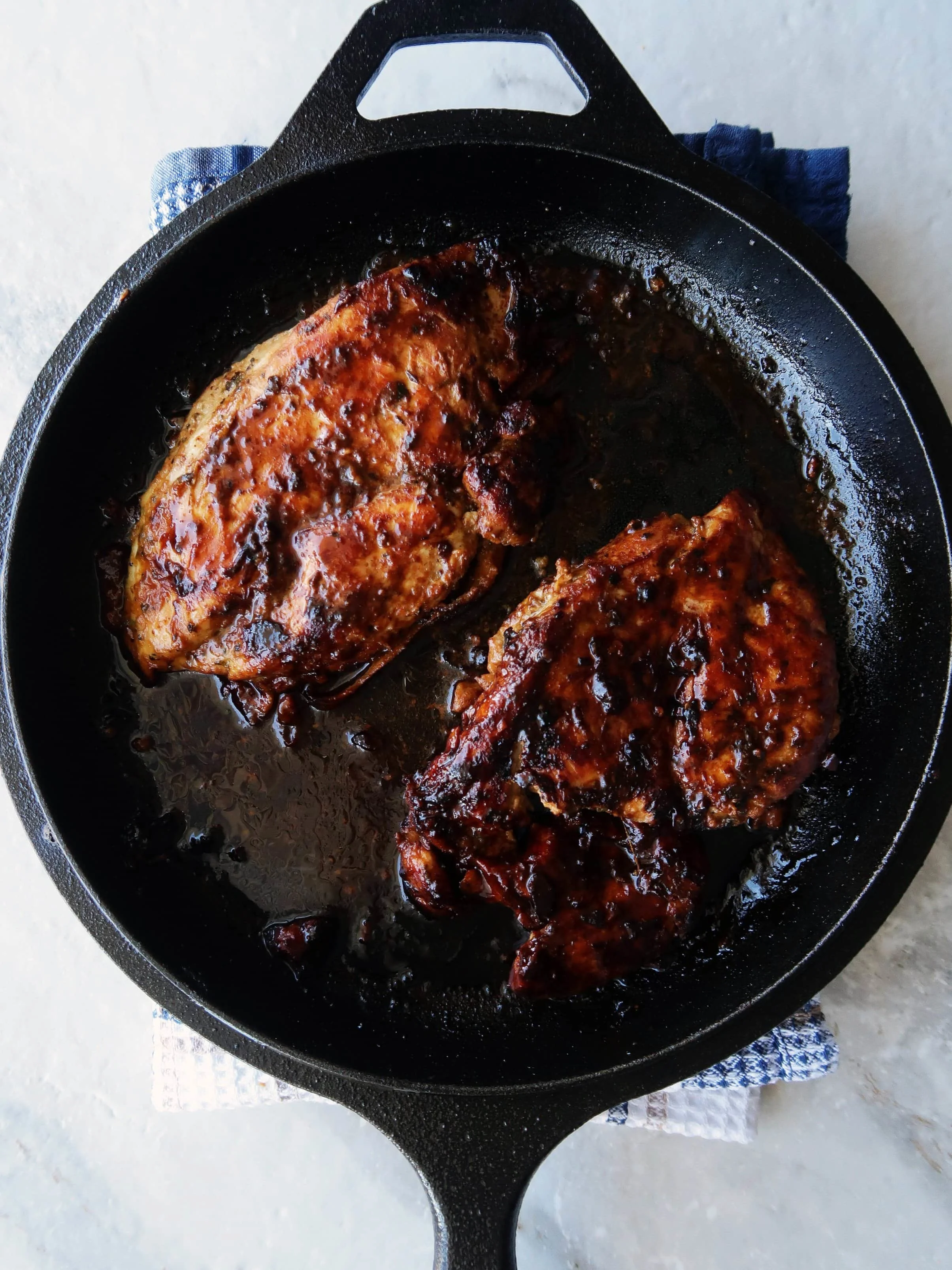 The honey mustard chicken is ready!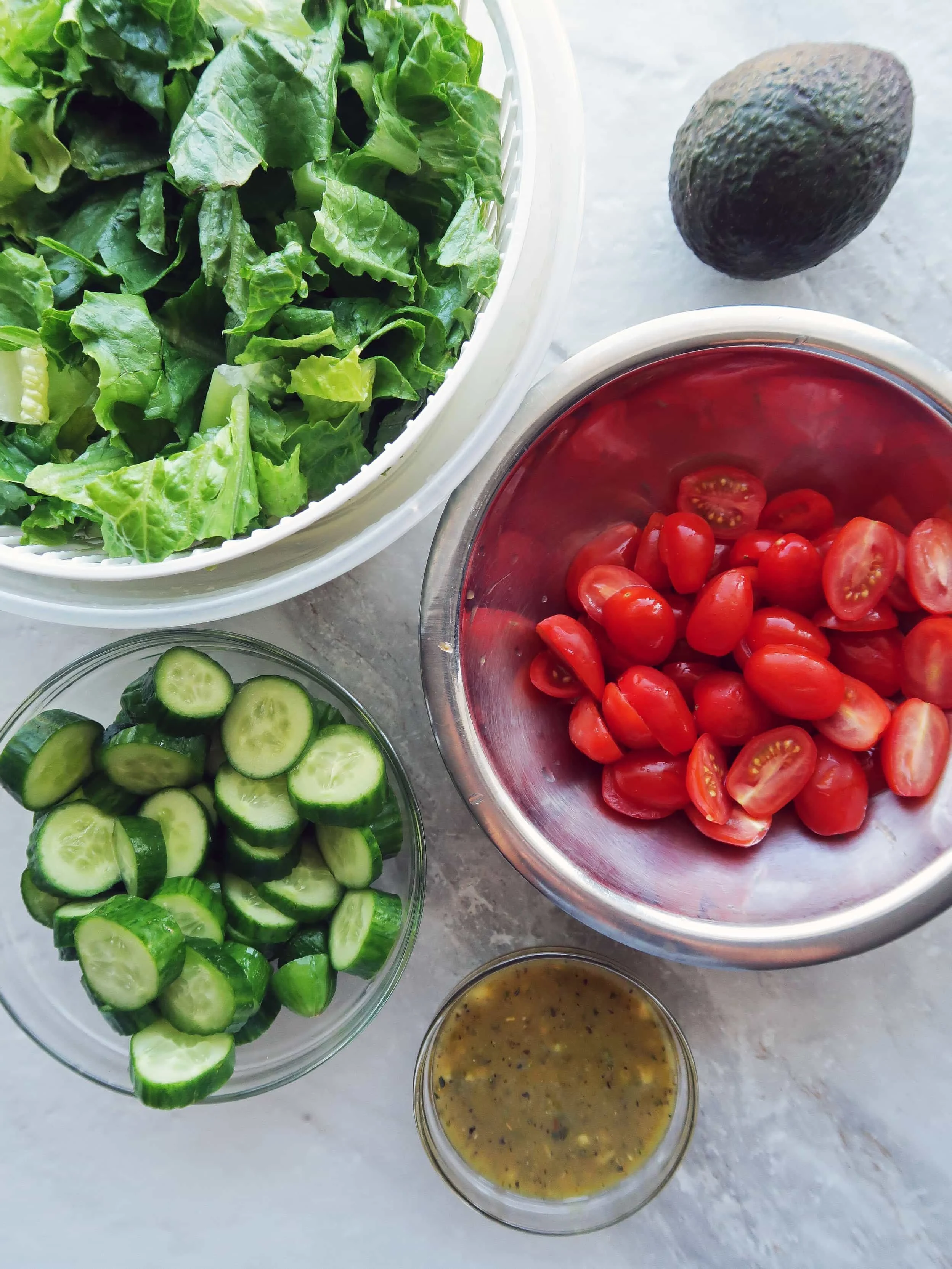 Romaine lettuce, cherry tomatoes, English cucumbers, and avocado with the honey mustard dressing makes up the rest of this yummy salad.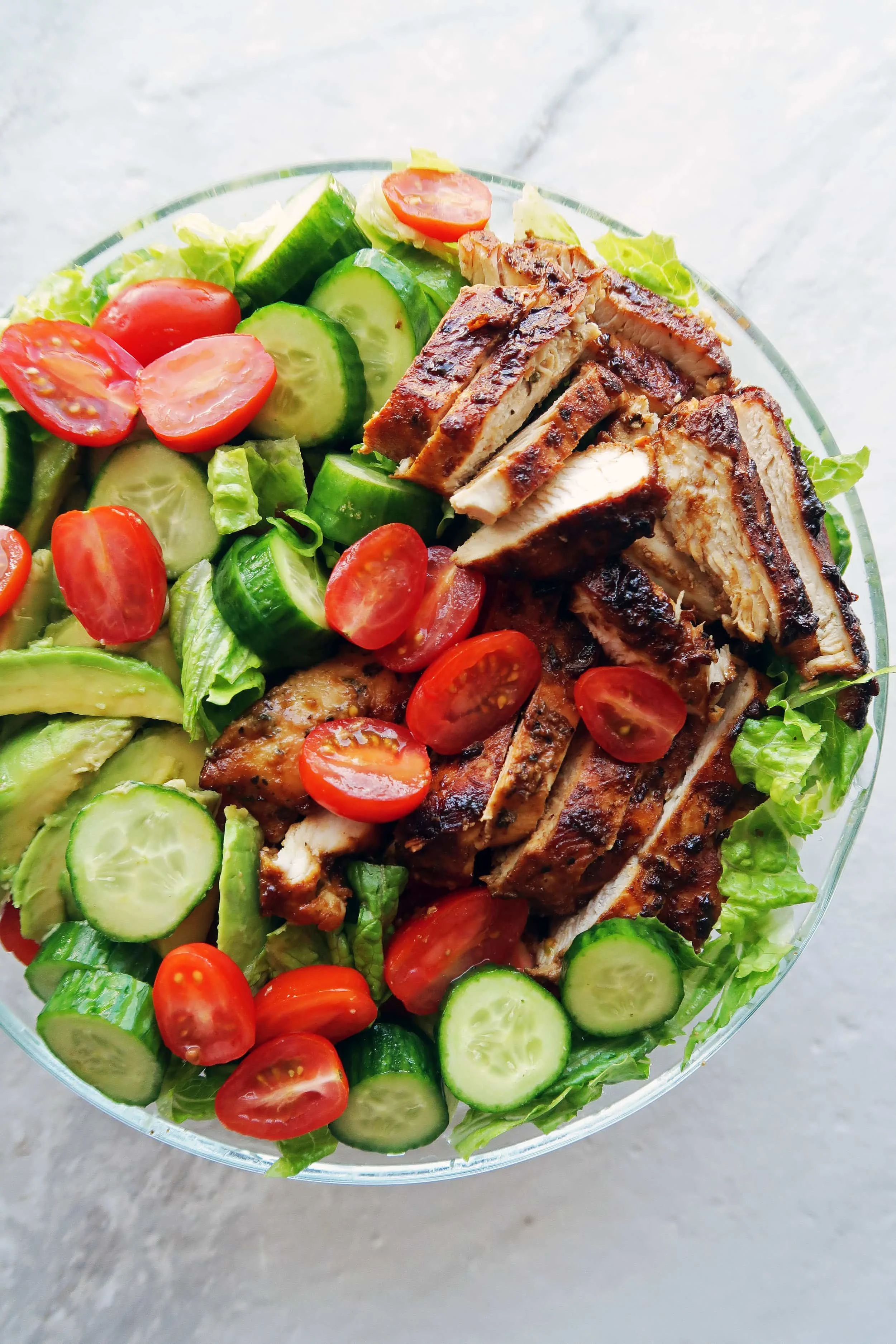 This salad showcases delicious, juicy honey mustard chicken made with an easy homemade marinade. It combines honey and dijon mustard (hence the name) to give it that wonderful sweet and spicy mustard flavour as well as an assortment of dried herbs to kick up the overall taste of the chicken.
Tip:Prior to the marinating the chicken, I like to pound the chicken down to about half an inch in thickness using a kitchen mallet (meat tenderizer). The even thickness helps the chicken cook faster and evenly resulting in a moist and tender chicken.
If you don't have a mallet, you can also use a rolling pin, a heavy pan, a hammer, a filled wine bottle, a heavy water bottle… just make sure you are careful using whatever tool you choose. You want to gently flatten the chicken, not whack it like crazy or worse… break the thing that you are using to pound the chicken with!
After the chicken is cooked, turn off the heat (remove it from the burner if you have an electric stove), and let it sit in the pan. It'll suck up the juices and be even more tasty that way.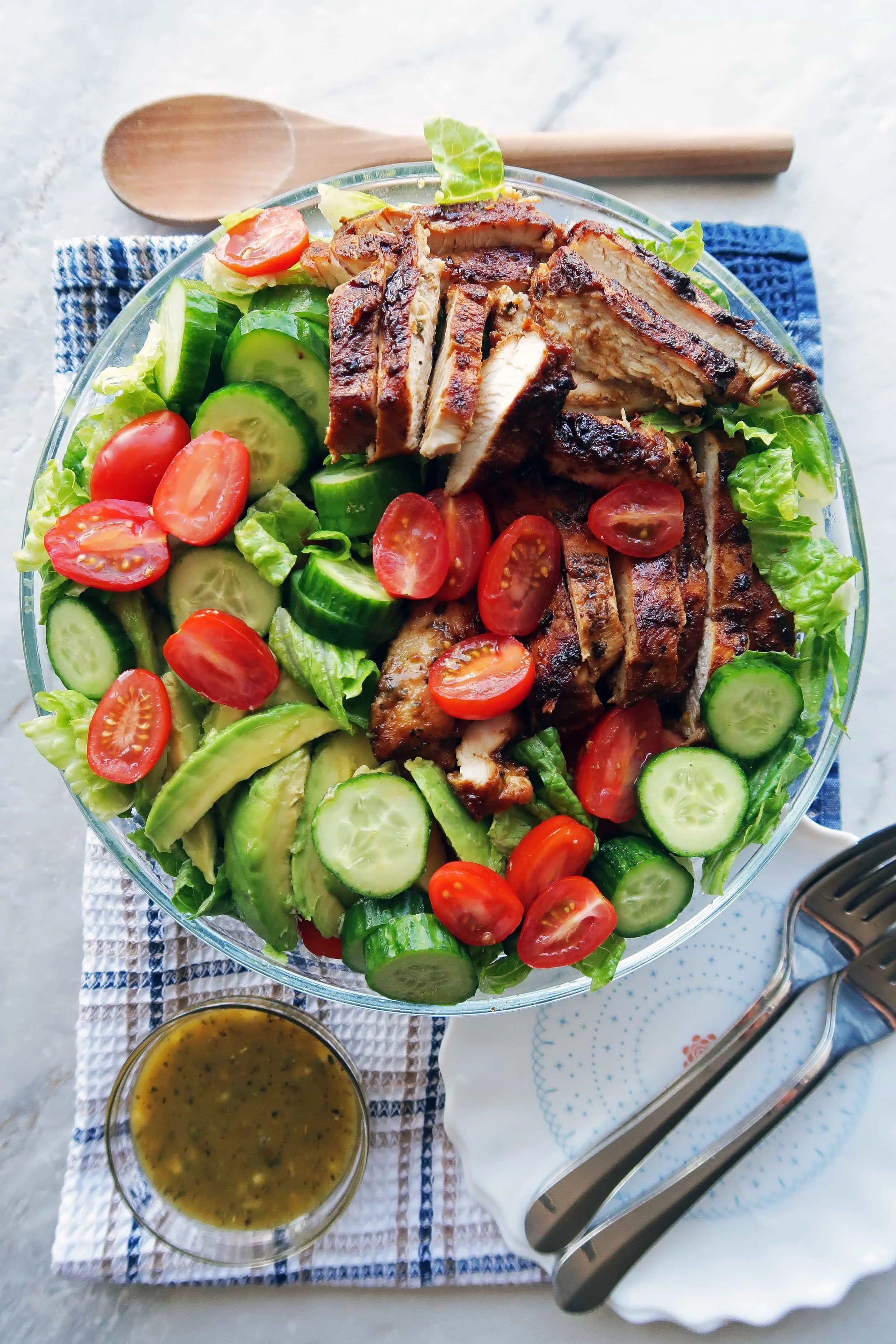 For the salad, I love adding a bunch of different flavours and textures, while not including too many ingredients that might get loss in the mix when tossed together. The crunchy and filling mild lettuce and refreshing cucumber, juicy sweet cherry tomatoes, and creamy, buttery avocado is perfect in this salad.
So delicious, healthy, and satisfying! It's also gluten-free and paleo. Mmmm…. I could go for another bowl of this salad!
Bowl or plate it and enjoy! This would be great as a side dish, appetizer, or as a light lunch or dinner.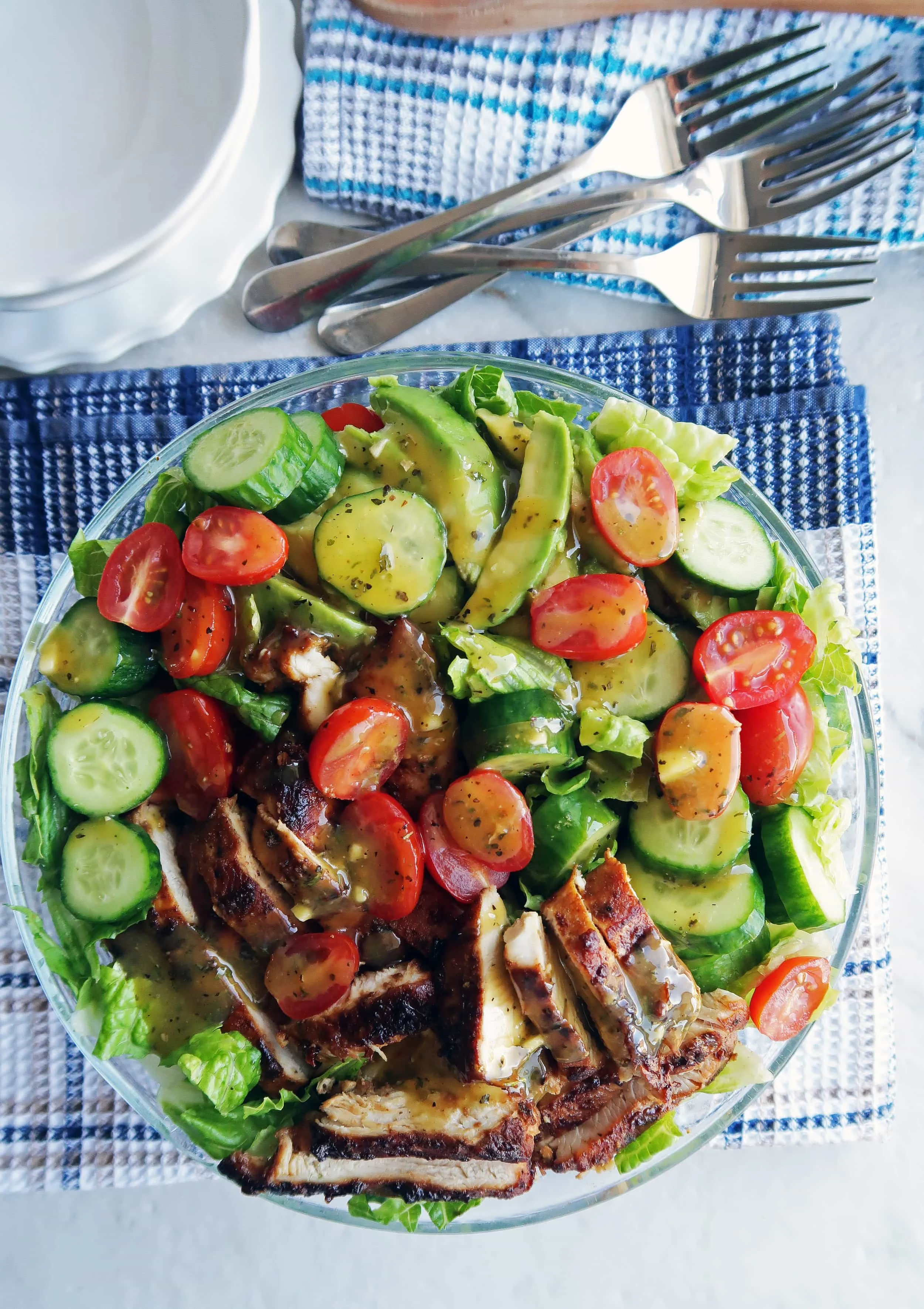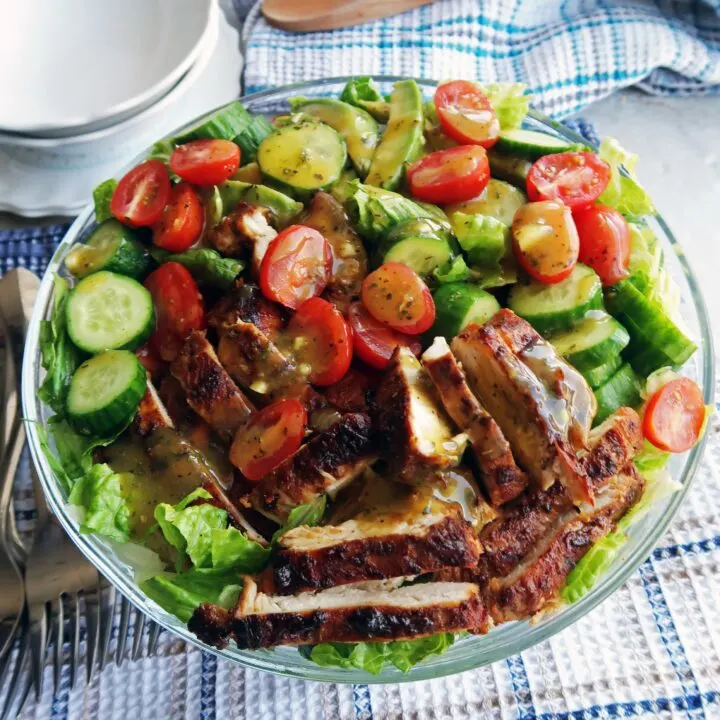 Honey Mustard Chicken Salad with Avocado and Tomatoes
Additional Time:
30 minutes
Total Time:
1 hour
5 minutes
A flavourful, healthy green salad featuring romaine lettuce, cucumbers, tomatoes, avocado, and honey mustard chicken made with a homemade marinade that doubles as the dressing!
Ingredients
2 large boneless skinless chicken breasts (about 10 oz. each)
6 cups (packed) romaine lettuce, chopped
1 avocado, sliced
1½ cups cherry tomatoes, halved
1½ cups English cucumbers, sliced
For the marinade/dressing:
½ cup extra virgin olive oil
¼ cup dijon mustard (or regular)
¼ cup honey
2 garlic cloves, minced
½ tsp dried basil
½ tsp dried oregano
½ tsp dried parsley
Salt and pepper, to taste
Instructions
On a cutting board, place the chicken breasts in between two pieces of plastic wrap. Using a mallet or rolling pin, pound the chicken breast to even thickness, about ½ inch thick. Place the chicken breasts in a large plastic resealable bag.
In a medium bowl, whisk together the marinade ingredients. Pour ½ cup of marinade into the resealable bag and refrigerate for 30 minutes. Take the remaining marinade, cover, and refrigerate as well.
Heat a large skillet over medium-high heat. Add a tablespoon of olive oil and pan-fry the chicken, about 4-6 minutes on each side, until the chicken is cooked through.* Remove from the heat and let the chicken rest in the pan for 10 minutes before slicing.
In the meantime, prepare the rest of the salad. Place the lettuce, tomatoes, cucumbers, and avocado in a large bowl. Top with the sliced chicken and drizzle the desired amount of reserved dressing on top. Enjoy immediately.
Notes
*Using a meat thermometer, the internal temperature should read 165 degrees F. If the chicken is well-seared, but still not completely cooked through, reduce the heat to low and place a tight-fitting lid over the skillet. Let it cook for an additional 2-3 minutes before checking for doneness.
If you are making this recipe ahead of time, keep the dressing and salad separate before serving.
Recommended Products
As a participant in the Amazon Services LLC Associates Program, I only link to products that I use and/or highly recommend. As an Amazon Associate, I earn from qualifying purchases if you purchase through these links at no additional cost to you.
Nutrition Information:
Yield:

4
Serving Size:

1
Amount Per Serving:
Calories:

523
Total Fat:

37g
Saturated Fat:

6g
Trans Fat:

0g
Unsaturated Fat:

30g
Cholesterol:

51mg
Sodium:

538mg
Carbohydrates:

29g
Fiber:

7g
Sugar:

21g
Protein:

22g