Well hello there. Happy Friday (or whatever day you are reading this)!
Today's recipe is a simple and easy pasta salad that's full of delicious, flavourful, fresh vegetables in the form of crunchy, sweet bell peppers, juicy cherry tomatoes, buttery avocado, and mildly spicy red onions!
Combine it with a homemade creamy basil avocado pesto, which is so herbaceous, bright, and rich in flavour. Toss in some salty, tangy feta cheese with the cold pasta and you've got such a yummy dish!
I used a tricoloured bowtie (farfalle) pasta, but a rotini, penne, or macaroni (okay, whatever you want) would be a great alternative pasta shape. I also used bowtie pasta for my last pasta salad recipe: Broccoli Cheddar Pasta Salad with Homemade Tangy Italian Vinaigrette (link).
I love that this recipe is so adaptable and scalable such that you can make more or less and with the vegetables you have on hand that you think will go well in this pasta salad.
Basically, it's a super tasty vegetarian side dish (remove the cheese and it's vegan) that is perfect for a summer cookout or even as a filling meal! Leftovers the next day are amazing!
Plus you don't need to turn on the oven, which is awesome for those hot summer days where you don't want to heat up the house. I hope you enjoy this recipe!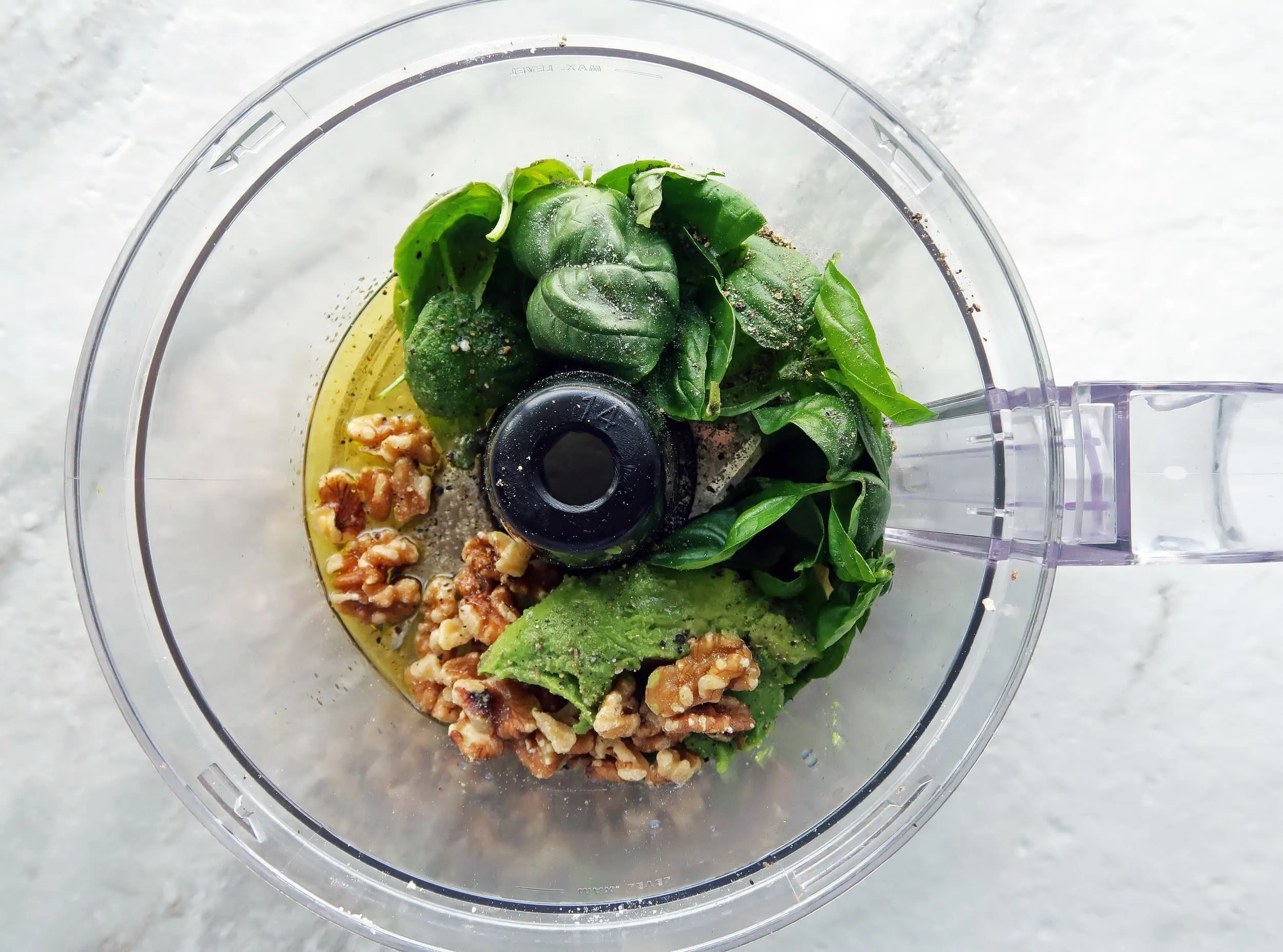 Using a food processor or a blender, blend up the pesto ingredients.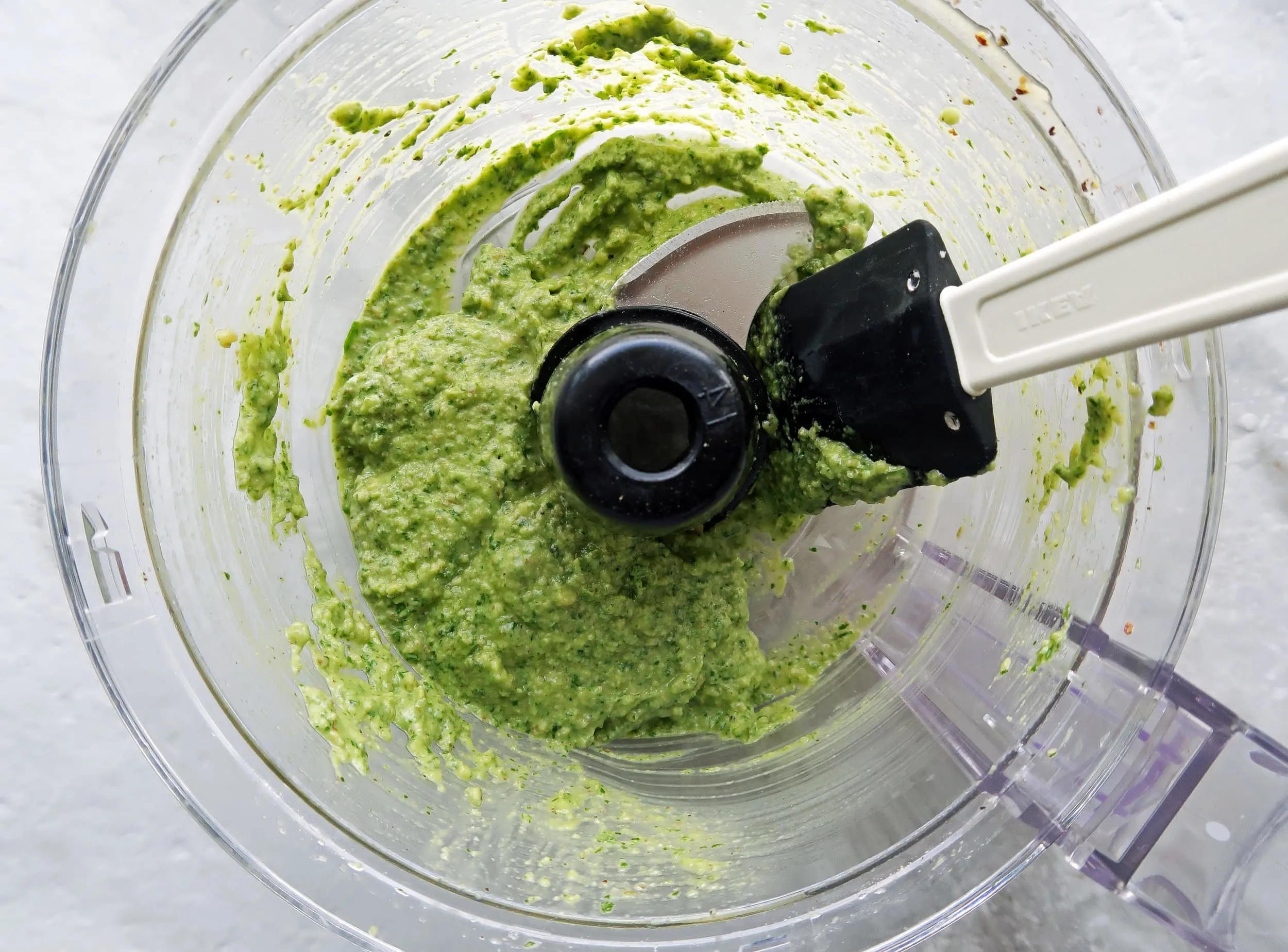 Creamy fresh basil avocado pesto!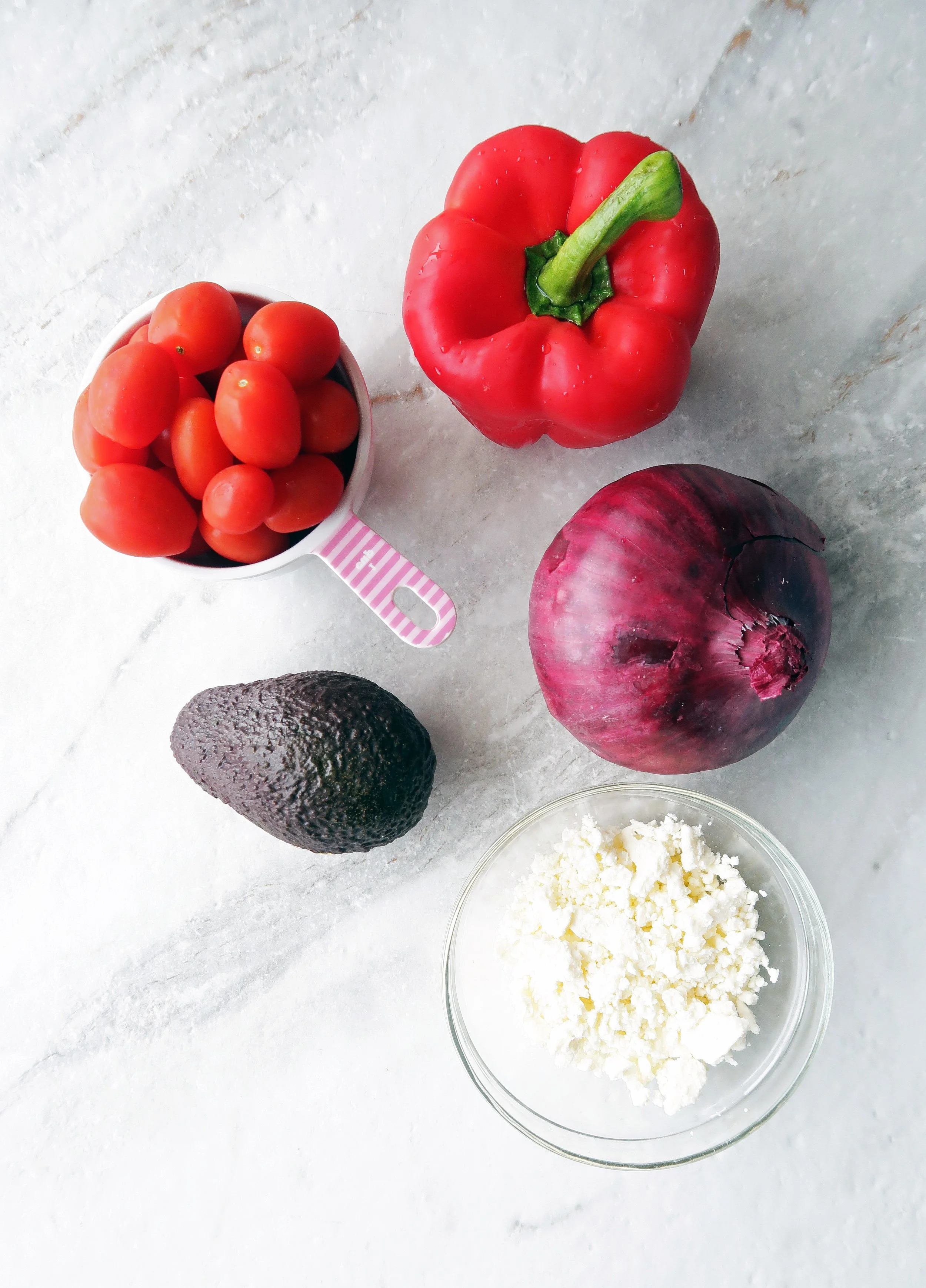 As the pasta cooks, chop up and measure out your vegetables and feta cheese.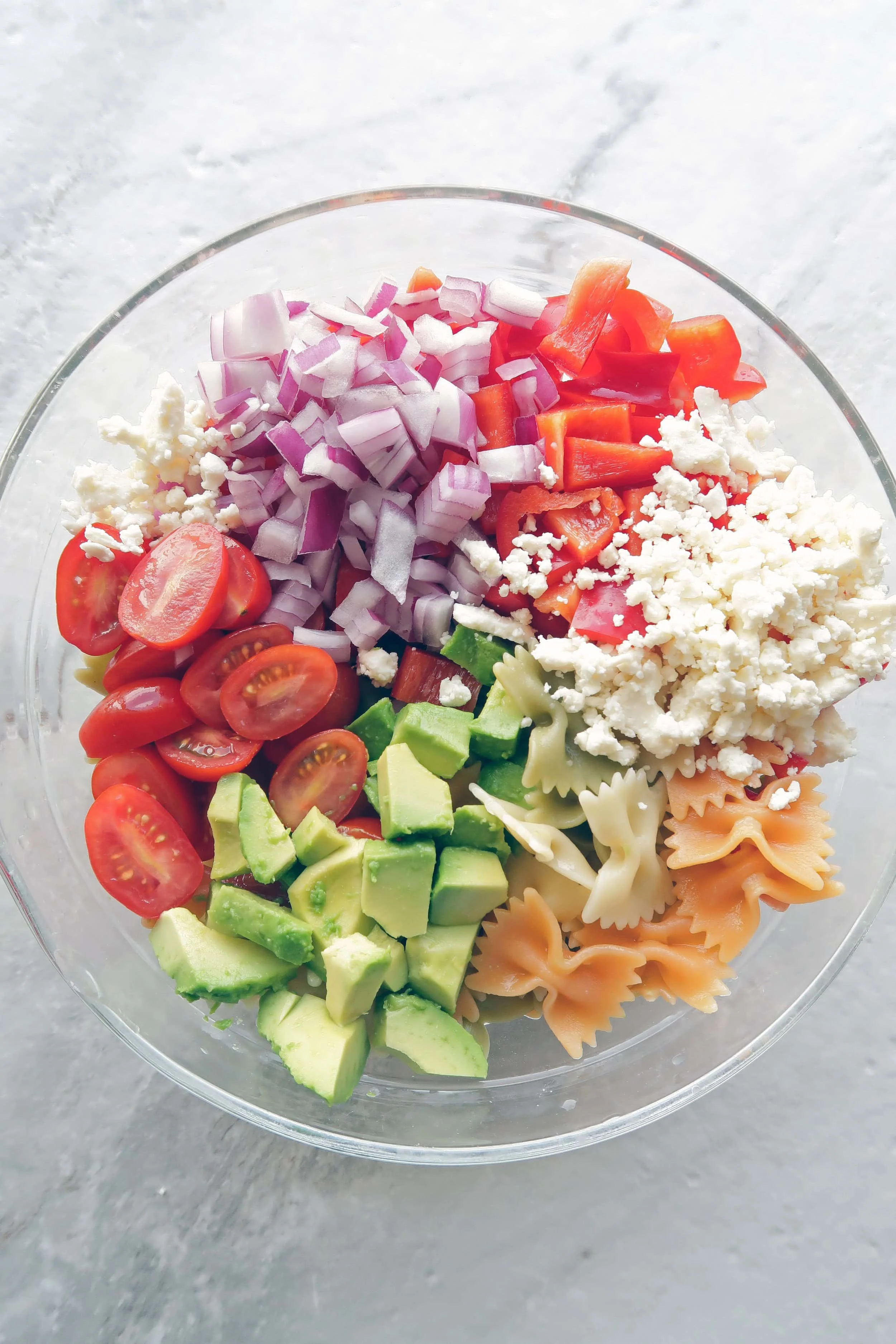 Run the cooked pasta under cold water to stop the cooking process and then place the ingredients in a large bowl.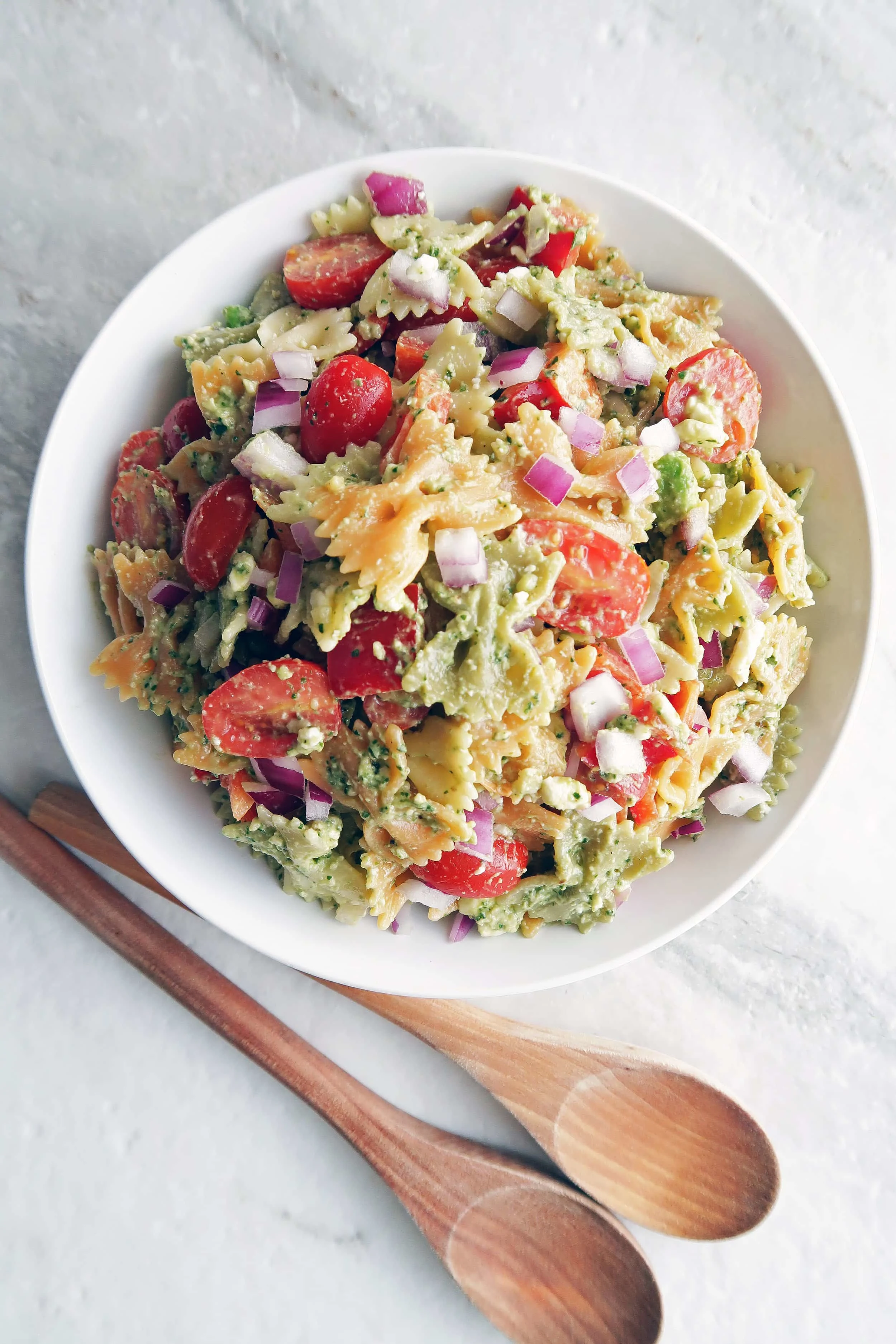 Top it with the pesto and toss to combine!
Serve it right away or cover and chill in the refrigerator until you are ready to serve it.Enjoy!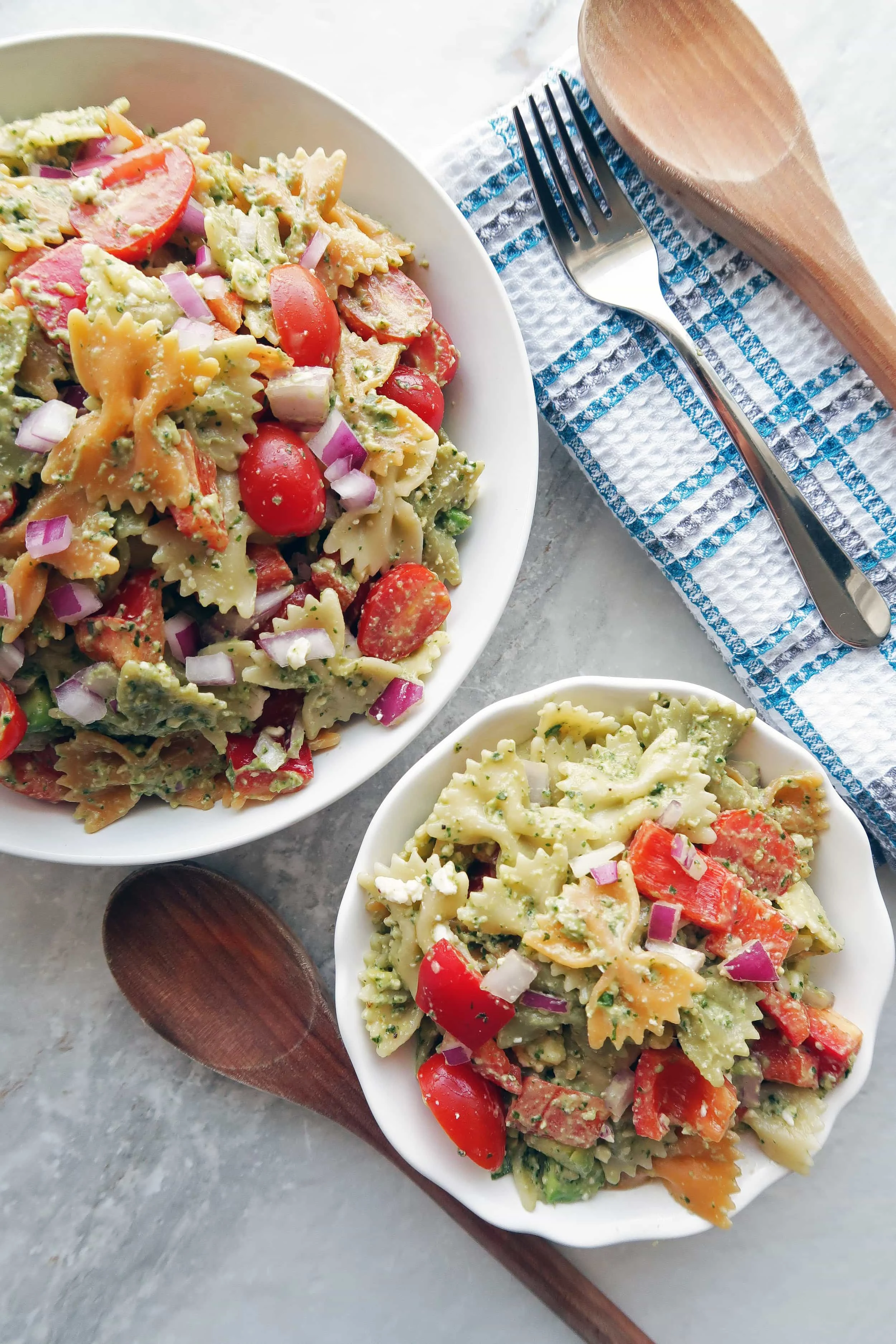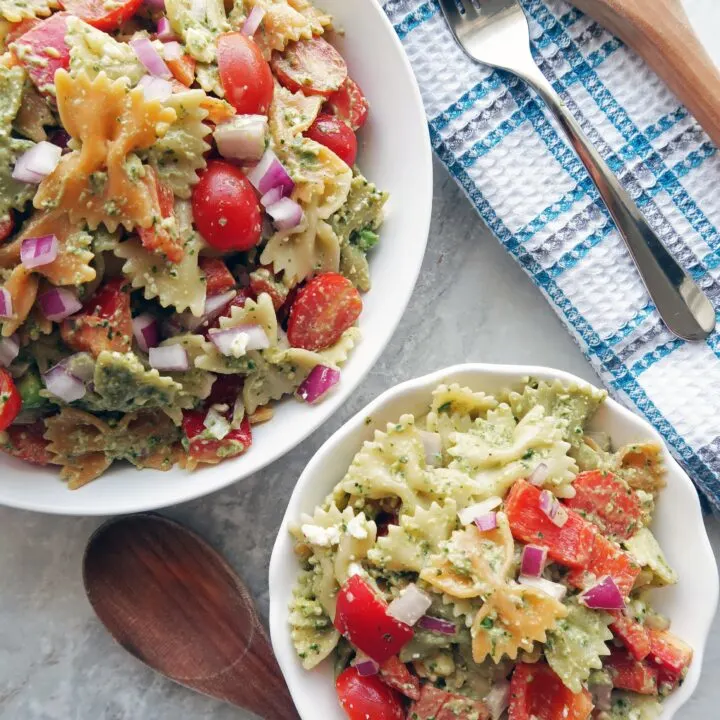 Basil Avocado Pesto Vegetable Pasta Salad
Yield:
6-8 as a side dish
A delicious vegetarian pasta salad is combined with a homemade basil avocado pesto to create a super flavourful, quick, and easy to assemble side dish or meal! Serve it at your next get-together!
Ingredients
For the pesto:
1 cup fresh basil
½ ripe avocado
1 garlic clove
¼ cup walnuts (or pine nuts)
¼ cup extra virgin olive oil
1 tbsp lemon juice
Salt and pepper, to taste
For the pasta salad:
4 cups (8 oz.) bowtie (farfalle) pasta
1½ cup cherry tomatoes, halved
1 large (1½ cup) bell pepper, chopped
½ ripe avocado, chopped
¾ cup red onions, diced
¾ cup feta cheese, crumbled
Instructions
Using a food processor (or blender), add the pesto ingredients. Pulse several times allowing the ingredients to break down into a uniform sauce (you may need to scrape down the sides with a spatula). Set aside.
Cook the pasta according to package directions. Drain and rinse with cold water, until pasta is cooled*.
As the pasta is cooking, prepare the vegetables and cheese. In a large bowl, add the pasta salad ingredients and pesto together. Toss to combine. Salt and pepper to taste.
Serve immediately or chill in the refrigerator until ready to serve.
Notes
*Running the pasta under cold water helps remove residual starch and stops the cooking process. I like to cook the pasta al dente. It should hold its shape when mixed with the other ingredients.
Recommended Products
As a participant in the Amazon Services LLC Associates Program, I only link to products that I use and/or highly recommend. As an Amazon Associate, I earn from qualifying purchases if you purchase through these links at no additional cost to you.
Nutrition Information:
Yield:

6
Serving Size:

1
Amount Per Serving:
Calories:

312