I've been dreaming of warmer days! The cold temperatures, the heavy snow, the slick, slippery roads… I'm ready for sunshine, light jacket weather, and let's face it, less chance of landing on my butt while out walking my dog, Teddy.
Teddy gets so excited when he sees the many white rabbits running free in our community and NEEDS to chase them.
So to escape from the chilly and icy weather outside, I'm making a quick and easy smoothie featuring blueberries and limes; two ingredients that remind me of summertime.
I hope you enjoy this recipe for Blueberry Lime Yogurt Smoothies!
What's in this smoothie recipe?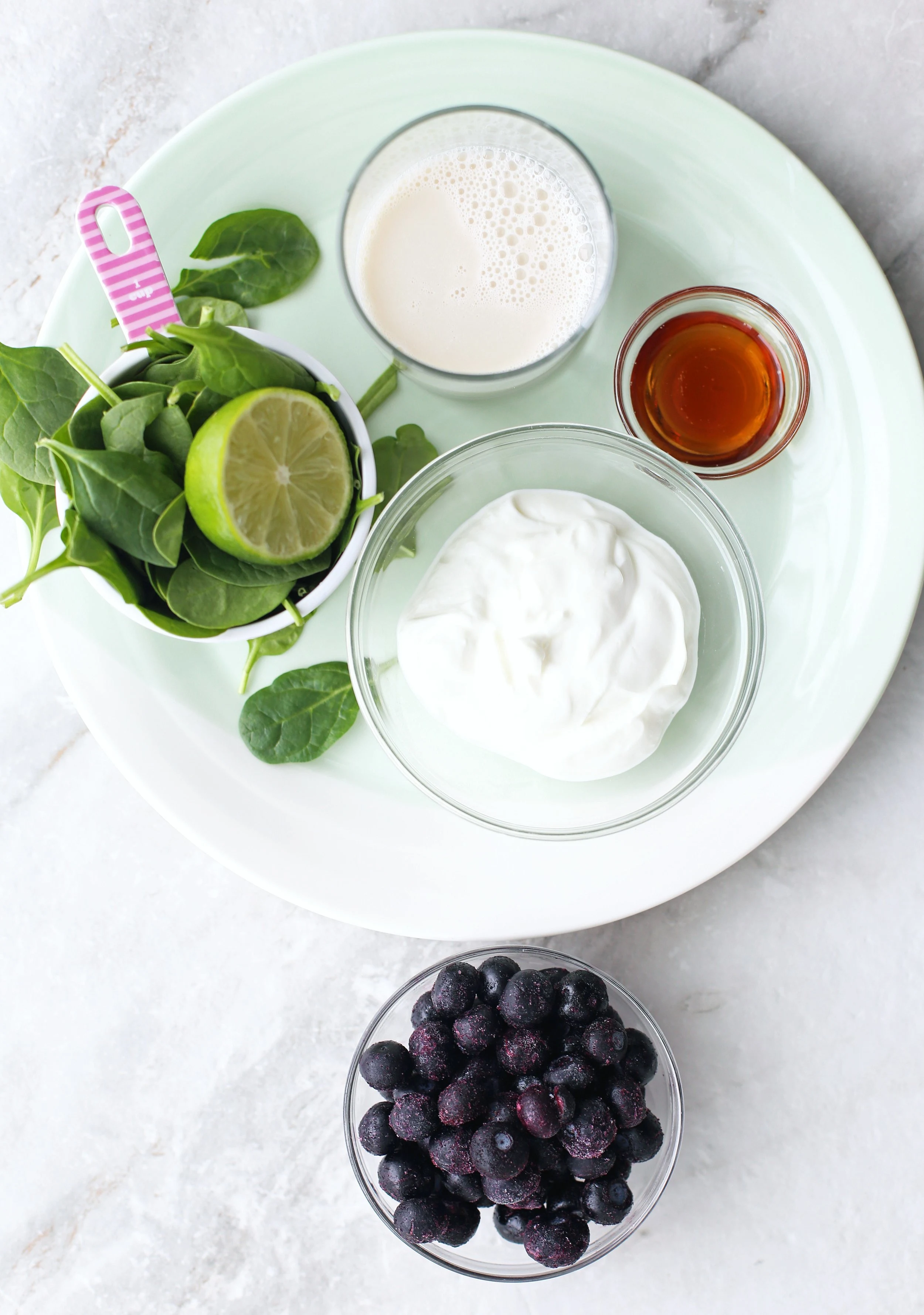 This delicious smoothie contains 7 ingredients (that includes ice).
Frozen blueberries: These little blue berries have a sweet and sour flavour. Frozen blueberries work so well in smoothies, especially when fresh blueberries are out of season and tend to be pricier to buy at the store.

It's packed with antioxidants, fiber, and vitamin C, and is low in calories.

Fresh lime juice: It's sour-sweet with a hint of bitterness. I like the bright, citrusy flavour it adds to this smoothie, especially when paired up with blueberries.
Fresh baby spinach: With a mild taste; the leaves disappear when you blend them into this smoothie, but you get all the nutrition of spinach.

It is high in antioxidants and nutrients including vitamin K, vitamin A, folate, and magnesium.

Greek yogurt: Creamy, thick Greek yogurt has a tangy taste. Plus, it has a good amount of protein that will help you stay fuller and energized for the day.

I like to use plain yogurt, but vanilla or another fruit flavour would work great too.

Unsweetened almond milk: It has a creamy texture and slightly nutty flavour. I like to use a little milk to thin out the smoothie make it easier to drink (the smoothie is quite thick without the addition of milk).
Maple syrup: Since the lime and blueberry have tart flavours, I like to add a little sweetness to this smoothie by adding a small amount of pure maple syrup.
Ice: Yep. It's frozen water… zero calories… it helps make the drink nice and cool and give it a good overall texture. 🙂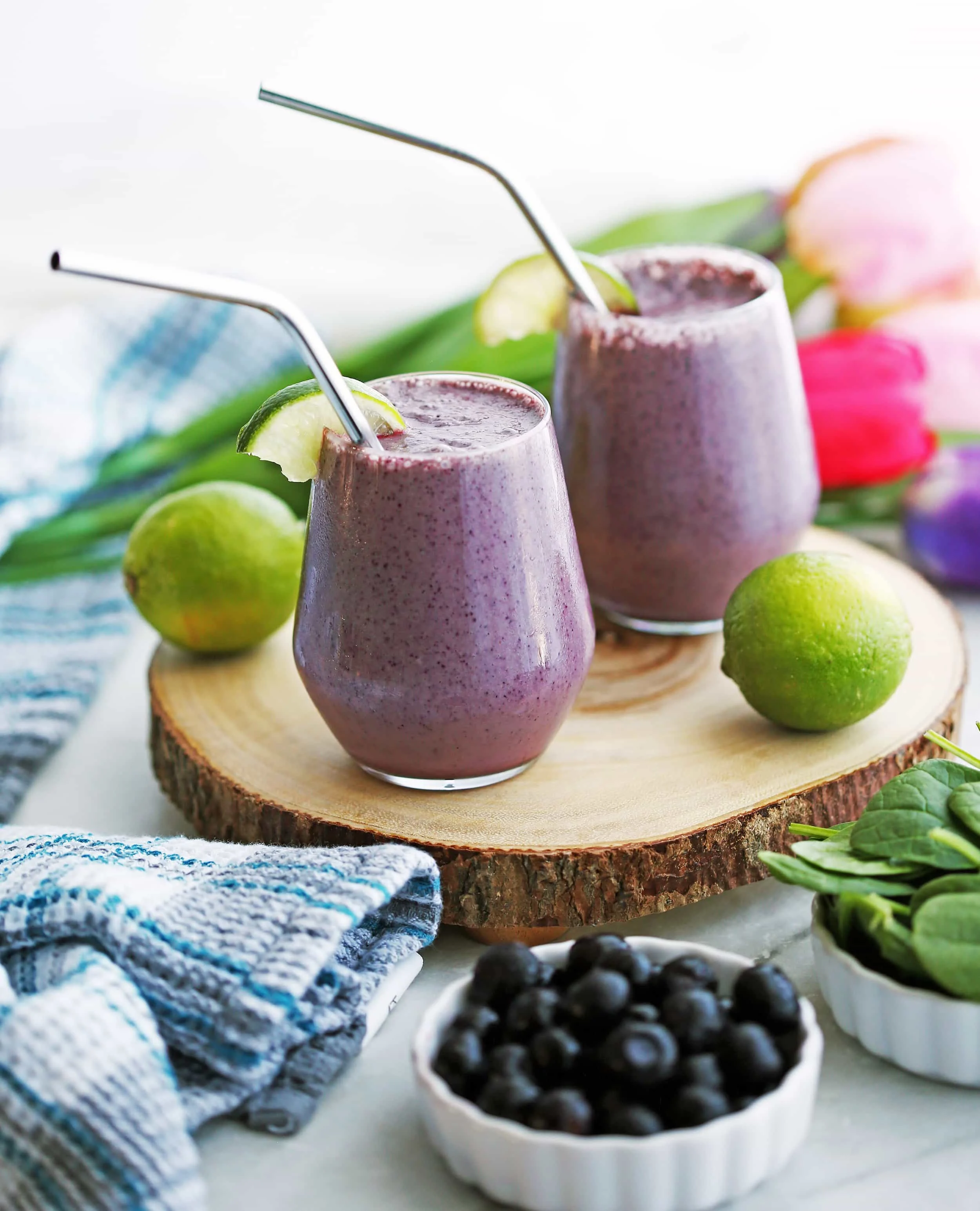 Overall, this blueberry lime smoothie is:
Delicious and refreshing.
Healthy: It's full of nutrients!
A fast breakfast or snack to make: Seriously like five minutes or less.
Super simple to prepare: Place it in a blender and blend until smooth.
Perfect for one (or two): It makes two and half cups of yumminess.
Portable: Pour it into your favourite travel mug and away you go!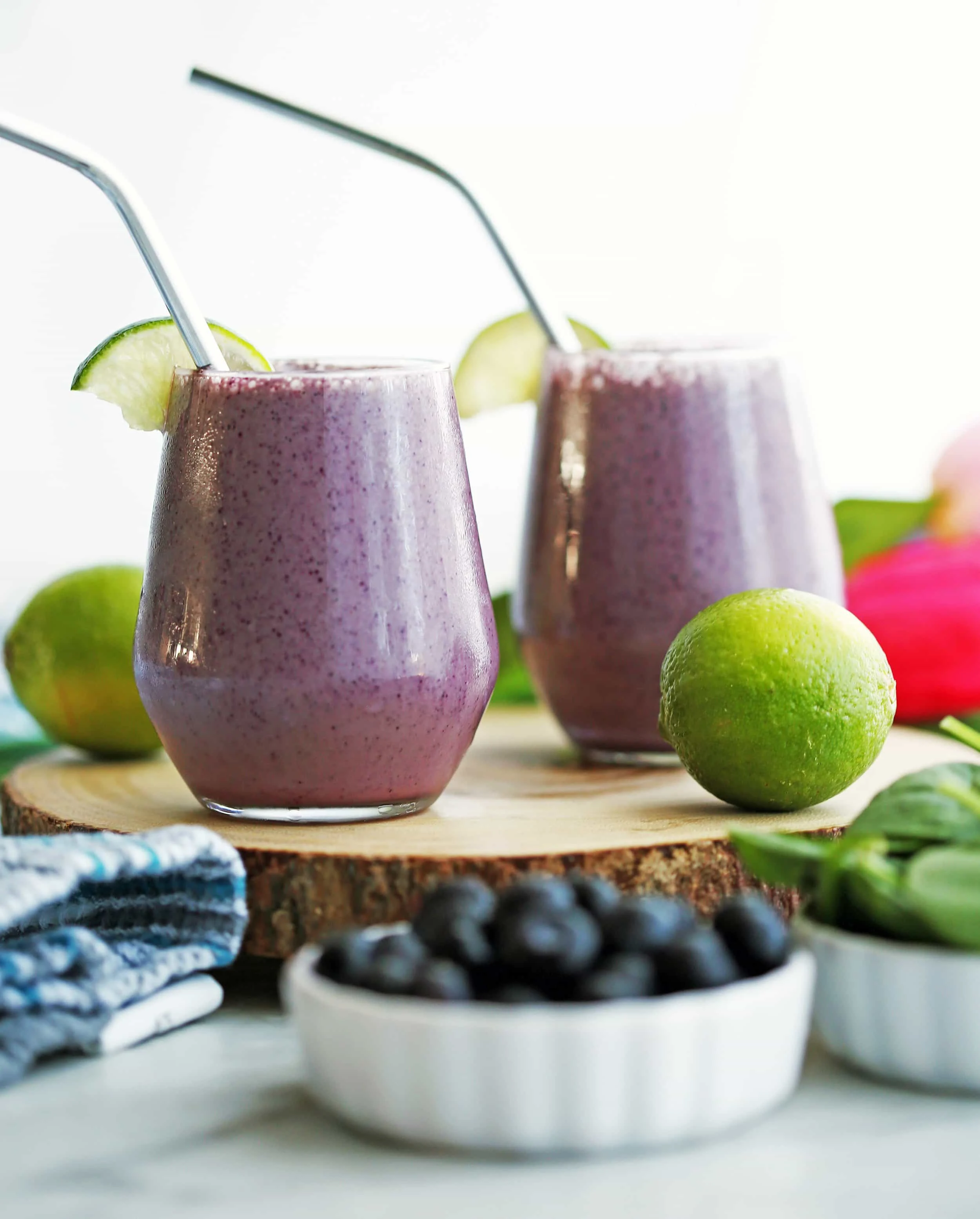 I hope you enjoy this recipe! If you make this recipe, please rate and comment below or connect with me on any of my social media. I'd love to hear from you!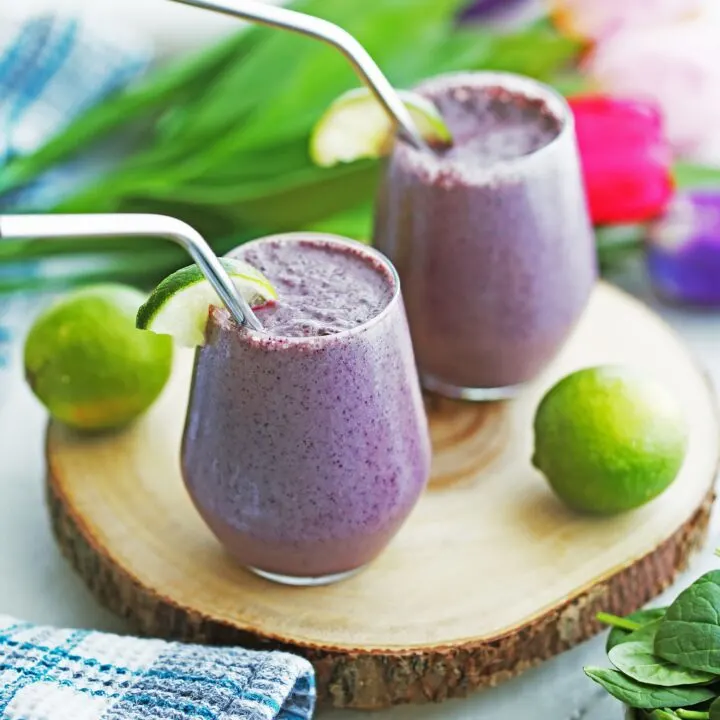 Blueberry Lime Yogurt Smoothies
Yield:
1-2 (makes 2½ cups)
Start your day with this healthy and delicious breakfast smoothie featuring blueberries, lime juice, and spinach!
Ingredients
1 cup frozen blueberries
1 cup (packed) fresh baby spinach
½ cup plain (or vanilla) Greek yogurt
¼ cup almond milk, chilled
½ lime, juice (3-4 tsp)
1 tbsp maple syrup
Handful of ice cubes
Instructions
Place all the ingredients in a high-powered blender and blend until smooth.
Once blended, taste and adjust according to preferences such as adding more blueberries for a stronger blueberry flavour, lime juice for more tartness, or maple syrup for additional sweetness.
Best served immediately.
Notes
Substitute almond milk with a different milk of your choice if you prefer.
Substitute maple syrup with another sweetener if you like.
Nutritional calories represent one serving with two servings total.
Recommended Products
As a participant in the Amazon Services LLC Associates Program, I only link to products that I use and/or highly recommend. As an Amazon Associate, I earn from qualifying purchases if you purchase through these links at no additional cost to you.
Nutrition Information:
Yield:

2
Serving Size:

1
Amount Per Serving:
Calories:

229
Total Fat:

4g
Saturated Fat:

1g
Trans Fat:

0g
Unsaturated Fat:

2g
Cholesterol:

7mg
Sodium:

110mg
Carbohydrates:

45g
Fiber:

5g
Sugar:

35g
Protein:

8g