Happy Friday! We've made it through January.
I would love to hear one highlight (or a good thing) that happened to you last month.
It doesn't have to be a big thing at all because let's face it, a small victory is rolling out of bed and going to work that day without grumbling about it first… that would be me. Just give me my coffee!
Or it could be trying out a new restaurant or cuisine and loving it. Maybe you finally took up that hobby or skill that you've been wanting to learn? I'd love to hear from you!
My highlight is blog-related. Half of January was spent in a haze of a never-ending cold and a serious case of Imposter syndrome, but it was not enough to prevent me from testing out recipes, photographing, and writing up blog posts.
Truthfully, the latter is the hardest part for me so my highlight is getting nine blog posts published and shared on my social media for January! I'm gonna give myself a pat on the back for that! 🙂
Scott's highlight is getting to spent some time at home with me and our best dog, Teddy, then starting on an exciting work project that's been months in the making.
Soup has been a food that I've been craving a lot of lately and making it in the Instant Pot is quite easy and a lot quicker.
This one is a delicious Instant Pot Fennel, Cabbage, and Sausage Soup!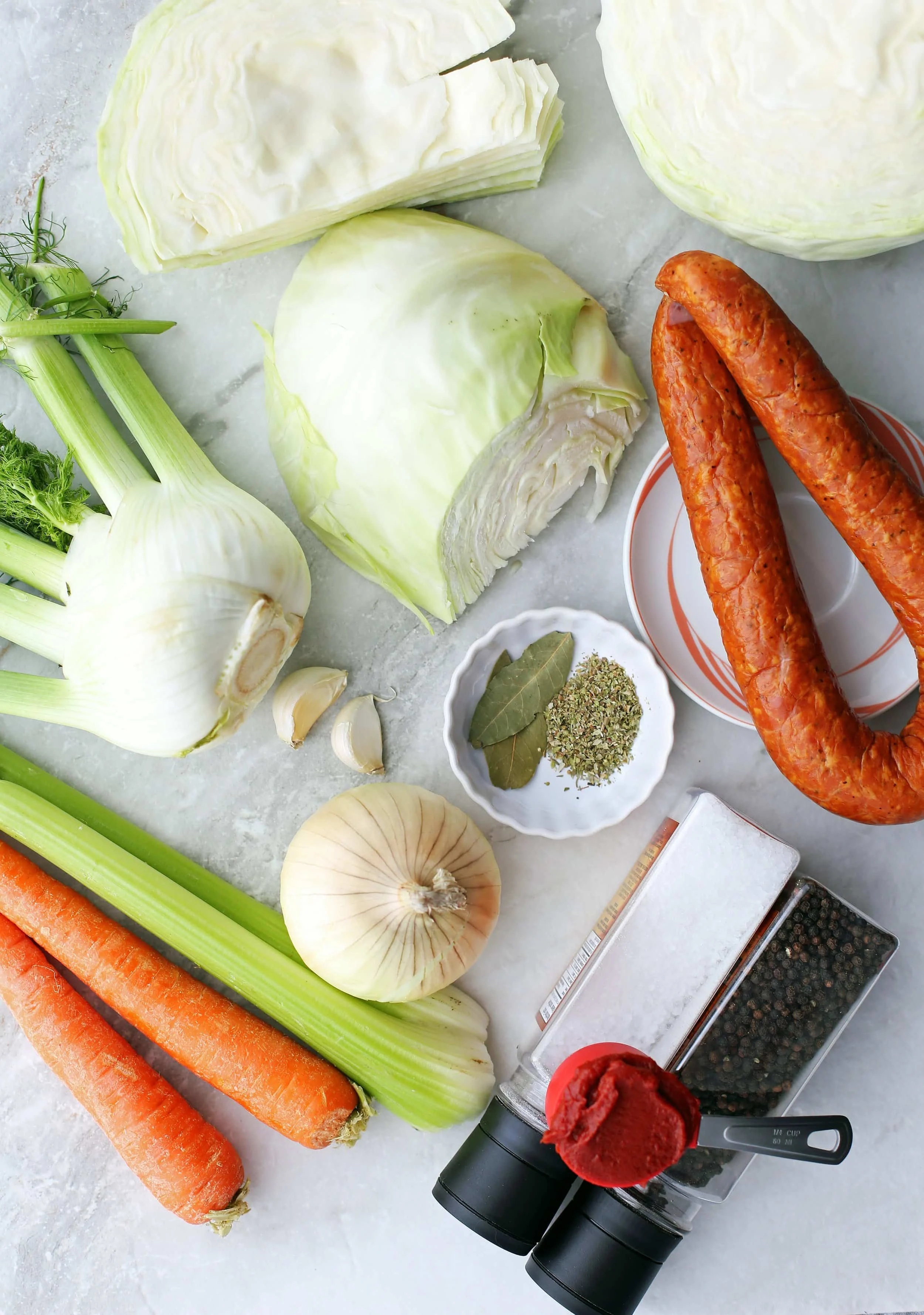 Here are tips for choosing fennel and cabbage
Pick cabbage heads that are pale green, feel heavy for its size, and have tightly compact leaves that feel slightly rubbery to the touch. It will get extremely tender when cooked.
Pick fennel bulbs that have tightly packed layers and feel heavy for their size and avoid bulbs that have brown spots, bruises, or have loose outer layers.
If you buy with the stalks, you can save it and use it in stews (I only used the bulb in this recipe) or to make vegetable stock with.
The fronds (the wispy small green leaves on the stalk) can be used as a garnish for the soup if you like too.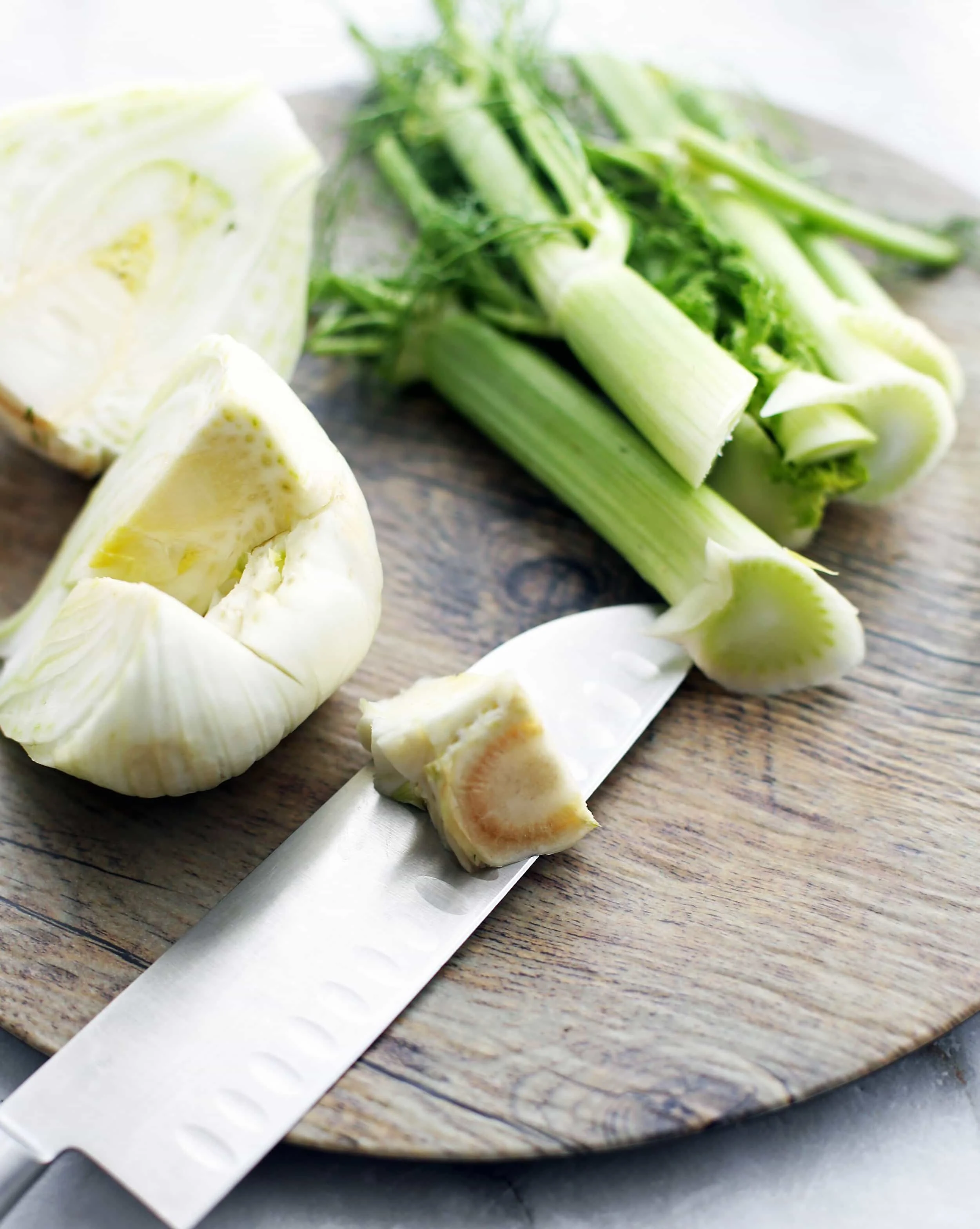 Don't forget to remove the tough core of the fennel bulb before slicing it up.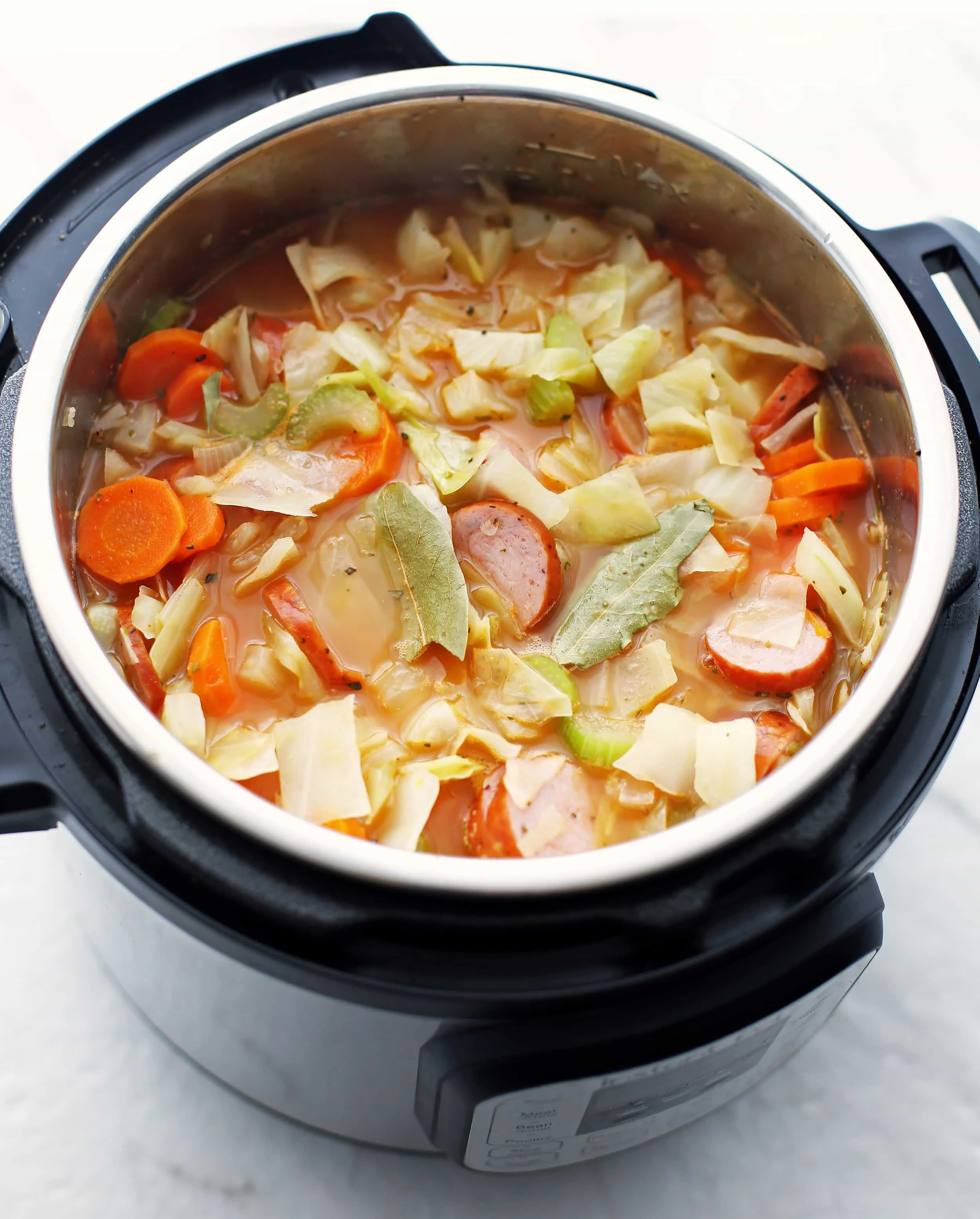 All the flavourful ingredients sauteed and stirred into the Instant Pot ready to be cooked.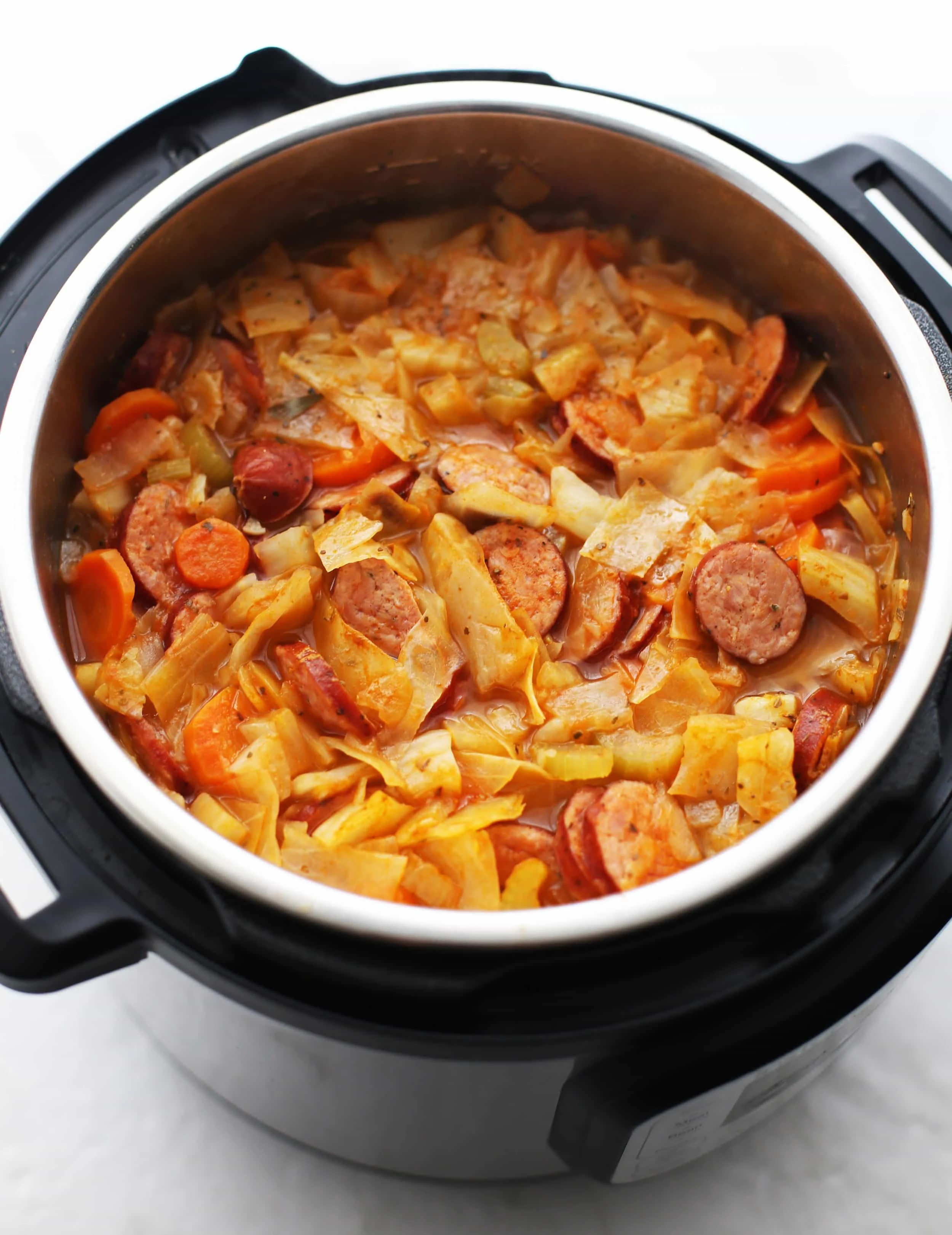 This Instant Pot Cabbage and Sausage Soup is:
Delicious and flavourful

It's vegetable-rich and nutrient-rich: Tasty cabbage and fennel along with the aromatic trifecta of onion, carrots, and celery all in a herbed tomato paste and chicken broth.

Nutrient-rich green cabbage (it's an excellent source of vitamin C, vitamin K, and fiber) is plentiful and it gets sweeter in flavour as it cooks. Another cabbage that would work well in this soup is savoy cabbage, which is more mild and earthy in flavour.
Fennel has a lovely faint flavour of licorice and anise that is present, but the taste does not overwhelm the soup.

Full of yummy sliced smoked kielbasa (it's Polish for sausage) that's goes so well with the vegetables, especially the cabbage and fennel.

I like to choose a thick, garlicky kielbasa with spices. Most kielbasa is primarily made of pork, but can also contain beef.

Substitute with a different type of fully-cooked sausage of your choice if you like.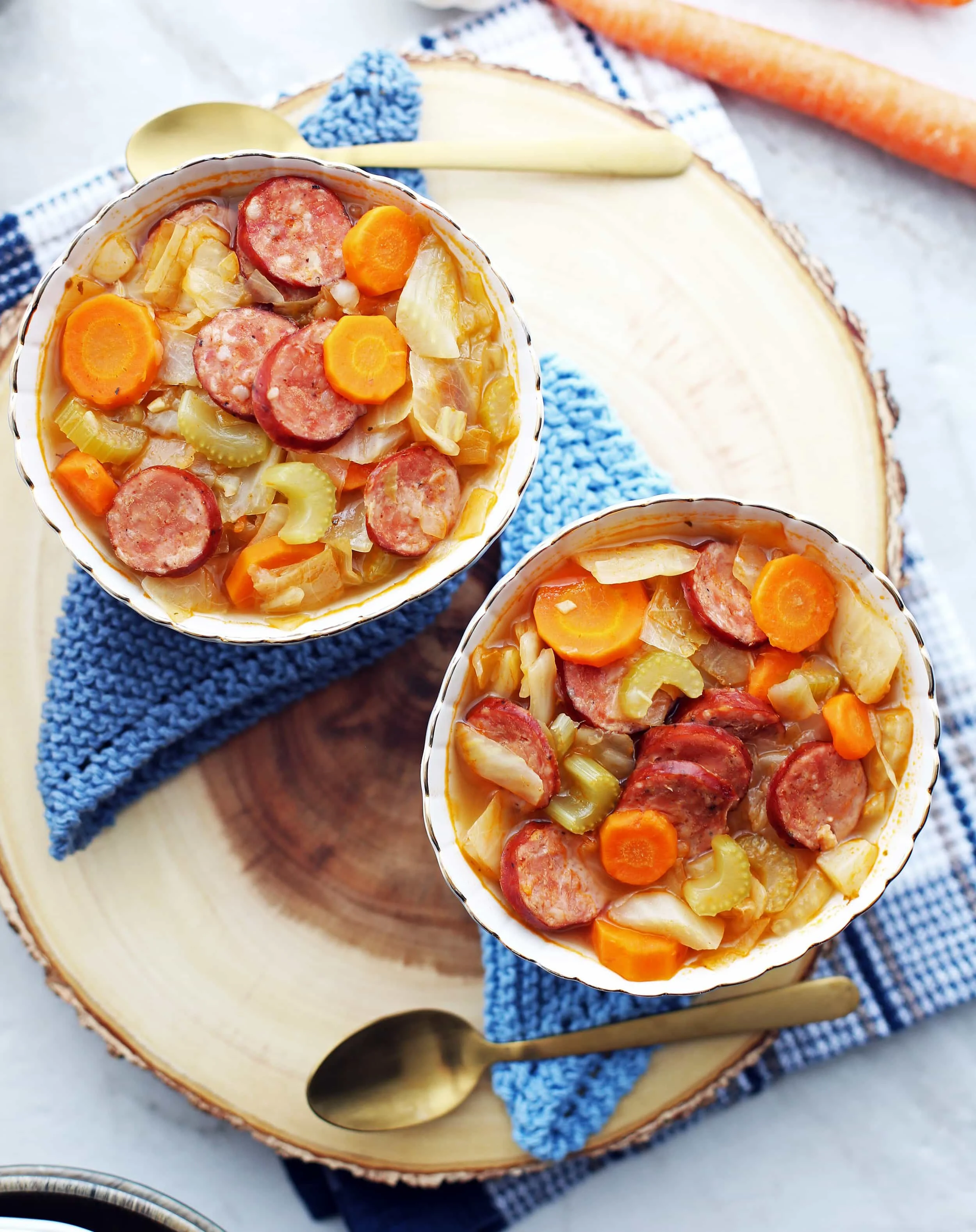 Comforting and hearty: It's filling enough to serve as a standalone meal, but would make an excellent starter or side dish as well. It'll warm you up on a cold day!
Abundant: This recipe makes 9-10 cups of chunky soup. Perfect to serve a crowd or to have leftovers for the week.
Simple and easy: All you need to do is chop up the vegetables and sausage, sauté, toss in some additional ingredients, and then cook until done.
One-pot: Everything is made in the Instant Pot so clean-up is easy.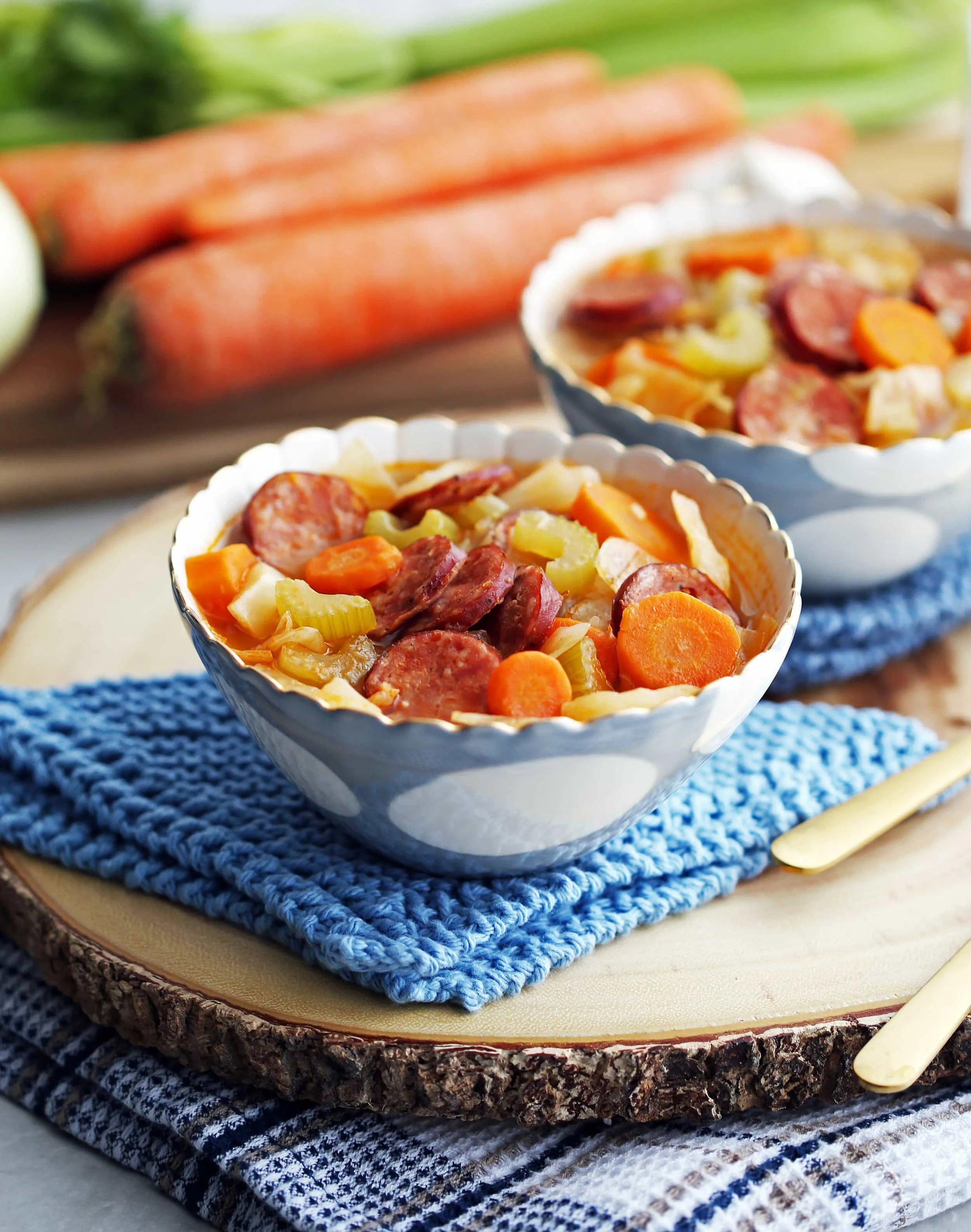 I hope you enjoy this tasty soup! If you do try this recipe, please let me know by rating and commenting below or by tagging me on any of my social media. I'm @yay_for_food on Instagram.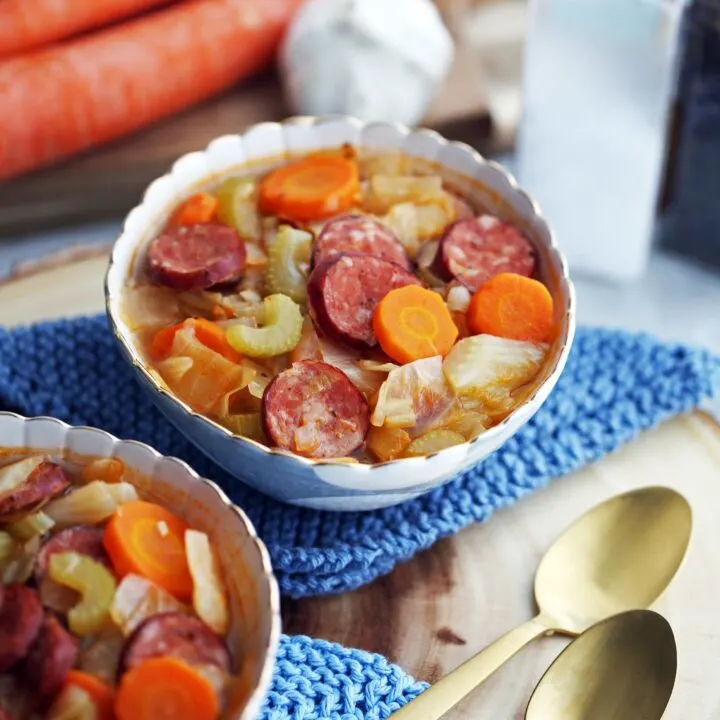 Instant Pot Fennel Cabbage and Sausage Soup
Delicious and comforting! This hearty soup is full of healthy green cabbage, fennel, and kielbasa sausage. All made easily in the Instant Pot!
Ingredients
1 tbsp olive oil
1 fennel bulb (12 oz), tough core removed and chopped
1 large onion, chopped
2 carrots (8 oz), chopped
2 celery ribs (4½ oz), chopped
2 garlic cloves, minced
1 small green cabbage (10 heaping cups), coarsely chopped
500g (4 cups) smoked Kielbasa sausage (fully cooked), sliced
¼ cup tomato paste
2 bay leaves
2 tsp dried oregano
¼ tsp red pepper flakes (optional)
4 cups chicken broth (low sodium)
2 cups water
Salt and pepper, to taste
Instructions
Set the Instant Pot to "sauté". Pour in a tablespoon of olive oil and then add fennel, onion, carrots, celery, and garlic along with a pinch of salt and pepper into the pot. Stir for 4-5 minutes, until fragrant and soften.
Add in the cabbage in small batches, stirring to allow the cabbage to wilt down before adding more into the pot, until you use up all the cabbage, about 3-4 minutes.
Press "cancel" to turn off the Instant Pot. Add the remaining ingredients (sausage, tomato paste, spices, broth, and water) and give the soup a good stir to distribute the ingredients throughout the pot *(see first note).
Seal the Instant Pot and cook at high pressure ("manual"/"pressure cook" function) for 6 minutes. After the soup is ready, allow natural pressure release for 10 minutes before a quick pressure release to completely depressurize (until floating valve drops).
Open the Instant Pot and remove the bay leaves. Taste for additional salt and pepper. Best served hot.
Notes
*The liquid should just cover the top of the ingredients. Add more broth or water if necessary.
This recipe yields nine to ten cups of soup.
Nutritional calories represent one serving with ten servings total.
Recommended Products
As a participant in the Amazon Services LLC Associates Program, I only link to products that I use and/or highly recommend. As an Amazon Associate, I earn from qualifying purchases if you purchase through these links at no additional cost to you.
Nutrition Information:
Yield:

10
Serving Size:

1
Amount Per Serving:
Calories:

207
Total Fat:

16g
Saturated Fat:

5g
Trans Fat:

0g
Unsaturated Fat:

10g
Cholesterol:

36mg
Sodium:

1016mg
Carbohydrates:

10g
Fiber:

2g
Sugar:

5g
Protein:

8g