Today we had breakfast for dinner. My husband had requested that I make some breakfast food for dinner because that is something that we haven't done in a long time. To be honest, we don't really cook breakfast in the mornings. Normally we just grab a bowl of cereal or eat fruit or yogurt. Or just drink coffee. I am guilty of that.
I asked him if he wanted a sweet or savoury dish. He said to surprise him. Sweet won out. These pancakes are sweet and delicious. The outside of the pancake is crispy and buttery from frying in the pan and the inside is airy and almost custard-like from the ricotta and the egg whites. I topped off the pancakes with freshly whipped cream, lime zest, and real maple syrup. This was a big hit that evening.
Now onto the recipe.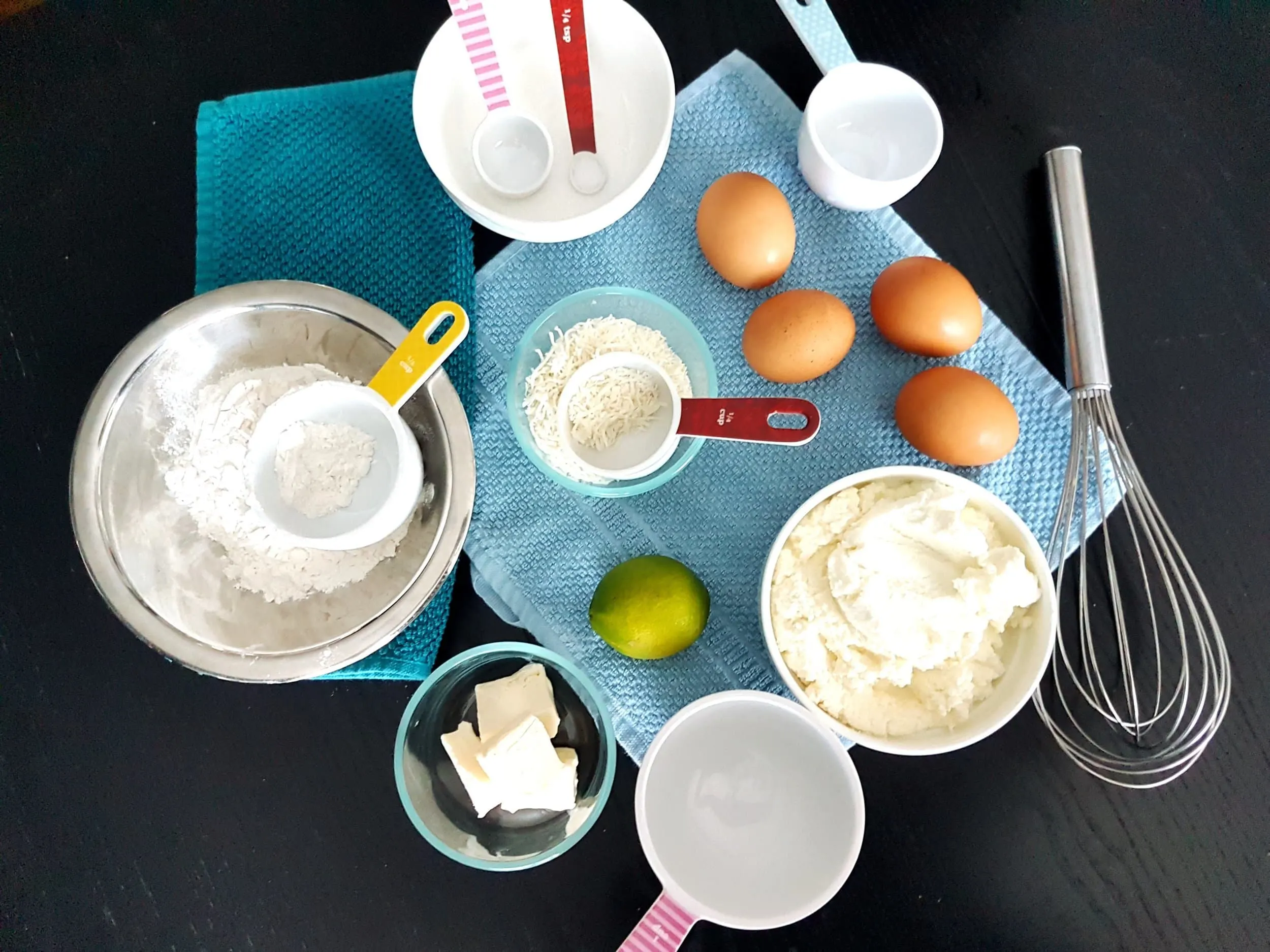 Gather all the ingredients.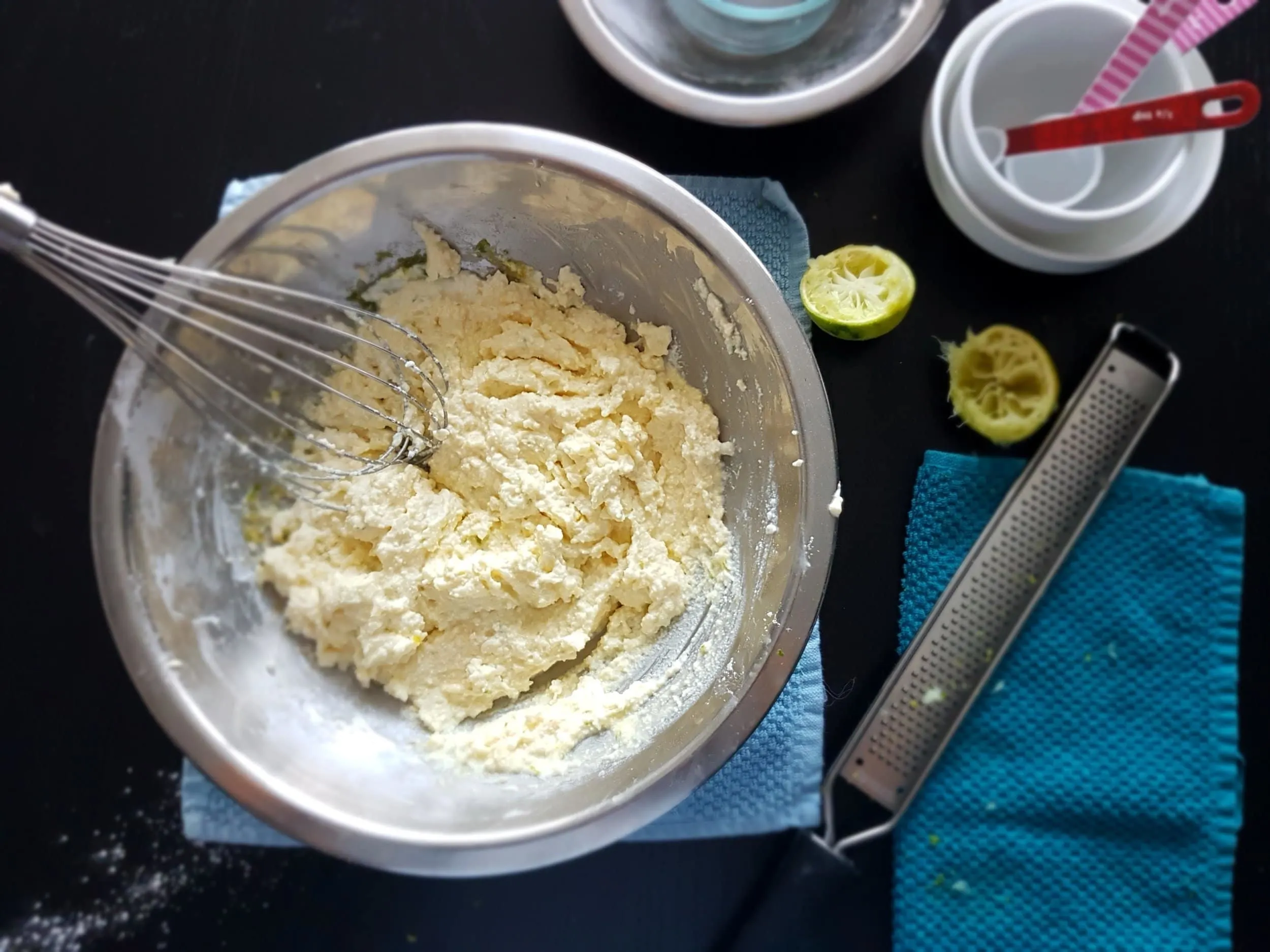 Separate the egg yolks from the egg whites. Whisk together the egg yolks, ricotta, shredded coconut, sugar, and lime juice and zest. Add in the flour until just mixed.
Beat the egg whites using an electric mixer until it forms stiff peaks. Gently fold in the egg whites into the pancake batter.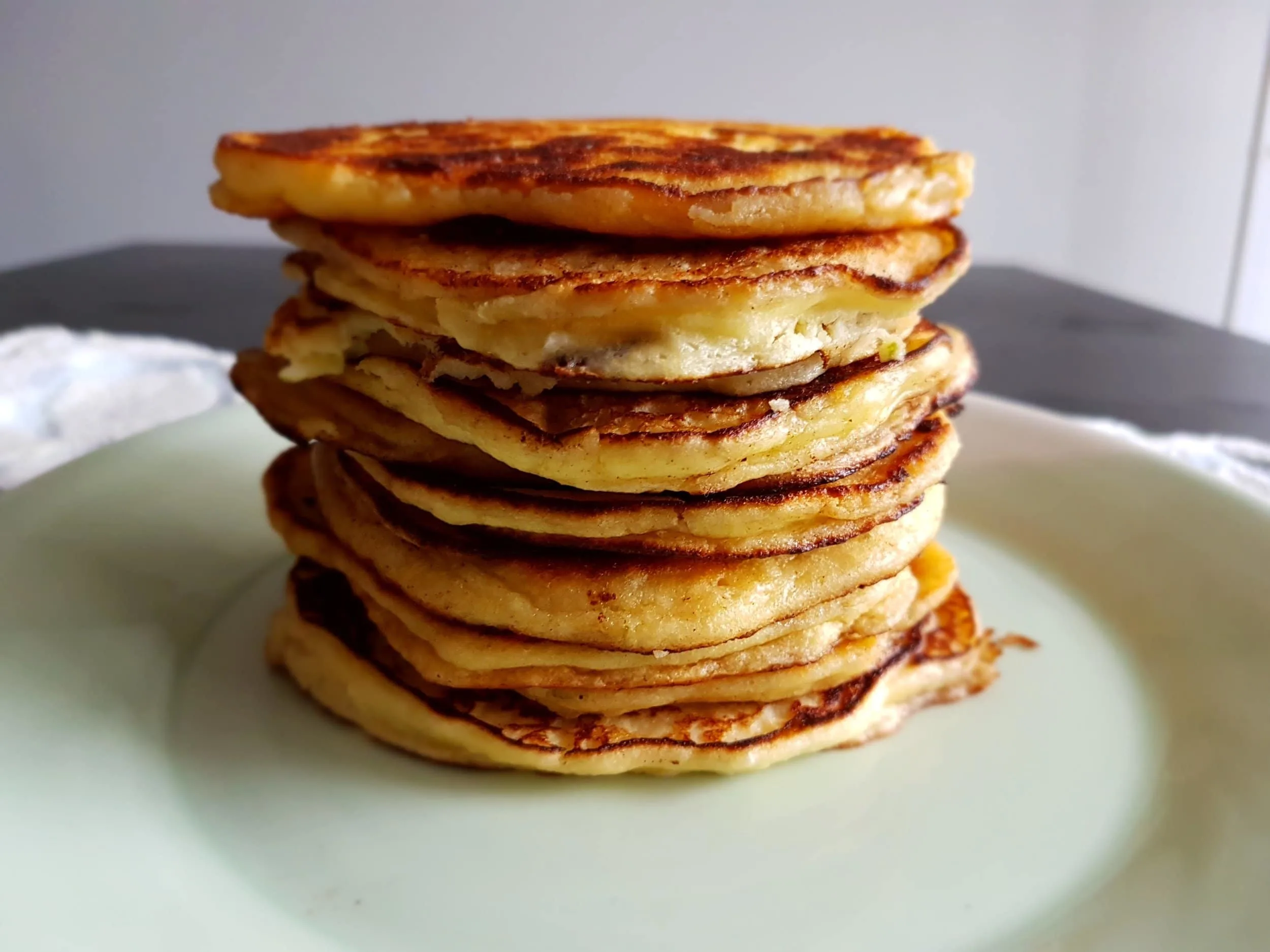 In a non-stick frying pan, cook at medium heat, flipping once until both sides are golden-brown.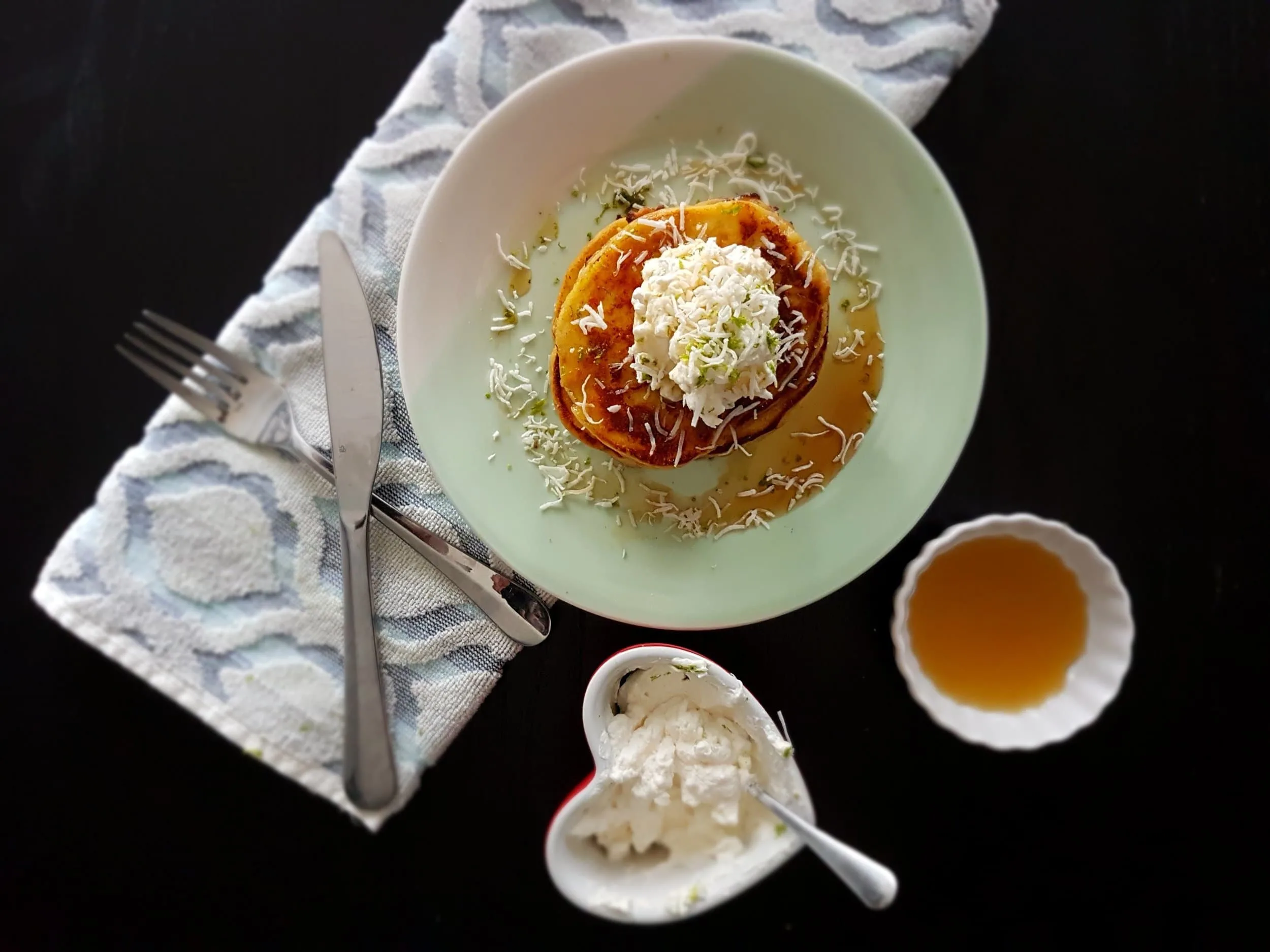 Top with whipped cream, shredded coconut, lime zest, and maple syrup if you would like. Enjoy!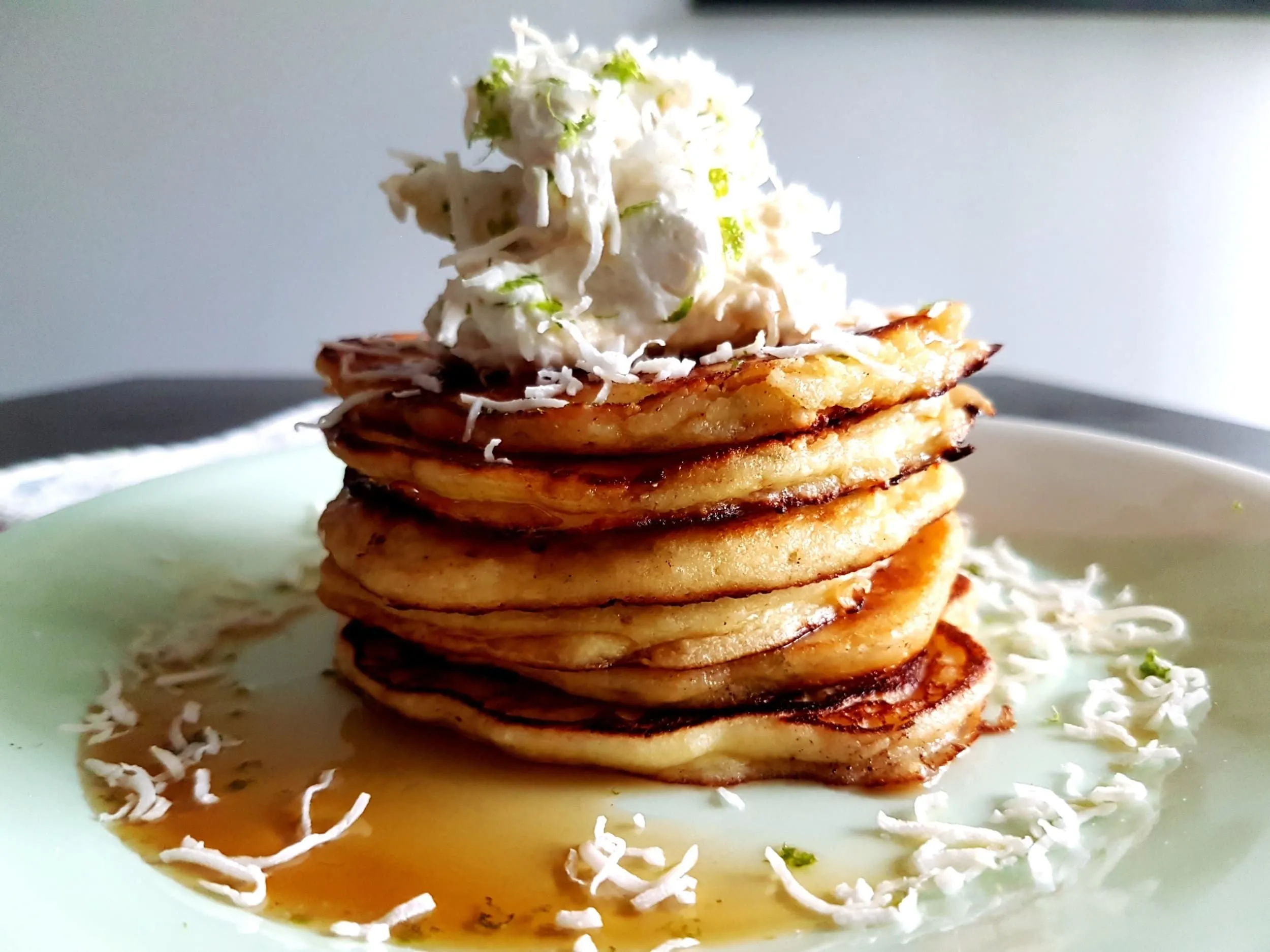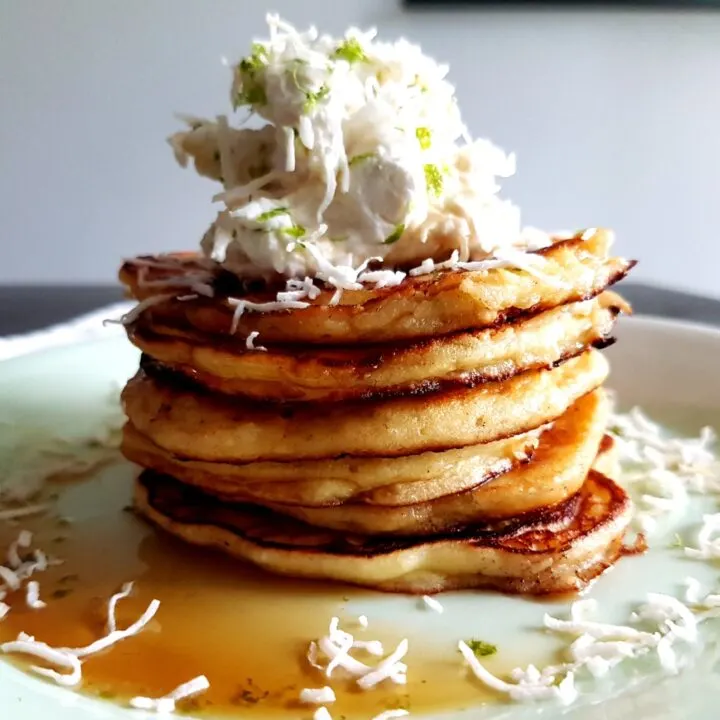 Coconut Lime Ricotta Pancakes
Fluffy, warm goodness. This easy pancake recipe is a little different from the traditional pancake recipes, but worth it. The coconut and lime gives the pancake a fresh taste, the outside is crispy and buttery, and the ricotta gives the insides a light, airy texture.
Ingredients
4 large eggs, separate yolks and whites
1 1/3 cups ricotta cheese
2 tbsp granulated sugar
1 lime, zest and juice
1/2 cup all-purpose flour
1/4 cup unsweetened shredded coconut, plus extra for topping
2 tbsp butter
1/4 tsp salt
Optional for topping:
whipped cream
shredded coconut
lime zest
maple syrup
Instructions
In a bowl, whisk together the egg yolks, ricotta, shredded coconut, sugar, and lime juice and zest. Then, add the flour and mix until just combined.
Using an electric mixer, whisk the egg whites and salt until they form stiff peaks.
Using a spatula, carefully fold a quarter of the egg whites into the ricotta mixture until it is just combined. Repeat process using the remaining egg whites.
Heat a non-stick frying pan under medium heat. Add enough butter to coat the pan and scoop 1/4 cup of the batter into the pan for each pancake.
Cook until the pancakes begin to form tiny bubbles and the undersides are golden-brown, about 2-3 minutes. Flip the pancake over and cook for another 2-3 minutes. Repeat the process until you run out of batter.
Serve the pancakes with shredded coconut, whipped cream, lime zest, and maple syrup if you would like.
Recommended Products
As a participant in the Amazon Services LLC Associates Program, I only link to products that I use and/or highly recommend. As an Amazon Associate, I earn from qualifying purchases if you purchase through these links at no additional cost to you.
Nutrition Information:
Yield:

10
Serving Size:

1
Amount Per Serving:
Calories:

205
Total Fat:

11g
Saturated Fat:

7g
Trans Fat:

0g
Unsaturated Fat:

3g
Cholesterol:

110mg
Sodium:

178mg
Carbohydrates:

19g
Fiber:

2g
Sugar:

10g
Protein:

8g