Hello, Avocado! Did you know that avocados contain almost 20 vitamins and minerals? It also contributes to heart health and may support healthy aging and weight management. It also makes food creamy, nutty, and fatty. The good fats though*.
Now onto the recipe.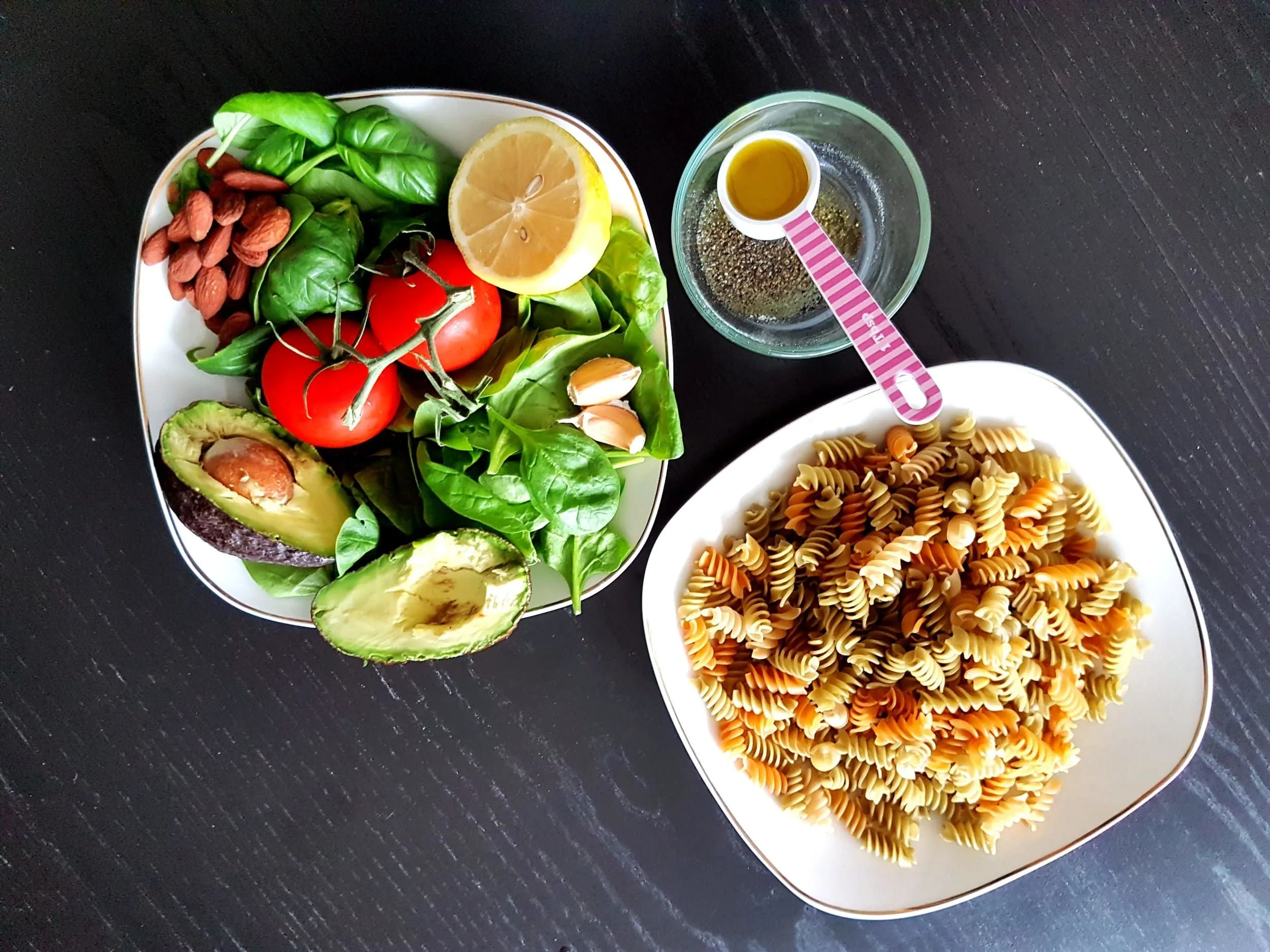 Boil your pasta until al dente. Blend together your pesto ingredients. Mix together with cooked pasta. Optional: top with diced tomatoes. Enjoy!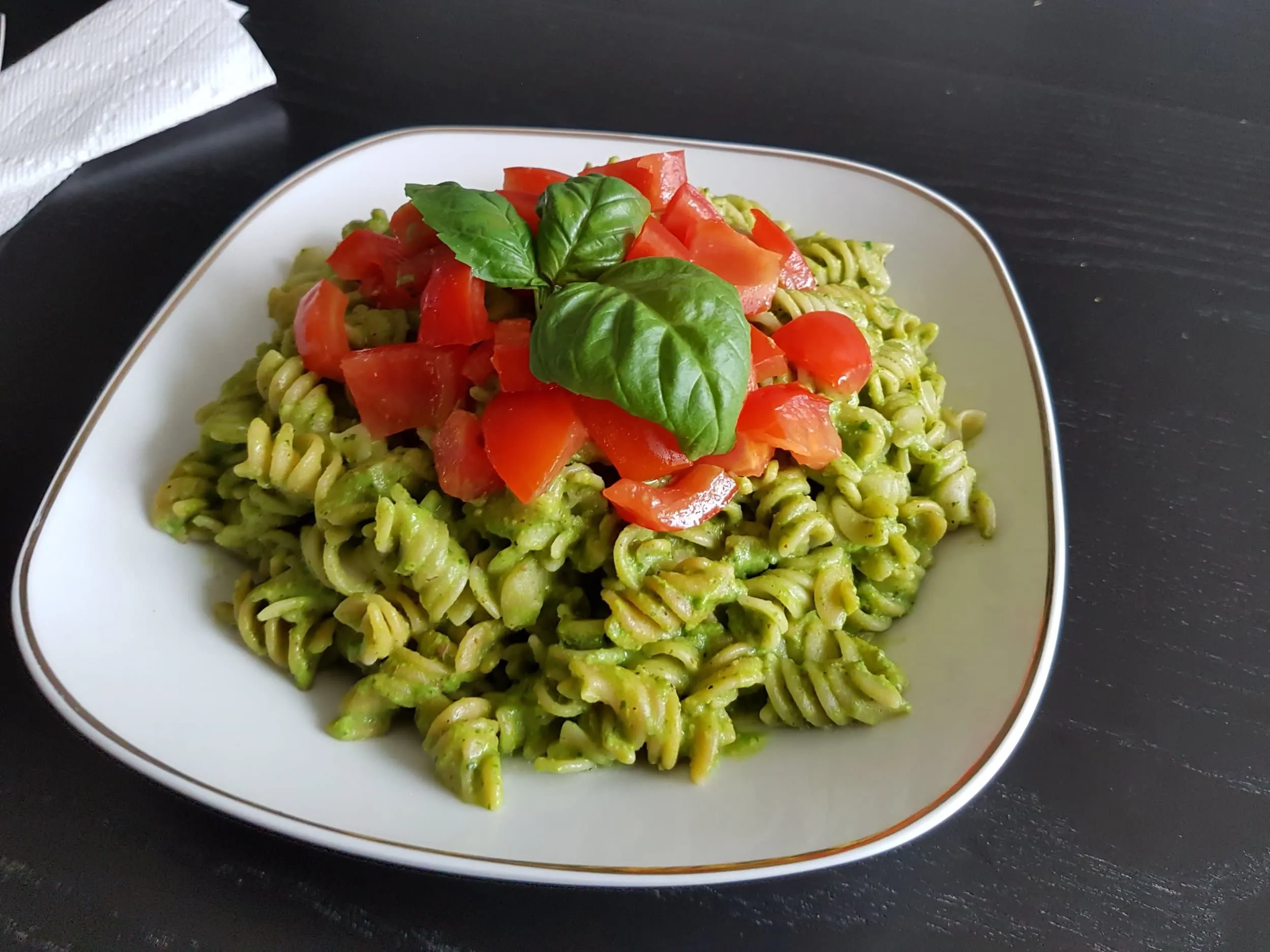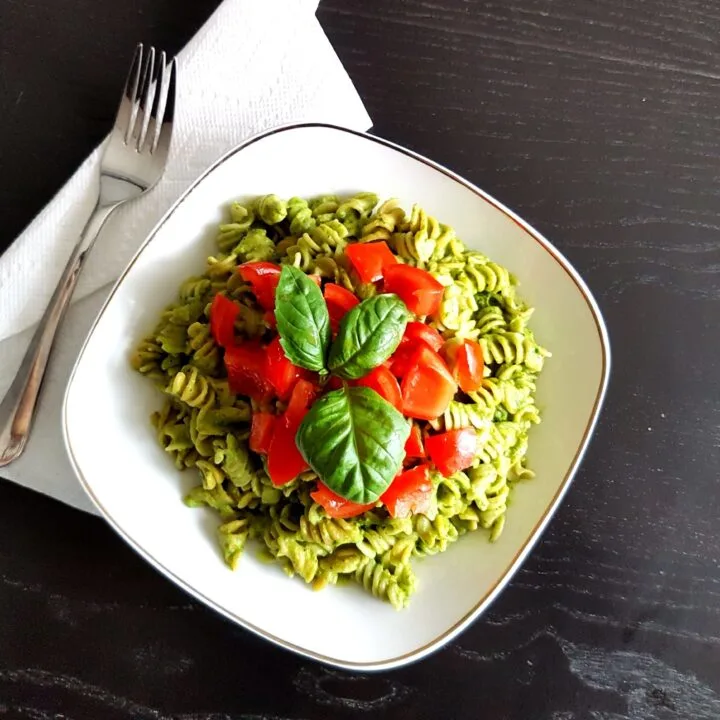 Vegan Avocado Pesto Pasta
Easy, super fast to make, and delicious. This vegan and gluten-free recipe utilizes avocado to create a creamy pasta dish that is perfect for a weekday meal.
Ingredients
200 grams of rice pasta, like rotini
½ cup basil
1 cup spinach
1 avocado, ripe
¼ cup almonds or pine nuts
2 garlic cloves, peeled
1½ tbsp extra virgin olive oil
½ lemon, juice
¼ tsp salt
¼ tsp pepper
Optional:
tomatoes
red onions
cheese
Instructions
Bring water to a boil and cook pasta according to box instructions, usually 7-10 minutes for al dente pasta. When the pasta is done, reserve ½ cup of pasta water.
Meanwhile, make your pesto. Using an immersion blender or food processor, add almonds, garlic, basil, spinach, lemon juice, extra virgin olive oil, avocado, salt, and pepper. Blitz until all ingredients are incorporated.
Add the drained pasta into the pesto and mix together. Add a small amount of pasta water, if needed, to help thin out pesto so that it evenly coats the pasta.
Taste for salt and pepper. Add in tomatoes, red onions, (vegan) cheese, or other toppings if you desire. Serve immediately.
Recommended Products
As a participant in the Amazon Services LLC Associates Program, I only link to products that I use and/or highly recommend. As an Amazon Associate, I earn from qualifying purchases if you purchase through these links at no additional cost to you.
Nutrition Information:
Yield:

2
Serving Size:

1
Amount Per Serving:
Calories:

621