This is a different, yet delicious take on a not-so-traditional potato salad. For all the dill pickle lovers out there, this is the potato salad for you. It is full of crunchy, dill pickle goodness!
We often have dinner with Scott's mom. It was our turn to cook and we wanted to make a nice, summer dish for a sunny afternoon. Combining her fondness for potato salad with my love of dill pickles we decided this twist on a classic would hit the spot.
With the addition of more fresh dill, sweet celery, and pungent red onions (substitute with green onions for a more mild note) added to the creamy, potato bites, this side dish brings a pop of flavour.
For the type of potato, I chose to use red and yellow baby potatoes since they are creamy and mild in flavour. These potatoes retain their shape better than russet potatoes, which are more likely to fall apart when boiled.
The potato skins are thin and easy to eat so peeling the potato is optional…for a lazy person like myself, I chose to leave the skin on because it saves time and effort. Plus it gives the salad a little more colour.
The base of the dressing is plain Greek yogurt, which is tangy, creamy, and thick in texture. It is also one of my favourite substitutes for sour cream and mayonnaise since it's lower in fat, calories, and is higher in protein than other creamy substitutes making this a healthier potato salad option.
If you happen to have mayonnaise or sour cream on hand, it works just as well. Overall, the sauce is full of tangy, lemony, dill flavours that are so tasty.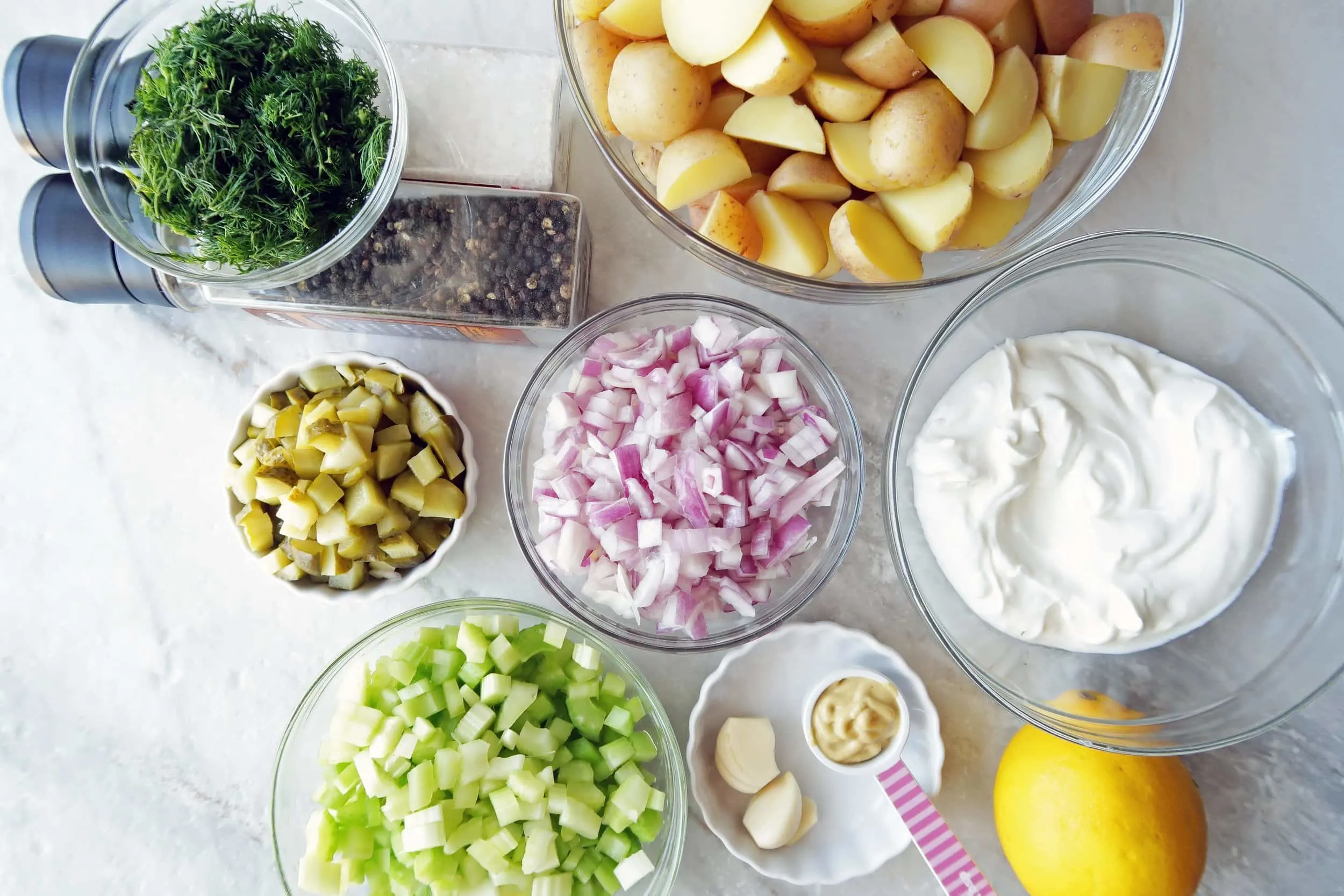 All the ingredients. Amounts in the "Ingredients" list below.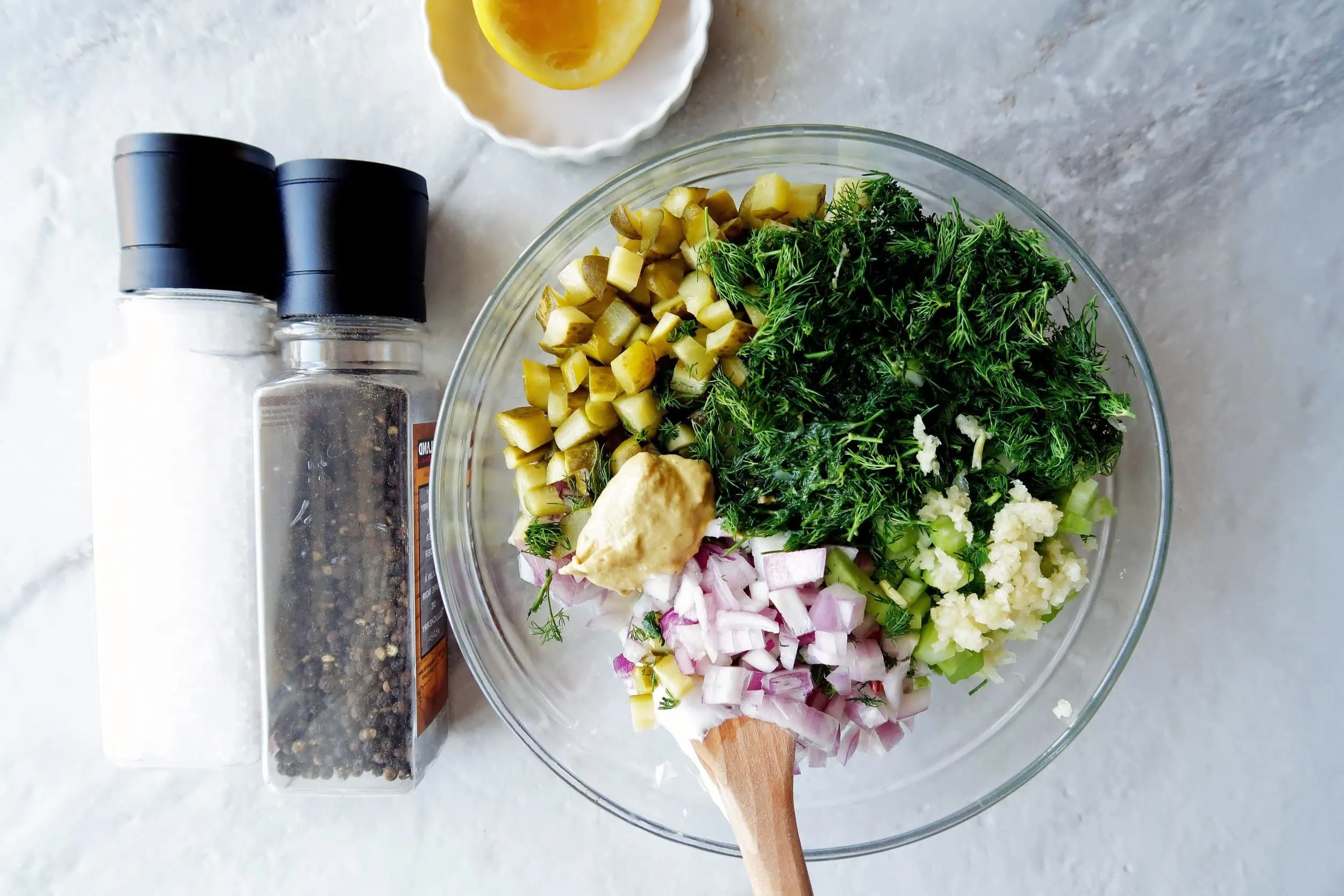 The potato salad is ready to be combined!
Once combined, cover and chill for at least a hour to allow the flavours to meld together.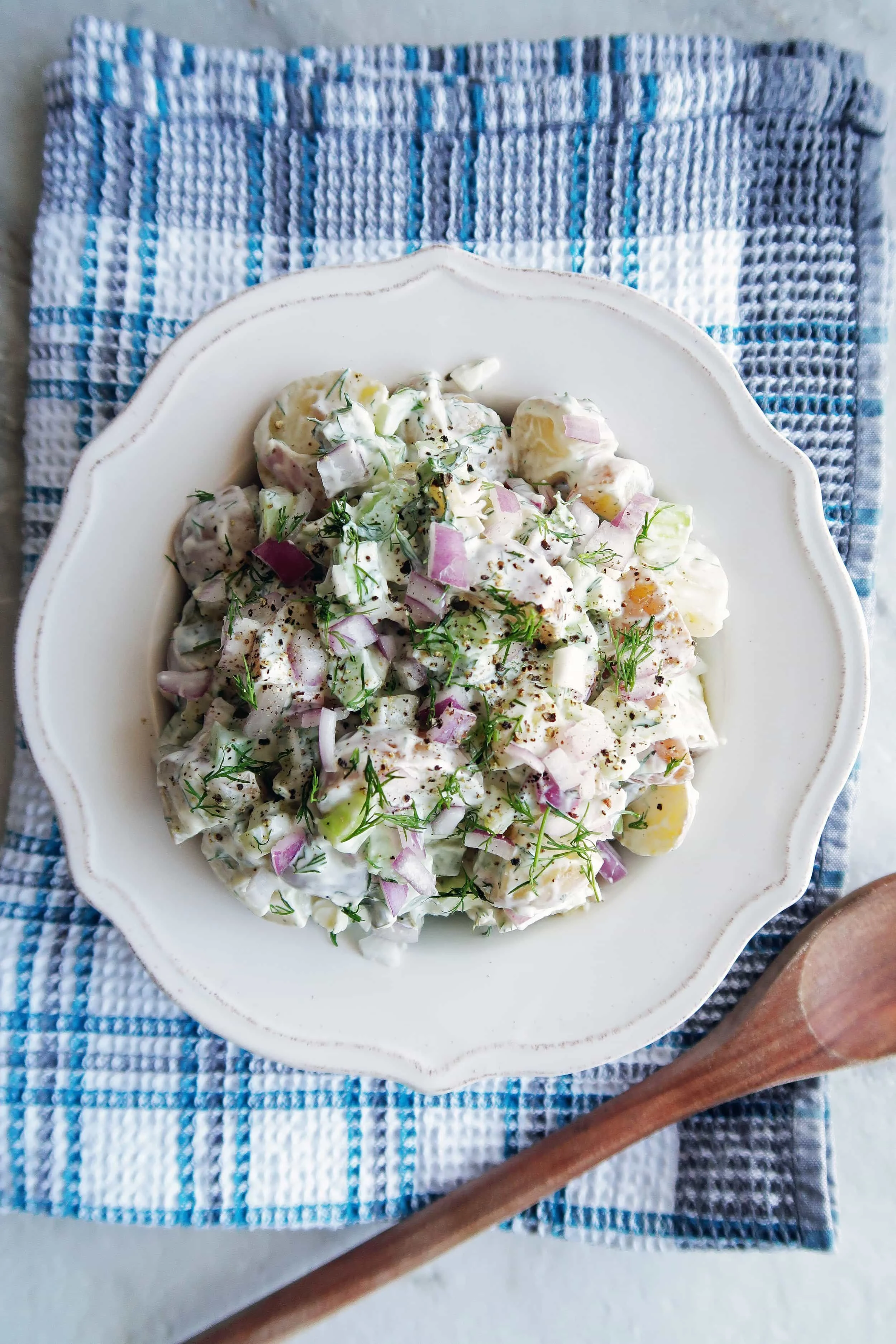 Garnish with fresh dill just prior to serving. I hope you enjoy this recipe!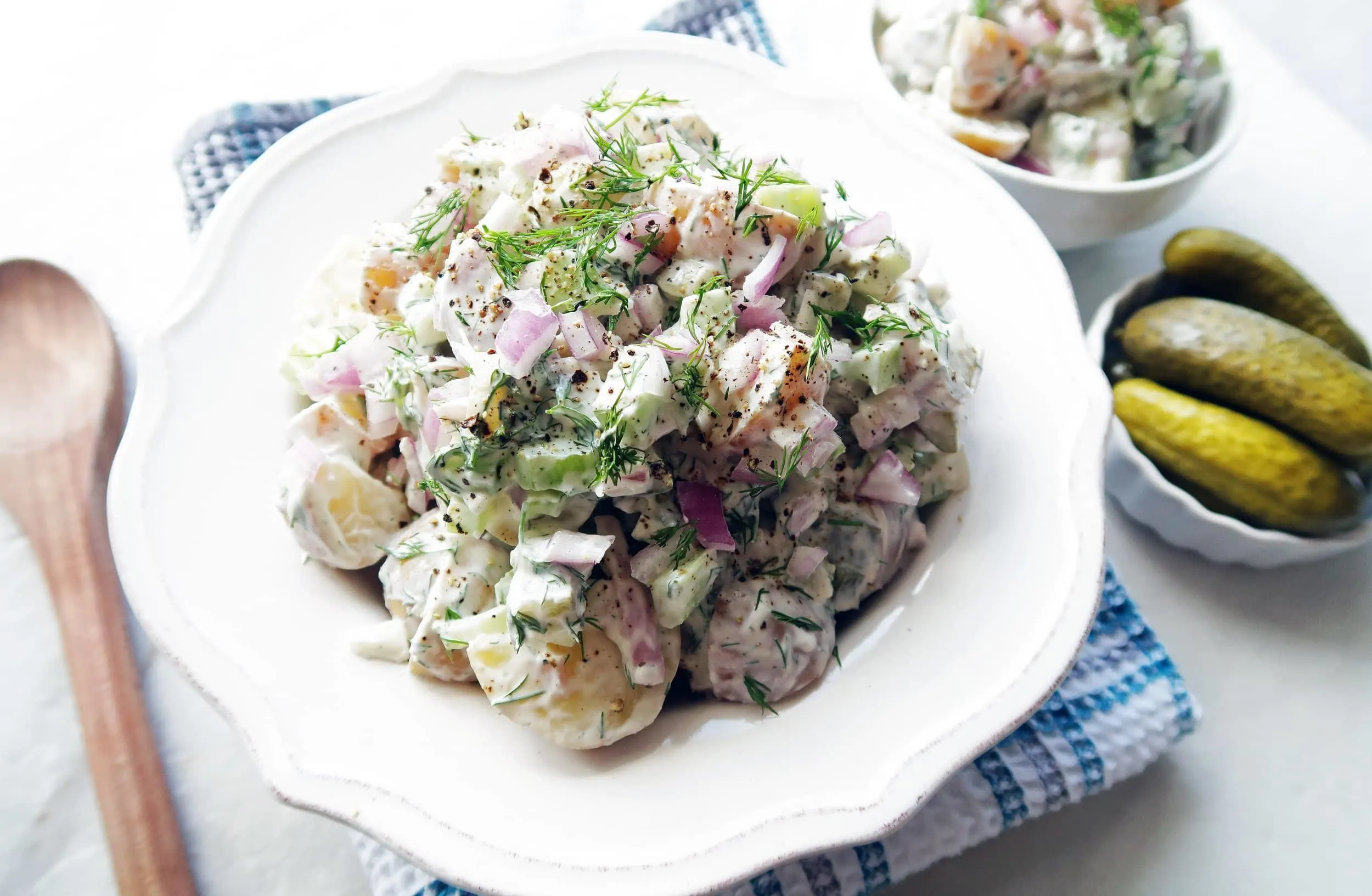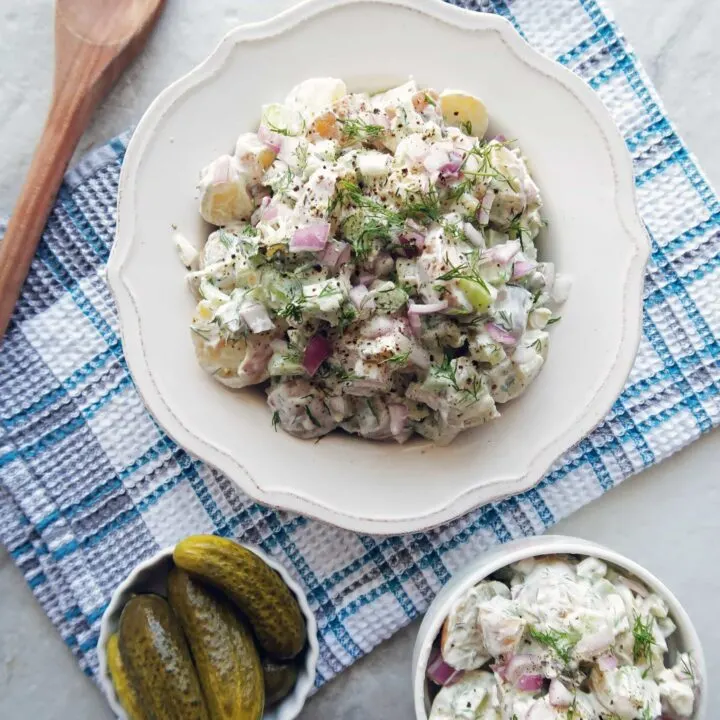 Dill Pickle Greek Yogurt Potato Salad
Total Time:
1 hour
30 minutes
Baby potatoes are combined with sour dill pickles, bold red onions, and sweet celery and then tossed together with a lemony, dill yogurt dressing!
Ingredients
For the salad:
2 lbs baby potatoes, quartered (I used red and yellow types)
2 cups (4 small stalks) celery, diced
1 cup dill pickles, diced
¼ cup red onions, diced*
For the dressing:
1 ½ cup plain Greek Yogurt (prefer 0% fat)
½ cup fresh dill, coarsely chopped
1-2 tbsp, lemon juice
1 tbsp dijon mustard
Salt and pepper
Optional: 2 garlic cloves, finely minced
Instructions
Place the quartered baby potatoes in salted cold water and bring the water to a boil over high heat. Reduce the heat to medium (so it is a gentle boil), and cook the potatoes until fork-tender, 10-15 minutes. Drain and set aside in a large bowl, letting it cool slightly.
Meanwhile, mix together the dressing ingredients before adding to the potatoes along with the pickles, celery, and red onions. Gently toss to combine, making sure the potatoes are evenly coated with the sauce.
Season with additional salt and pepper to taste. Top with additional fresh dill if you like. Cover and refrigerate for at least one hour prior to serving.
Notes
*If you would like to cut down the strong flavour of raw red onion, soak the onion in very cold water for 10 minutes. Make sure to swirl the onions in the cold water before removing. Alternately, replace with scallions (green onions) for a more mild onion flavour.
Recommended Products
As a participant in the Amazon Services LLC Associates Program, I only link to products that I use and/or highly recommend. As an Amazon Associate, I earn from qualifying purchases if you purchase through these links at no additional cost to you.
Nutrition Information:
Yield:

8
Serving Size:

1
Amount Per Serving:
Calories:

139
Total Fat:

0g
Saturated Fat:

0g
Trans Fat:

0g
Unsaturated Fat:

0g
Cholesterol:

2mg
Sodium:

266mg
Carbohydrates:

27g
Fiber:

3g
Sugar:

3g
Protein:

8g