Slushies are all the rage during the summer time! This version is cool, refreshing, and fruity delish-ness that's so perfect to have on a hot day!
What I like about making homemade slushies is that you get to decide what frozen fruit to use, the drink's thickness, sweetness, and wherever or not you want to spike it with a little alcohol. What fruit or fruit combinations do you like in your slushies?
I am a big fan of the sweet and tart tropical flavours of pineapple! The addition of coconut water, which is fresh and has a mild sweetness, along with zesty, bright lime juice goes so well together!
For this recipe, I also like to add a little bit of rum to give it a pina colada feel as well as add a squeeze or two of pure honey for extra sweetness. Agave nectar is another great option, especially if you prefer to keep it vegan-friendly.
This recipe is so easy to make – just throw the ingredients in a blender, whiz it on high until slush forms, and enjoy an ice-cold drink! This was just what I needed after a long day of running around and checking things off my to-do list!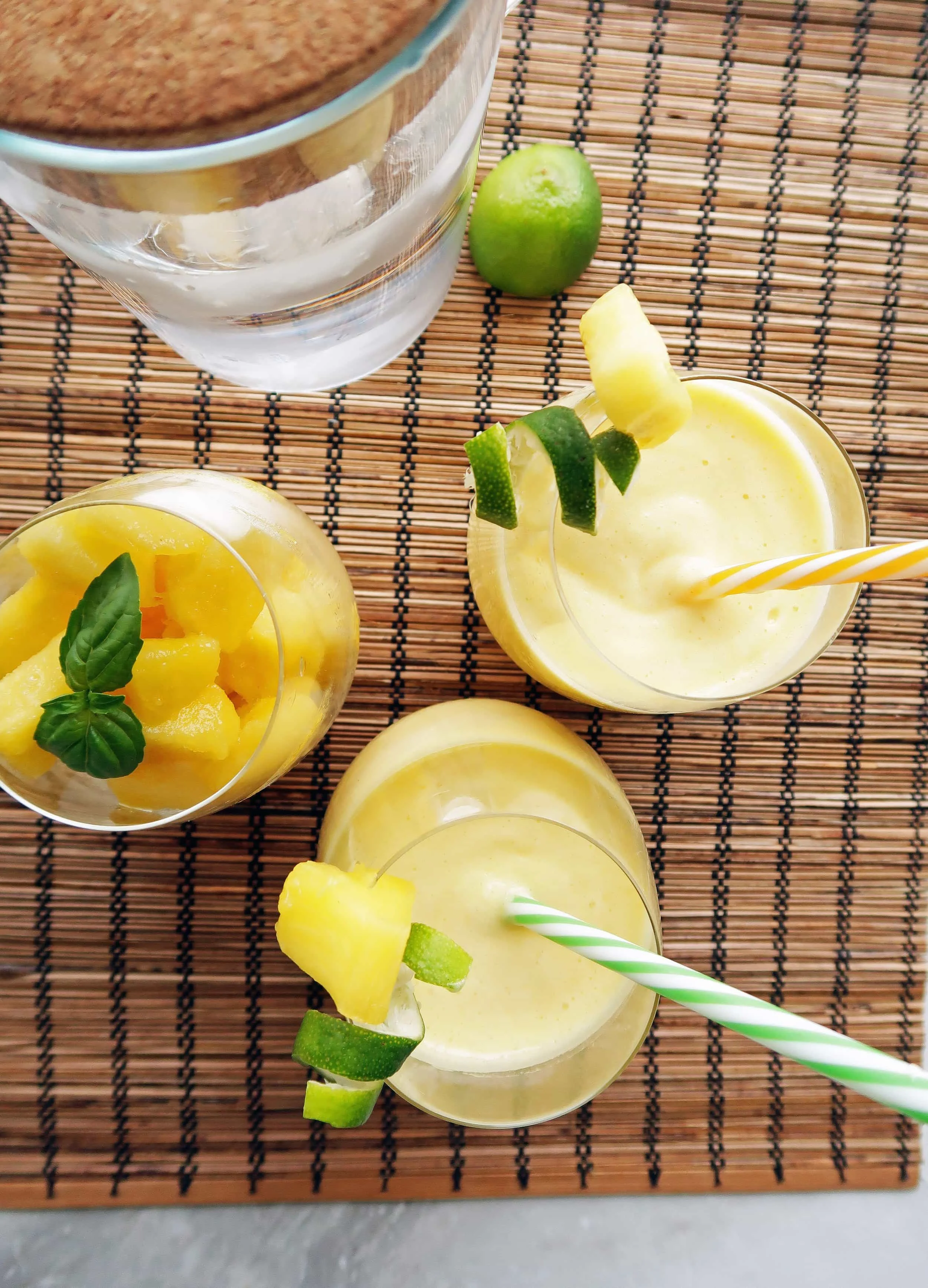 Now here is my confession: I broke the Vitamix tamper (that black plastic stick that you use to push down ingredients while in the blender) because I stupidly opened the lid, instead of placing it through the hole on top, and it touched the blade. This caused the plastic to shred into pieces. I had to throw out that slushy batch and make it again. Round two: it mixed just fine without the need of the tamper.
Oh well, making a second batch (sans plastic pieces and maybe a bit more rum) was totally worth it and still super fast to make and so, so delicious!
I hope you enjoy this recipe!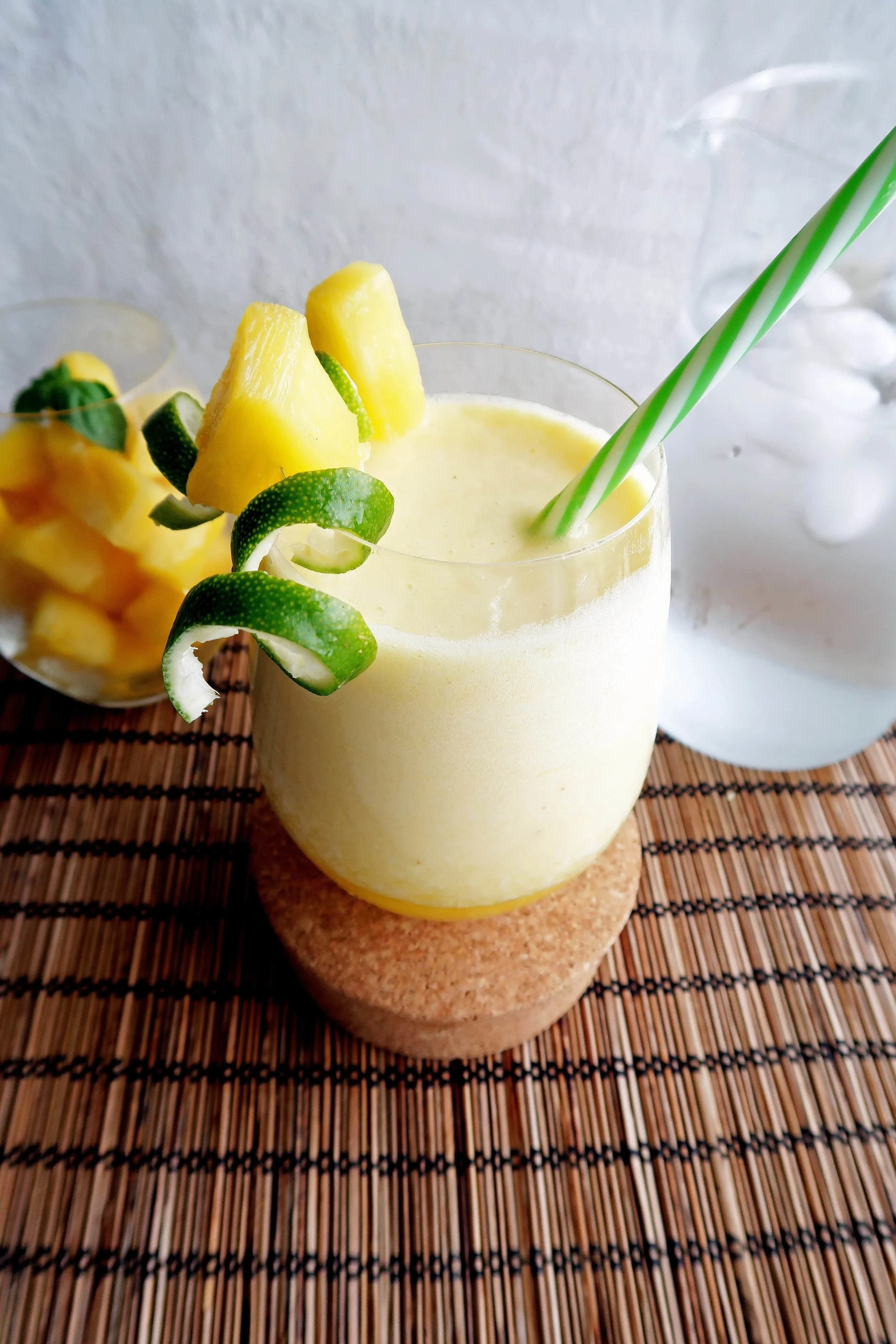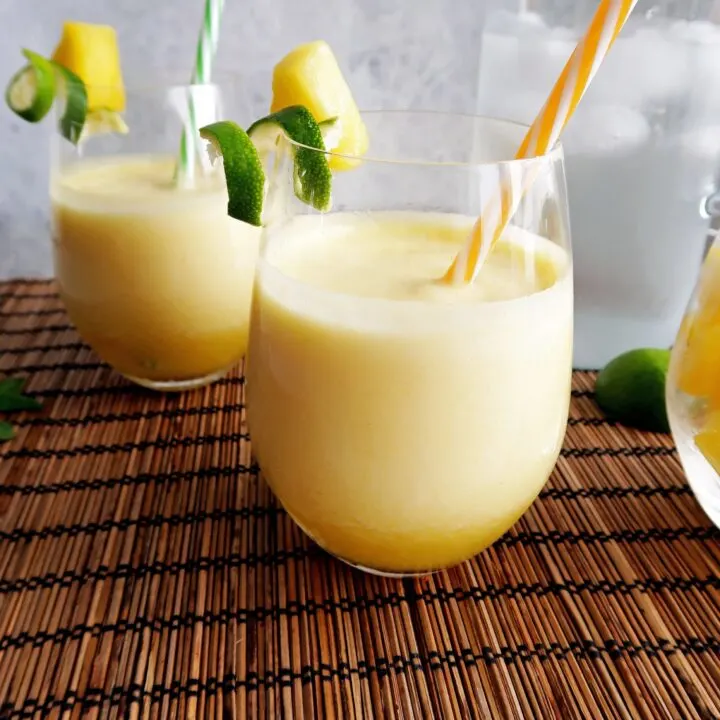 3-Ingredient Pineapple Coconut Water Slushies
Refreshing pineapple coconut water slushies will help keep you cool during hot summer days! A tasty, sweet, and tart drink that's ready in less than 5 minutes!
Ingredients
2½ cups frozen pineapple chunks
1 cup cold coconut water
½ lime, juice
Optional:
1-2 tbsp honey (or sweetener of your choice)
1 ounce (or more) rum
Instructions
Place the ingredients in a high-powered blender and blend on high speed until smooth. If necessary, add more coconut water to thin out the slushy, more pineapple (or ice) to thicken, or more honey (if using) to sweeten the mixture. Serve immediately.
Recommended Products
As a participant in the Amazon Services LLC Associates Program, I only link to products that I use and/or highly recommend. As an Amazon Associate, I earn from qualifying purchases if you purchase through these links at no additional cost to you.
Nutrition Information:
Yield:

2
Serving Size:

1
Amount Per Serving:
Calories:

353
Total Fat:

1g
Saturated Fat:

0g
Trans Fat:

0g
Unsaturated Fat:

0g
Cholesterol:

0mg
Sodium:

133mg
Carbohydrates:

91g
Fiber:

5g
Sugar:

85g
Protein:

2g