There is something so wonderful about turning on the outdoor grill on a warm, sunny day and grilling up delicious food. Okay, admittedly my husband does the vast majority of the grilling because he enjoys it so much, but I will happily eat it.
The flavour of grilled meats, vegetables, fruits, and more reminds me of the lovely summer days and nights and good times we've had hanging out in the backyard, sitting around in rickety lawn chairs around the fire pit, all while sipping on a cold drink (like my homemade raspberry green tea lemonade)and eating all the yummy foods.
One of Scott's recent food hankerings was chimichurri sauce. Chimichurri sauce is an Argentinian green sauce predominantly made of parsley, garlic, vinegar, and oil. Ingredient variations include lemon, cilantro, red pepper flakes, oregano, cumin, and other herbs and spices so it can be adapted to fit your personal preferences.
It's traditionally served with grilled steak, but it can also be used as a dip for bread, a marinade or topping for grilled vegetables, seafood, and chicken like in this recipe.
Our recipe has a few of the extra ingredients in it making it incredibly herby, tangy, garlicky, and just a little spicy. Of course, I encourage you to taste and tweak the recipe to your personal liking! The sauce serves as both a marinade and condiment for the chicken, resulting in an extremely flavourful, juicy chicken that cooks up fast! The charred bits that form on the edges of the chicken are my favourite part.
This dish is also gluten-free, low-carb, and paleo too!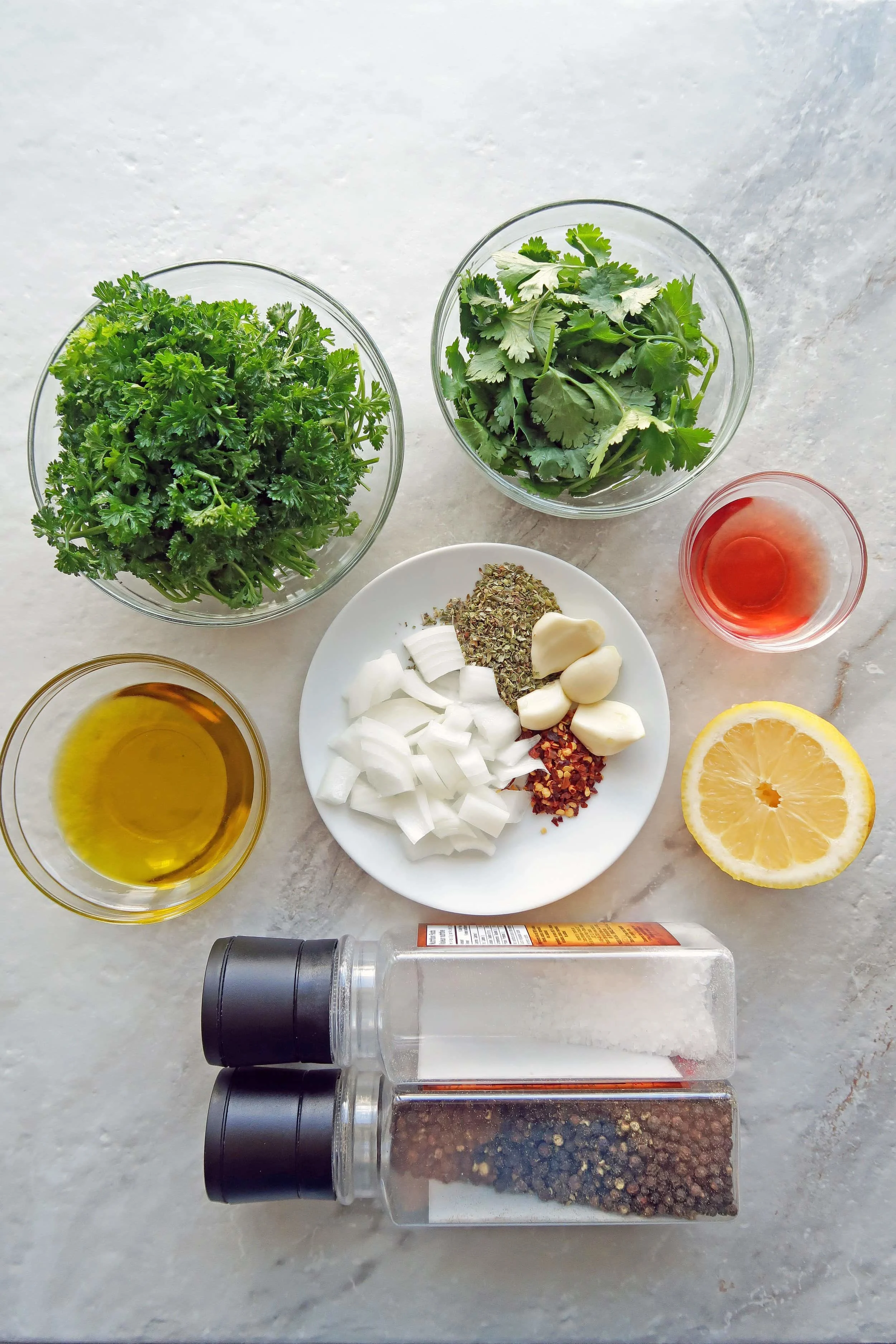 The Chimichurri Sauce ingredients. Find the recipe's ingredients list and instruction below.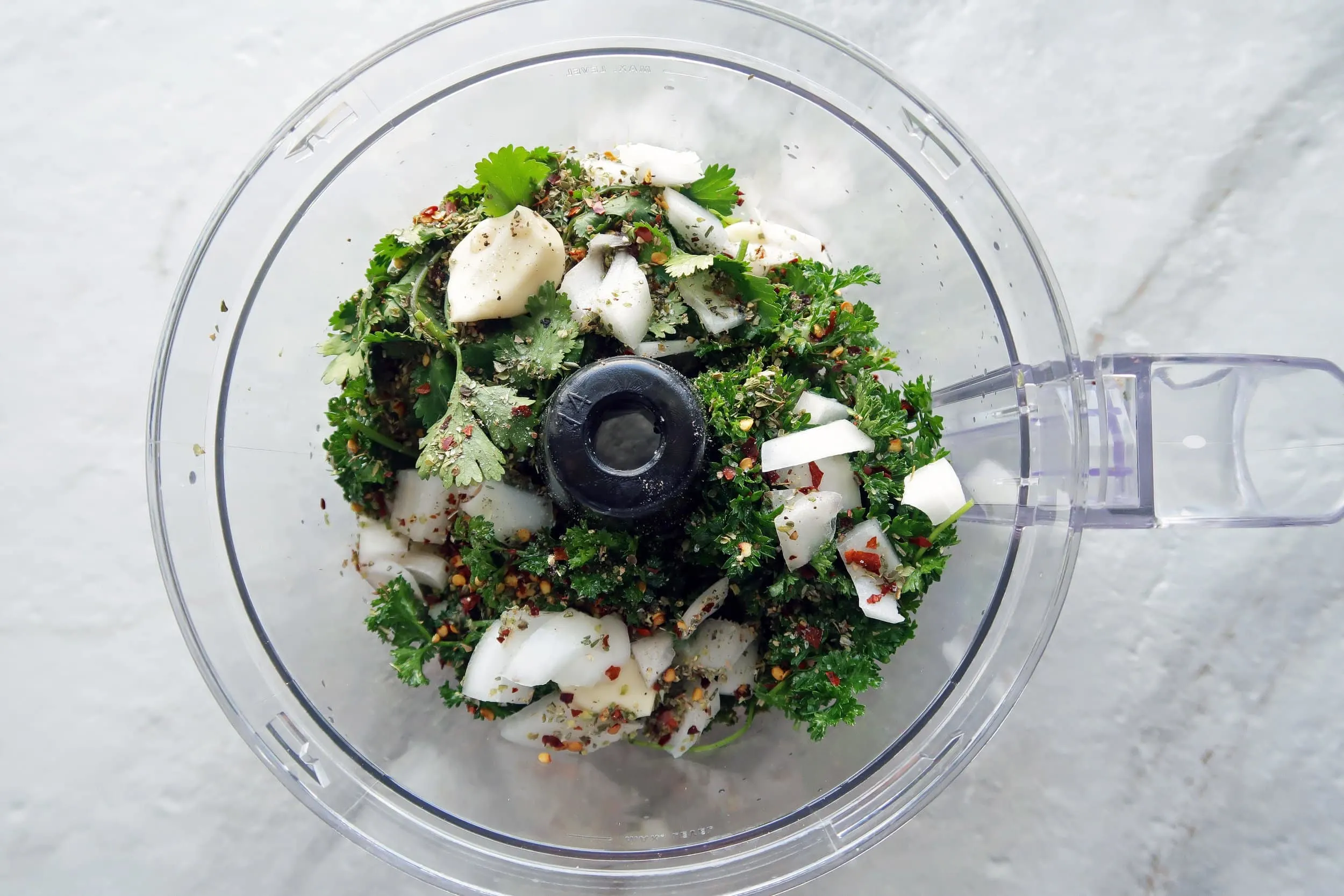 A food processor makes it fast and easy to make the sauce!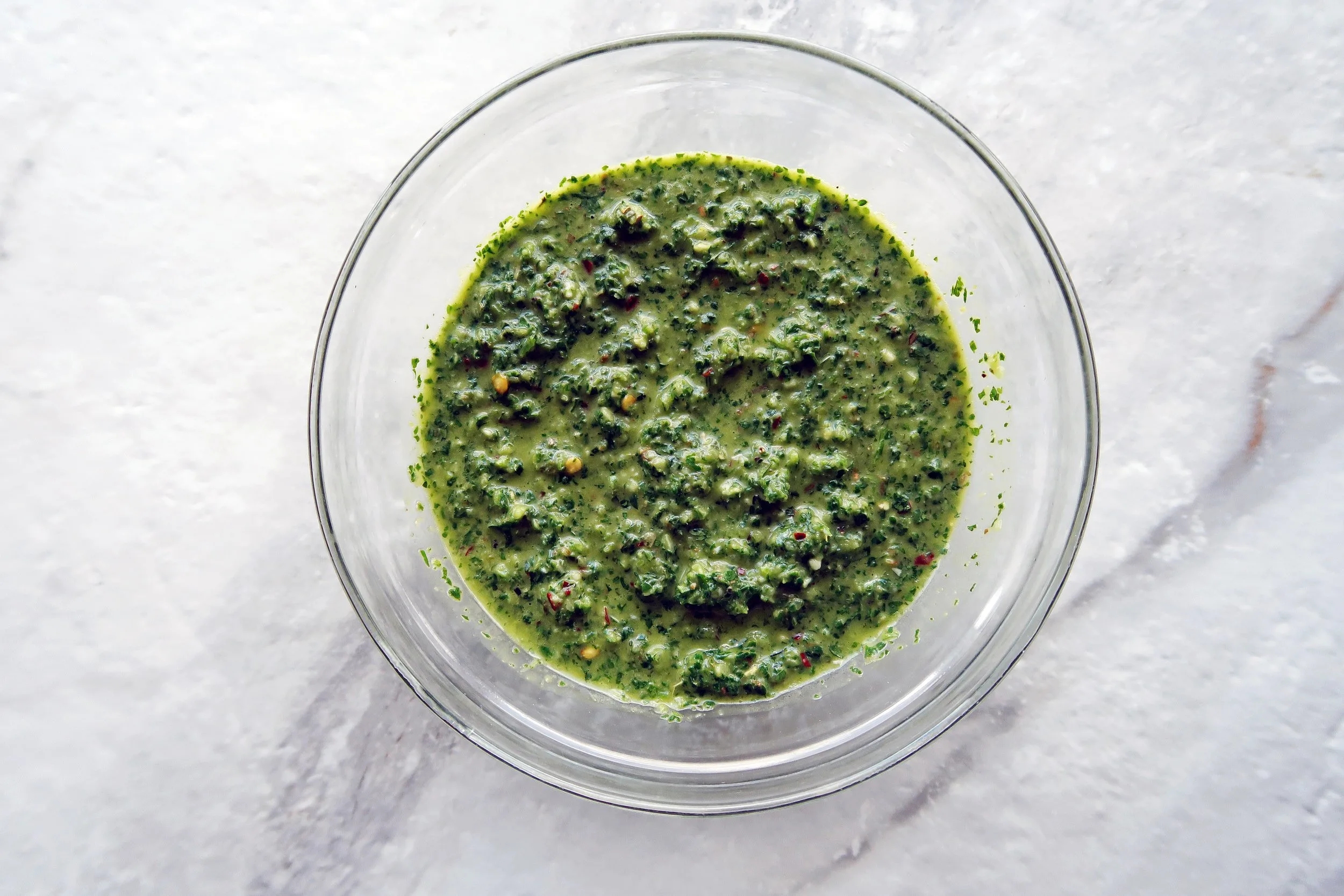 The sauce is ready to be used as a marinade and a topping for the grilled chicken!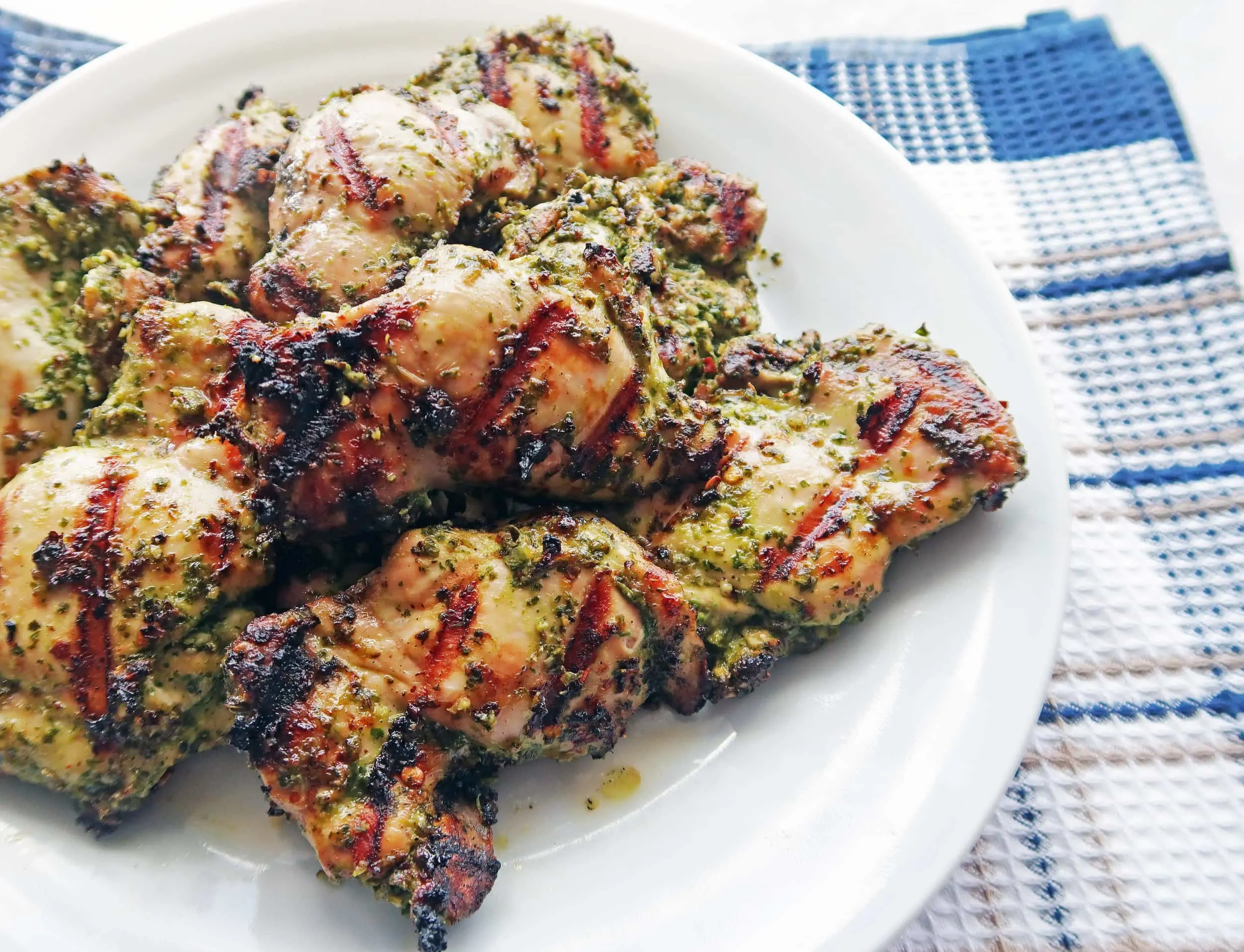 I love the grill marks. Add more chimichurri sauce on top if you like!What would you eat with this?I hope you enjoy this one!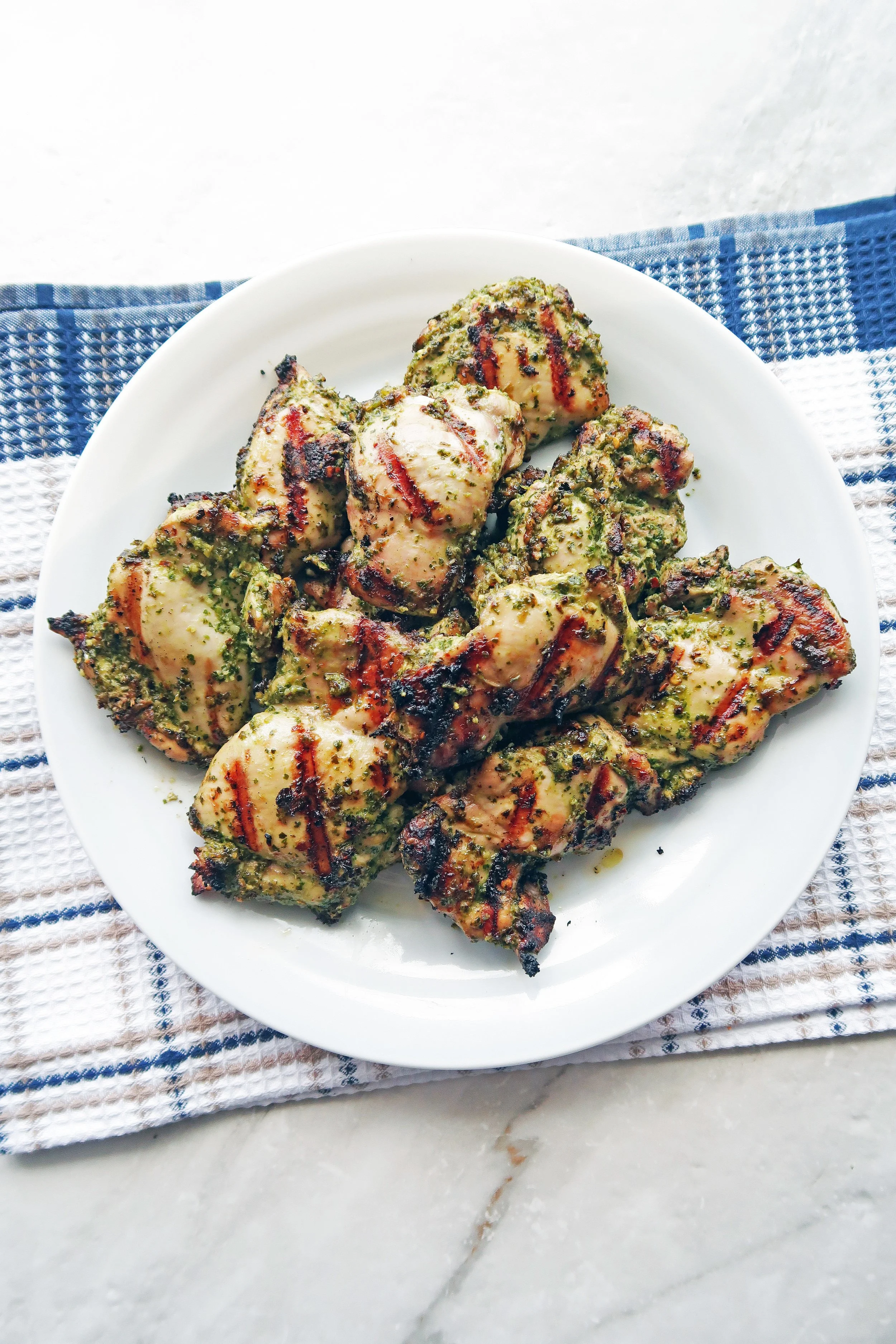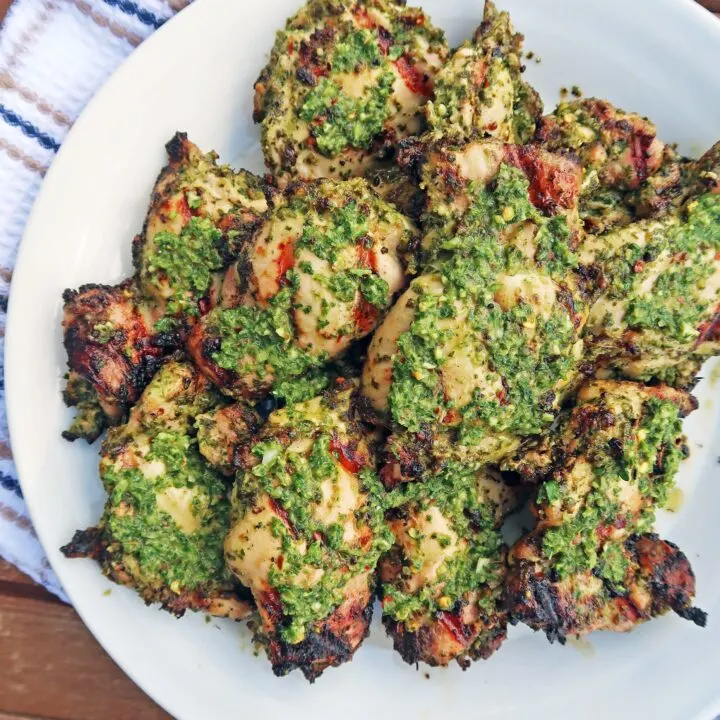 Grilled Chicken Thighs with Chimichurri Sauce
Enjoy delicious, healthy grilled chicken thighs with fresh and flavourful green chimichurri sauce! A tasty main dish that's super easy and quick to prepare!
Ingredients
For the chimichurri sauce:
1 packed cup (2 ½ oz) fresh parsley
½ packed cup (1 oz) fresh cilantro
4 garlic cloves
2 tbsp lemon juice (about ½ lemon)
2 tbsp onions, diced
2 tbsp red wine vinegar
2 tsp dried oregano
½ tsp salt
¼ tsp cracked black pepper
¼ - ½ cup olive oil
For the chicken:
12 medium boneless skinless chicken thighs
Instructions
For the chimichurri sauce. In a food processor, add all the sauce ingredients except the olive oil. Pulse and slowly drizzle in the olive oil until you get your desired consistency, stopping to scrape down the sides if necessary. The sauce should remain relatively chunky, not smooth.
For the chicken. Place the chicken in a large ziploc bag and add ¾ of the sauce to the bag. Squeeze out excess air before sealing the bag. Move the bag around making sure that the chicken is well-coated. Marinade for at least three hours or overnight in the refrigerator for best results.* Store the remaining chimichurri sauce in an airtight container in the refrigerator.
Heat up the grill to medium-high. Lightly oil the grill grates before placing the marinated chicken thighs about an inch or two apart. Grill the chicken thighs for about 5-6 minutes on each side, flipping once. The internal temperature of cooked chicken should reach 165 degrees F.
Serve immediately or warm with the reserved chimichurri sauce as a topping.
Notes
*We also tried marinating the chicken for only the amount of time it takes to heat up the grill and it still turned out delicious, so don't worry if you have time constraints; however, a longer marinade results in a more flavourful chicken.
Recommended Products
As a participant in the Amazon Services LLC Associates Program, I only link to products that I use and/or highly recommend. As an Amazon Associate, I earn from qualifying purchases if you purchase through these links at no additional cost to you.
Nutrition Information:
Yield:

12
Serving Size:

1
Amount Per Serving:
Calories:

142
Total Fat:

8g
Saturated Fat:

2g
Trans Fat:

0g
Unsaturated Fat:

6g
Cholesterol:

88mg
Sodium:

226mg
Carbohydrates:

1g
Fiber:

0g
Sugar:

0g
Protein:

18g