For those long, hot days, a good ol' popsicle is the perfect remedy to the blistering sunny weather. It was a nice treat for us after a long walk with our furbaby, Teddy. The popsicle was Teddy-approved too! (He got a small piece).
With the abundance of fresh berries available in spring and early summer, I decided to use strawberries and blueberries. These two berries are sweet, tart, full of vitamins, minerals, fibre, antioxidants, and are just plain delicious. I pretty much eat strawberries and blueberriesall the time while they're are in season.
I've always been a big fan of coconut water for its slightly sweet and nutty flavour; although in this recipe the coconut water flavour is secondary to the fruit. Coconut water is also known for its many health benefits. It's low in calories, but high in natural electrolytes and nutrients.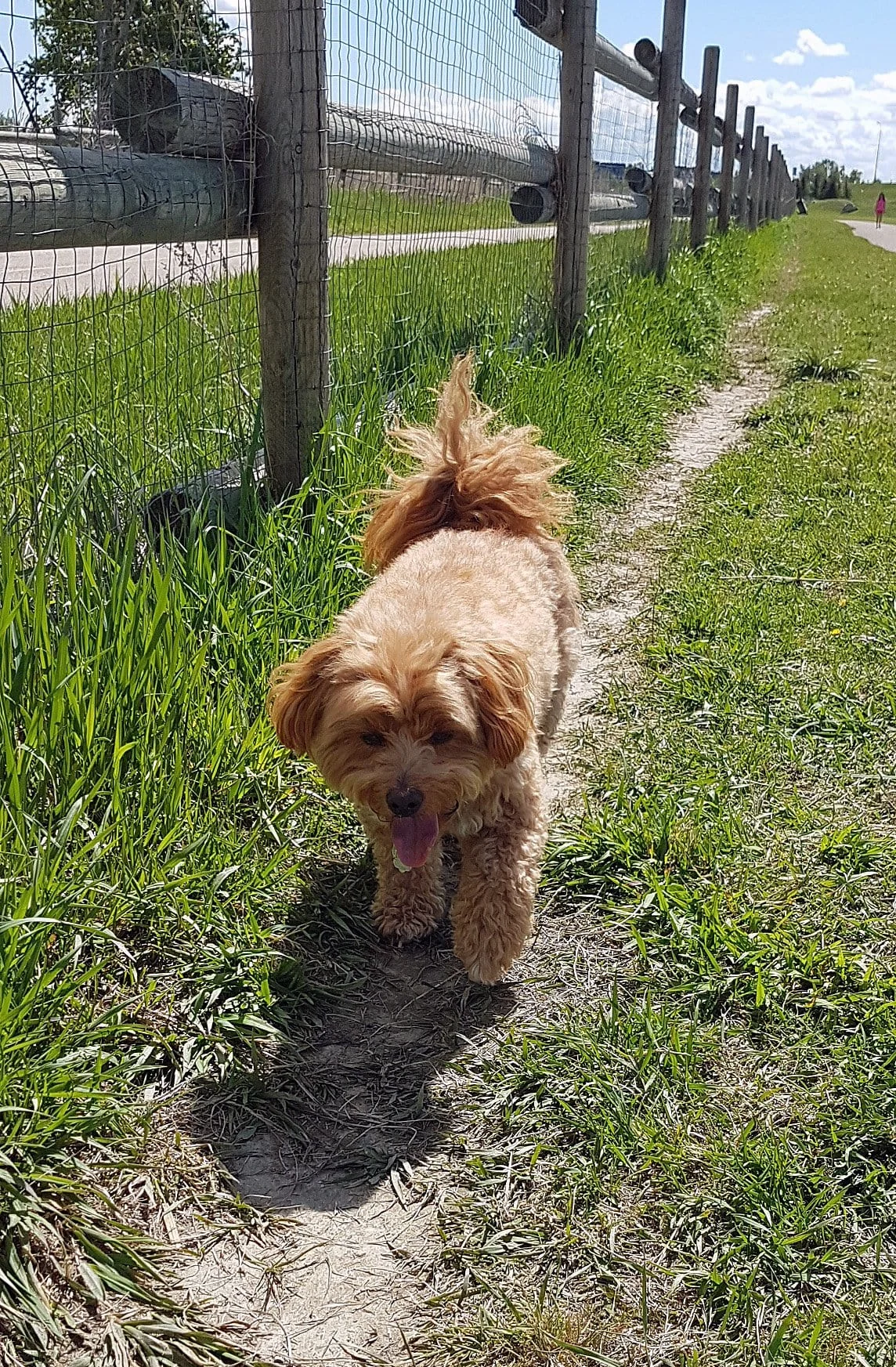 Overall, these quick to prepare, homemade fruity popsicles are so refreshing, so easy to make, and just plain tasty. This recipe uses only 4 ingredients, is refined sugar-free, gluten-free, paleo,dairy-free and easily be made vegan by using an alternative sweetener such as agave nectar instead of honey.
I hope you enjoy this recipe!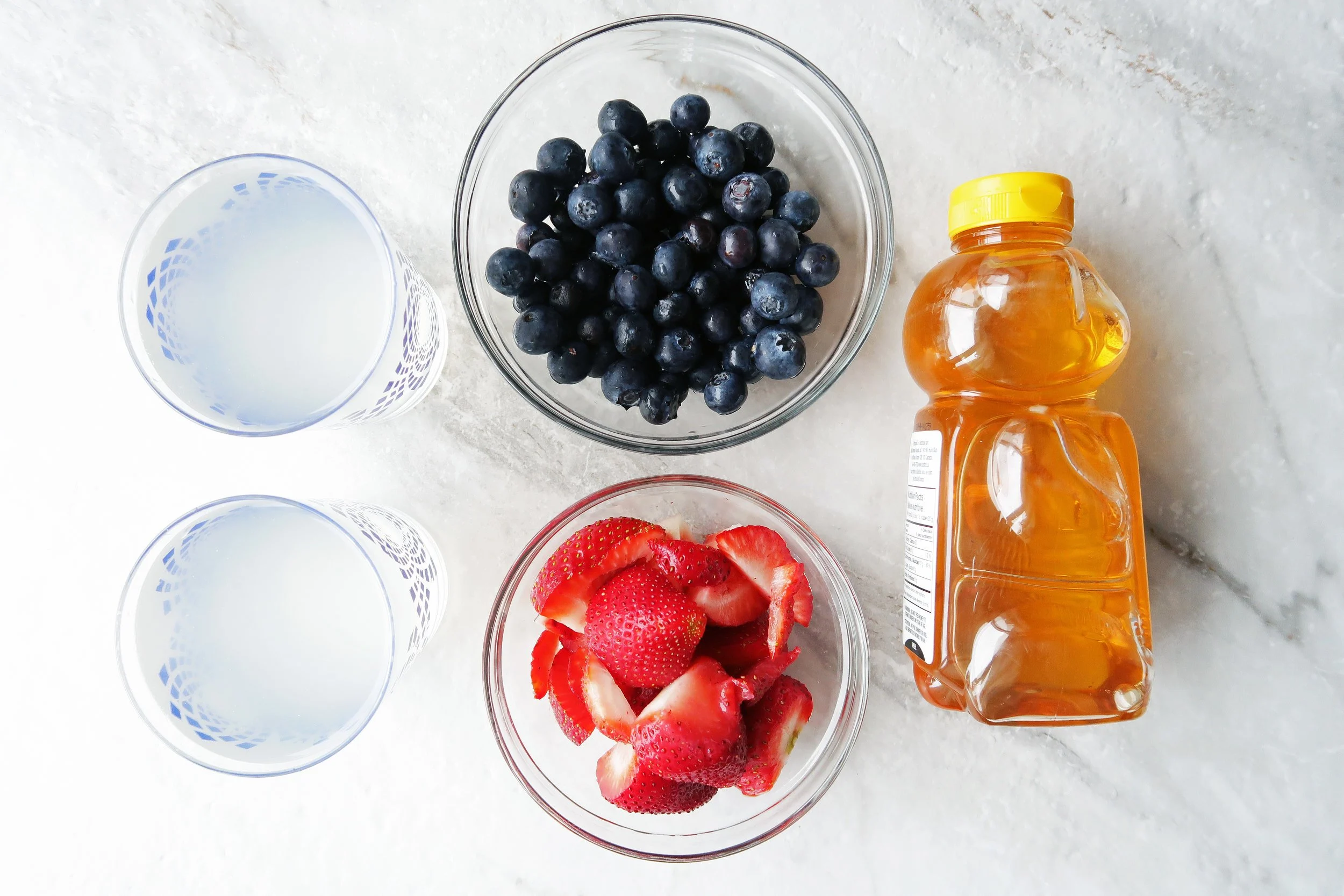 Coconut water, strawberries, blueberries, and honey is all you need to make these popsicles. Amounts in "Ingredients" below.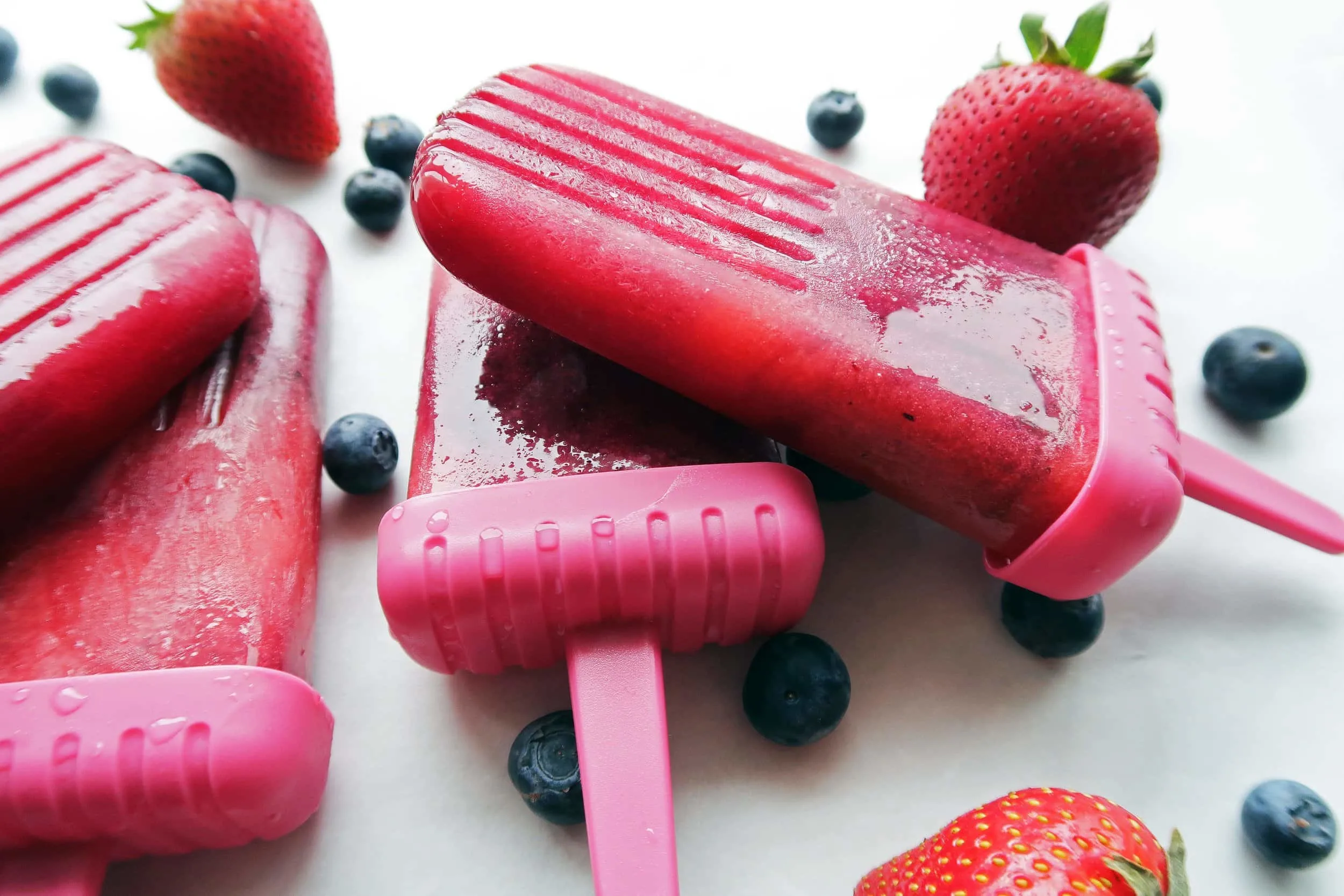 Homemade and healthy!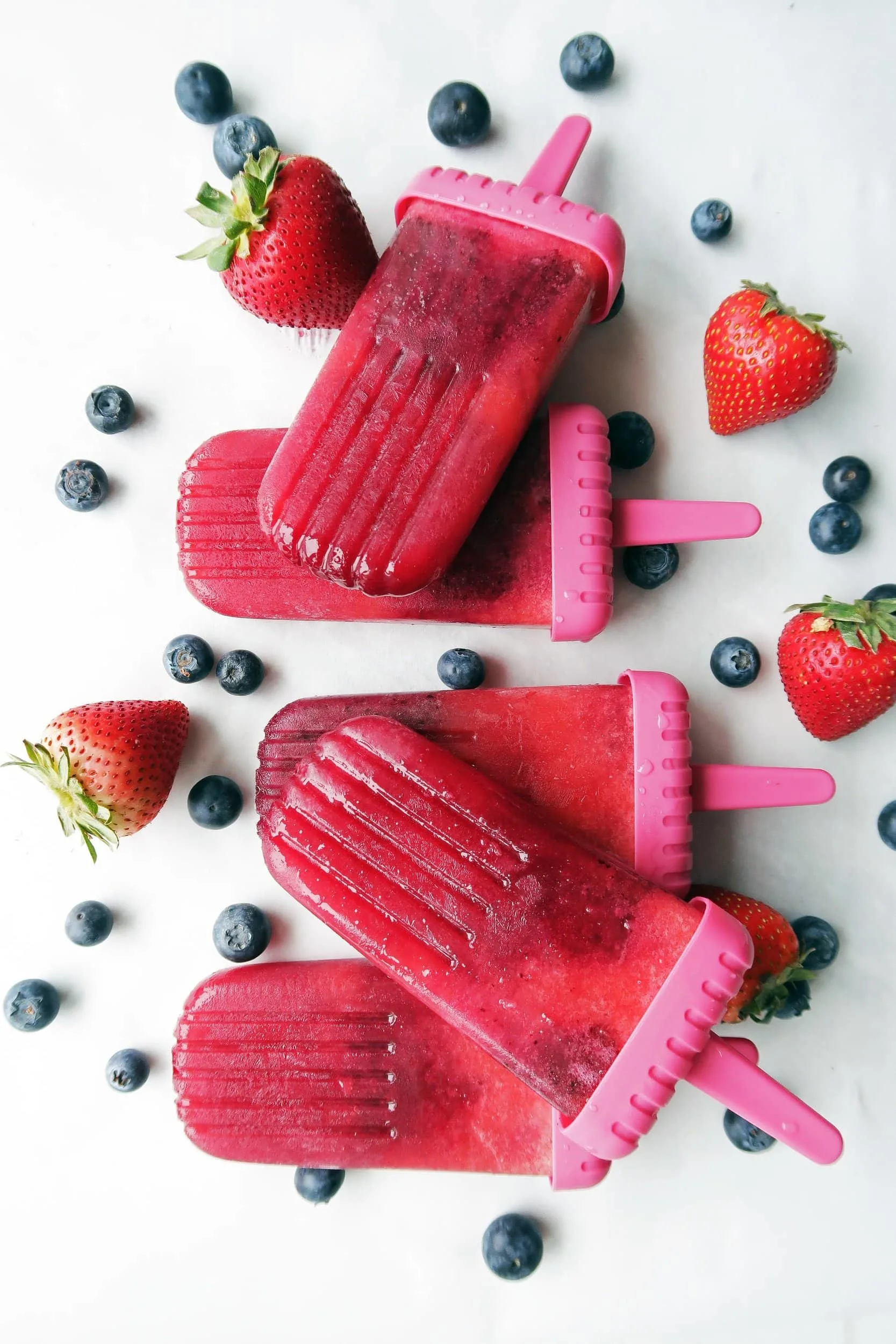 Refreshing and perfect to cool down after a long day! Enjoy!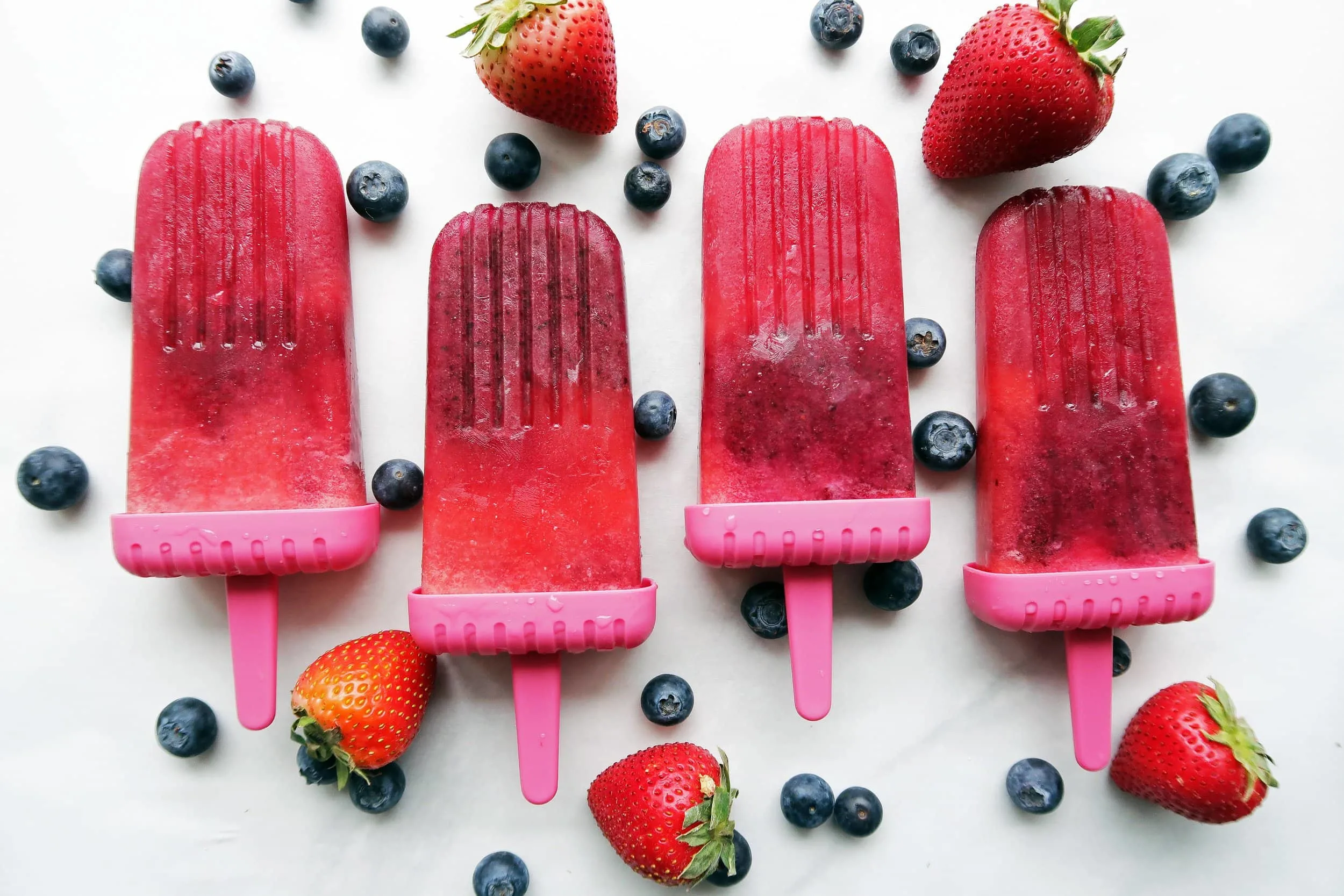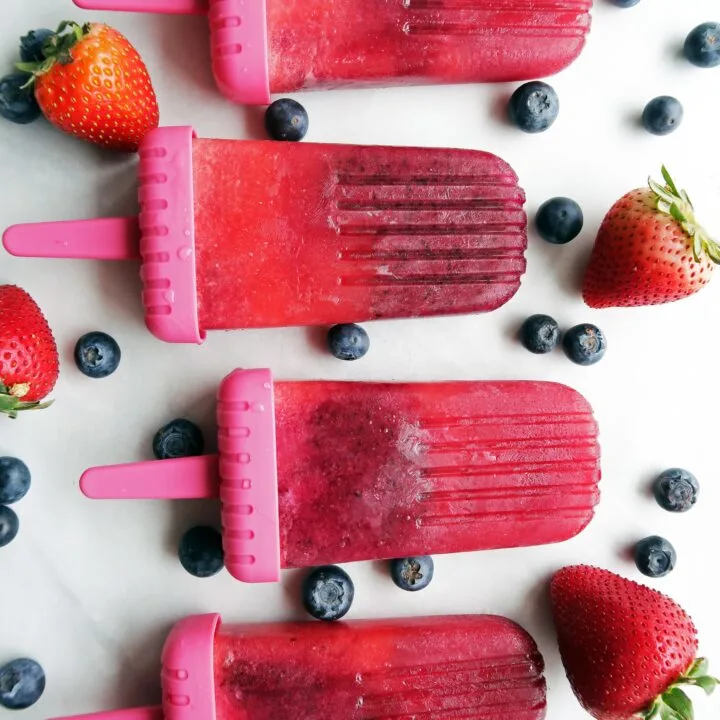 Strawberry Blueberry Coconut Water Popsicles
Total Time:
5 hours
10 minutes
Try out these easy-to-make popsicles featuring fresh blueberries, strawberries, and coconut water! A tasty, refreshing, and healthy treat for everyone!
Ingredients
2 cups coconut water (no sugar added)
1 heaping cup (6 ½ oz) strawberries
1 heaping cup (6 ½ oz) blueberries
2 tbsp honey (or sweetener of your choice)
Instructions
Using a blender, combine one cup of coconut water with the strawberries and 1 tablespoon of honey; blend until smooth. Pour into another container and set aside. Rinse out the blender container with water.
Next, blend one cup of coconut water with the blueberries and 1 tablespoon of honey until smooth.
Fill each popsicle mold halfway with the blueberry mix. Freeze the mix for 15 minutes. Slowly pour the strawberry mix over top, filling each mold to the top.* Freeze for at least 4 hours or until the popsicles are completely frozen solid.
Prior to serving, run the molds under warm water to release the popsicles.
Notes
*I blend the two berries separately because I like to see both ingredients swirled throughout each popsicle. The blueberry mix is thicker than the strawberry mix so if you pour slowly the majority of the mix will stay separate, but spread throughout the popsicle.
If you prefer to see two distinct layers, pour either the blueberry or strawberry mix, leave out the popsicle sticks, freeze for 30-45 minute until mostly frozen, and then top with the other berry mix and the popsicle sticks. Alternatively, mix all the ingredients together for one uniform ice pop.
Recommended Products
As a participant in the Amazon Services LLC Associates Program, I only link to products that I use and/or highly recommend. As an Amazon Associate, I earn from qualifying purchases if you purchase through these links at no additional cost to you.
Nutrition Information:
Yield:

6
Serving Size:

1
Amount Per Serving:
Calories:

58
Total Fat:

0g
Saturated Fat:

0g
Trans Fat:

0g
Unsaturated Fat:

0g
Cholesterol:

0mg
Sodium:

84mg
Carbohydrates:

9g
Fiber:

1g
Sugar:

8g
Protein:

1g
Nutritional values are estimated based on the ingredients used by the author; your ingredients may differ. These values are calculated using Nutritionix.