It was Mother's Day yesterday for my fellow Canadian and Americans friends!
I want to wish a very Happy Mother's Day to all the moms out there; whether they are moms to humans, pet moms, moms-to-be, future mothers, moms that are no longer with us, and any other type of mom that I've missed.
It's a day of celebration and remembrance of all the things they have done for us! That's really everyday, but on this day, we super mean it.
My mom taught me to hustle and work hard. Growing up we didn't always get everything we wanted, but we sure made the most of what we did have. My mom also taught me to try all the foods because you don't know if you really like it until you try it.
Good thing I was never a picky eater, but mom, I don't like durian fruit or chicken feet, okay. Stop trying to make me eat it.
Thanks to my mom and to my mother-in-law, Kim! She's an absolutely fantastic woman who is the most reassuring and supportive person. She also has a sharp wit and some of the things she says are absolutely hilarious!
Growing up, my mom was never much of a baker, but we always had sweets in our house. Mostly store-bought, but from the store's freshly baked section if that helps…
These carrot pineapple muffins would have been a hit in my house growing up!
The recipe was adapted from a 1980's community cookbook from my mother-in-law.
Why try this recipe?
It's a super easy "stir the dry and wet ingredients into a couple bowls, mix together, and then scoop in a muffin pan" type of recipe.
No electric mixer or food processor required! All the ingredients should be easy to find in most general grocery store as well.
What you get is a super moist, lightly spiced, sweet pineapple and carrot flavoured treat that is great as a take-and-go breakfast, snack, or dessert!
It goes wonderful with with a cup of coffee or tea or a big glass of milk.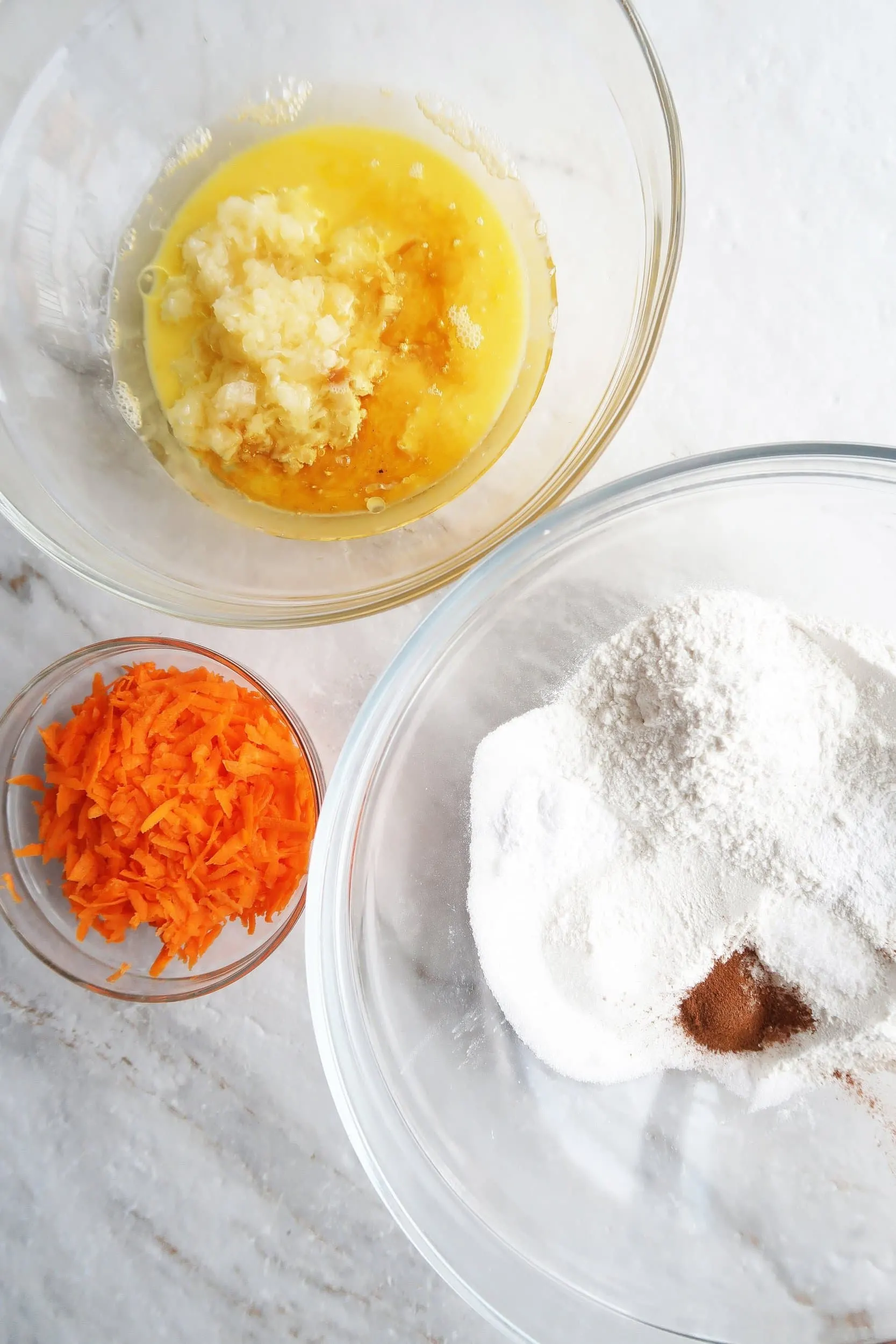 All the dry ingredients are in one bowl, the wet ingredients in another, and the grated carrots in a small bowl. Full ingredient amounts and complete instructions listed down below in the recipe card.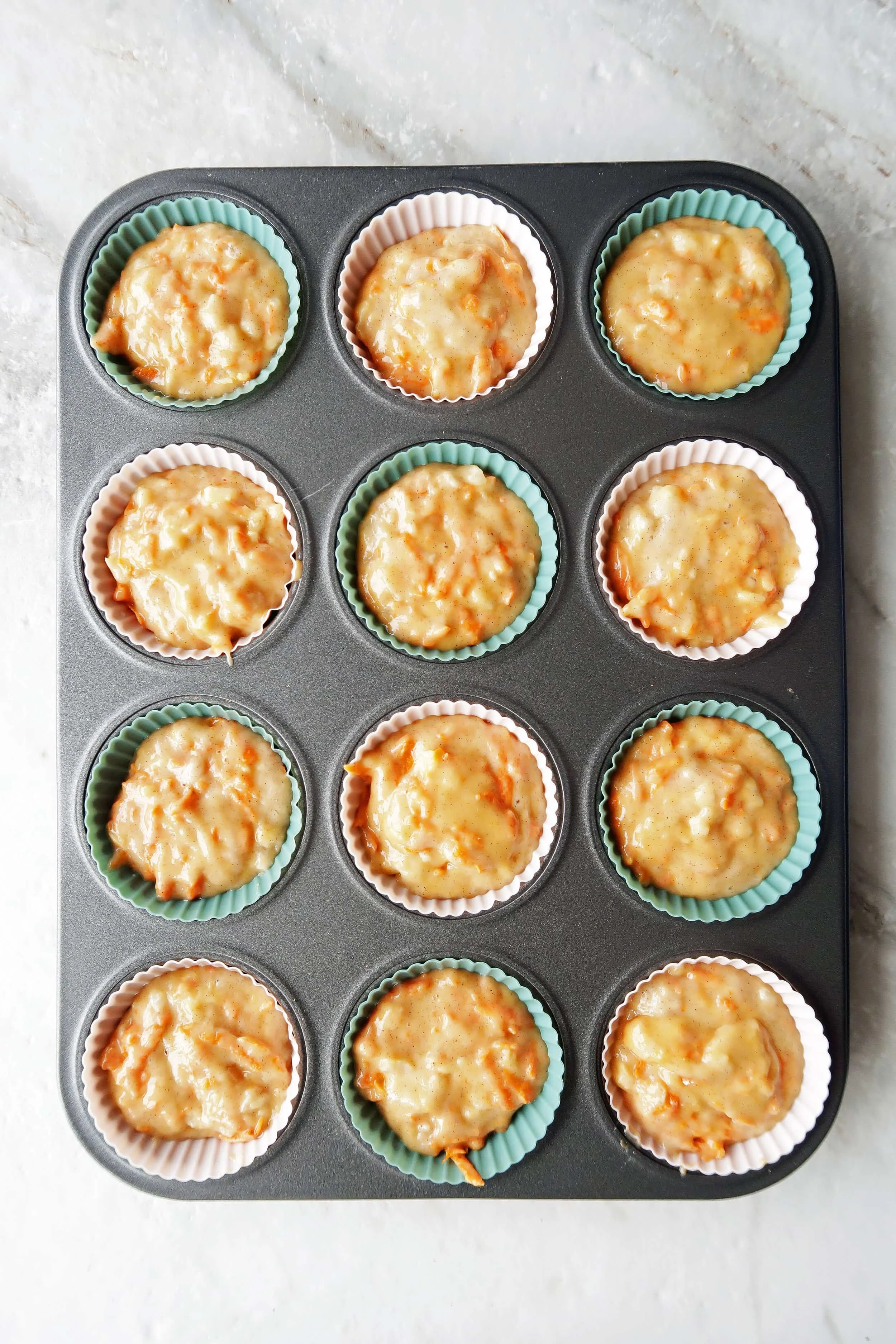 The batter ready to be baked! I used silicone liners, but regular paper cups or a greased muffin pan will work just as well!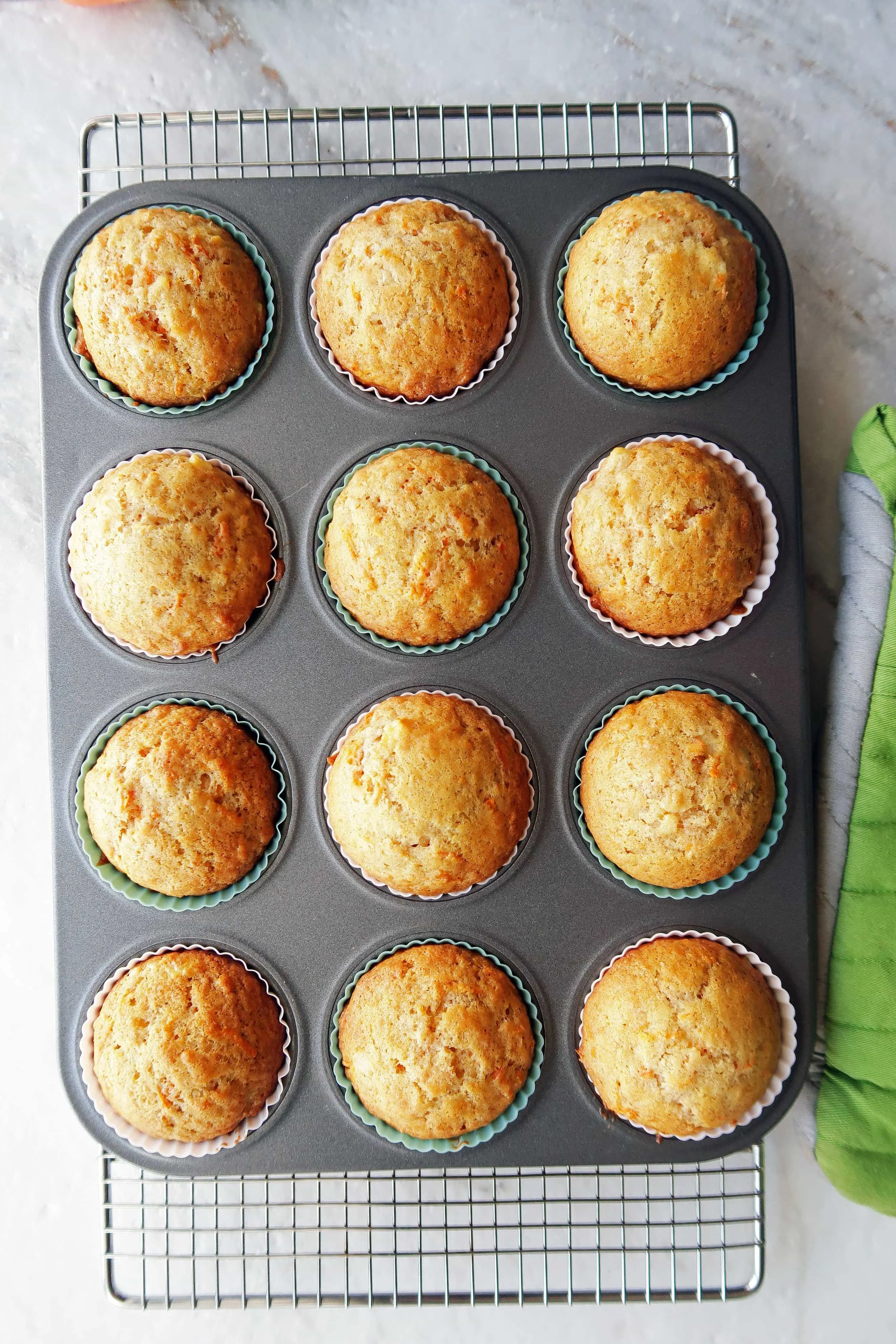 After 20-22 minutes in the oven at 350 degrees F, the carrot pineapple muffins are ready! Golden-brown on top and perfectly soft on the inside!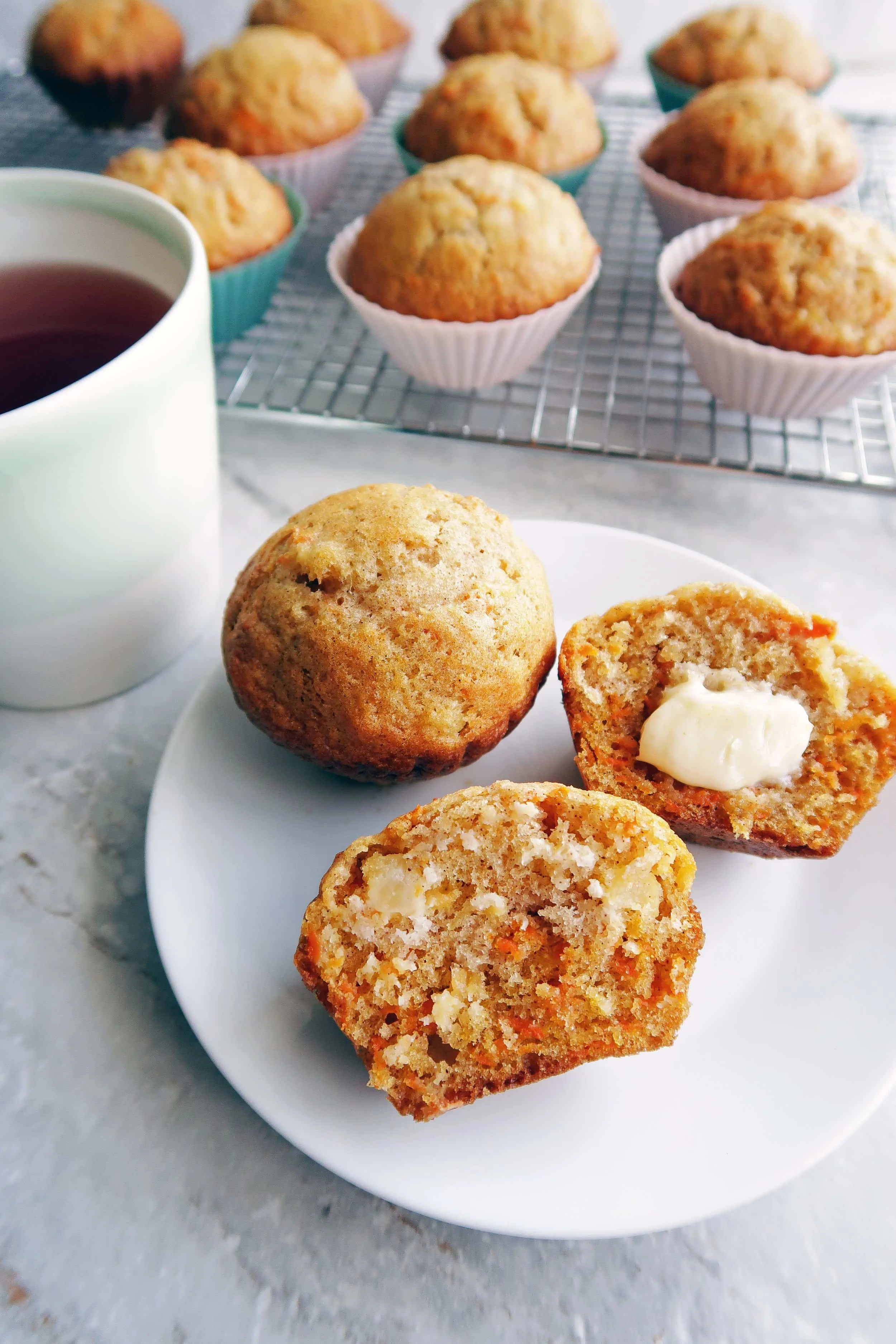 Looking for more easy dessert recipes? Check out these four recipes.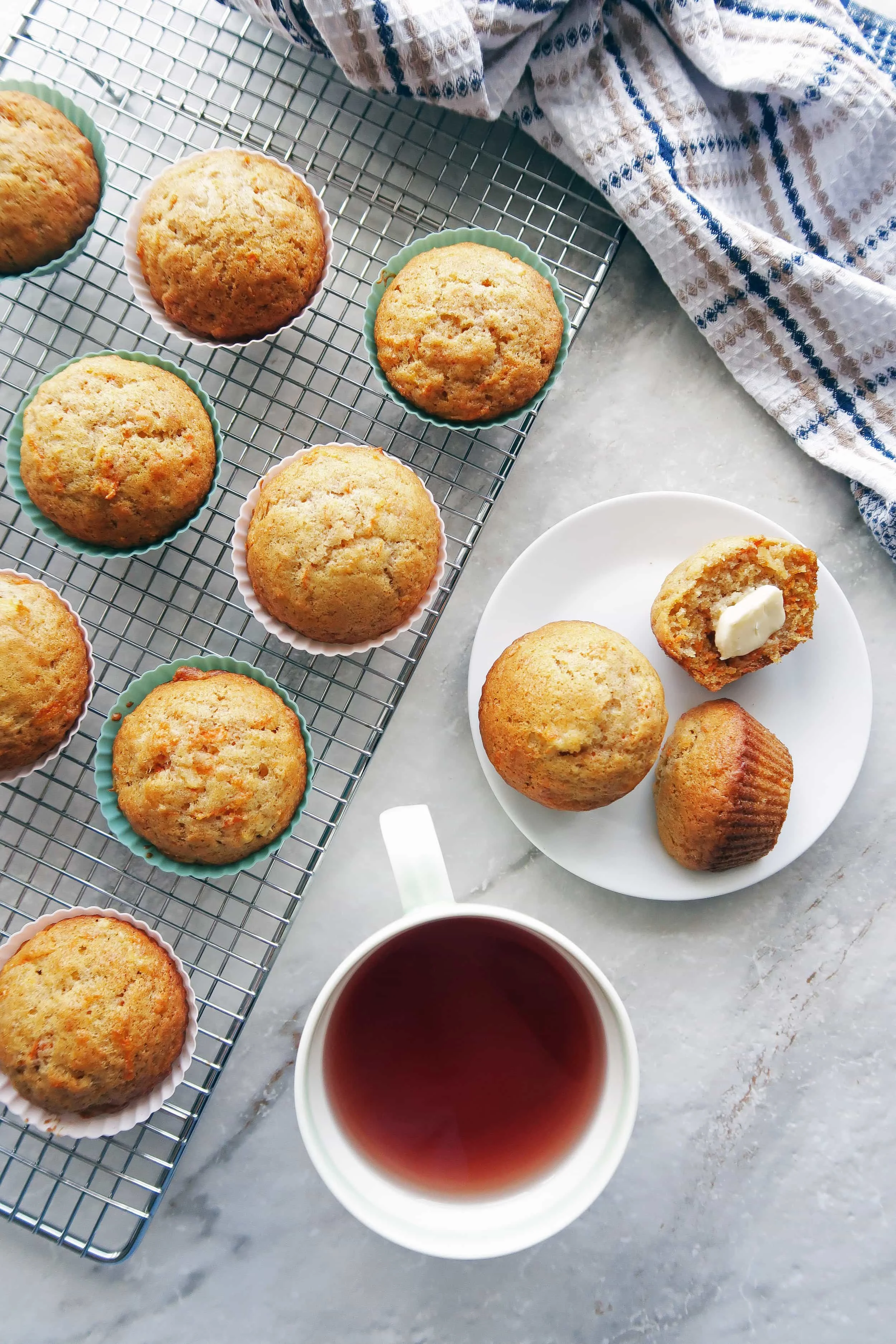 I hope you try this muffin recipe! If you do, please leave me a rating and comment down below or tag me on any of my social media. I'm @yay_for_food on Instagram. I'll love a picture!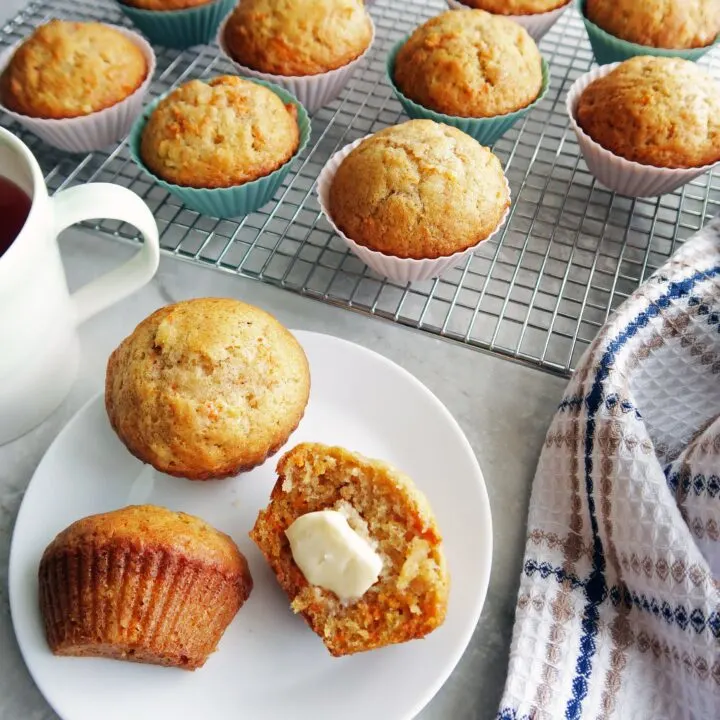 Easy Carrot Pineapple Muffins
These classic Carrot Pineapple Muffins are flavourful, super soft, and extremely easy to make. Make these delicious muffins in less than 35 minutes.
Ingredients
1½ cup all-purpose flour
½ cup sugar
1 tsp baking soda
1 tsp baking powder
1 tsp ground cinnamon
½ tsp salt
1 cup canned crushed pineapple (with juice), partially drained
2 eggs, beaten
⅔ cup vegetable oil
1 tsp vanilla extract
1 cup raw grated carrots
Instructions
Preheat the oven to 350 degrees F. Line or grease a muffin pan.
Using a large bowl, whisk together the dry ingredients: flour, sugar, baking soda, baking powder, cinnamon, and salt. Set aside.
In another bowl, whisk together the wet ingredients: crushed pineapple, eggs, vegetable oil, and vanilla extract until combined together.
Stir the wet ingredients into the dry ingredients, whisking until the ingredients are just combined (no dry ingredients are visible). Fold in the grated carrots. Scoop into the muffin cups, filling each ¾ full. Bake for 20-22 minutes, until a wooden skewer inserted in the middle comes out clean.
Let the muffins cool for 5 minutes before removing them from the pan and letting them cool further on a wire rack. Enjoy warm or cool with some butter if you like.
Notes
To store muffins up to 2-4 days: Completely cool the muffins, line an airtight storage container or a large ziploc bag with a paper towel, place the muffins in a single layer, and then top with another paper towel before sealing. Store the bag at room temperature.
To store muffins for longer than 4 days: Completely cool the muffins, wrap each muffin with plastic wrap or aluminum foil, and store in a freezer bag before freezing. Thaw in room temperature or reheat in a microwave before eating.
Recommended Products
As a participant in the Amazon Services LLC Associates Program, I only link to products that I use and/or highly recommend. As an Amazon Associate, I earn from qualifying purchases if you purchase through these links at no additional cost to you.
Nutrition Information:
Yield:

14
Serving Size:

1
Amount Per Serving:
Calories:

194
Total Fat:

11g
Saturated Fat:

1g
Trans Fat:

0g
Unsaturated Fat:

10g
Cholesterol:

27mg
Sodium:

224mg
Carbohydrates:

21g
Fiber:

1g
Sugar:

10g
Protein:

2g