This is my third recipe in a row featuring lemons. An unintentional "Lemon Series," but that's because I love lemons so much. Sweet, sour, bright flavours that go well with so many foods. Sigh. Check out my last two lemony posts: Lemon Feta Linguine with Garlic Asparagusand Classic Lemon Blueberry Loaf Cake.
You know the saying, "when life gives you lemons, make lemonade." I admit that sometimes I like to wallow in self-doubt and sadness, but this phase holds true; optimism really is contagious and being hopeful can really energize a person to overcome the unfavourable situations that life hands you, especially when you surround yourself with the right people.
Why not drink some fresh lemonade when you superhero yourself out of tough situations? Of course, I couldn't just make regular lemonade – although you could using this recipe; simply take out the raspberries and replace the green tea with cold water and you've got some awesome fresh lemonade.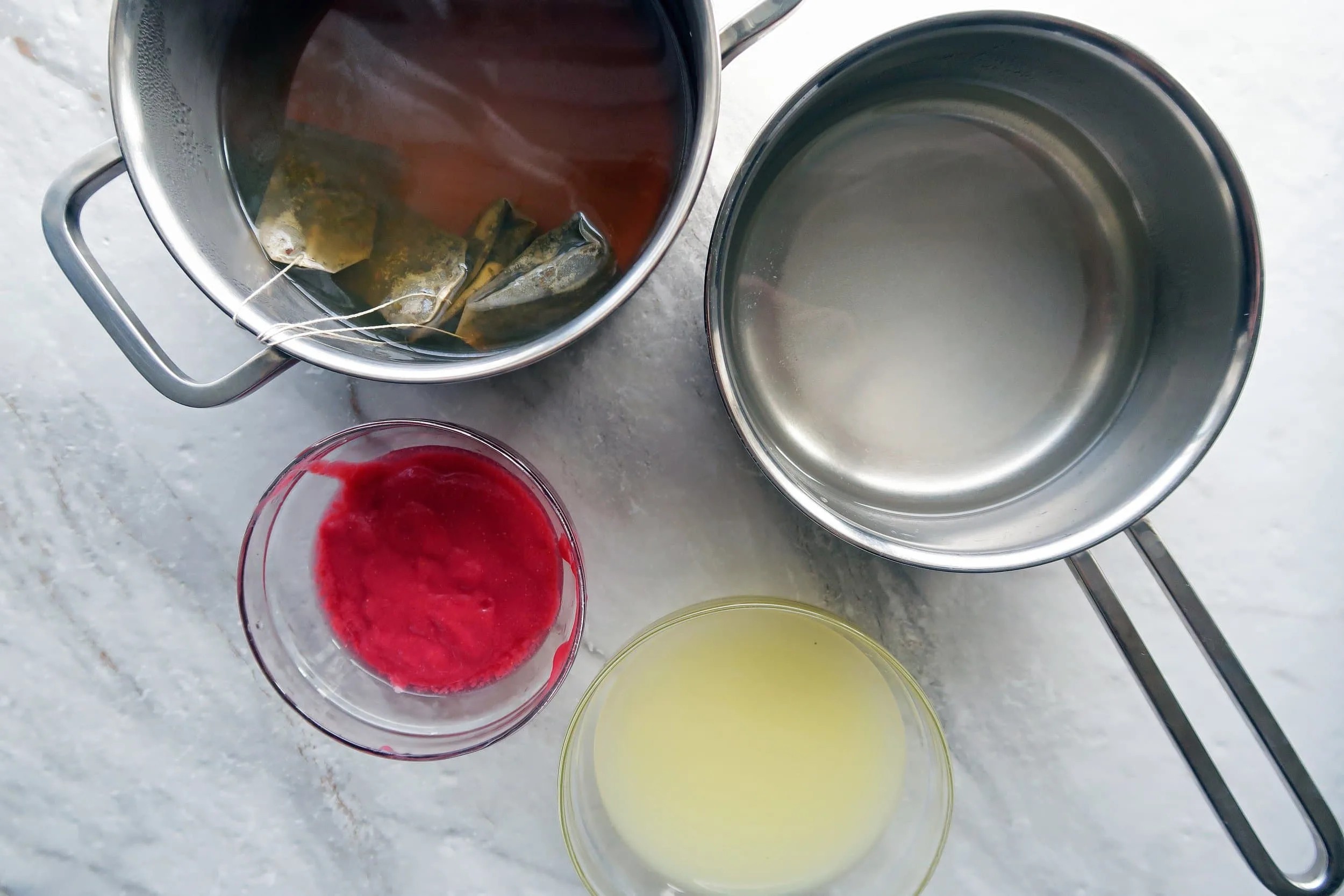 From clockwise: Steeped green tea, simple syrup, lemon juice, and raspberry puree. All amounts in the "Ingredients" list below.
As great as regular lemonade is, I'm in love with this variation! This recipe is so refreshing and makes a perfect summer drink that anyone can enjoy. Along with the bright citrus flavour of freshly squeezed lemons, there are sweet raspberries, and steeped green tea.
The green tea flavour is subtle in this recipe, but it's definitely there. Plus, green tea is known for having a ton of antioxidants, so I feel even better when drinking this tasty beverage.
Then, there is the pretty pink colour created when you swirl in the raspberry puree. How cute would it be to serve this lemonade for Mother's Day or a baby shower?
I like to prepare this drink ahead of time and store it in the refrigerator. Then, when it is time to drink, I like to load up a glass with ice and drink it super cold. You can also drink it right away once you make it; just be sure that it's cooled down with some ice.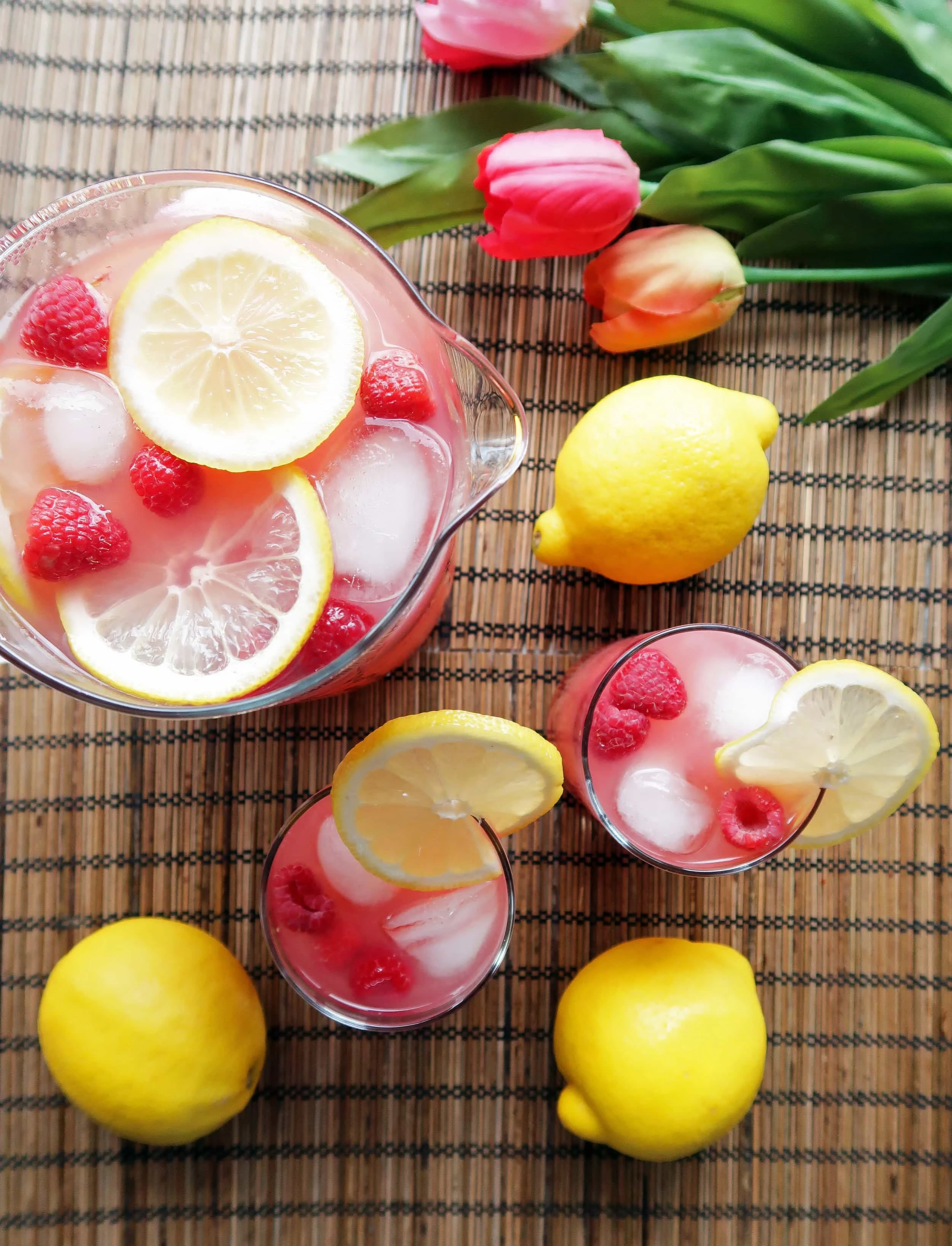 Can't you just picture yourself sitting outside on the deck on a warm, summer day, enjoying a glass of raspberry green tea lemonade?
I hope you like this recipe!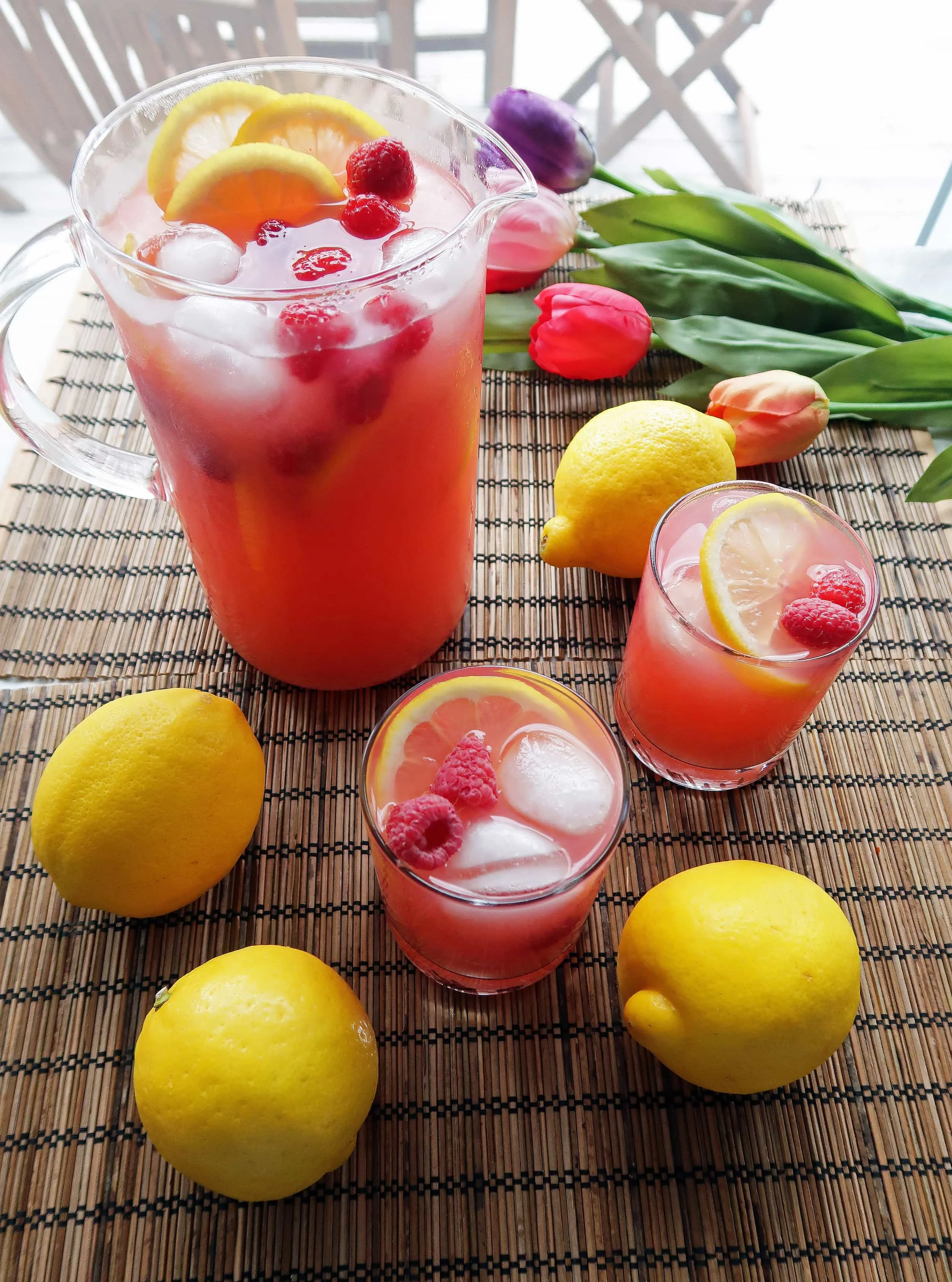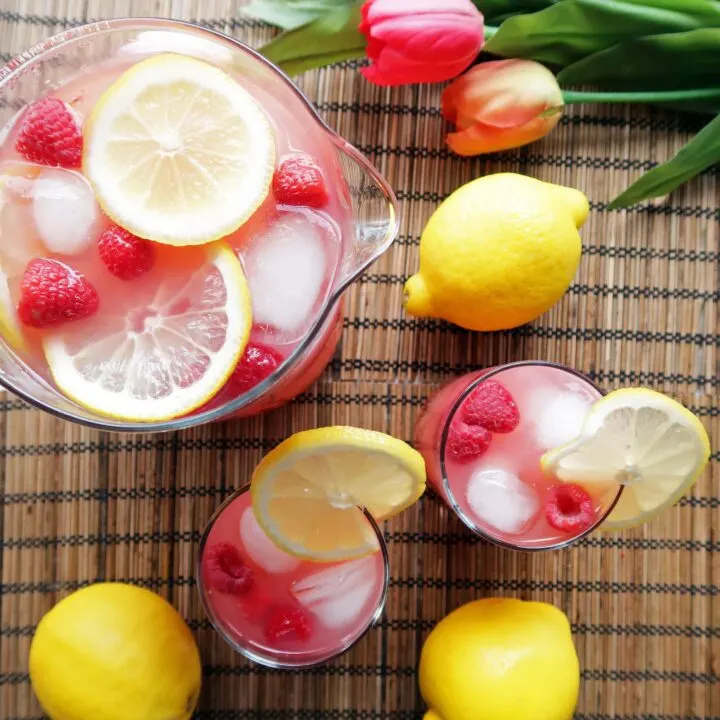 Homemade Raspberry Green Tea Lemonade
Yield:
5 cups (minus the ice cudes)
A truly refreshing summer drink! This quick homemade lemonade is combined with raspberries and green tea to give it a wonderful sweet and tart flavour!
Ingredients
5 cups water, divided
4 green tea bags
1 cup lemon juice (4-6 lemons)
1 cup sugar
1 cup raspberries, fresh or frozen
Ice cubes
Optional toppings:
Instructions
Boil 4 cups of water. Then in a separate heat-proof container, steep 4 green teas bags. Set it aside.
In a small pot over medium heat, make a simple syrup by stirring the sugar in one cup of water until the sugar dissolves. Remove from the heat and let it cool.
Squeeze lemons until you get 1 cup of juice, about 4 to 6 lemons.
Using a blender, process the raspberries with a tablespoon of water until the raspberries are smooth. Then, using a sieve, strain the raspberries to remove the seeds*.
Combine everything in a pitcher. First add the simple syrup, then lemon juice, green tea (remove the tea bags first), and the strained raspberries. Stir until well-combined. Taste and adjust according to your preferences (adding more lemon juice or sugar).
Garnish with additional lemon slices and raspberries if you like. Best served chilled in ice-filled glasses.
Notes
*I use a spatula to help push the raspberry puree through the sieve.
Recommended Products
As a participant in the Amazon Services LLC Associates Program, I only link to products that I use and/or highly recommend. As an Amazon Associate, I earn from qualifying purchases if you purchase through these links at no additional cost to you.
Nutrition Information:
Yield:

5
Serving Size:

1
Amount Per Serving:
Calories:

178
Total Fat:

0g
Saturated Fat:

0g
Trans Fat:

0g
Unsaturated Fat:

0g
Cholesterol:

0mg
Sodium:

24mg
Carbohydrates:

46g
Fiber:

2g
Sugar:

42g
Protein:

1g