Happy Friday! Today's recipe is a simple and easy quick bread that's perfect for snacking or to serve alongside a savory soup (like a homemade tomato soup) or a hearty chili.
It's an easy drop biscuit featuring the delicious combination of cheese and ham that's crispy on the outside and soft and fluffy in the inside. The texture is amazing especially right out of the oven.
I used my favourite cheese in these biscuits: Gruyère. It's a firm, pale yellow Swiss cheese that's melts beautifully and has a rich and slightly nutty flavour.
It's paired with a seasoned deli ham (I choose black pepper and rosemary), but use any type of deli ham you prefer. I also like using black forest ham.
Plus, it's so easy to make. It uses just nine ingredients and it takes around 20 minutes to prepare. Then you simply scoop the dough onto a baking sheet, top with more cheese, and bake until it's ready.
I hope you enjoy this recipe for Easy Ham and Cheese Drop Biscuits!
How do you make these drop biscuits?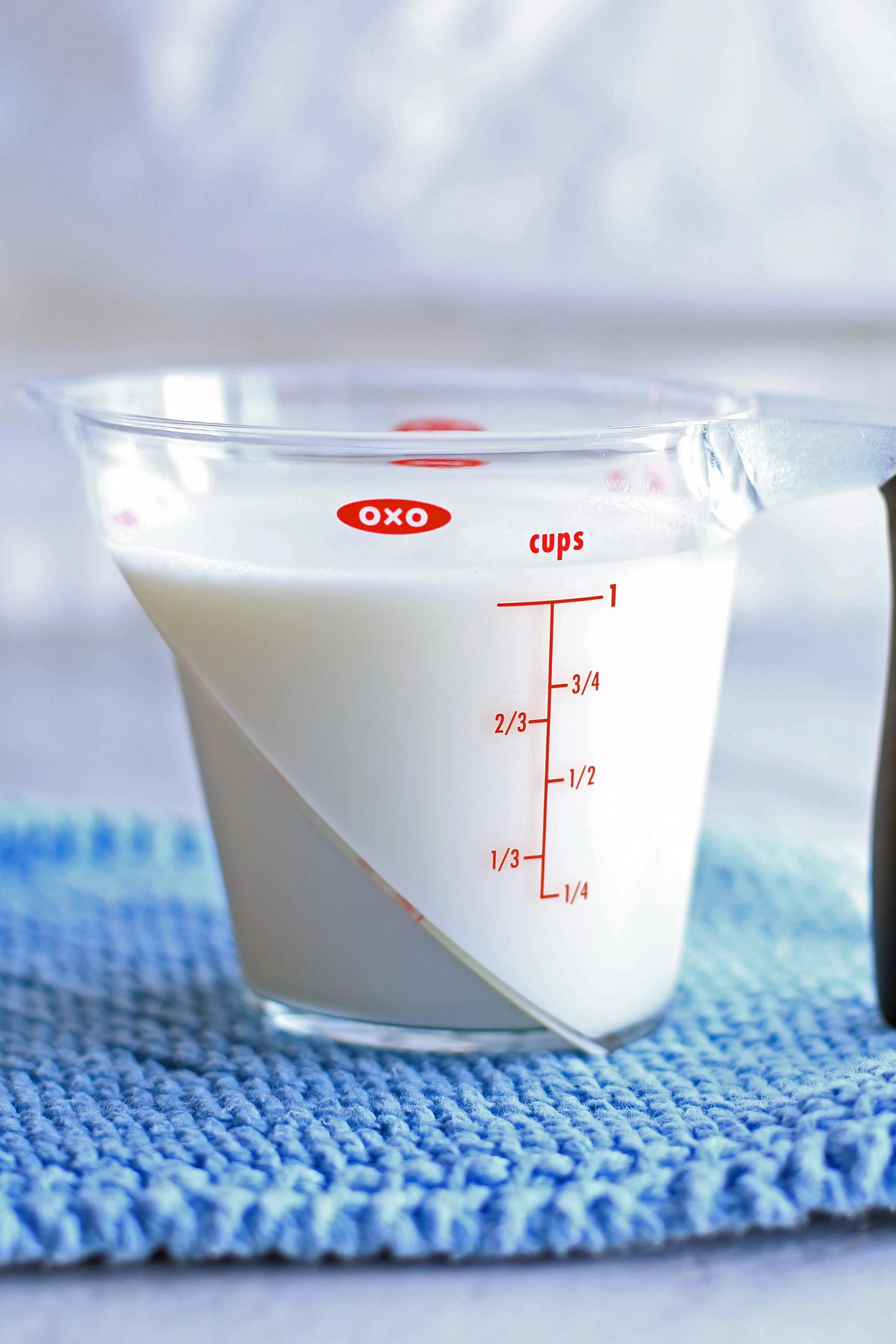 Whisk the vinegar and milk together and set aside. Ingredients amounts and complete instructions available in the recipe card down below.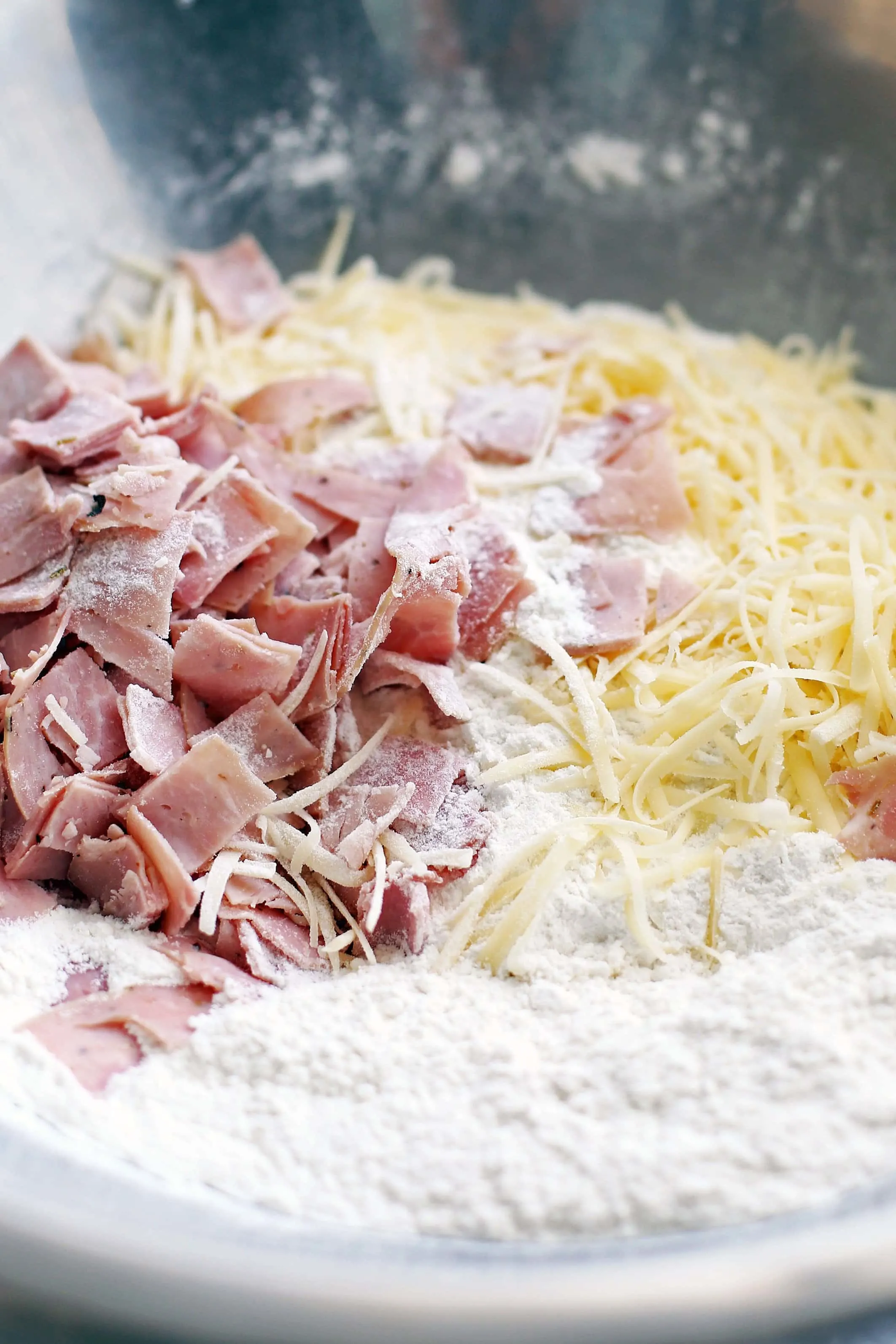 In a large bowl, combine together the dry ingredients along with the cheese and ham.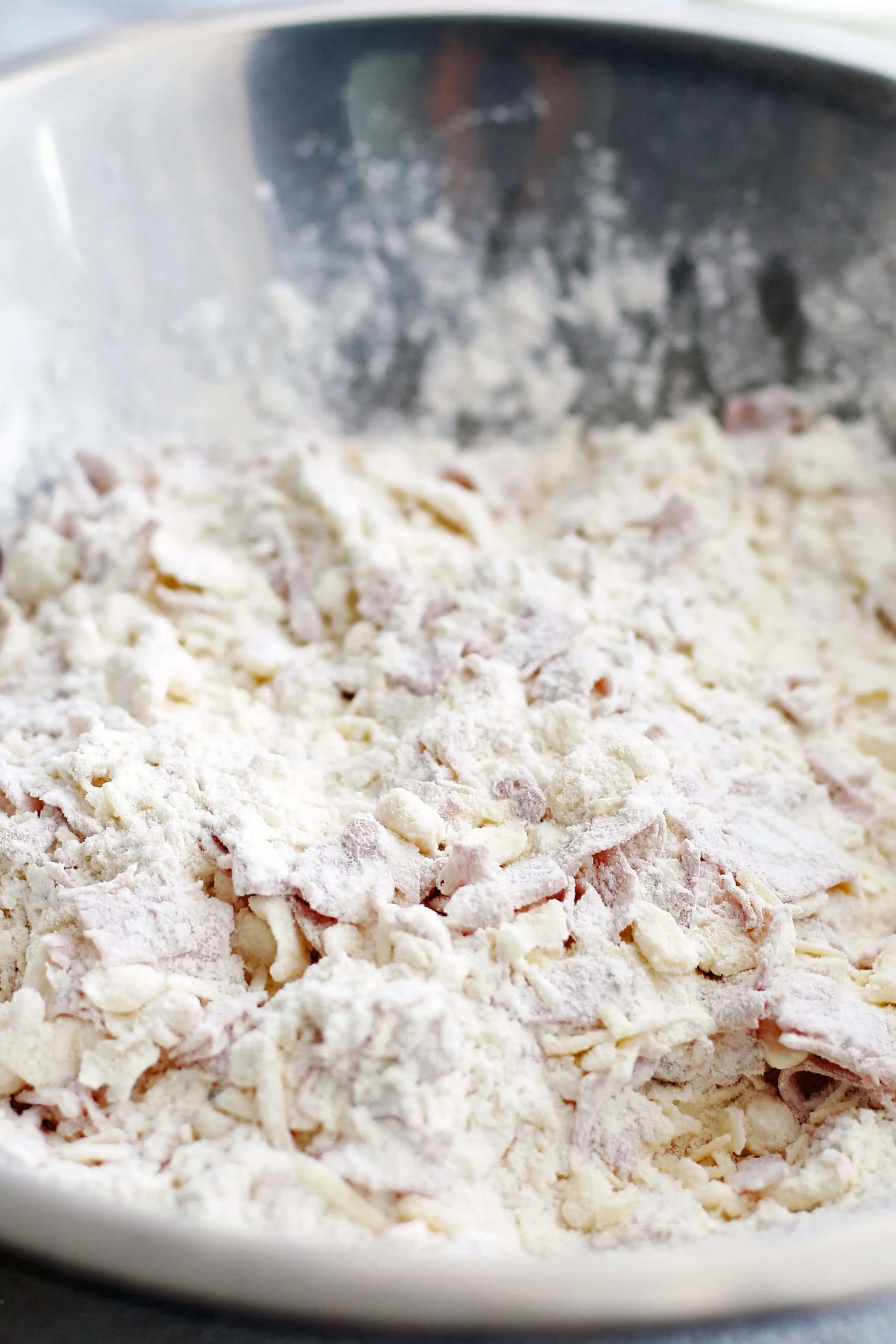 Add in the cold, cubed butter. Using your fingers (or pastry cutter), break down the butter until coarse crumbles form. Then stir in the milk until just combined (not shown).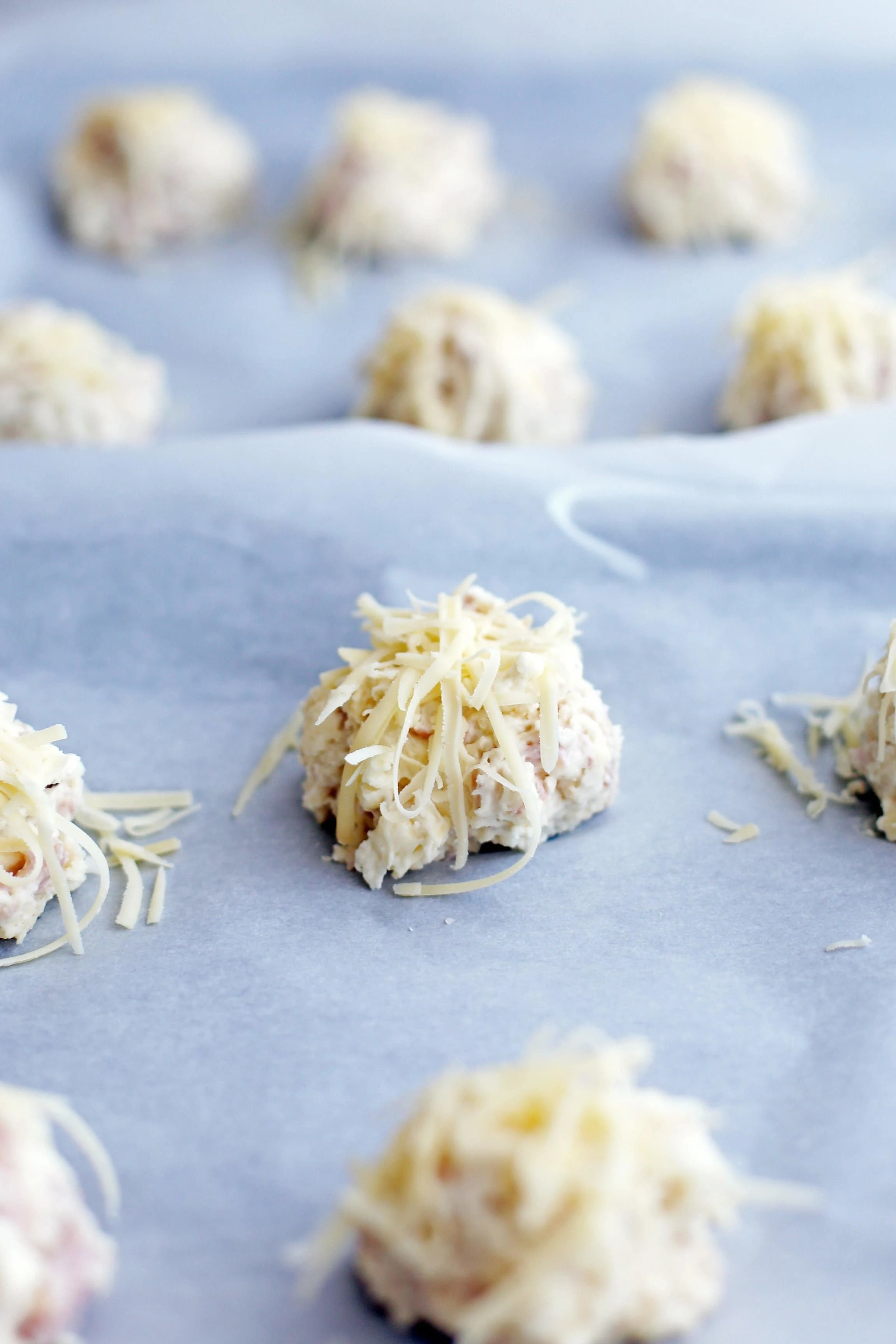 Measure out approximately 1/4 cup scoops and place on a parchment-lined baking sheet. Top with more shredded cheese.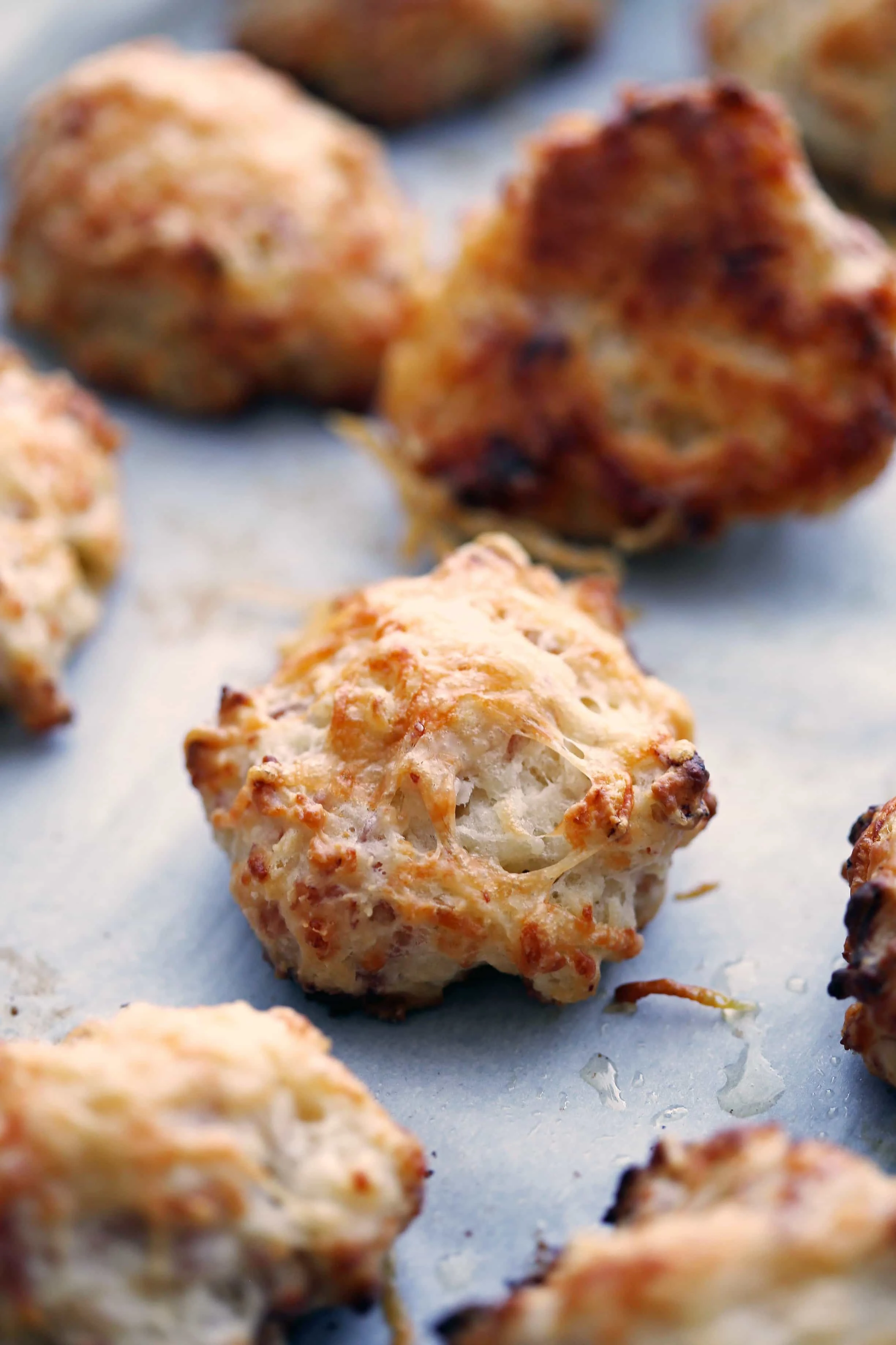 Bake at 450 degrees F for 14-18 minutes until crispy and golden-brown. Enjoy!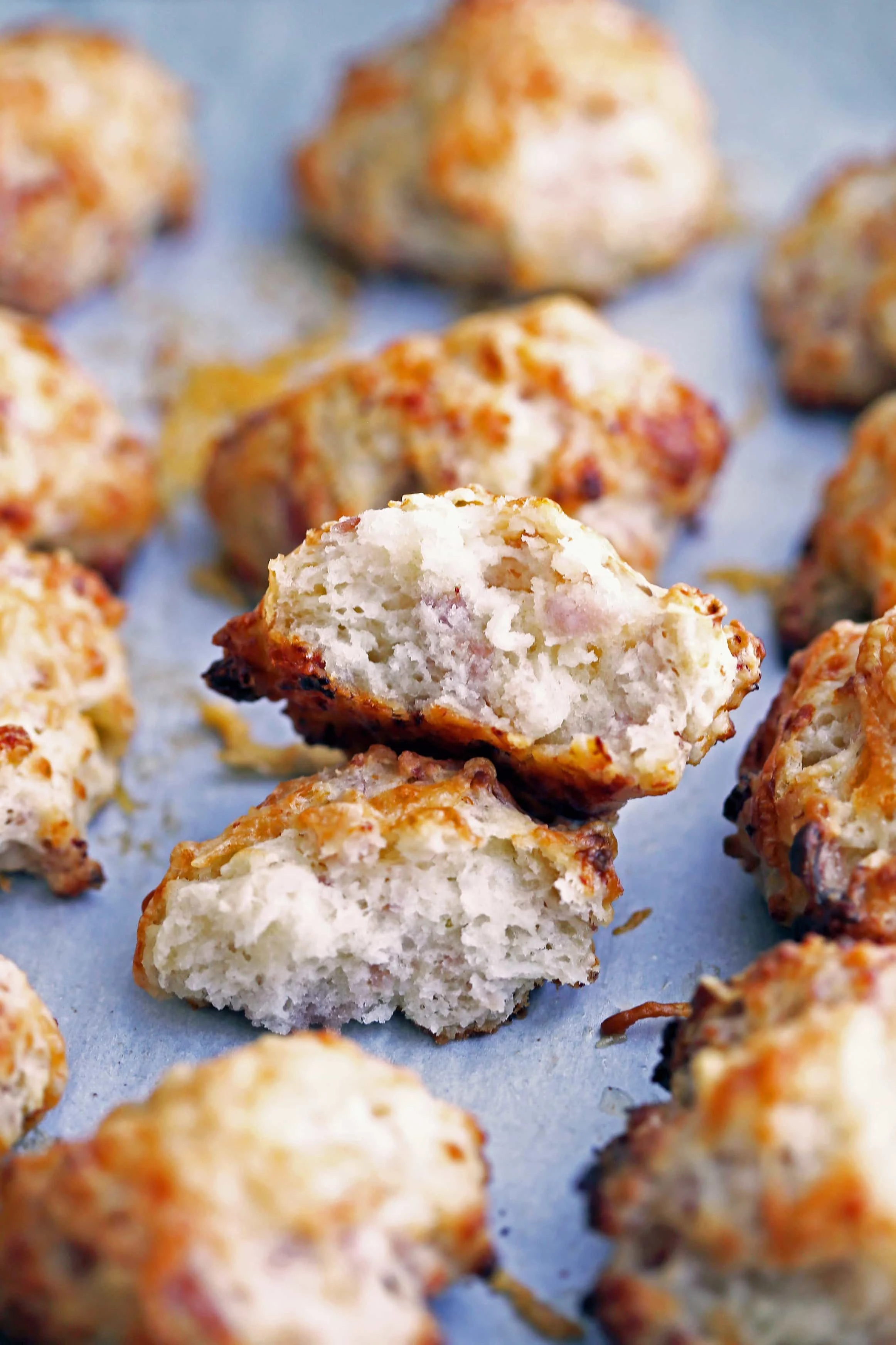 Here Are Some Helpful Tips!
Measure and chop up the butter first and then store in the freezer (in a freezer-proof container) until you are ready to use it.

That way the butter stays cold and is easier to crumble into the dry ingredients. Butter crumbles are key to the overall texture of these drop biscuits.

Do not overwork the dough or you may end up with flat biscuits.

Don't use an electric mixer. It's best to manually combine all the ingredients in a large bowl using select kitchen tools (spatula and/or a wooden spoon) and your fingers.
If the butter begins to melt due to the heat of your fingers, stick the bowl in the freezer for a few minutes before resuming.
When you pour the milk in the dry ingredients, use a spatula or a wooden spoon to gently mix together the ingredients until just combined (where you can no longer see dry ingredients). The dough should be bumpy in appearance and not completely smooth.

Substitute gruyère cheese with another melty cheese or cheeses such as cheddar, Emmental, gouda, or fontina. A combination of gruyère and cheddar cheese would be fantastic.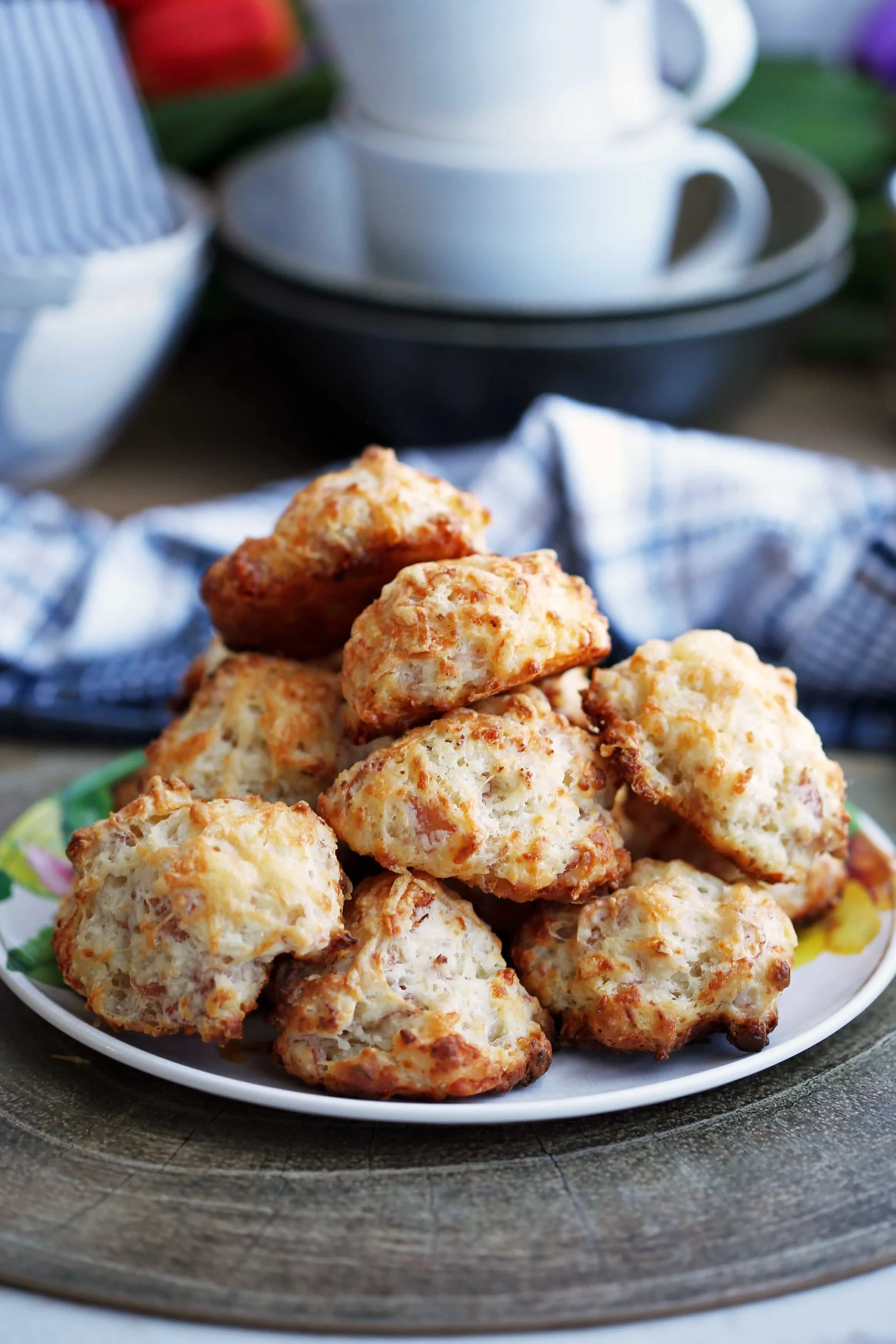 Check out these four quick bread recipes!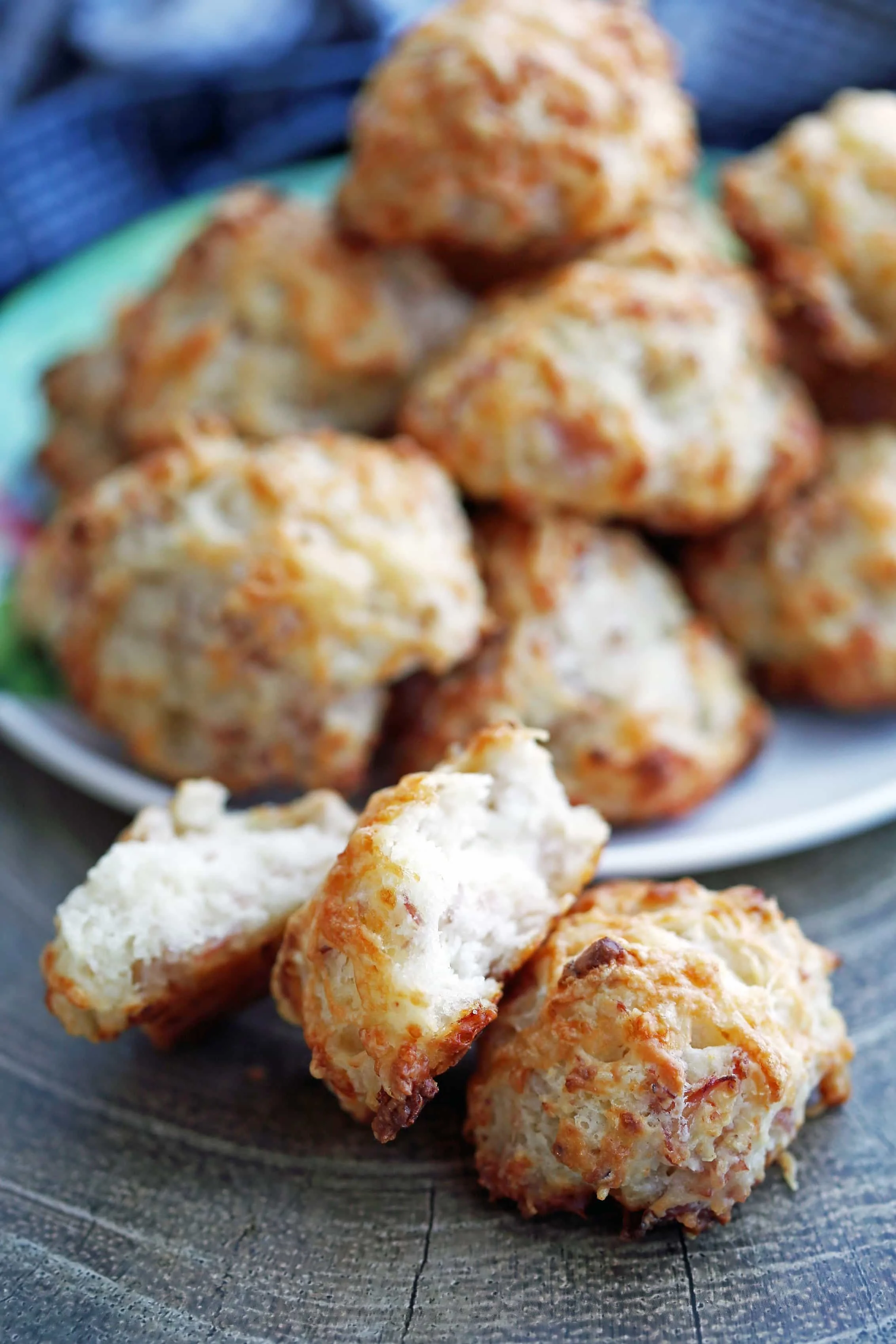 Overall, these ham and cheese biscuits:
Are tasty: Cheesy with a good amount of salty ham is a fantastic combination of flavours.
Have a pleasing texture: Crunchy outsides (especially freshly baked) and fluffy and soft on the inside.
Are easy to make: These drop biscuits use baking pantry staples and come together quickly.
Are great to have as a snack or to serve alongside soup or chili.
Makes between 14-16 delicious biscuits: The recipe can be halved to make less or scaled up to make more if you want too.
Can be kept in an airtight container for up to five days in the fridge, three days in room temperature, or freeze them for later.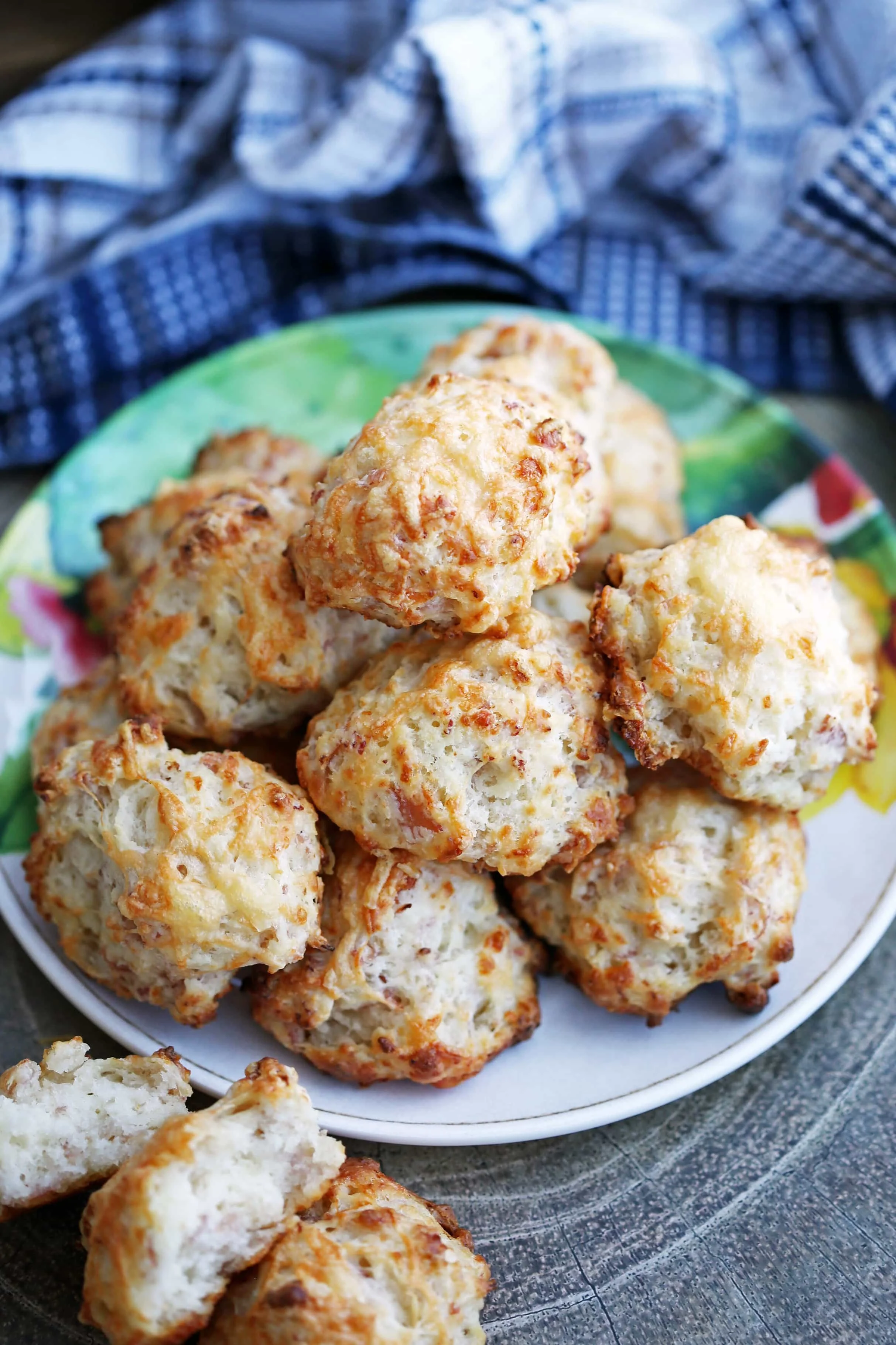 I hope you try this easy quick bread recipe! If you do, please leave me a rating and comment down below or tag me on any of my social media. I'm @yay_for_food on Instagram. Please share your recipe pictures!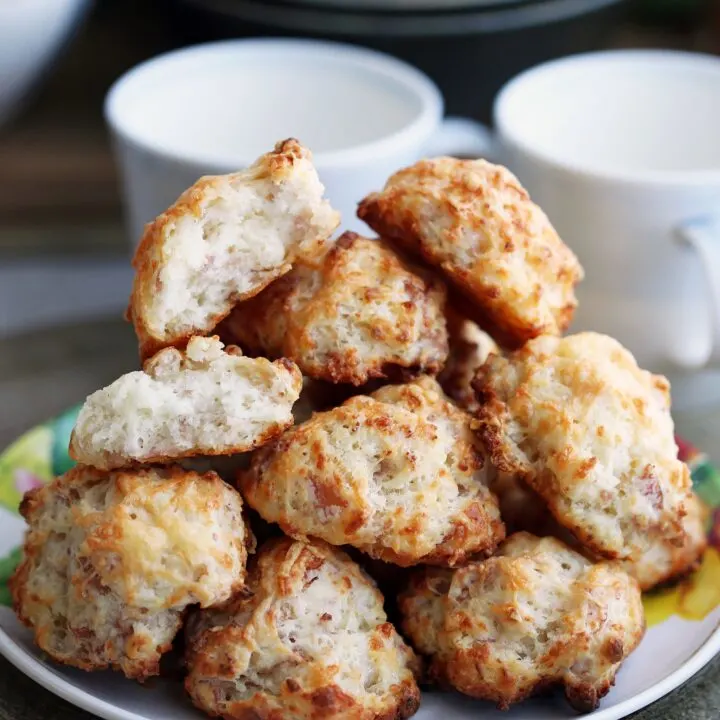 Easy Ham and Cheese Drop Biscuits
The classic winning combination of savoury ham and melty cheese is stuffed inside a drop biscuit that's crunchy on the outside and soft and fluffy on the inside. An easy recipe for the perfect snack.
Ingredients
1 cup milk (I used 2%)
1 tbsp white vinegar
2 cups all-purpose flour
1 cup gruyère cheese, shredded, plus more for topping
1½ cup (150 g) deli ham, diced
1 tbsp baking powder
1 tbsp sugar
½ teaspoon salt
½ cup (4 ounces) unsalted butter, cold and cubed
Instructions
Preheat oven to 450 degrees F. Line a baking sheet with parchment paper.
In a small bowl, whisk the vinegar and milk together *(see first note). Set aside. In a large bowl, stir together the flour, cheese, ham, baking powder, sugar, and salt.
Add the butter into the dry ingredients. Using your fingers or a pastry cutter, combine the butter with the other ingredients until it forms coarse crumbles.
Using a spatula, gently stir in the milk mixture until just combined. Be careful not to over mix or melt the butter.
Scoop approximately ¼ cup of dough and place on a baking sheet at least 2-inches apart, making 14-16 biscuits. Top each biscuit with extra cheese.
Bake for 14-18 minutes or until crispy and golden brown. Best served immediately or warm.
Notes
*You can substitute the milk and vinegar mixture with 1 cup of buttermilk.
This recipe is slightly adapted from my recipe for Quick Rosemary Cheddar Drop Biscuits.
Nutritional information represents one drop biscuit for a total of sixteen biscuits.
Recommended Products
As a participant in the Amazon Services LLC Associates Program, I only link to products that I use and/or highly recommend. As an Amazon Associate, I earn from qualifying purchases if you purchase through these links at no additional cost to you.
Nutrition Information:
Yield:

16
Serving Size:

1
Amount Per Serving:
Calories:

193
Total Fat:

11g
Saturated Fat:

6g
Trans Fat:

0g
Unsaturated Fat:

4g
Cholesterol:

37mg
Sodium:

554mg
Carbohydrates:

16g
Fiber:

0g
Sugar:

1g
Protein:

8g