Yay! It's the start of pear harvest season, so I picked up a dozen Bartlett pears from the store where I impulse buy the most (okay… that's tied with Ikea). It's a huge warehouse, sells a wide variety of products, and has a hot dog and drink special. Take a guess in the comments and I'll tell you if you're right. Ha ha.
Bartlett (or Williams) pears are available year-round, but are in peak season during the end of summer through winter. That also means the prices go down since they are in abundance, which is great for the food budget.
These pears have the classic pear shape and taste and, when ripe, they are sweet and juicy. Pears are also full of vitamin C and fiber.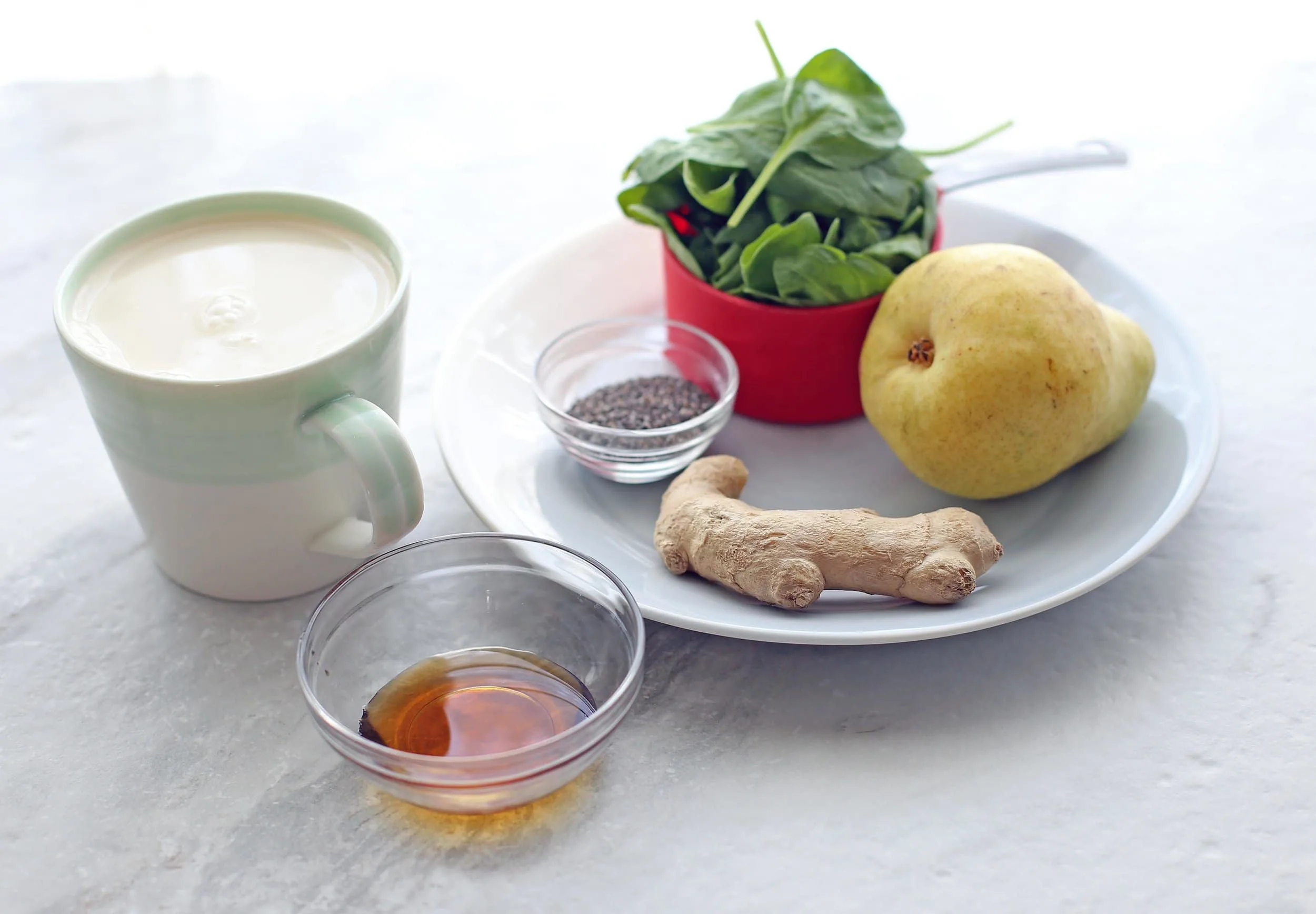 All the ingredient to make this smoothie. Amounts listed in the "Ingredients" list below.
Ginger adds it's unique flavour and zing to this smoothie! I prefer to add a little bit of ginger to start with and adjust after blending everything together.
When experimenting with this recipe, I originally added a half-inch knob of ginger (about 1 tsp) and ginger was all I could taste! I like the bold taste of ginger so this wasn't a big problem for me, but toning down the amount allows the other flavours, especially the sweet pear, to shine. You can also add more after initially tasting it if you like.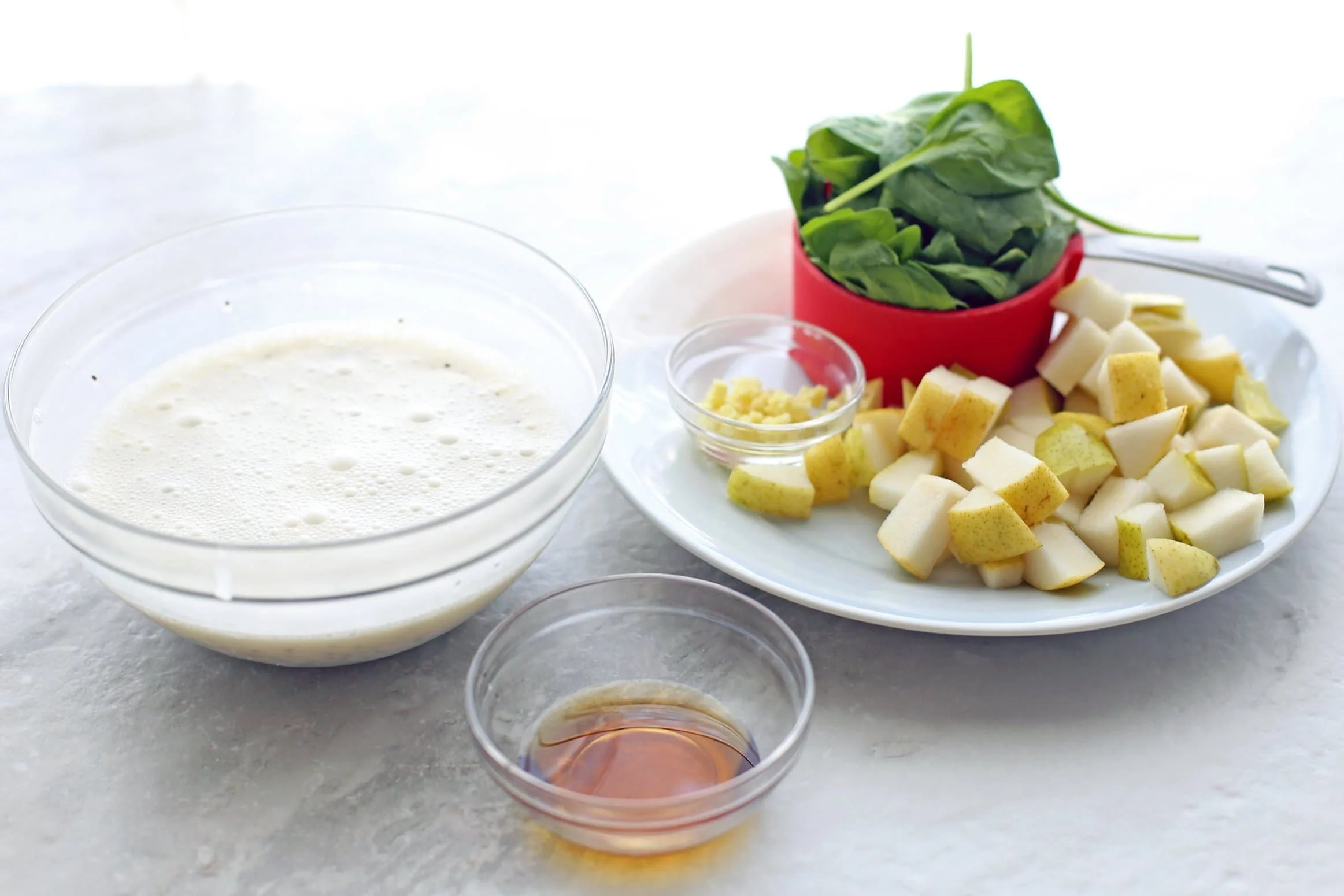 Ingredients are prepared and ready to be blended up in the blender.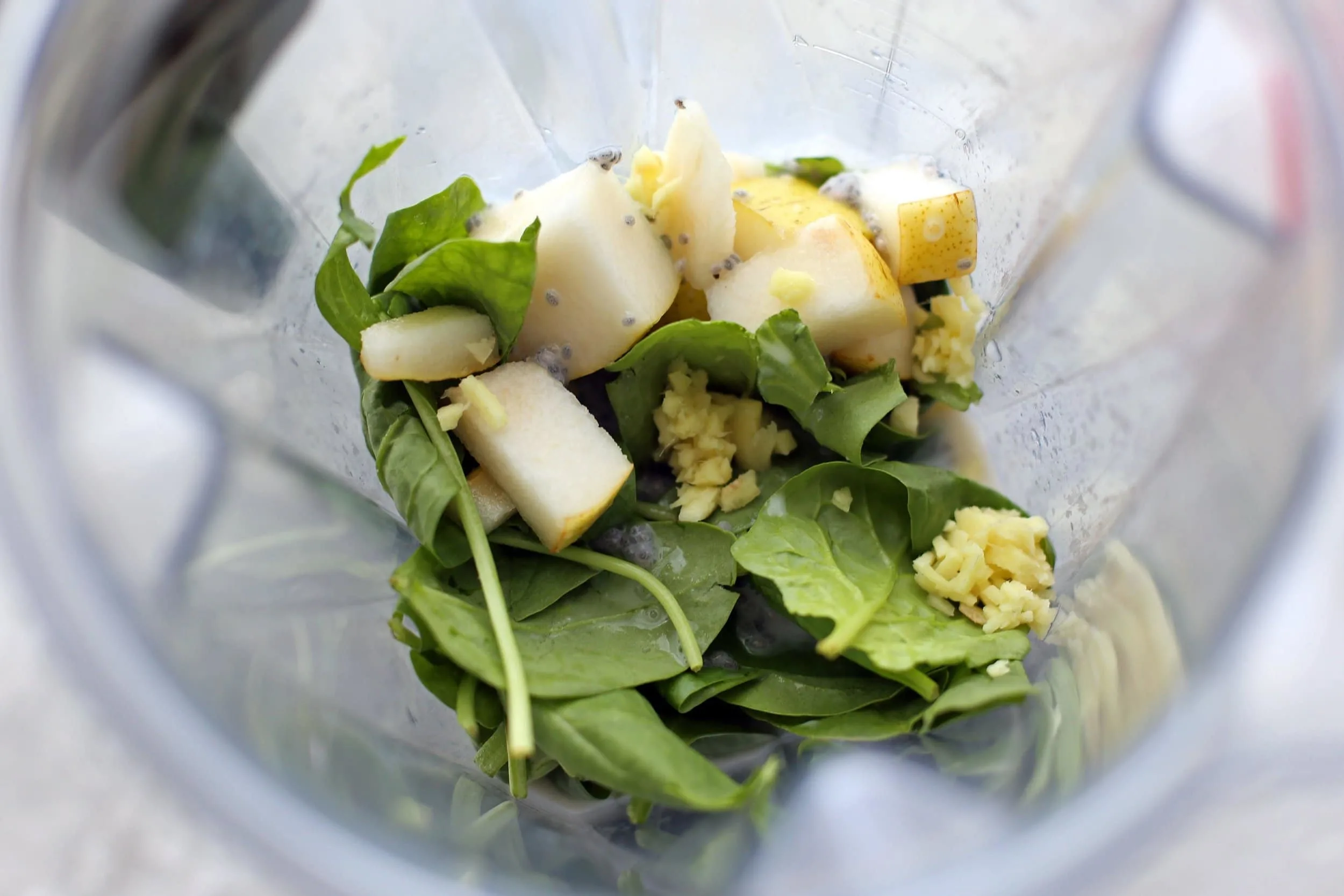 Blend for a few minutes and you've got a tasty green smoothie!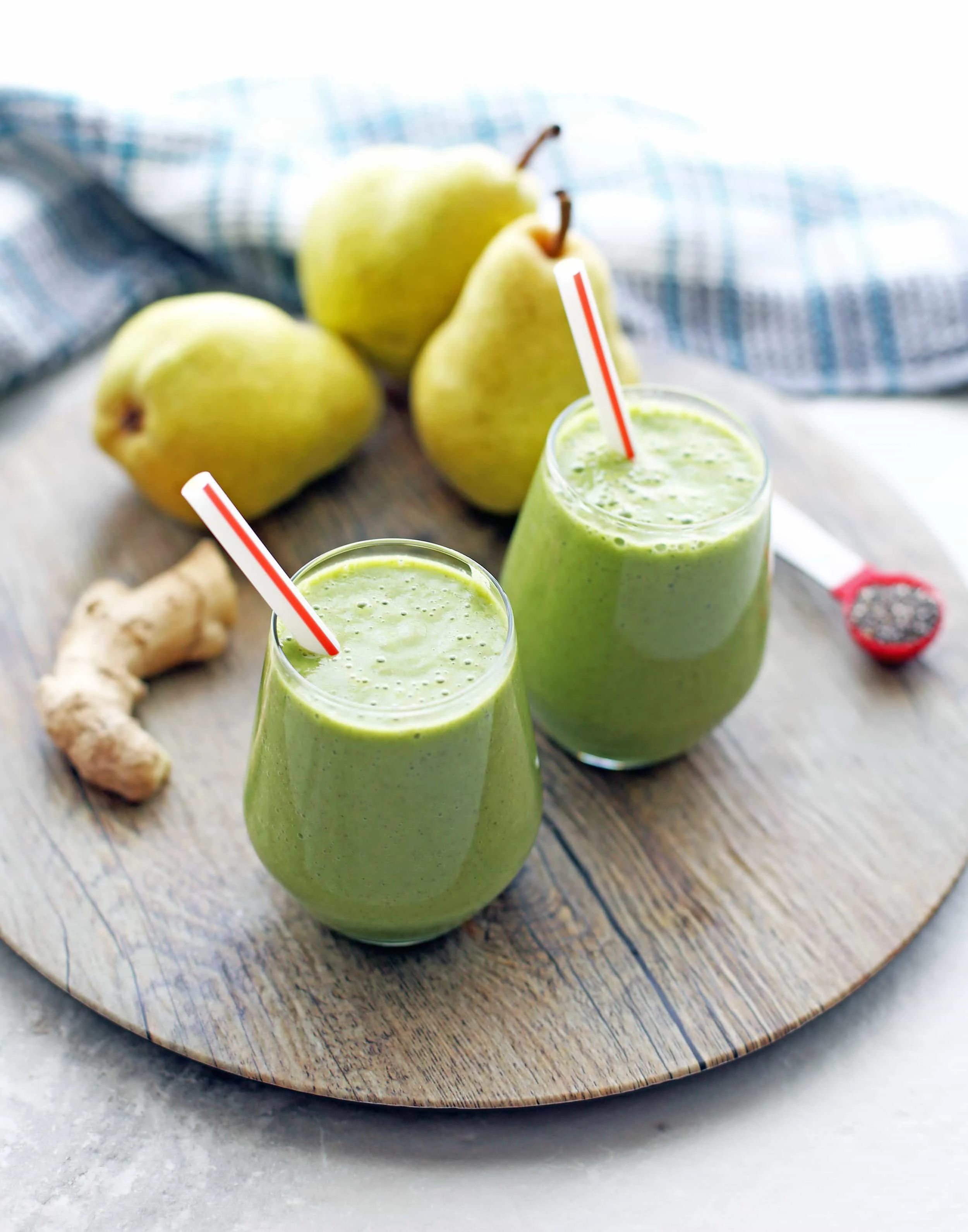 The baby spinach provides the green colour to the smoothie and adds bulk. Spinach is ridiculously healthy too; it's packed with nutrients such as vitamin K, A, iron, and magnesium.
Then there's the almond milk. It adds a little hint of nutty flavour and creaminess while the chia seeds, which are a rich source of nutrients and antioxidants including Omega-3 fatty acids, fiber, and proteins, help thicken the smoothie.
When I asked Scott to taste test this smoothie, he loved the texture, saying that the thickness provided by the chia seeds really makes the smoothie feel substantial. That's a pretty good compliment coming from Scott who is a known princess when it comes to texture.
Overall, this smoothie is not too sweet and has a wonderful creamy texture. The trick is to let it blend for a good 2-3 minutes so that the ingredients are blended down and everything is well-combined.
It's also vegan, gluten-free, and paleo!
So when do you like drinking smoothies the most? After a workout? For breakfast? Mid-afternoon pick-me-up? Regardless of your preferred time of day, this smoothie is a healthy and refreshing drink.
I hope you enjoy this recipe.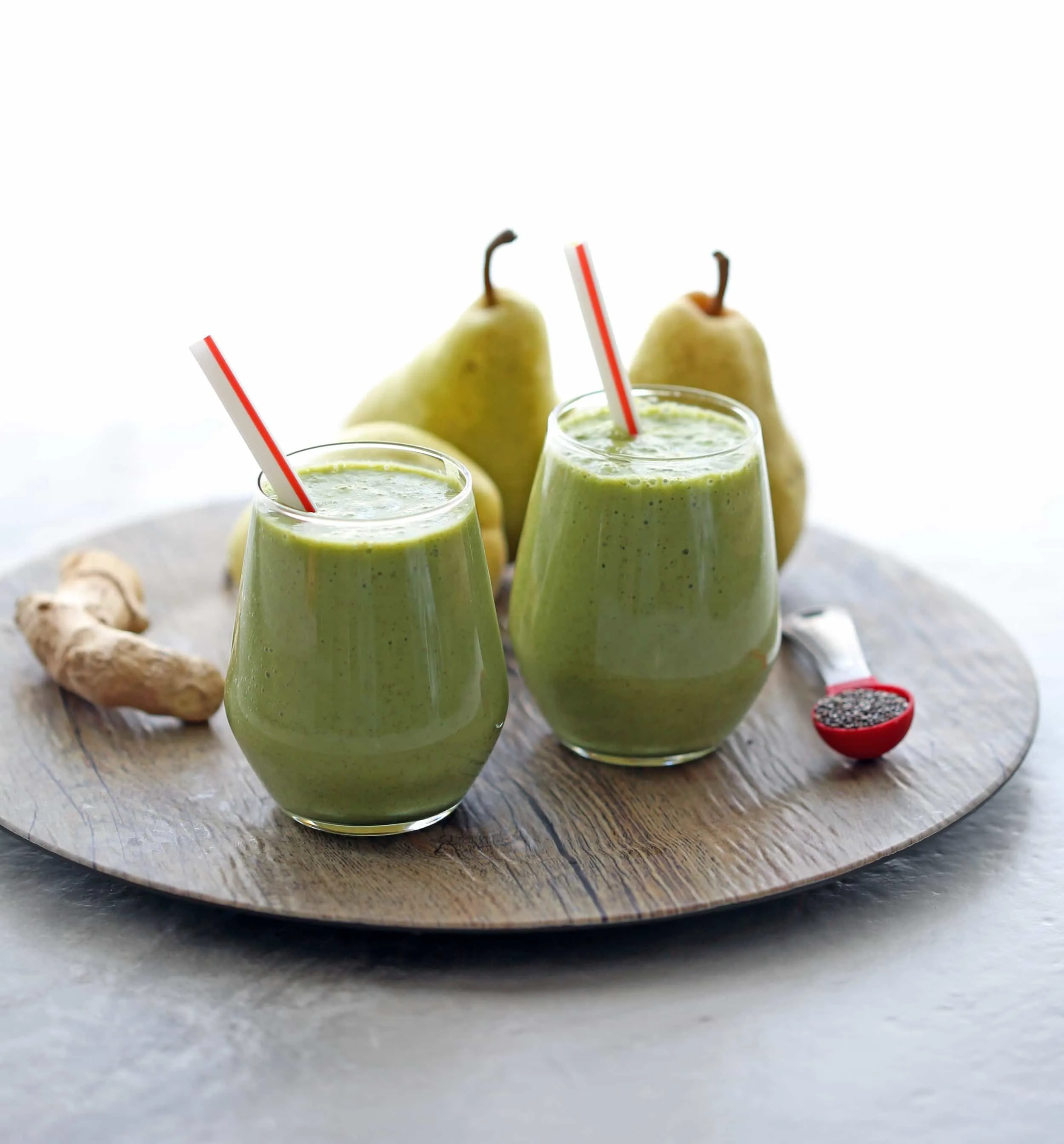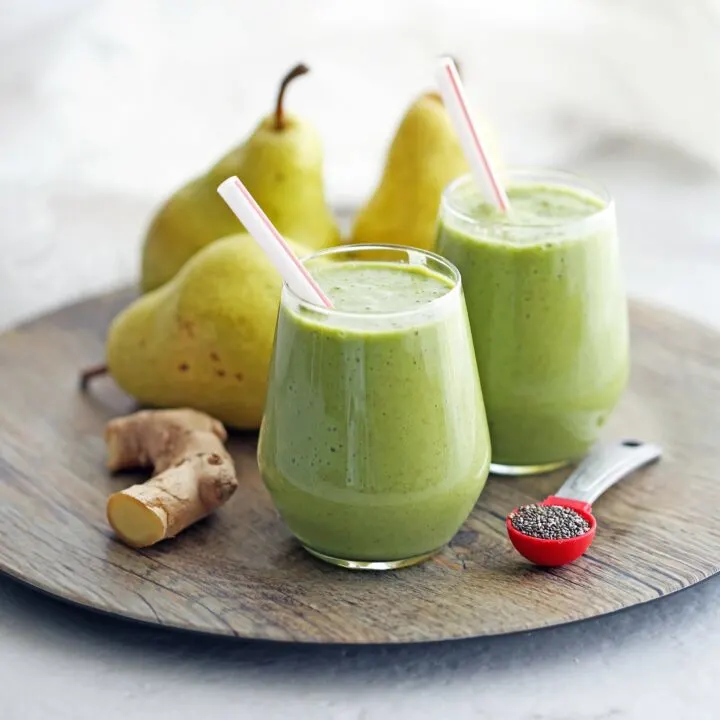 Healthy Pear Ginger Chia Smoothie
Additional Time:
10 minutes
Healthy, refreshing, and so delicious! Try this awesome green smoothie featuring nutritious ingredients that will give you a boost of energy for the day!
Ingredients
1 ripe pear, chopped and seeded
1½ cup almond milk, unsweetened
1 packed cup baby spinach
2 tbsp chia seeds
¼ tsp fresh ginger, peeled and minced
Optional: 1 tbsp maple syrup or sweetener of your choice
Instructions
In a bowl, whisk together the almond milk with chia seeds. Refrigerate for 10 minutes, allowing the chia seeds to gel up.
In the meantime, place the remaining ingredients in a high powered blender.
After taking the chia seed-milk mixture out of the refrigerator, give it a good whisk before pouring it into the blender. Blend until completely smooth, about 2-3 minutes.
Once blended, taste and adjust according to preferences such as adding more ginger for zing or more maple syrup for sweetness. Best served immediately.
Notes
I used a ripe Bartlett (or Williams) pear. They are the most common pear found in local markets (Canada and US) and tend to be juicy and sweet when ripe.
Substitute the almond milk with a different milk of your choice if you like.
Calories are based on a single serving without sweetener. With one tablespoon of maple syrup, it is 163 calories per serving.
Recommended Products
As a participant in the Amazon Services LLC Associates Program, I only link to products that I use and/or highly recommend. As an Amazon Associate, I earn from qualifying purchases if you purchase through these links at no additional cost to you.
Nutrition Information:
Yield:

2
Serving Size:

1
Amount Per Serving:
Calories:

163
Total Fat:

6g
Saturated Fat:

1g
Trans Fat:

0g
Unsaturated Fat:

5g
Cholesterol:

0mg
Sodium:

18mg
Carbohydrates:

27g
Fiber:

8g
Sugar:

15g
Protein:

4g