Happy Friday! Today's recipe is a tasty and comforting beef and cabbage soup made in the Instant Pot.
What's in this soup recipe?
One of the main ingredients is savoy cabbage, which has a delicate, sweet and slightly earthy flavour. The leaves, ranging from yellow-green to dark green in colour, are thin, tender, and distinctly crinkled.
Savoy cabbage is also good for you as it's low in cholesterol and saturated fat and a good source of vitamins A, C, and K, dietary fiber, and protein.
Choose a savoy cabbage that has a head that is compact and tight, heavy for its size, and its green leaves do not have any discolouration or holes.
Can't find a savoy cabbage? Alternately, you can use green cabbage in this recipe.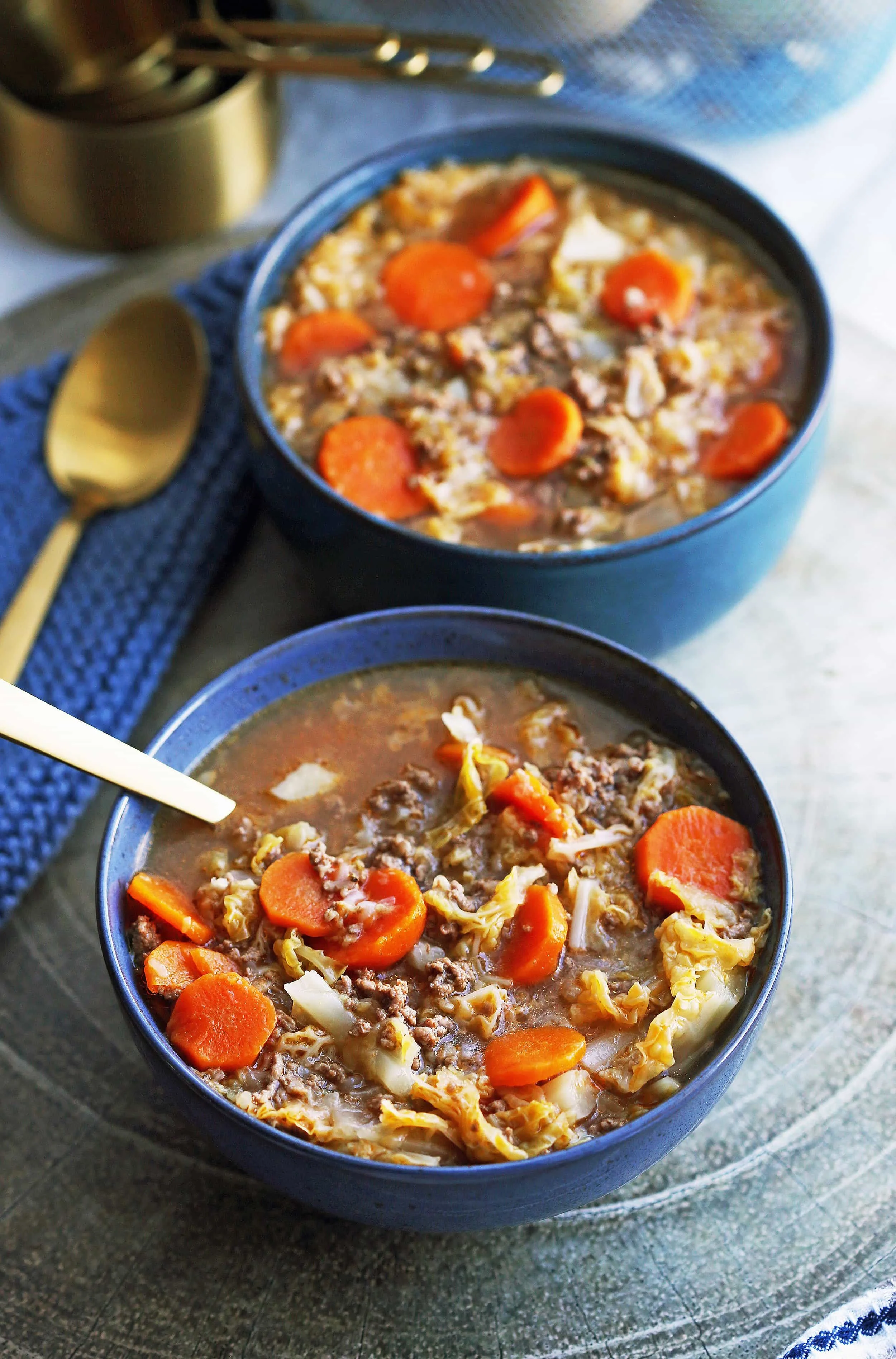 Then there is the second main ingredient: lean ground beef. Ground beef and cabbage are a classic pairing as the natural umami (meaty) flavour of beef is amazing when combined with the sweet, earthy cabbage.
I like that the textures contrast slightly in this soup as the beef is small and slightly chewy (but tender) while the cabbage is chopped larger, thin, and extremely tender.
The other vegetables in this soup include carrots, onion, and garlic. Carrots add nutrition, vegetal sweetness, and texture, while the latter two ingredients provide an aromatic flavour base to the soup.
The other ingredients serve to enhance the flavours of the main ingredients. The tomato paste and Worcestershire sauce give the soup's beef broth sweet, savoury, and tangy notes, while the fennel seeds have a subtle licorice (like anise) flavour that goes so well with cabbage.
Also remember to season with salt and pepper. It makes everything taste better.
How do you make this Beef and Cabbage Soup?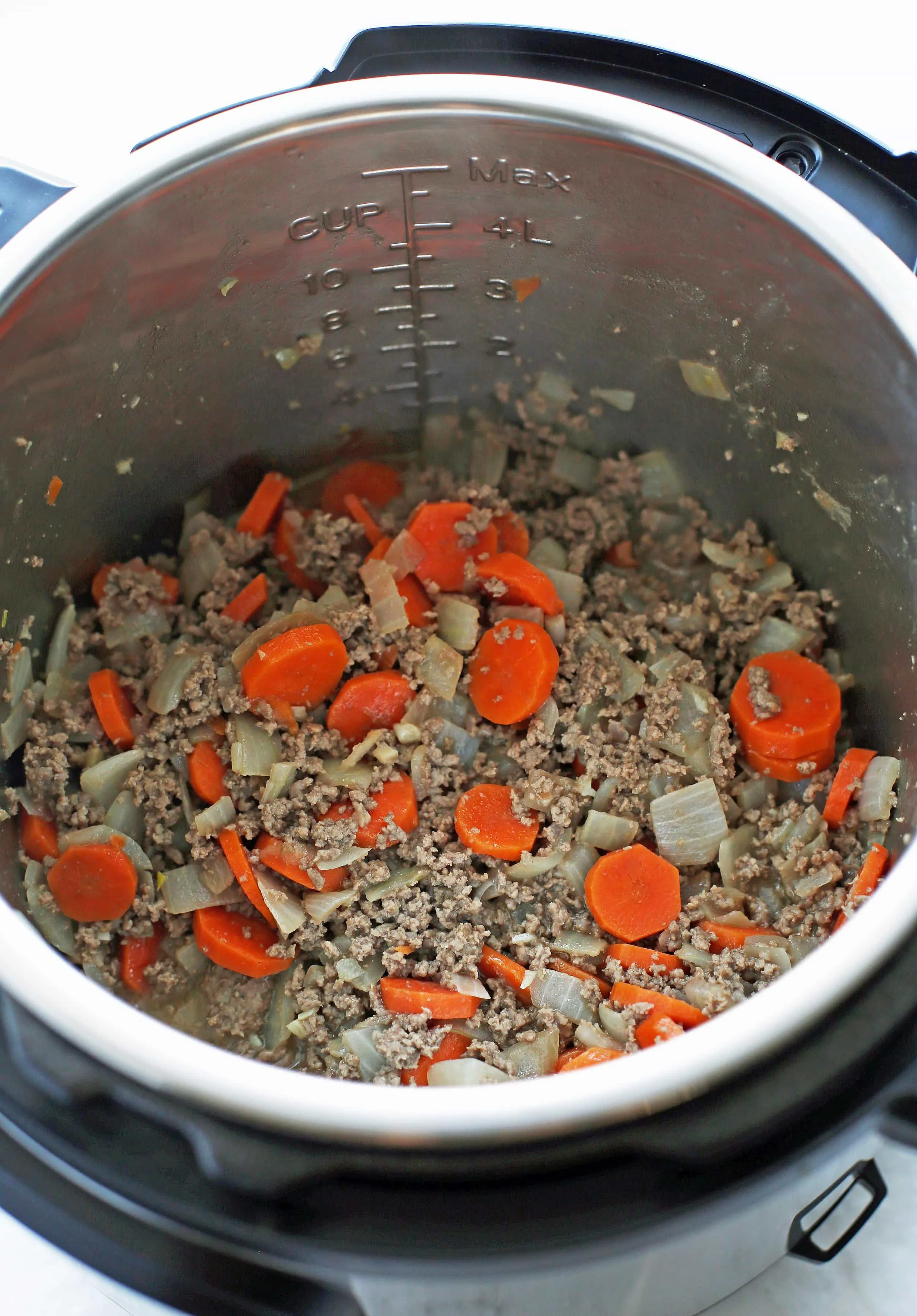 Sautéonions, garlic, and carrots and then brown the ground beef. Full ingredient amounts and complete instructions listed down in the recipe card below.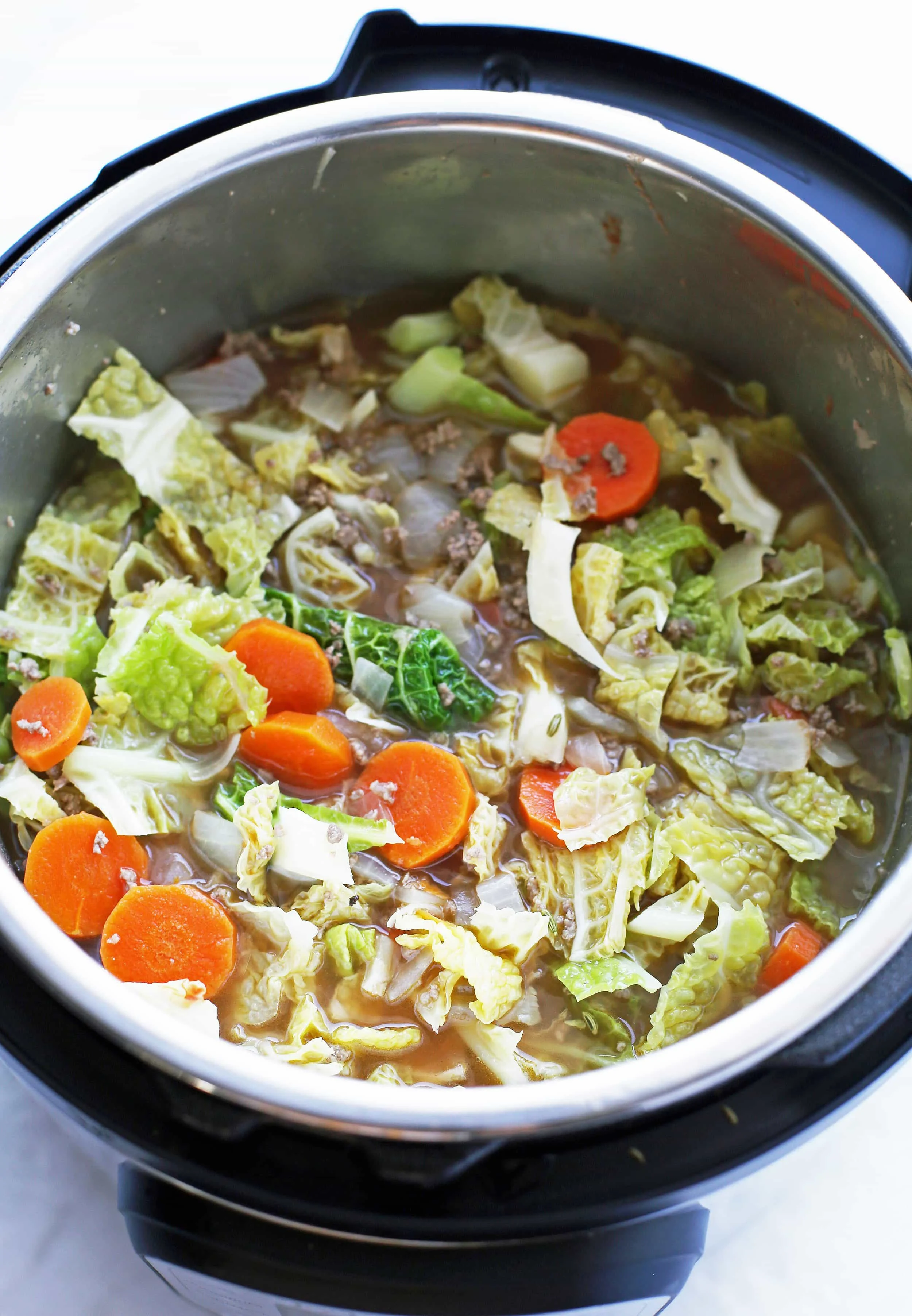 Then stir in the cabbage before adding the remaining ingredients. Stir to distribute the ingredients throughout.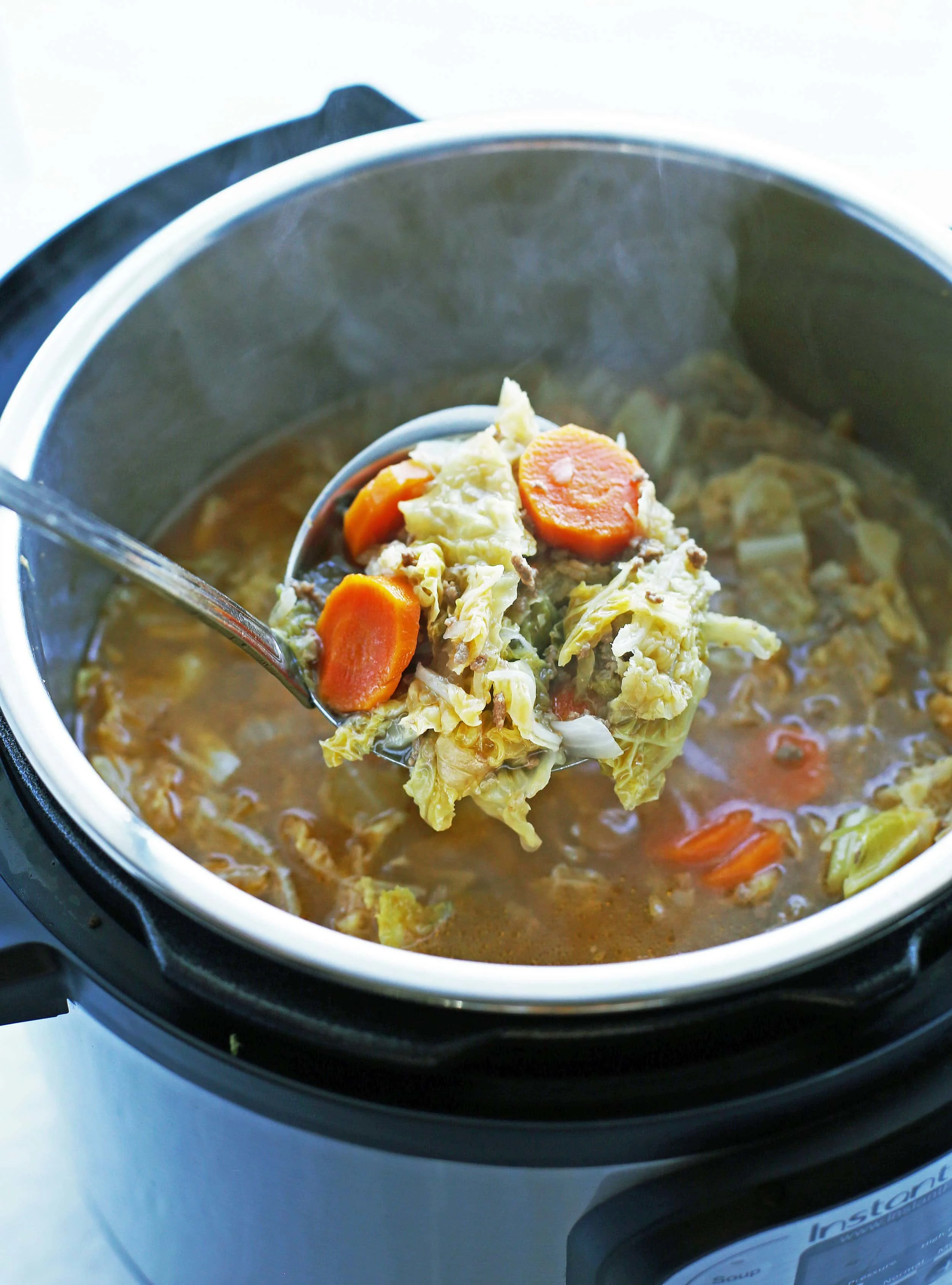 Seal the Instant Pot and then cook at high pressure for 6 minutes before allowing 10 minutes of natural release then applying a quick release. Taste for additional salt and pepper before serving.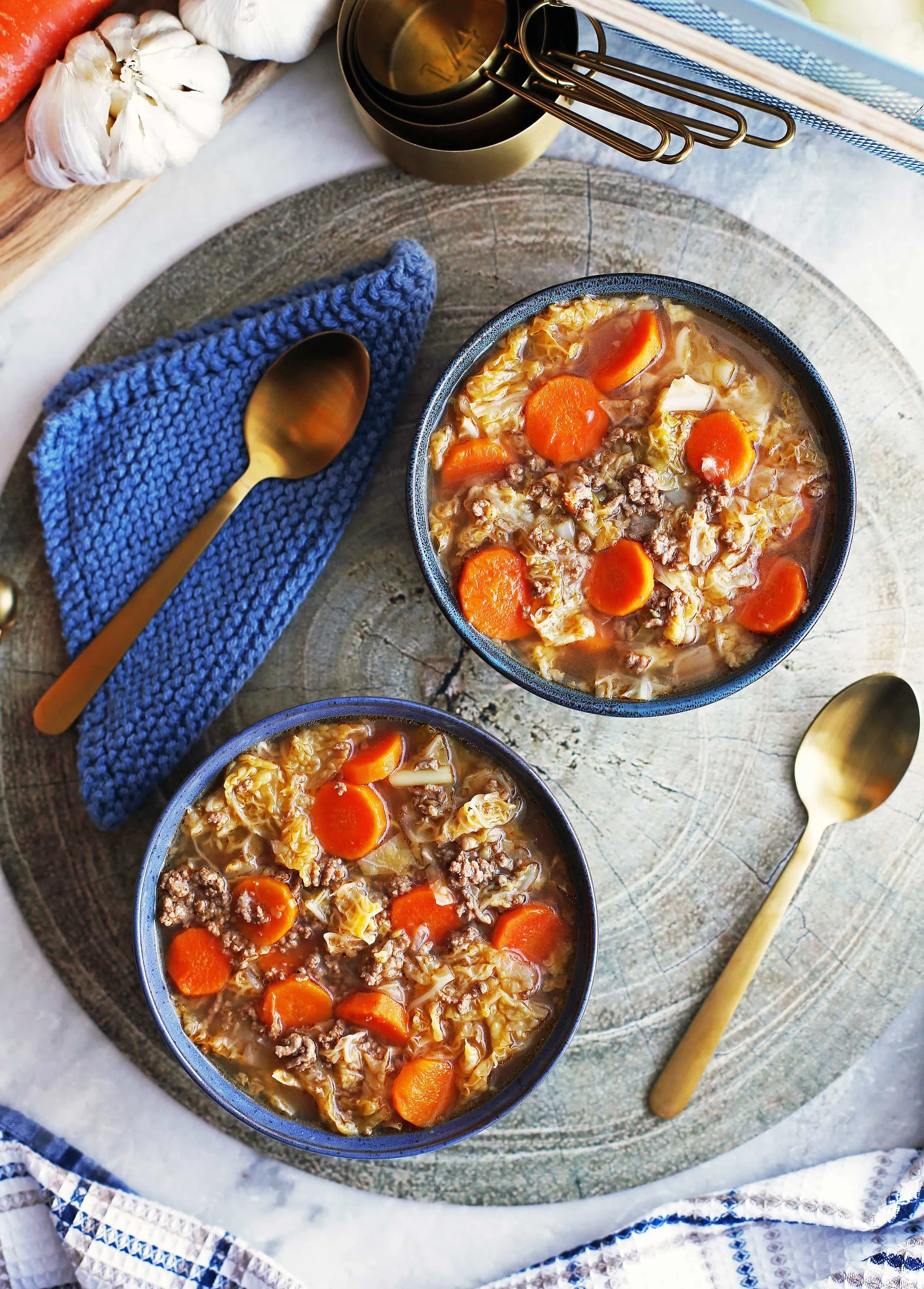 Looking for more Instant Pot Soups? Here are five more!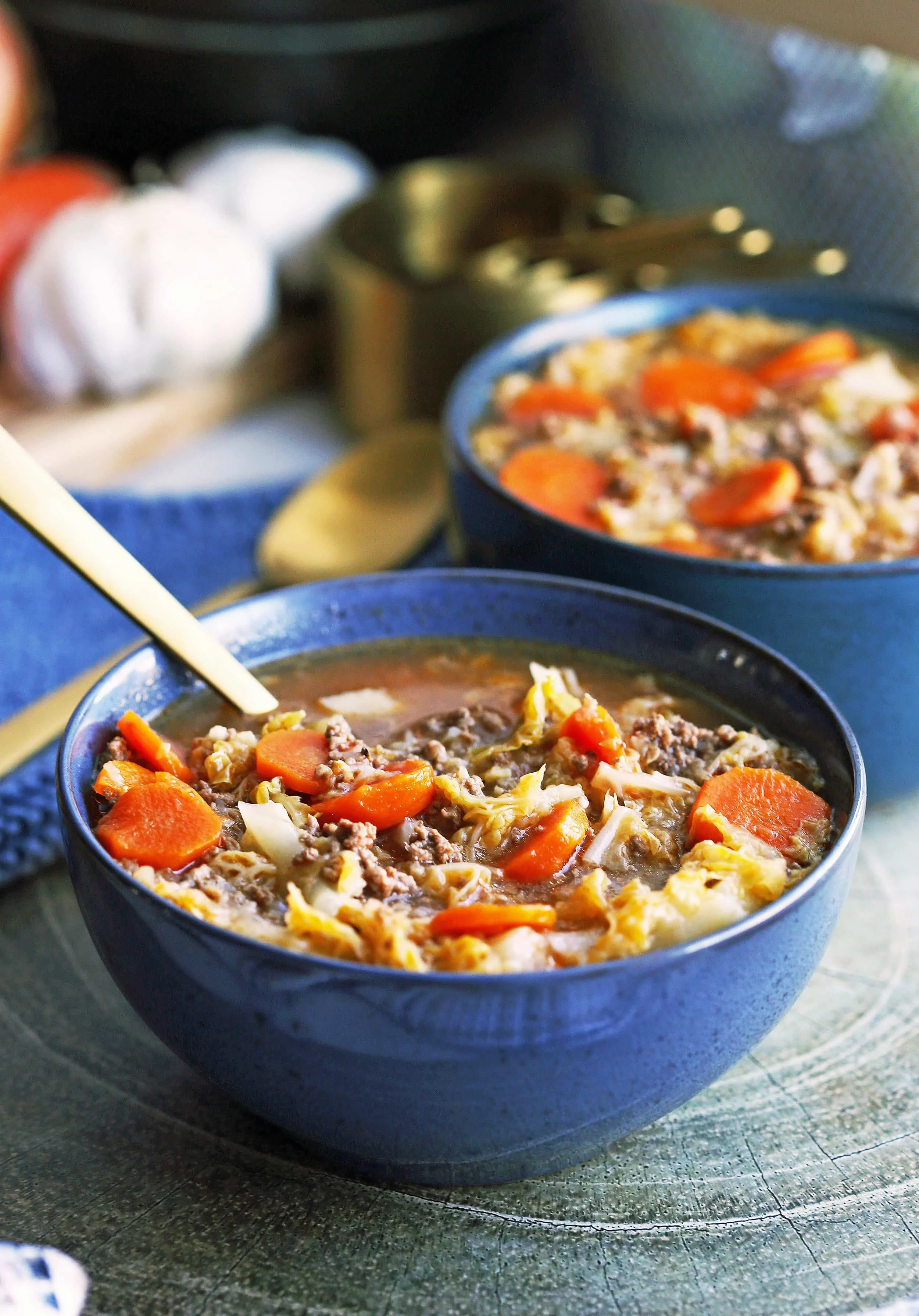 This Instant Pot soup is:
Comforting, delicious, and healthy: It'll help keep you full and warm up on a chilly day.
Perfect to serve the family or to have leftovers for the week.
Great to have as a light meal on its own or as a tasty appetizer or side dish.
Simple and easy to make.
One-pot: Everything is made in the Instant Pot so clean-up is easy.
I hope you try this recipe! If you do, please leave me a rating and comment down below or tag me on any of my social media. I'm @yay_for_food on Instagram. Please share your recipe pictures!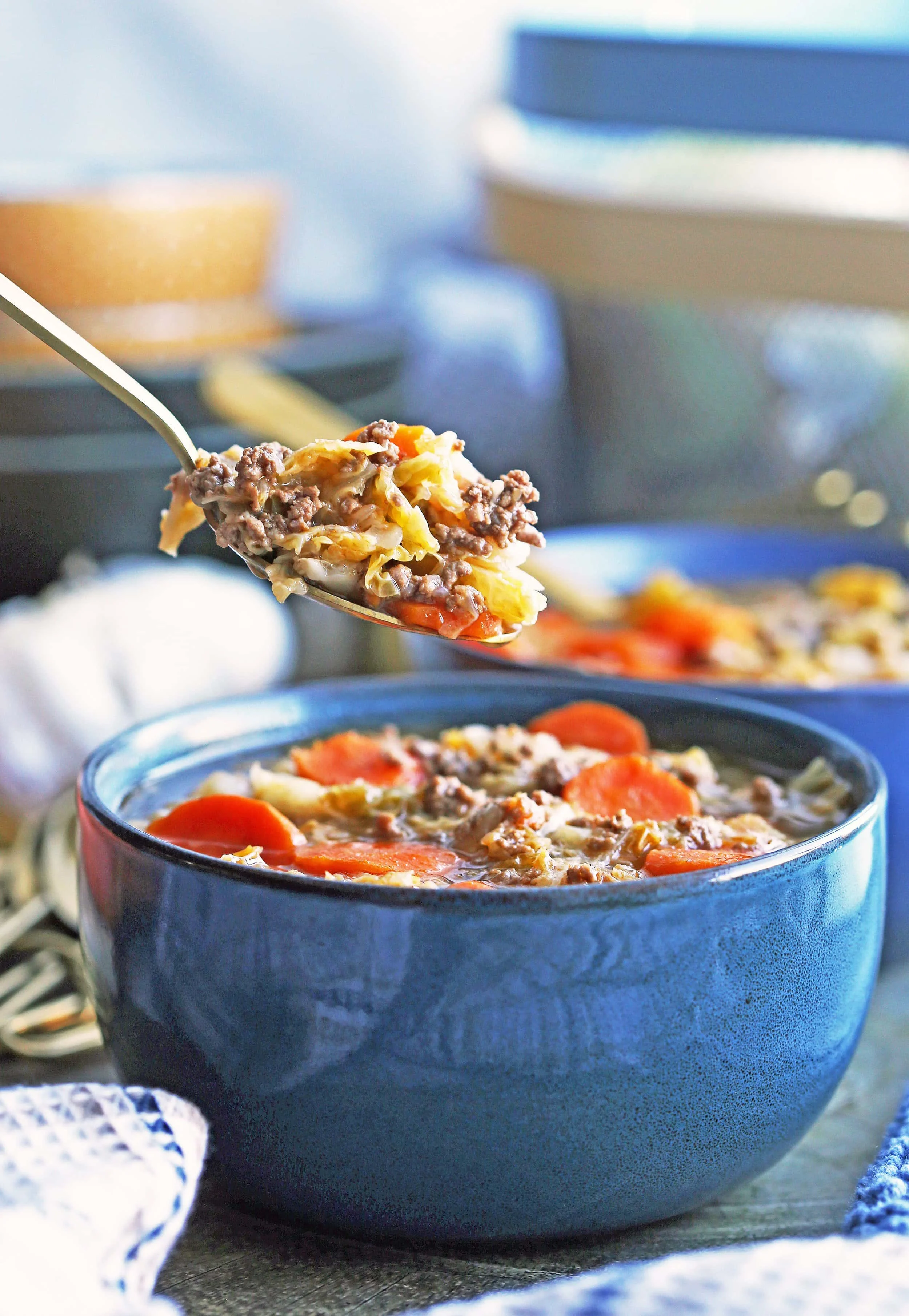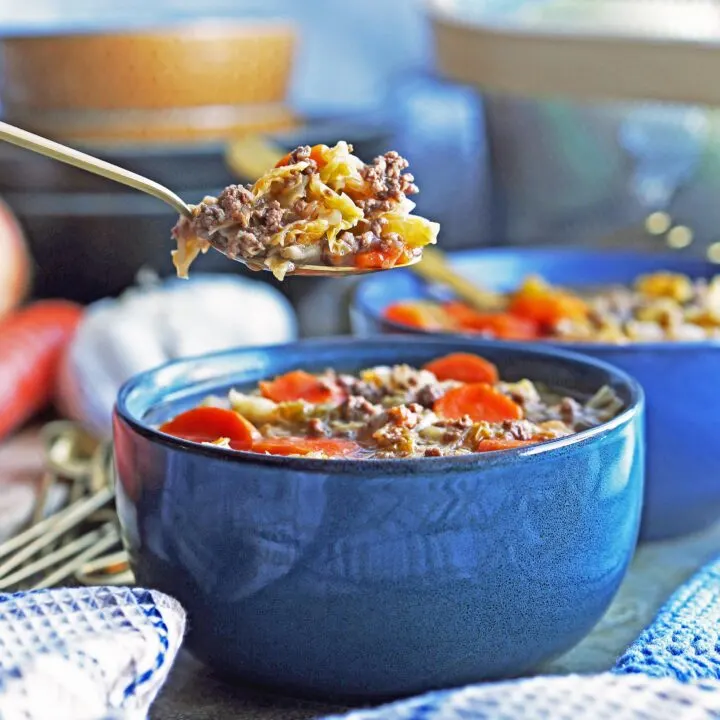 Instant Pot Beef and Cabbage Soup
Beef and vegetables make for a hearty combination of textures and flavours in this healthy Instant Pot cabbage soup recipe. A satisfying way to warm up that's ready in under an hour.
Ingredients
1 tbsp olive oil
1 large onion, chopped
2 medium carrots, chopped
3 garlic cloves, minced
1 lb. (454g) lean ground beef
10 heaping cups savoy (or green) cabbage (about ½ head), coarsely chopped
3 tbsp tomato paste
1 tbsp Worcestershire sauce
1 tsp fennel seeds
4 cups beef broth (low sodium)
2 cups water
Salt and pepper, to taste
Optional topping: sour cream
Instructions
Set the Instant Pot to "sauté". Pour in a tablespoon of olive oil and then add onion, garlic, and carrots along with salt and pepper into the pot. Using a wooden spoon (or heatproof spatula), sauté for 2-3 minutes, until the onions begin to soften.
Add in the ground beef, breaking down and mixing the beef with the vegetables, until browned.
Add in the cabbage in small batches, stirring to allow the cabbage to wilt down before adding more into the pot, until you use up all the cabbage, about 3-4 minutes.
Press "cancel" to turn off the Instant Pot. Add the remaining ingredients (tomato paste, Worcestershire sauce, fennel seeds, broth, and water) and another pinch of salt and pepper. Give the soup a good stir to distribute the ingredients throughout the pot *(see first note).
Seal the Instant Pot and cook at high pressure ("manual"/"pressure cook" function) for 6 minutes. After the soup is ready, allow natural pressure release for 10 minutes before a quick pressure release to completely depressurize (until floating valve drops).
Open the Instant Pot and taste for additional salt and pepper. Best served hot. Serve with a dollop of sour cream on top if you like.
Notes
*The liquid should just cover the top of the ingredients. Add more (or less) broth or water if necessary.
This recipe yields seven to eight cups of soup.
Nutritional information represents one serving with eight servings total.
Recommended Products
As a participant in the Amazon Services LLC Associates Program, I only link to products that I use and/or highly recommend. As an Amazon Associate, I earn from qualifying purchases if you purchase through these links at no additional cost to you.
Nutrition Information:
Yield:

8
Serving Size:

1
Amount Per Serving:
Calories:

176
Total Fat:

7.8g
Carbohydrates:

11.2g
Protein:

15.1g