Hello again (or for the first time; I hope you stick around)! This recipe is a real crowd pleaser. It's looks elegant, but it's really simple to prepare.
It tastes amazing too. Each meaty cremini mushroom is filled with rich creamy cheesy filling with a crispy breadcrumb topping and then baked to deliciousness.
I hope you enjoy this recipe for Easy Cream Cheese Stuffed Mushrooms!
How do you make these stuffed mushrooms?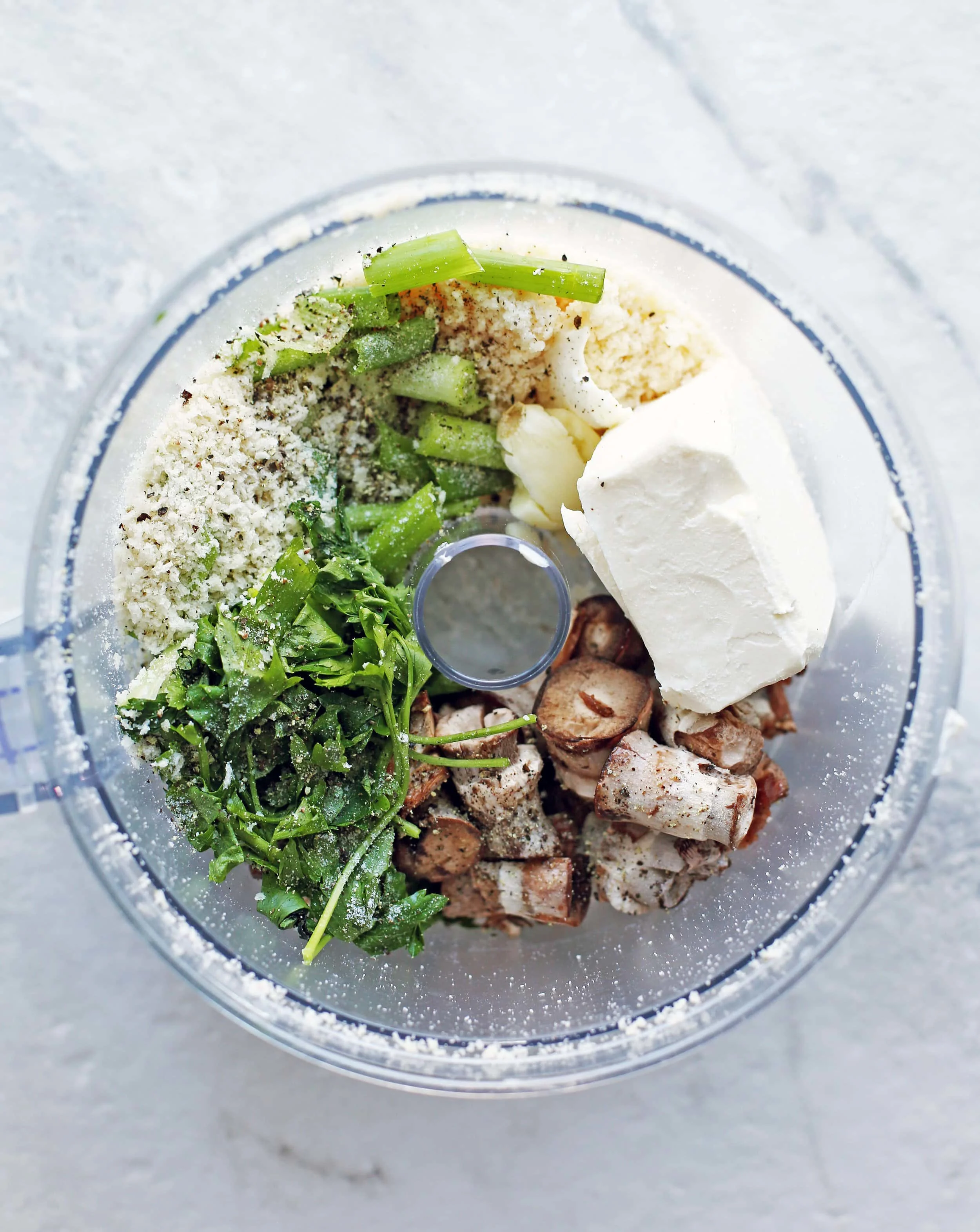 In a food processor fitted with a S-shaped blade, first grate the parmesan cheese before adding in the remaining filling ingredients. Full ingredient amounts and instructions listed in the recipe card below.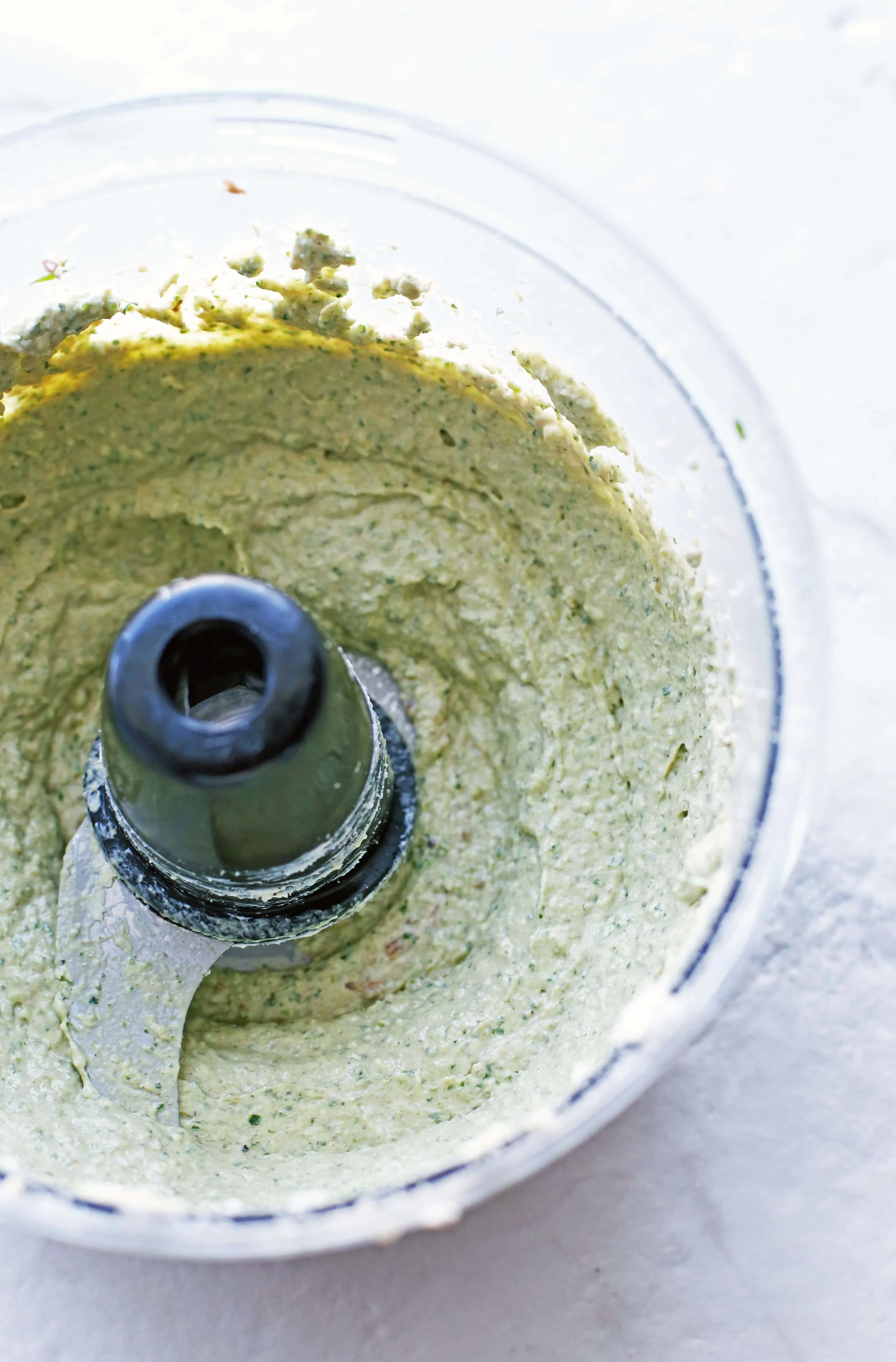 Blend the filling ingredients (including mushroom stems, cheeses, parsley, green onion, breadcrumbs, and salt and pepper) until smooth.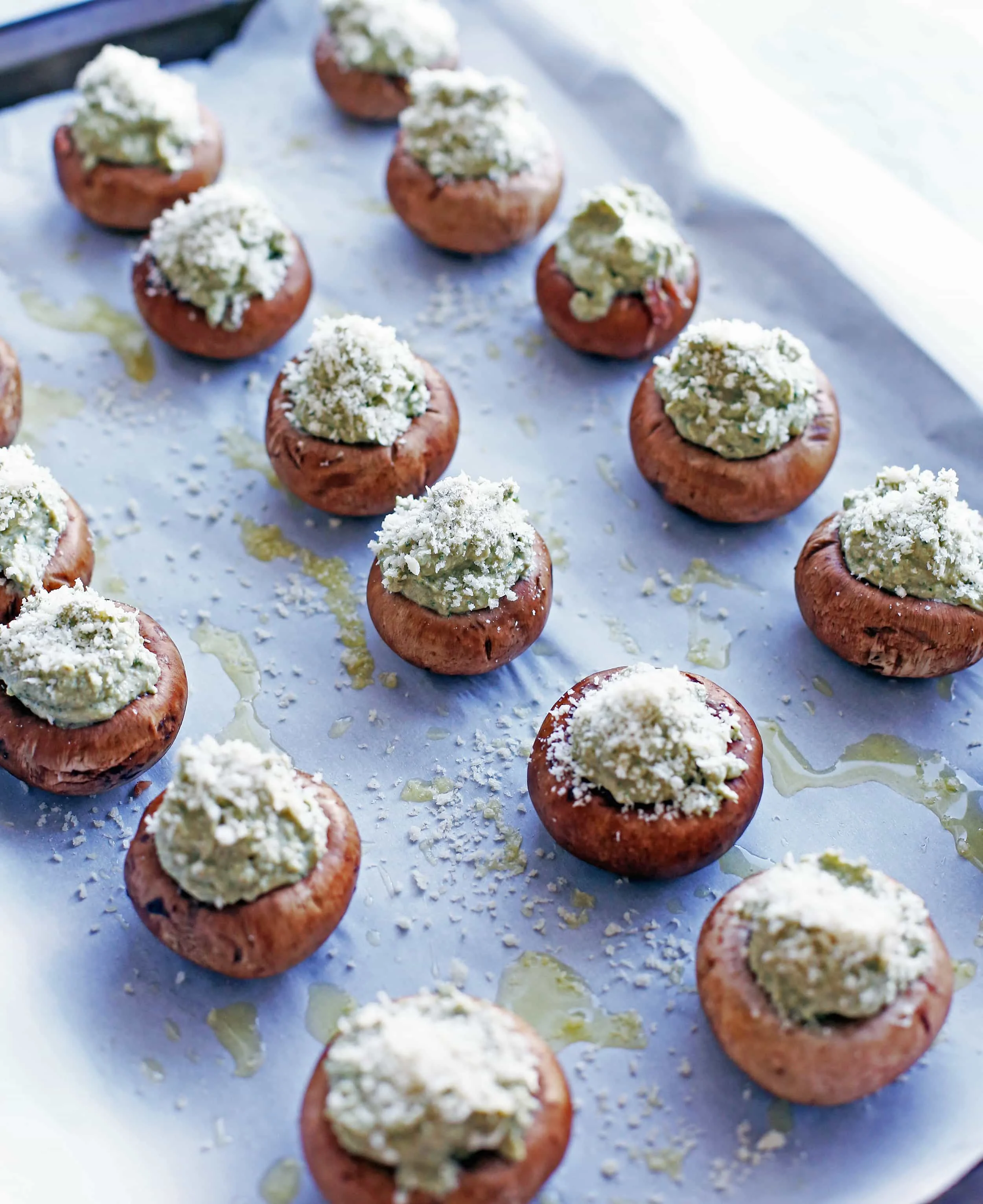 Fill each mushroom cap with the filling and top with panko breadcrumbs.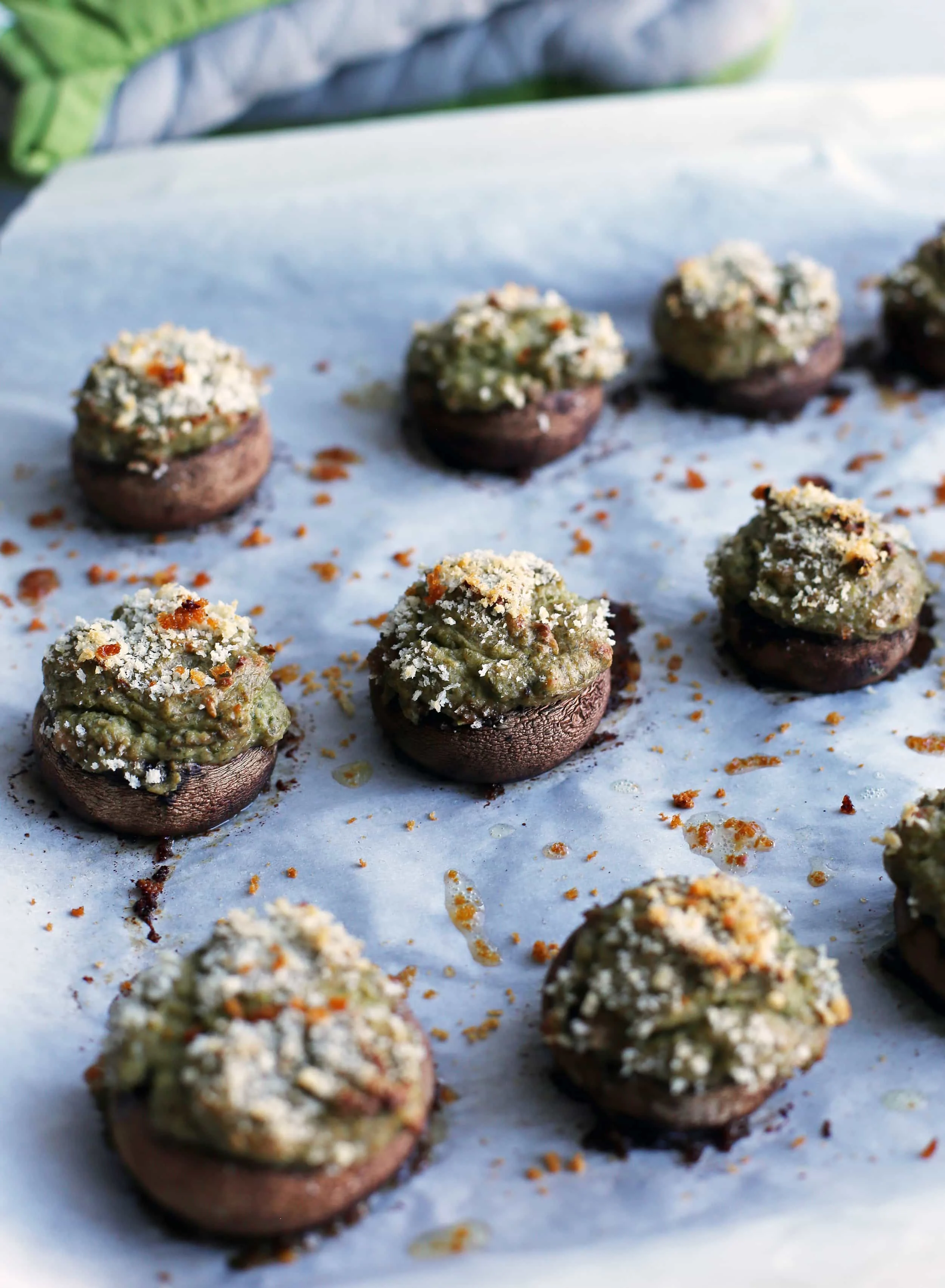 Bake at 400 degrees F for 20-25 minutes until the mushrooms are tender.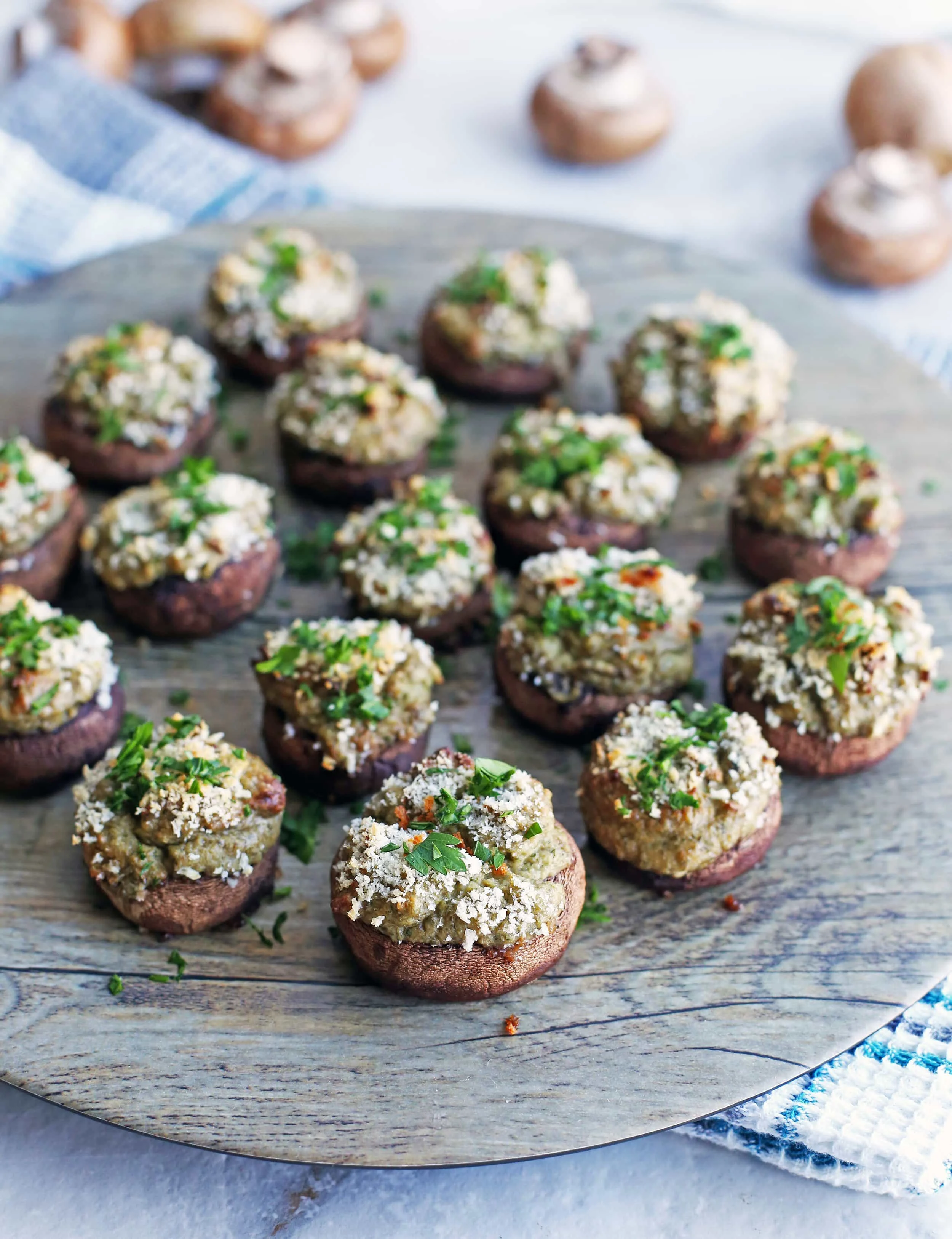 Finish with additional parsley on top. Best served immediately.
Here Are Some Recipe Tips:
I prefer cremini (aka crimini aka baby bella mushrooms) over white button mushrooms as these brown mushrooms are more flavourful (it has a richer flavour and earthier notes).
Remember to thoroughly clean any dirt from the mushrooms, including the stems, as you will be using them in the filling. Do this right before putting the stuffed mushrooms together.

I know that there will be naysayers about this advice, but I usually give them a quick rinse and light scrub with my fingers under the faucet (slow running water) before drying with a clean cloth or paper towel. It's way faster to clean vs. the often-suggested way of cleaning mushrooms individually with a damp cloth or a brush.
Check out this link on How to Prepare Mushrooms (and Whether to Wash Them) from Serious Eats.

Use parmesan cheese (Parmigiano Reggiano) from the block to ensure that cheese melts in a creamy texture when baked.

Freshly grated is greatly preferred. Pre-grated cheese can have an anti-caking ingredient (or stabilizer), which doesn't allow it to melt well or cake up in hot temperatures.

For quick grating, I use the food processor to break down the hard cheese into a fine texture.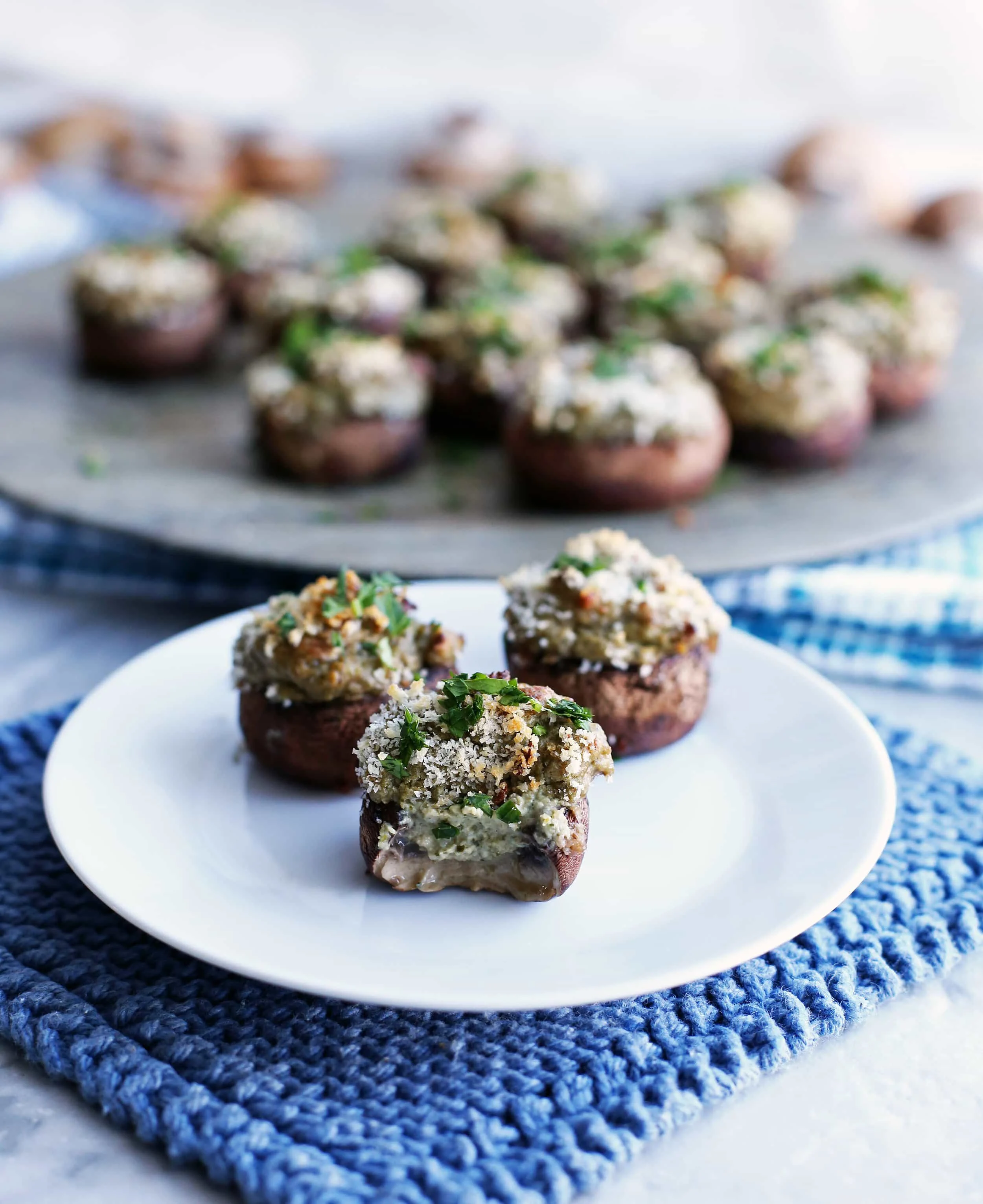 Looking for more tasty appetizers?
Take a look at these four finger food favourites.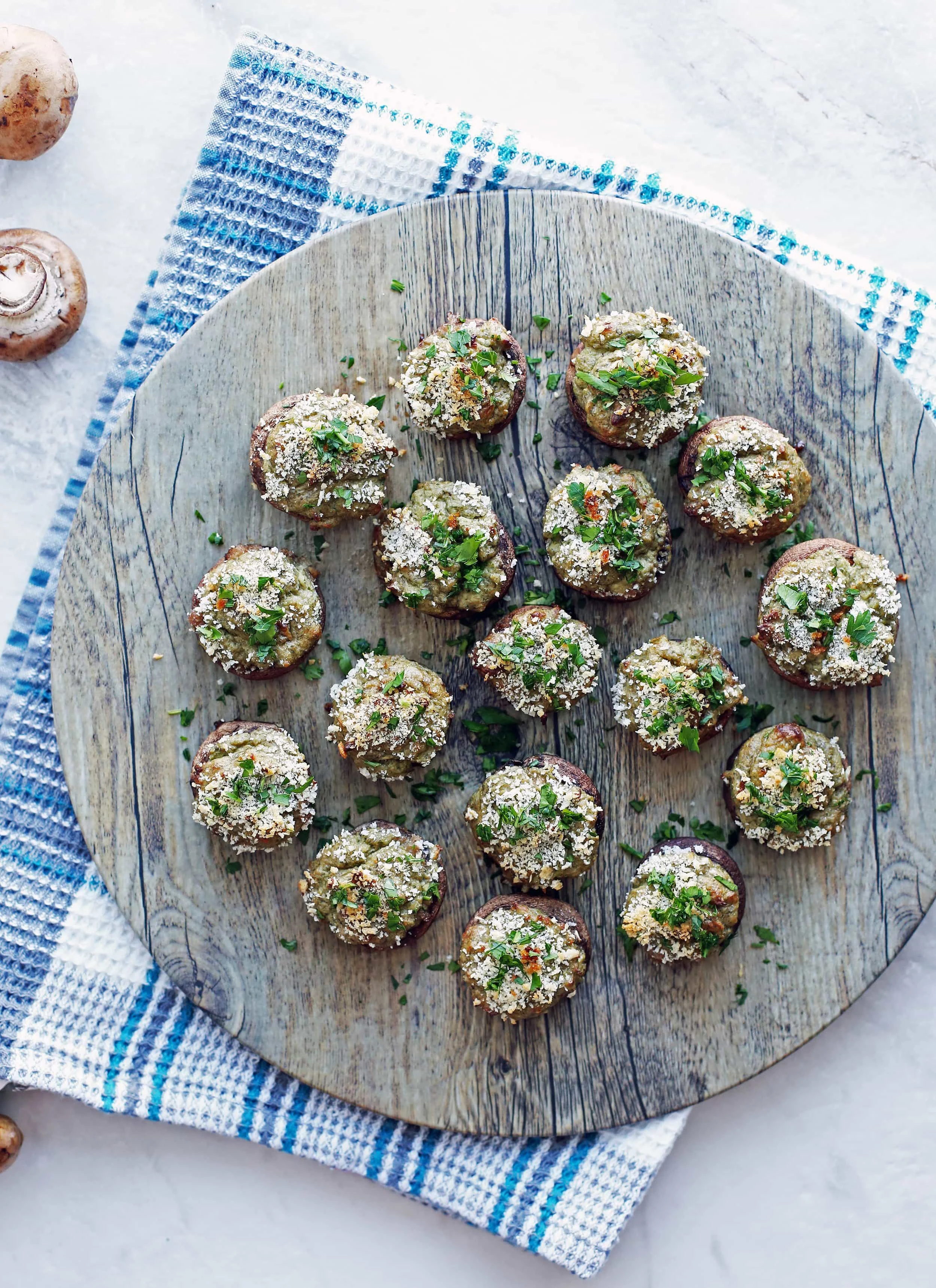 To sum up, these stuffed mushrooms are:
Savoury and delicious.
Easy to put together.
Great to make ahead:You can prepare the stuffed mushrooms a few hours ahead of time (cover and refrigerate) and then bake closer to serving.
Perfect as an appetizer or as a side dish:This recipe makes sixteen to eighteen stuffed mushrooms, so it can serve quite a few people, especially as side dish.
Great to serve at parties or at a get-together: It's excellent finger food.
Scalable: It's easy to scale up or down according to your needs.
I hope you try this recipe! If you do, please leave me a rating and comment down below or tag me on any of my social media. I'm @yay_for_food on Instagram. Please share your recipe pictures!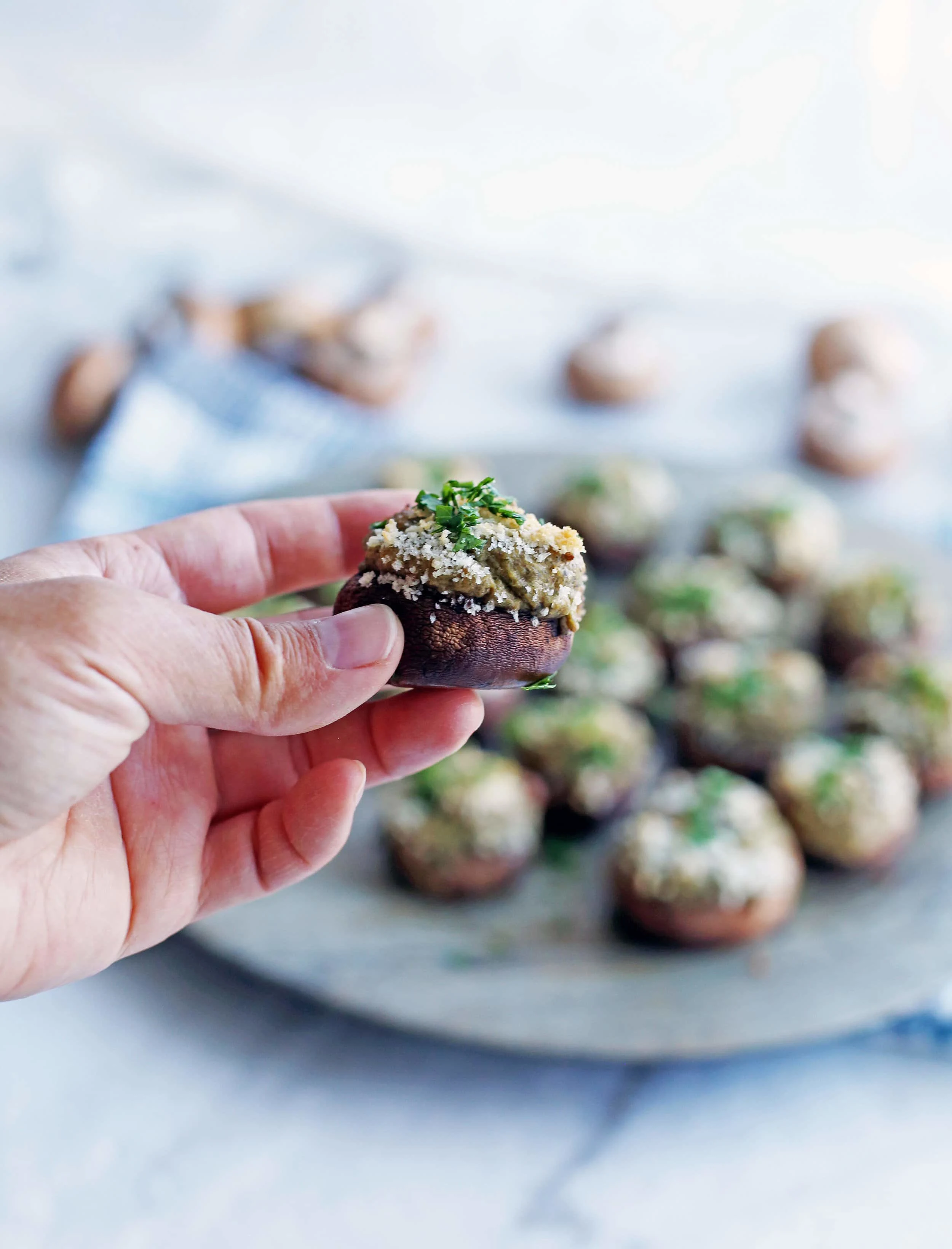 Easy Cream Cheese Stuffed Mushrooms
An easy stuffed mushroom recipe featuring a delicious cream cheese filling and crispy breadcrumb topping. The perfect bite-sized appetizer for your next get-together.
Ingredients
16-18 cremini (or mini bella) mushrooms, cleaned and stems removed (save stems for filling)
1 tbsp olive oil
4 oz (½ block) plain cream cheese
2 oz parmesan cheese (Parmigiano Reggiano)
½ cup green onions, coarsely chopped
¼ cup fresh parsley (plus more for topping)
¼ cup panko breadcrumbs, divided
1 garlic clove
Salt and pepper, to taste
Instructions
Preheat the oven to 400 degrees F. Line a large baking sheet with parchment paper and then drizzle olive oil evenly over the paper. Set aside.
Place the parmesan cheese block in a food processor fitted with a S-shaped blade and pulse until finely grated.
Then add the mushroom stems, cream cheese, green onions, parsley, garlic clove, two tablespoons of panko breadcrumbs, and salt and pepper to the food processor. Blend until creamy and smooth. Taste for additional salt and pepper.
Using a spoon, fill each mushroom cap with even amounts of the cream cheese mixture until the mixture is used up.
Place each stuffed mushroom on the baking sheet (filled-side up) and top with the remaining breadcrumbs.
Bake for 20-25 minutes, until the mushrooms are tender. Garnish with chopped parsley. Best served immediately (warm).
Notes
Nutritional information represents one stuffed mushroom (serving) for a total of eighteen servings.
Recommended Products
As a participant in the Amazon Services LLC Associates Program, I only link to products that I use and/or highly recommend. As an Amazon Associate, I earn from qualifying purchases if you purchase through these links at no additional cost to you.
Nutrition Information:
Yield:

18
Serving Size:

1
Amount Per Serving:
Calories:

56
Total Fat:

4g
Saturated Fat:

2g
Trans Fat:

0g
Unsaturated Fat:

2g
Cholesterol:

10mg
Sodium:

119mg
Carbohydrates:

2g
Fiber:

0g
Sugar:

0g
Protein:

2g