Hey there! Can you believe it's already November? For those of you who celebrated Halloween, I hope you had a great evening.
We handed out chocolate bars this year and have a ton left. I have to admit, I've been snacking on them all day… a great sugar rush indeed.
I wish more kids came to our house. We only had 63 trick or treaters show up, which is low for the amount of families that live around here, but good for our house considering we live at the end of a side street.
Anyway, now that Halloween is over, I've started to think about Christmas and all the festivities associated with it! For me, I always think of the amazing holiday desserts.
So, to start it all off, I thought I would share this easy and classic recipe for Classic Raspberry Shortbread Thumbprint Cookies. I hope you like this one!
How do you make these cookies?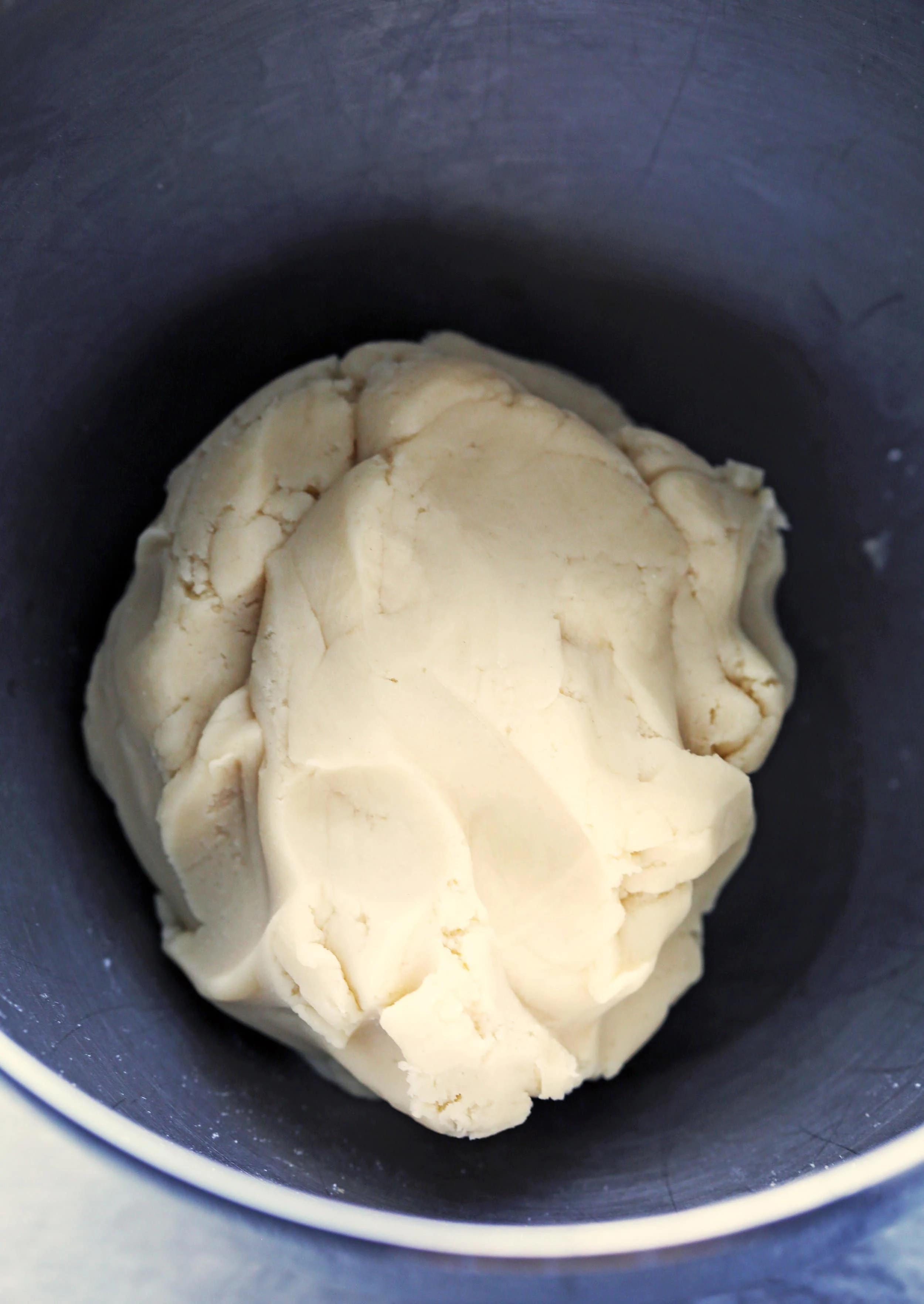 Combine the flour, icing sugar, and cornstarch together before adding to the stand mixer bowl with the butter and vanilla extract. Combine until it forms dough. Full ingredient amounts and complete instructions listed down below in the recipe card.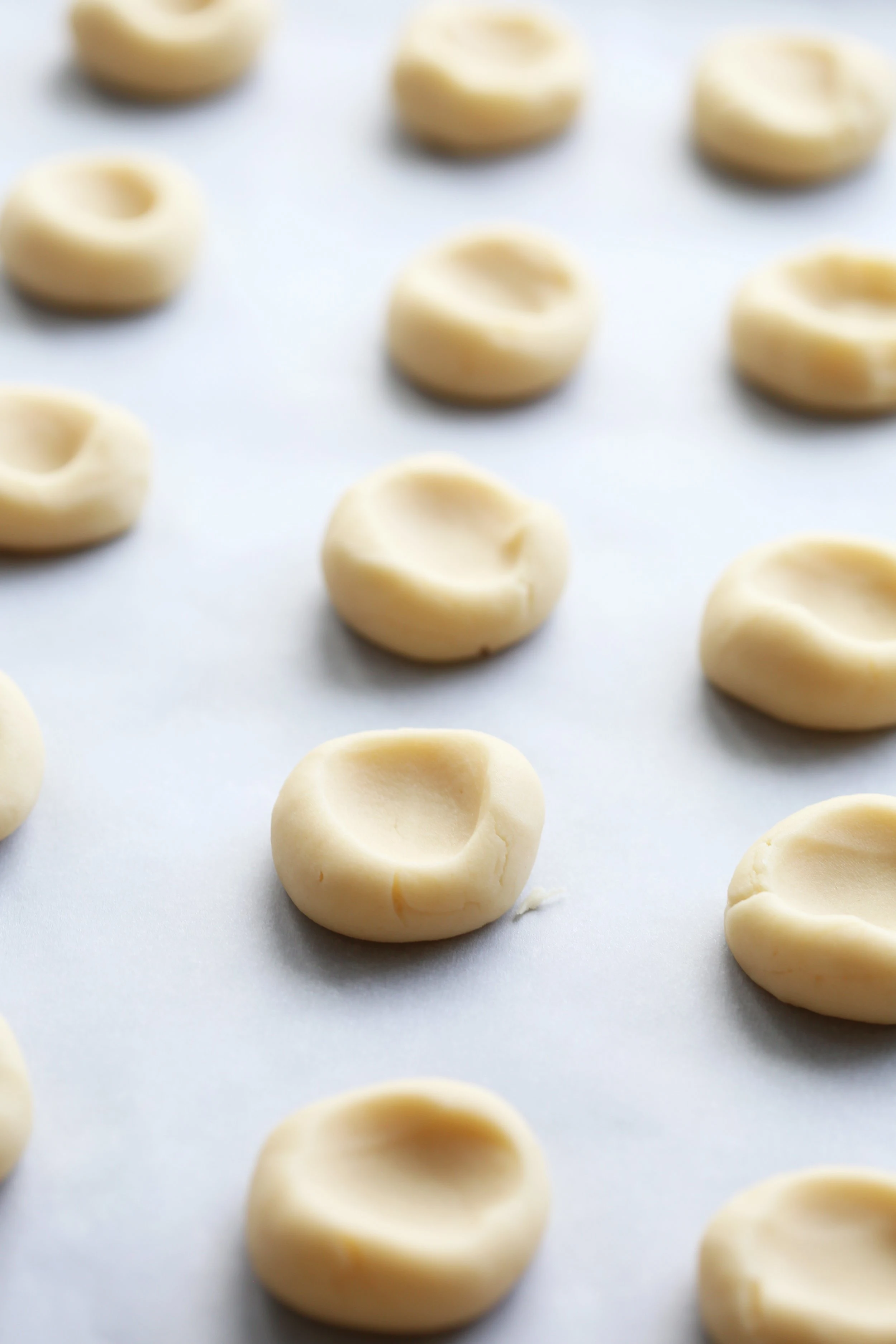 Scoop out tablespoons of dough and shape them into round balls using your hands before placing on a parchment-lined baking sheet. Use your thumb to make an indentation in each cookie.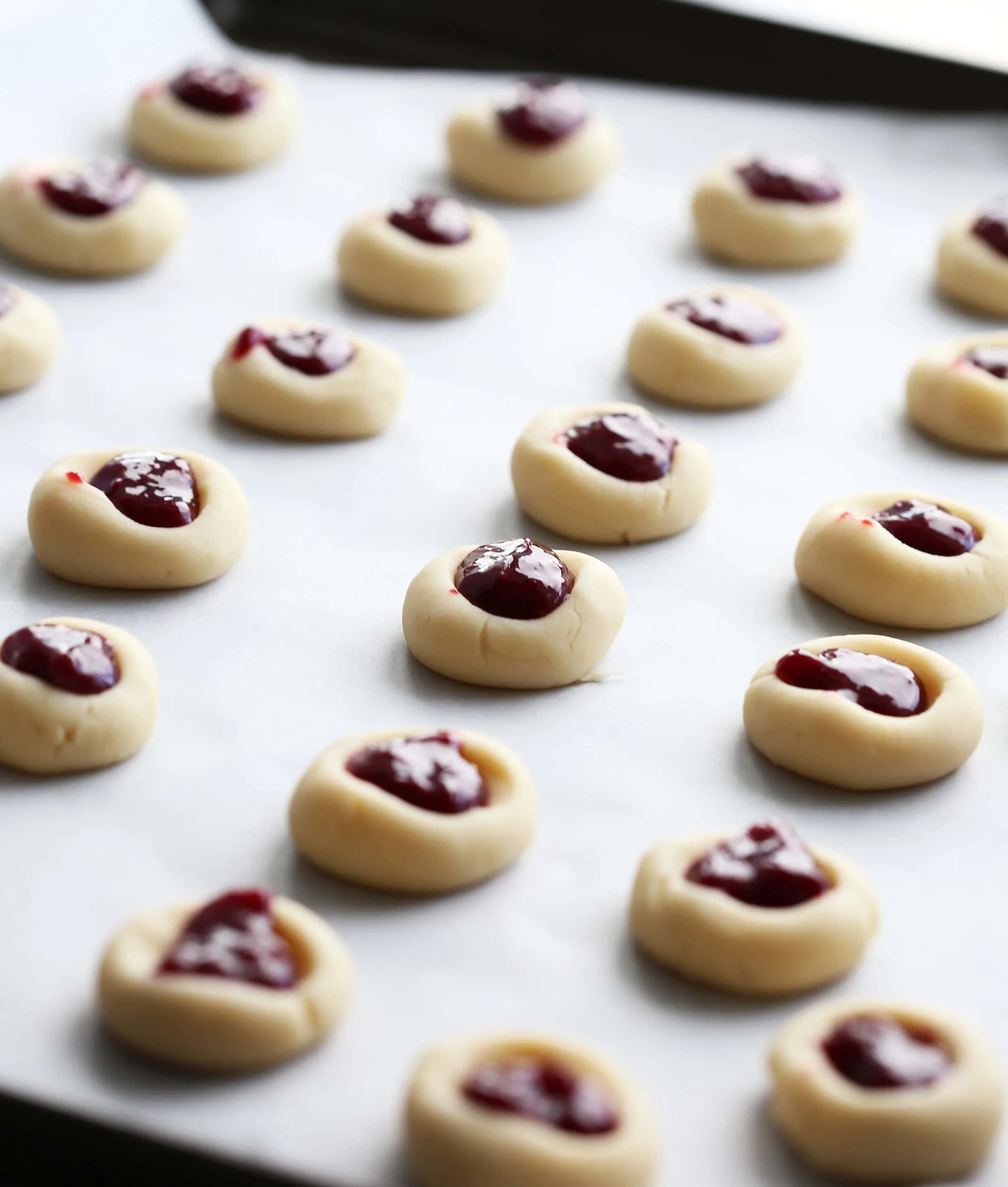 Fill each cookie with raspberry jam.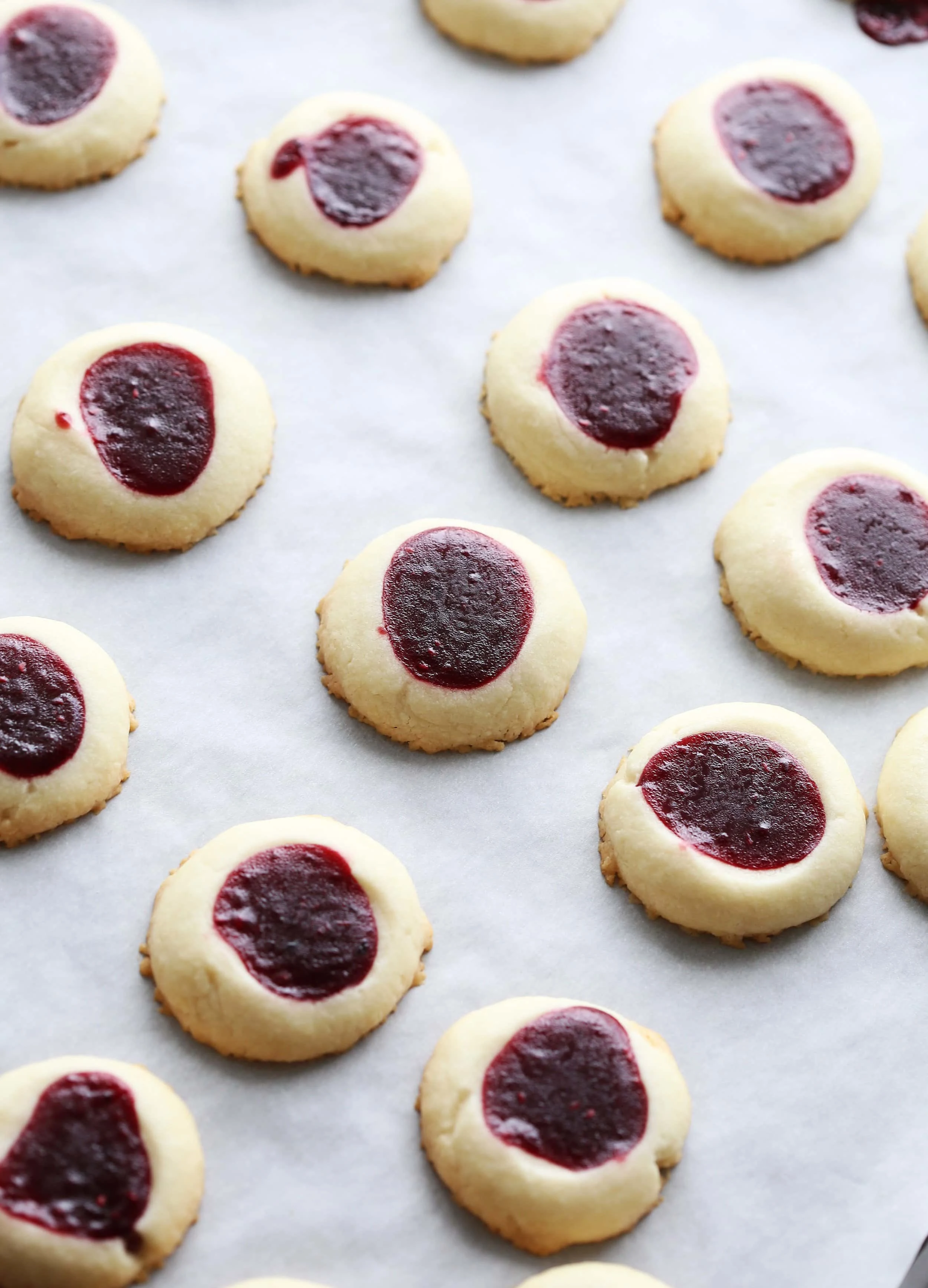 Bake at 350 degrees F for 15-18 minutes until lightly brown on the bottoms. Let cool slightly before eating.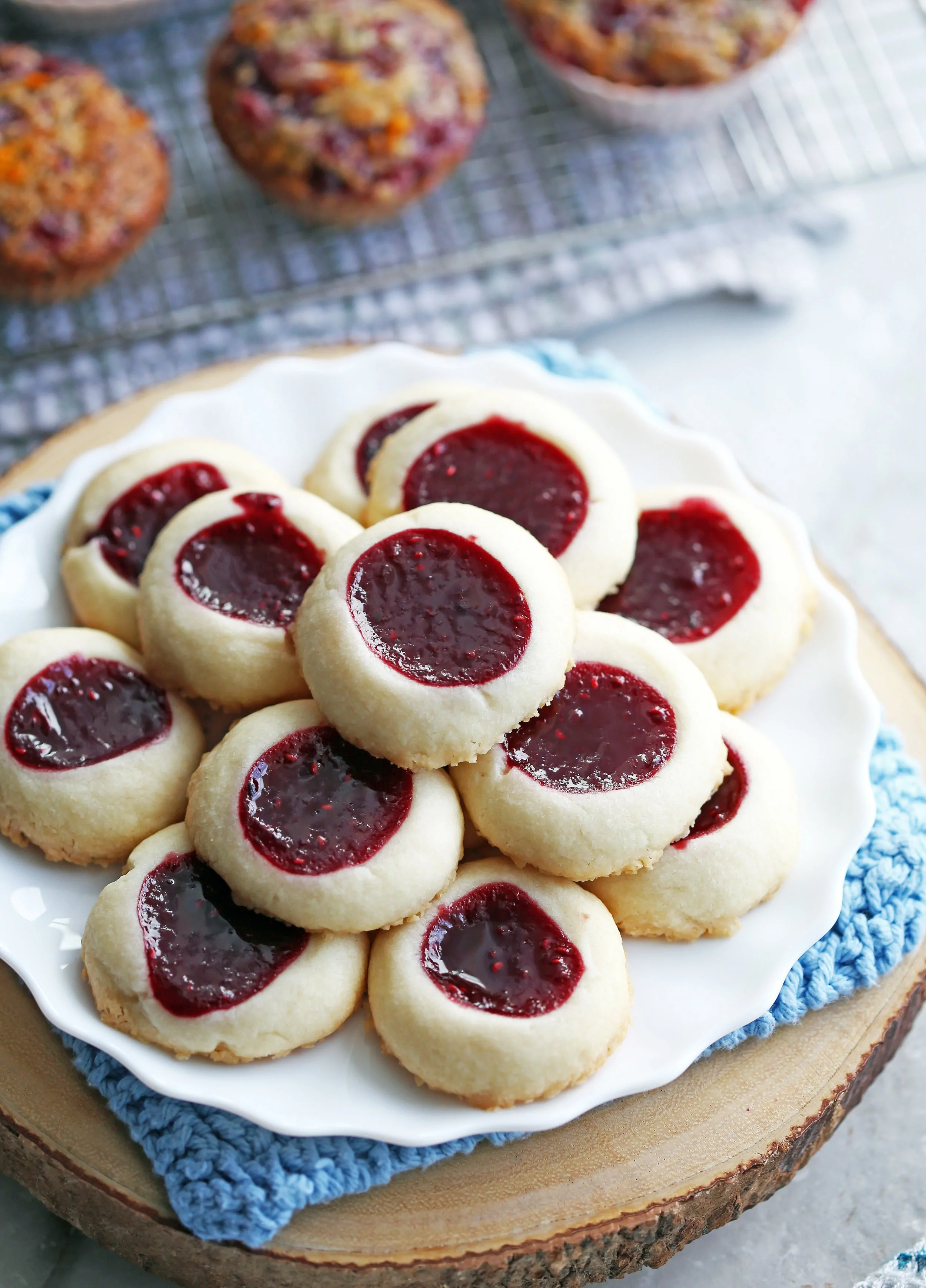 Here are some QUICK TIPS for making these cookies.
Use a stand mixer (or electric mixer). I prefer the stand mixer as it's way easier. You need the extra power to properly combine everything together.

If needed, scrape down the sides of the bowl as it mixes so that everything gets fully incorporated.

Use softened butter: Softened butter is just at the point when you can gently press down on a stick of butter and leave an indentation (not melted).

I like to leave butter to sit out at room temperature for at least 20 minutes prior to baking. If you forget (I often do), you can microwave the butter at a low temperature setting in 10 second intervals, until softened.

Chop the butter into small cubes or break it up using your fingers when adding it to the mixing bowl.
Place the cookies at least 2 inches apart on the baking sheet: They will expand and flatten slightly as they bake, so give them a little room or you might end up with one giant flat cookie.
Once out the oven, they will be really soft. Let them cool to harden before handling or they will crumble. The finished cookie will be light on the top and lightly golden brown on the bottom.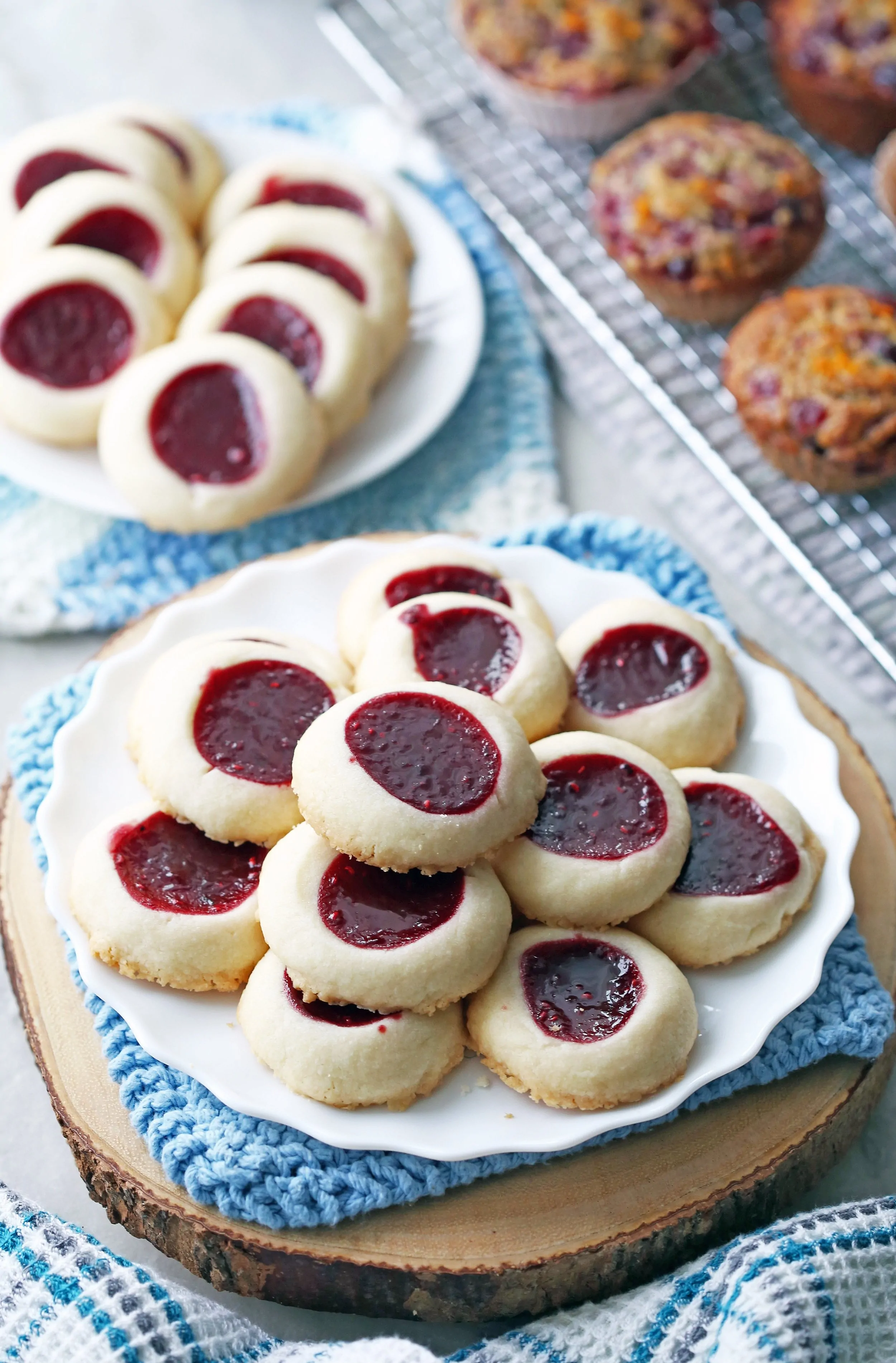 Looking for more easy cookie recipes? Check out these four!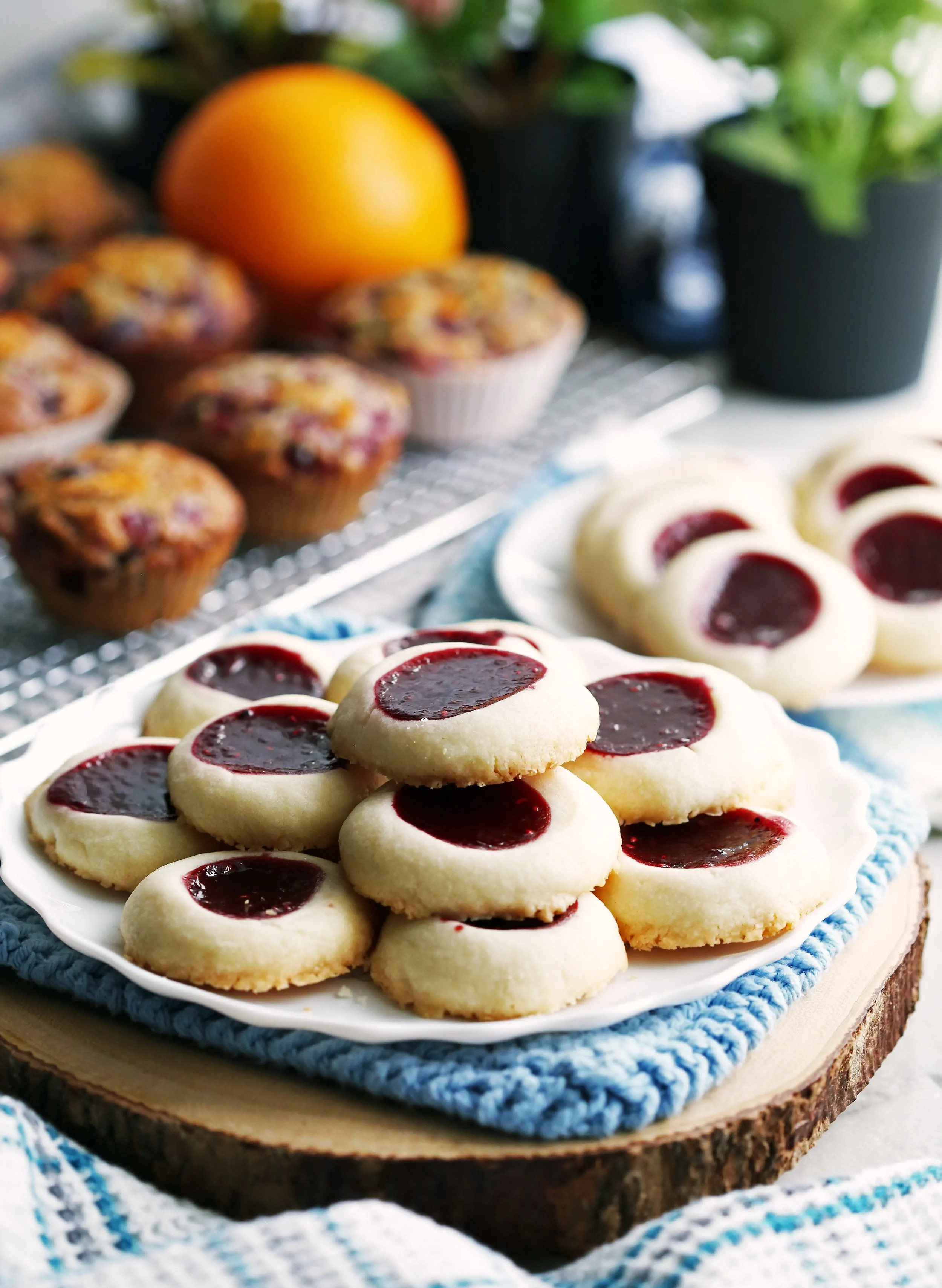 In summary, these easy thumbprint cookies:
Are delicious: These buttery shortbread cookies are not too sweet with the perfect amount of sweet and tart raspberry jam filling.
Have great texture and size that's small and melts in your mouth.
Are easy to put together: It takes very little time (about 15 minutes) to prepare these cookies. Then you simply bake them until done.
It's great to pair with a glass of milk or with a hot cup of coffee or tea.
Uses simple ingredients that are easy to find at most grocery stores or are likely in your kitchen pantry already.
Are so shareable: Perfect to bring to a cookie exchange, potluck, serve at a party, or share with your co-workers.
I hope you try this recipe! If you do, please leave me a rating and comment down below or tag me on any of my social media. I'm @yay_for_food on Instagram. Please share your recipe pictures!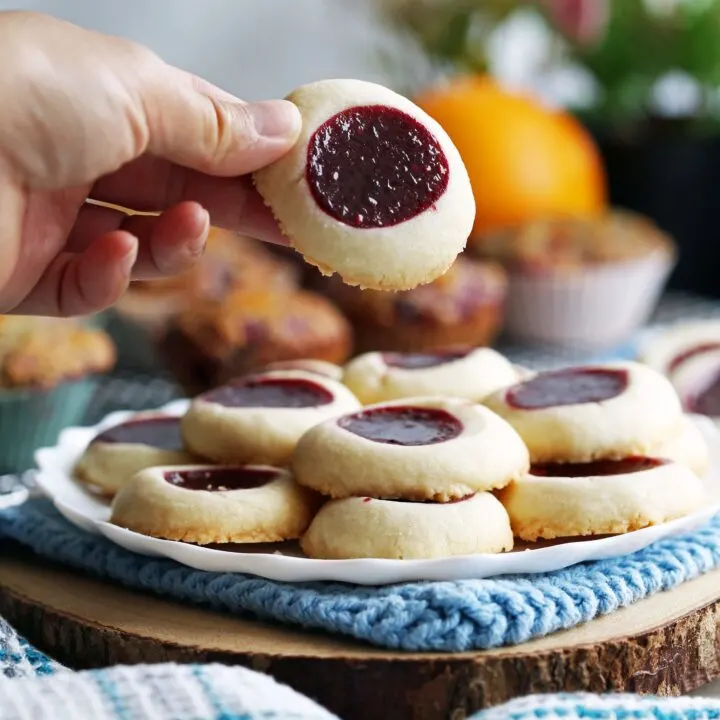 Classic Raspberry Shortbread Thumbprint Cookies
Classic buttery shortbread is filled with sweet and tart raspberry jam in this quick and easy thumbprint cookie recipe. Made with simple ingredients, these delicious cookies are great for sharing during the holidays.
Ingredients
1½ cup (245 g / 8⅝ oz) all-purpose flour
½ cup (150 g / 5¼ oz) icing sugar (aka confectioners' sugar)
¼ cup (37 g / 1¼ oz) cornstarch
1 cup (225 g / 8 oz) unsalted butter, softened, chopped into small cubes
½ tsp vanilla (or almond) extract
¼ cup – ¾ cup raspberry jam
Instructions
Preheat the oven to 350 degrees F and line a large baking sheet with parchment paper. Set aside.
In a large bowl, whisk (or sift) together the flour, icing sugar, and cornstarch until well-distributed.
Add the flour mixture along with the butter and vanilla extract into a stand mixer (or electric mixer).
Whisk together, starting at a low speed and then gradually increasing to high speed, until the mixture forms a uniform and smooth dough ball. If necessary, scrape down the sides of the bowl as it mixes so that everything is combined.
Form 1-inch balls using a rounded tablespoon, shaping it into a smooth ball using your hands. Then place each cookie onto the baking sheet at least 2 inches apart.
Press each cookie down with your thumb, leaving an indentation in the center. Then fill each cookie indentation with jam, about ½ teaspoon to 1 teaspoon of jam per cookie.
Bake for 15-18 minutes, until lightly golden on the bottom. Let cool slightly before eating (cookies will be soft right out of the oven, but will harden as they cool).
Notes
Store cooled cookies in an airtight container in the refrigerator or at room temperature for up to a week.
Recipe can be scaled up or halved.
Nutritional information represents one serving with 36 servings total.
Recommended Products
As a participant in the Amazon Services LLC Associates Program, I only link to products that I use and/or highly recommend. As an Amazon Associate, I earn from qualifying purchases if you purchase through these links at no additional cost to you.
Nutrition Information:
Yield:

36
Serving Size:

1
Amount Per Serving:
Calories:

41
Total Fat:

0g
Saturated Fat:

0g
Trans Fat:

0g
Unsaturated Fat:

0g
Cholesterol:

1mg
Sodium:

5mg
Carbohydrates:

9g
Fiber:

0g
Sugar:

3g
Protein:

1g