Happy Friday! I'm slowly getting back to blogging regularly again since coming back from vacation (the last two recipe posts were written prior to vacation). We did a two-week cruise around the British Isles. So much beautiful sightseeing, tasty food, and cute sheep!
Plus, on the cruise ship, there were unlimited coffee, tea,and desserts until late into the night… sigh… I. Have. No. Self. Control.
Anyway, it's good to get back to the groove of everyday life. Although, I'm going at a snail pace, I love testing and creating recipes to share with all of you. This one is made in my trusty Instant Pot.
I hope you enjoy this one: Instant Pot Cilantro Lime Chicken and Rice!
How do you make this Instant Pot Chicken and Rice recipe?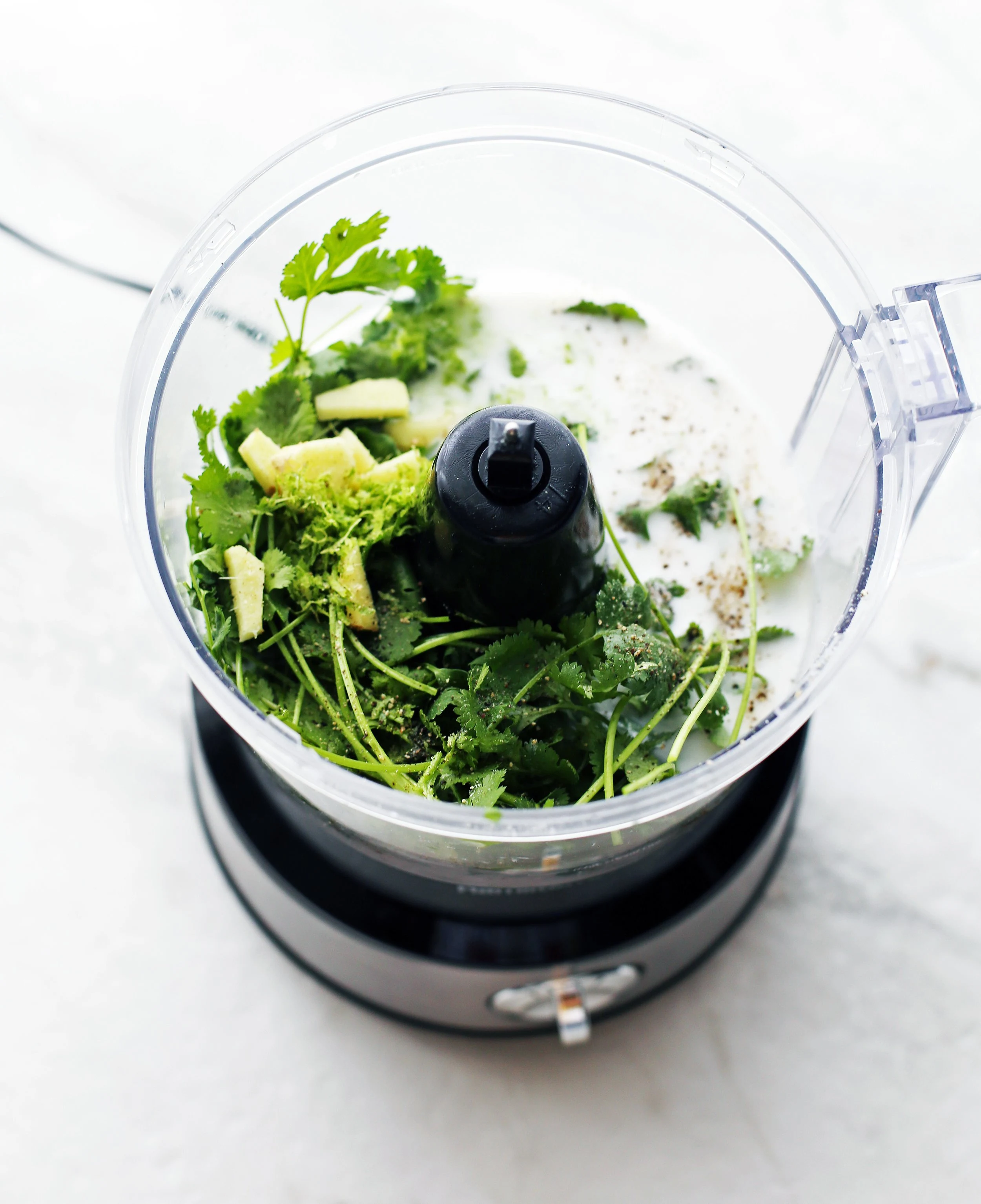 Place all the cilantro lime sauce ingredients in a food processor and blend until well combined. Full ingredient amounts and instructions listed in the recipe card down below.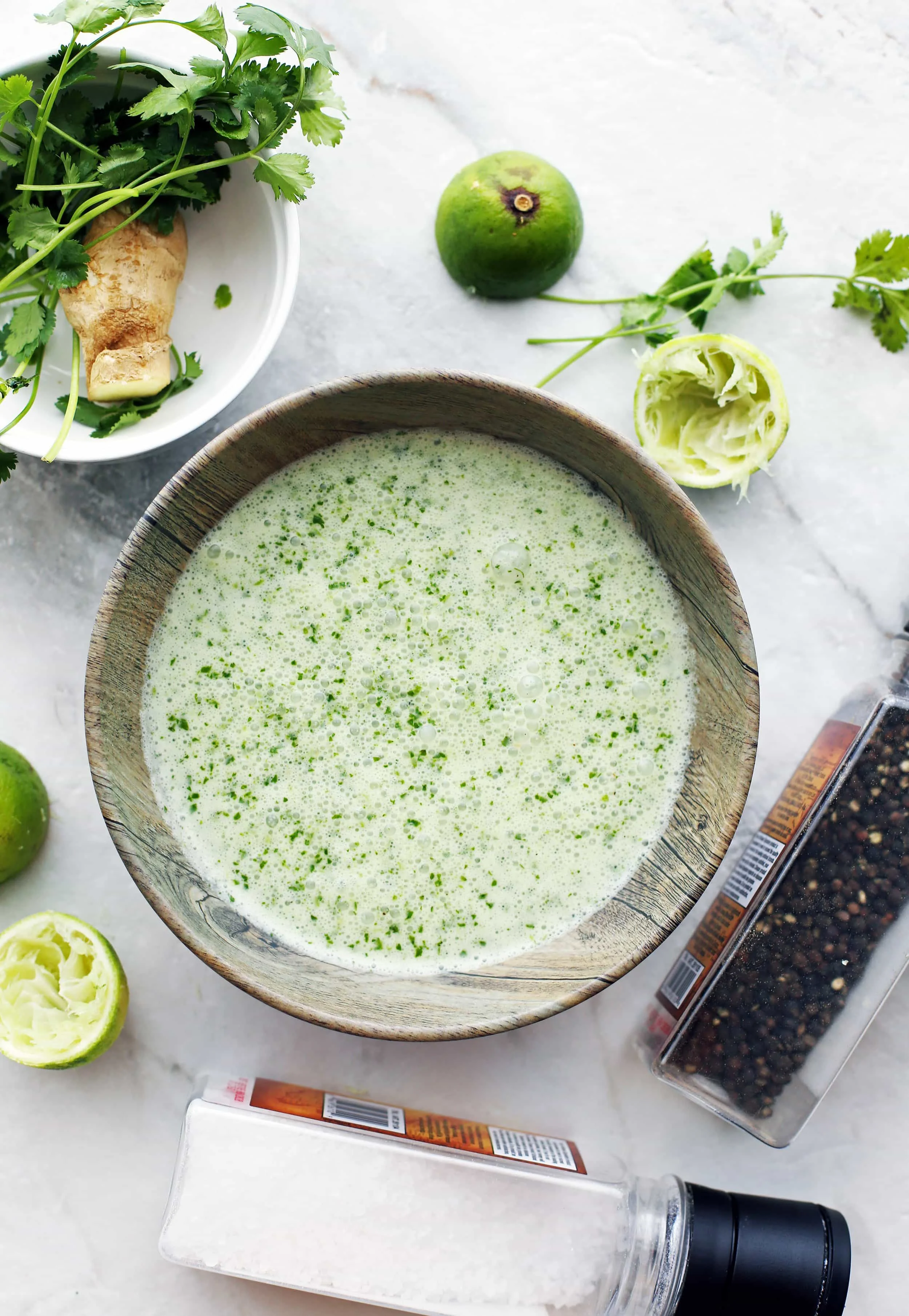 The cilantro lime coconut sauce will be thin with small bits of cilantro.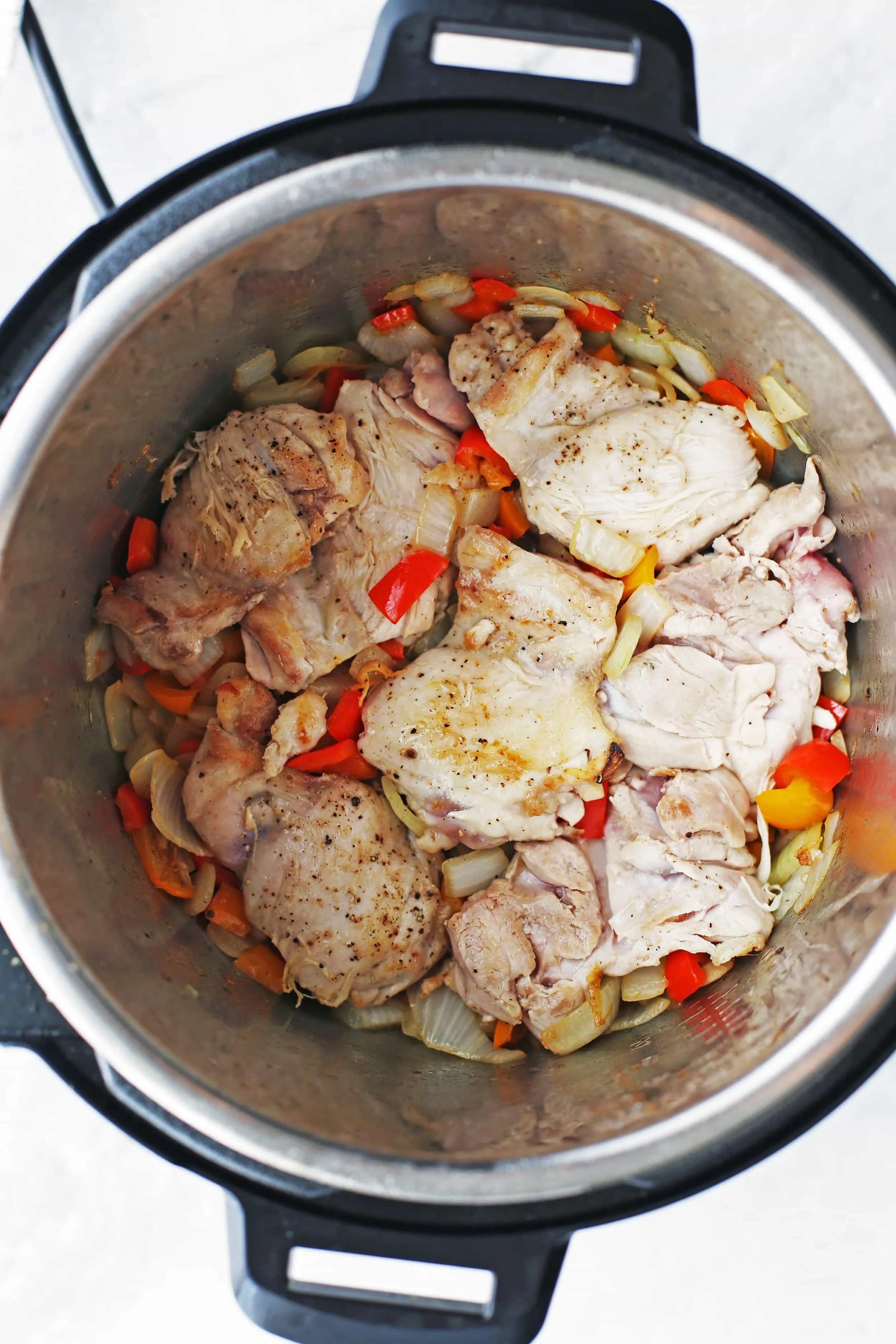 Brown the chicken thighs first before removing and setting aside on a plate. Then sauté the bell peppers and onions before returning the chicken back to the pot.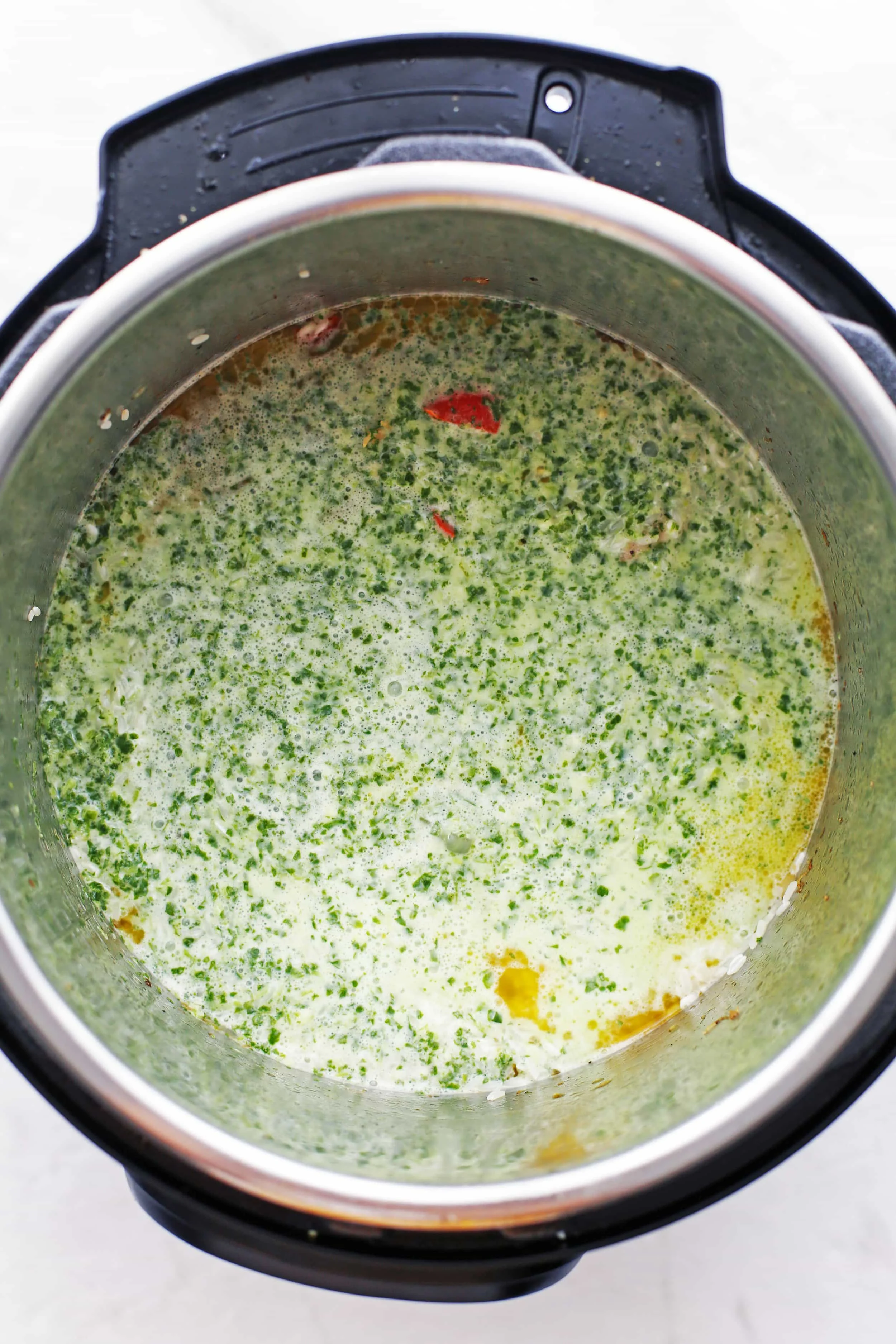 Pour half the sauce, making sure it gets distributed amongst the chicken and vegetables.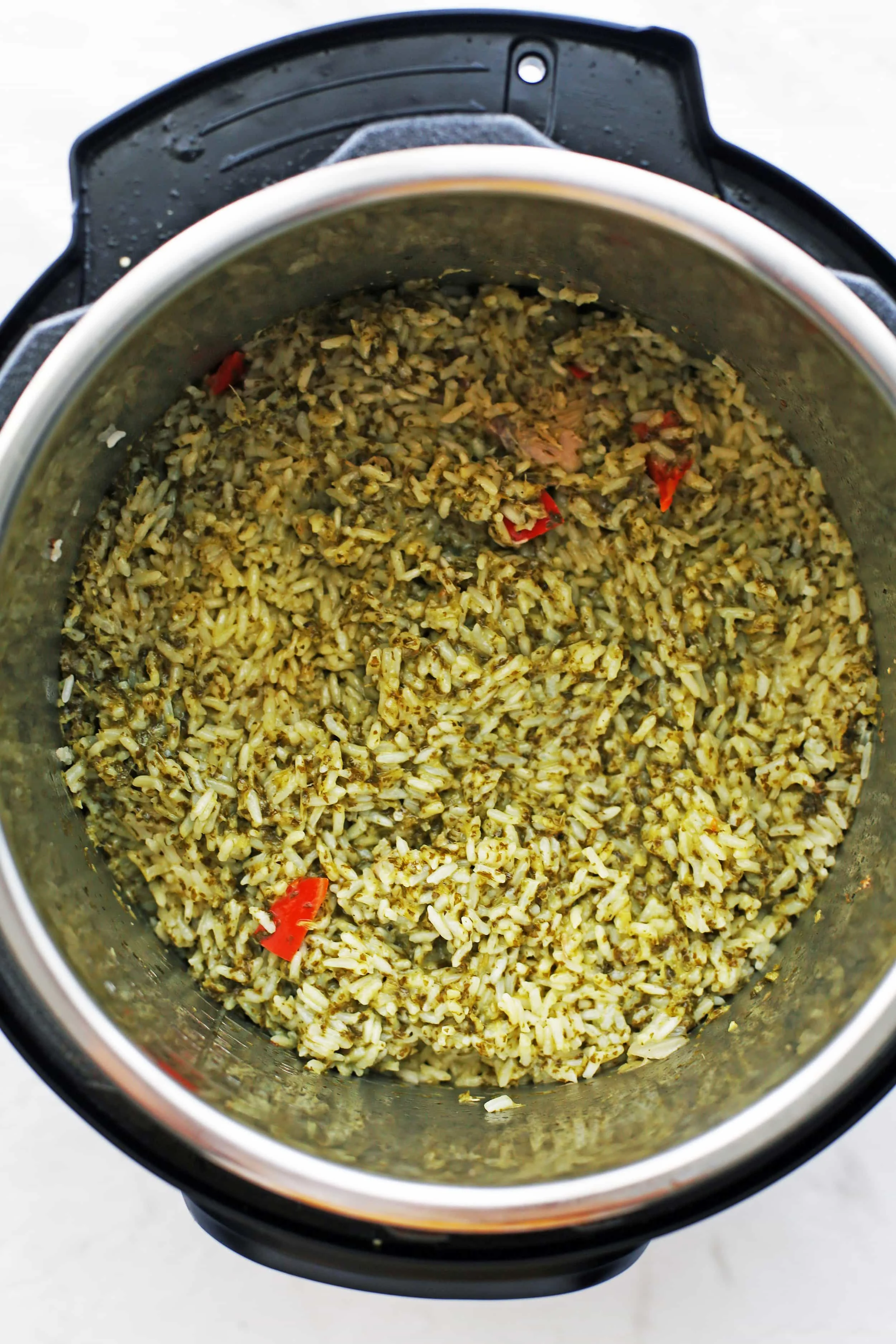 Then top the chicken and vegetables with rice and the remaining sauce. Cook at high pressure for 10 minutes before applying a quick release (The picture is what it looks like right after you open the Instant Pot).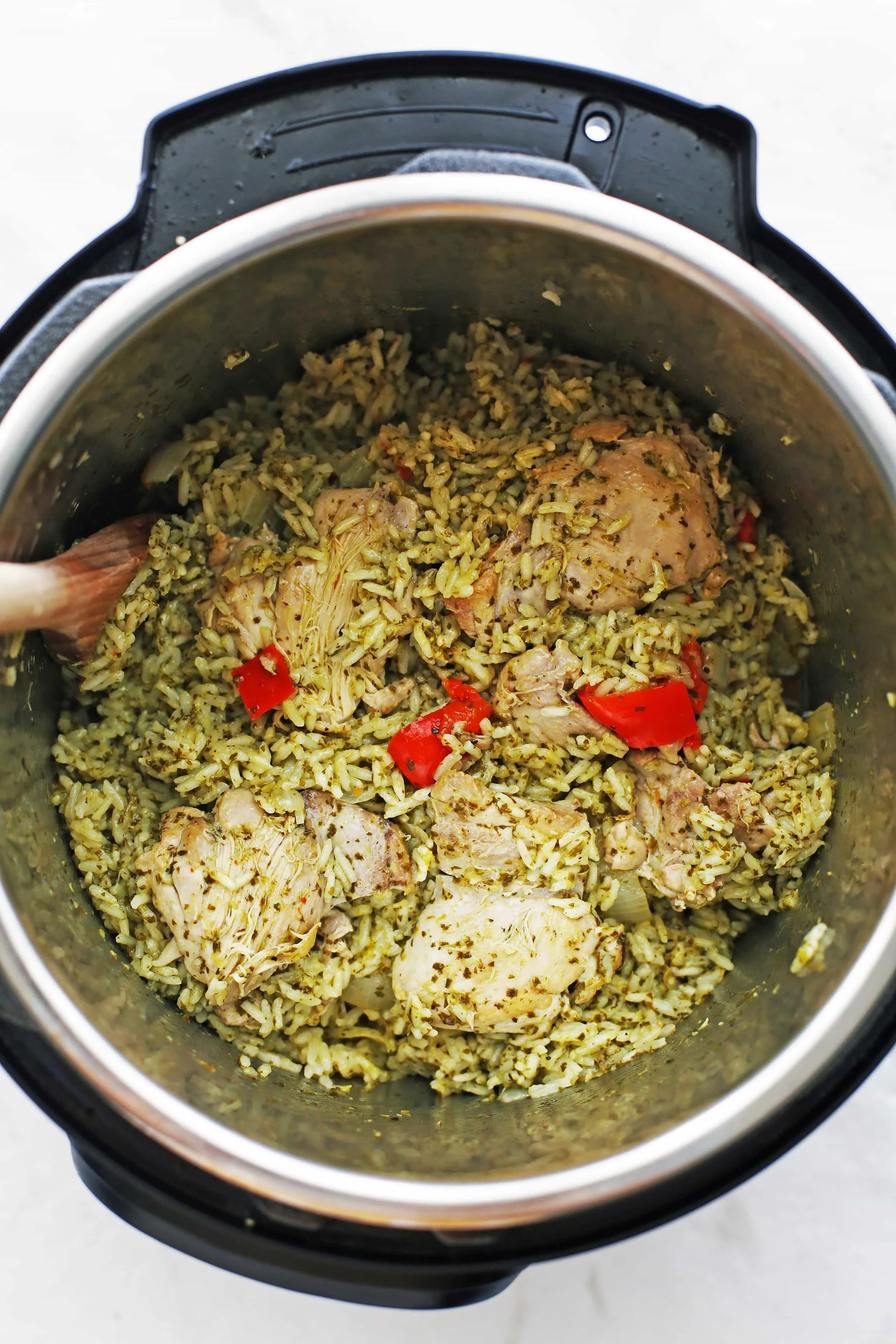 Give it a light toss with a spoon to reveal the chicken and vegetables. Taste for salt and pepper.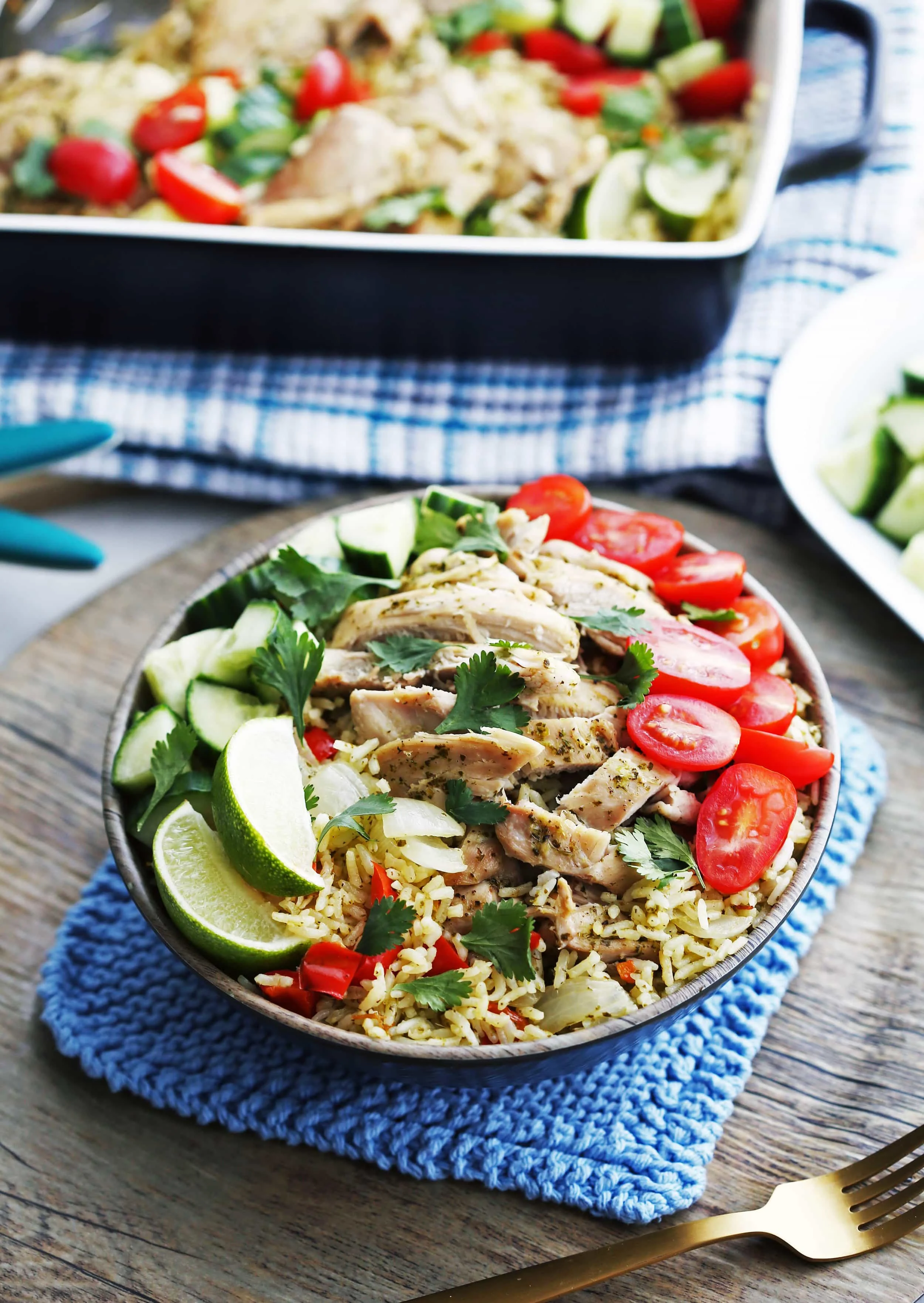 Cilantro Lime Chicken and Rice Tips:
Prepare the ingredients before you start cooking. I like to gather all the ingredients, place them on the counter, and measure and chop them before I start cooking. The exception being the fresh vegetables (like cucumbers and tomatoes) that I add to the chicken and rice at the end.
Make sure you completely unroll (lay flat) the chicken thighs when browning and then again when you place them back among the vegetables and rice in a later step. This ensures that you get even browning and that the chicken will cook all the way through.
Place the rice on top of the other ingredients in the Instant Pot before cooking at high pressure. Don't mix in the rice. Instead, spread the rice in an even layer over the top of other ingredients. Just make sure that rice touches the sauce. If you mix it in, the rice can burn onto the bottom of pot. Not fun to clean-up at all.
Finish with fresh vegetables.I like to use chopped tomatoes,cucumbers, more fresh cilantro leaves, and lime wedges. It gives the rice bowls additional fresh vegetable sweetness, crunch, and brightness.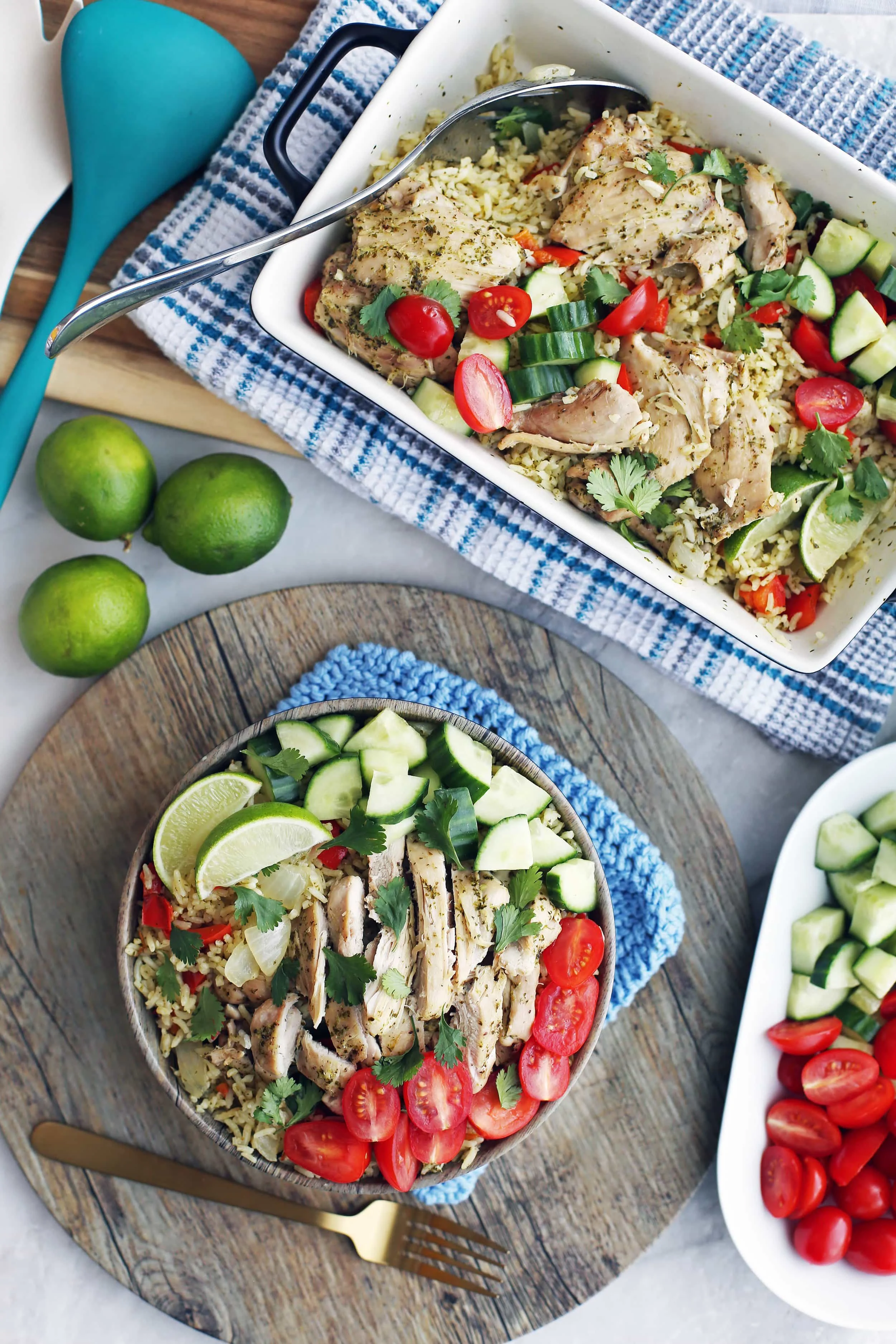 This Cilantro Lime Chicken and Rice Recipe is:
Delicious and flavourful: It has the delectable combination of fresh cilantro, freshly-squeezed lime juice and zest, a little zingy ginger kick, and a hint of coconut flavour from the milk.
Quick and easy to make: Great to make for a filling weekday dinner or a fast weekend meal.
Made with simple ingredients: The ingredients in this recipe are most likely easy to find at your local supermarket.
A fantastic meal for a family or for meal prepping: Leftovers keep well and re-heats wonderfully, so you can make it ahead of time and eat it over a few days.
Gluten-free!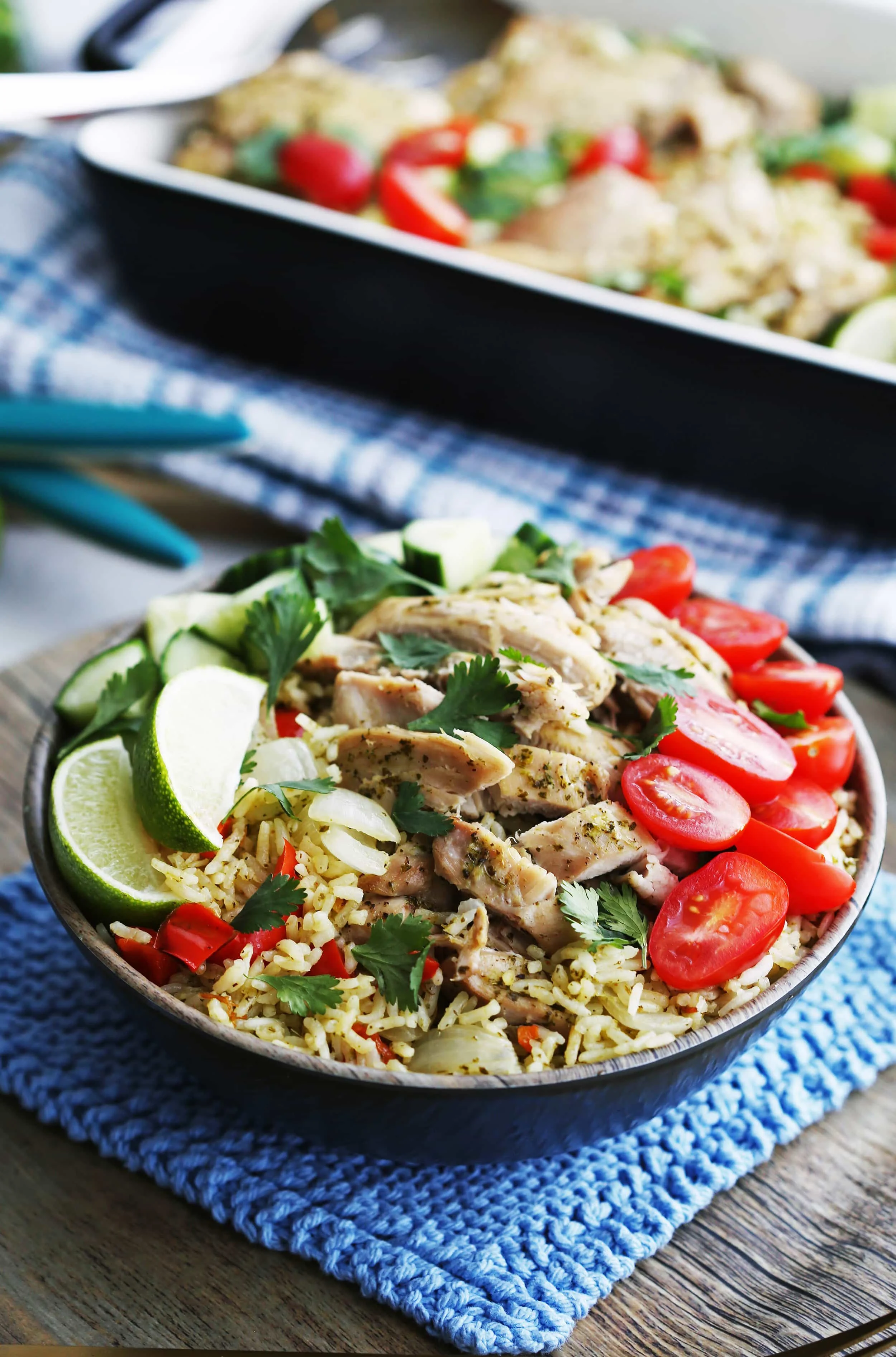 I hope you try this recipe!If you make this recipe, please leave me a comment and rating below. Or you can tag me on any of my social media. I'm @yay_for_food on Instagram!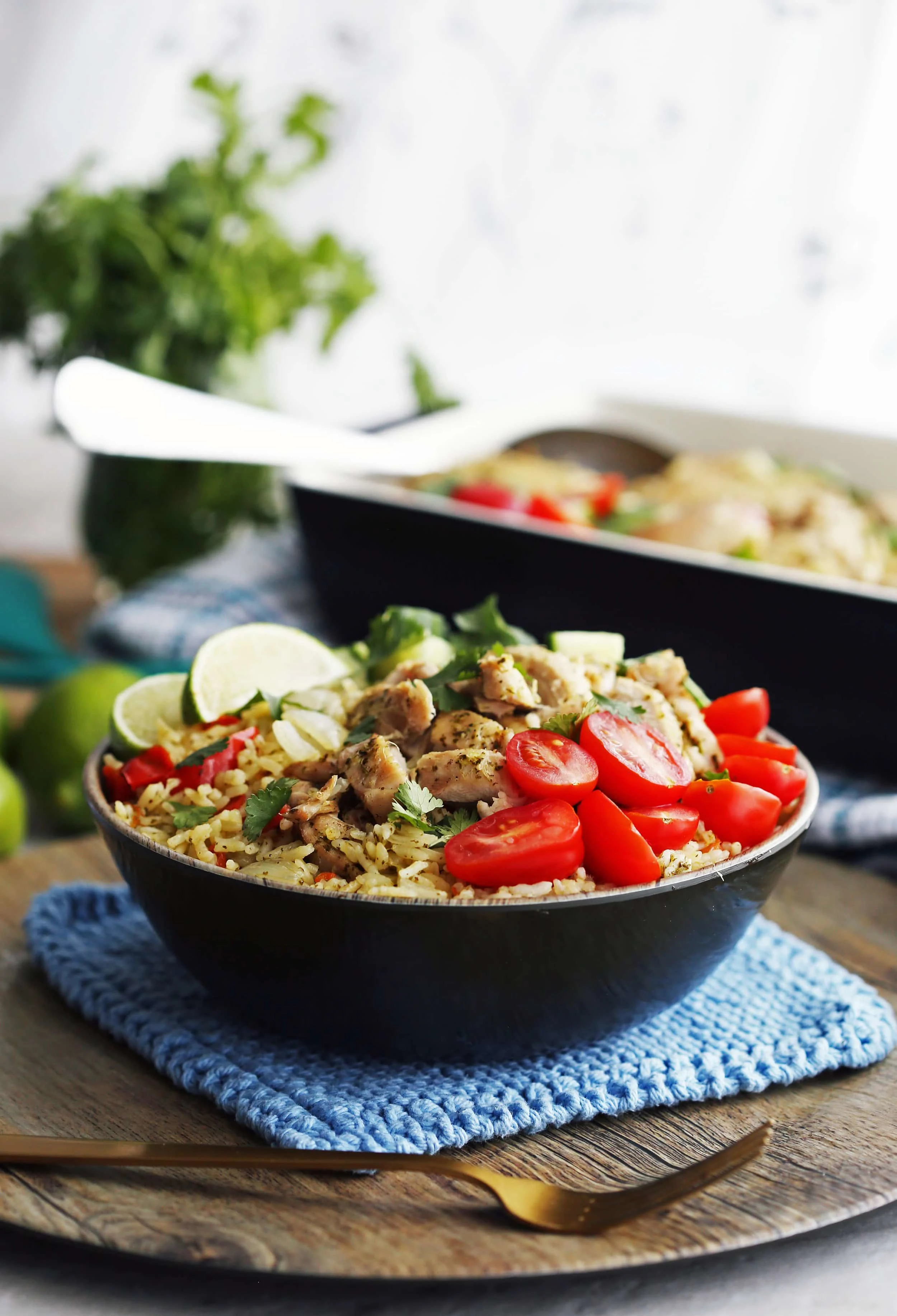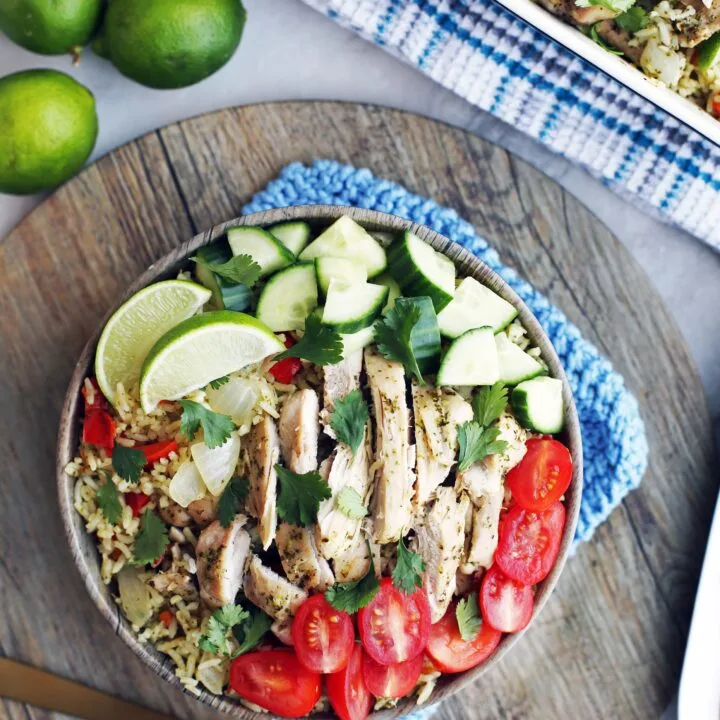 Instant Pot Cilantro Lime Chicken and Rice
Bright, flavourful, and quick to prepare. This Instant Pot recipe features chicken and rice cooked in an easy to make cilantro and lime sauce. Top it off with fresh vegetables for a perfect family dinner.
Ingredients
1½ lb. boneless skinless chicken thighs
1½ cups white rice, rinsed
2-4 tbsp olive oil, divided
1 onion, chopped
1 large bell pepper, seeded and chopped
For the sauce:
1½ cups light coconut milk (from a can), stirred well
2 cups (loosely packed) fresh cilantro, plus more for topping
2-3 limes, zest and juice *(see first note)
2-inch fresh ginger
Salt and pepper, to taste
Optional toppings:
1 heaping cup grape tomatoes, halved
1 heaping cup English cucumber, quartered lengthwise and chopped
Lime wedges
Instructions
Place the sauce ingredients in a food processor and blend until the ingredients are well combined. Set aside.
Dry and lightly season the chicken thighs with salt and pepper on both sides.
Set the Instant Pot to "sauté". Pour in a tablespoon of olive oil and place the chicken thighs flat in a single layer into the Instant Pot (you will probably need to do this in 2-3 batches). Lightly brown the chicken on each side, about 2-3 minutes. Remove the chicken onto a plate and set aside.
Pour another tablespoon of olive oil into the pot along with the onions and peppers. Using a wooden spoon, stir frequently until the vegetables begin to lightly brown and soften, about 2-3 minutes. If there are brown bits left from the chicken, scrap the bottom to remove/dissolve the bits.
Press "cancel" to turn off the Instant Pot. Place the chicken thighs (spread out flat) within the ingredients in the pot. Top with half of the sauce making sure it gets distributed amongst the chicken and vegetables.
Top the mixture with rice (spread into a thin even layer) and pour the remaining sauce over the top of the rice, patting the rice gently to make sure it is soaked with the sauce.
Seal the Instant Pot and cook at high pressure ("manual"/"pressure cook" function) for 10 minutes. After it is ready, carefully apply a quick pressure release to completely depressurize (until floating valve drops).
Open the Instant Pot and plate the chicken and rice **(see second note). Taste for additional salt and pepper. Top with tomatoes, cucumbers, cilantro, and lime wedges if you like. Best served immediately.
Notes
*Two to three limes yield about ¼ cup of juice and 6 tsp of zest.
**I like to remove and slice the chicken, but you can also shred the chicken using two forks and then mix it back into the rice if you prefer.
Nutritional information represents one serving for a total of eight servings.
Recommended Products
As a participant in the Amazon Services LLC Associates Program, I only link to products that I use and/or highly recommend. As an Amazon Associate, I earn from qualifying purchases if you purchase through these links at no additional cost to you.
Nutrition Information:
Yield:

8
Serving Size:

1
Amount Per Serving:
Calories:

489
Total Fat:

31g
Saturated Fat:

9g
Trans Fat:

0g
Unsaturated Fat:

21g
Cholesterol:

138mg
Sodium:

283mg
Carbohydrates:

26g
Fiber:

2g
Sugar:

8g
Protein:

30g