Hi Everyone! I hope you all had a great week. Today's new recipe is a delicious pasta salad featuring roasted summer vegetables, orzo pasta, and a simple, zippy, tangy Dijon-balsamic vinaigrette. It's a keeper!
This pasta salad is delicious, colourful. and fresh! It's full of scrumptious roasted seasonal vegetables (yummy green zucchini, yellow squash, red bell peppers, red grape tomatoes, and sweet white onions) bringing out the vegetables' natural sweetness.
Along with the vegetables, there's the pasta. Of course, you can't have a pasta salad without the pasta. Anyway, I paired the chopped vegetables with cute orzo (aka risoni), which is a pasta that's shaped like a large grain of rice.
Then the veggies and orzo pasta are tossed with a simple and flavourful homemade vinaigrette.
This balsamic-based dressing comes together in five minutes and adds a delectable sweet-tart flavour from the balsamic vinegar along with a little bite from the Dijon mustard and garlic.
The dried herbs (basil and oregano) give the dressing another layer of aromatic and slightly bitter flavour. Of course, don't forget salt and pepper. These common seasonings (mostly the salt) enhance all the flavours.
I hope you enjoy this recipe for Roasted Vegetable Orzo Pasta Salad with Dijon-Balsamic Vinaigrette!
How do you make this vegetable orzo pasta salad?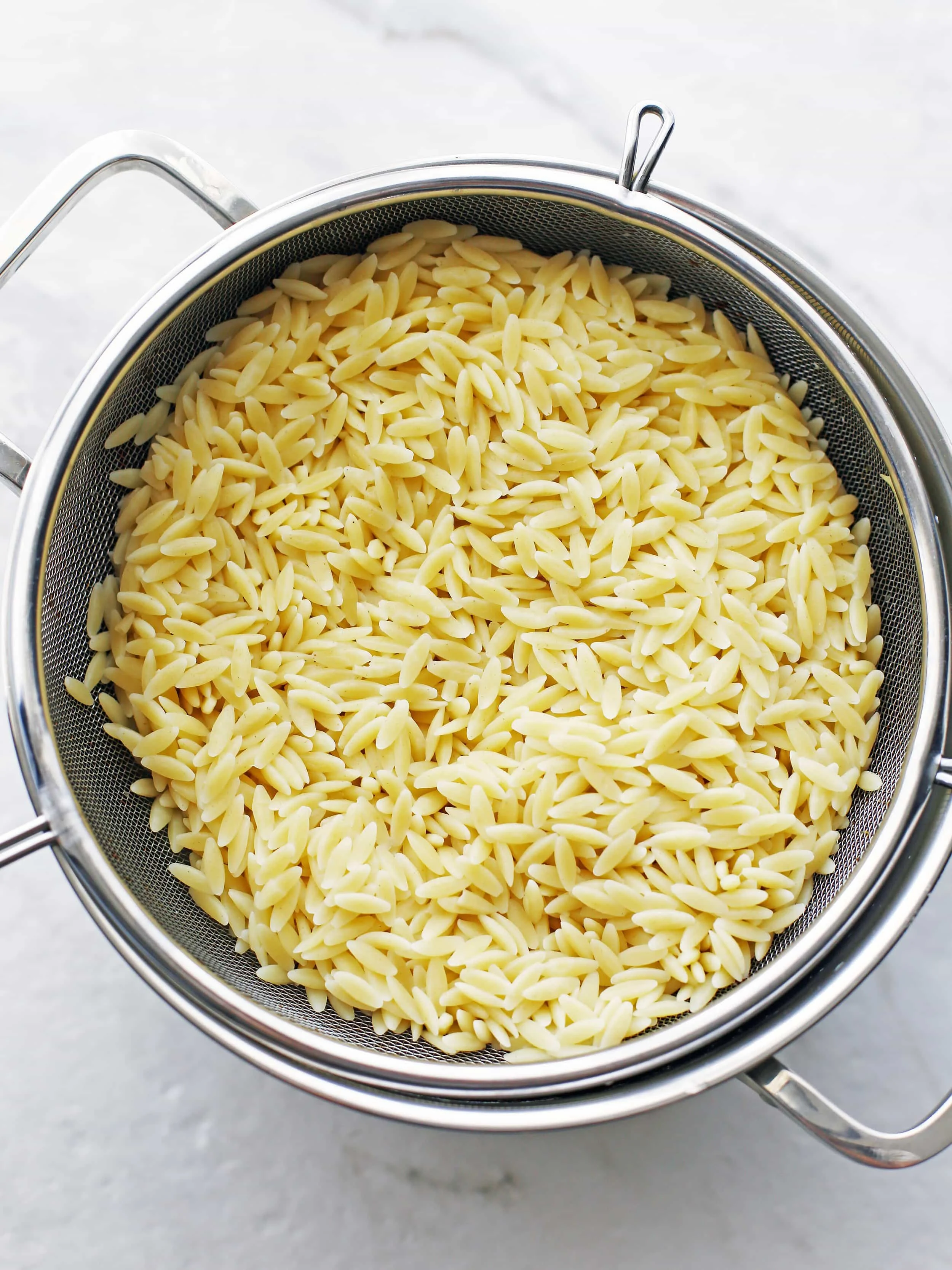 Cook the orzo pasta until al dente according to package directions. Drain and set aside. Full ingredients and instructions listed in the recipe card below.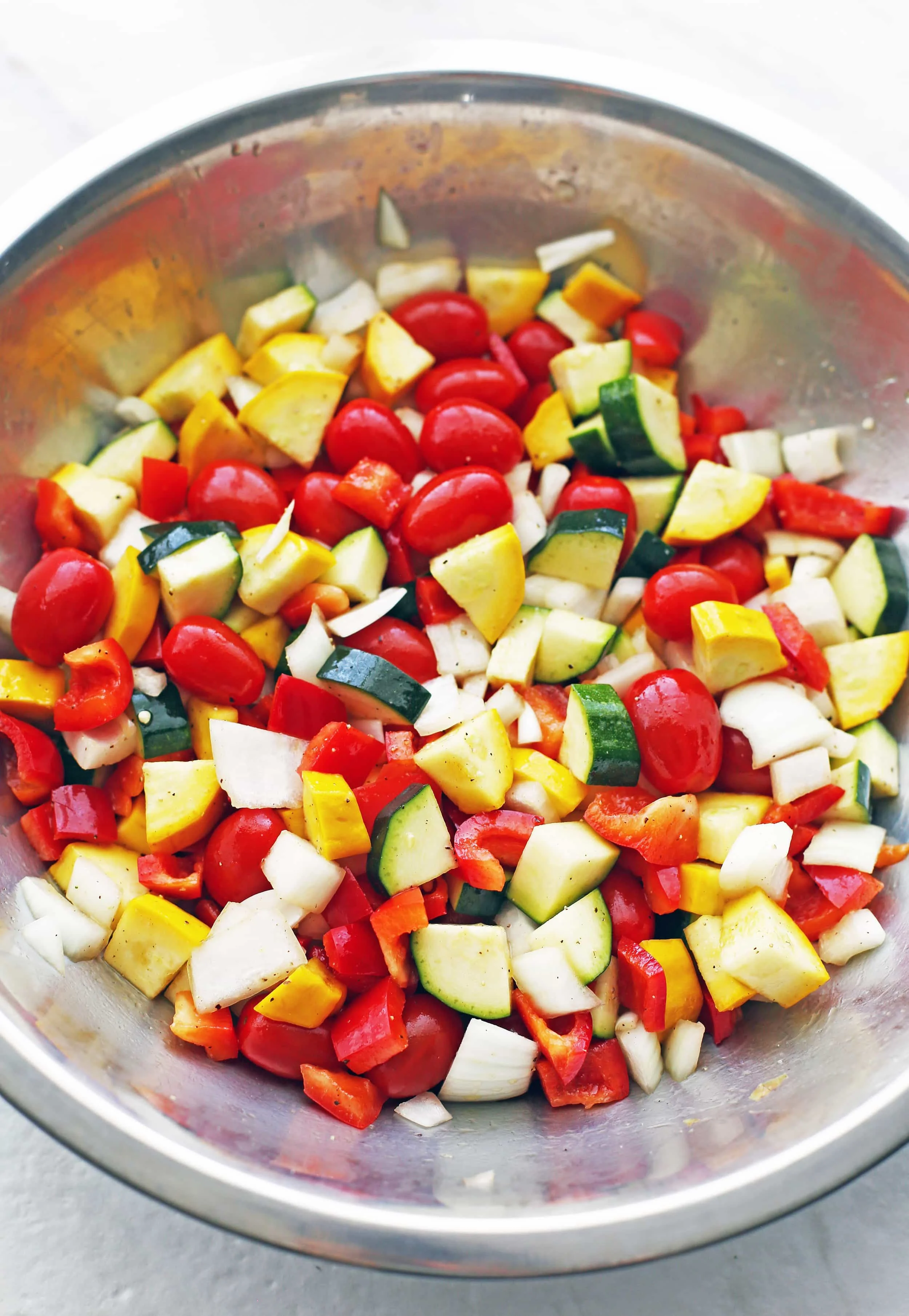 In a large bowl, combine together the chopped vegetables with olive oil, salt, and pepper.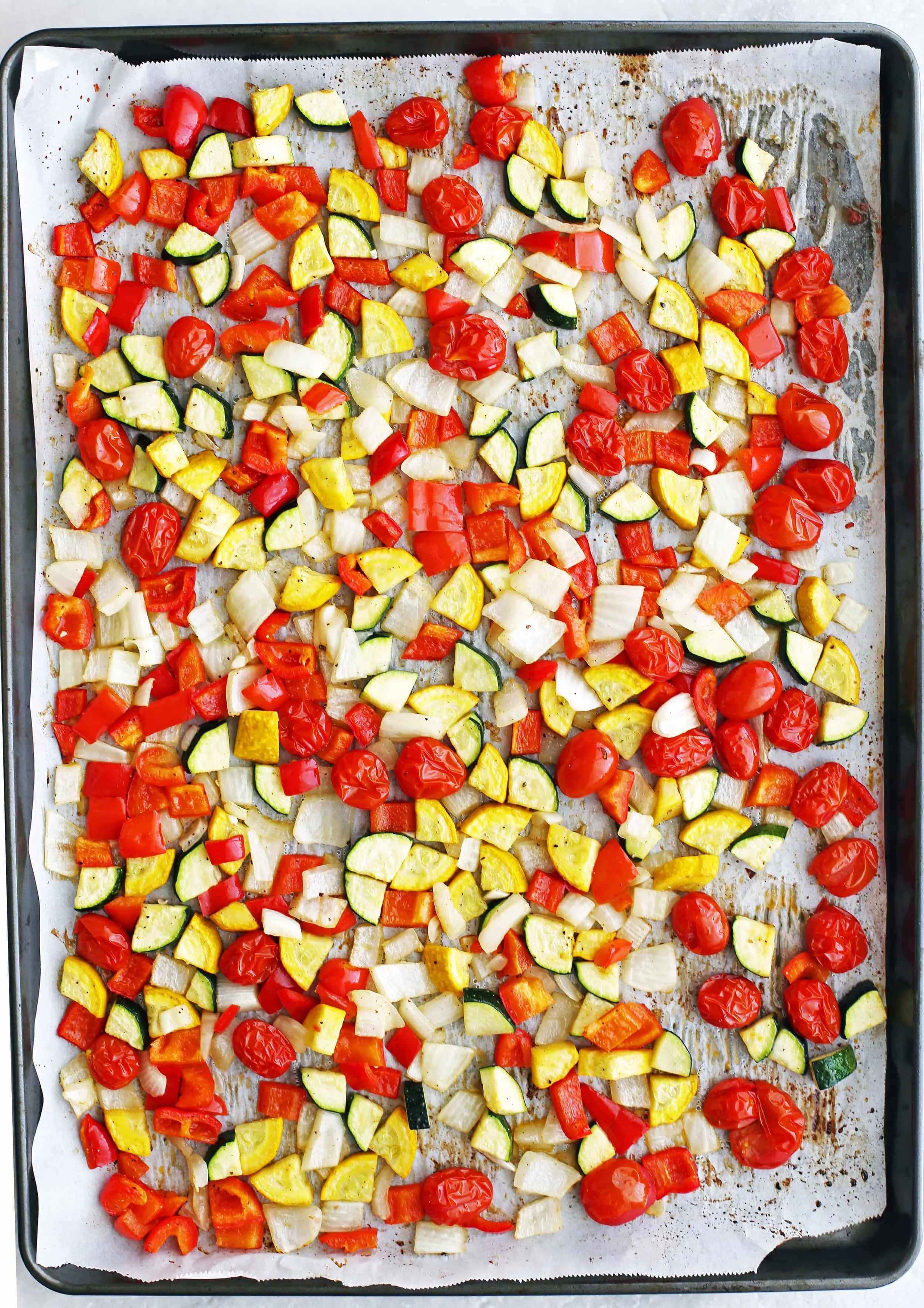 Spread in a single layer on a large parchment paper lined baking sheet and roast for 15-20 minutes, flipping once.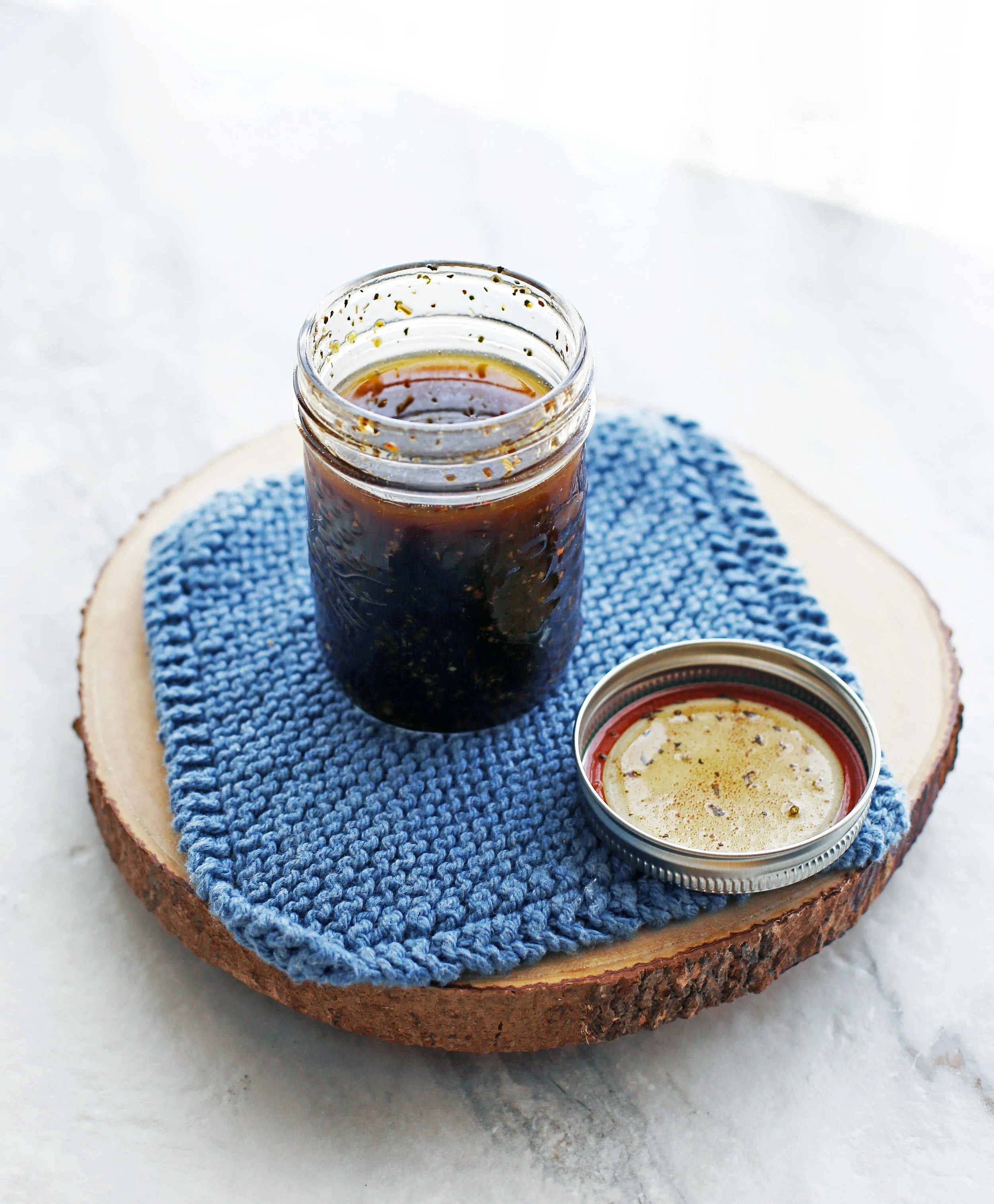 Place all the vinaigrette ingredients in a mason jar, seal the lid, and shake until the ingredients are well combined.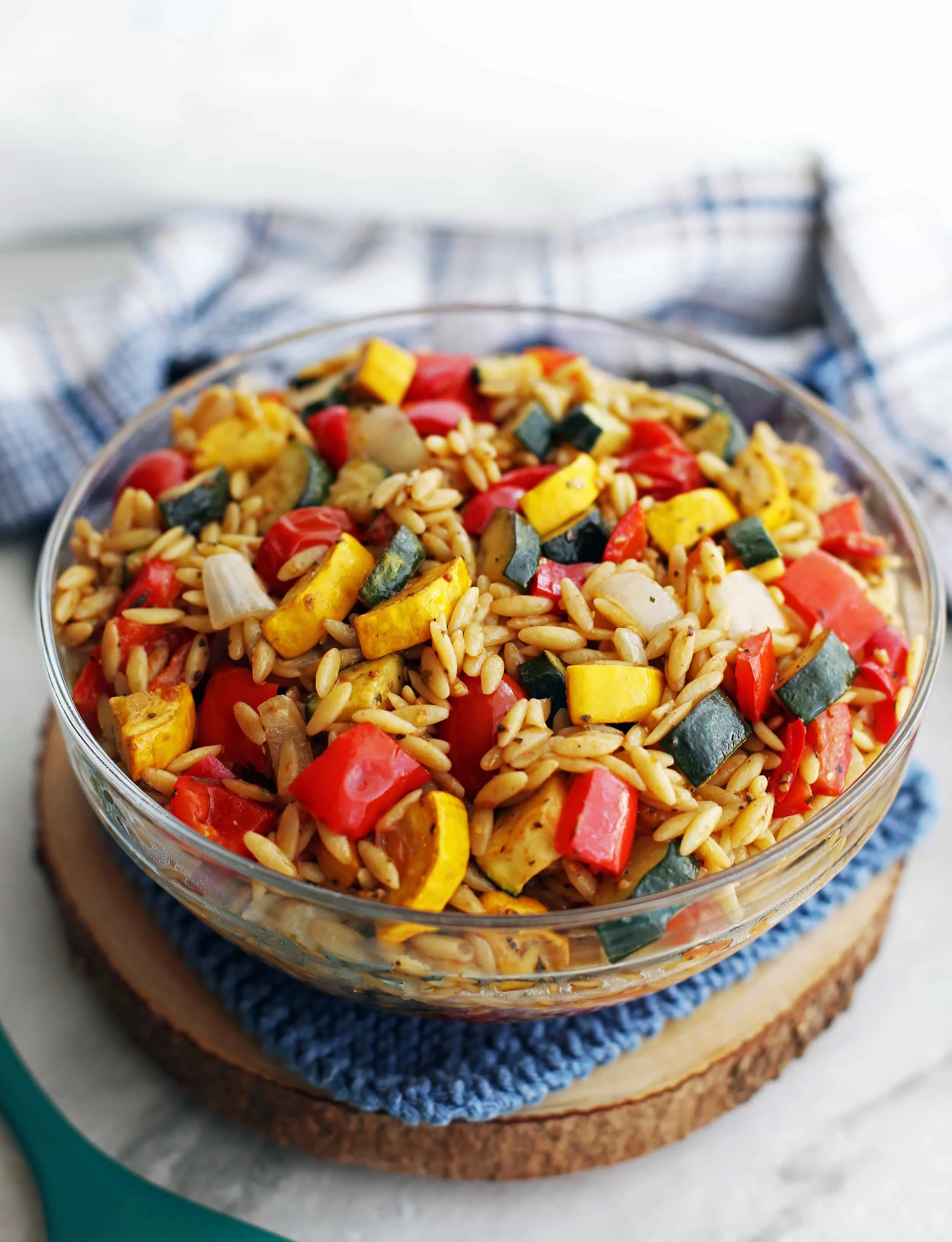 Gently toss the orzo with the roasted vegetables and desired amount of Dijon-balsamic vinaigrette. Then you can eat it right away or let it cool and refrigerate until you are ready to eat.
To roast or not to roast the veggies?
Roasting brings out the natural sweetness of the vegetables and allows the vegetables to get nice and tender (while still holding its shape). It's the perfect complement to the al dente orzo pasta and tangy vinaigrette.
For this recipe, not roasting the vegetables would work great as well because you can eat all of them raw and fresh vegetables (especially when they are in season!) just taste great.
You'll save a little time in making it too. It's your choice, but spending the extra time to roast the vegetables is worth it in my opinion… plus, it's still super easy to do.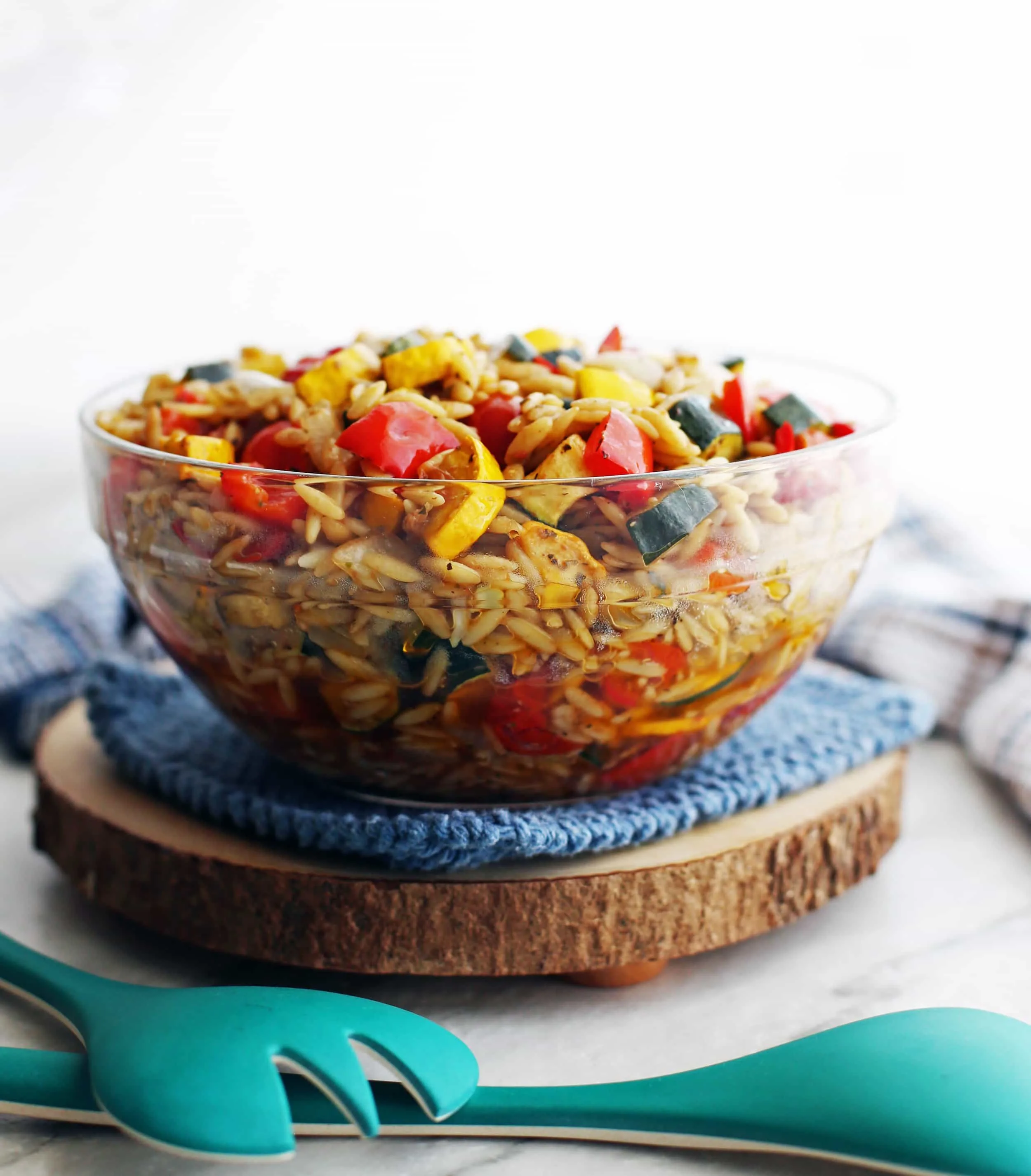 Useful Pasta Salad Tips
To make this pasta salad in an efficient manner: multitask. For example, when cooking the pasta, pre-heat the oven, prepare the vegetables, and start roasting them. When roasting the vegetables, make the vinaigrette. Then everything is ready to toss together as soon as the vegetables are ready.
Speaking of preparing the vegetables, make sure you chop them into relatively similar sizes. They will roast evenly that way. I did leave the grape tomatoes whole as they are already bite-sized and wilt and burst slightly when roasted.
Use a mason jar to make the vinaigrette in. It can be used both to easily shake together and for storage if you have leftover dressing. If you don't have a mason jar handy, a whisk (or fork) and bowl works too.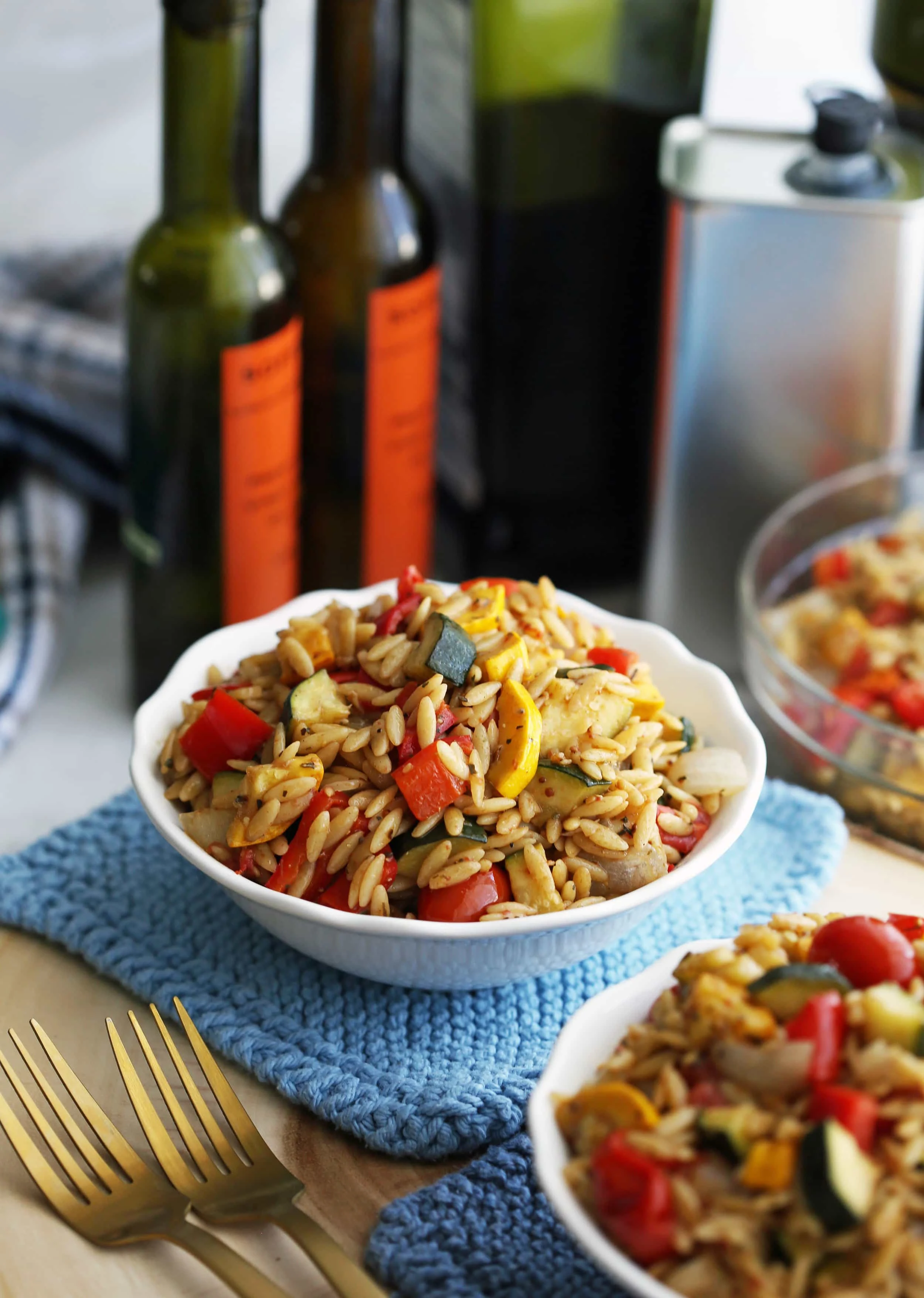 Overall, this vegetable orzo pasta salad is:
Delicious and fresh. It's a great way to use up the bounty of summer vegetables.
Simple to prepare. Who doesn't like quick and easy meals?
A fabulous summertime lunch or side dish that can be served warm or cold. I prefer covering the bowl of pasta salad with plastic wrap and letting the flavours marry for a few hours or even overnight before eating. It tastes even better that way.
Great for taking to gatherings such as potlucks or bbqs. It can be made a day ahead of time.
Vegetarian and possibly vegan, which is perfect for those with these dietary restrictions. To note, be mindful of Dijon mustard. There are many vegan Dijon mustard brands, but some use honey.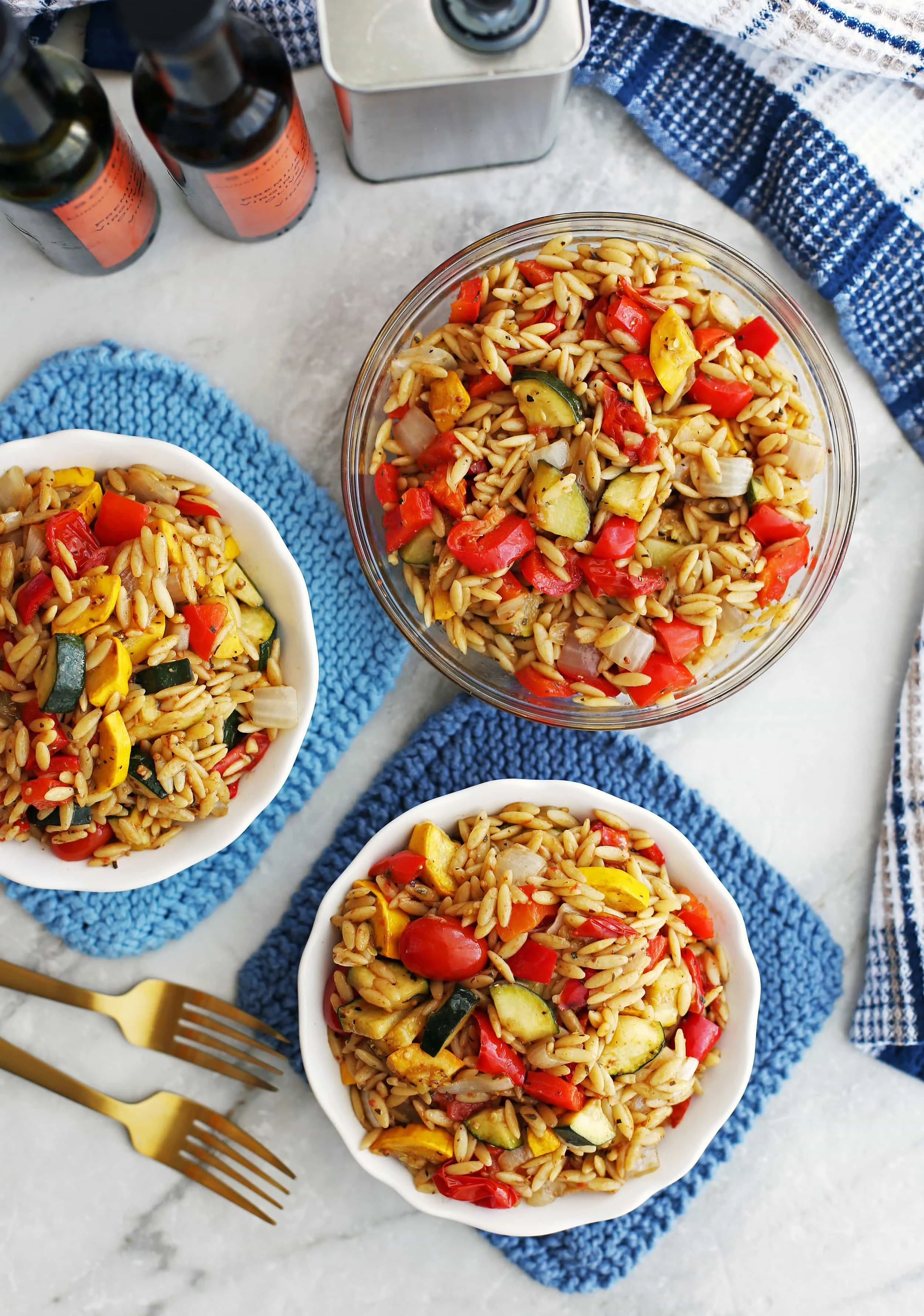 Looking for more pasta salad recipes?
I hope you try this recipe! If you make this recipe, please leave me a comment and rating below. Or you can tag me on any of my social media. I'm @yay_for_food on Instagram!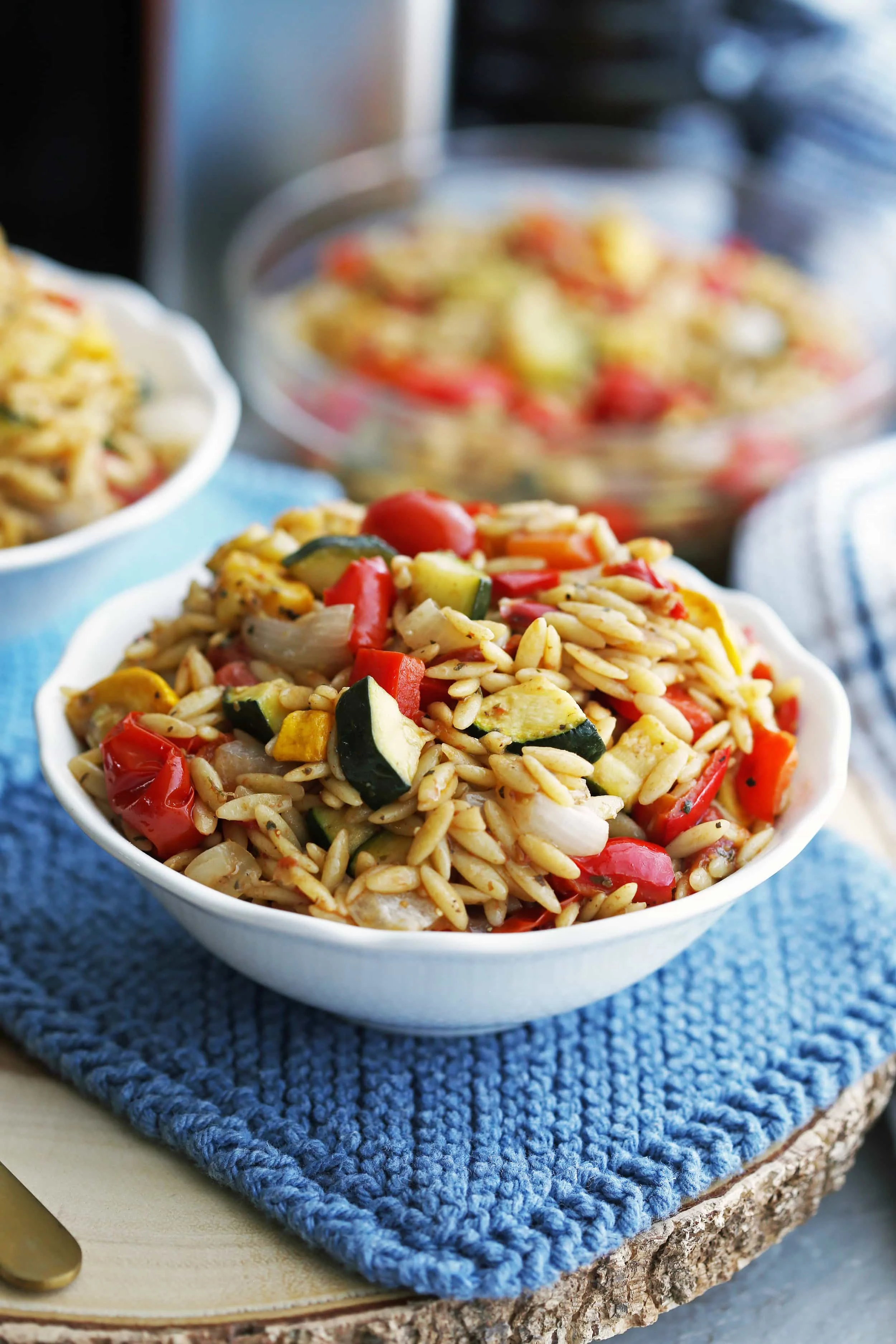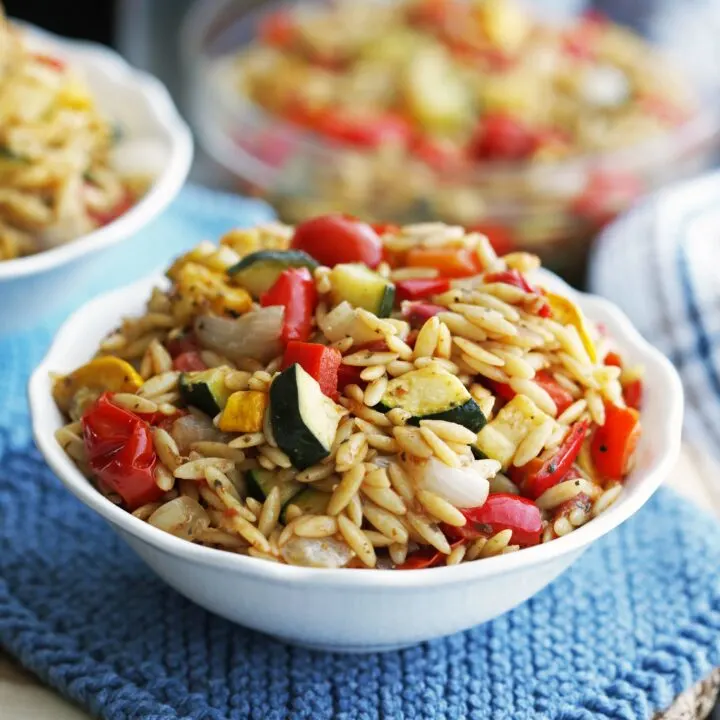 Roasted Vegetable Orzo Pasta Salad with Dijon-Balsamic Vinaigrette
Yield:
6-8 as a side dish
Loaded with fresh roasted vegetables, this orzo pasta salad recipe features a tangy Dijon-balsamic vinaigrette. Served warm or chilled, it makes for a quick and easy summer side dish.
Ingredients
1½ cup (10 oz) uncooked orzo pasta *(see first note)
For the roasted vegetables:
2 bell peppers, seeded and chopped
2 heaping cups grape tomatoes
1 medium zucchini, quartered lengthwise and chopped
1 medium yellow squash, quartered lengthwise and chopped
1 large onion, chopped
2 tbsp extra virgin olive oil
Salt and pepper, to taste
For the Dijon-balsamic vinaigrette:
½ cup extra virgin olive oil
¼ cup balsamic vinegar
1 garlic clove, minced
2 tsp Dijon mustard
1 tsp dried basil
1 tsp dried oregano
Salt and pepper, to taste
Instructions
Cook the pasta. Boil the orzo pasta in salted water according to package directions until al dente. Drain and set aside.
For the roasted vegetables. Preheat the oven to 400 degrees F. In a large bowl, toss together the vegetables with olive oil, salt, and pepper until well-coated.
Place the vegetables on a large baking sheet lined with parchment paper in a single layer.
Roast for 10 minutes and then give the vegetables a stir and flip before baking for another 5-10 minutes, until tender.
For the Dijon-balsamic vinaigrette. Place the vinaigrette ingredients in a mason jar, seal with the lid, and shake the jar until the ingredients are well-combined (or whisk together the ingredients in a medium bowl). Taste and adjust to flavour preferences.
Put it together. In a large bowl, toss together the orzo, roasted vegetables, and desired amount of vinaigrette **(see second note) until the pasta and vegetables are coated with the dressing. Taste for additional salt and pepper.
Serve immediately or cover and refrigerate before serving.
Notes
*Makes around 4 heaping cups of cooked orzo.
**I used all of the vinaigrette, which gives the pasta salad a strong tangy flavour. Start with a smaller amount, toss, and taste before adding more.
Leftover vinaigrette can be stored in airtight container (e.g. sealed mason jar) for up to one week in the refrigerator. Give the jar a good shake (or re-whisk) before using.
Nutritional information represents one serving for a total of eight servings.
Recommended Products
As a participant in the Amazon Services LLC Associates Program, I only link to products that I use and/or highly recommend. As an Amazon Associate, I earn from qualifying purchases if you purchase through these links at no additional cost to you.
Nutrition Information:
Yield:

8
Serving Size:

1
Amount Per Serving:
Calories:

336
Total Fat:

23g
Saturated Fat:

3g
Trans Fat:

0g
Unsaturated Fat:

19g
Cholesterol:

0mg
Sodium:

154mg
Carbohydrates:

28g
Fiber:

3g
Sugar:

8g
Protein:

5g