Hey there!
This smoothie is a refreshing glass of sunshine. Sunshine that's edible. It's a delicious and good-for-you concoction that's primary sweet from the fruit with a hint of carrot and the antioxidant-rich spice, turmeric.
I hope you enjoy this easy drink recipe: Turmeric Pineapple Carrot Smoothie!
How you make this smoothie recipe?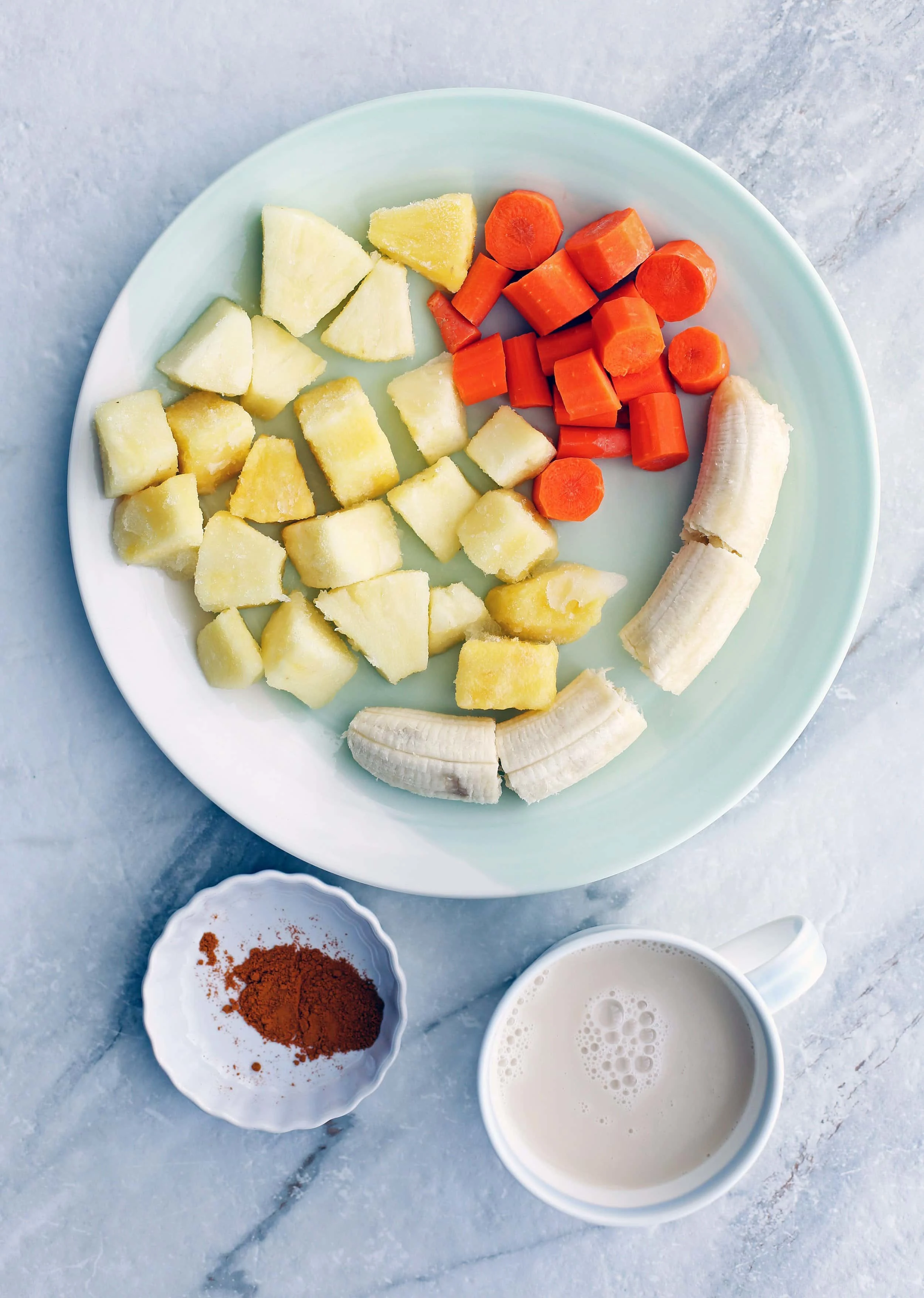 Gather and measure out all the ingredients in this quick and easy smoothie recipe.
(Check out the recipe card below for the full ingredient amounts and instructions).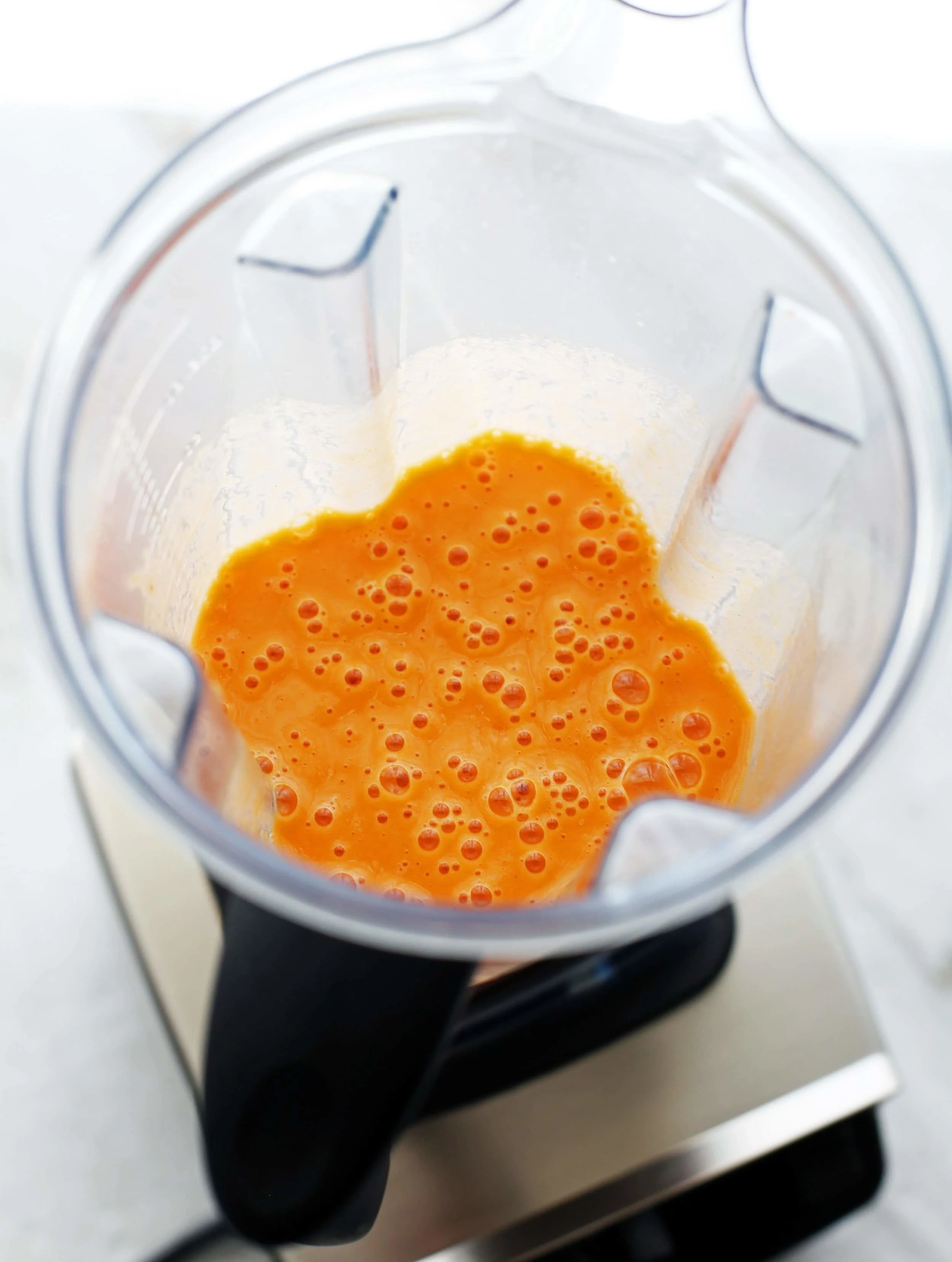 Place all the ingredients in a blender and blend until smooth. It's one tasty, creamy, and healthy drink!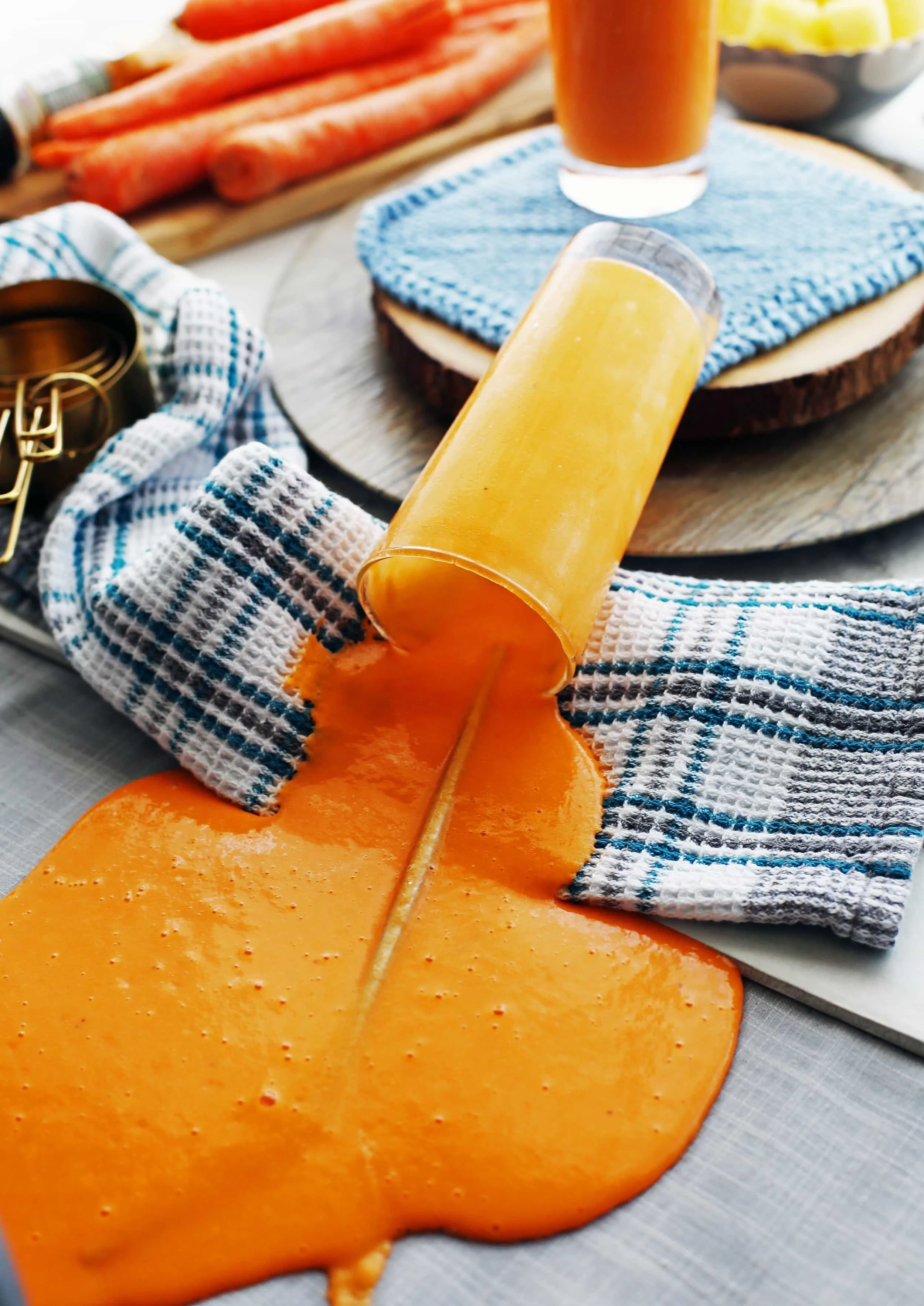 I may have gotten a little upset by this. Not only did I lose a drink, but clean-up was not fun. But hey, look at the lovely deep orange colour of the smoothie.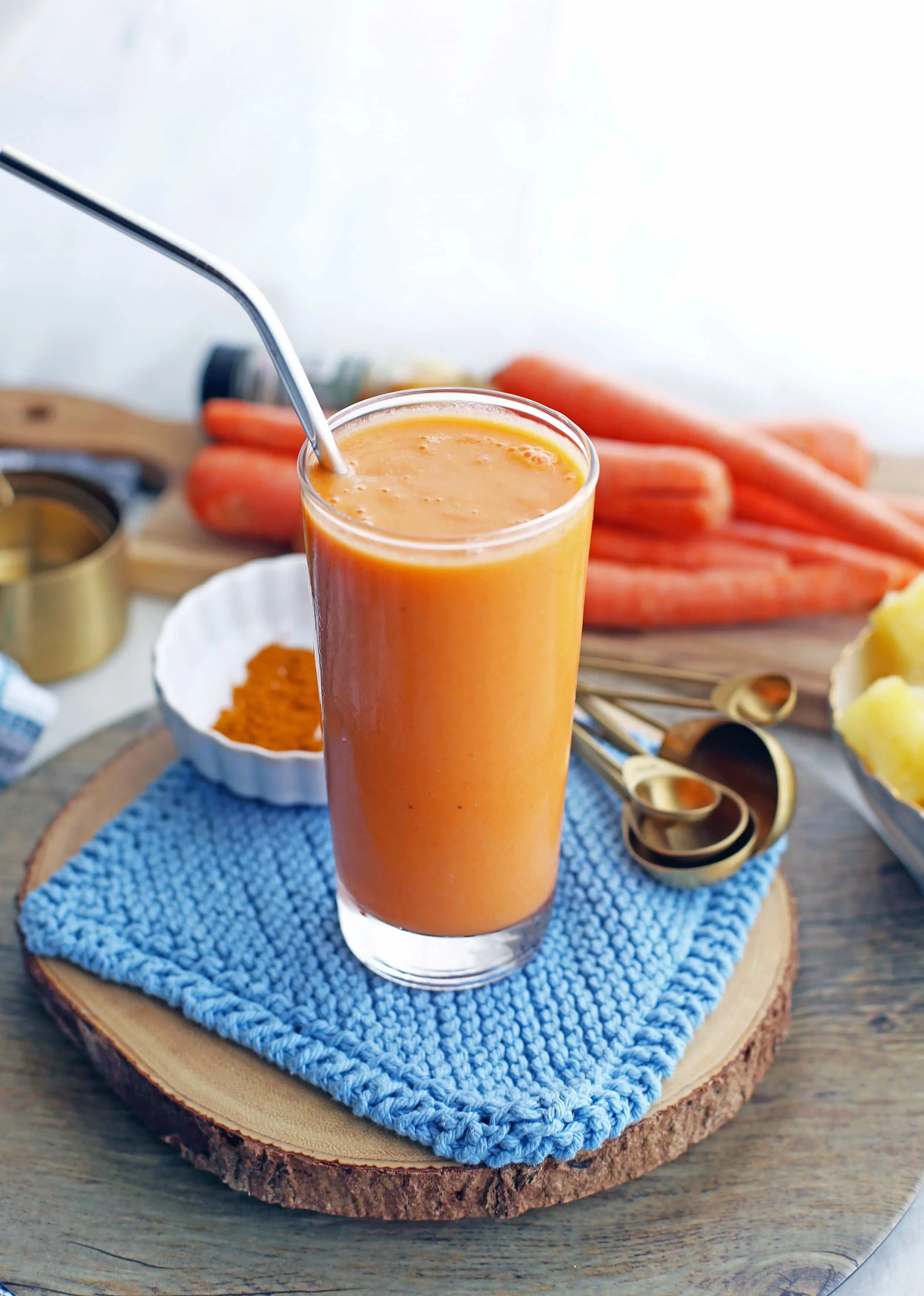 What's in this smoothie?
Pineapple (fresh or frozen): This wonderful tropical fruit is full of sweet and tart flavours and full of healthy vitamins and minerals too such as vitamin C, vitamins B1 and B6, manganese, and dietary fiber.
In this recipe, I used frozen sweet pineapple. I always pick up a bag of frozen pineapple from the supermarket to make smoothies. They are conveniently ripe and chopped up already, so I just need to toss them in the blender with the other ingredients.
If you use fresh pineapple, choose the ones that are firm, smell sweet at the stem end, and is heavy for its size.
Bananas (fresh or frozen): This inexpensive fruit adds more natural sweetness and helps give the smoothie that pleasing creamy texture. Plus, bananas are rich in fiber, antioxidants and nutrients such as potassium, vitamin B6, and vitamin C.
I used a fresh ripe banana in this recipe, but you can use a frozen one if you have them saved up in your freezer.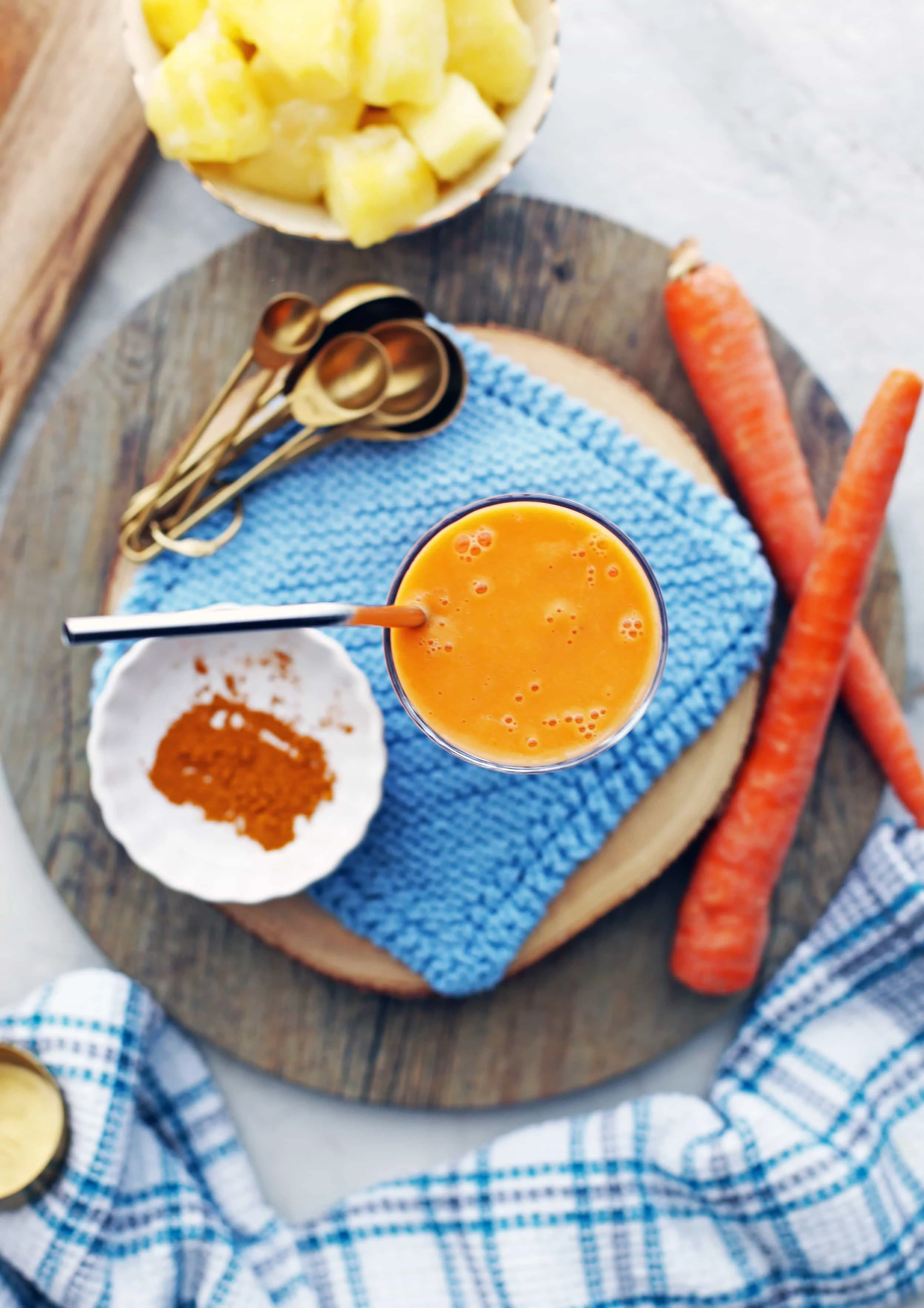 Carrots: I like hiding vegetables in my smoothies. Usually, I like to stick fresh spinach or kale in my smoothies such as my recipe for Strawberry Avocado Green Smoothie, but I wanted to stick to the yellow and orange colours of the other ingredients so in went the carrots.
Putting in greens would have made the smoothie a dull greyish colour, which would have tasted good, but not look as appetizing.
Anyway, carrots are great for you. Not only are they found in abundance year-round at the supermarket, but they are healthy. For example, carrots are a rich source of beta-carotene (which converts into vitamin A), fiber, vitamin K, and potassium, which can help with lowering cholesterol levels and maintaining healthy vision.
Vanilla Almond Milk: Lightly nutty with a hint of vanilla. This helps thin out the smoothie. I love the taste of almond milk (sweetened or unsweetened) so I tend to use it a lot in smoothies.
Plus it's dairy-free and vegan, making this smoothie accessible to more people. Of course, you can replace almond milk with another milk of your choice if you like.
Ground Turmeric: This bright golden-yellow spice is lightly aromatic and has scents of orange or ginger that's known for its antioxidant and anti-inflammatory properties. Plus, it's high in iron and manganese.
Ice: Only necessary if you are using both fresh pineapple and banana and you prefer a thicker texture.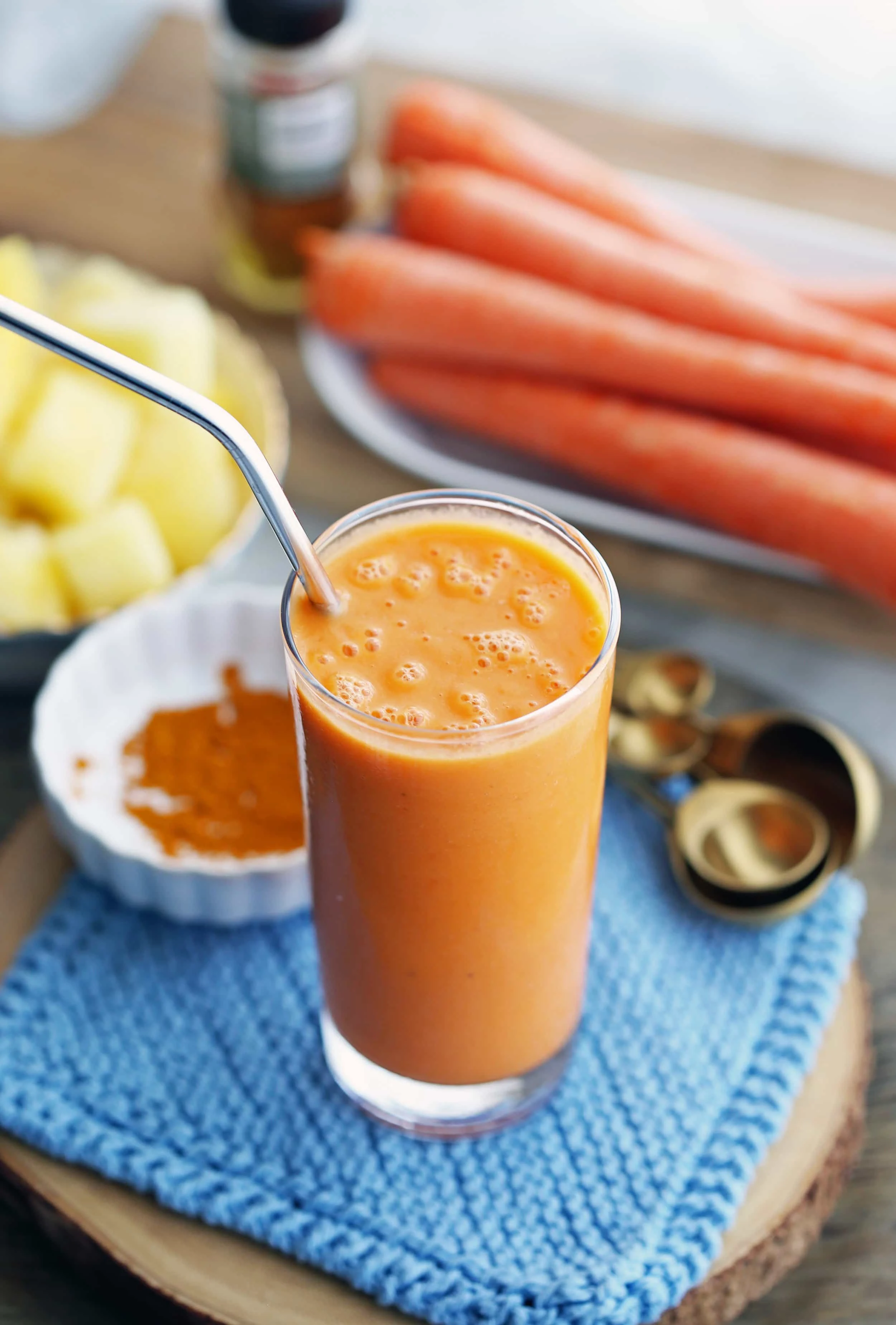 In summary, this pineapple carrot smoothie is:
Delicious: It's creamy and flavourful.
Pretty: Such a beautiful orange colour.
Full of nutritional benefits.
Easy and quick to prepare.
A quick, healthy breakfast or snack.
Vegan and gluten-free.
I hope you try this recipe! If you do, please leave me a rating and comment down below or tag me on any of my social media. I'm @yay_for_food on Instagram. I'll love a picture!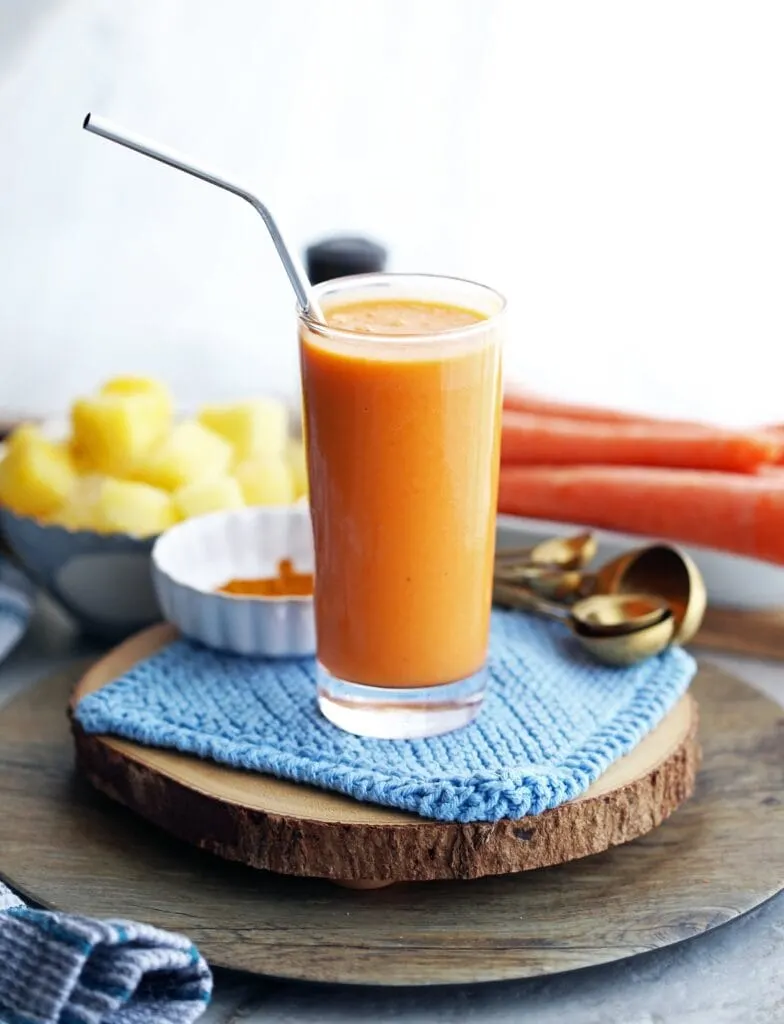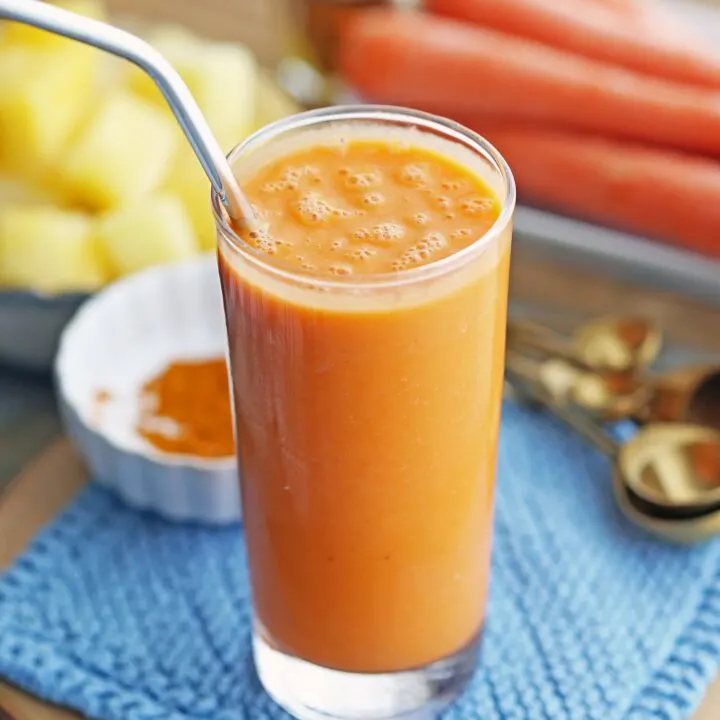 Turmeric Pineapple Carrot Smoothies
Yield:
2-4 (makes 4 cups)
The sweet flavour of pineapple meets nutritious carrots in this bright, refreshing smoothie recipe. Together with aromatic, golden-yellow turmeric, it's sunshine in a glass.
Ingredients
2 heaping cups (12 oz) pineapple chunks (fresh or frozen)
1 medium carrot (5 oz), peeled and chopped
1 ripe banana, peeled (fresh or frozen)
1 cup unsweetened vanilla almond milk (or milk of your choice)
½ tsp ground turmeric
4-6 ice cubes, if only using fresh fruit
Instructions
Place all the ingredients in a high-powered blender and blend until smooth.
Once blended, taste and adjust according to preferences such as adding more milk for a thinner smoothie or more pineapple or banana for additional sweetness.
Best served immediately.
Notes
Nutritional information represents one serving for a total of four servings.
Recommended Products
As a participant in the Amazon Services LLC Associates Program, I only link to products that I use and/or highly recommend. As an Amazon Associate, I earn from qualifying purchases if you purchase through these links at no additional cost to you.
Nutrition Information:
Yield:

4
Serving Size:

1
Amount Per Serving:
Calories:

126
Total Fat:

2g
Saturated Fat:

0g
Trans Fat:

0g
Unsaturated Fat:

1g
Cholesterol:

0mg
Sodium:

18mg
Carbohydrates:

29g
Fiber:

4g
Sugar:

16g
Protein:

2g