If you love peanut butter and marshmallows, this dessert is for you!
This was a childhood favourite for my husband, Scott. Just like with Chocolate Puffed Wheat Squares, his eyes light up when he sees Confetti Bars. A month ago, at a local coffee shop, he just had to get a square with his coffee, as he proclaimed that he really really likes them.
When visiting relatives in Manitoba as a child, there was often a selection of desserts laid out on a tray for special occasions. Among the desserts, Scott recalls enjoying coconut chocolate clusters, oat drops, and many more.
Yet, none could top the confetti bar in all it's pink, green, yellow, and white marshmallow glory. There was always plenty of desserts to go around, but the confetti bars never survived the first pass.
So I thought, why not make them at home for him. I knew the basics behind making marshmallow bars, but never made them for Scott. Off I went to make these delightful classic treats.
This recipe is so simple as there are only four ingredients and it takes just 10 minutes (or less) of time in the kitchen.
There is a waiting period to allow for the mixture to cool and set, but you can get other stuff done in the meantime like catching up on your favourite tv show! Plus, it's made on the stovetop. No baking required.
Some helpful tips to make confetti bars
(Full ingredient amounts and instructions available in the recipe card down below).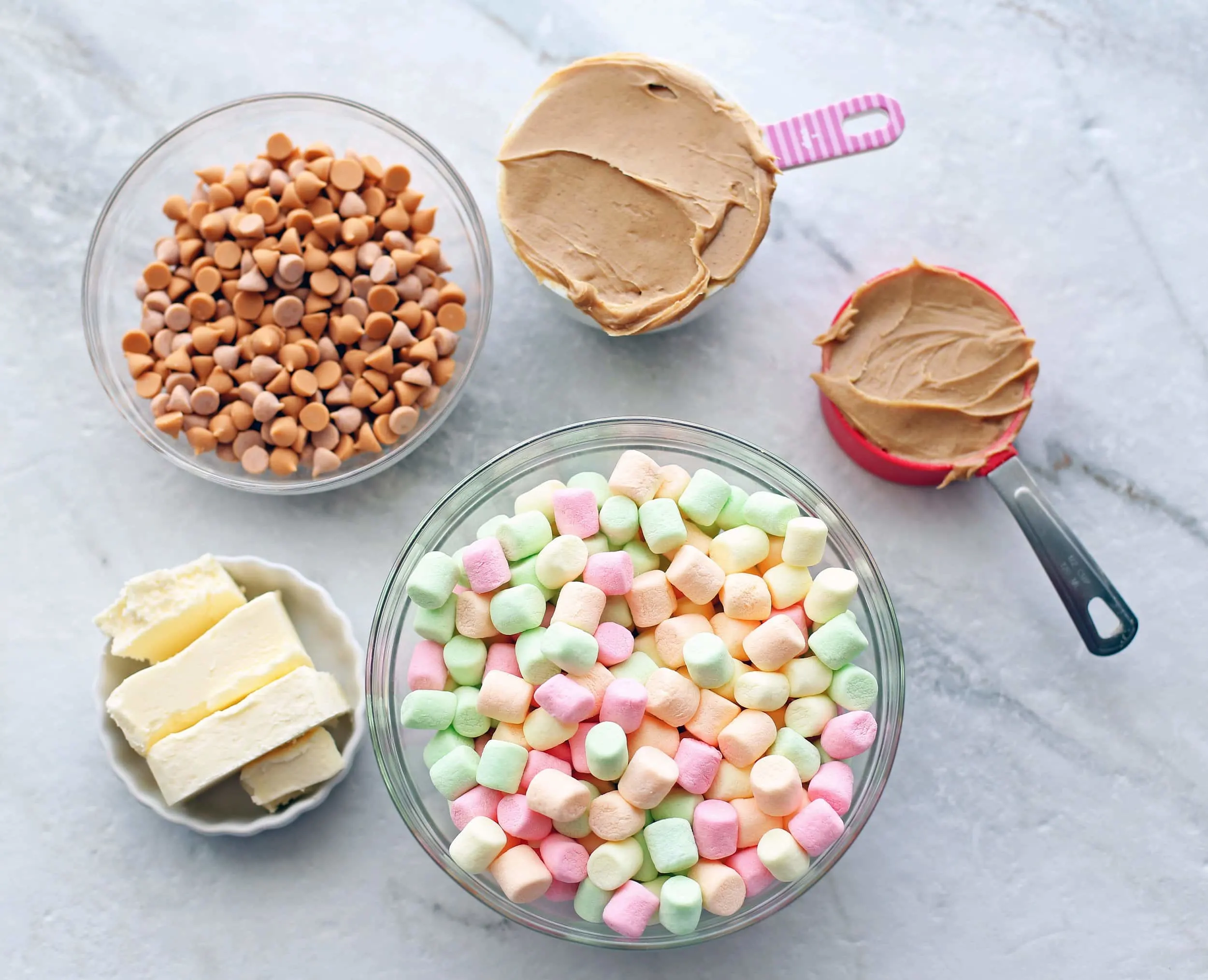 TIP 1: Measure out the ingredients first so you're ready to use them once you start cooking on the stove.
TIP 2: When combining the butter, peanut butter, and butterscotch chips together (place in skillet in that order), whisk continuously with a metal whisk (as plastic may melt).
It will help the ingredients, especially the chips, melt faster and prevent the ingredients from sticking to and burning the pan.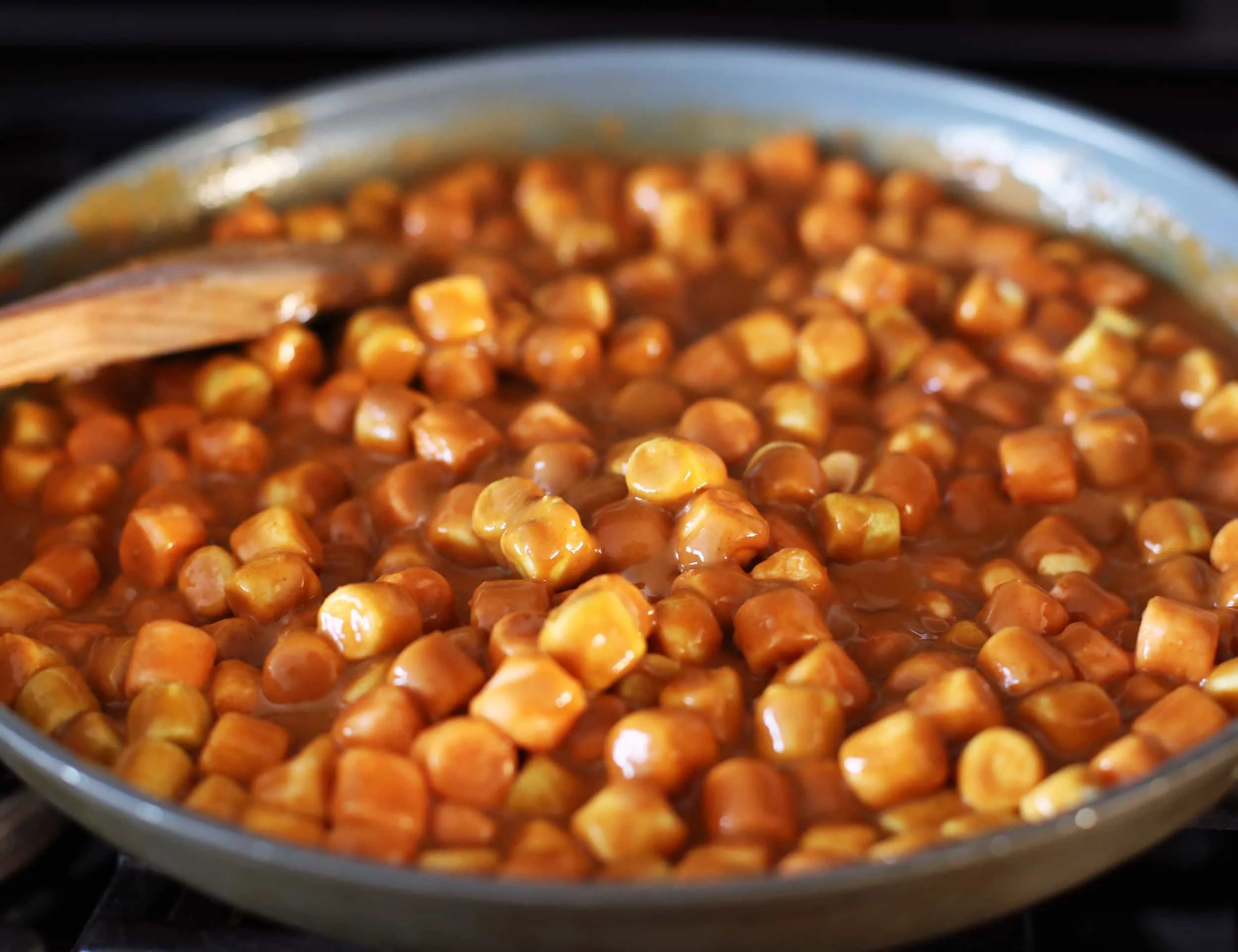 When you melt everything together, it creates a very smooth and uniform texture. The peanut butter and butterscotch chip flavours meld fabulously. Sweet, a little salty, and warm caramel-y notes!
Note: I ended up using a large heavy non-stick skillet (that's 12-inches in diameter and about 3-inches high) for combining and melting the ingredients (minus the marshmallows) together, but using a large saucepan would work as well.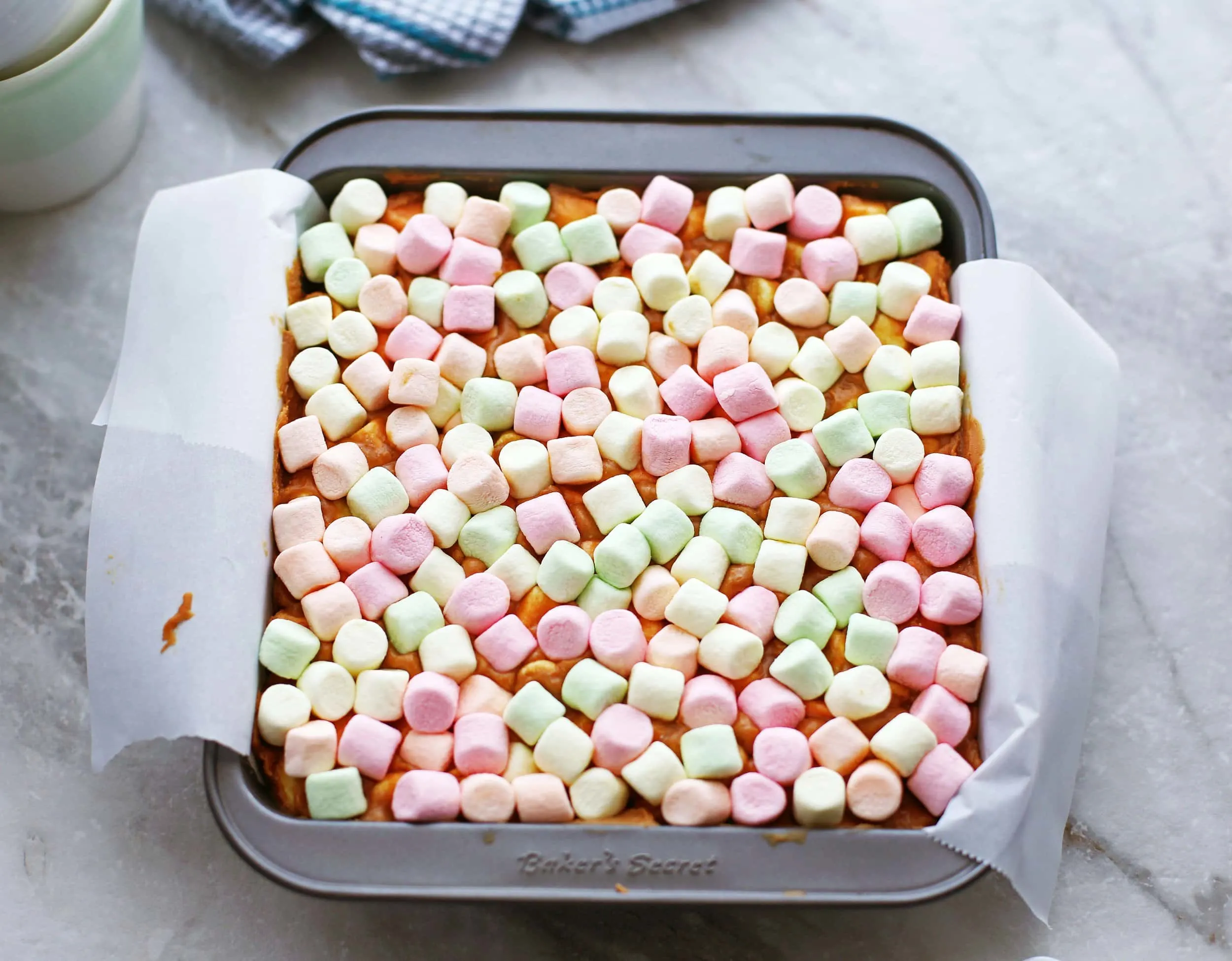 A fun bonus is that your house will smell like butterscotch for hours!
Then the colourful marshmallows are tossed in.
TIP 3: The more you allow the peanut butter mixture to cool (I like to give it an hour), the more the marshmallows will be evenly distributed in the squares. That is what a traditional confetti bars are supposed to look like.
Letting it cool so that it is lukewarm (around 30 minute wait) results in two layers with the marshmallows settling on top of the peanut butter-butterscotch layer as it cools and sets in the refrigerator.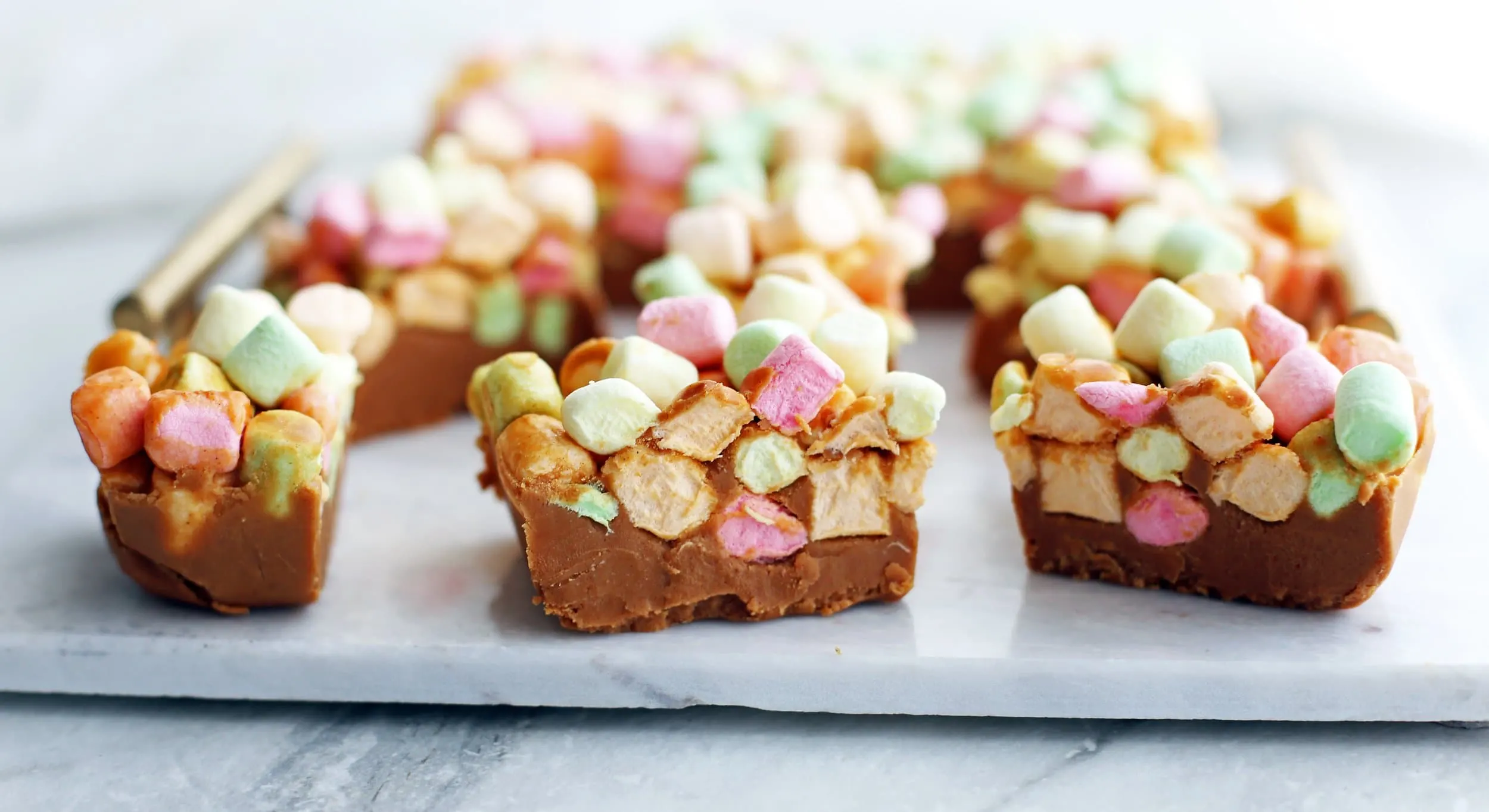 "Batch 1" – Letting the peanut butter mixture cool for 30 MINUTES before mixing in the marshmallows and chilling in the fridge will likely result in two layers in the bars.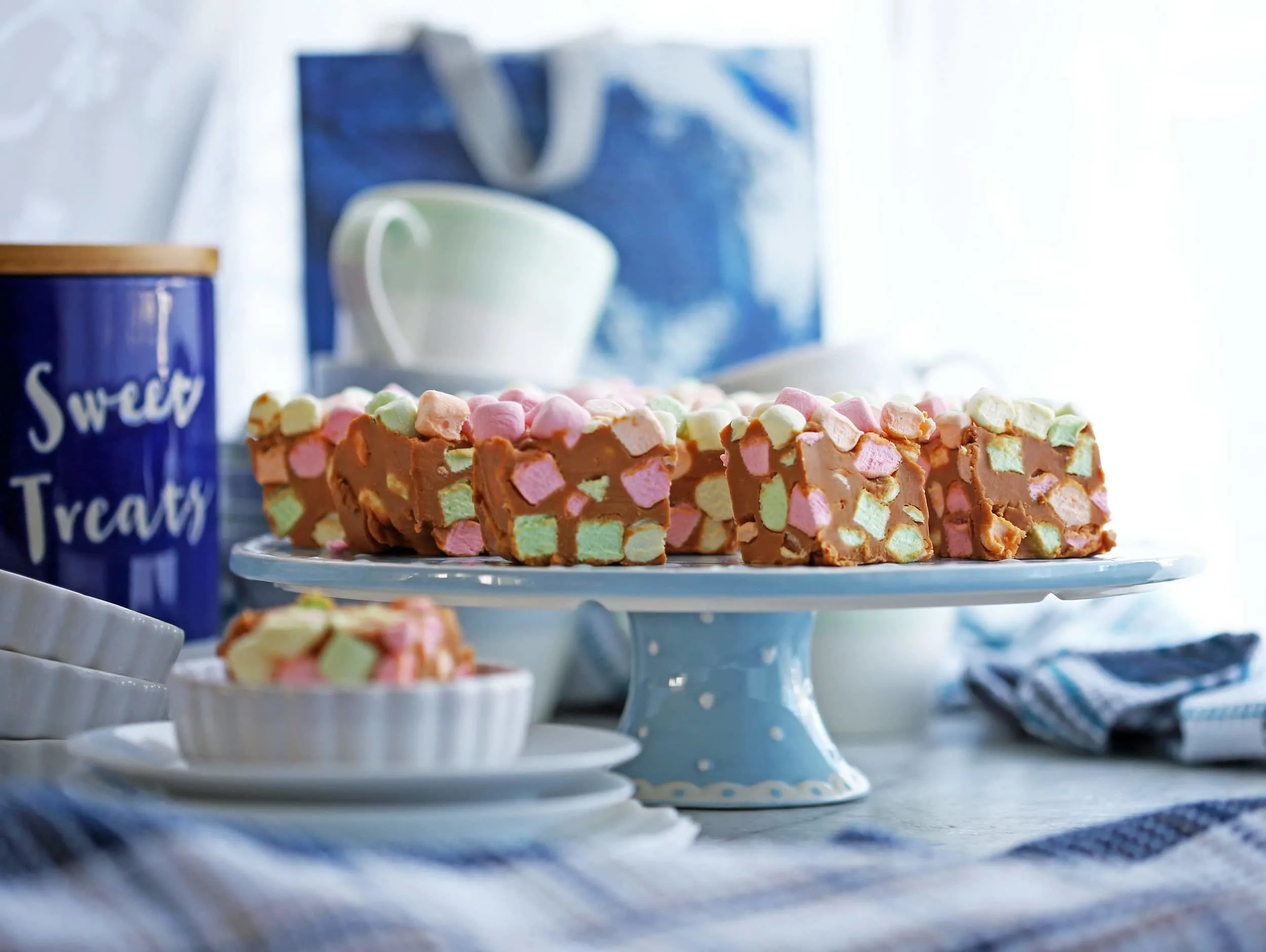 "Batch 2" – Letting the peanut butter mixture cool for ONE HOUR before mixing in the marshmallows and chilling in the fridge will likely result in eventually distributed marshmallows in the bars.
Regardless of how distributed you like your marshmallows, it will be delicious once it all sets together. I like to add a generous topping of colourful marshmallow too for that extra (confetti) colour and just for that extra marshmallow-y sweet goodness.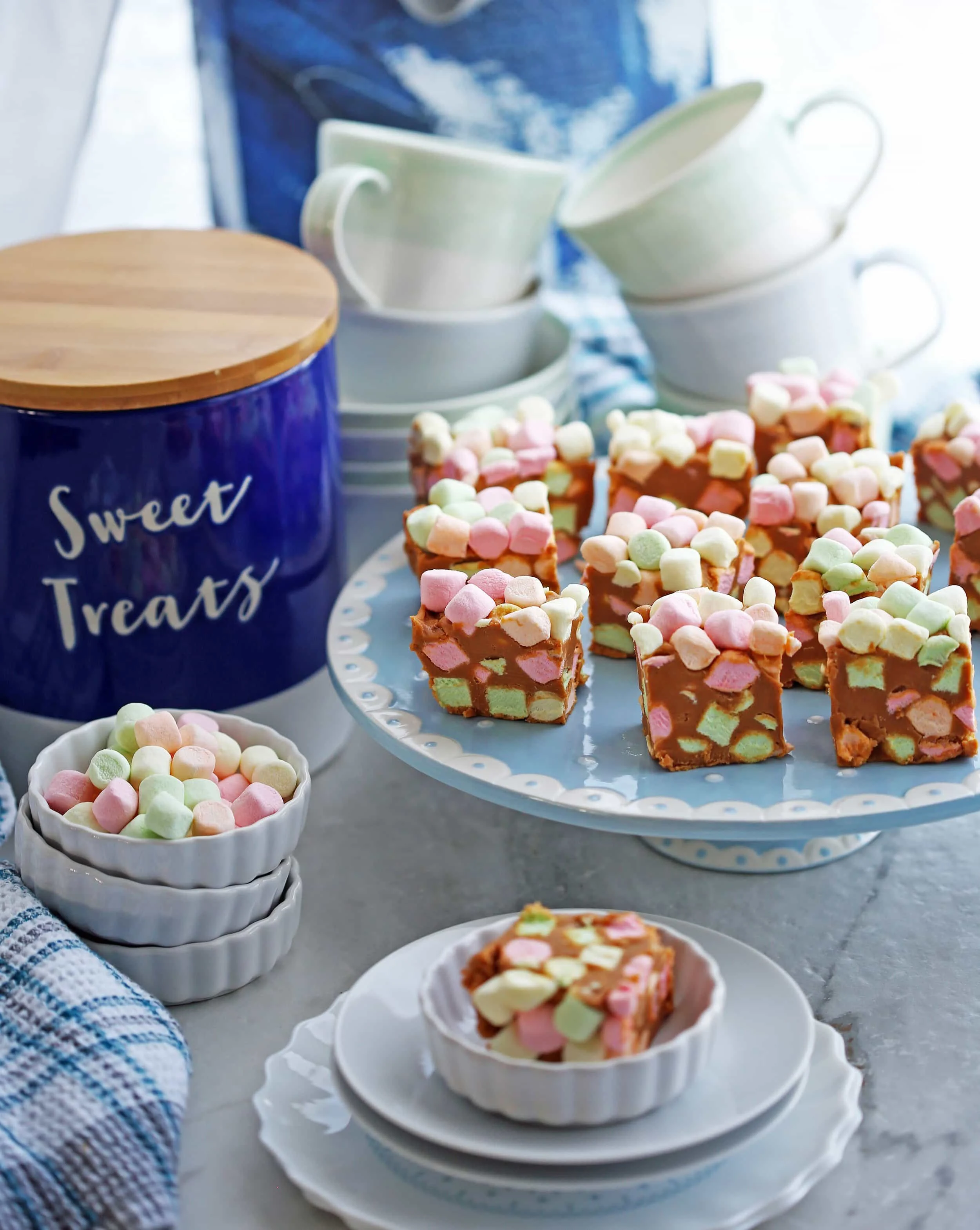 Once set, you can cut the pan into as many pieces as you want. One bite and you will be hooked on this colourful creation, especially if you have a sweet tooth. The marshmallows are soft and chewy and the other ingredients just melt in your mouth.
It's perfect to bring to a potluck or for a party. It would be lovely to serve along with your Christmas desserts! Just remember that it is better served chilled as heat will melt the bars over time. I hope you enjoy this recipe!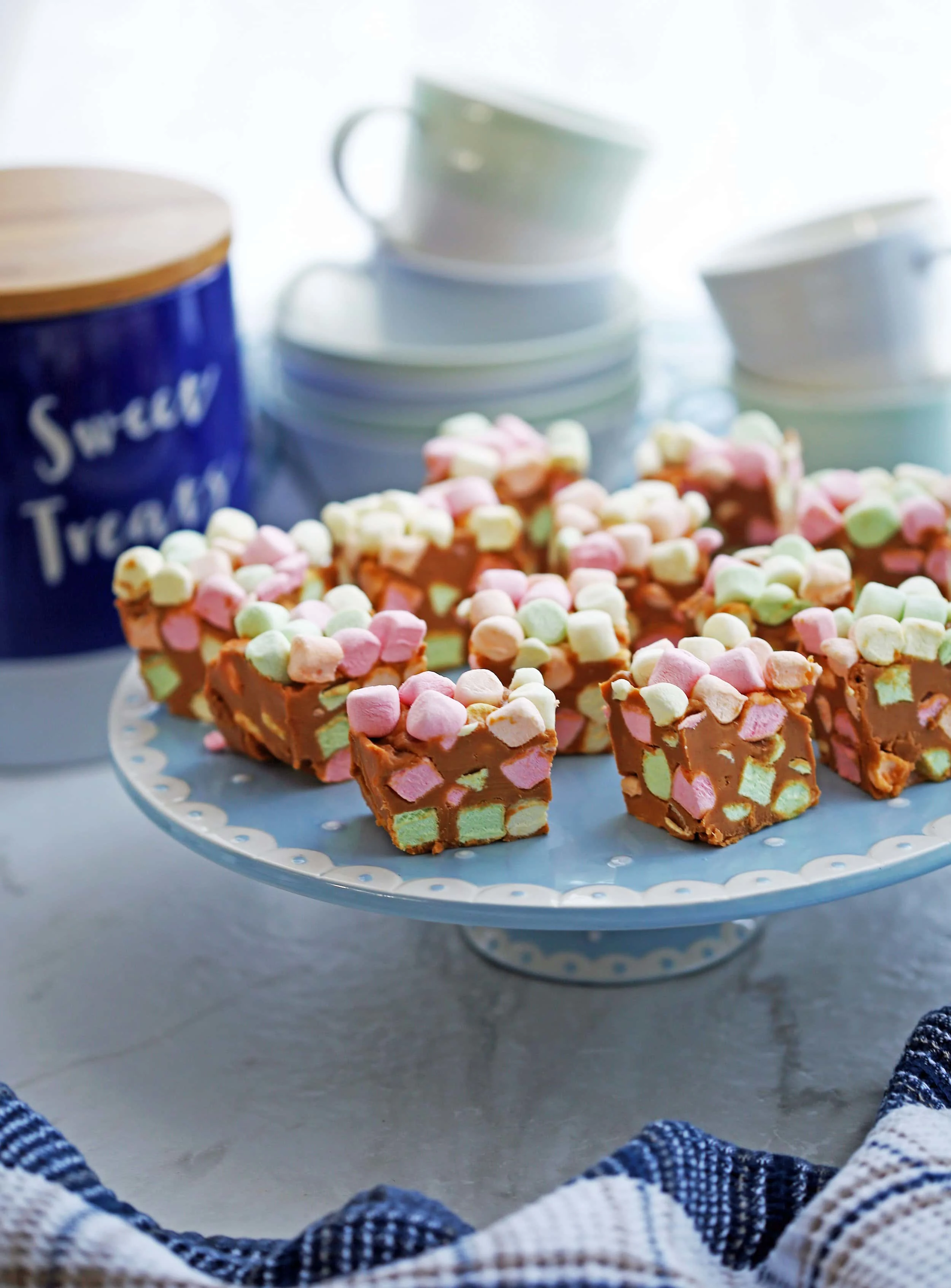 Did you make these peanut butter butterscotch marshmallow bars (confetti bars)? Leave me a rating and comment down below or tag me on any of my social media. I'm @yay_for_food on Instagram. Please share your recipe pictures!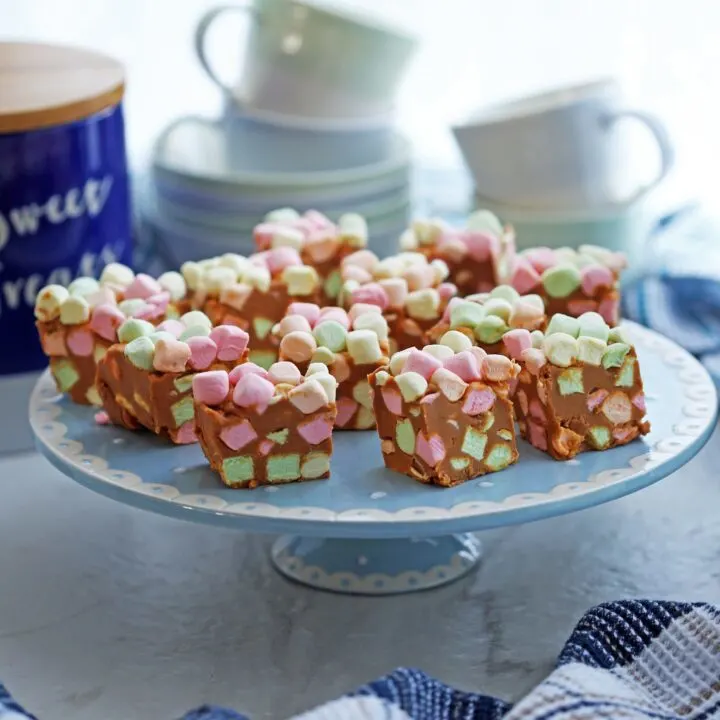 Peanut Butter Butterscotch Marshmallows Bars (aka Confetti Bars)
Additional Time:
2 hours
30 minutes
Total Time:
2 hours
40 minutes
A sugary treat that tastes like peanut butter butterscotch fudge with soft, sweet colourful marshmallows. Only four ingredients and there's no baking required!
Ingredients
4 heaping cups colourful marshmallows, divided
1½ cups creamy peanut butter
1 package (300 g / 10 oz.) butterscotch chips
½ cup (4 oz.) unsalted butter, plus more to grease pan
Instructions
In a large non-stick skillet (or saucepan) on medium heat, add the butter, peanut butter, and butterscotch chips (in that order) to the pan, whisking frequently until the mixture is completely melted and uniform in texture.
Remove from heat and let it cool for at least 30 minutes* (see first note). It should be cool enough for you to be able to place your hand on the bottom of the skillet.
After the peanut butter mixture is cooled, stir in three cups of marshmallows, making sure to thoroughly coat the marshmallows with the mixture.
Grease and line a 8-inch square pan with parchment paper. Then pour the mixture into the pan. Top with the remaining marshmallows, pressing down lightly so that comes in contact with the sticky peanut butter mixture.
Cover and chill in the refrigerator for at least 2 hours or until firm. Cut into pieces and enjoy.
Notes
* Cooling for 30 minutes or less may result in two layers where the peanut butter mix is on the bottom and the marshmallows settle on top. For more evenly distributed marshmallows in the bars, cool for an hour.
Store leftover squares in the refrigerator for up to a week or cut into squares and freeze for up to a month.
Recommended Products
As a participant in the Amazon Services LLC Associates Program, I only link to products that I use and/or highly recommend. As an Amazon Associate, I earn from qualifying purchases if you purchase through these links at no additional cost to you.
Nutrition Information:
Yield:

20
Serving Size:

1
Amount Per Serving:
Calories:

264
Total Fat:

18.1g
Carbohydrates:

22.2g
Protein:

5g