These bars are seriously easy to make and come together quickly! Most importantly, they are a sweet treat that is seriously delicious.
The bottom coconut layer is smooth, soft, crumbly, and melts-in-your-mouth. This is due to grinding shredded coconut in a blender (or a even a coffee grinder) to a powder form and then mixing it with the other ingredients to make an almost shortbread-like crust.
The middle layer is a basic strawberry compote using only strawberries and a little maple syrup. The strawberries break down slightly in the heat of the saucepan and then are mashed up further. Changing up the berries would be great too; raspberries, blueberries, or cherries make tasty substitutes.
Finally, the bars are topped with melted semi-sweet chocolate chips (with a little help from unrefined or virgin coconut oil) to form the top layer. If you are vegan, make sure than that the chocolate that you use is free of milk and milk derivatives.
This layer adds that extra, chocolatey sweetness and crunch that contrasts well with the soft coconut crust. I like to add a little shredded coconut to finish off the bar.
I hope you enjoy this recipe!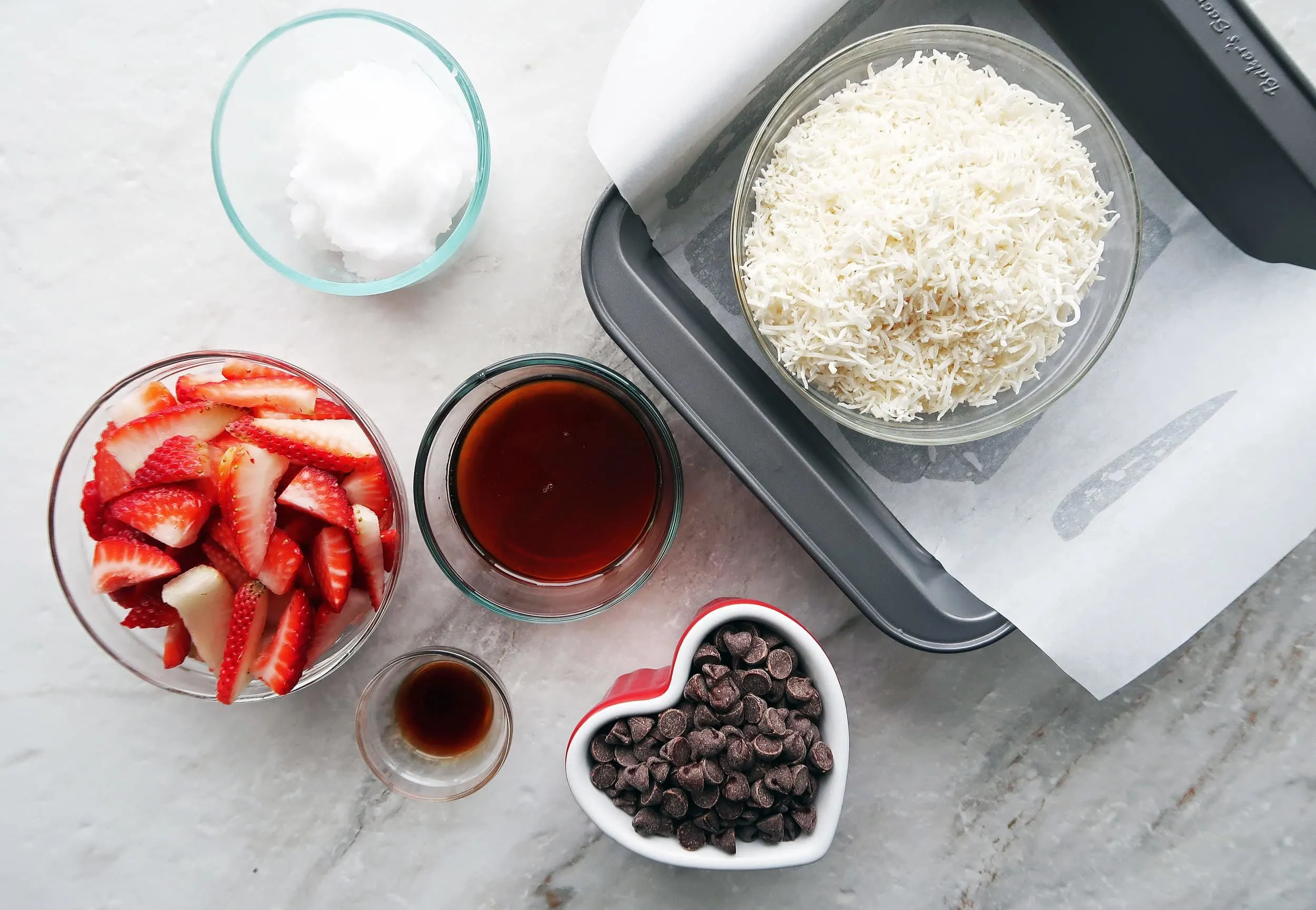 6 Ingredients are divided among the three layers. Quanities are in the Ingredients list.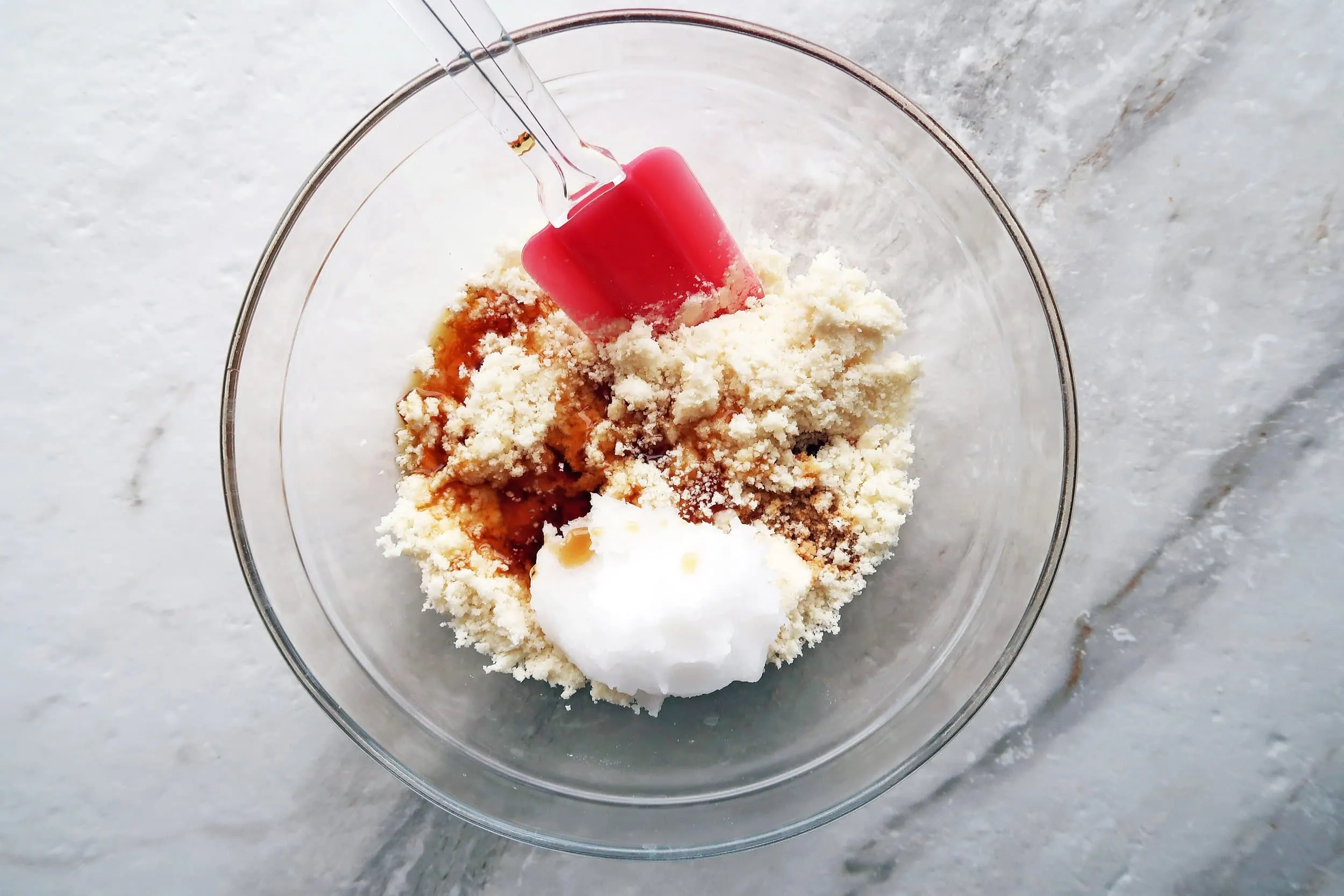 Ground shredded coconut into a powder in a blender, then mix with coconut oil, maple syrup, and vanilla and mix until well combined. Press into a single layer in a lined 8×8 pan and freeze for at least 10 minutes.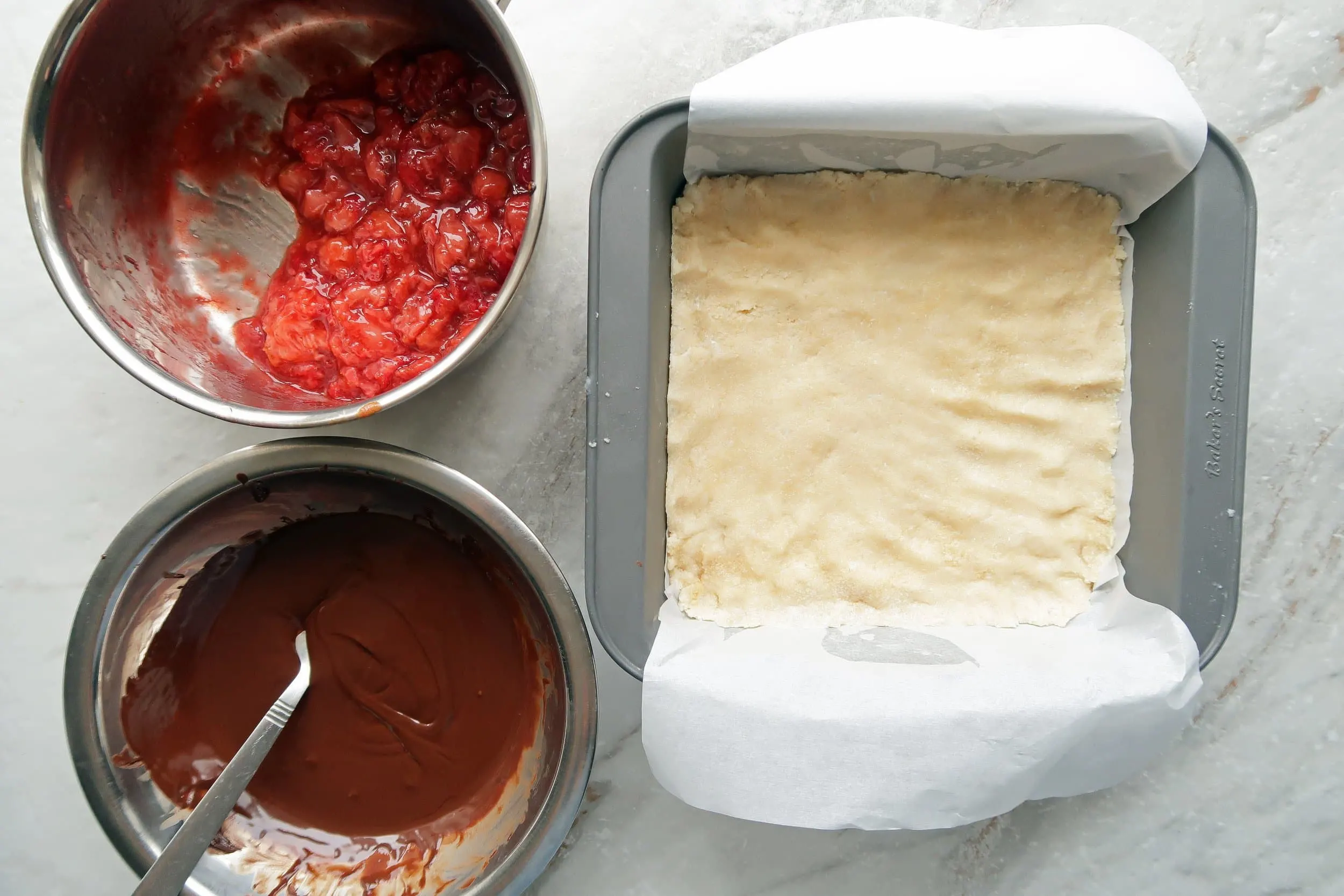 Stir strawberries and maple syrup at medium-high heat, until soften. Remove from heat, and mash it with a fork. Melt chocolate chips and coconut oil in the microwave at high heat in 30 second intervals, stirring in between, until melted.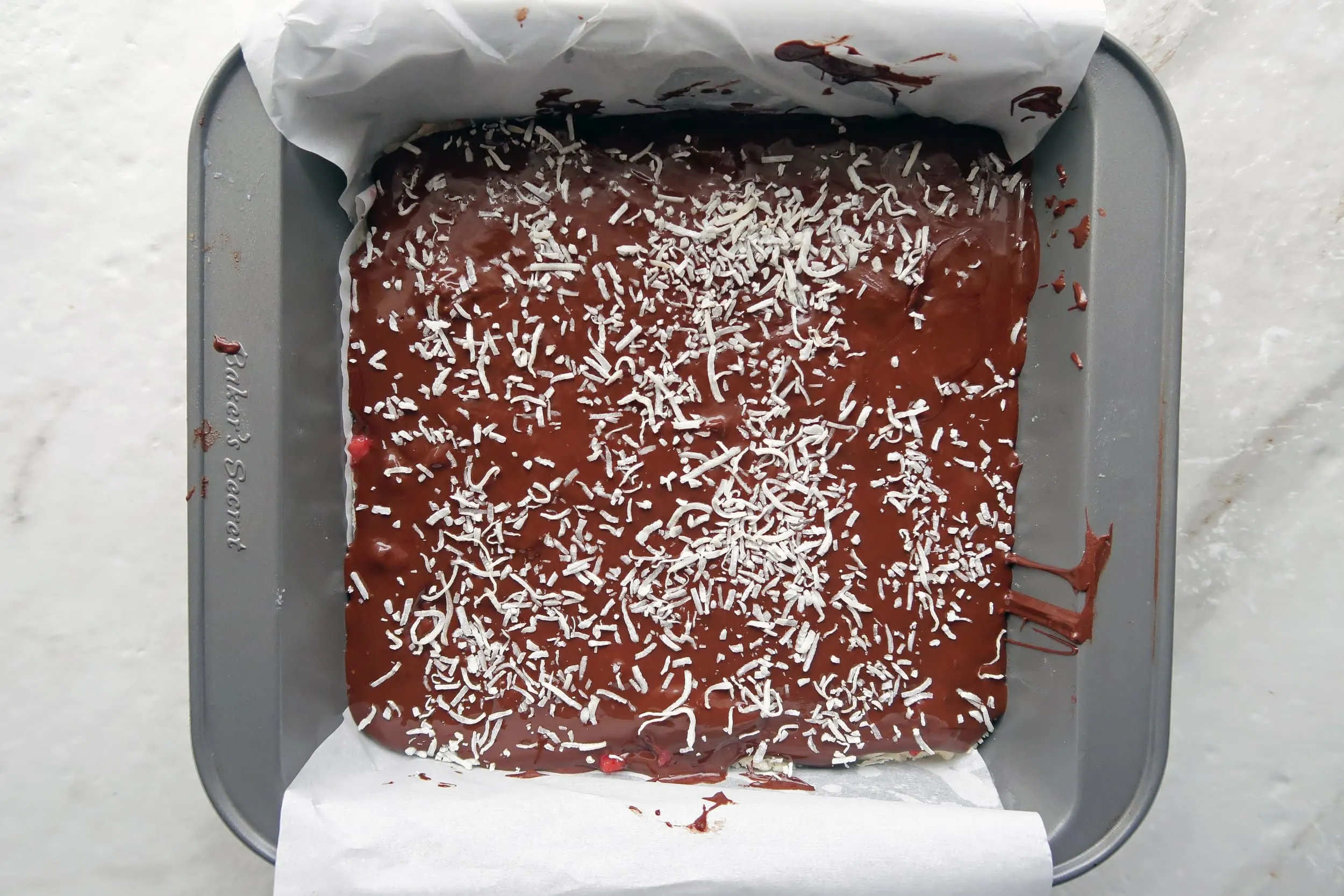 Top coconut layer with strawberries and then with melted chocolate. Sprinkle shredded coconut on top. Freeze for at least 10 minutes, until set.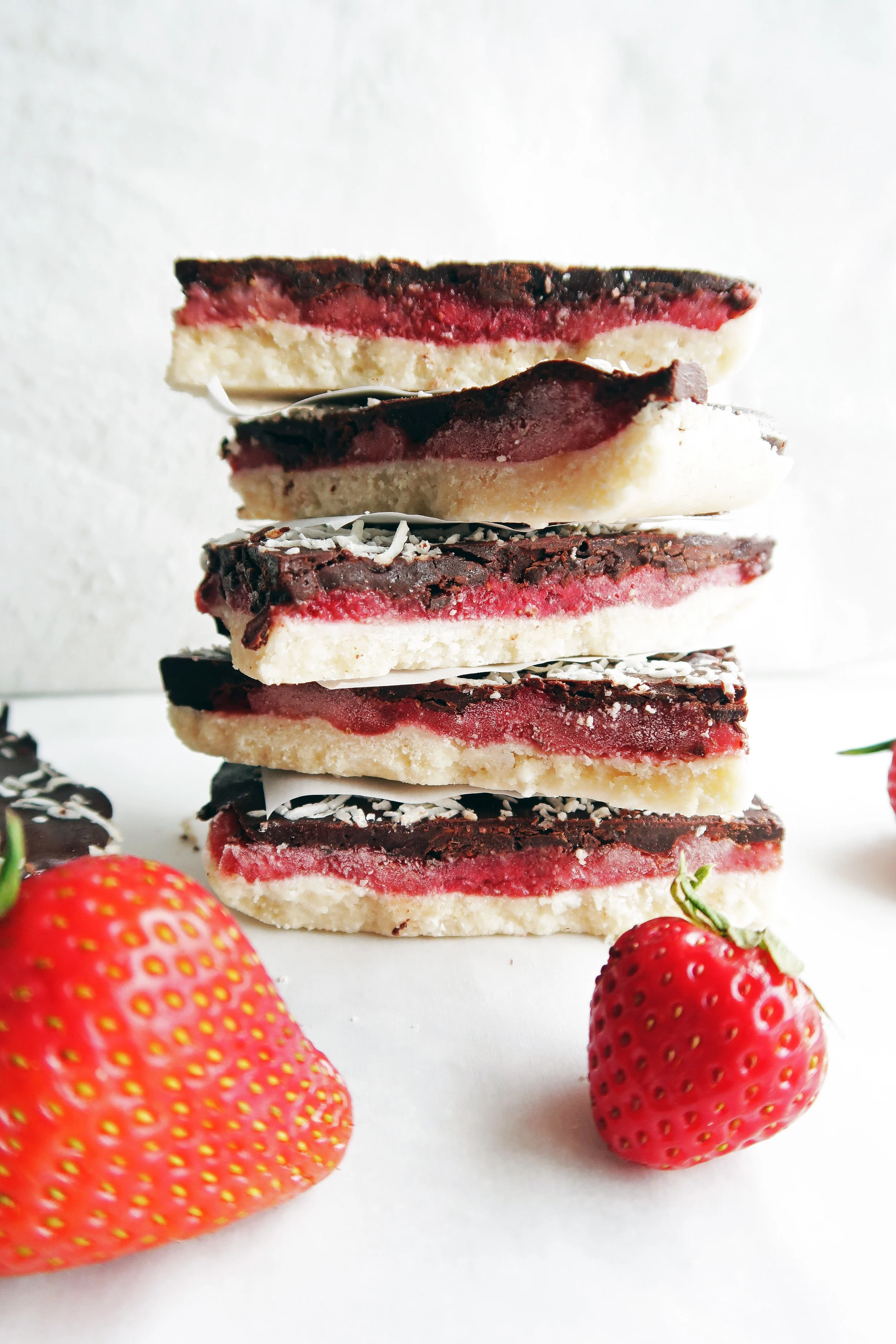 Lift out of the pan and cut into pieces. Enjoy!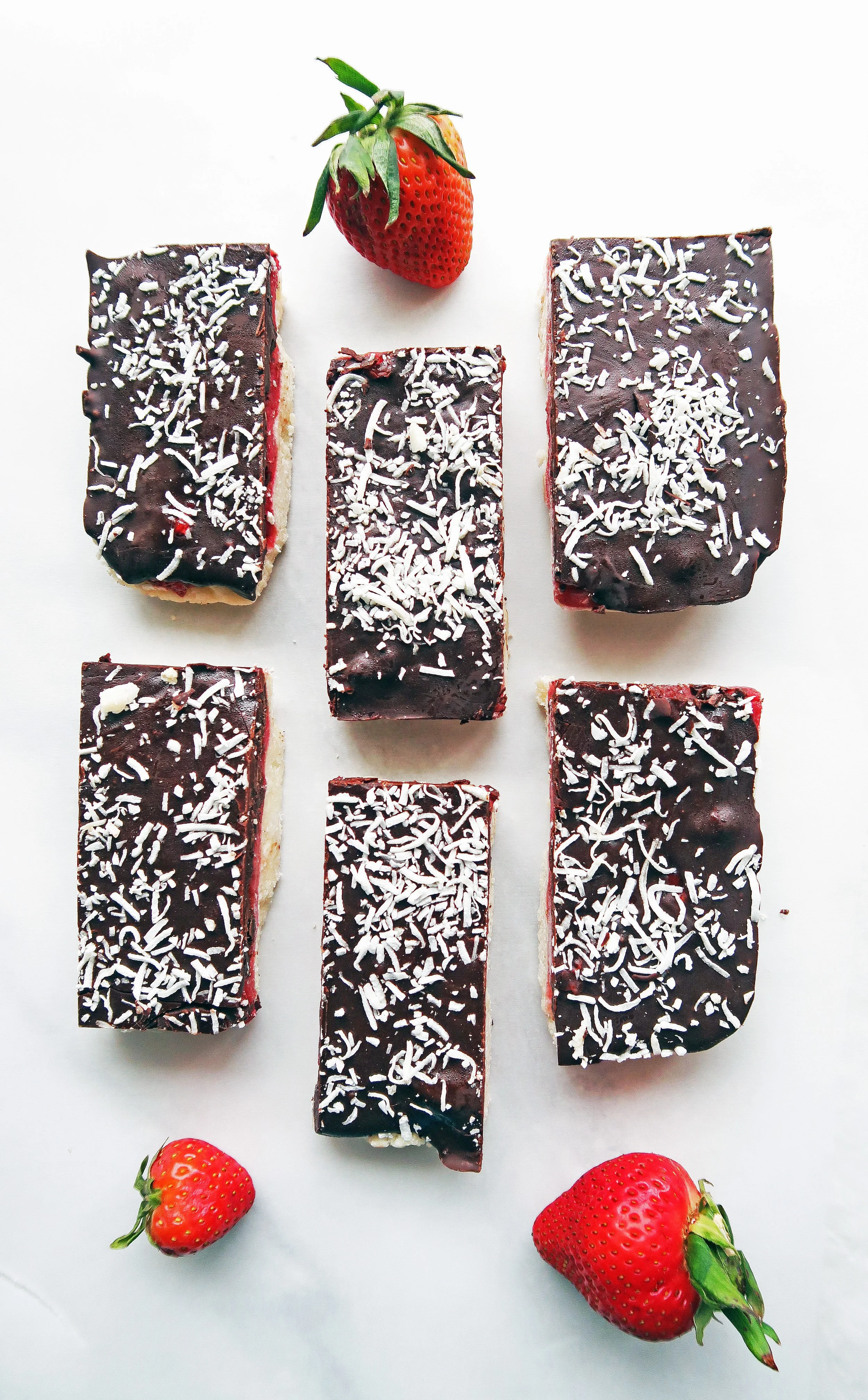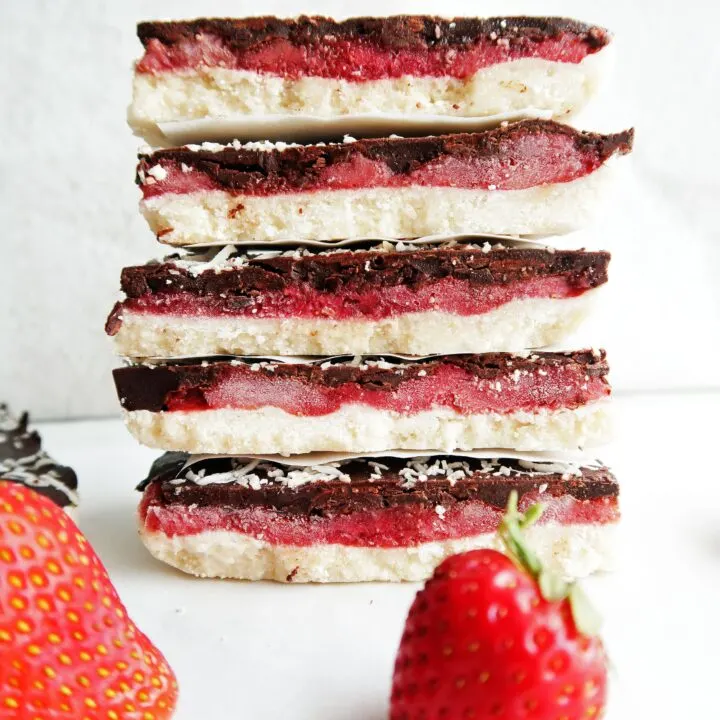 No-Bake Chocolate Strawberry Coconut Bars
Additional Time:
10 minutes
This delicious triple-layered chocolate strawberry coconut bar is no-bake, only uses 6 ingredients, and is ready in 30 minutes! Vegan and gluten-free too!
Ingredients
For the coconut layer:
2 cups unsweetened shredded coconut, ground
¼ cup unrefined virgin coconut oil
3 tbsp maple syrup
1 tsp vanilla extract
For the strawberry layer:
2 cups strawberries, sliced
1 tbsp maple syrup
For the chocolate layer:
1 cup semi-sweet chocolate chips
1 tbsp unrefined virgin coconut oil
Optional: a handful of shredded unsweetened coconut
Instructions
Line a 8x8 pan with a parchment paper with extra parchment hanging over the sides.*
Place the shredded coconut in a blender and pulse until it forms a powdery-texture. In a medium bowl, mix together the ground shredded coconut with the other coconut layer ingredients until well combined. Place in the pan and press down to form an even layer. Put the pan in the freezer for at least 10 minutes.
In the meantime, in a small saucepan on medium-high heat, add the strawberries and maple syrup. Stir occasionally, allowing the strawberries to soften and break down, about 5 minutes. Remove from the heat and mash with a fork to make smaller pieces.
In a small microwave-safe bowl, add the chocolate chips and coconut oil and microwave on high in 30 second intervals, stirring in between, until the chocolate is completely melted and smooth**.
Remove the pan from the freezer and spread the strawberry compote over the coconut layer (it's fine if it is still warm), then top with the melted chocolate, spreading out the chocolate with a spatula to completely cover the strawberry layer. Sprinkle the top with shredded coconut.
Place back in the freezer for at least 10 minutes or until completely set. Remove from the pan and cut into pieces before eating***.
Notes
*I like to grease the bottom of pan (with oil or cooking spray) before adding the parchment paper to prevent the parchment from moving around when adding the layers to the pan. The extra overhang makes it easy to remove the entire bar from the pan at once and allows you to cut the bars on a flat surface.
**If you do not want to use the microwave, you can also use a bain-marie (double-boiler) to melt the chocolate.
***Store the bars in an airtight container in the freezer. The bars are relatively hard once frozen so I like to take out the bars and let them thaw for a few minutes before eating.
Recommended Products
As a participant in the Amazon Services LLC Associates Program, I only link to products that I use and/or highly recommend. As an Amazon Associate, I earn from qualifying purchases if you purchase through these links at no additional cost to you.
Nutrition Information:
Yield:

8
Serving Size:

1
Amount Per Serving:
Calories:

409
Total Fat:

33g
Saturated Fat:

27g
Trans Fat:

0g
Unsaturated Fat:

4g
Cholesterol:

0mg
Sodium:

15mg
Carbohydrates:

31g
Fiber:

7g
Sugar:

22g
Protein:

3g