Updated with new pictures and additional text (originally posted October 11, 2016).
We love roasted Brussels sprouts in the "Yay! For Food" household.
It's a wonderful side dish option that's simple, but flavourful with only a few ingredients.
The enjoy-to-make two-ingredient balsamic-maple glaze adds a little extra oomph! The sweet and tangy glaze goes great with the savoury flavour of Brussels sprouts.It's also vegan and gluten-free for those of you with dietary restrictions.
TIP: When looking for Brussels sprouts, pick ones that are vibrant green, tightly compact, and firm. The smaller Brussels sprouts (my personal preference) tend to be sweeter and flavourful than the larger ones, which often taste more like cabbage.
I hope you enjoy this recipe!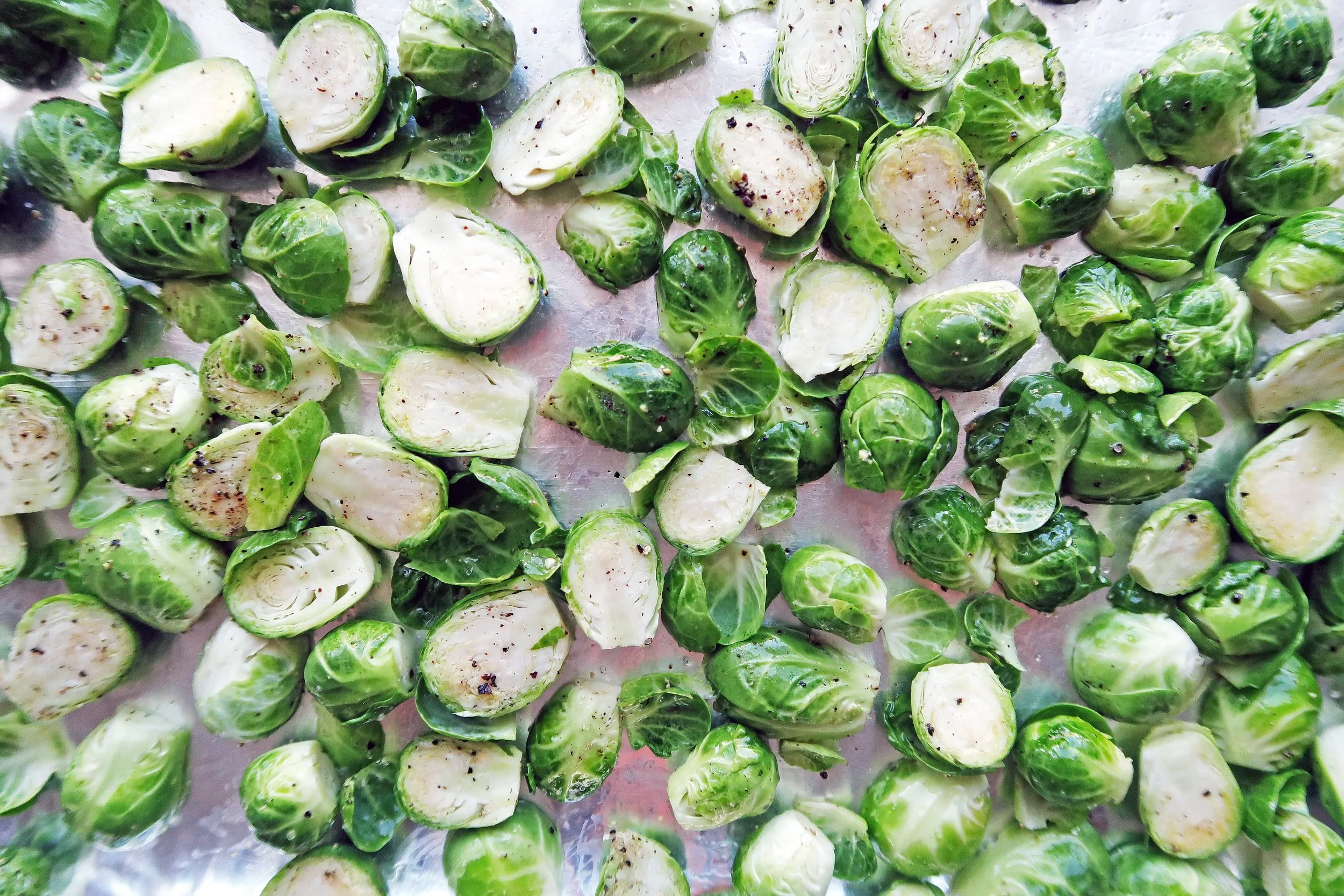 Rinse, trim, remove bruised leaves, and cut in half each Brussels sprout.Toss together the Brussels sprouts,olive oil, salt, and pepper and lay it out in a single layer on a lined baking sheet. Roast at 425 degrees F for 25-30 minutes, flipping halfway.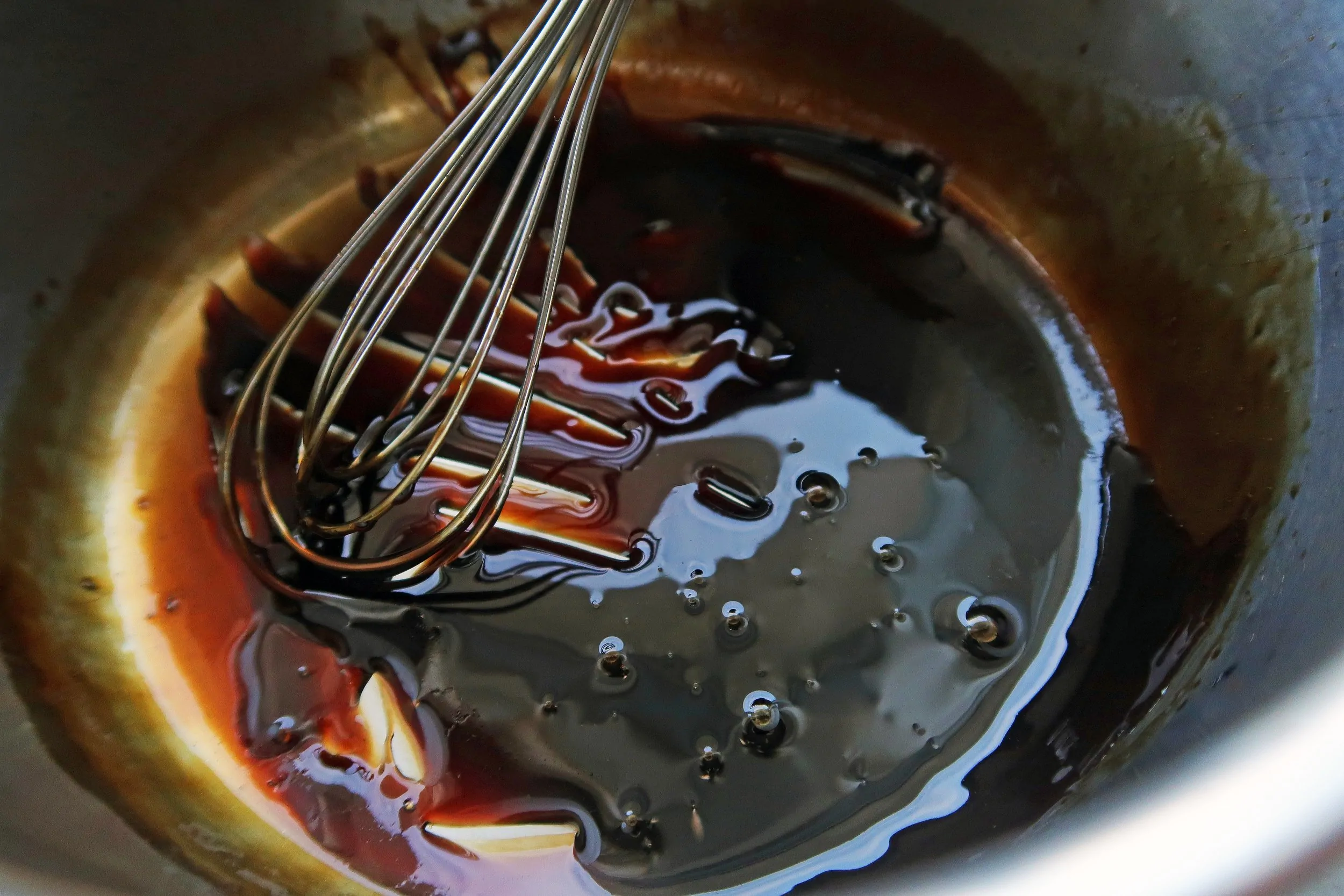 In a small saucepan, whisk together balsamic vinegar and maple syrup on medium-high heat until glaze is formed, about 4-5 minutes.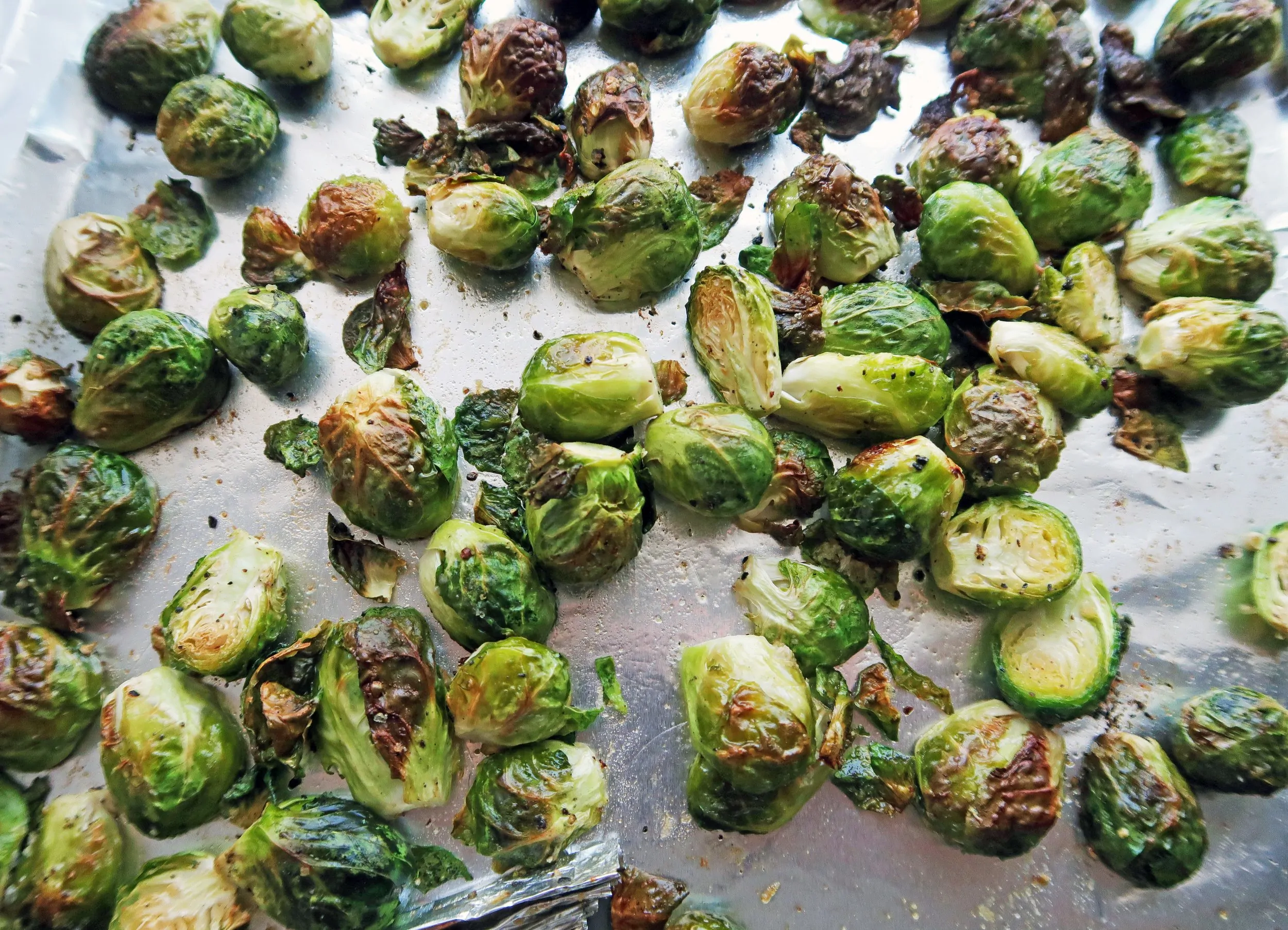 Crispy outer leaves, carmelized roasted goodness. Drizzle the glaze on the Brussels sprouts. Salt and pepper to taste.Enjoy!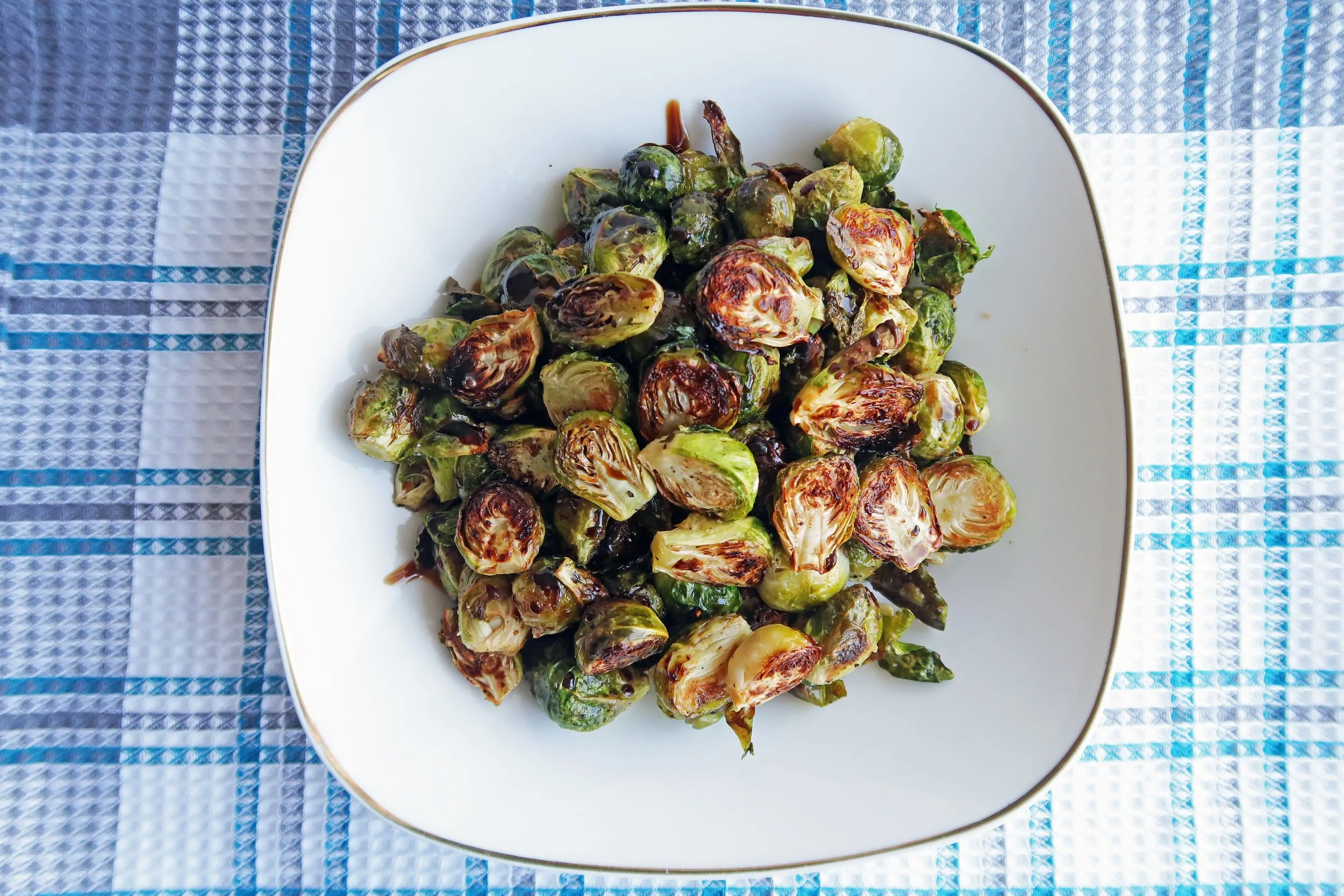 Looking for More Quick and Easy Vegan Side Dishes? Check out these four recipes!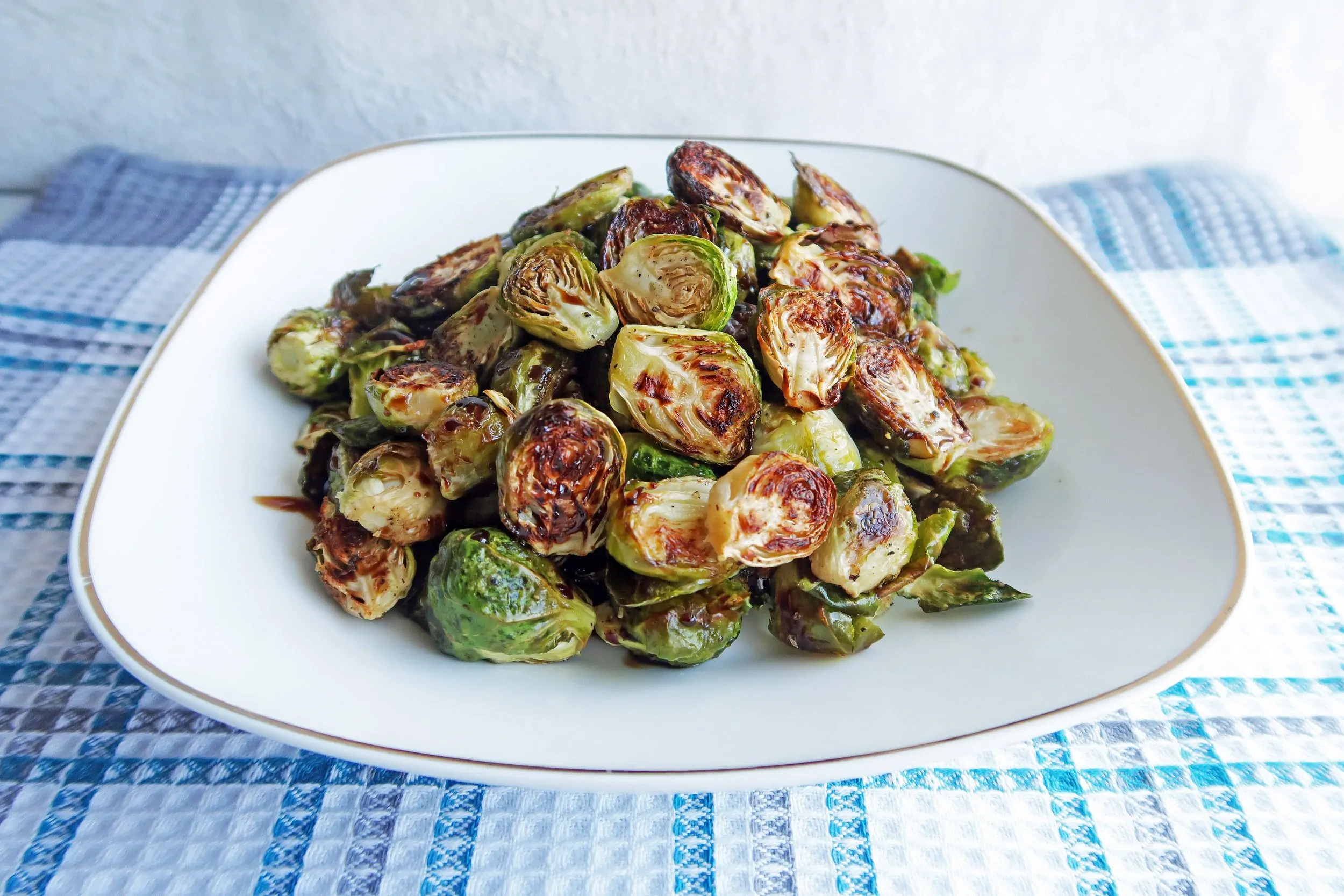 I hope you try this recipe! If you do, please leave me a rating and comment down below or tag me on any of my social media. I'm @yay_for_food on Instagram. I'll love a picture!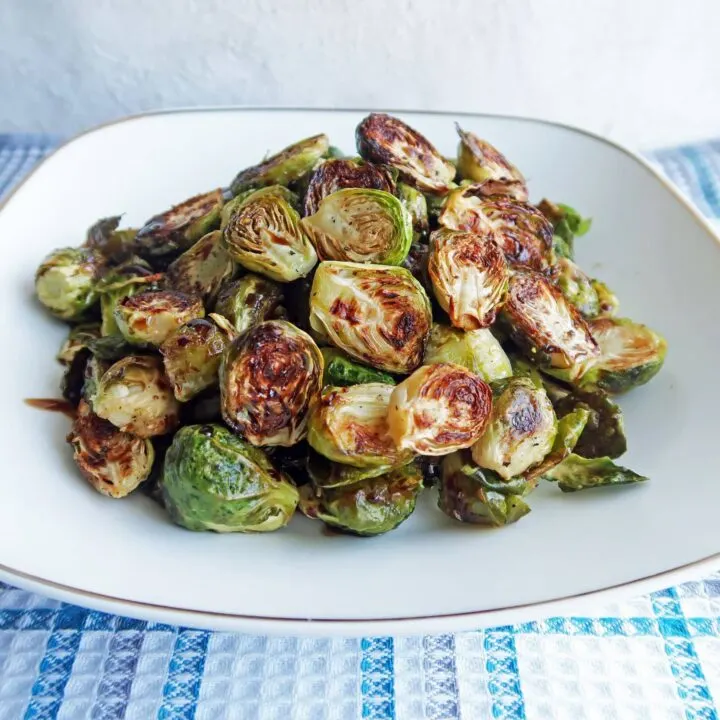 Roasted Brussels Sprouts with Balsamic-Maple Glaze
Think you don't like Brussels sprouts? Try roasting them. It brings out the nutty sweetness of the Brussels sprouts. They are perfectly complemented by the tangy and sweet balsamic-maple glaze, which makes this dish oh so delicious!
Ingredients
2 lbs Brussels sprouts, rinsed, trim ends, remove bruised outer leaves, and cut lengthwise
3 tbsp extra virgin olive oil
Salt and pepper
4 tbsp balsamic vinegar
3 tbsp maple syrup
Instructions
Preheat oven to 425°F and line a baking sheet with aluminum foil or parchment paper.
In a large bowl, toss Brussels sprouts in olive oil, salt and black pepper.
Place Brussels sprouts on the baking sheet in a single layer and roast for 25-30 minutes; stirring and rotating the baking sheet halfway through.
Meanwhile, prepare the balsamic-maple glaze. Heat a small saucepan under medium-high. Add balsamic vinegar, maple syrup, and a small pinch of salt. Stir frequently until the sauce thickens and glaze forms, about 4-5 minutes.
Drizzle Brussels sprouts with the glaze. Salt and pepper to taste. Serve immediately.
Recommended Products
As a participant in the Amazon Services LLC Associates Program, I only link to products that I use and/or highly recommend. As an Amazon Associate, I earn from qualifying purchases if you purchase through these links at no additional cost to you.
Nutrition Information:
Yield:

4
Serving Size:

1
Amount Per Serving:
Calories:

224
Total Fat:

11g
Saturated Fat:

2g
Trans Fat:

0g
Unsaturated Fat:

9g
Cholesterol:

0mg
Sodium:

127mg
Carbohydrates:

29g
Fiber:

6g
Sugar:

15g
Protein:

6g