This tart is seriously satisfying.
It's loaded with delicious and filling vegetables, smoked chicken sausage, and a good amount of Emmental (aka Emmenthal or Emmentaler or Emmenthaler) cheese. Sigh, I love cheese. It is also really easy to put together, especially once the ingredients are prepped and ready to add to the puff pastry.
I find that using a mandoline to slice the potatoes is my favourite method to get uniform thin pieces, but a sharp knife and a steady hand will work just as well. Baking the raw potato on the puff pastry does not result in a tender cooked potato, so parboiling the potato slices for a few minutes ensures that the you are not eating crunchy, undercooked potatoes in the end.
The roasted broccoli ends up crisp and tender with those tasty brown tips and the red onions add a little sweetness. The mild Italian chicken sausage adds the meaty, salty, slightly spicy component to this dish, and the slightly nutty and sweet Emmental cheese melts wonderfully.
The crispy, flaky, golden-brown puff pastry crust ties it all together making it a wonderful meal or appetizer since you can slice it into as many pieces as you like.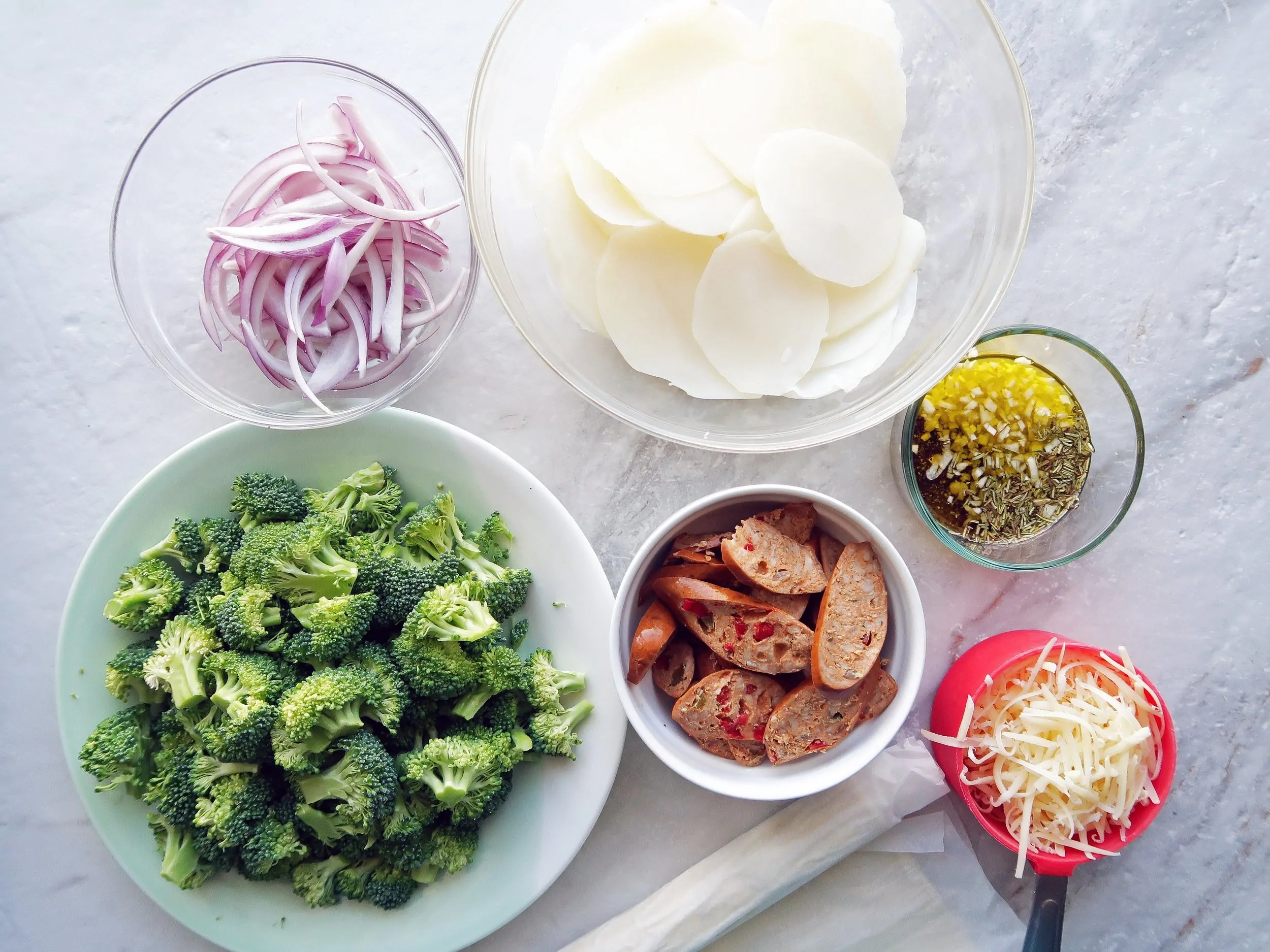 All the ingredients! Amounts in "Ingredients" below. Preheat the oven to 400 F. Line a baking sheet with parchment paper. Parboil potato slices until edges are tender and middle is slightly undercooked.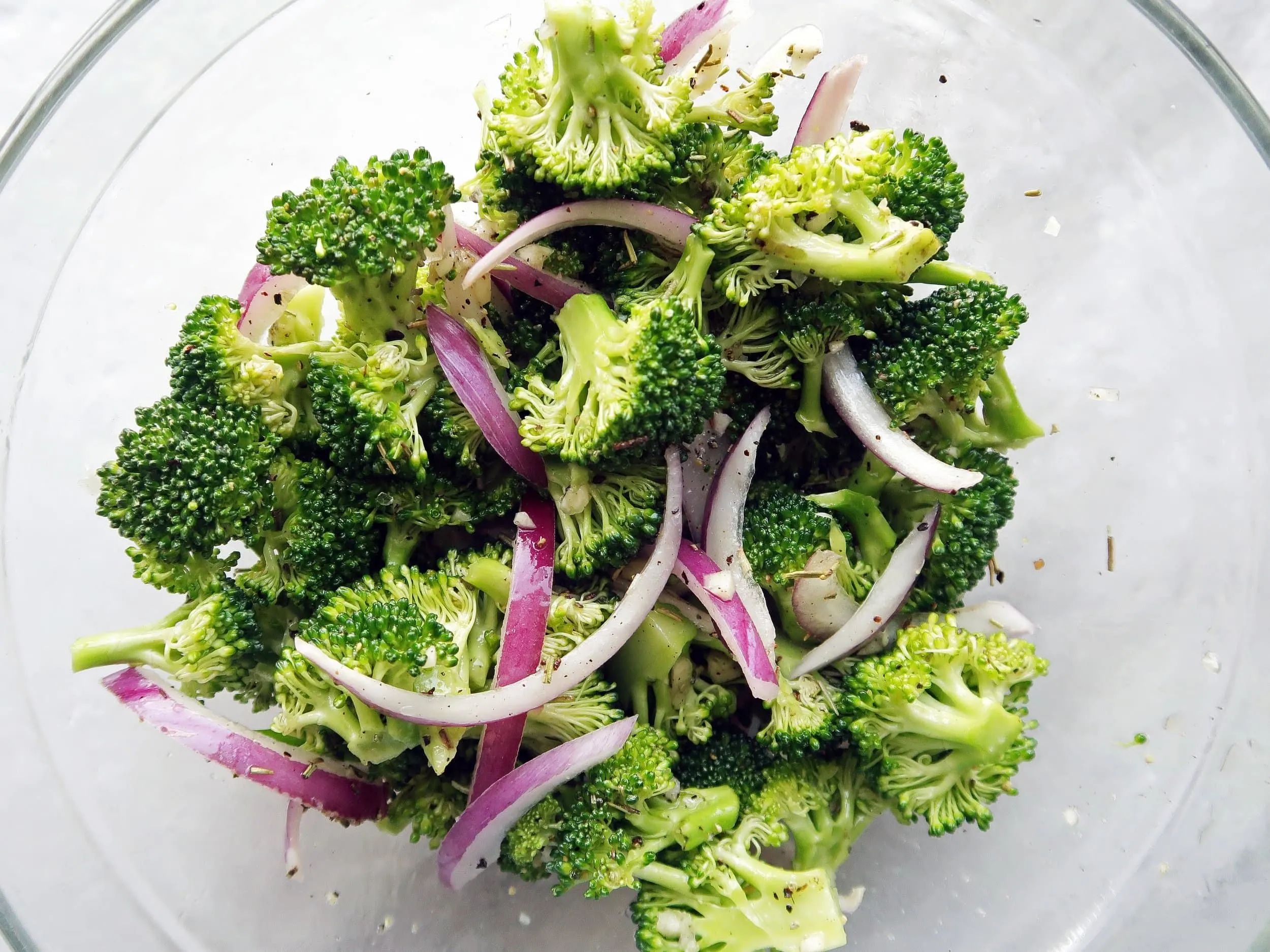 In a large bowl, toss together broccoli, onions, garlic, dried rosemary, salt, and pepper.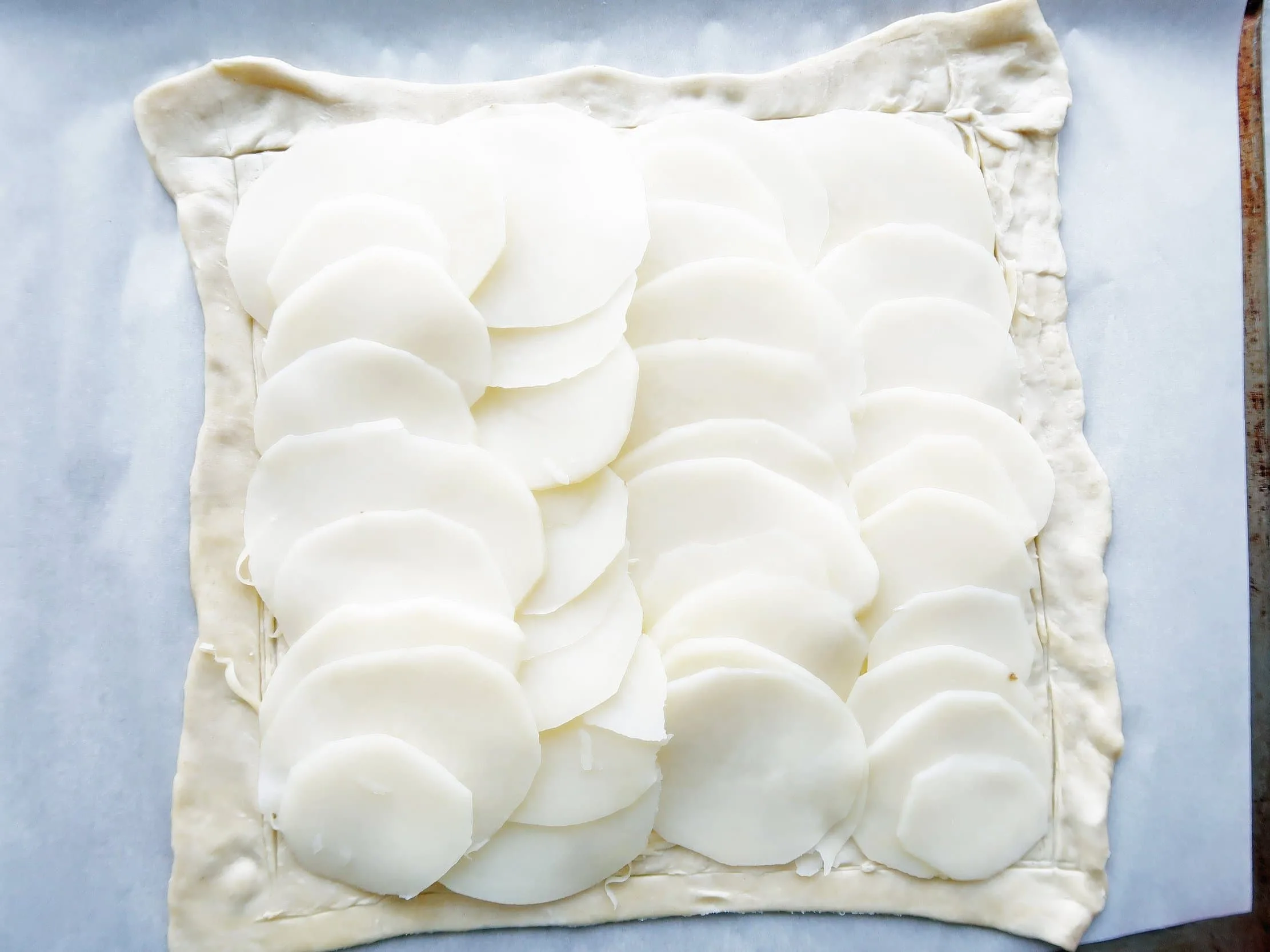 Roll out puff pastry to 10×10 inches. Sprinkle 1/2 of the cheese and then layer potatoes on top.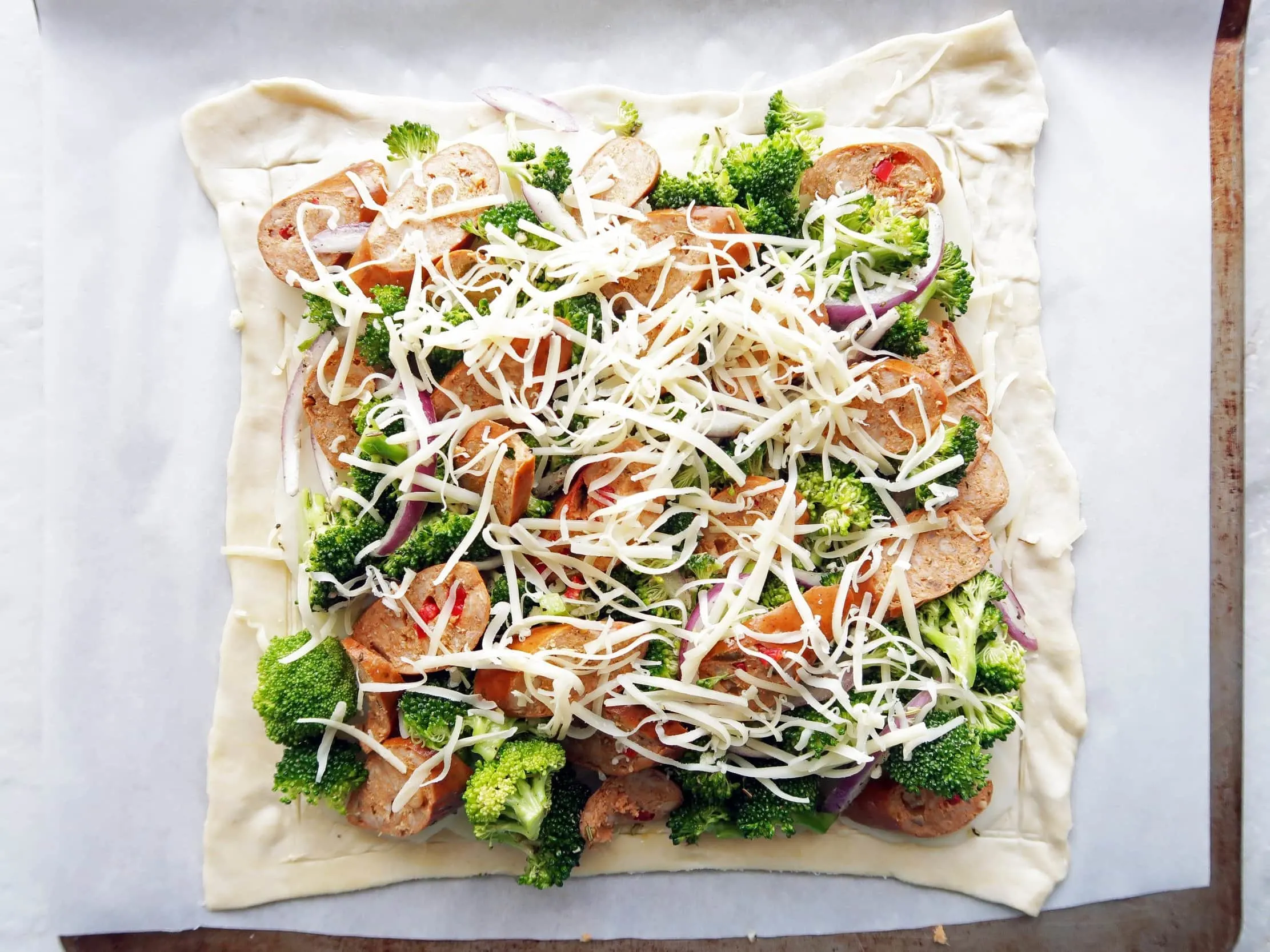 Top with broccoli mixture, sausage, and remaining cheese.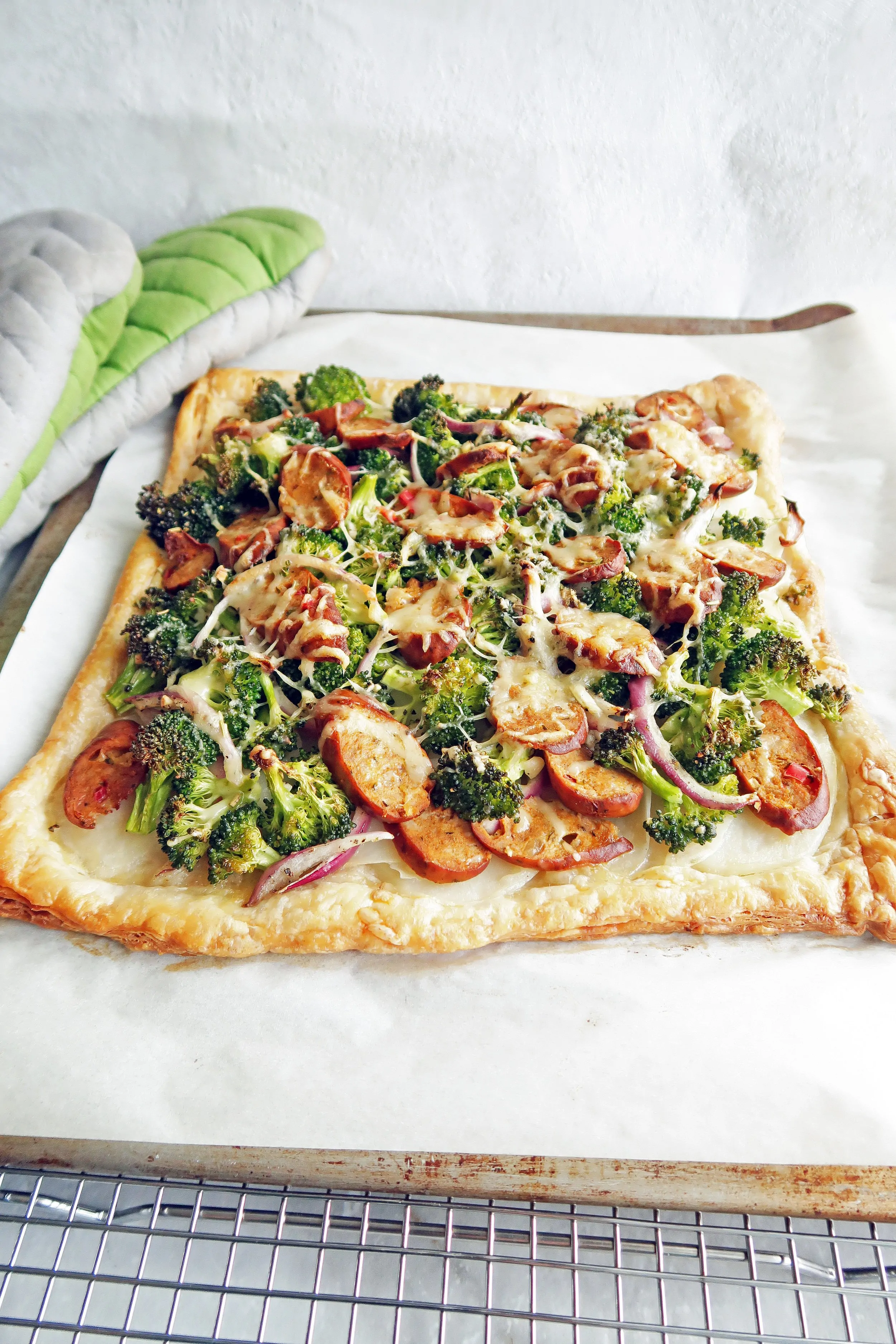 Bake for 20-25 minutes until the puff pastry is golden-brown.
Serve immediately or warm. Enjoy!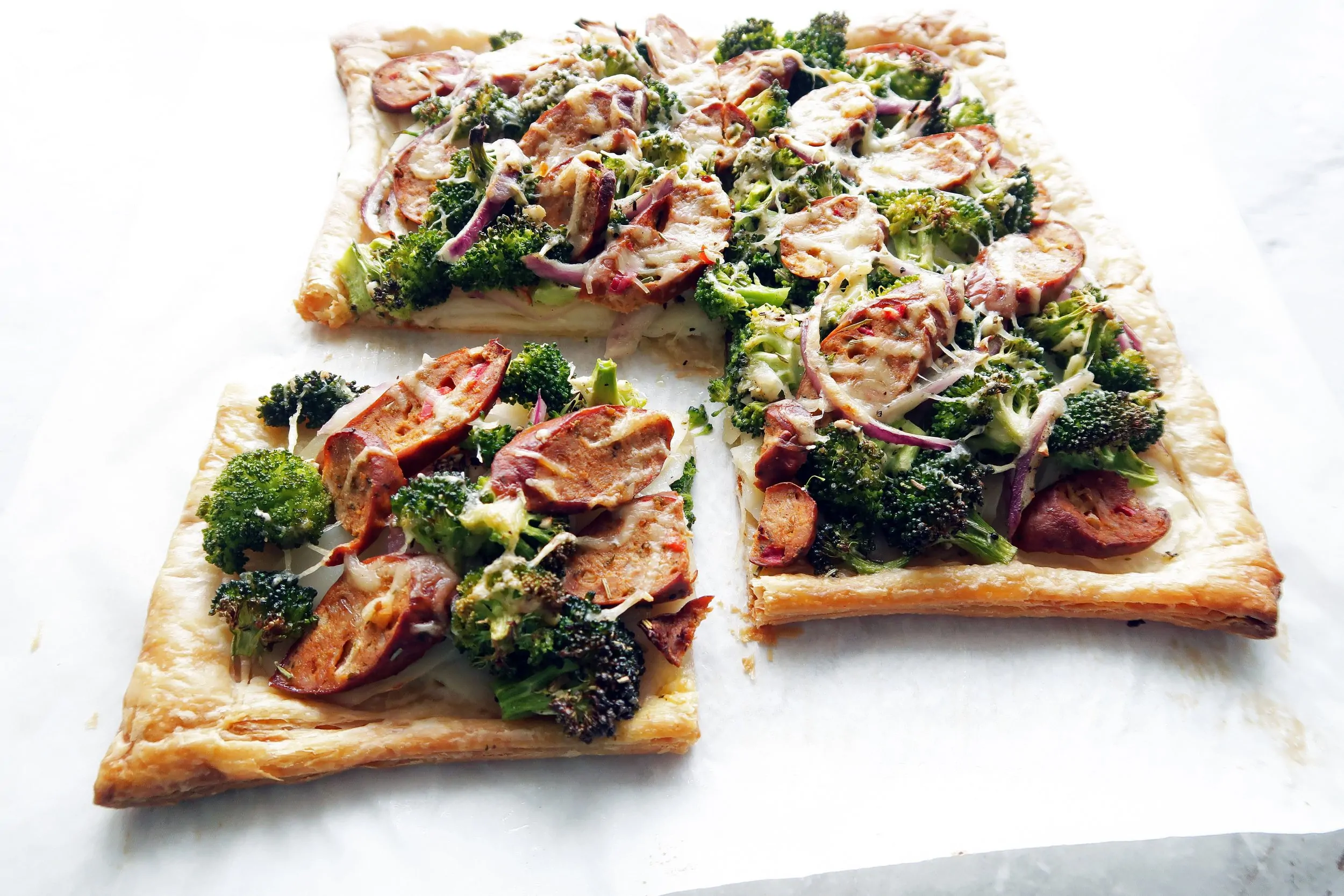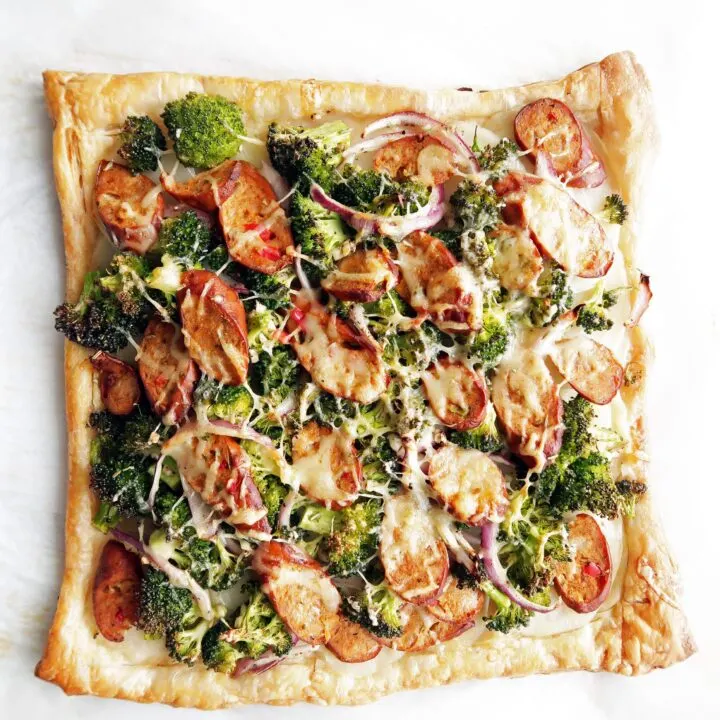 Roasted Broccoli Potato & Sausage Tart
This tasty savoury dish features roasted broccoli, thinly sliced potato, smoked sausage, and Emmental cheese baked on a puff pastry tart! Easy to prepare and it can be served as an appetizer or as a main dish!
Ingredients
1 sheet puff pastry, defrosted
1 large white potato, thinly sliced (about ⅛ inch thick)*
2 cups (4 oz.) broccoli florets, cut into smaller pieces
½ cup red onion, thinly sliced
2 garlic cloves, minced
2 smoked chicken sausages (we used mild Italian), sliced diagonally
1 cup Emmental cheese, shredded
2 tbsp olive oil
½ tsp dried rosemary
Salt and pepper
Instructions
Preheat the oven at 400 F. Line a baking sheet with parchment paper.
Parboil the sliced potatoes in salted, boiling water until the edges are tender and the middle is slightly undercooked, about 3-4 minutes. Drain, pat dry, and set aside.
In a large bowl, toss together the broccoli, onion, olive oil, garlic, rosemary, salt, and pepper. Set aside.
On a flat, clean surface, flour and roll out the puff pastry into a 10x10 inch square or ¼ inch in thickness. Using a paring knife, create a shallow 1-inch border (do not cut though) around the pastry to create a puffy crust when baked.
Sprinkle ½ of the cheese onto the puff pastry and top with the potato slices, overlapping them slightly. Then top with the broccoli mixture and sausage and finish with the remaining cheese.
Bake for 20-25 minutes until the crust is golden-brown. Serve immediately or warm.
Notes
*I like using a mandoline to cut even, thin potatoes slices to ensure it will cook at the same time.
Baked Puff pastry loses its crispiness after a couple hours so plan to make it and serve it as soon after as possible.
Recommended Products
As a participant in the Amazon Services LLC Associates Program, I only link to products that I use and/or highly recommend. As an Amazon Associate, I earn from qualifying purchases if you purchase through these links at no additional cost to you.
Nutrition Information:
Yield:

4
Serving Size:

1
Amount Per Serving:
Calories:

686