Updated with new pictures and additional text (originally posted October 5, 2016).
This is one tasty side dish that's super easy to assemble.
Boiling the potatoes prior to baking keeps the potatoes tender and fluffy inside and the roasting produces crispy delicious skin.
The fresh minced garlic, dried rosemary, and dried thyme (a classic combination) makes it even better. The potatoes take on a lovely aromatic, savoury flavour!
Smashing each potato creates more surface area for the wonderful crispiness to happen when roasted…. but really, it's also just fun to smash them flat.
Did I mention that it's also gluten-free and vegan?
I hope you enjoy this recipe for Crispy Garlic Smashed Baby Potatoes!
What's in this potato recipe?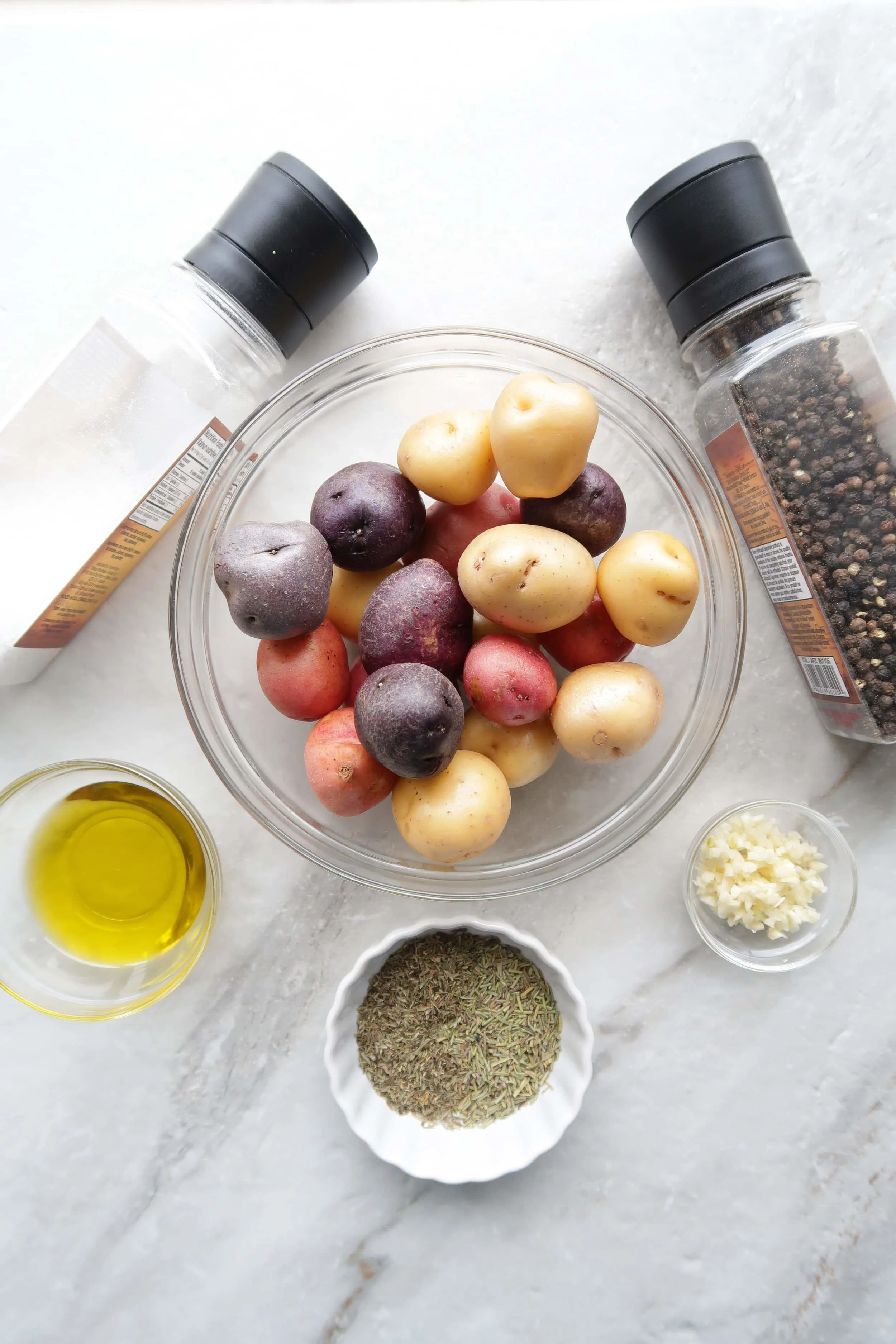 Colourful baby potatoes, garlic, olive oil, dried rosemary, dried thyme, salt, and black pepper are all the essential ingredients!
I also like to garnish the smashed potatoes with parsley in the end for flavour and additional colour.
How do you make smashed baby potatoes?
Complete ingredients amounts and full instructions in the recipe card down below.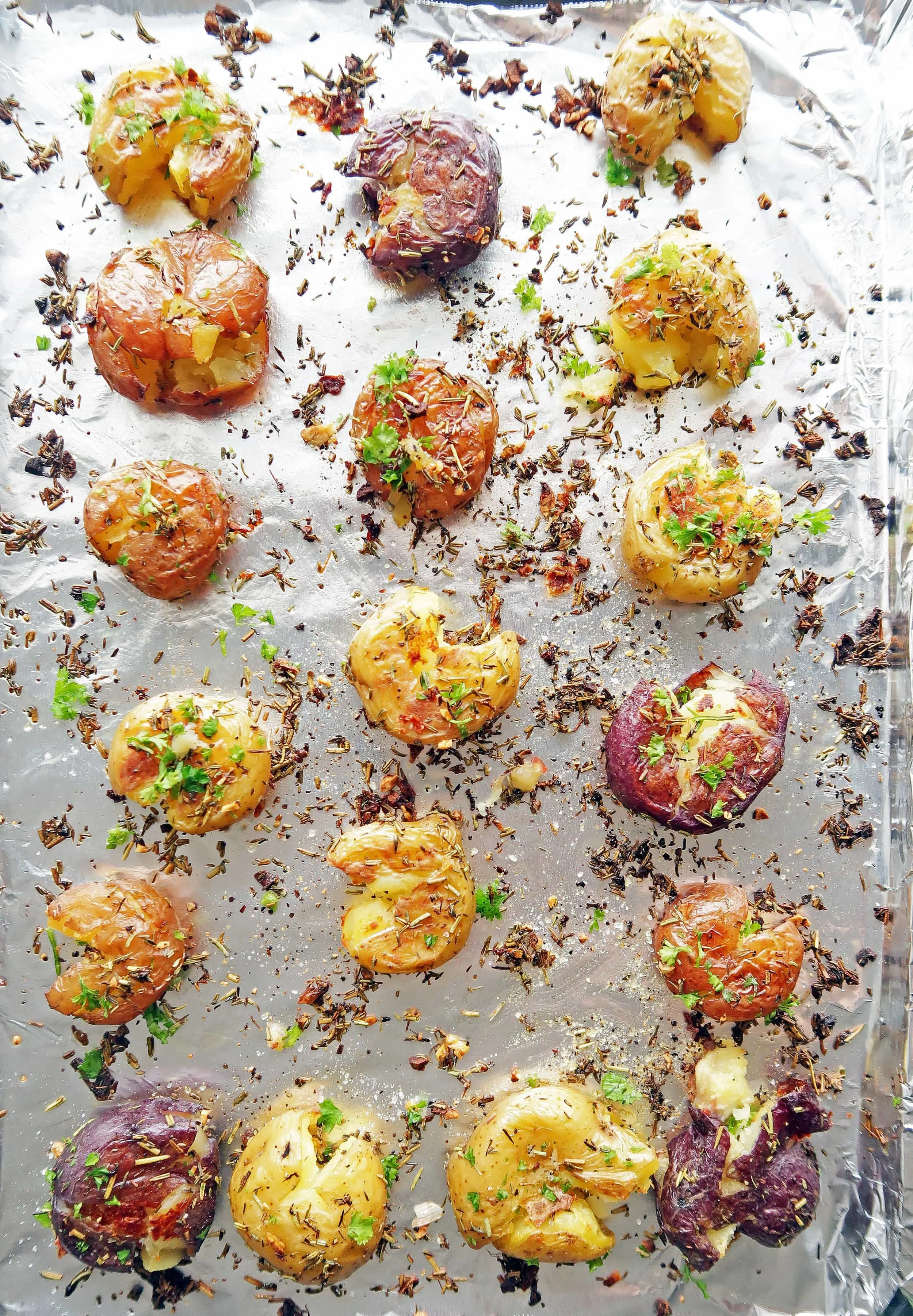 After boiling the potatoes, place on a lined baking sheet, and toss with garlic, herbs, and olive oil.
Using a fork (or metal spatula), gently push down each potato. Bake at 425 degrees F for 20-25 minutes, until golden and crispy.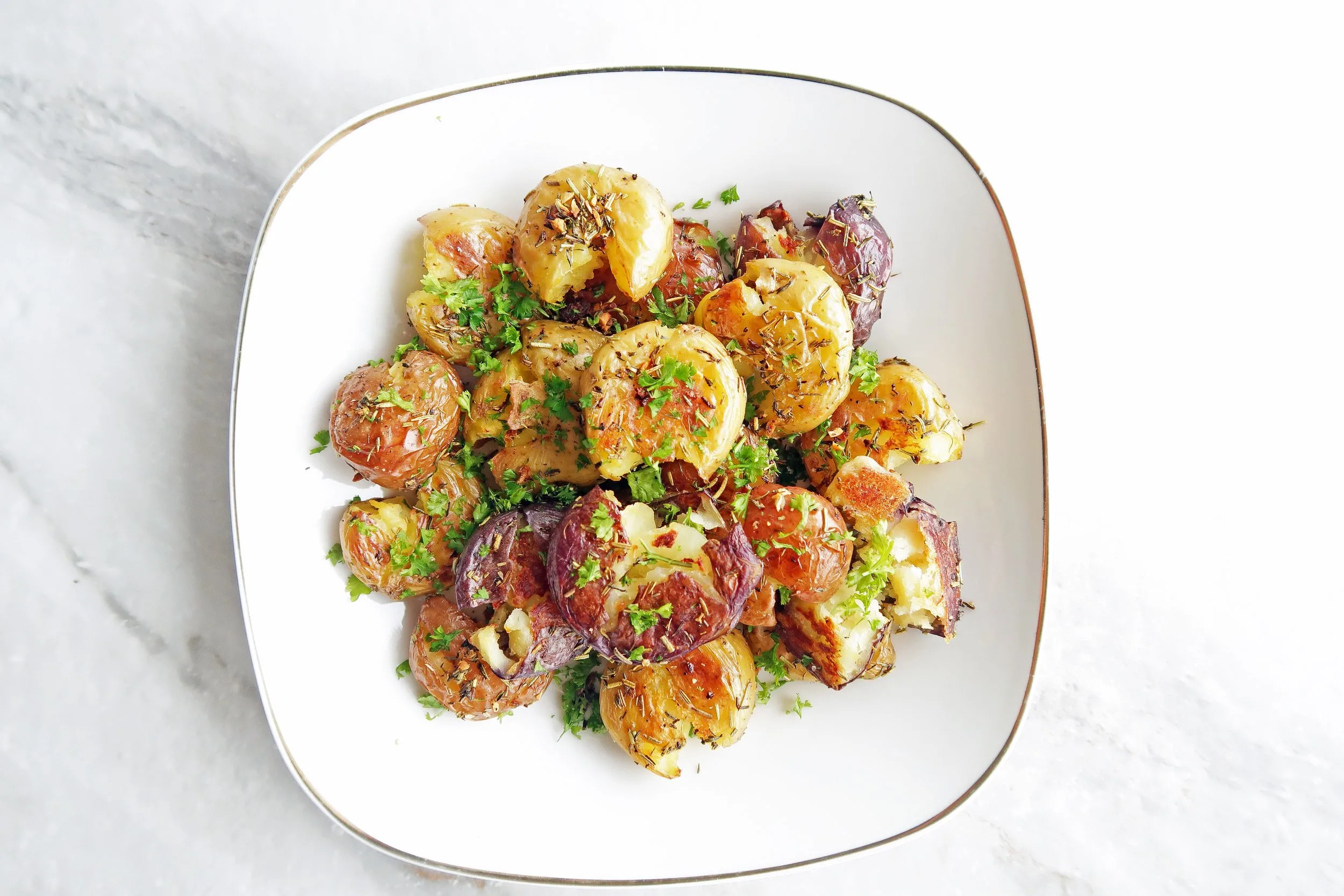 Garnish with parsley if you like. Plate and enjoy!
Looking for More Quick and Easy Vegan Side Dishes? Here are four more!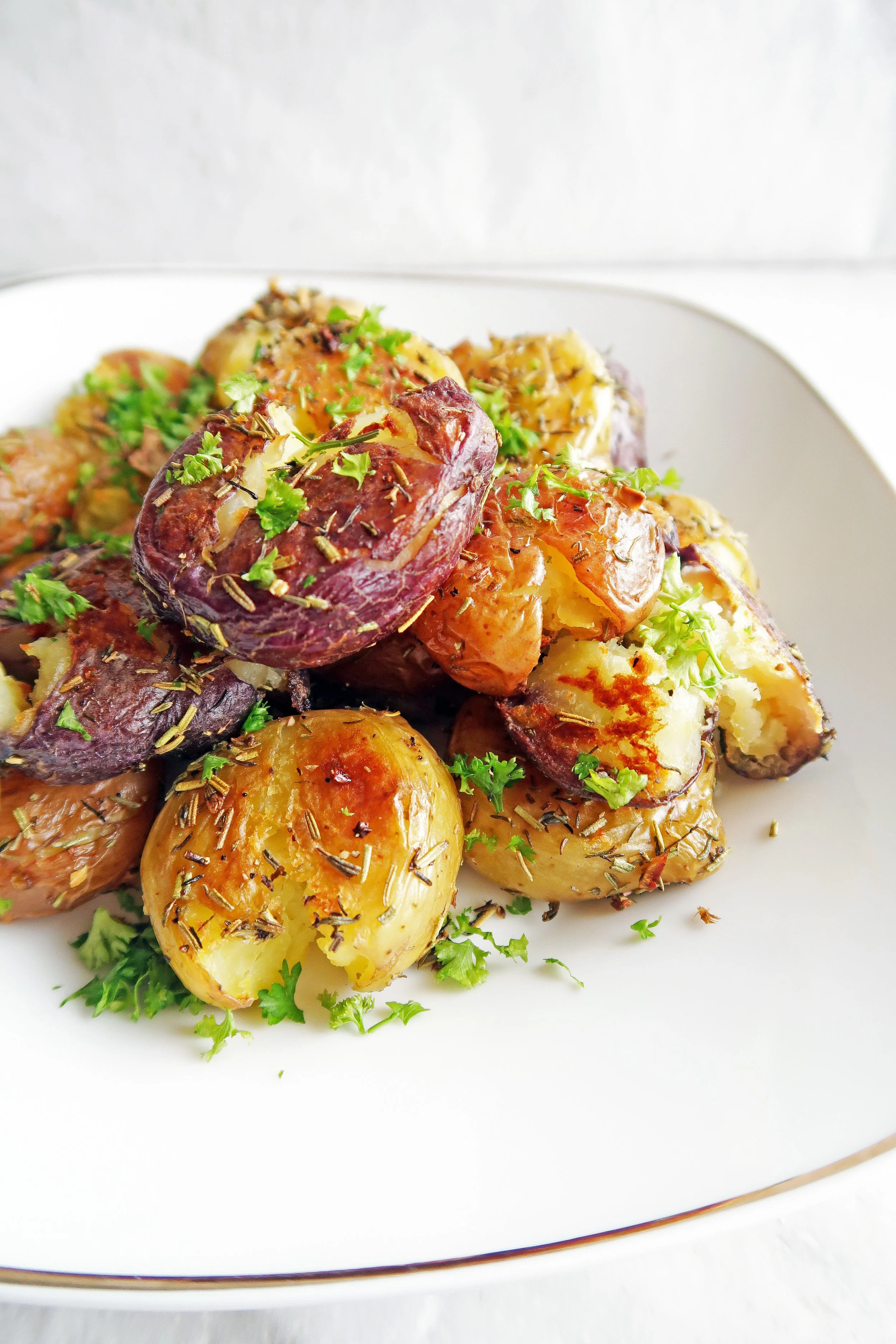 I hope you try this garlic smashed baby potatoes recipe! If you do, please leave me a rating and comment down below or tag me on any of my social media. I'm @yay_for_food on Instagram. I'll love a picture!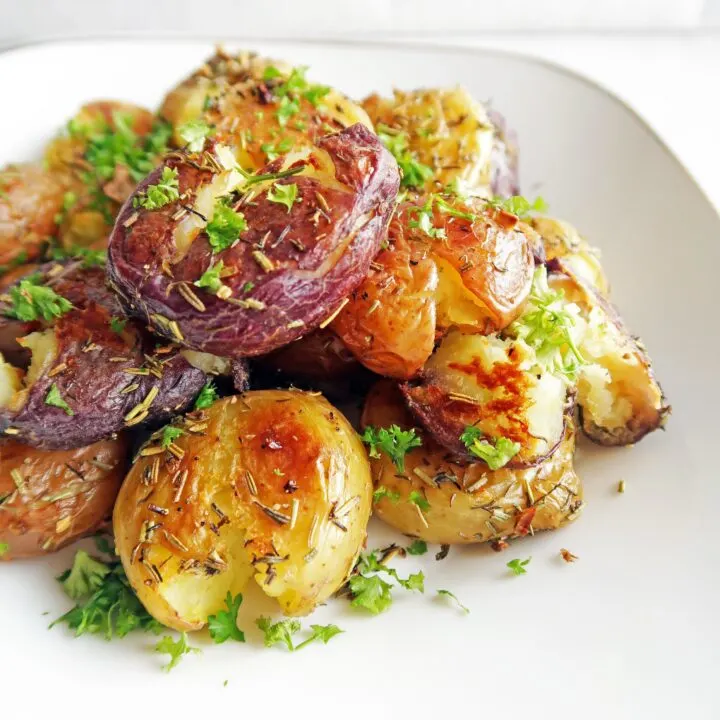 Crispy Garlic Smashed Baby Potatoes
Crispy on the outside and soft and fluffy on the inside. The combination of herbs and garlic goes perfectly with these baby potatoes.
Ingredients
1 lb (16 oz) baby potatoes
2 garlic cloves, minced
1 tsp dried rosemary
1 tsp dried thyme
Salt and pepper
2 tbsp olive oil
Optional: parsley for garnish
Instructions
Preheat oven to 425 degrees F.
Boil potatoes in salted water until the potatoes are softened and a fork can easily poke into a potato, about 15-18 minutes, depending on the size of the potatoes. Drain and pat the potatoes dry using a paper towel.
Place the potatoes on a baking sheet (cover the baking sheet with aluminum foil for easy cleanup). Toss the potatoes with garlic, rosemary, thyme, salt, pepper, and oil.
Take a fork and carefully press down on each potato until the potato is flattened, but still holds together.
Space the potatoes on the baking sheet so they are not touching. Bake for 20-25 minutes, until the potatoes are crispy and lightly golden in appearance. Garnish with parsley if you like. Serve immediately.
Recommended Products
As a participant in the Amazon Services LLC Associates Program, I only link to products that I use and/or highly recommend. As an Amazon Associate, I earn from qualifying purchases if you purchase through these links at no additional cost to you.
Nutrition Information:
Yield:

3
Serving Size:

1
Amount Per Serving:
Calories:

139
Total Fat:

9g
Saturated Fat:

1g
Trans Fat:

0g
Unsaturated Fat:

8g
Cholesterol:

0mg
Sodium:

106mg
Carbohydrates:

14g
Fiber:

2g
Sugar:

1g
Protein:

2g