Homemade pesto is the best and so easy to make!
This Kale Walnut Pesto is a wonderful alternative to traditional basil pesto. If you look around this blog, you'll know that I'm a big fan of kaleso making a pesto with kale that I could put in a bunch of different meals seemed natural to me.
It is so handy to have pesto in the fridge for those busy days when you want to cook something up in a hurry. A quick go-to meal for our household is pesto pasta with quick roasted tomatoes.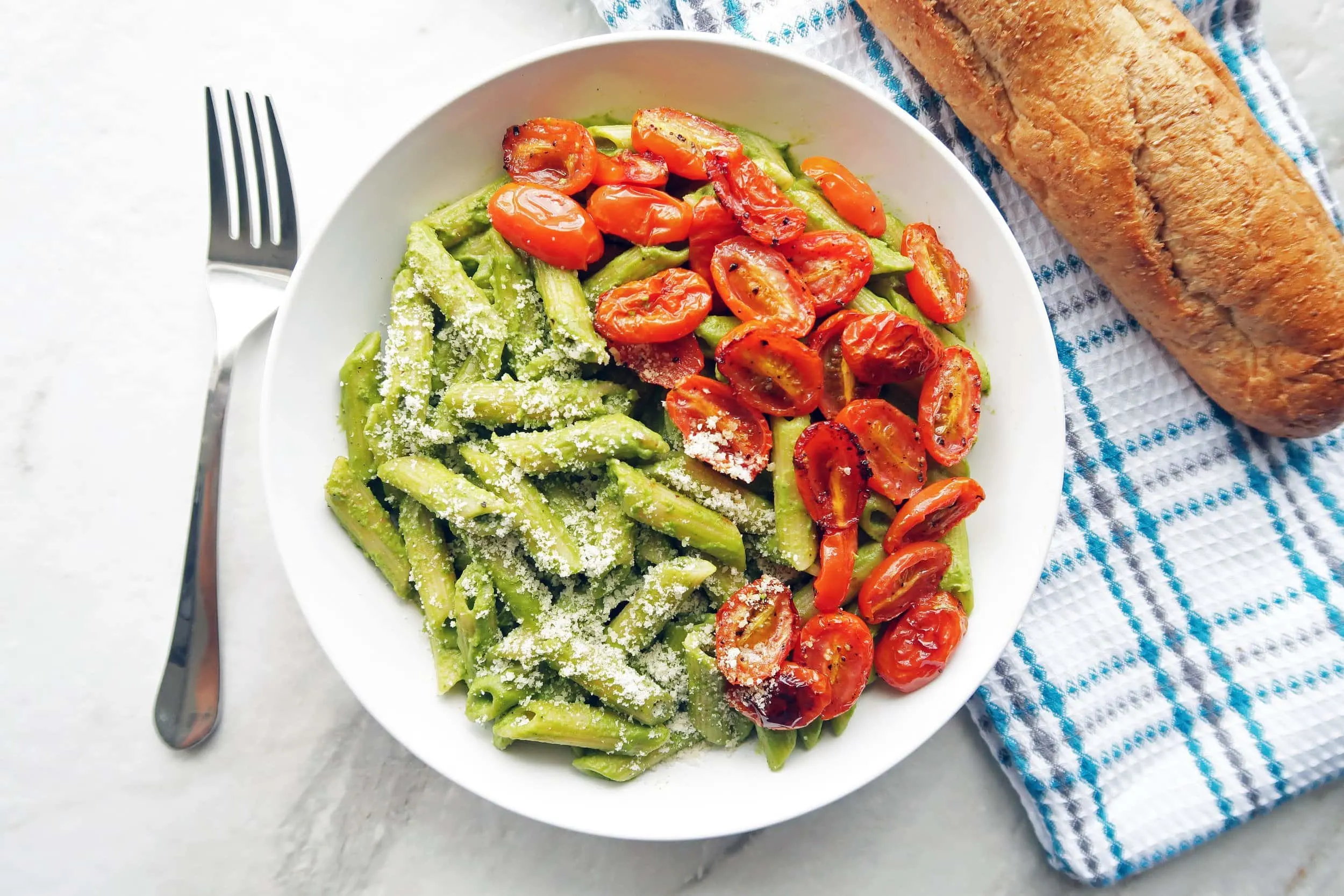 Ways to use pesto: We also love using it on on sandwiches, pizzas, fish, and meats for that extra punch of flavour! You can use it as a dipping sauce for bread – so tasty! Also for those with dietary restrictions, it's naturally gluten-free.
You can control ingredients according to your flavour preferences. I use a fair bit of garlic in this recipe, but you can also start with a little garlic and blend in more at the end if you don't want it to be too garlicky.
Did you know that not all parmesan cheese is vegetarian?If you are on a vegetarian diet, look for parmesan ingredients that lists vegetable rennet or microbial enzymes instead of regular (animal) rennet.You can also replace the cheese with nutritional yeast.
You can also adjust the texture to be as chunky or smooth as you would like. For a really smooth, creamy texture, it's best to use a blender. A food processor will result in a finely chopped texture.
I hope you enjoy this recipe!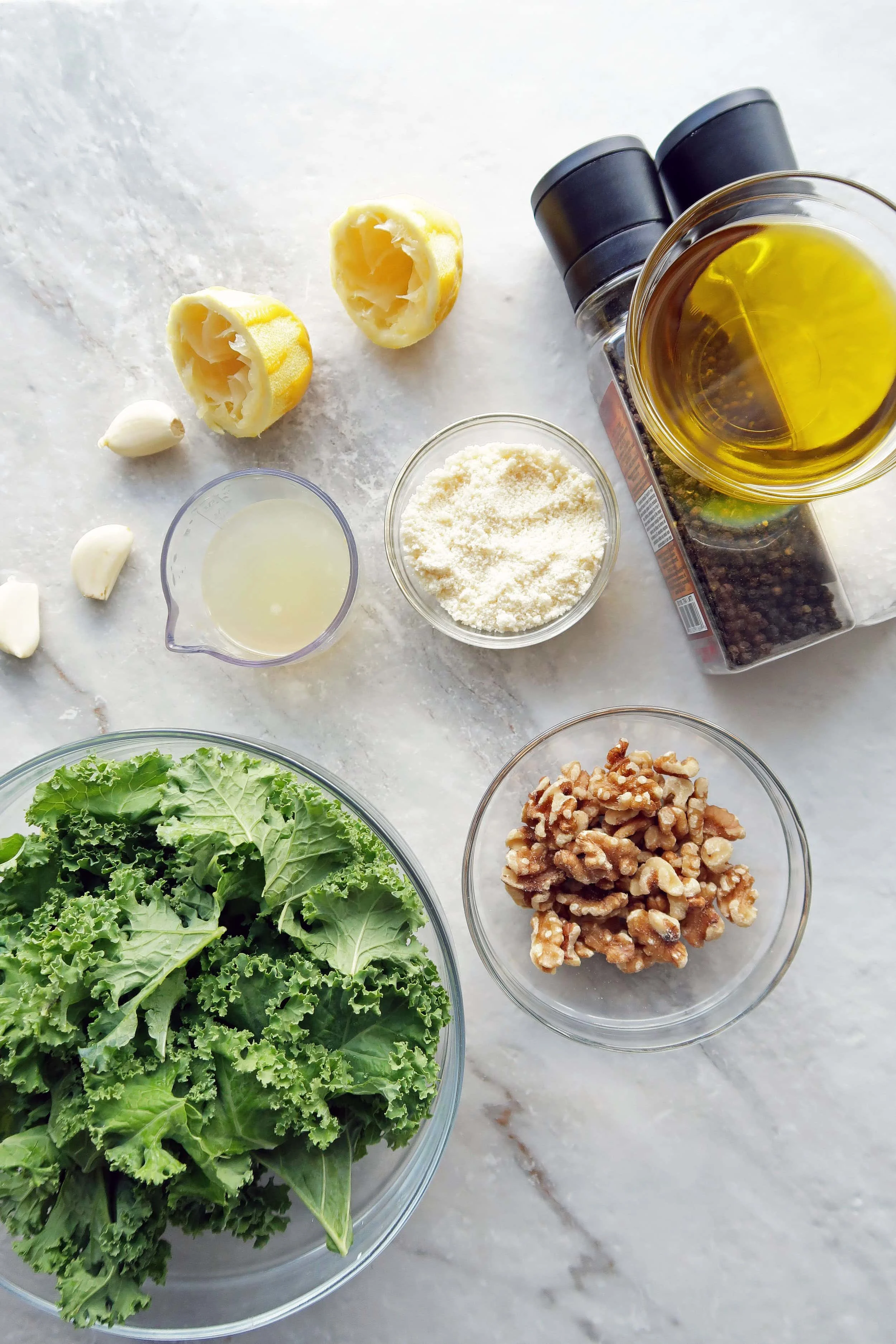 Pesto ingredients! Amounts are in the "Ingredients" list below.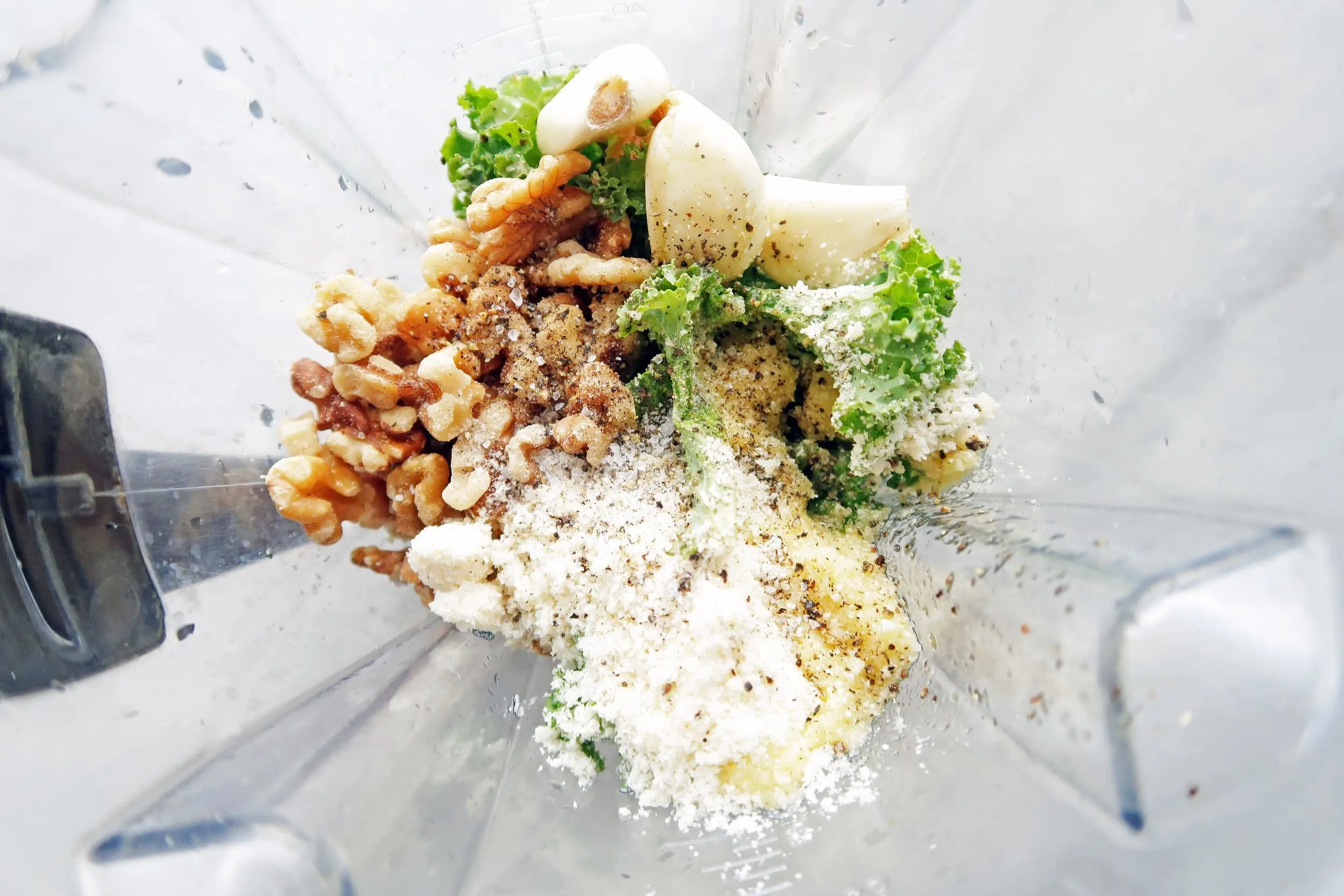 In the blender: Add all the ingredients (with only 2 tbsp of olive oil). Pulse to combine and then while blender is running,slowly add in remaining olive oil (amount dependant on preference).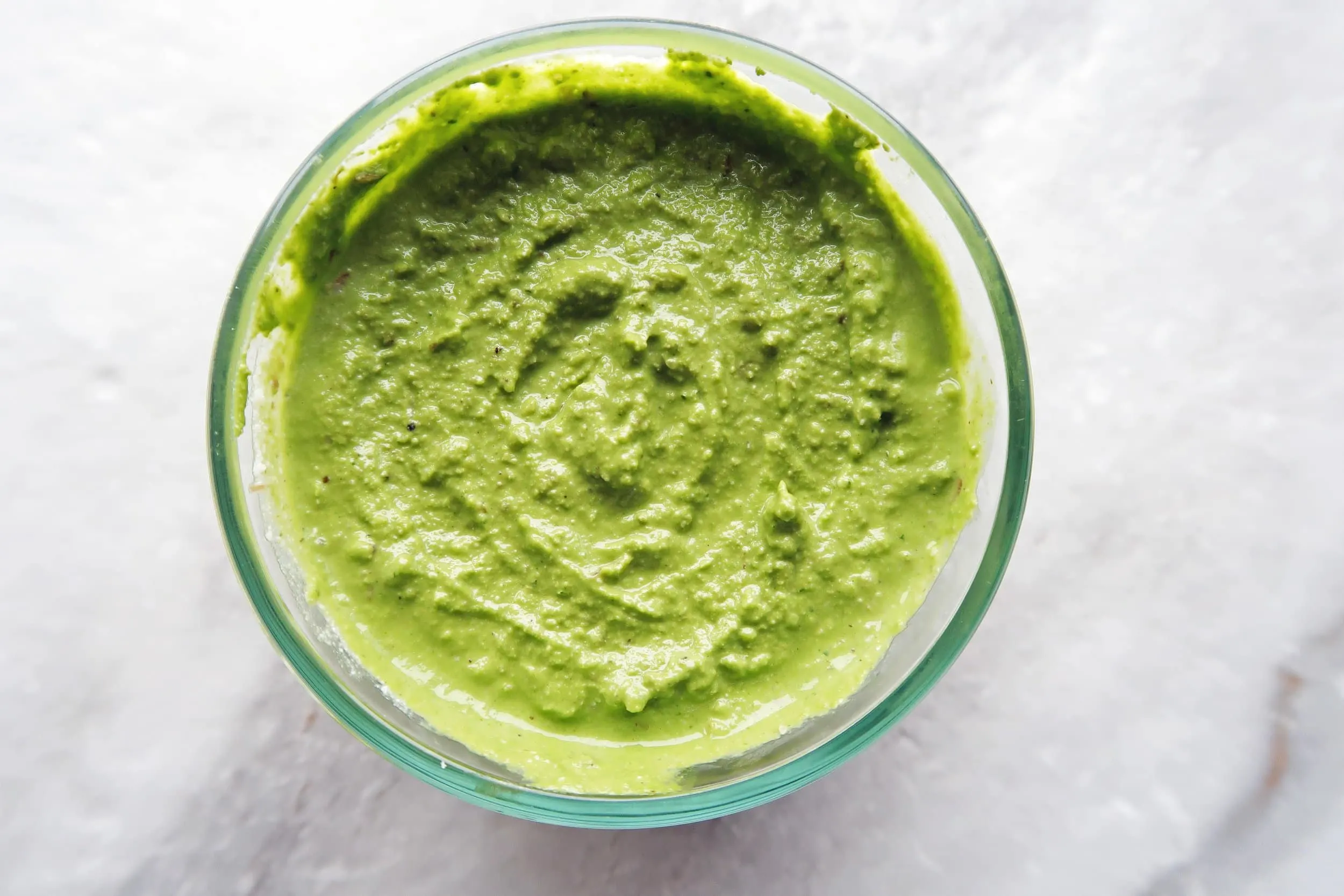 Smooth and creamy texture.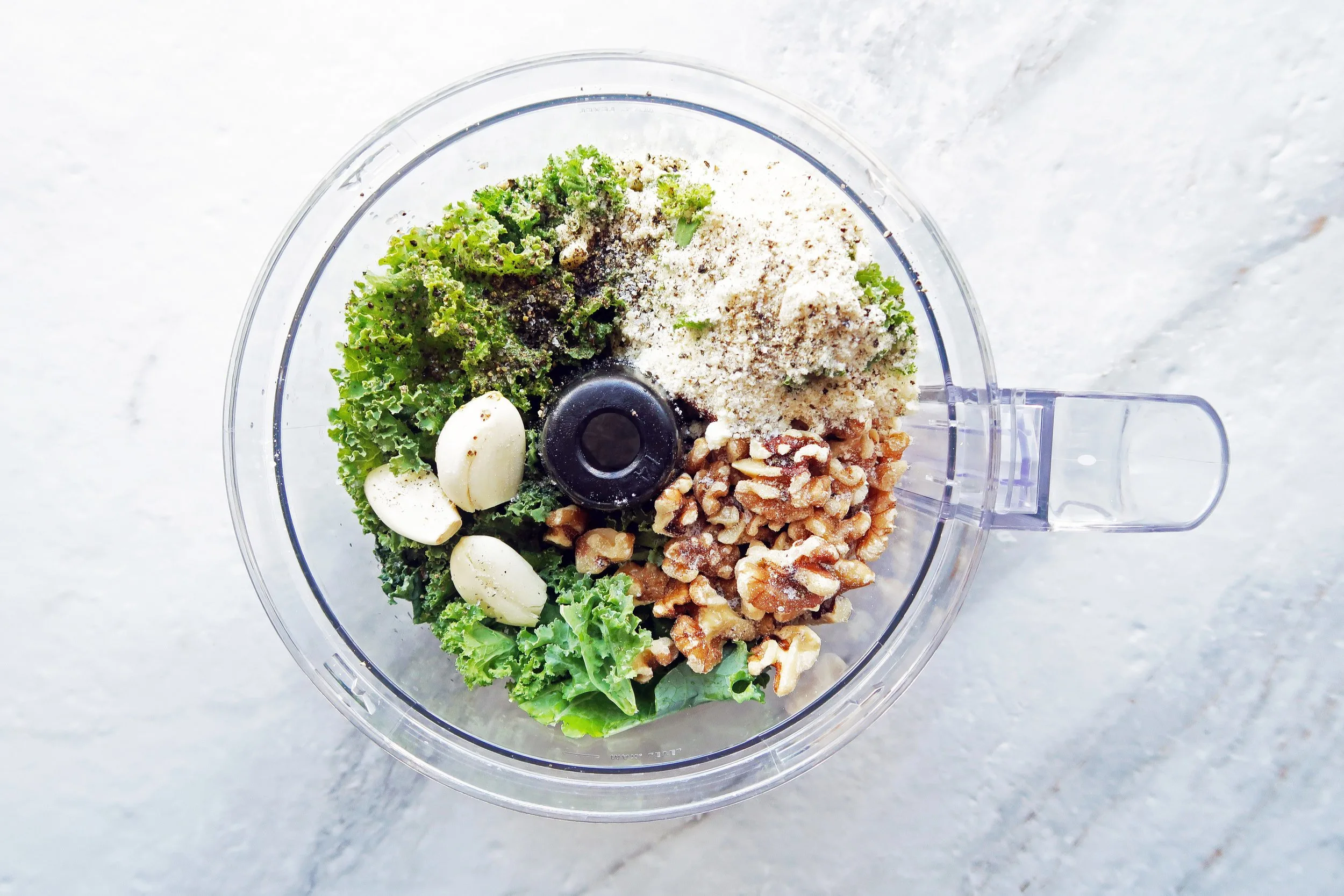 Using a food processor: Same instructions as using the blender. Pesto will be finely chopped.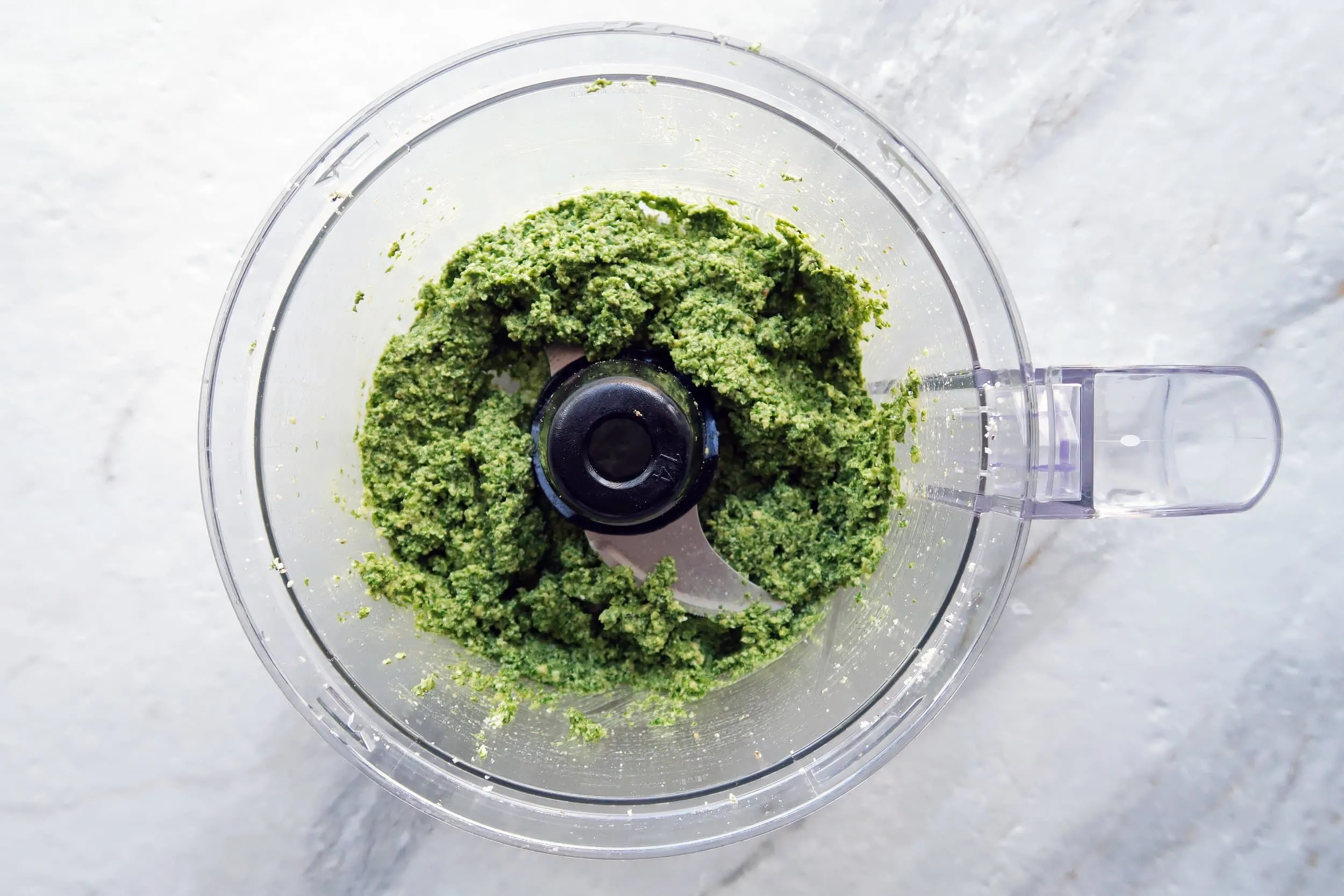 This pesto used about 1/4 cup of olive oil for a chunky texture. Add more for a finer texture.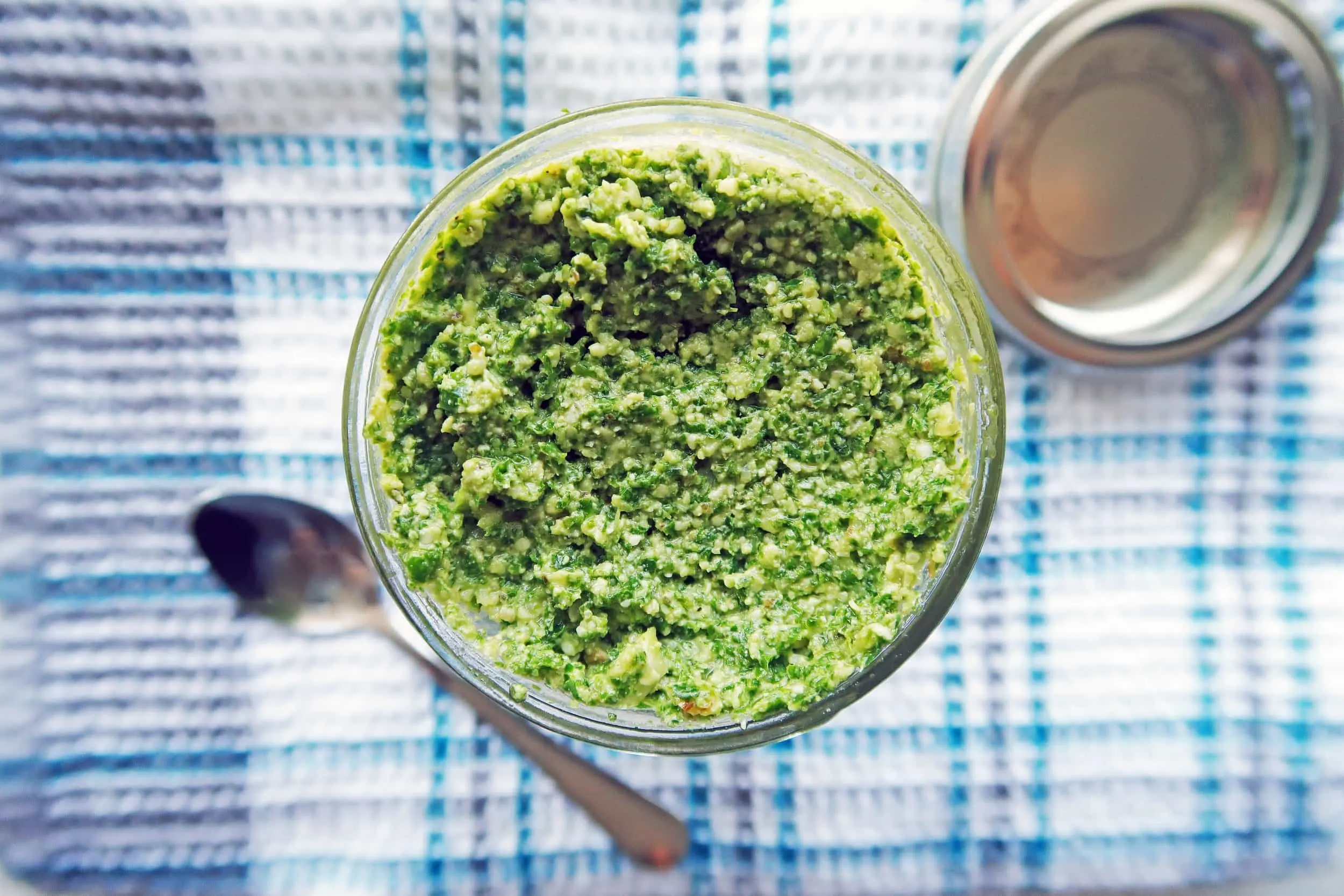 Pesto is ready to add to all types of dishes! Enjoy!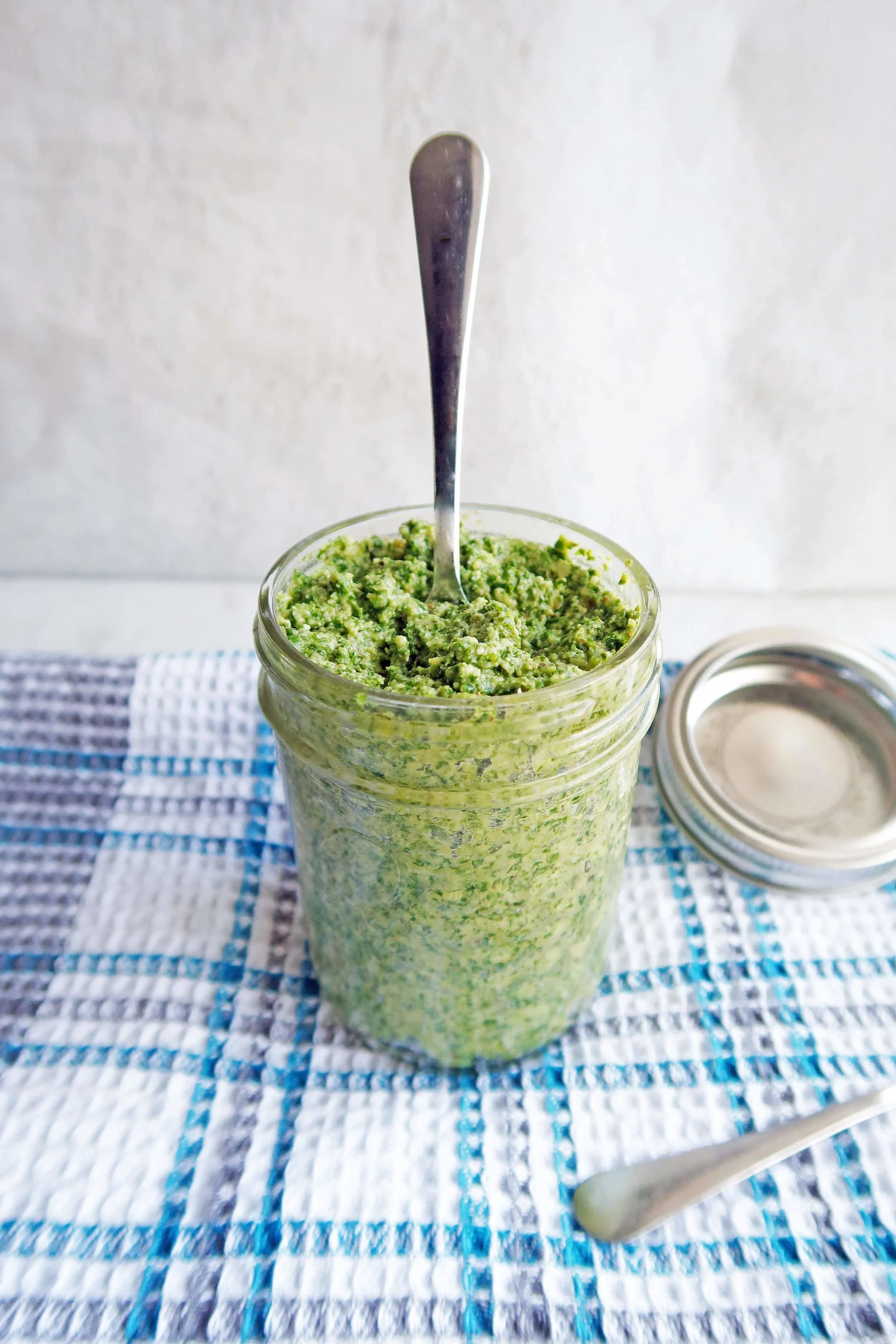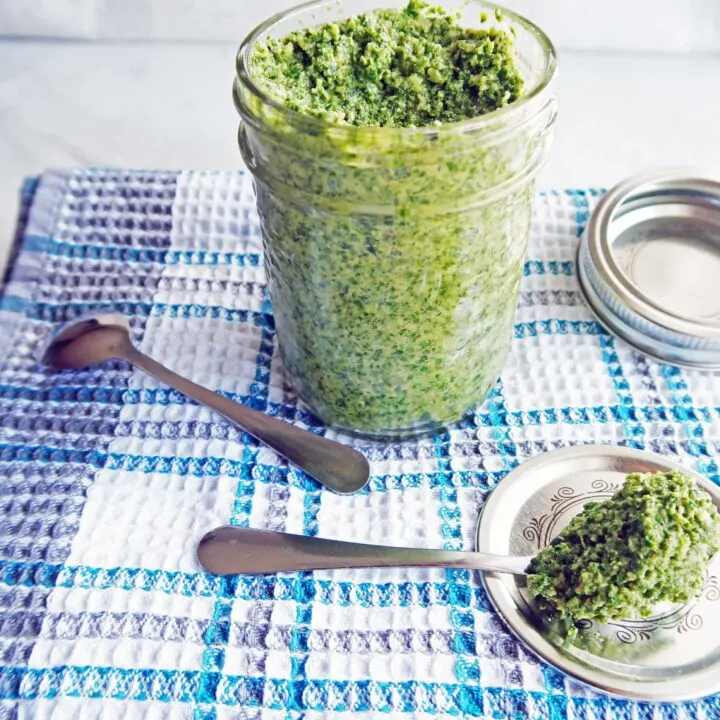 5 Minute Kale Walnut Pesto
Make this easy delicious Kale Walnut Pesto in 5 minutes. It's so versatile, simple, flavourful and requires minimal ingredients!
Ingredients
4 packed cups kale, stems removed and coarsely chopped
½ cup walnuts
2 to 3 garlic cloves
¼ cup parmesan, grated
2 tbsp lemon juice
¼ cup to ½ cup extra virgin olive oil
Salt and pepper
Instructions
Using a food processor (or blender*), add kale, walnuts, garlic, parmesan, lemon juice, salt, pepper, and 2 tablespoons of olive oil. Pulse several times allowing the ingredients to break down until a thick paste forms (you may need to scrape down the sides with a spatula).
With the food processor running, slowly add in olive oil until you get your desired consistency. Taste and adjust ingredient amounts according to your flavour preferences. Use immediately or store in the refrigerator or freezer for future use.**
Notes
*Using a blender will result in a smoother puree, whereas a food processor will have a chunkier texture.
**Store pesto in an airtight container with a thin layer of olive oil on top and refrigerate for up to a week. If storing in the freezer, lay the pesto flat in a ziploc freezer bag and squeeze out the excess air before freezing. Alternatively, freeze pesto in an ice cube tray first before transferring to a freezer bag.
To keep this recipe vegetarian, make sure that the parmesan you choose is made without animal rennet; look at the cheeses' ingredient list for vegetable rennet or microbial enzymes.
Recommended Products
As a participant in the Amazon Services LLC Associates Program, I only link to products that I use and/or highly recommend. As an Amazon Associate, I earn from qualifying purchases if you purchase through these links at no additional cost to you.
Nutrition Information:
Yield:

6
Serving Size:

0.25 cup
Amount Per Serving:
Calories:

266