I love using chia seeds because they are rich in omega-3 fatty acids, high in protein, and full of vitamins and minerals such as calcium, iron, and magnesium. When combined with a liquid such as almond milk and left to sit for a period of time, the texture becomes a thick, creamy tapioca-like pudding. You have to stir it so it doesn't clump up!
Chia seeds are also relatively flavourless so you can add whatever toppings you like such as fruits, nuts, and spices! I also love using them in my favourite smoothie, Kale Pineapple Chia Smoothie.
For this chia pudding recipe, there are sliced bananas, which provide additional bulk and natural sweetness as well as sweet and tart macerated blackberries. In the case of fresh fruit, maceration is simply the process of adding sugar (or sometimes liqueur) to fruit and letting it sit to soften and release fruit juices. The process enhances the berry flavour and produces a thin fruit syrup. I also added in a little fresh mint and lemon juice to bring a little more brightness in flavour.
Preparing the chia seed pudding and macerated blackberries the day before and assembling it the next day requires less than 10 minutes all together and it's absolutely delicious and filling. It's also gluten-free and vegan.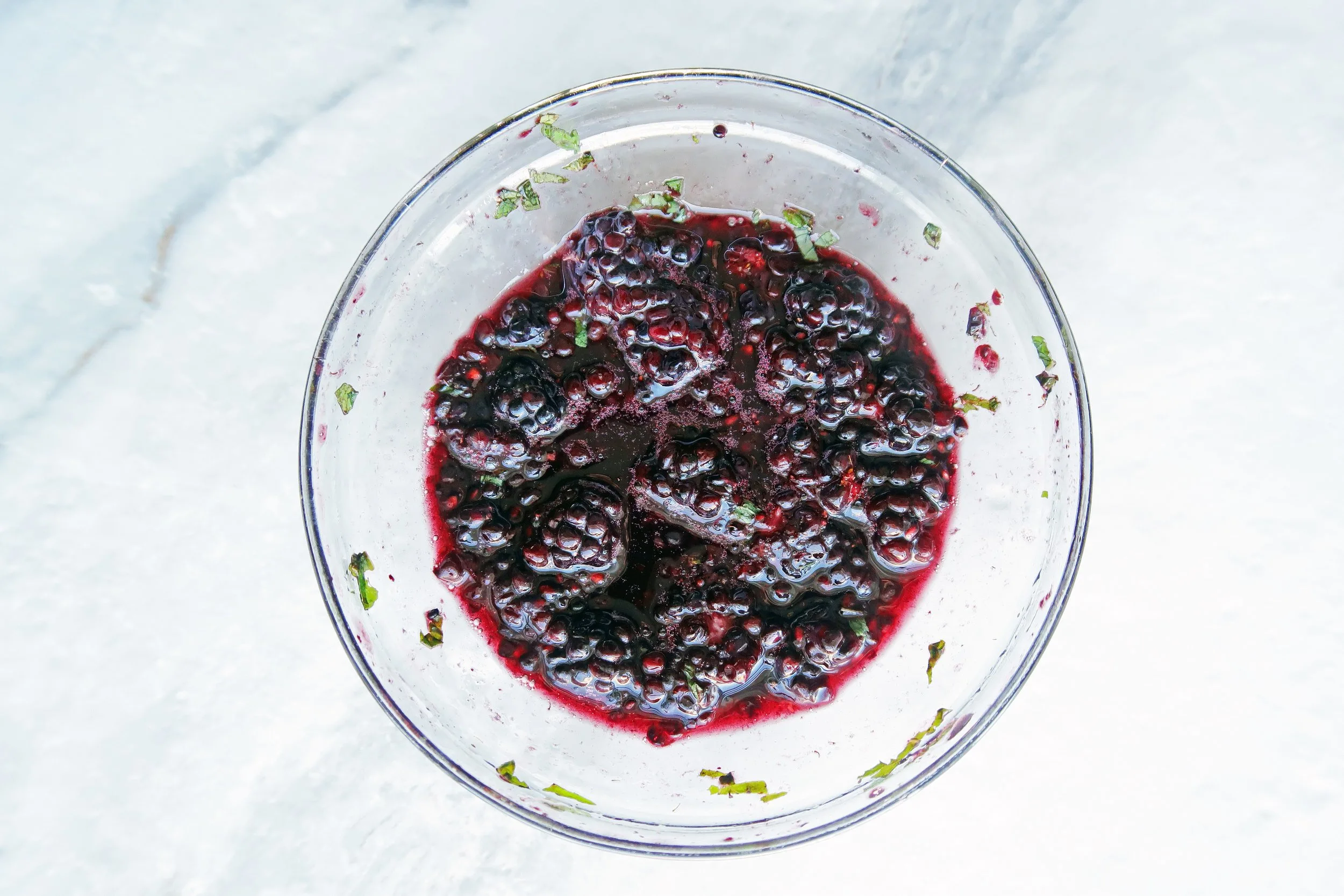 Macerated blackberries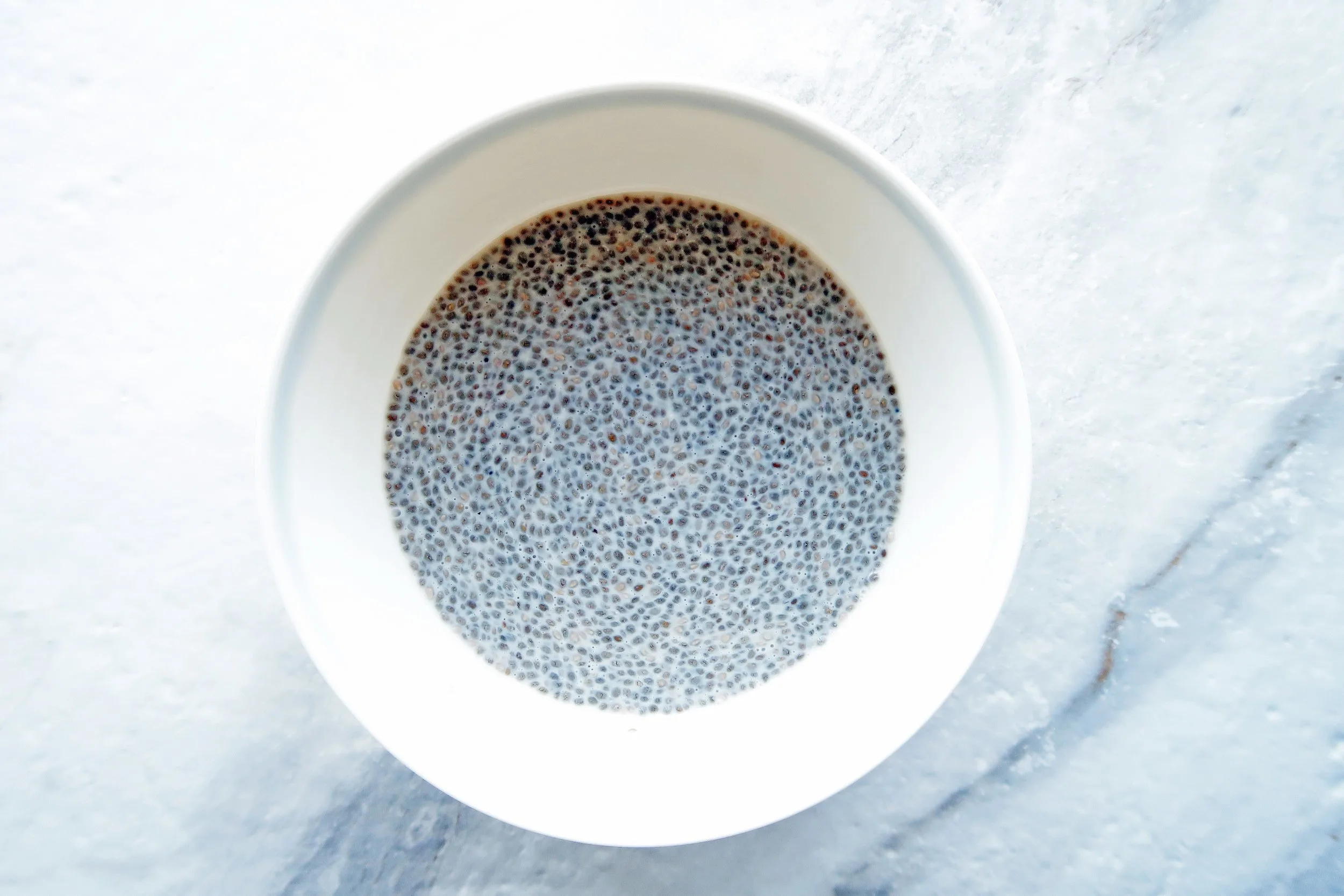 Chia seed pudding
After preparing the chia seed pudding and blackberries in two separate bowls (complete ingredients and instructions below), cover and place overnight in the refrigerator.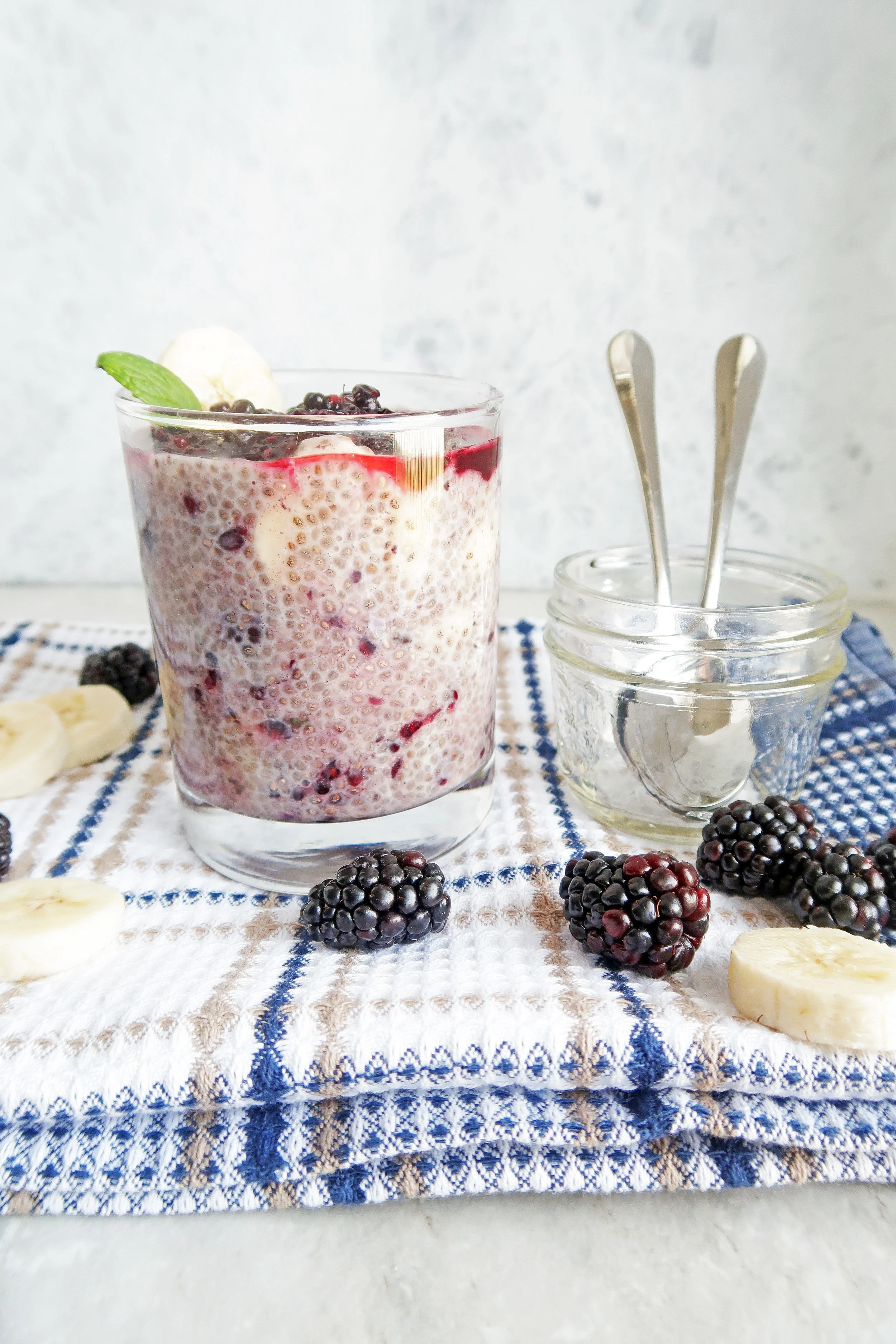 Combine the chia seed pudding with the most of the macerated blackberries and sliced bananas. Scoop into glasses and top with remaining blackberries.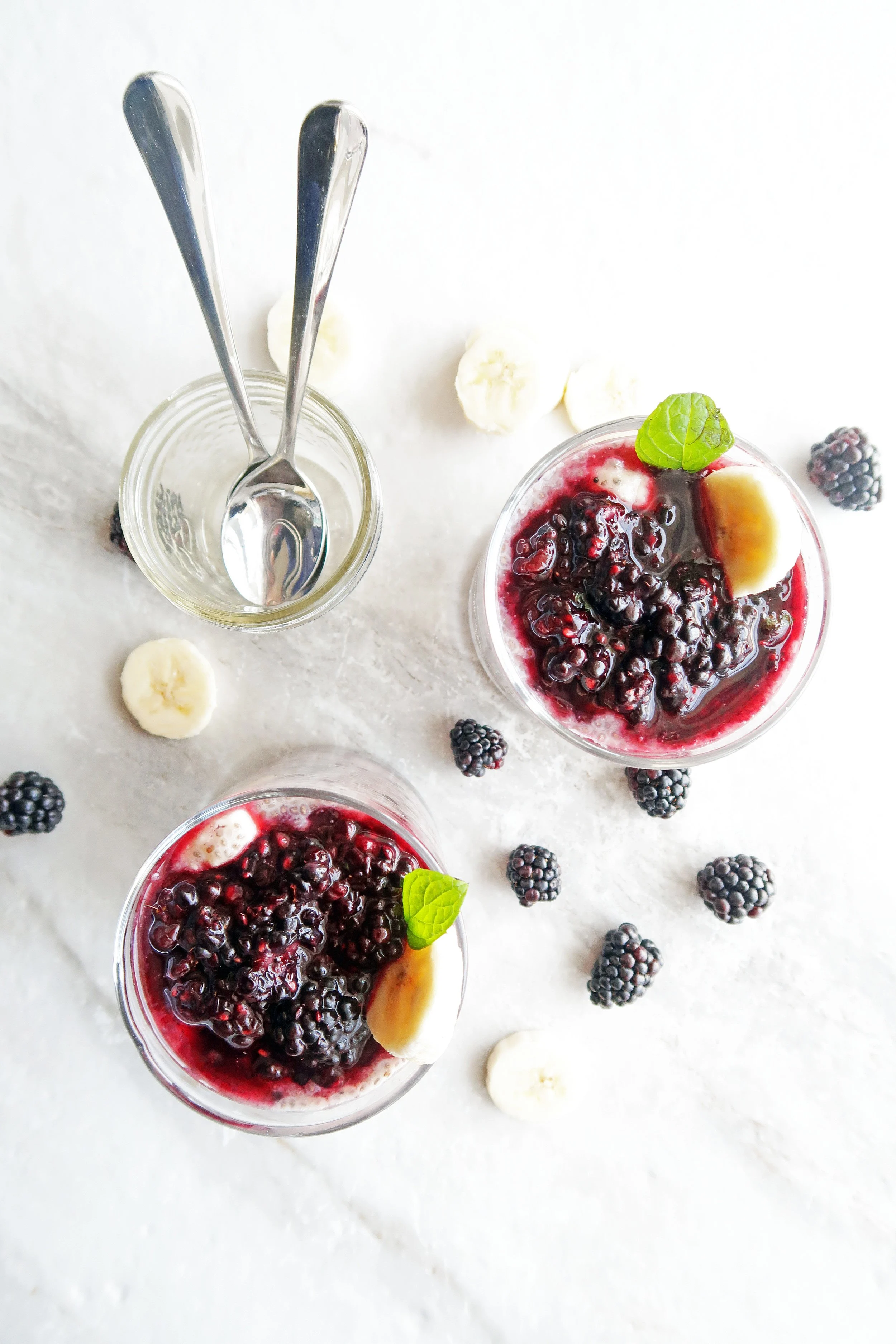 Pretty and delicious!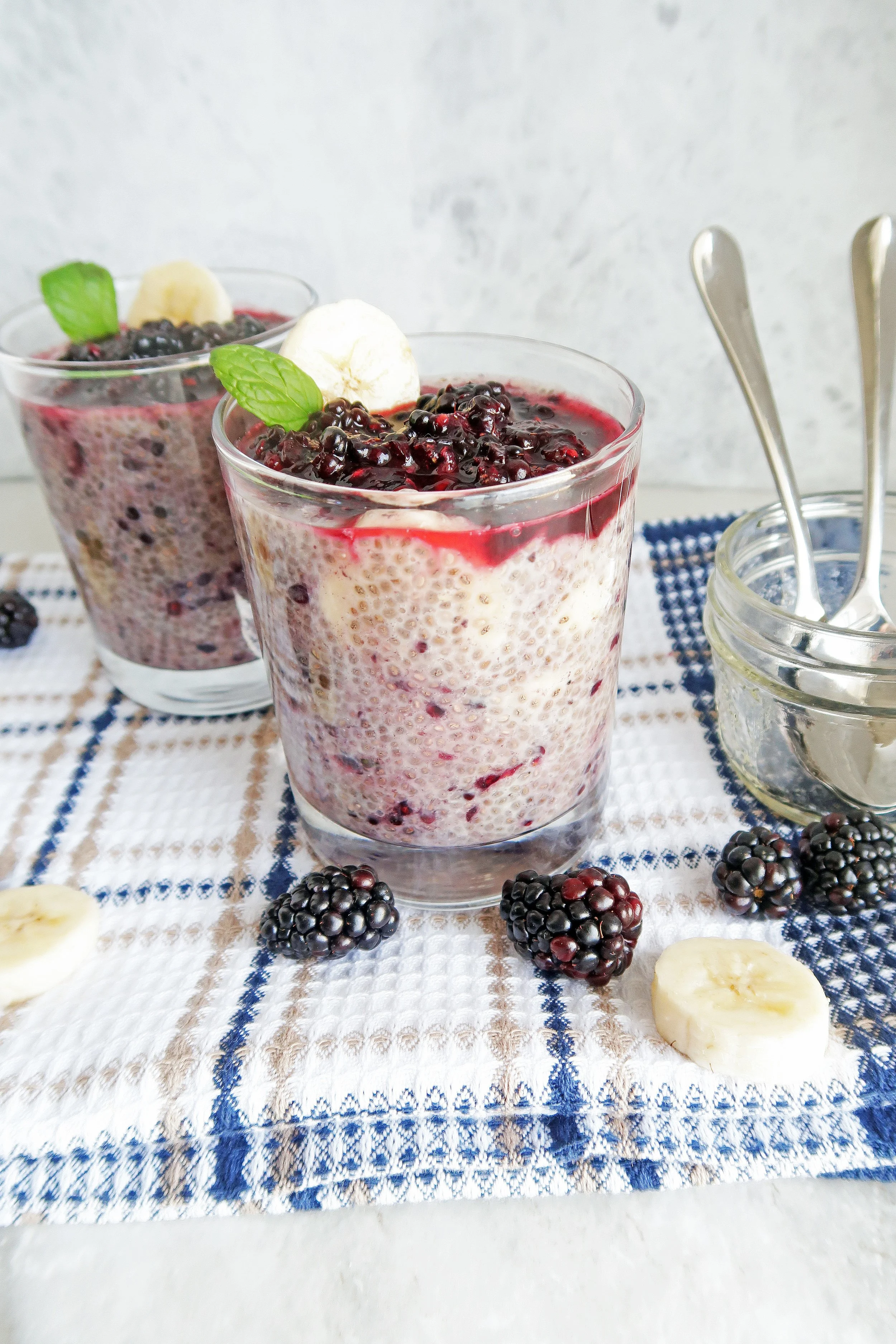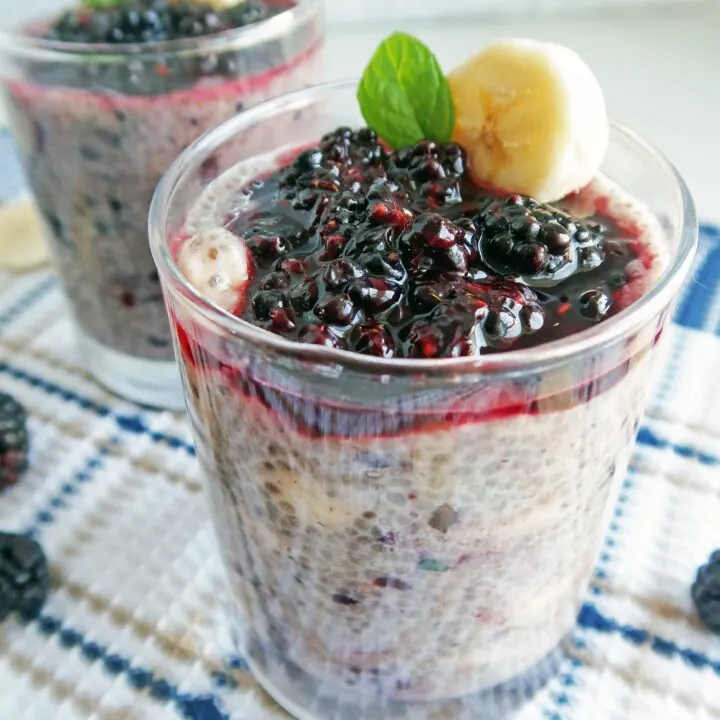 Overnight Chia Seed Pudding with Blackberries and Bananas
Additional Time:
2 hours
30 minutes
Total Time:
2 hours
38 minutes
A delicious breakfast or snack treat. This tasty chia seed pudding is combined with sliced bananas and macerated blackberries. Prepare this quick meal the night before and have it ready to assemble quickly the next day.
Ingredients
For the chia pudding:
¼ cup chia seeds
1 cup almond milk
½ tsp vanilla extract
1 tbsp maple syrup
For the macerated blackberries:
1 cup (5oz) blackberries
2 tsp maple syrup
1 tsp lemon juice
1 tsp fresh mint, sliced
Other ingredient:
Instructions
In a bowl, whisk together the chia pudding ingredients, cover with plastic wrap, and refrigerate overnight.
In a separate bowl, combine the macerated blackberries ingredients, making sure to coat the blackberries with the other ingredients. Cover with plastic wrap and refrigerate overnight.
The next day, remove the two bowls from the refrigerator. Re-whisk the chia pudding so that the texture is even throughout. Then, using a fork, press down the berries gently so that they are slightly smashed and more juices are released.
Combine ¾ of the macerated blackberries and sliced banana with the chia pudding (or layer it) into two glasses or bowls, then top with the remaining blackberries. Serve immediately or chill for later.
Notes
Substitute the maple syrup with a sweetener of your choice.
Substitute almond milk with another milk of your choice.
Recommended Products
As a participant in the Amazon Services LLC Associates Program, I only link to products that I use and/or highly recommend. As an Amazon Associate, I earn from qualifying purchases if you purchase through these links at no additional cost to you.
Nutrition Information:
Yield:

2
Serving Size:

1
Amount Per Serving:
Calories:

244
Total Fat:

9g
Saturated Fat:

1g
Trans Fat:

0g
Unsaturated Fat:

7g
Cholesterol:

0mg
Sodium:

12mg
Carbohydrates:

39g
Fiber:

10g
Sugar:

21g
Protein:

5g