Hey there! Today's recipe is one of the simplest, yet tastiest appetizers (or side dish) that comes together in a hurry and only has four ingredients! Two of the ingredients are pantry staples for many people: olive oil and black pepper.
One of the main ingredients is French green beans, also known as haricot verts. They are longer, thinner, and more robust in flavour than American green bean varieties like string beans.
The other main ingredient (and the best part) is prosciutto (Italian for ham). A small bunch of French green beans are wrapped with prosciutto, which is a wonderfully salty dry-cured ham that's thinly sliced and has a buttery texture.
When baked up, the ham becomes crispy and the green beans are tender-crisp and ready to eat!
Yep, it's just that easy! I hope you enjoy this recipe for 4-Ingredient Prosciutto Wrapped Green Beans!
How do you make this quick appetizer recipe?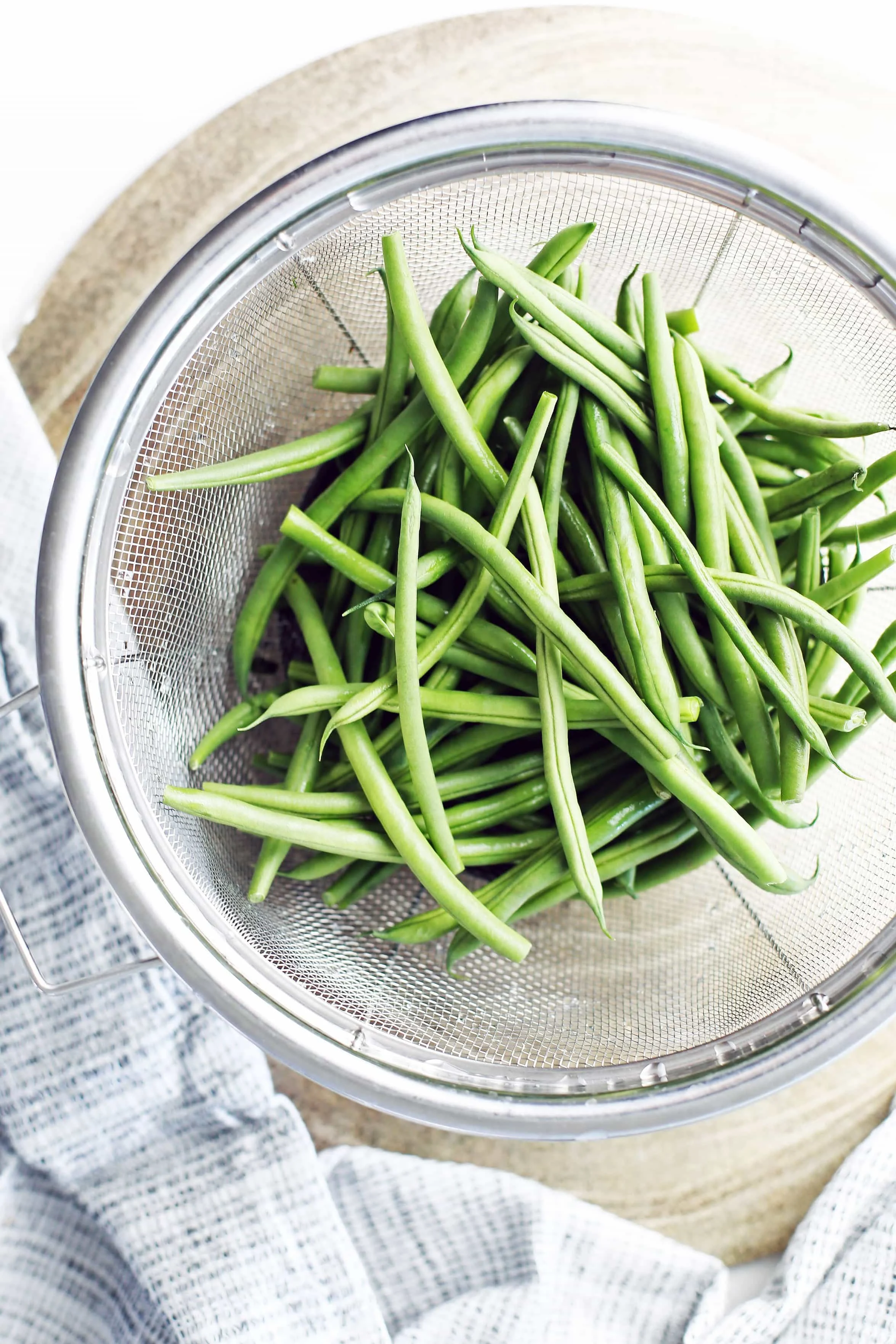 Give the French green beans a rinse and pat dry. Trim the tough ends if necessary (French green beans often come pre-trimmed from the grocery store).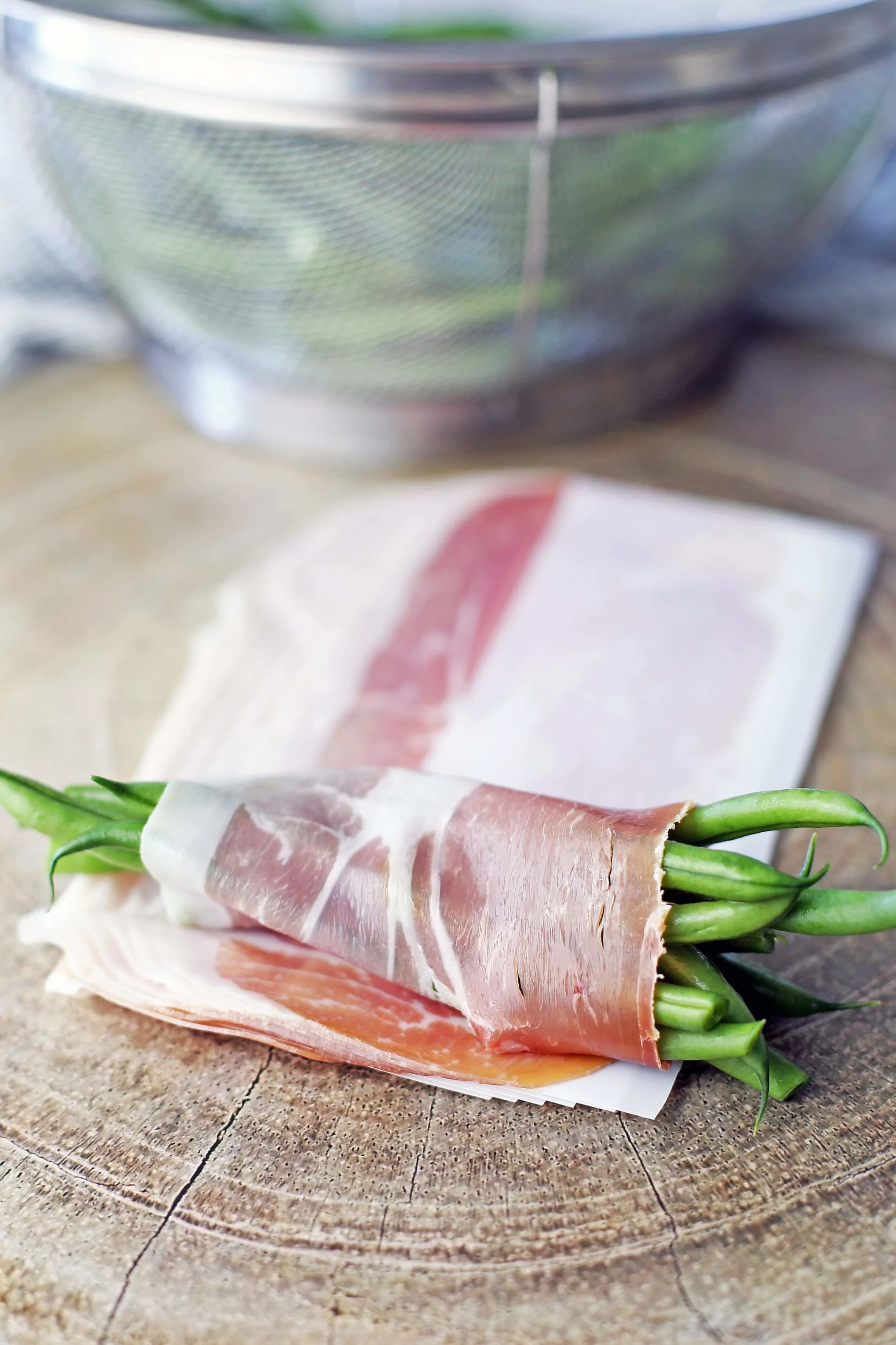 Wrap 10 green beans (or evenly divide the green beans to make similar sized prosciutto wrapped bundles) with a single slice of prosciutto.
Tip: Look for pre-sliced prosciutto where each slice is interleaf (with a small piece of paper) for easy separation. The thin slices can easily fall apart if not handled gently.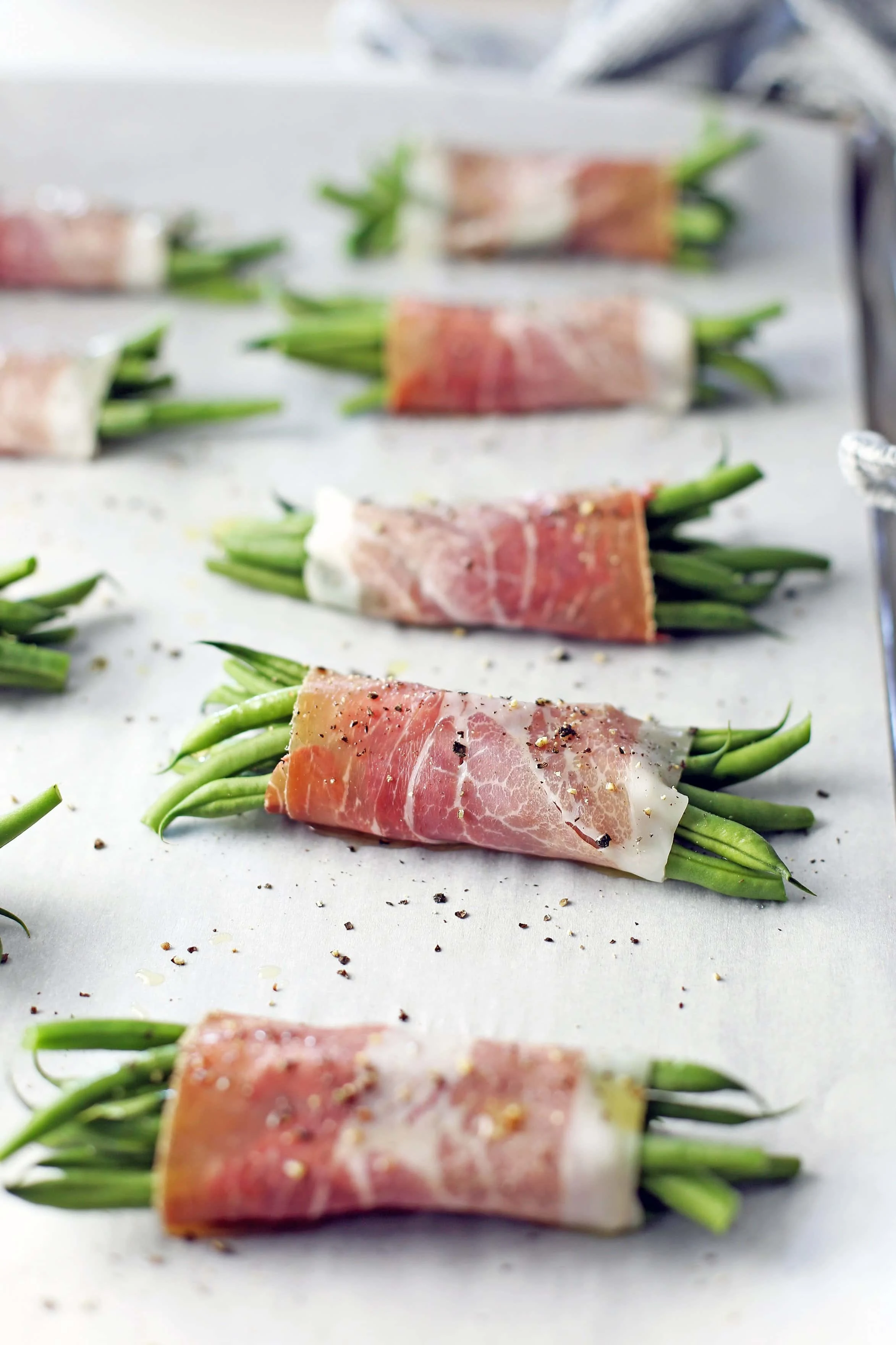 Place each prosciutto wrapped green bean bundle on a large parchment paper-lined baking sheet in a single layer. Drizzle with olive oil and black pepper.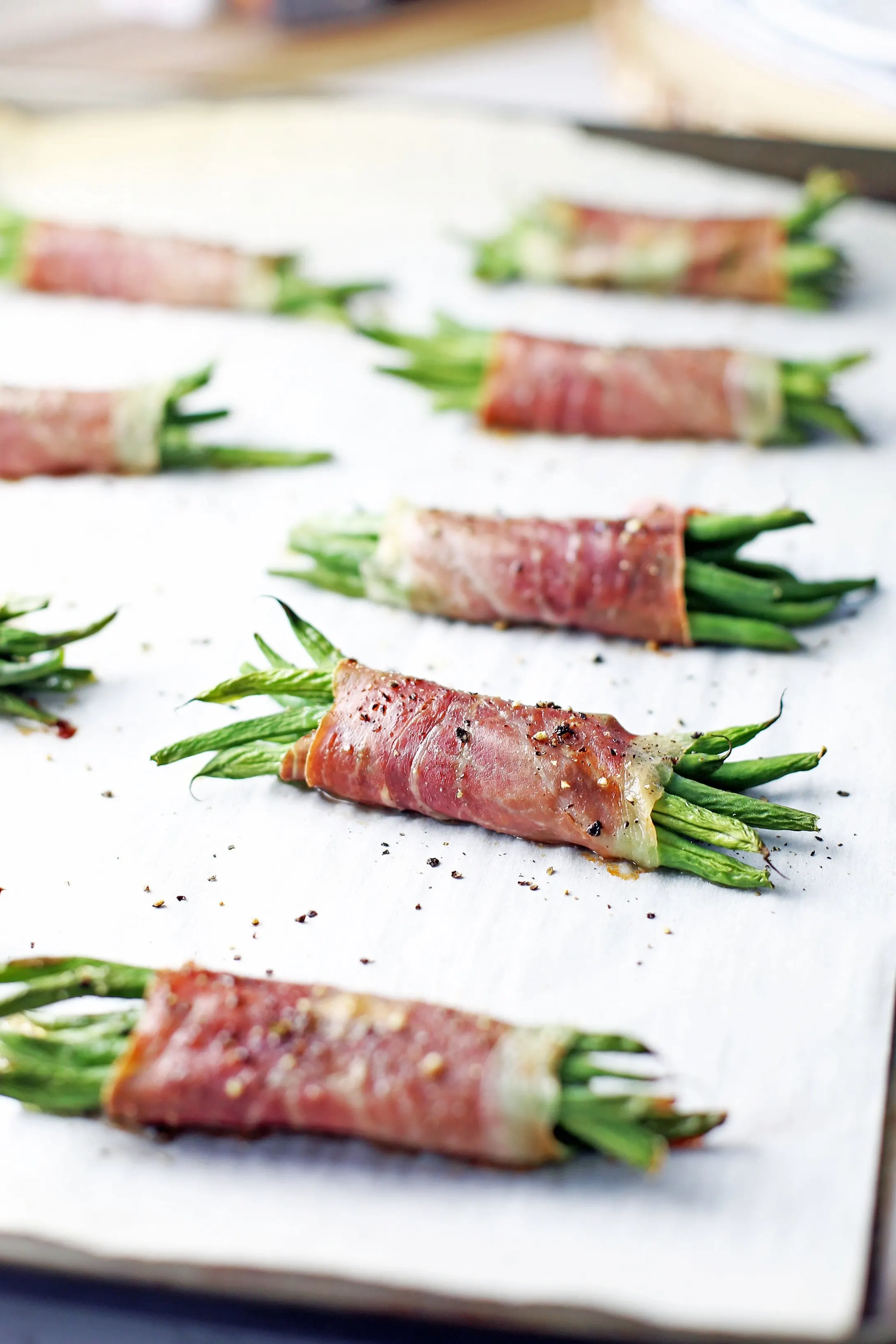 Bake at 425 degrees F for 12-15 minutes until the prosciutto is crispy. Best served immediately.
Here are four more easy appetizers you might be interested in!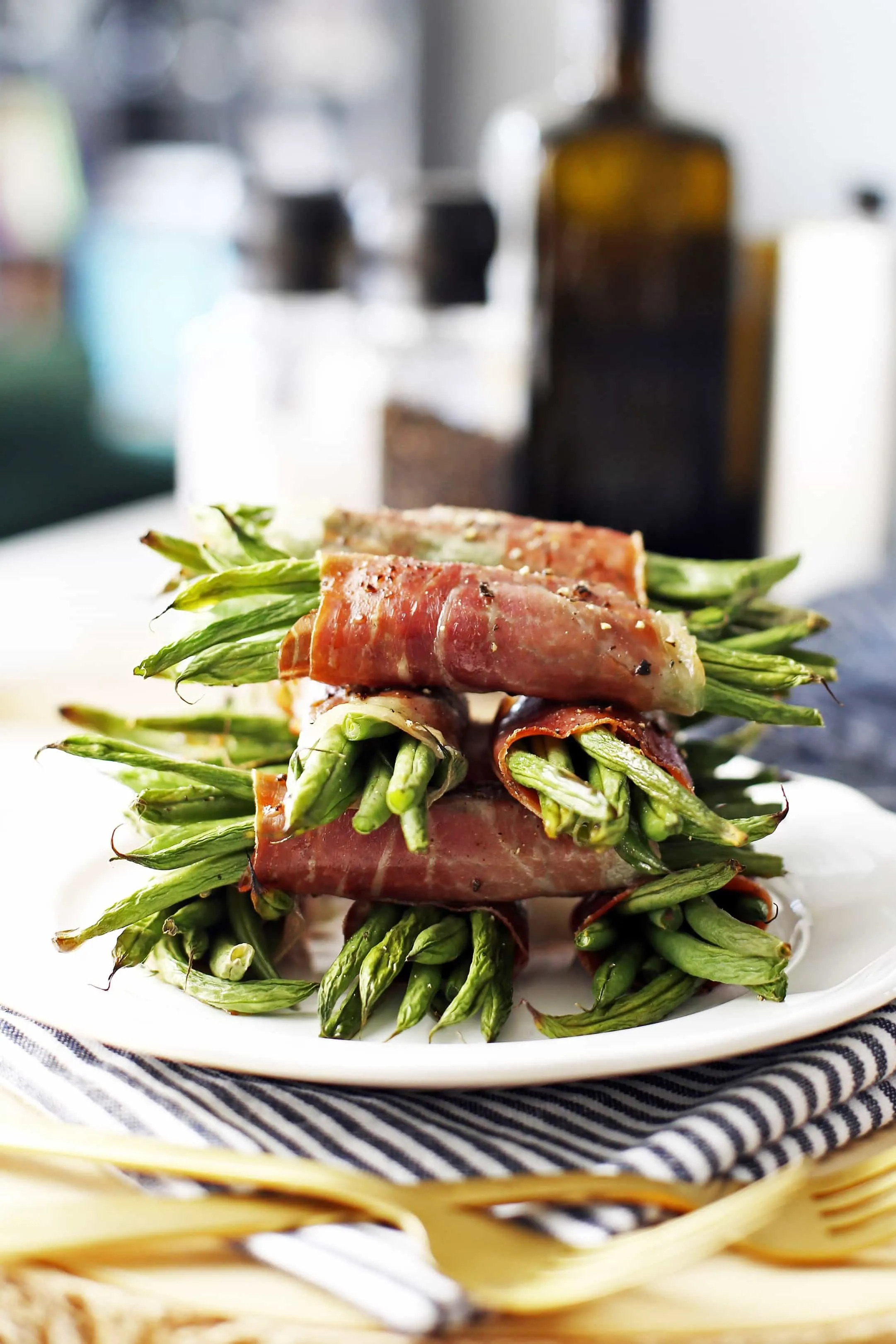 Overall, this prosciutto wrapped green bean recipe is:
Delicious: Savoury and salty flavours from the crispy prosciutto and fresh French green beans.
Quick and easy to make: It takes less than 30 minutes to make from start to finish.
Made with simple ingredients: Only four ingredients!
Wonderful to have as an appetizer or side dish.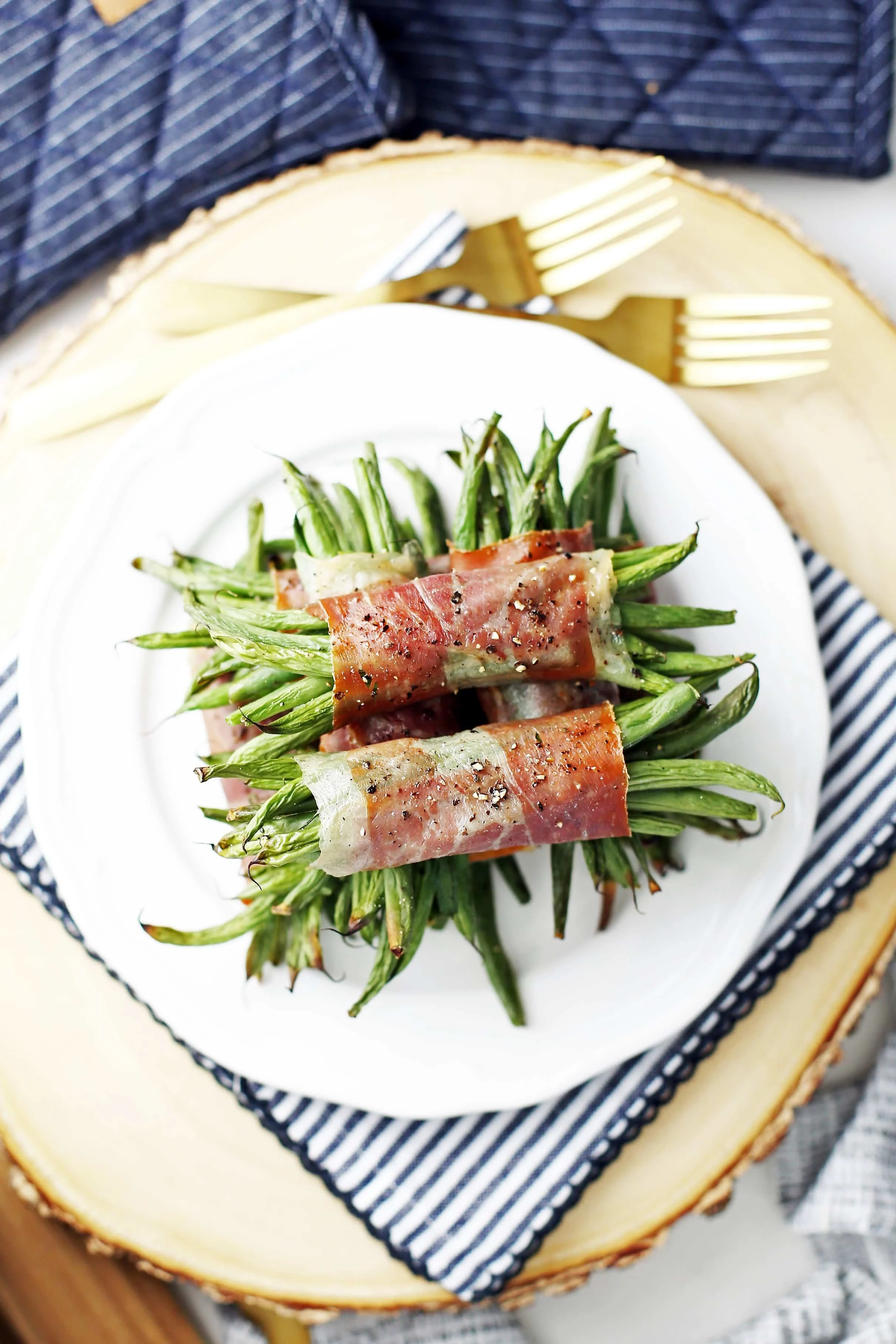 Did you make this green bean recipe? If you did, please leave me a rating and comment down below or tag me on any of my social media. I'm @yay_for_food on Instagram. I'd love a picture!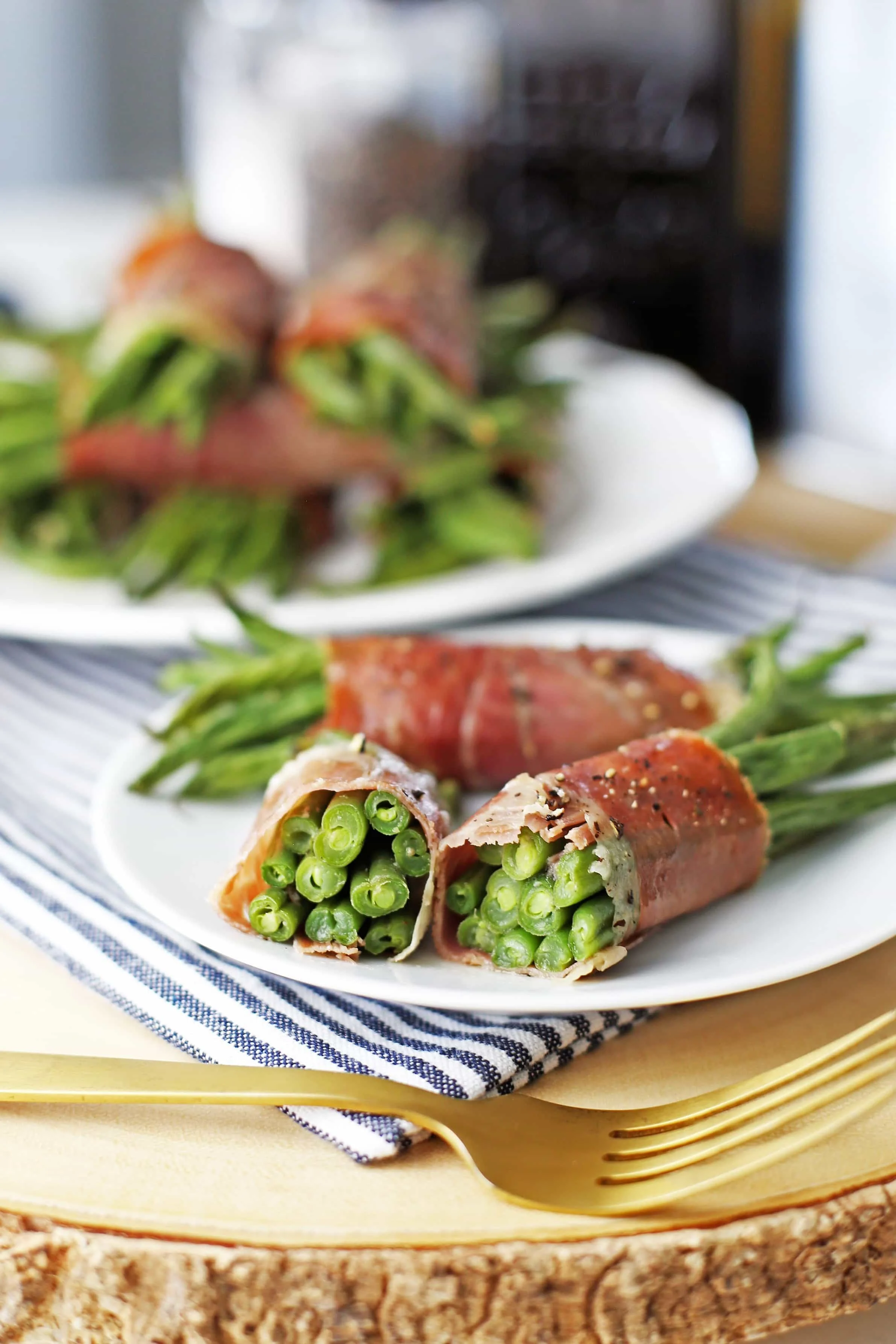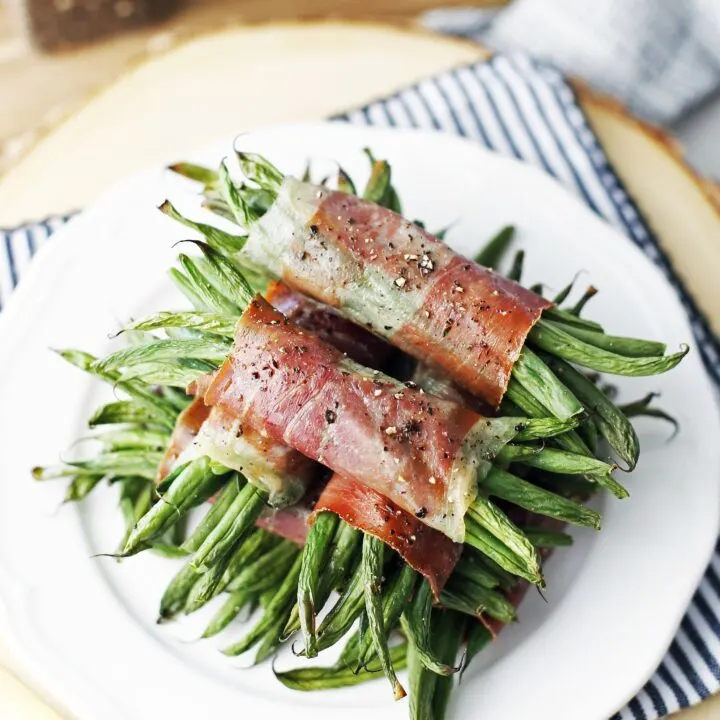 4-Ingredient Prosciutto Wrapped Green Beans
Wonderfully tender green beans get a hug from delicious salty prosciutto in this easy four-ingredient appetizer recipe. These simple, savoury bundles go from your refrigerator to your plate in under 30 minutes.
Ingredients
400g French green beans, trimmed, rinsed, and dried (90 green beans)
125g prosciutto (9 slices)
3 tsp extra virgin olive oil
Freshly cracked black pepper, to taste
Instructions
Preheat the oven to 425 degrees F. Line a large baking sheet with parchment paper.
Wrap a slice of prosciutto around 10 green beans *(see first note) before placing them spaced apart on the baking sheet in a single layer.
Drizzle a small amount of olive oil over each prosciutto wrapped green bean bundle. Then sprinkle black pepper on top of each bundle.
Place in the oven for 12-15 minutes until the prosciutto is crisp and the green beans are tender-crisp.
Best served immediately *(see second note).
Notes
*This is an approximate number of green beans. Add a few less or more to evenly distribute the green beans amongst the nine prosciutto slices.
**After the prosciutto wrapped green beans are ready, you can optionally add a drizzle of balsamic glaze over them to add a sweet-tangy flavour to the dish.
Nutritional information represents one prosciutto wrapped green bean bundle for a total of nine bundles.
Recommended Products
As a participant in the Amazon Services LLC Associates Program, I only link to products that I use and/or highly recommend. As an Amazon Associate, I earn from qualifying purchases if you purchase through these links at no additional cost to you.
Nutrition Information:
Yield:

9
Serving Size:

1
Amount Per Serving:
Calories:

100
Total Fat:

3g
Saturated Fat:

1g
Trans Fat:

0g
Unsaturated Fat:

2g
Cholesterol:

10mg
Sodium:

375mg
Carbohydrates:

4g
Fiber:

1g
Sugar:

2g
Protein:

5g