Hey there! I hope you are doing well. Today's recipe is a quick 30 minute meal that's healthy, tasty, and made with simple ingredients. This easy one pan recipe features salmon fillets, springtime fresh asparagus, bell peppers, and onion.
The salmon is lightly marinated with an easy homemade honey garlic sauce that wonderfully compliments the salmon. Once baked, the honey garlic flavour is subtle, but definitely there.
In other words, the flavours are not in-your-face like my recipe for Maple-Soy Baked Salmon, but rather the salmon has a light sweetness and garlicky bite.
I hope you enjoy this recipe for Sheet Pan Baked Salmon with Asparagus!
How to make this easy sheet pan meal?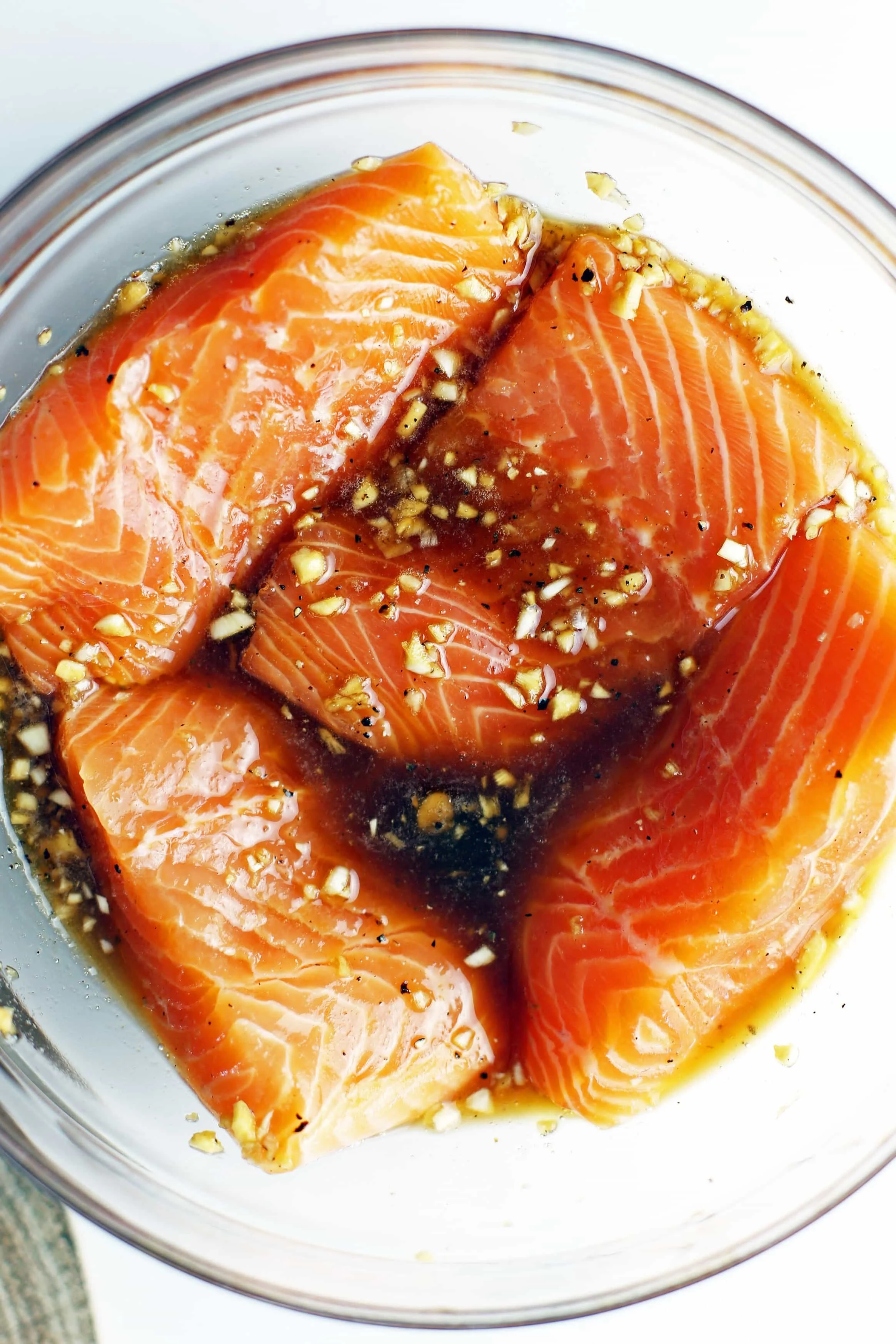 Whisk together the marinade ingredients in a bowl. Then place the salmon in a large bowl (or in a Ziploc bag) and pour the marinade over top. Cover and refrigerate for 15 minutes. (Complete ingredient amounts and instructions in the recipe card down below).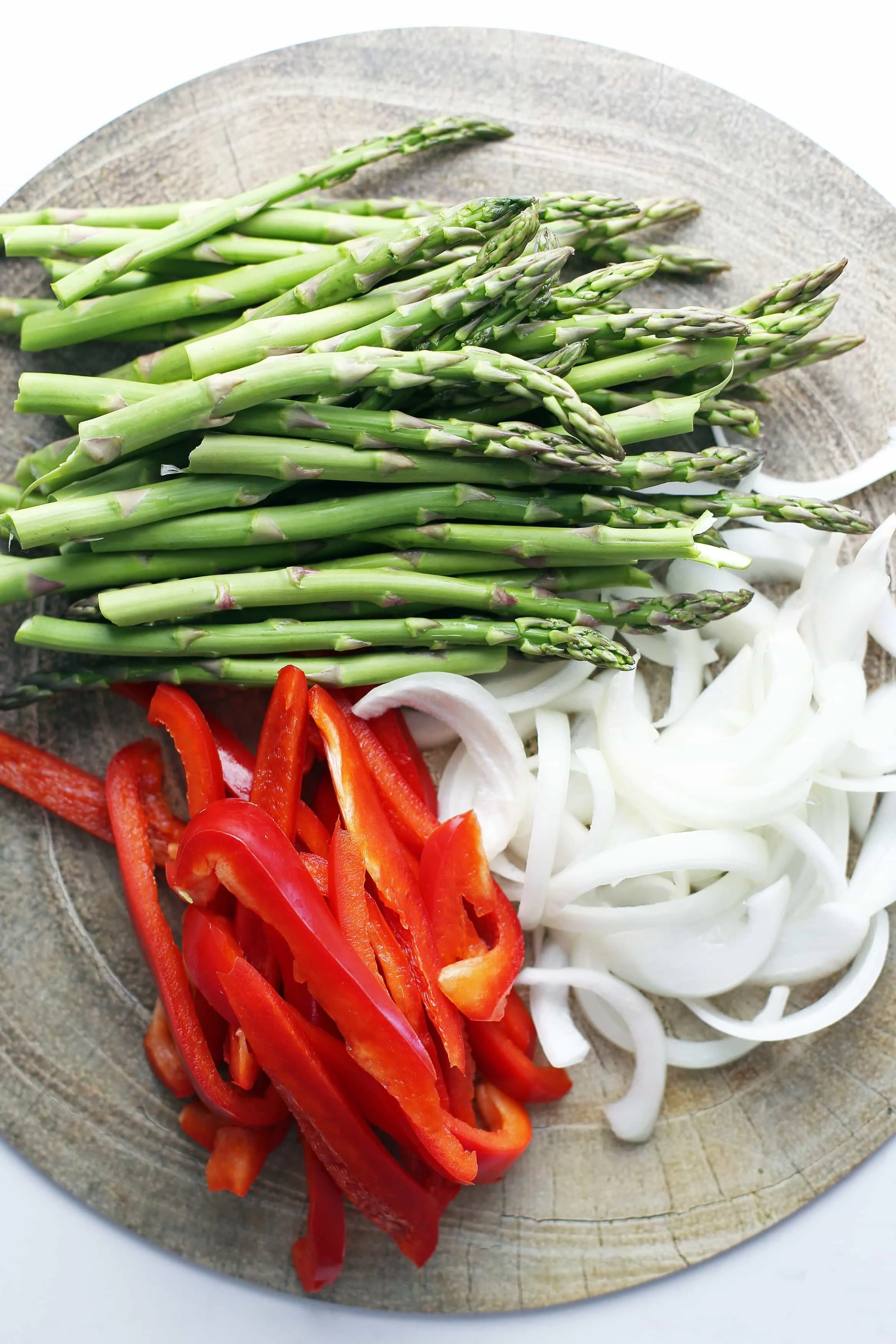 As the salmon marinades, prepare the vegetables by slicing the bell pepper and onions and removing the woody stems from the asparagus.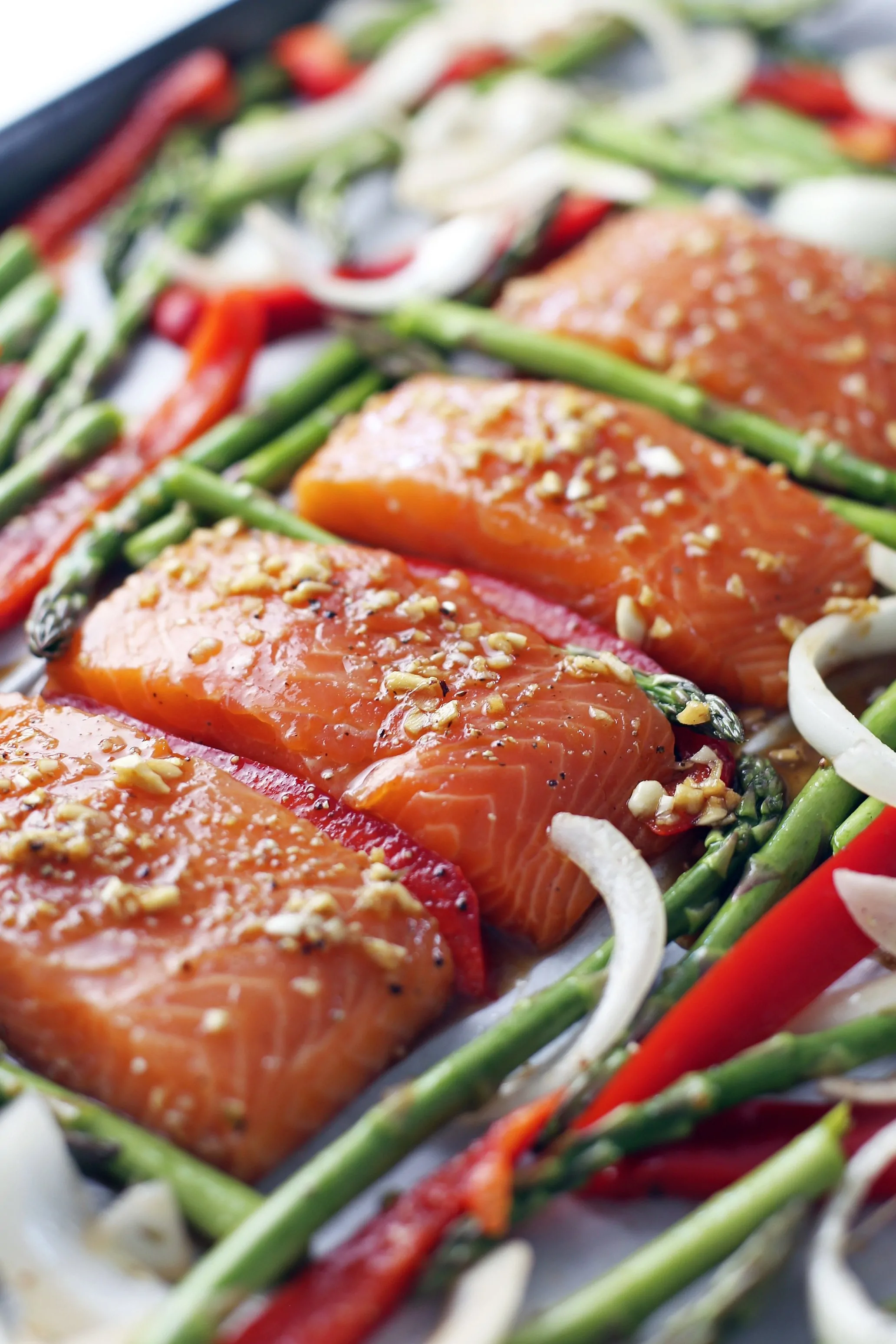 Toss the vegetables with olive oil, salt, and pepper and then spread out the vegetables into a single layer on a parchment paper lined baking sheet. Make room for the salmon. Pour the excess marinade (left in the bowl) over the salmon.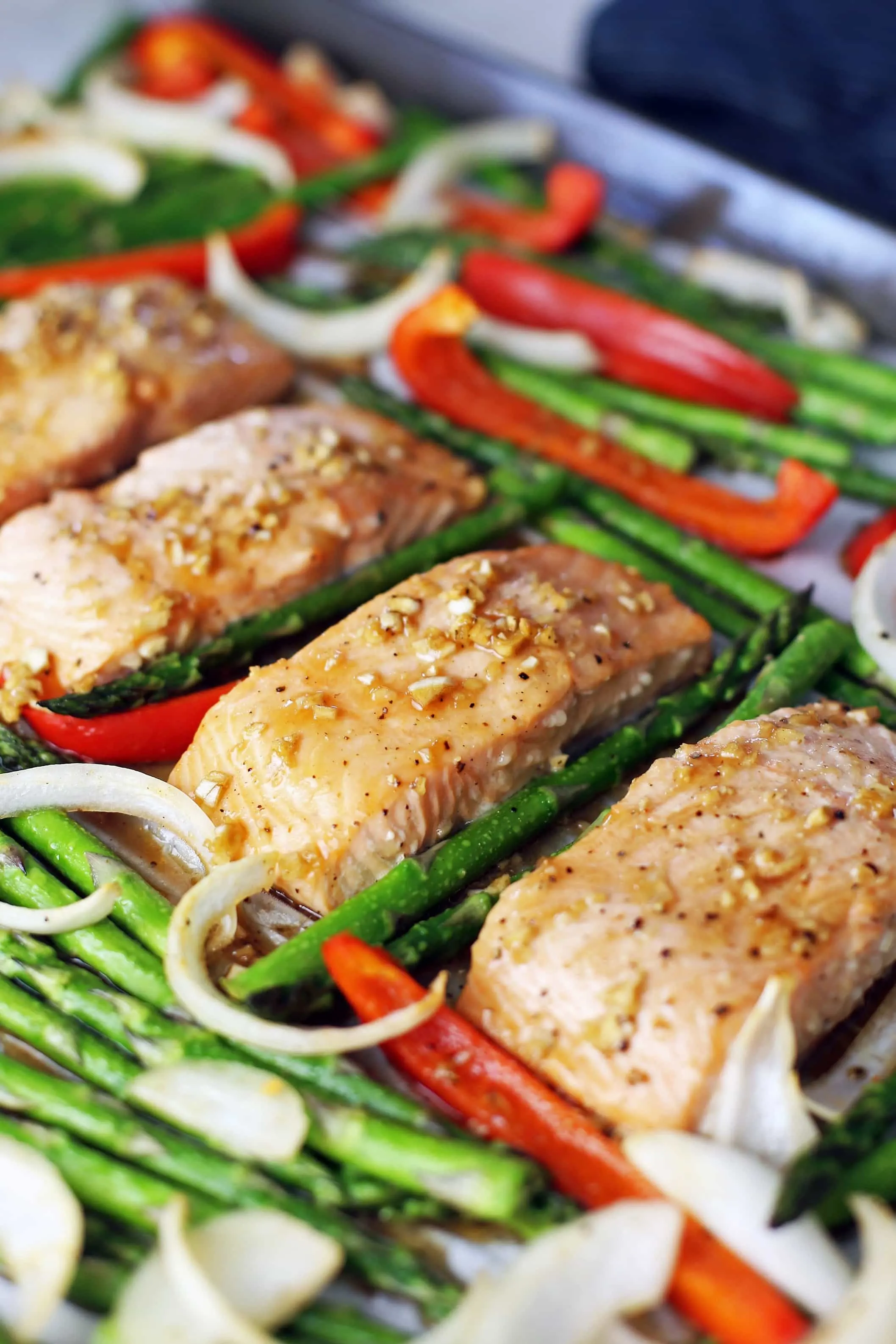 Bake for 10-15 minutes until the salmon is cooked to your desired doneness (the salmon easily flakes). Top the salmon with toasted sesame seeds if you like. Enjoy!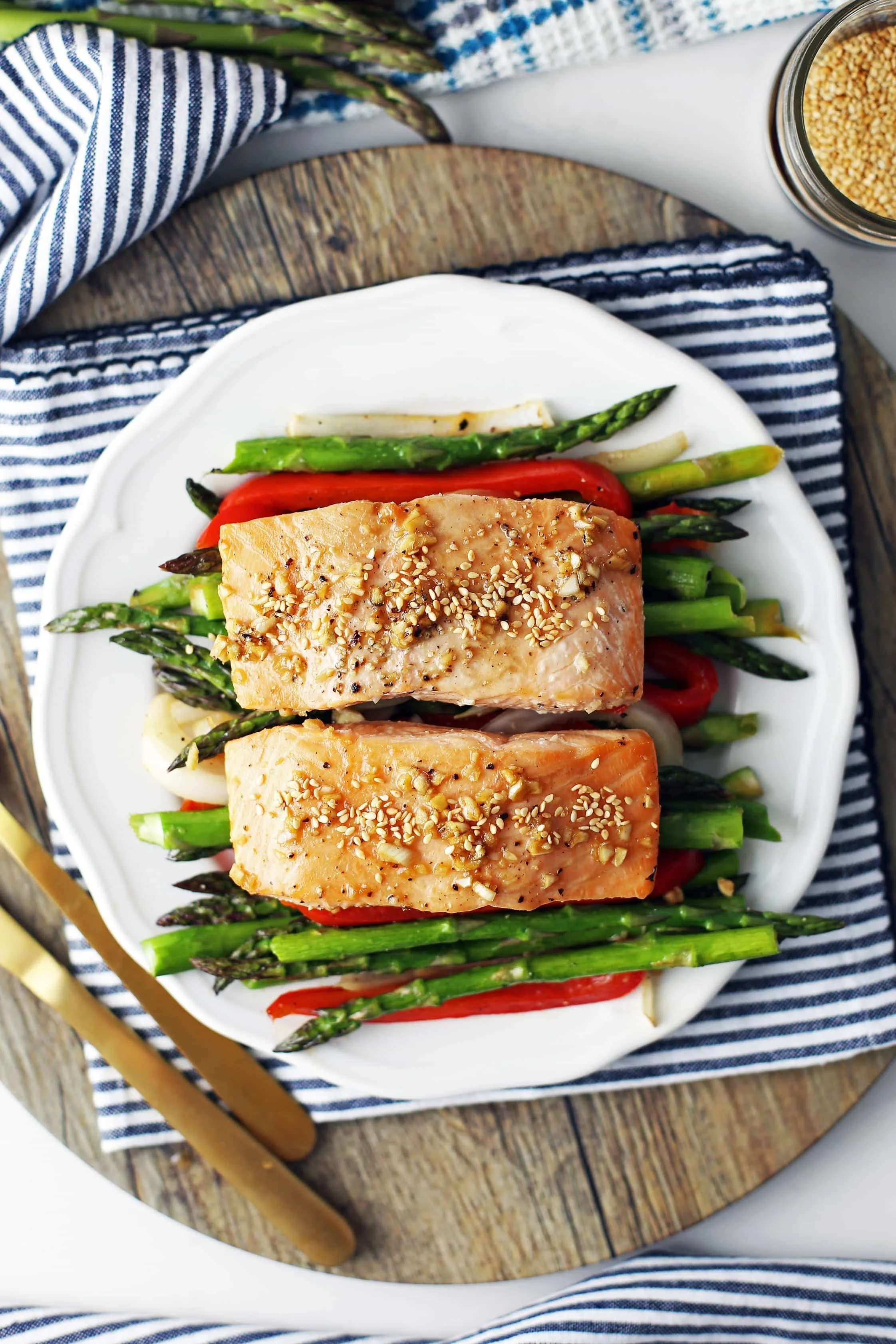 Here are some helpful Quick Tips!
Make sure the salmon is uniform in size so they will be cooked to the same doneness at the same time. I used Atlantic salmon that were approximately 125 grams each.

You'll know the salmon is done when it flakes easily with a a folk and the flesh looks opaque. TheUSDA recommends cooking fish to an internal temperature of 145 degrees F (62.8 degrees C) that's measured at the thickest part of the fish.

The thicker stem part of the asparagus is hard to eat because the texture is tough and unpleasantly stringy, so remember to remove the woody stems before cooking.

How to remove the woody stems of the asparagus?

Bend each asparagus spear using both hands near the woody stem until it snaps at its natural breaking point. Then discard the stem ends, leaving you with the tender top parts to use.

Cook up rice or quinoa to add to the fish and vegetables for a more complete (added carb) meal if you desire.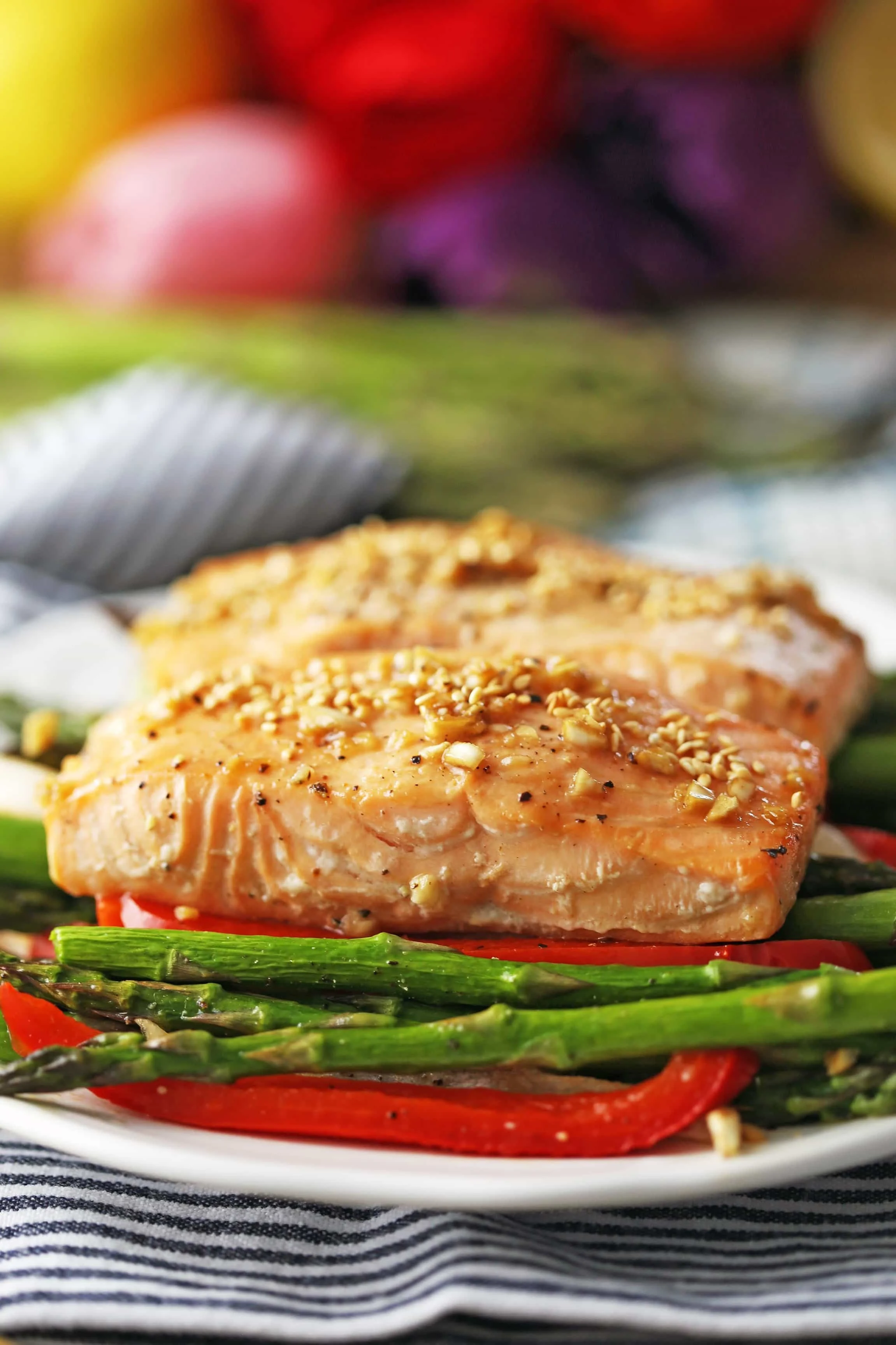 Like one pan and one pot recipes? Check out these four!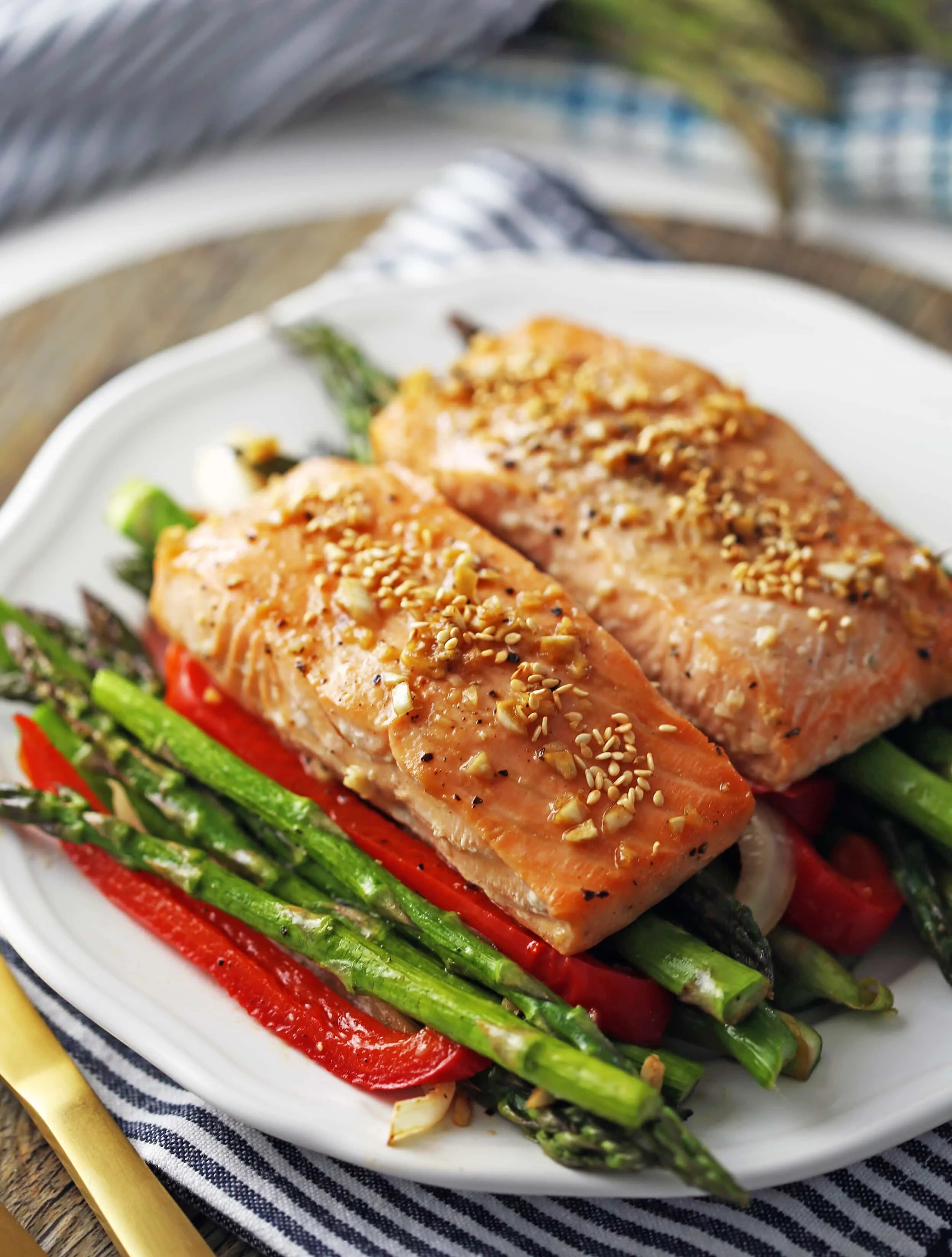 In summary, this sheet pan recipe:
Is delicious and healthy: Tasty salmon that's high in protein and omega-3 fatty acids and colourful vegetables including asparagus make this meal perfect for spring and summer time!
Is quick and easy: Everything is cooked on one large baking sheet (sheet pan) and is ready in only 30 minutes.
Uses simple and minimal ingredients: This recipe uses just a few ingredients that's likely easy to find at your local grocery store or probably in your kitchen pantry or fridge already.
Is a great weeknight or lazy day meal to make!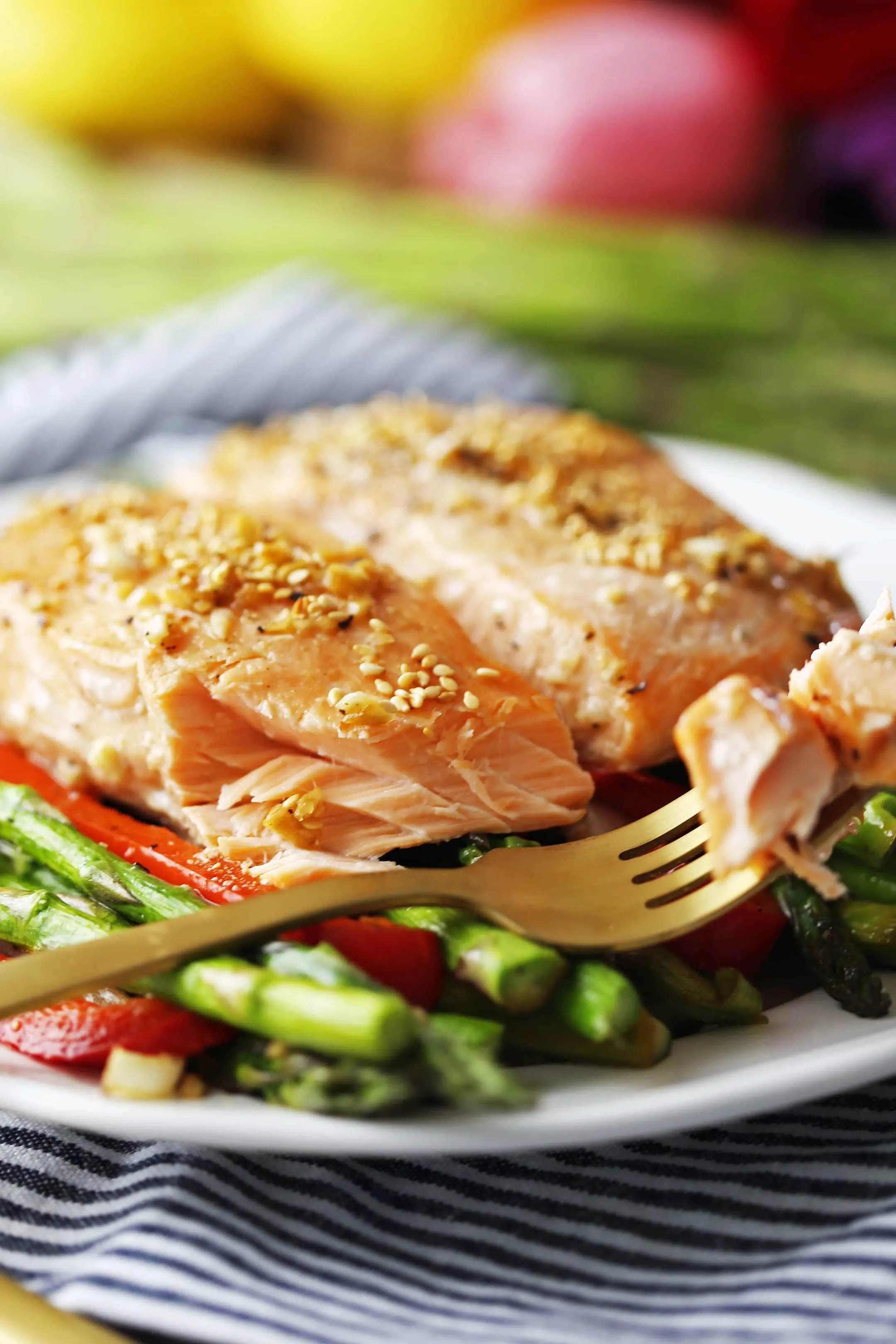 I hope you try this easy salmon recipe! If you do, please leave me a rating and comment down below or tag me on any of my social media. I'm @yay_for_food on Instagram. Please share your recipe pictures!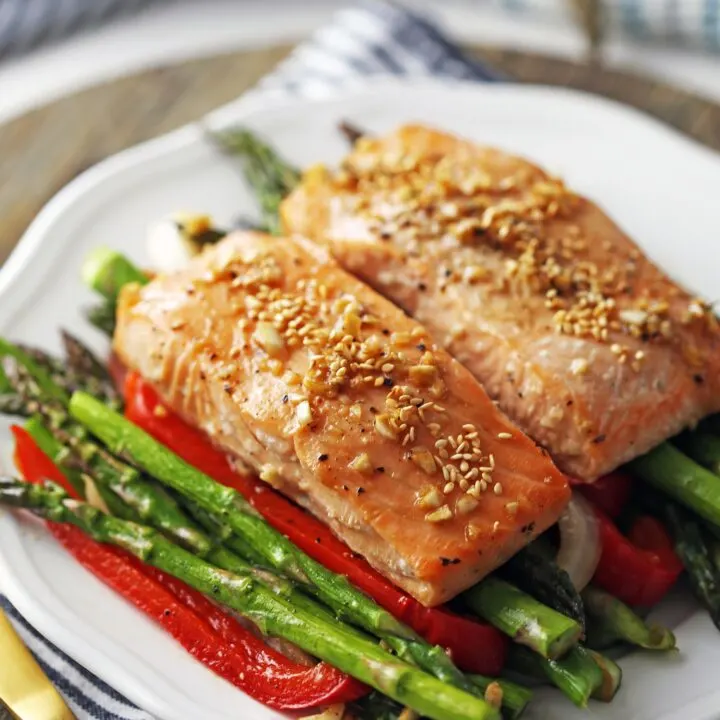 Sheet Pan Baked Salmon with Asparagus
A subtle hint of garlic and honey bring delicious flavour to this sheet pan salmon recipe. Together with asparagus and peppers, it's a simple and healthy option for the perfect weekday meal.
Ingredients
For the sheet pan meal:
4 skinless boneless salmon fillets *(see first note)
1 lb. fresh asparagus, woody stems removed
1 large bell pepper, discard seeds and sliced
1 small onion, sliced
2 tbsp olive oil
Salt and pepper, to taste
For the marinade:
3-4 garlic cloves, minced
3 tbsp pure honey
2 tbsp lemon juice
1 tbsp light soy sauce
Salt and pepper, to taste
Optional topping:
Instructions
In a medium bowl, whisk together the marinade ingredients until well-combined.
Place the salmon in a large bowl (or large Ziploc resealable bag) and pour the marinade on top, making sure that the salmon is evenly coated. Cover with plastic wrap and place in the refrigerator for 15 minutes.
As the salmon marinades, preheat the oven to 400 degrees F and line a large baking sheet with parchment paper.
Prepare the vegetables (peeling and slicing) then place them onto the baking sheet. Drizzle with olive oil and a generous amount of salt and pepper. Toss to coat before spreading the vegetables into a single layer (slight overlap is okay) leaving space in the center of the baking sheet for the salmon.
Once the salmon fillets are done marinating, place the salmon in the open space on the baking sheet. Pour the leftover marinade over the salmon.
Bake for 10-15 minutes depending on the thickness of the salmon and desired doneness (the salmon should flake easily with a fork).
Sprinkle with a pinch of salt and pepper. Optionally top with toasted sesame seeds. Best served immediately.
Notes
*I used salmon fillets that were approximately 125g each.
The honey garlic marinade is subtle, but present once the salmon is baked. So it's not an in-your-face pop of flavour, but rather lightly flavoured.
Nutritional information represents one serving for a total of four servings.
Recommended Products
As a participant in the Amazon Services LLC Associates Program, I only link to products that I use and/or highly recommend. As an Amazon Associate, I earn from qualifying purchases if you purchase through these links at no additional cost to you.
Nutrition Information:
Yield:

4
Serving Size:

1
Amount Per Serving:
Calories:

663
Total Fat:

39g
Saturated Fat:

7g
Trans Fat:

0g
Unsaturated Fat:

28g
Cholesterol:

143mg
Sodium:

579mg
Carbohydrates:

25g
Fiber:

4g
Sugar:

16g
Protein:

55g