Hello there! I know it's not quite summer time for another couple of months, but I couldn't help, but post this tasty and easy watermelon and berry salad that's perfect to eat during the warmer months.
It's totally refreshing, naturally sweet and tart, and pretty to look at too. Don't you just love a colourful salad?
Along with the summer fruits, mix in a little bit of rich pure honey, cooling mint, and bright fresh lime juice, and you've got a delicious fruit salad that's lovely to serve as a side dish or healthy dessert.
I hope you enjoy this recipe for Watermelon Berry Summer Salad!
How do you prepare this easy watermelon salad?
(Complete ingredient amounts and instructions available in the recipe card down below).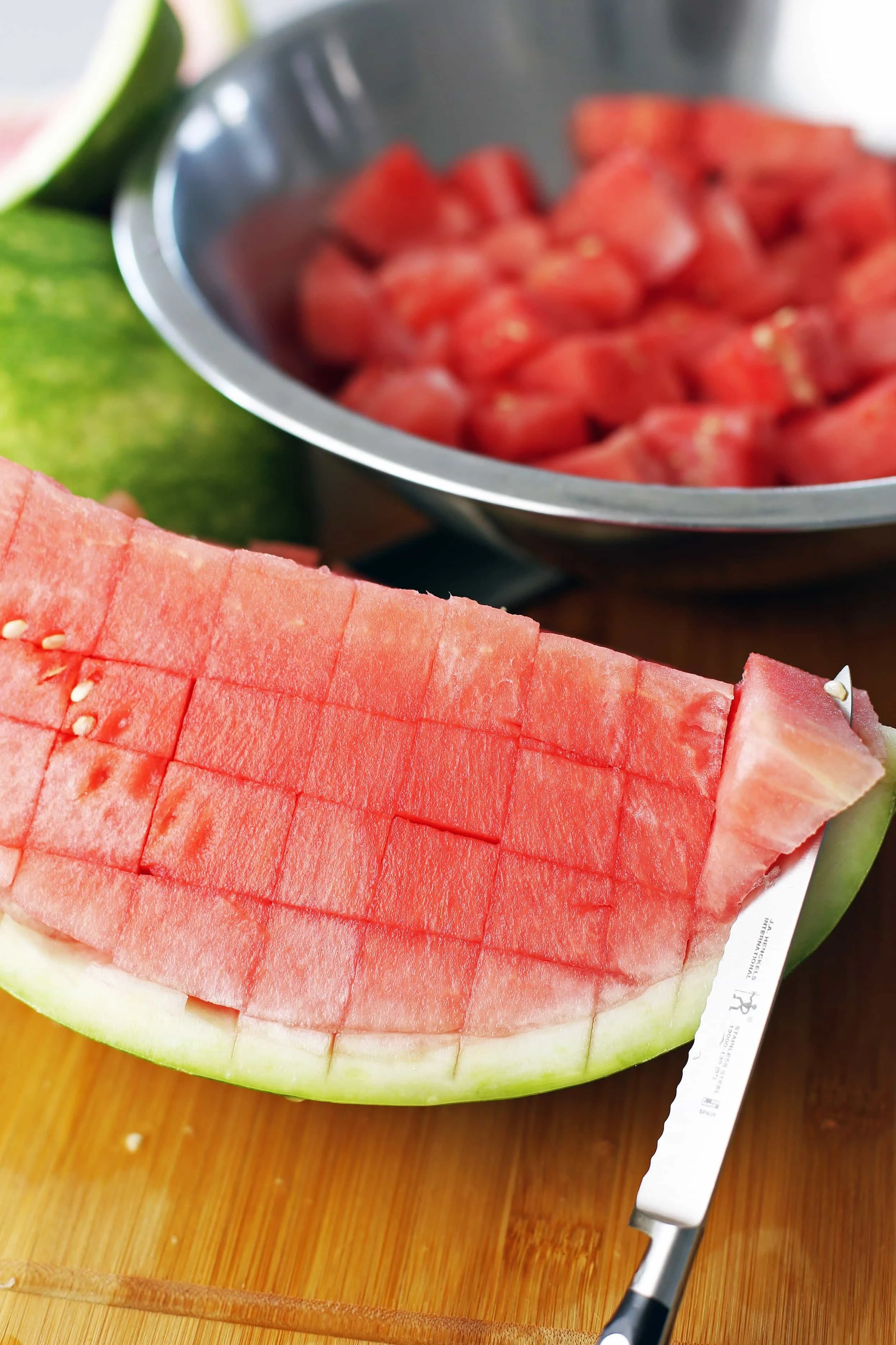 The "hardest" part is chopping up the watermelon. Everyone has a different way of cutting up one.
Here's how I chopped up my watermelon:
First I quartered the watermelon lengthwise. Then I take one of the quartered watermelon pieces and sliced the watermelon (just to the rind) to make 1/2 to 1-inch wedges.
I then made three slices lengthwise on both sides of the watermelon (see photo above). Last, I took a knife and sliced in between the rind and the pink flesh to separate the chopped pieces of watermelon from the rind.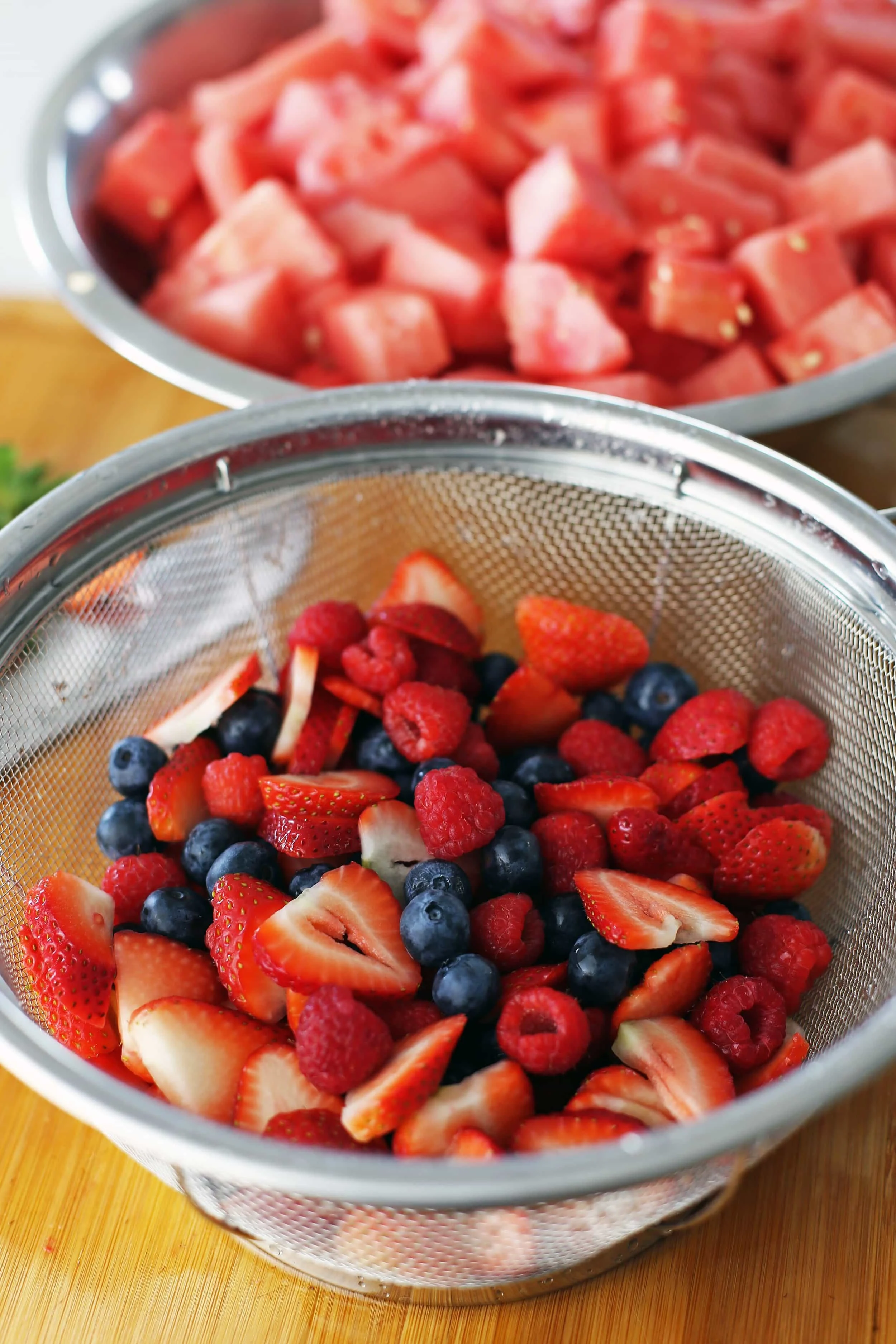 Then you remove the green leafy tops (hull) from the strawberries and slice them up. Don't forget to give your berries a rinse under cold water.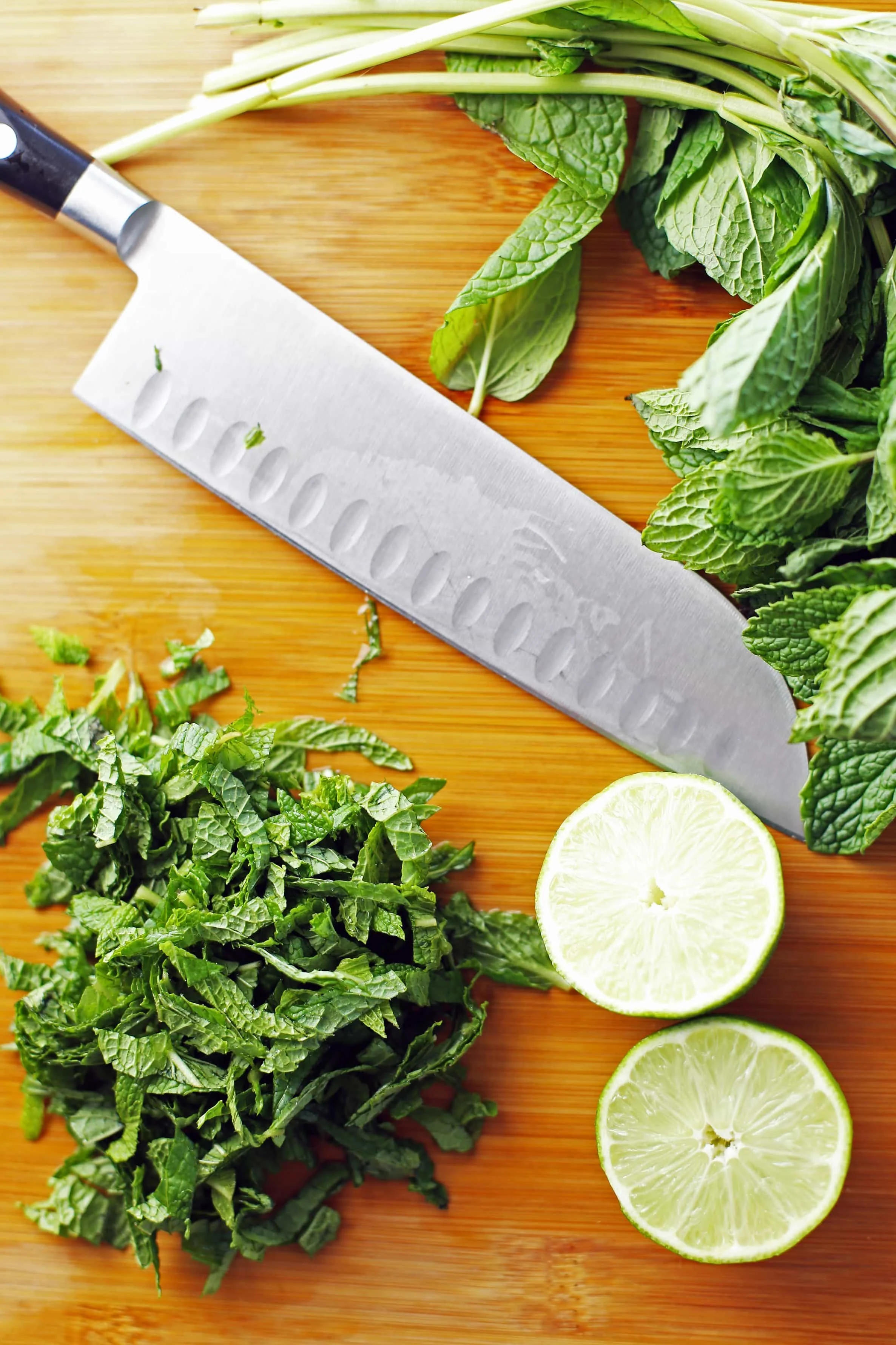 Thinly slice up your fresh mint. TIP: The easiest way is to bunch up your mint leaves into a log and then slice to create thin ribbons.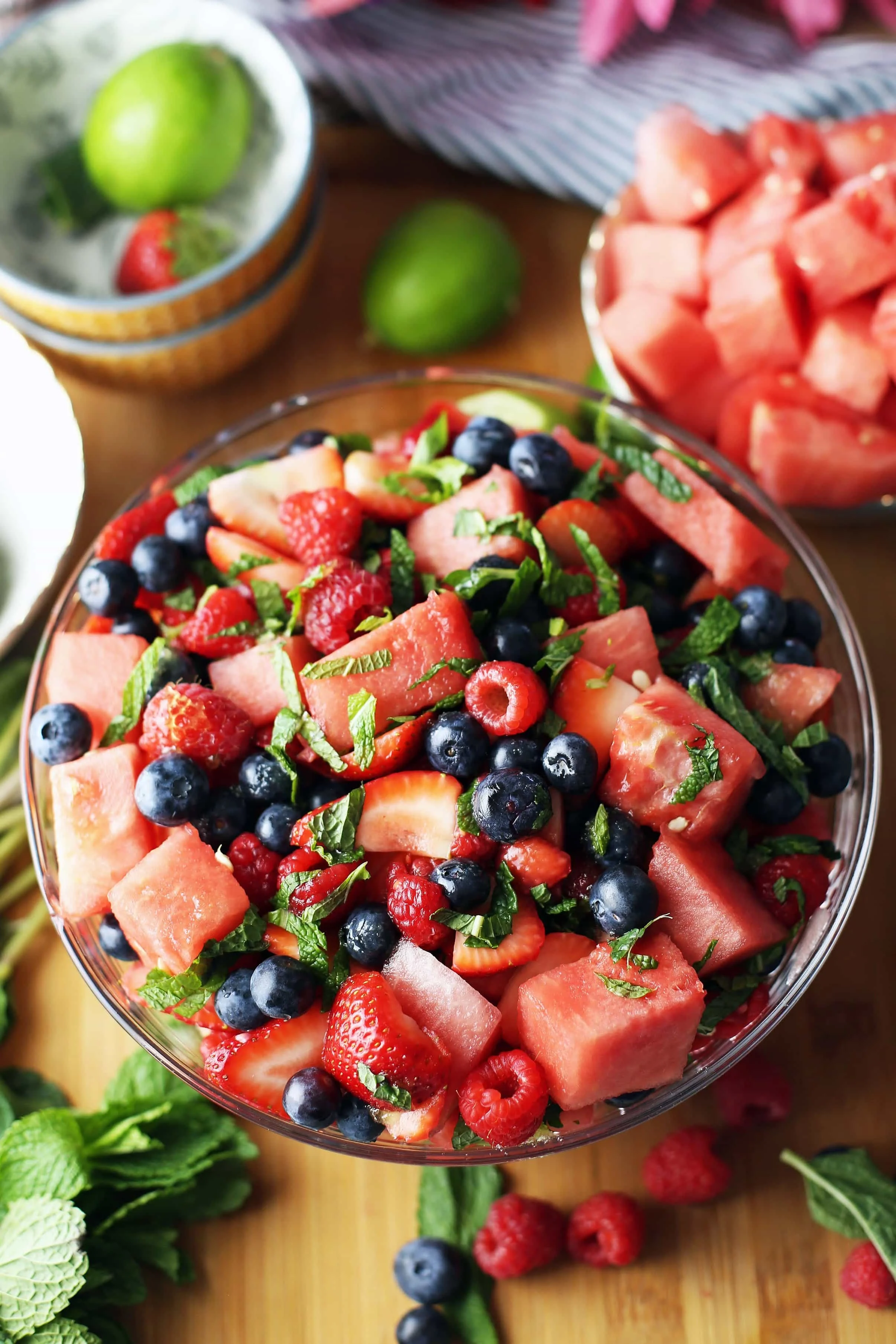 Place the fruit into a long bowl, drizzle the honey and lime juice on top, and sprinkle the mint onto the fruit as well. Then gently toss all the ingredients together. Now it's ready to enjoy (or refrigerate until you are ready to serve).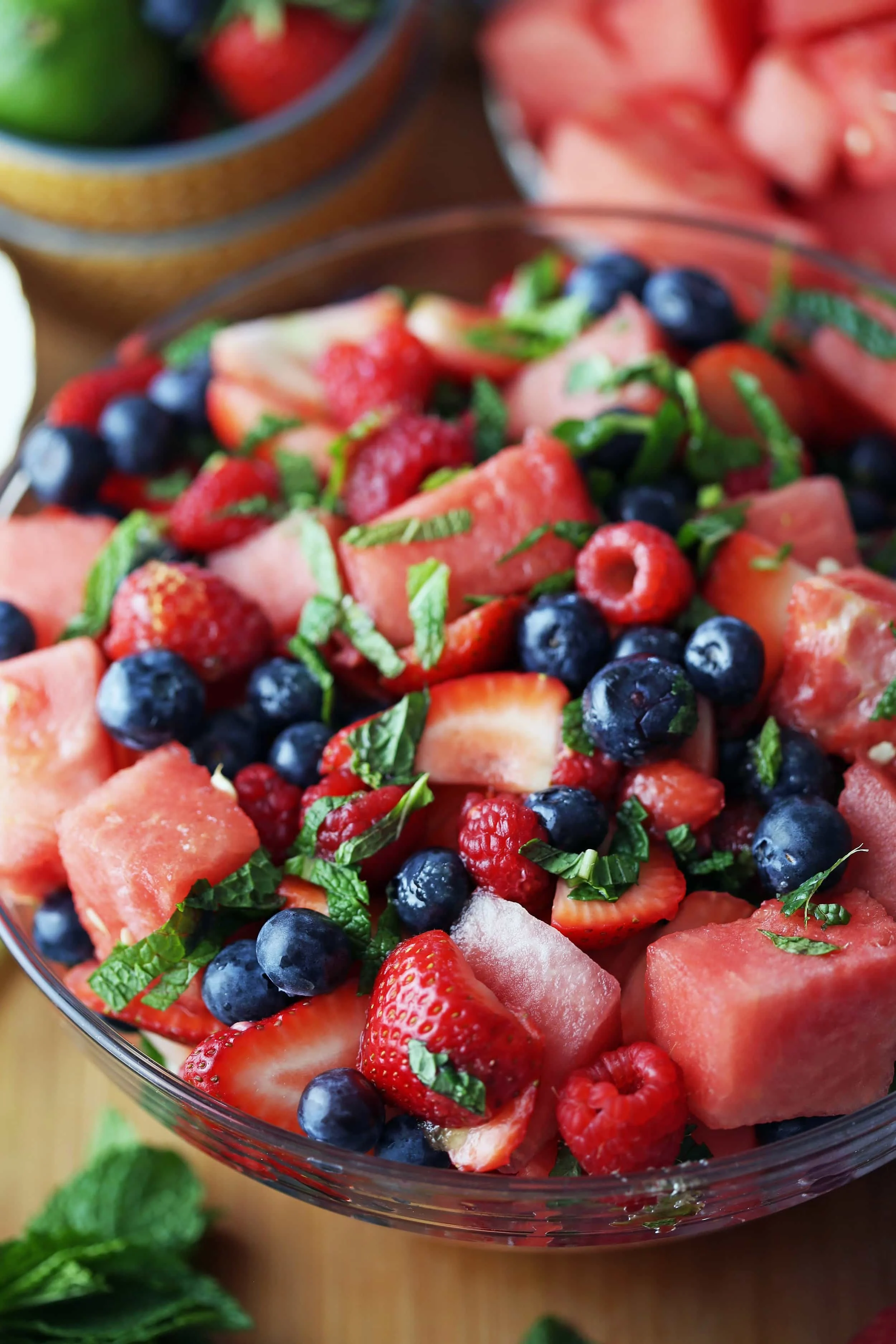 Here are four more salads (featuring fruit) that are perfect for spring and summer!
Can you tell that I'm a fan of spinach salads and homemade dressings?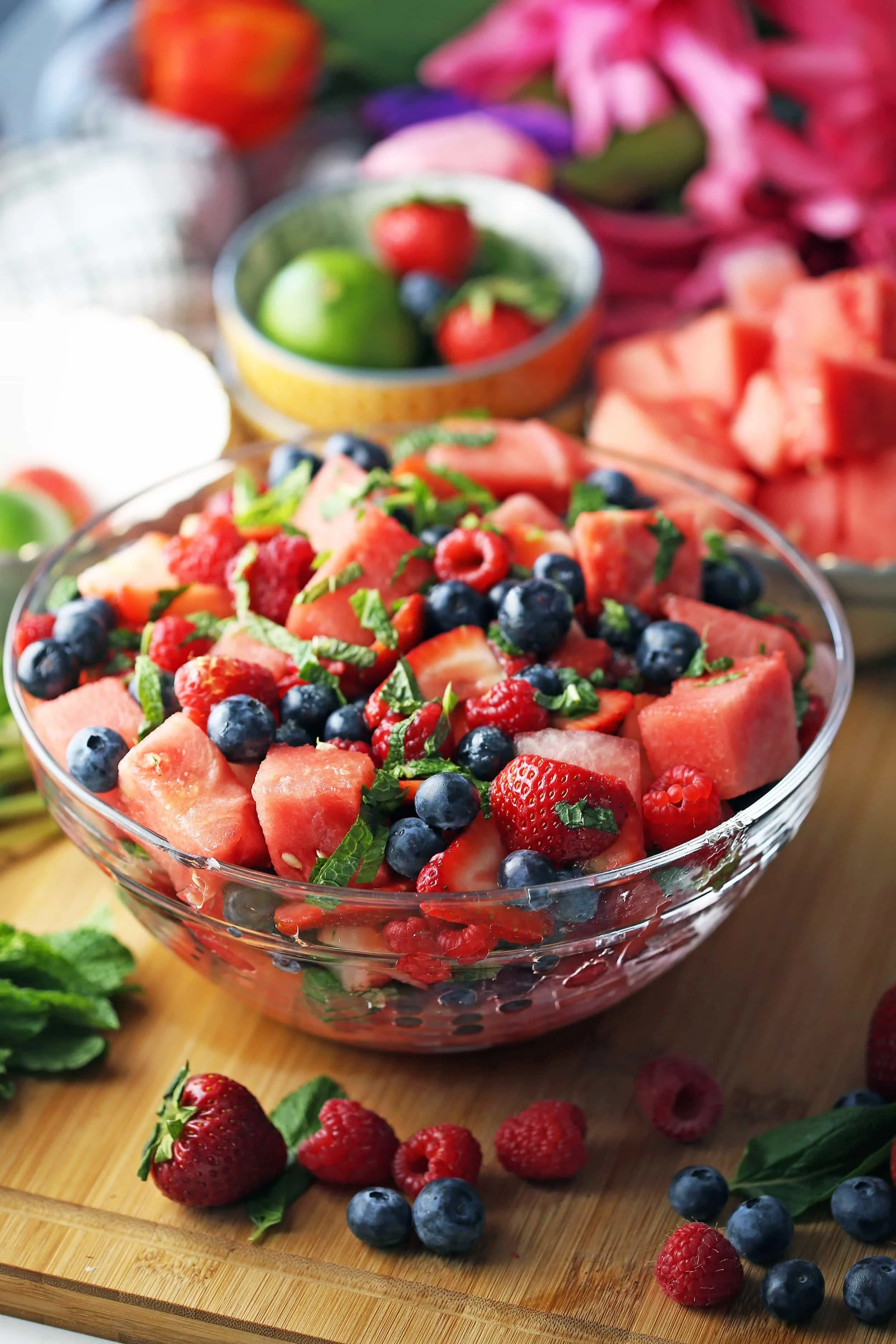 Overall, this refreshing watermelon salad:
Is fresh and delicious: sweet, bright, and refreshing!
Is colourful: red, pink, blue, and green ingredients look so pleasing to eat.
Is quick and easy to assemble.
Has only seven ingredients: You can add more or less types of berries if you chose.
Can easily be halved or scaled up to make more.
Is perfect to serve at a picnic, barbecue, or at a get-together or to make for meal prep.
Is wonderful as leftovers (cover and refrigerate for up to 4 days).
Is vegetarian and gluten-free too.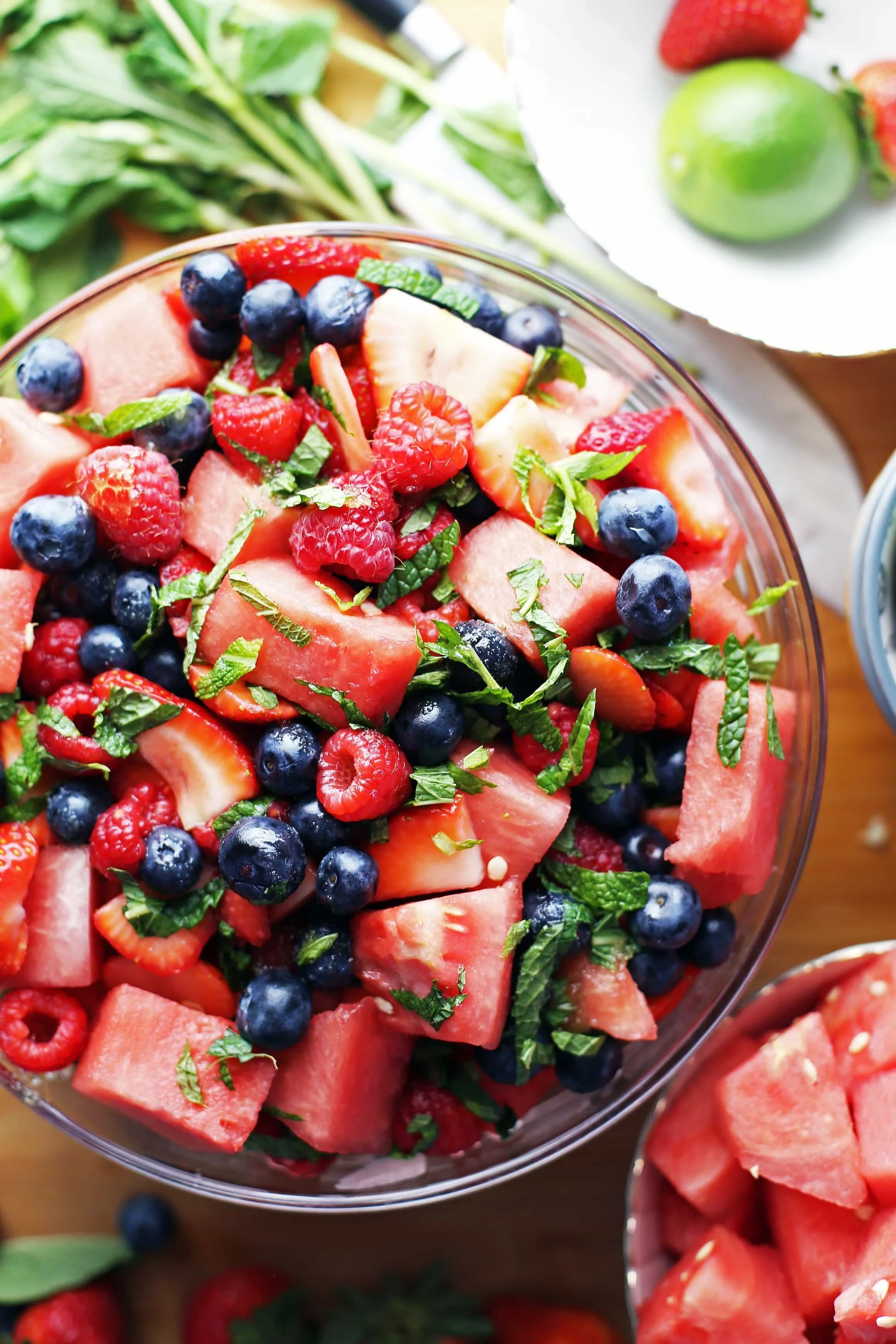 I hope you try this fruit salad recipe! If you do, please leave me a rating and comment down below or tag me on any of my social media. I'm @yay_for_food on Instagram. Please share a picture!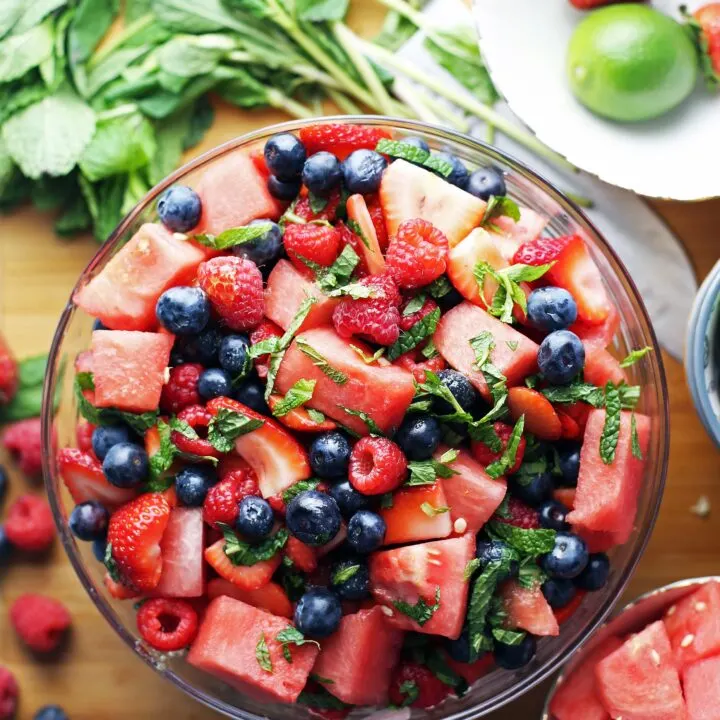 Watermelon Berry Summer Salad
Yield:
6-8 (makes around 10 cups)
Bursting with sweet, colourful fruit and fresh, cooling mint, this vibrant watermelon salad recipe is so easy to make and delicious you'll want to serve it all summer long.
Ingredients
5 heaping cups seedless watermelon, rind removed and chopped in cubes (½ - 1-inch pieces)
2 heaping cups strawberries, hulled and sliced
1½ cups blueberries
1½ cups raspberries
½ cup (packed) fresh mint, thinly sliced
¼ cup pure honey
2 tbsp fresh lime juice (1 lime)
Instructions
Place all the prepped ingredients into a large bowl.
Gently toss to distribute the ingredients (be careful not to break the raspberries).
Can be enjoyed immediately, but best to cover with plastic wrap and refrigerate for at least an hour prior to serving to allow the flavours to marry together. Best served cold.
Notes
Can be kept for up to 4 days. Cover tightly and store in the refrigerator.
Nutritional information represents one serving for a total of eight servings.
Recommended Products
As a participant in the Amazon Services LLC Associates Program, I only link to products that I use and/or highly recommend. As an Amazon Associate, I earn from qualifying purchases if you purchase through these links at no additional cost to you.
Nutrition Information:
Yield:

8
Serving Size:

1
Amount Per Serving:
Calories:

104
Total Fat:

1g
Saturated Fat:

0g
Trans Fat:

0g
Unsaturated Fat:

0g
Cholesterol:

0mg
Sodium:

3mg
Carbohydrates:

27g
Fiber:

4g
Sugar:

21g
Protein:

1g