Hey there! I'm tired, how are you? The last few days has been lovely celebrating Christmas with my family.
With my family, it's all about getting together, catching up on anything new, and eating so much food. Needless to say, I've been eating turkey (and all the sides) for days.
Plus it's almost New Years soon! Time for a (another) drink!
Yesterday, I posted a super simple recipe for a Cranberry Whiskey Ginger Cocktail. Check it out if you like.
I'm following that refreshing drink up with another simple alcoholic mixed drink that's easy to make and perfect to serve during the winter holidays.
This cocktail features brandy. Use your choice of brandy. I used an affordable, but good French brandy that's described as having fruity and floral aroma with light woody and vanilla notes. Great for using in mixed drinks!
The brandy is combined with freshly squeezed sweet orange juice, fragrant and aromatic spices (cinnamon sticks and whole allspice berries), and ginger ale to add additional sweetness and a mild spicy bite. The carbonation from the soda (pop) gives this cocktail a little bubbly fizz, which is palette pleasing.
I hope you enjoy this recipe for Spiced Orange Brandy Spritzers!
How do you make this mixed drink?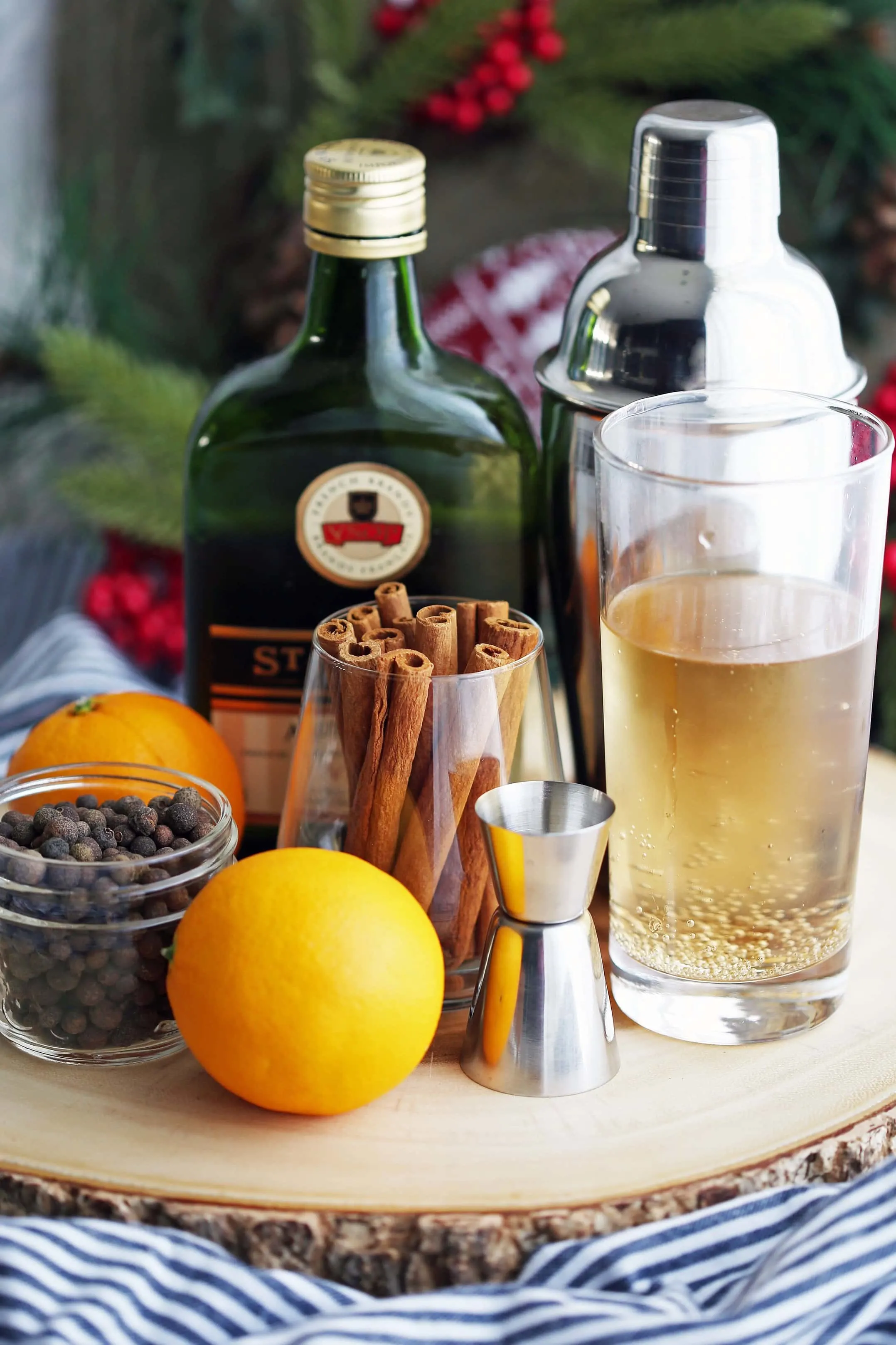 All the ingredients. (You won't need all of this!) Ingredients amounts and full instructions provided in the recipe card down below.
Did you know that allspice is a berry and not a mixture of spices as its name suggests? Whole allspice berries (also called Jamaica pepper or pimento berries) are from the Jamaican bayberry tree.
It has warming, sweet notes similar to cloves, cinnamon, and nutmeg making it versatile in cooking and baking.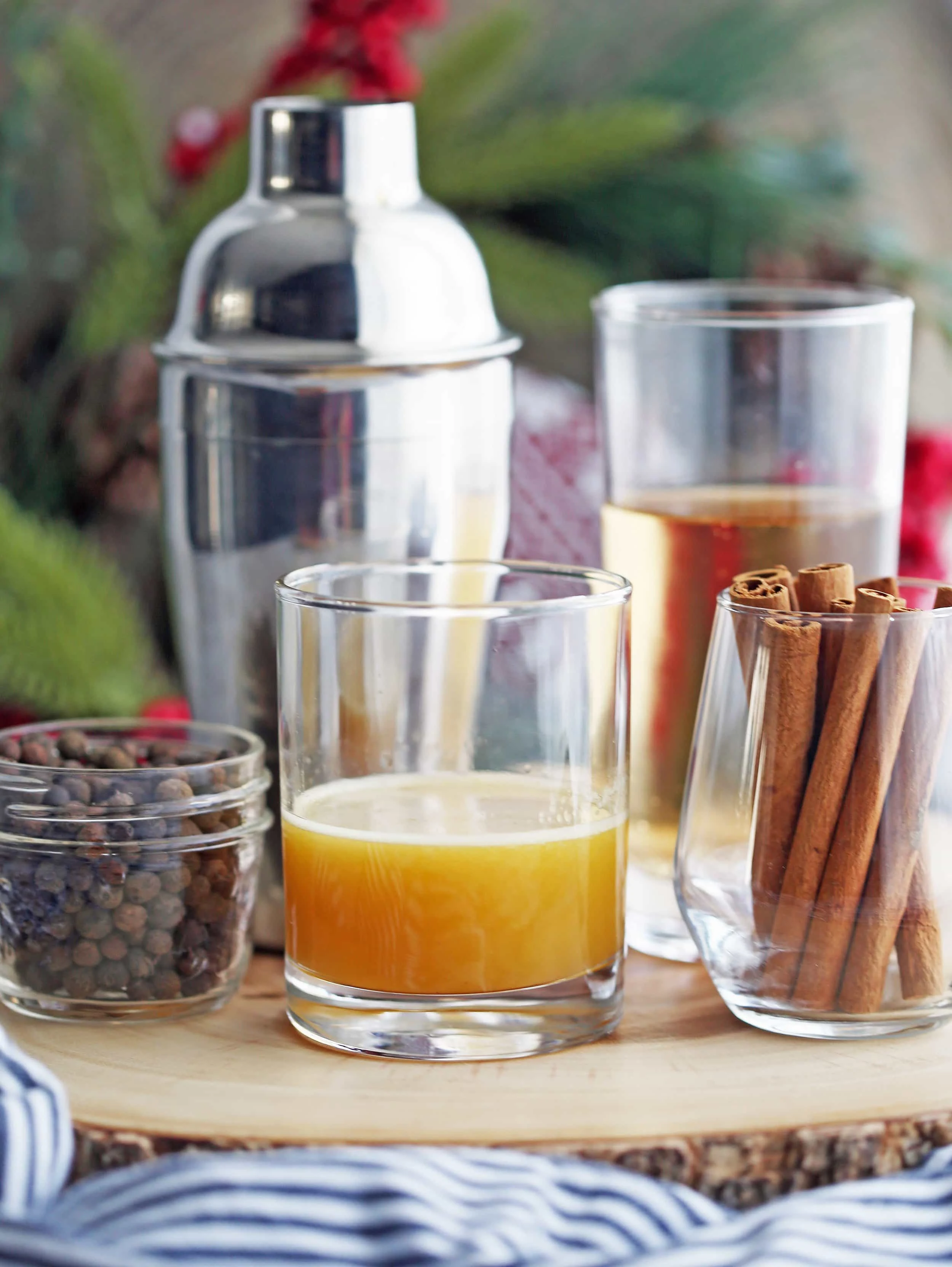 In a cocktail shaker, shake together brandy, orange juice, whole allspice berries, and cinnamon stick for 45-60 seconds. Then pour into a glass.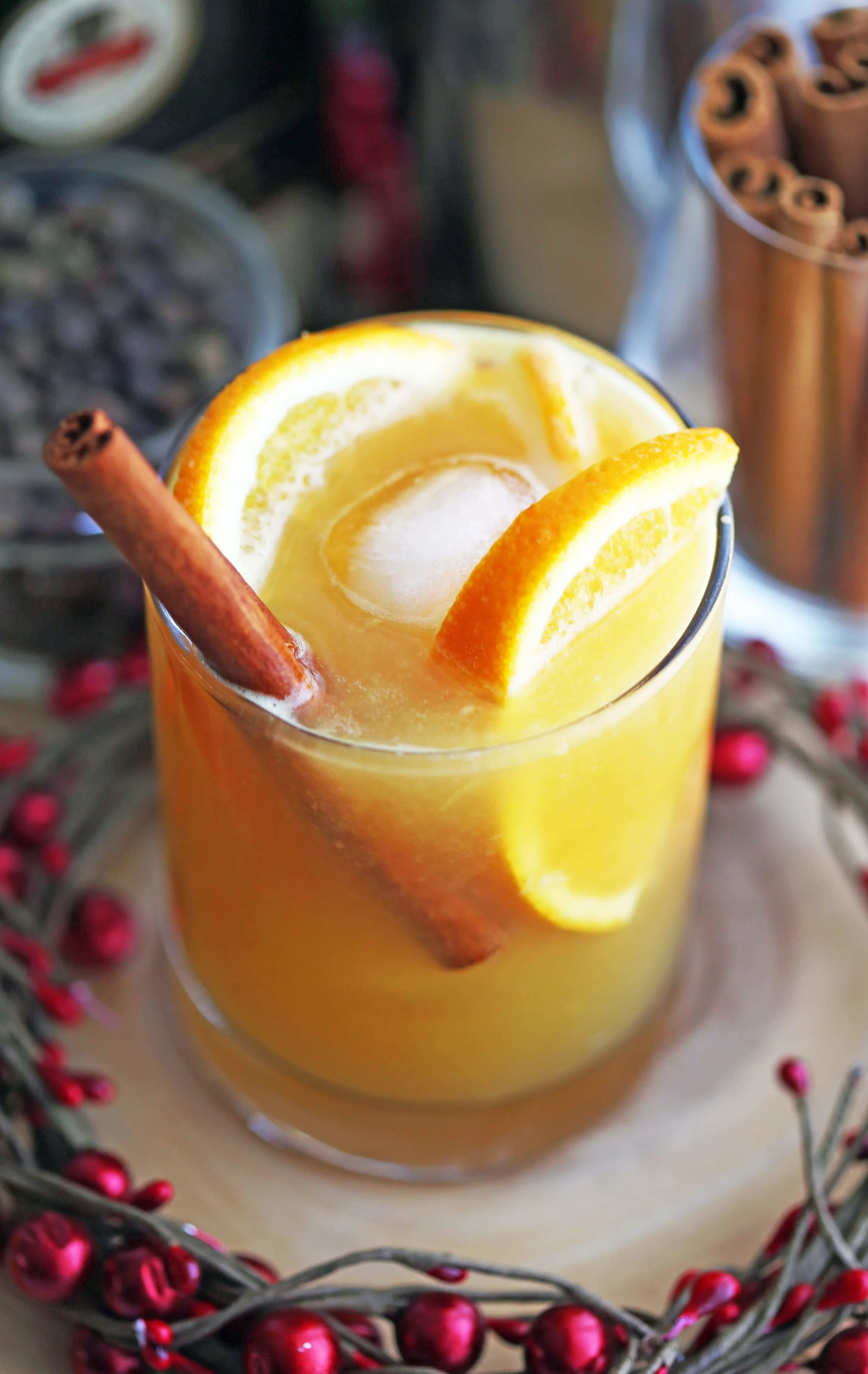 Top with ginger ale, add ice cubes, and garnish with orange slices and a cinnamon stick. Enjoy!
Looking for more easy cocktail recipes? Here are four tasty drinks!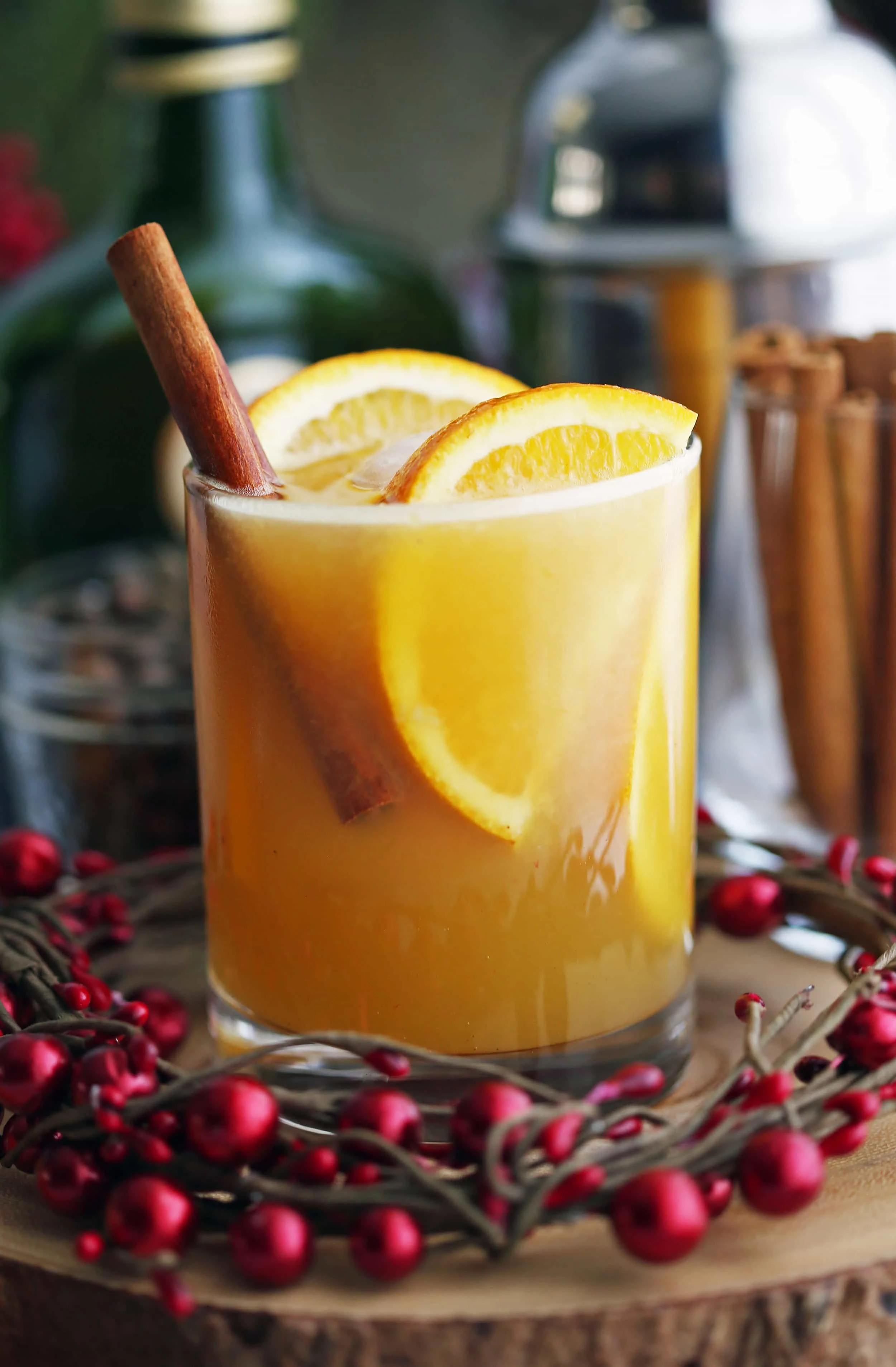 This Spiced Orange Brandy Spritzer is:
Delicious and refreshing: It has delicious sweet, citrus flavours and warming spices that complement one another so well. The fizz and unique flavour from the ginger ale is satisfying as you drink it too.
A great winter holiday cocktail: Perfect to serve at Christmas, at a New Years party, or just to enjoy while winding down the day.
Easy to put together: This recipe makes one serving, but can easily make many drinks quickly, especially if all the ingredients are prepared ahead of time.
Adaptable: Add more or less brandy (or other ingredients) according to your personal tastes.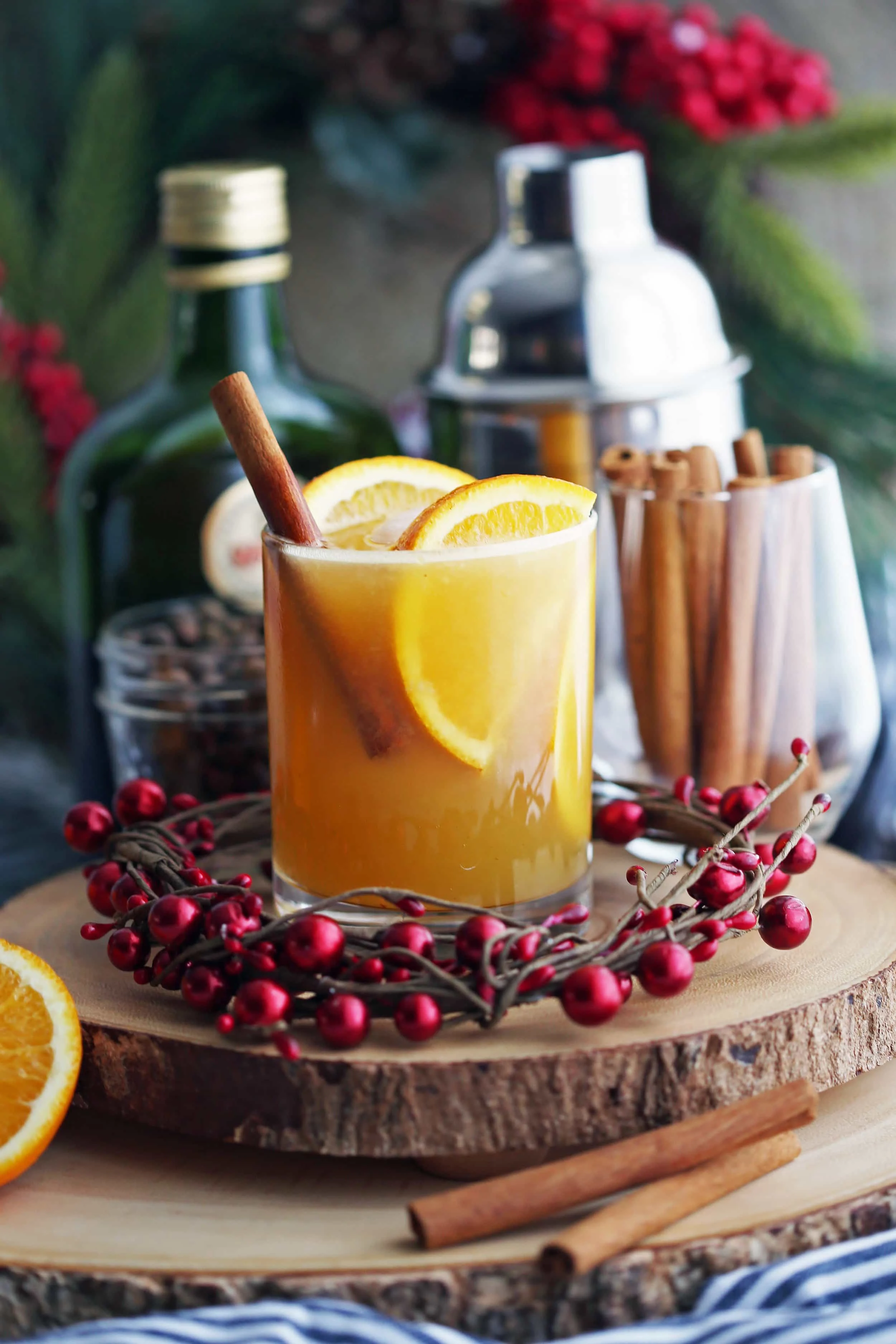 I hope you try this cocktail! If you do, please leave me a rating and comment down below or tag me on any of my social media. I'm @yay_for_food on Instagram. Please share your recipe pictures!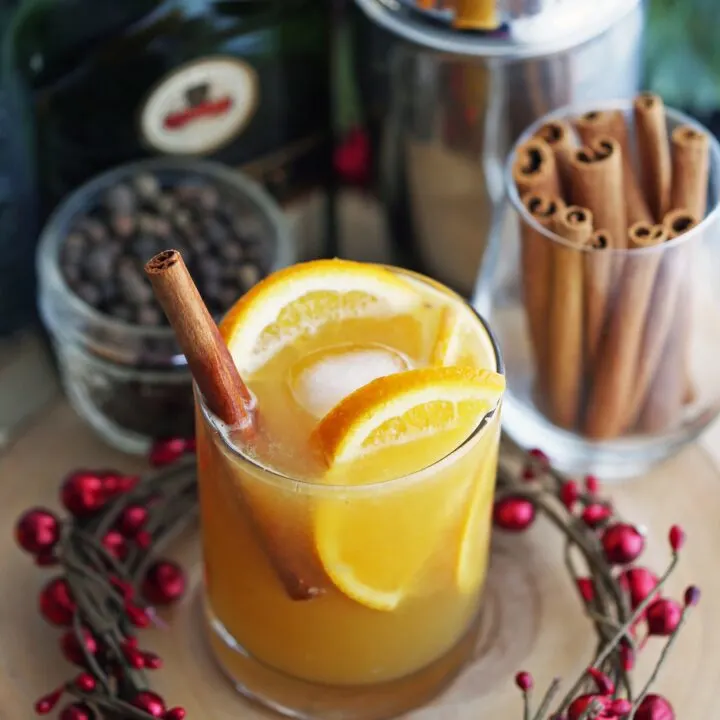 Spiced Orange Brandy Spritzers
Celebrate the holidays with this easy and delicious spiced brandy cocktail recipe featuring the sweet, bright flavour of oranges. Easy to prepare for your next winter party.
Ingredients
3 oz fresh orange juice
2 oz ginger ale, chilled
1.5 oz brandy (I used French brandy)
10 whole allspice berries (or 1/8 tsp ground allspice)
2 cinnamon sticks (3-inch), divided
2-3 ice cubes
Orange slices/wedges
Instructions
Place the orange juice, brandy, allspice berries, and one cinnamon stick, broken into pieces, into a cocktail shaker.
Seal the lid onto the cocktail shaker and shake vigorously for 45-60 seconds (the longer you shake, the more spiced it will get).
Strain the brandy mixture (leave the allspice berries and cinnamon stick behind) into a double old-fashioned glass (or similar) and then top it with ginger ale.
Add ice cubes to the cocktail and garnish with a cinnamon stick and orange slices/wedges. Serve immediately.
Notes
For a less sweet option, substitute the ginger ale with carbonated (sparkling) water or seltzer water.
This recipe can be scaled up.
Recommended Products
As a participant in the Amazon Services LLC Associates Program, I only link to products that I use and/or highly recommend. As an Amazon Associate, I earn from qualifying purchases if you purchase through these links at no additional cost to you.
Nutrition Information:
Yield:

1
Serving Size:

1
Amount Per Serving:
Calories:

349
Total Fat:

3g
Saturated Fat:

1g
Trans Fat:

0g
Unsaturated Fat:

1g
Cholesterol:

0mg
Sodium:

24mg
Carbohydrates:

64g
Fiber:

14g
Sugar:

34g
Protein:

5g