Turmeric milk (aka golden milk) has been all the rage (is that what the cool people still say?) for quite a while now.
It's a lightly spiced warm drink made with (you guessed it), turmeric and milk. Together with some optional additional warming spices, a little sweetener, and sometimes with ghee or coconut oil, you've got a comforting drink that's good-for-you.
So why not make a chia seed pudding using some of these wonderful ingredients? Yay! You get the benefits of chia seeds and turmeric all in one.
What's in this chia pudding?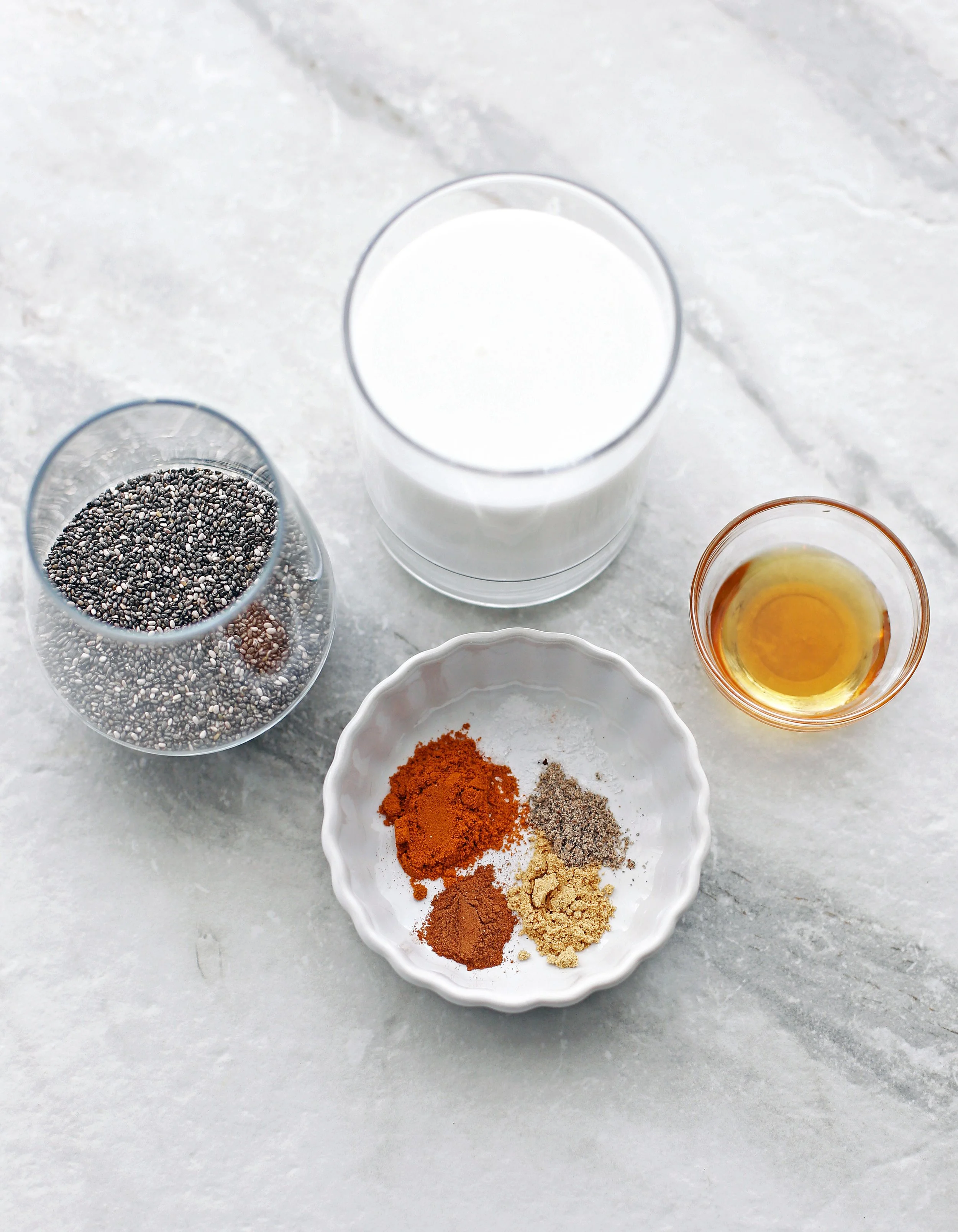 All the ingredients to make turmeric milk chia puddings (minus the fruit) are shown in the photo above!
Coconut milk
Chia seeds
Pure maple syrup
Spices: turmeric, cinnamon, ginger, cardamom, black pepper, and (optional) sea salt.
Then top with the fruit of your choice if you like such as blueberries and strawberries.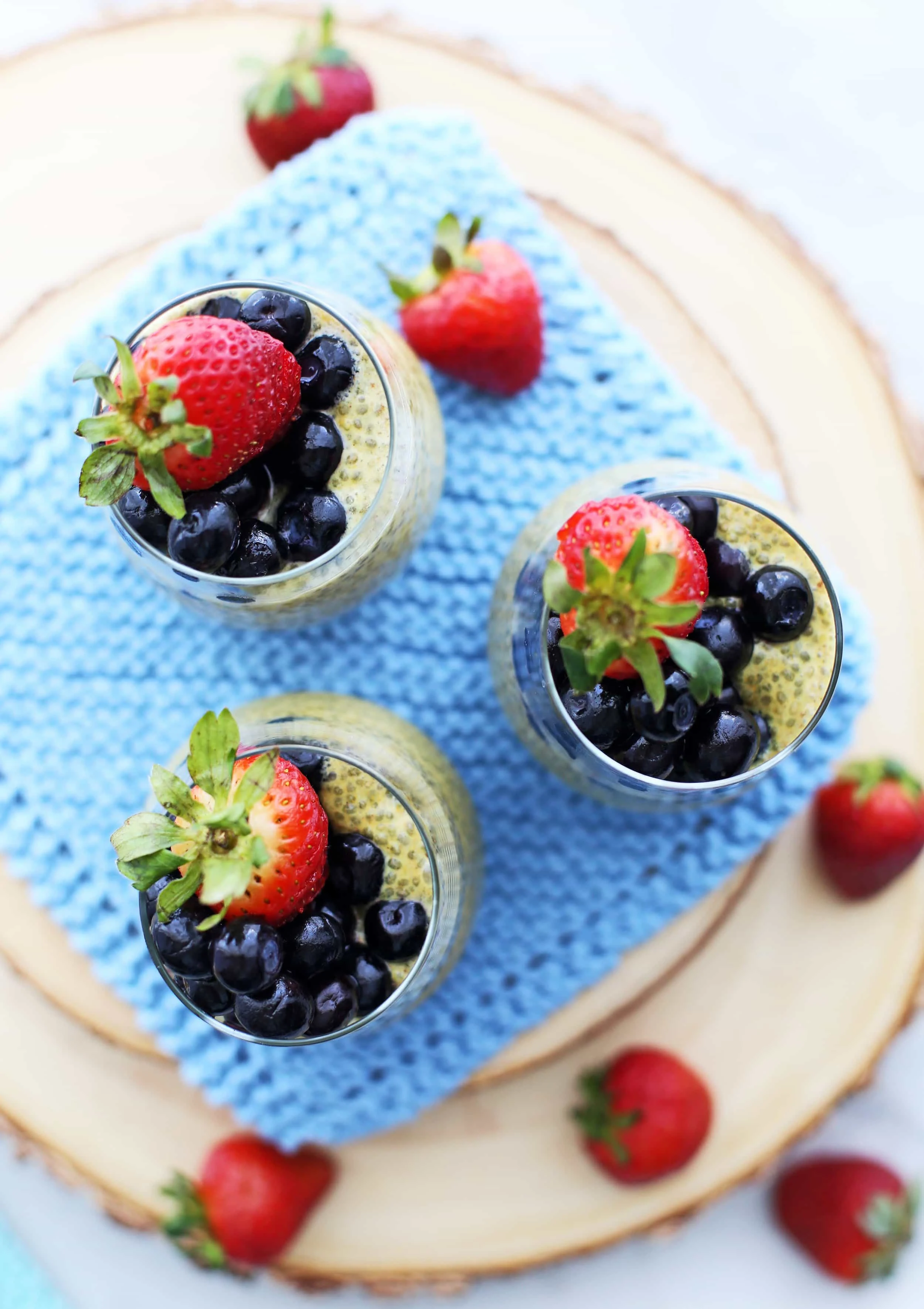 These Turmeric Milk Chia Pudding are:
Tasty:

The thick tapioca-like texture of chia pudding is really pleasing to eat. Plus, it's deliciously spiced (warming, earthy flavours) and not sugary-sweet.

You get to control the amount of maple syrup you want (if any) in your chia puddings so you get the right amount of sweetness for you.

In addition, fruits adds more flavour and natural sweetness to the chia seed pudding. I like to use berries and bananas since they are easy to just throw on top and mix in as I eat.

Full of nutritious benefits:

Did you know that chia seeds are high in protein, rich in omega-3 fatty acids, and full of vitamins and minerals such as iron, calcium, and magnesium? These little black seeds are a superfood for real.
This pudding has many warming spices including cinnamon, ginger, and turmeric. Turmeric is known for its antioxidant and anti-inflammatory properties. Plus, it's high in iron and manganese.

Easy and quick to prepare: These chia pudding literally take 5 minutes to put together!
The perfect make-ahead breakfast, snack, or healthy dessert: I like to prepare it the night before and have it ready in the morning to eat for a quick breakfast or save it as a treat for later in the day.
Vegan and gluten-free: A great option for those with dietary restrictions or who want to eat more animal product-free and gluten-free meals.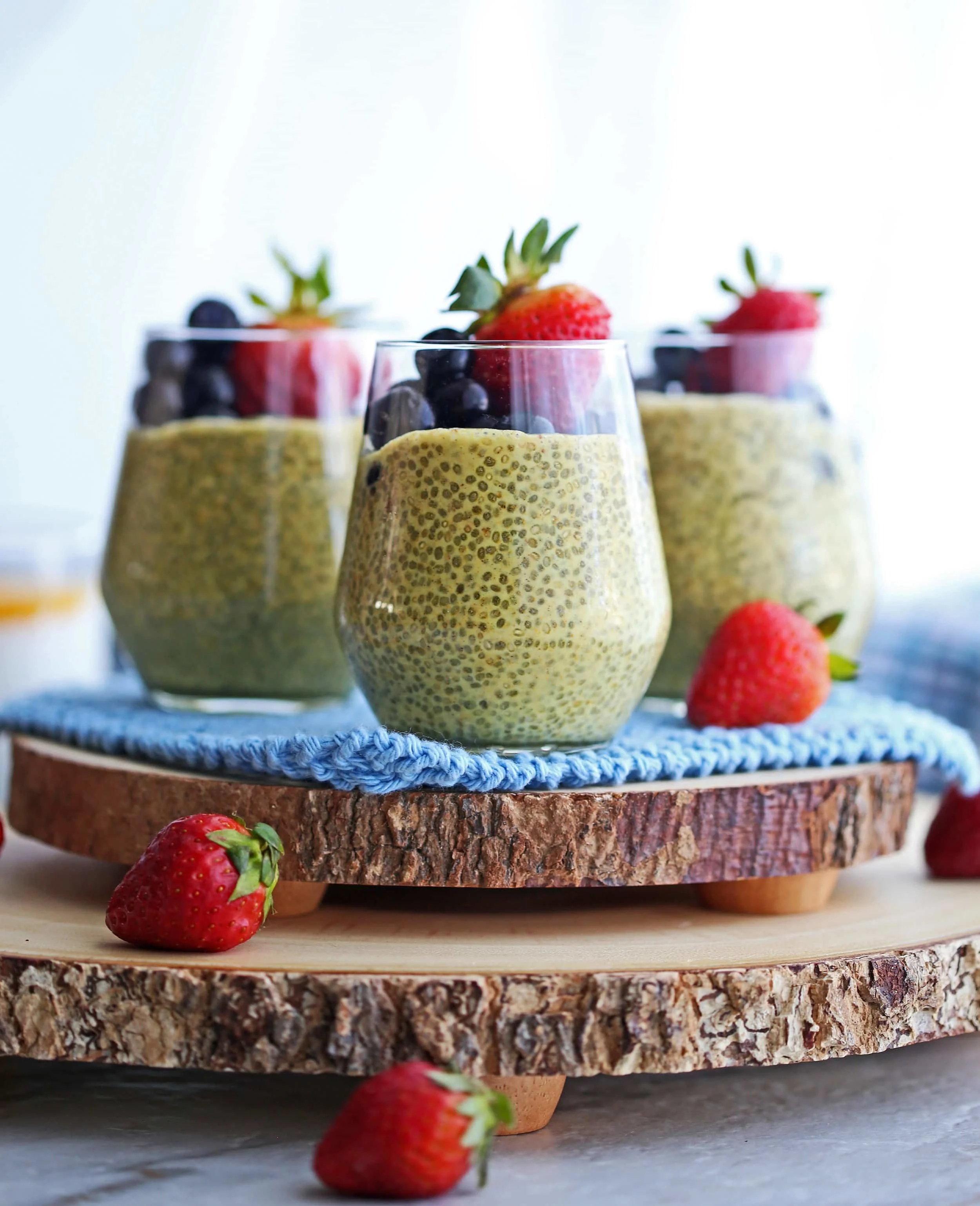 Looking for more recipes with chia seeds?
In addition to chia puddings, I like to use chia seeds in smoothies to give my drinks an extra healthy boost. Check out my recipes for Kale Pineapple Chia Smoothie and Pear Ginger Chia Smoothie.
Here are three recipes using ground turmeric!
I'm a big fan of turmeric. It gives a lovely golden-yellow hue to so many dishes such as: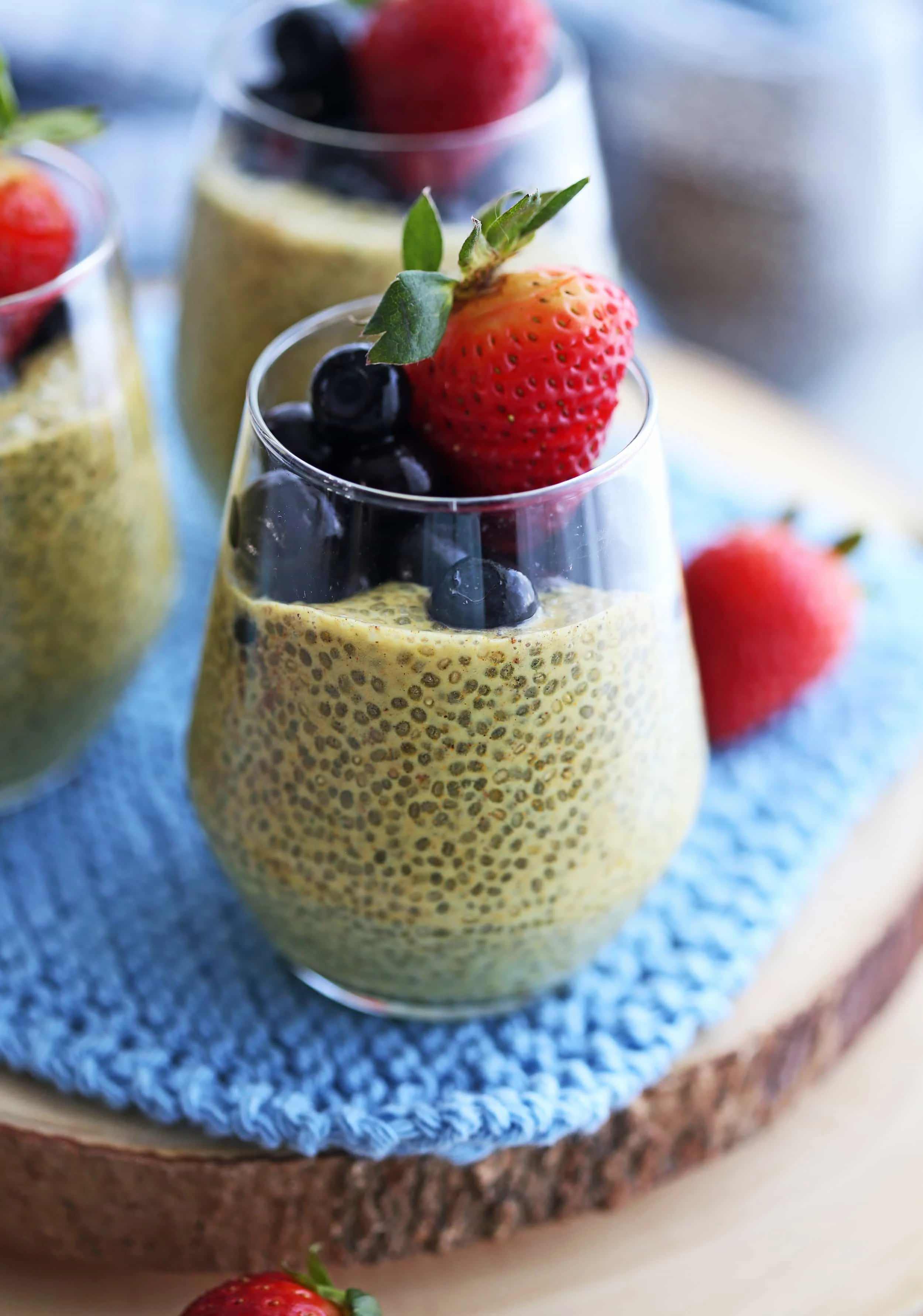 I hope you enjoy this turmeric milk chia pudding recipe! If you try out this recipe, please leave a comment and rating below or tag me on any of my social media. I'm @yay_for_food on Instagram. Please share a picture with me!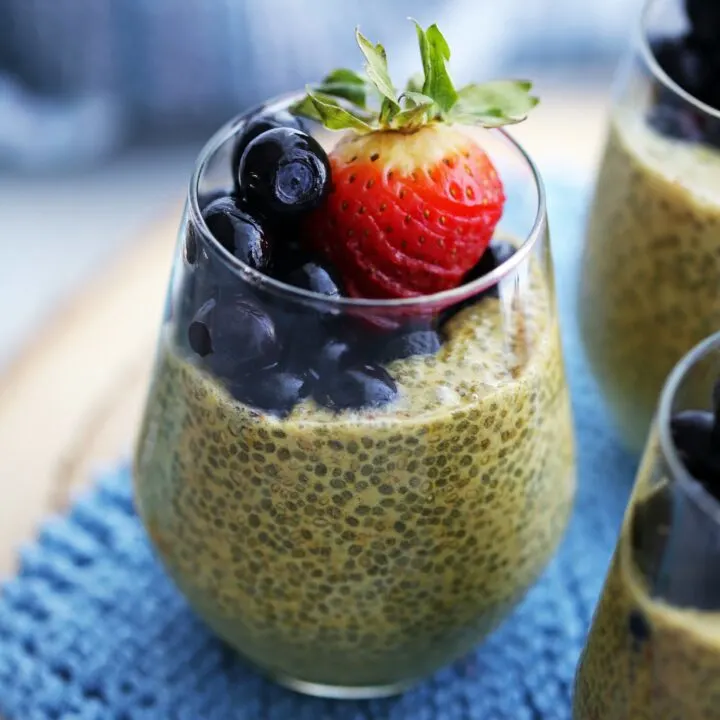 Easy Turmeric Milk Chia Pudding
Additional Time:
1 hour
55 minutes
A healthy treat that's perfect for breakfast, a snack, or a light dessert! Try this simple, vegan turmeric milk (aka golden milk) chia pudding!
Ingredients
2 cups unsweetened coconut milk
½ cup chia seeds
2-4 tbsp pure maple syrup, to taste
1 tsp ground turmeric
½ tsp ground cinnamon
½ tsp ground ginger
¼ tsp ground cardamom
⅛ tsp black pepper
⅛ tsp sea salt (optional)
Large handful of fruit of your choice (like blueberries, strawberries, raspberries, or bananas) for topping
Instructions
In a bowl, whisk together the chia pudding ingredients until well-combined.
Divide the mixture into four small glasses or bowls, cover with plastic wrap, and place in the refrigerator for 2 hours to overnight. *(see first note)
Give the chia pudding a good stir so that the texture is even throughout. Top with fruit of your choice. Enjoy!
Notes
*A longer set time allows the chia seeds to get more gelatinous and form a thick, creamy tapioca-like pudding.
Substitute the maple syrup with a sweetener of your choice.
Substitute coconut milk with another milk of your choice.
Nutritional calories represent one serving with four servings total and excludes fruit.
Recommended Products
As a participant in the Amazon Services LLC Associates Program, I only link to products that I use and/or highly recommend. As an Amazon Associate, I earn from qualifying purchases if you purchase through these links at no additional cost to you.
Nutrition Information:
Yield:

4
Serving Size:

1
Amount Per Serving:
Calories:

272
Total Fat:

10g
Saturated Fat:

3g
Trans Fat:

0g
Unsaturated Fat:

6g
Cholesterol:

0mg
Sodium:

85mg
Carbohydrates:

44g
Fiber:

10g
Sugar:

28g
Protein:

5g