Happy Monday! I'm back with another summertime drink that'll surely quench your thirst on those hot days!
This non-alcoholic beverage is a little twist on Aguas fresca, a beverage made with pureed fruit and water with sweetener and lime juice often added as well. Sometimes flowers, herbs, and cereals are blended in too.
Instead of still water, this recipe uses club soda (or lemon-lime soda), which gives the overall drink a fizzy carbonated sensation or the pleasant feeling of bubbles popping on the tongue.
It's a wonderful drink that the whole family can enjoy.I hope you try this drink recipe: Fresh Watermelon Strawberry Soda!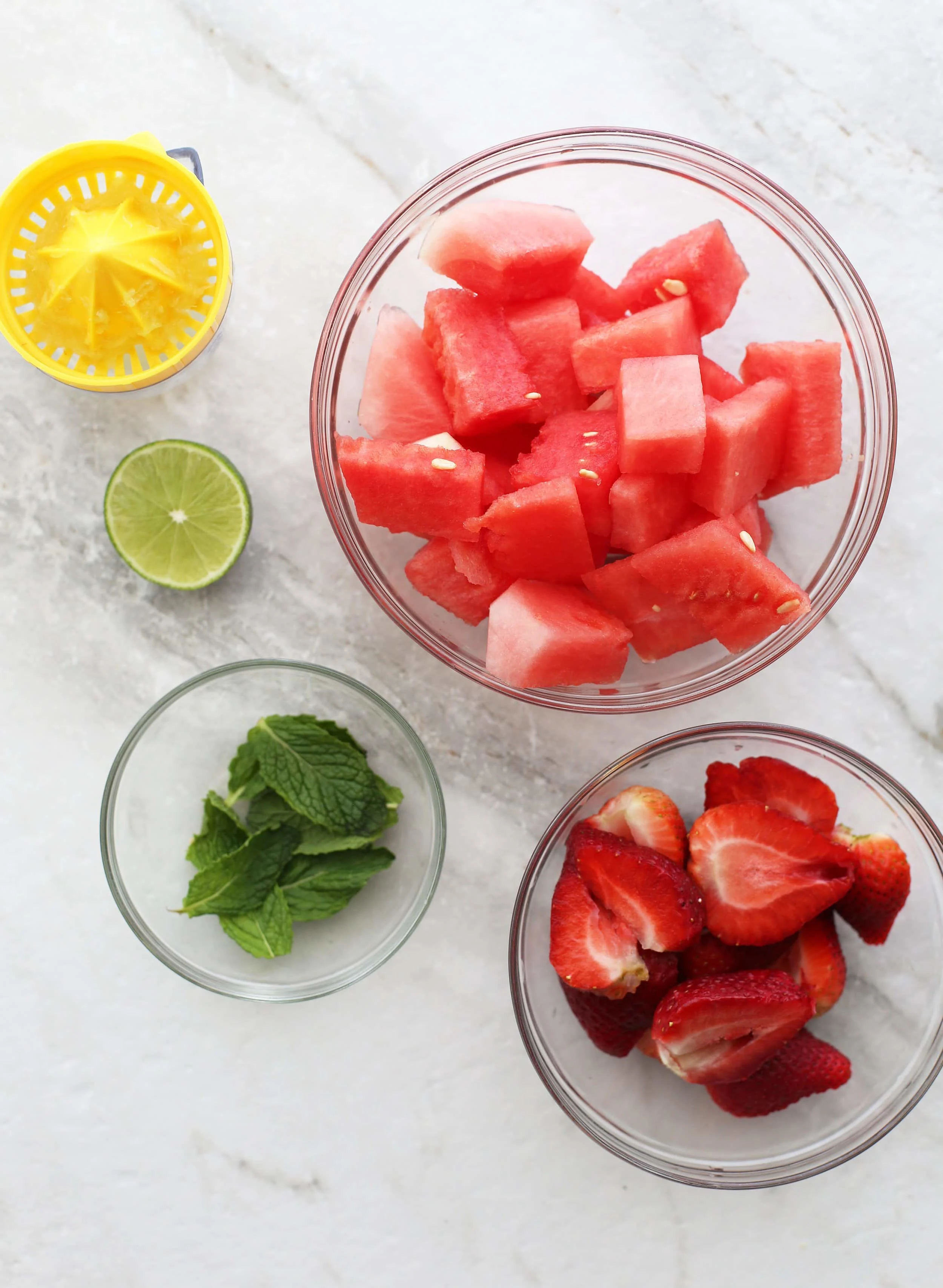 What's in this refreshing drink?
This drink features a good amount of fresh watermelon and strawberries. Watermelons are the quintessential summer fruit.
When I think of summertime foods, watermelons are on top of the list. Love watermelons? Check out my recipe for Watermelon Cucumber Jalapeño Salad. This side dish is so easy to put together.
With its sweet flavour and being mostly made out of water, it's perfect to blend down into a drinkable form. Plus, watermelons are good for you, not only are they super hydrating, it's also a good source of vitamin A, vitamin C, and dietary fiber too.
When selecting watermelons, choose watermelons that are dull in appearance (shiny watermelons are usually under ripe), firm and heavy for its size, and has a creamy yellow field spot on its underside.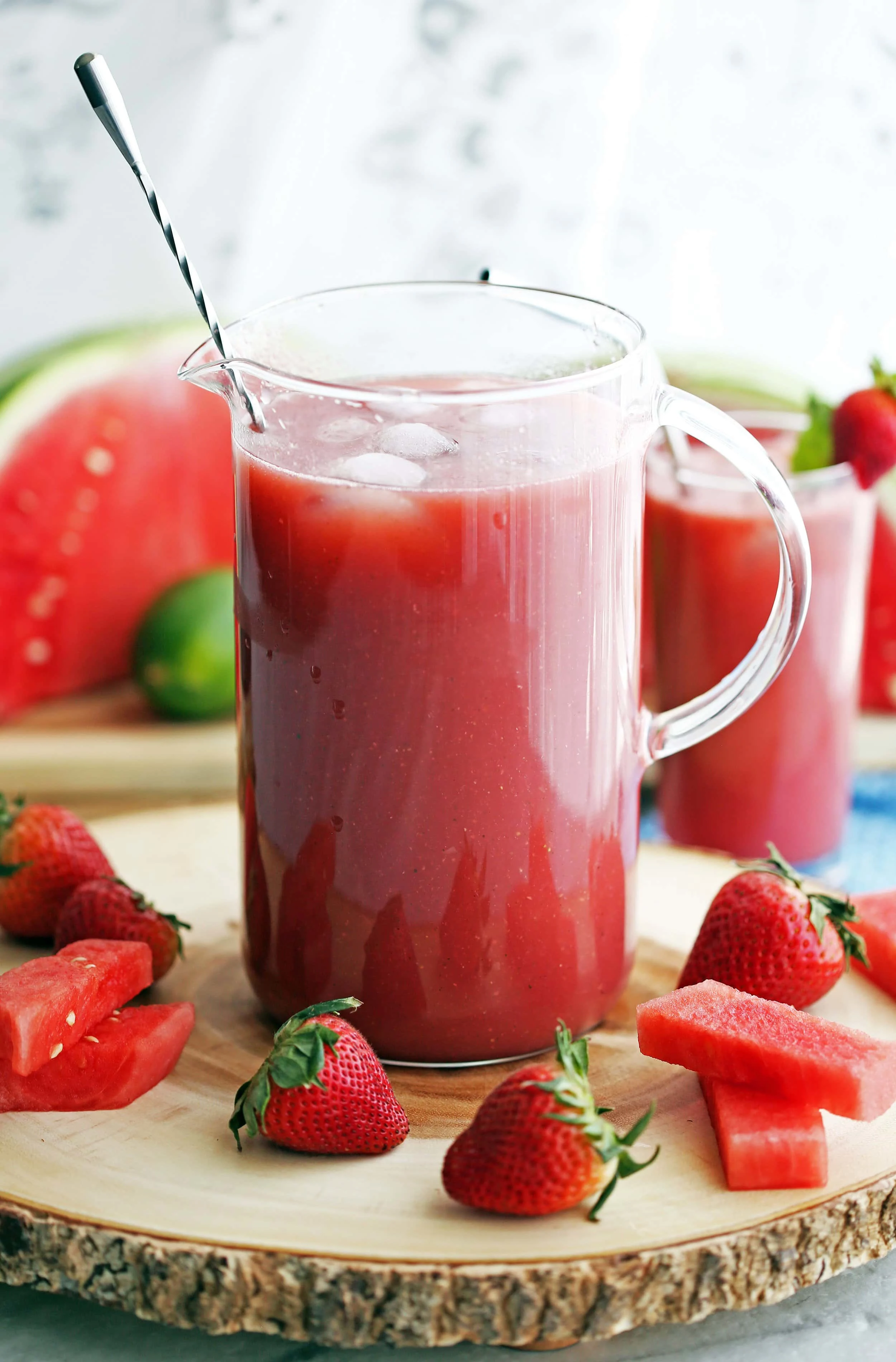 You can also try the tapping method. I find this difficult to do myself, but when you tap with your knuckles, you want a watermelon with a hollower sound. A dull hard thump indicates an under-ripe watermelon.
Strawberries are sweet and tart with bright citrusy undertones. If you can tell from my numerous strawberry recipes, this healthy fruit is one of my favorites. It's bursting with vitamins (particularly vitamin C), fiber, and has high levels of antioxidants.
When choosing strawberries, look for firm, plump, bright red strawberries with green leaves.
Squeezing in fresh tangy lime juice and adding fresh mint leaves compliments the sweet and tart flavours of the fruit in this tasty drink. Mint is optional, but including this ingredient will add that extra light layer of minty freshness and helps give the drink a greater cooling effect.
Choose limes that are heavy for their size and free of brown spots and blemishes. Pick fresh mint that are even-colour and have perky leaves that are free of dark spots.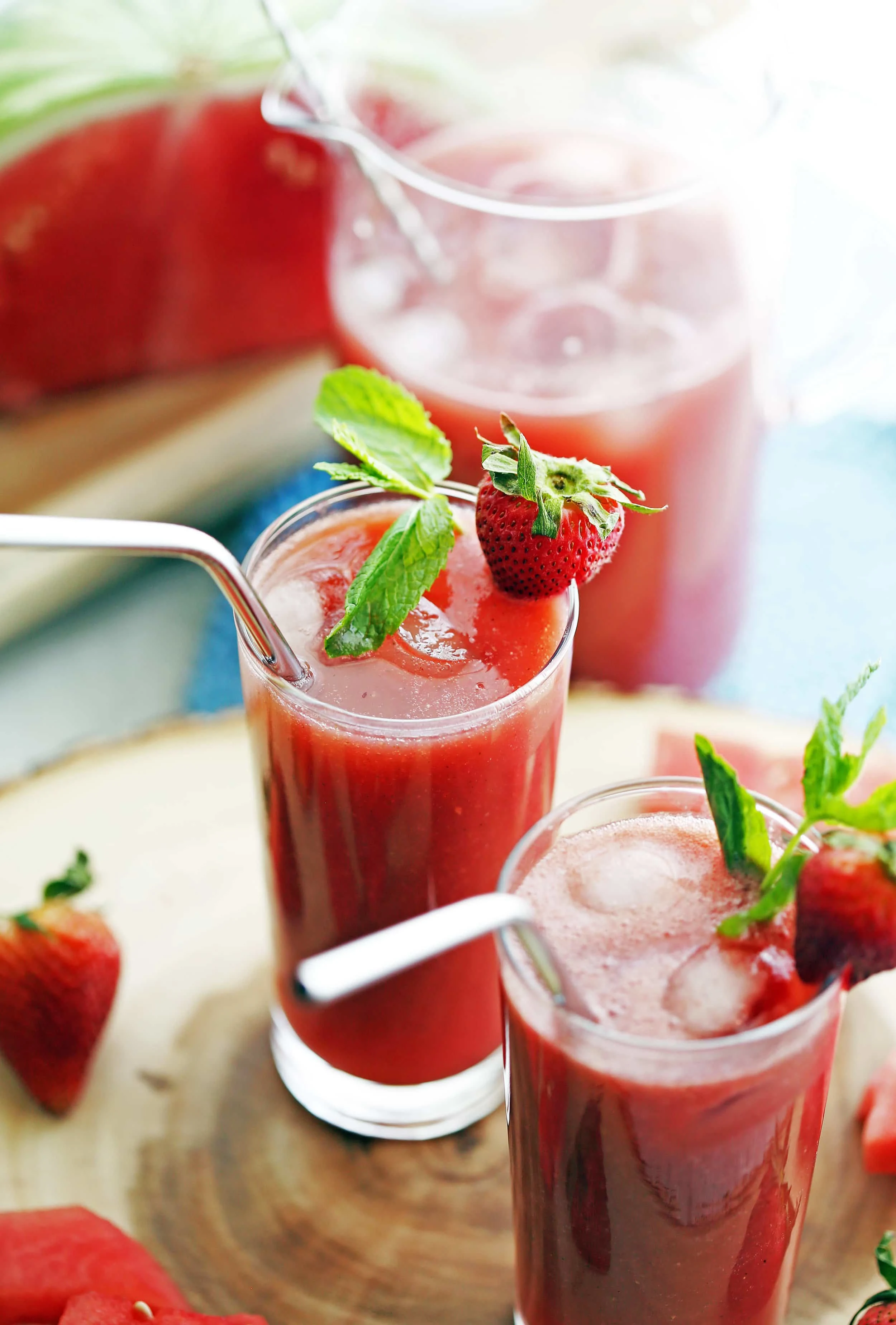 Pour in a little pure honey to the mixture to add that rich, sweet, and delicious flavour that compliments the fruit so well. A little goes a long way so use a little at a time, blend, and then taste to see if you need to add more.
If you want to keep it vegan, use agave syrup or maple syrup instead.
Then there's the fizz and the ice. As mentioned above, this recipe uses club soda, which is carbonated water (from carbon dioxide). It's unflavoured, (although some may describe it as having a slight mineral-like taste) which is perfect for mixing into fruit drinks or cocktails.
If you like more sweetness, switch up the club soda for a lemon-lime soda.
The ice, well, it helps keep it cool. Don't go crazy with too much ice as it'll dilute the flavour.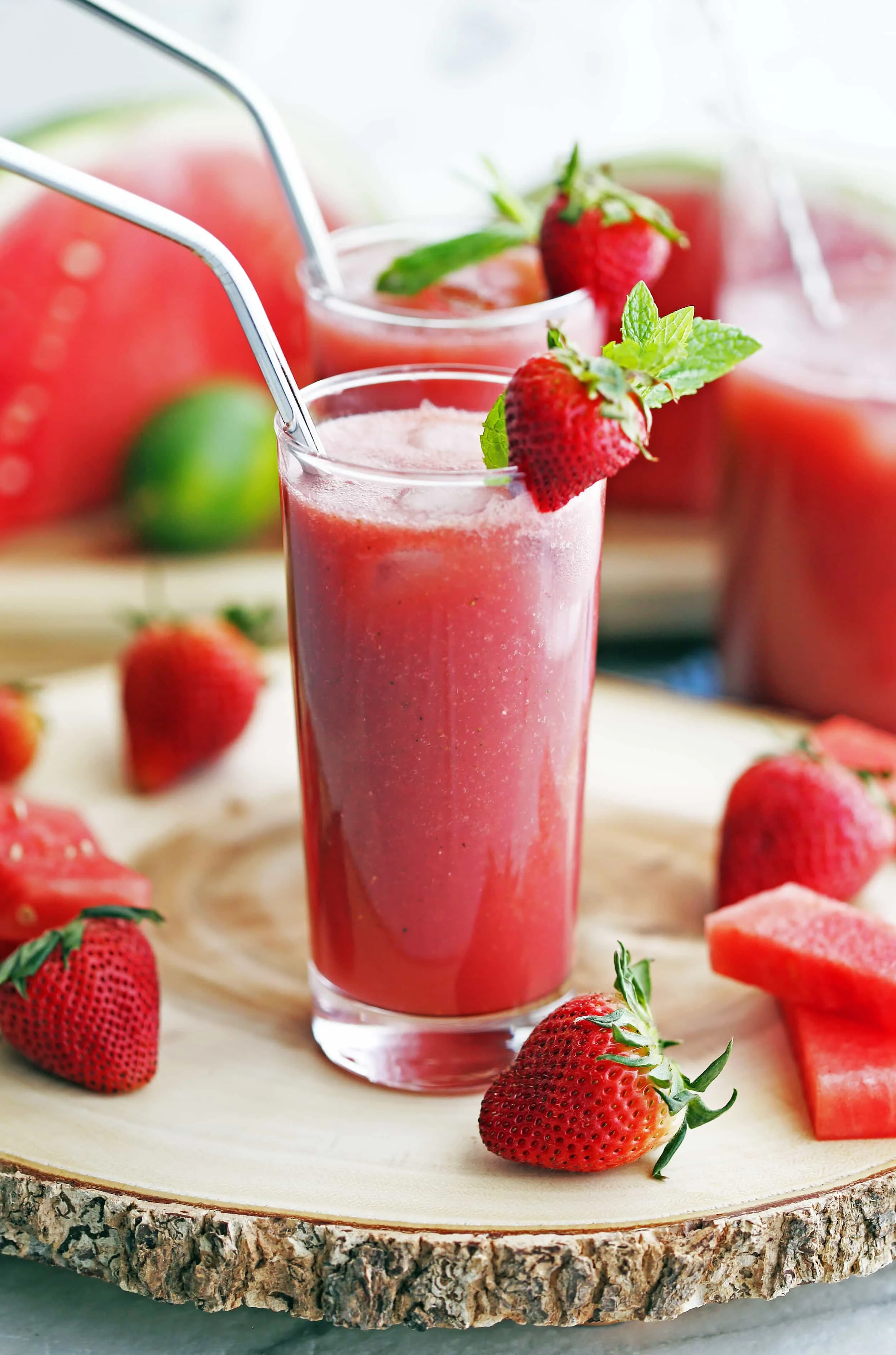 In summary, this tasty watermelon strawberry soda recipe is:
Quick and easy to prepare:Blend up the ingredients and stir in the soda and ice. It's ready in no time at all!
Refreshing and not too sweet: This non-alcoholic fruit drink is so fresh tasting and will cool you down in hot weather.
Delicious and satisfying:

It's full of juicy watermelon with an underlying (but noticeable) hit of strawberry flavour, a little lime juice, sweet honey, and mint that's fresh, cooling, bright, sweet and tart.
The club soda gives the overall drink a fizziness/sparkling effect that is pleasant to the taste buds. I like to use club soda for its neutral flavour, but if you like it sweeter and citrusy notes, you can substitute with lemon-lime soda.

Makes four cups, but easily scalable: Perfect for a small crowd.You can easily double or triple the recipe to make more. You just need to make it in batches as your blender may not be able to hold a larger quantity.
Easily made into an alcoholic cocktail. Replace the soda with a bubbly sparkling wine instead for an adult cocktail drink option.
I hope you try this recipe! If you do, please leave me a rating and comment down below or tag me on any of my social media. I'm @yay_for_food on Instagram. I'll love a picture!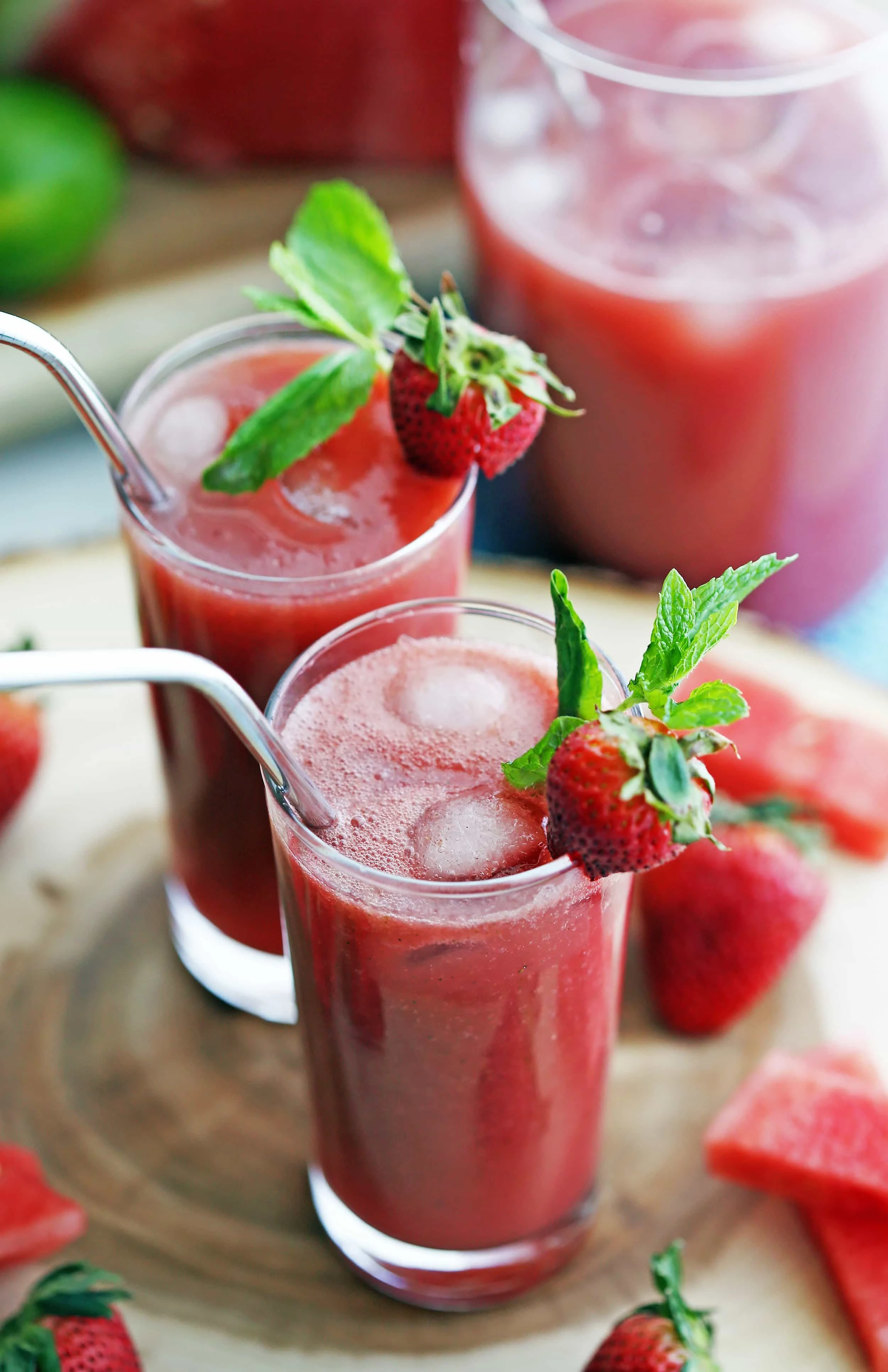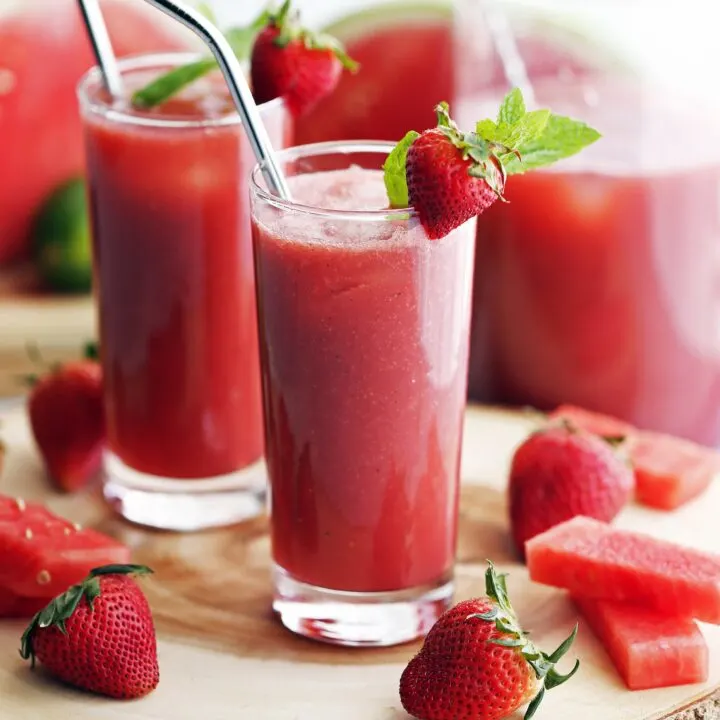 Fresh Watermelon Strawberry Soda
Yield:
2-4 (makes 4 cups)
A refreshing blend of watermelon and strawberry. This easy soda recipe is the perfect drink to cool you down on a warm summer day.
Ingredients
3 heaping cups (1 lb.) fresh seedless watermelon chunks
6-8 fresh strawberries (6 oz), hulled
½ lime, juice
1 tbsp pure honey (or agave syrup)
6 fresh mint leaves (optional)
1 cup club soda (or lemon-lime soda)
Ice cubes
Instructions
Place all the ingredients (except the club soda and ice) in a high-powered blender and blend until smooth.
Once blended, pour into a serving pitcher and top with club soda and ice. Give the mixture a good stir.
Taste and adjust according to preferences such as adding more honey for additional sweetness or more strawberries for a stronger berry flavour.
Stir in ice cubes just prior to serving. Best served immediately or chilled.
Notes
Nutritional calories represent one serving for a total of four servings.
Recommended Products
As a participant in the Amazon Services LLC Associates Program, I only link to products that I use and/or highly recommend. As an Amazon Associate, I earn from qualifying purchases if you purchase through these links at no additional cost to you.
Nutrition Information:
Yield:

4
Serving Size:

1
Amount Per Serving:
Calories:

58
Total Fat:

0g
Saturated Fat:

0g
Trans Fat:

0g
Unsaturated Fat:

0g
Cholesterol:

0mg
Sodium:

7mg
Carbohydrates:

14g
Fiber:

2g
Sugar:

11g
Protein:

1g