Happy Thursday! With the hot weather and family visiting, I've been finding myself a lot less motivated to spend a lot of time in the kitchen.
In my spare time, I'd much rather be outside enjoying nature, taking my dog on long walk adventures, and sipping drinks (i.e. so many cocktails) on the patio.
A go-to quick meal has always been pasta. It's delicious, adaptable, and most importantly, easy.
Have you checked out some of my other easy pasta recipes? These are my most popular pasta recipes on my website right now:
My newest seasonal vegetarian pasta recipe is delicious and full of fresh flavours. I hope you enjoy this recipe for Goat Cheese Pasta with Zucchini and Tomatoes!
All the ingredients in the quick and easy pasta recipe! Full ingredient quantities and instructions in the recipe card down below.
What's in this easy pasta recipe?
Linguine: Did you know that linguine means "little tongues" in Italian? It's somewhat in between fettuccine and spaghetti. It's similar to fettuccine, but more elliptical in shape and less wide, but flatter and wider than spaghetti.
That being said, this recipe would work well any of these pastas. If you have any of them already in your cupboard, use that, I'd say.
Generally, for long and thin pastas (more delicate ones), we tend to pair sauces that are lighter such as a pesto, oil-based, or light cream sauce.

Whereas thicker pastas tend to work well with heavier, robust, chunky sauces.I'm positive that I've broken these "rules" many times, but it just makes sense, doesn't it?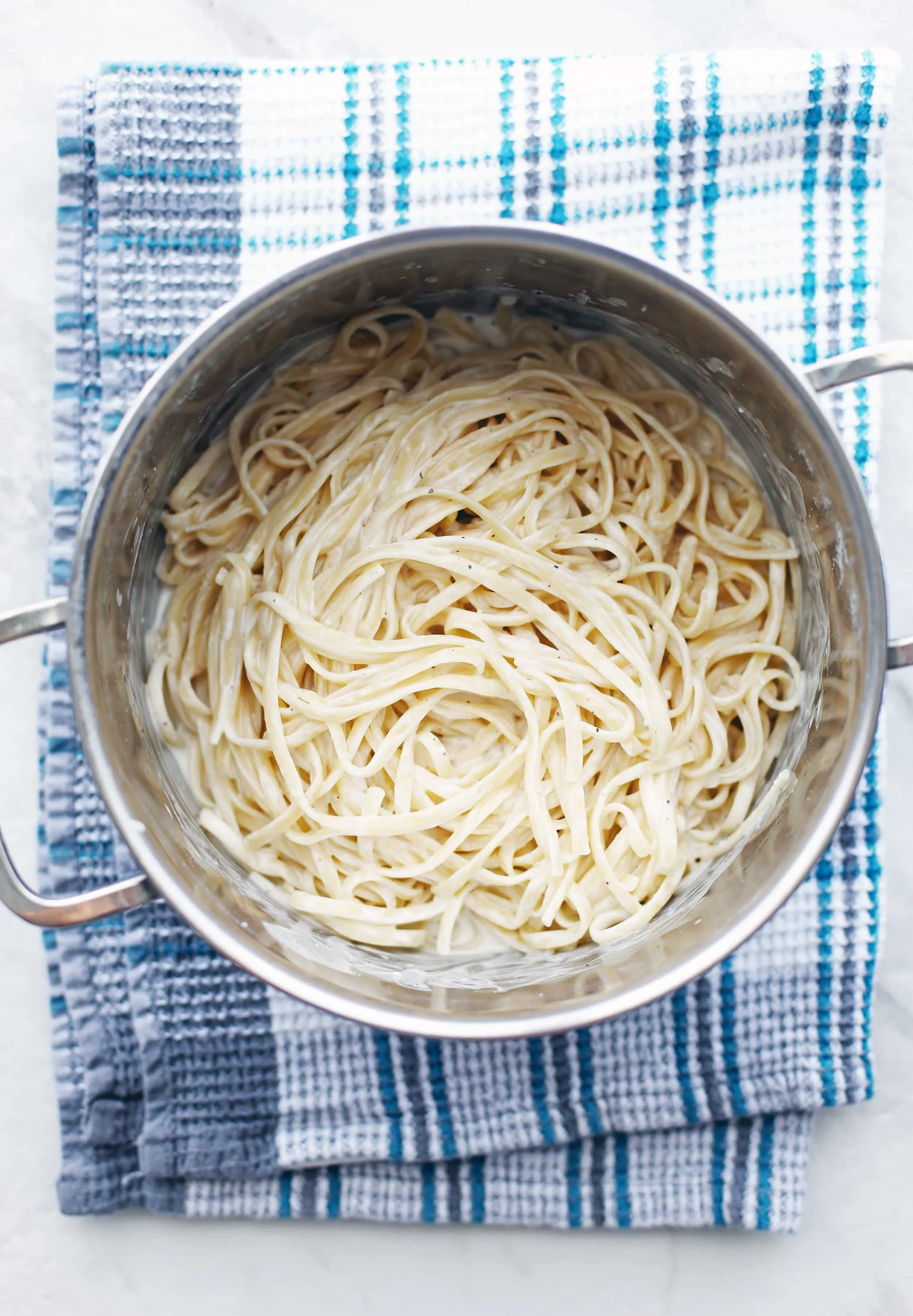 Delicious linguine in a creamy goat cheese sauce.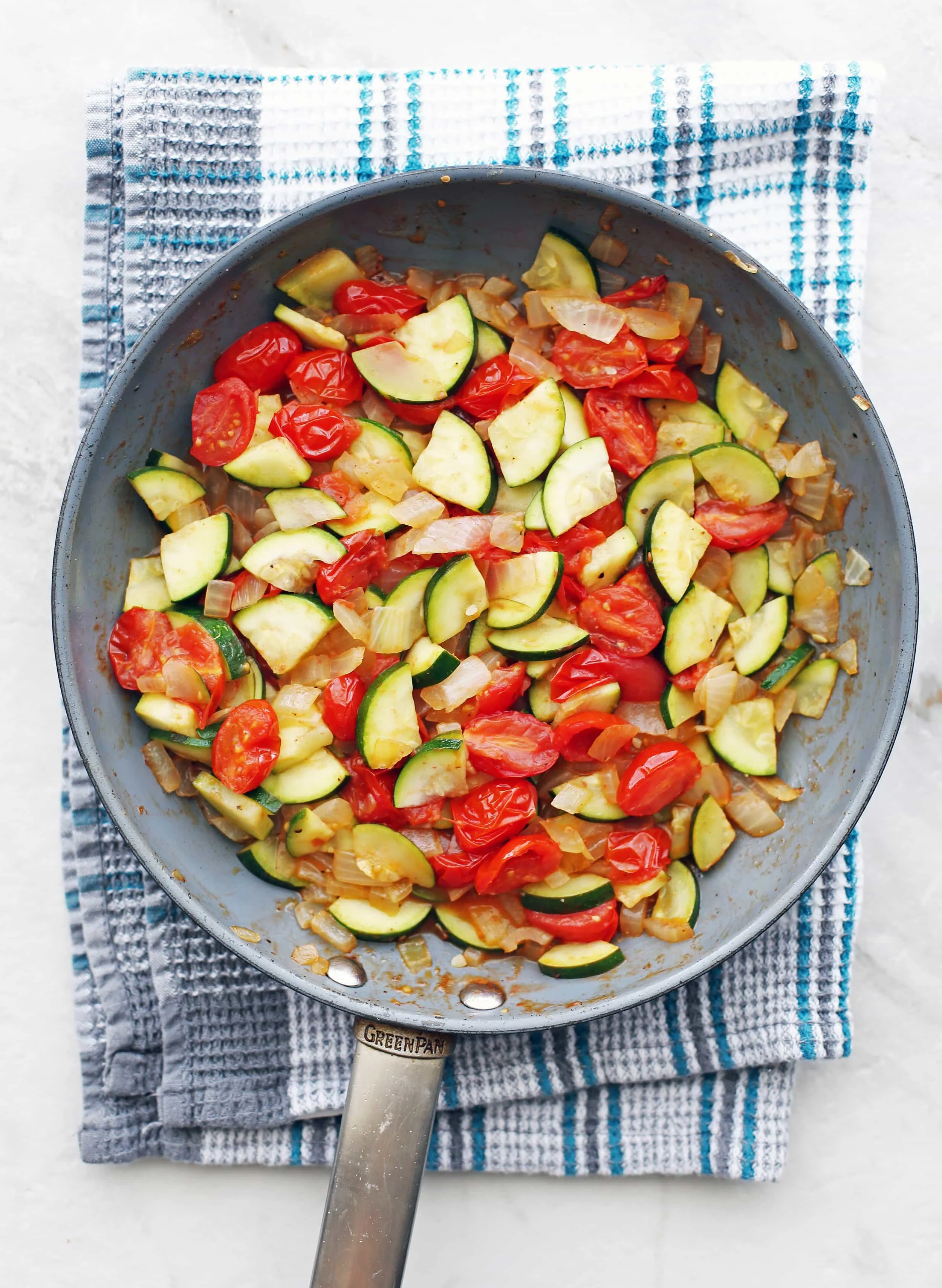 Quick sautéed onions, green zucchini, and tomatoes.
Speaking of pairing pasta with sauces, this easy pasta dish has a light and creamy goat cheese sauce.
This sauce is extremely simple to make. You literally whisk together soft unripened goat cheese with warm pasta water, lemon juice,salt and pepper until it is smooth and uniform in appearance.
Plus, it tastes wonderful. It has the distinctive tangy flavour from the goat cheese and a hint of brightness from the fresh lemon juice.

The salt and pepper enhances all the flavours and the pasta water helps thin the sauce and mellow out the strong goat cheese flavour just a little so that it doesn't over power the vegetables in this pasta.
Overall, I like how evenly the sauce coats the pasta.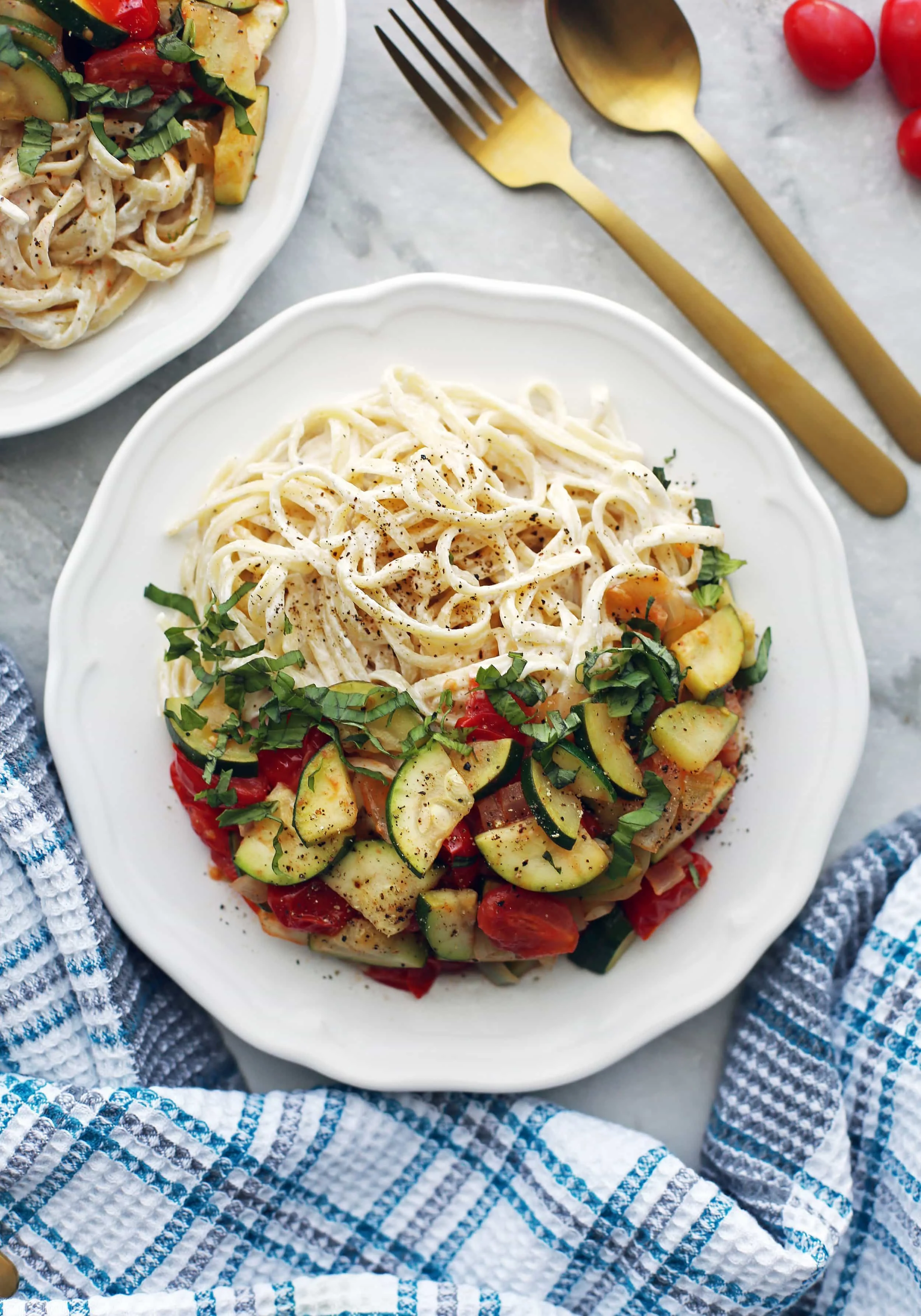 Fresh vegetables and herbs: All these vegetables shout "summertime" to me! The healthy amount of fresh zucchini, grape tomatoes, and onions along with basil gives this dish such amazing flavour and colour!
Zucchini (or courgette) has a light, delicate vegetable sweetness.

When looking for this summer squash, chose small to medium zucchinis that are bright, even-colour (deep green or yellow depending on the variety), smooth and firm to the touch, heavy for its size, and free of blemishes.

Grape tomatoes: It has light acidity and a mild sweetness to it.
Onion: I used a sweet white onion (yellow works well too). It's mild in flavour and gets sweeter as its cooked. A lovely complement to the zucchini and tomatoes.
Fresh basil: Herbaceous, aromatic, and adds that final fresh touch to this dish.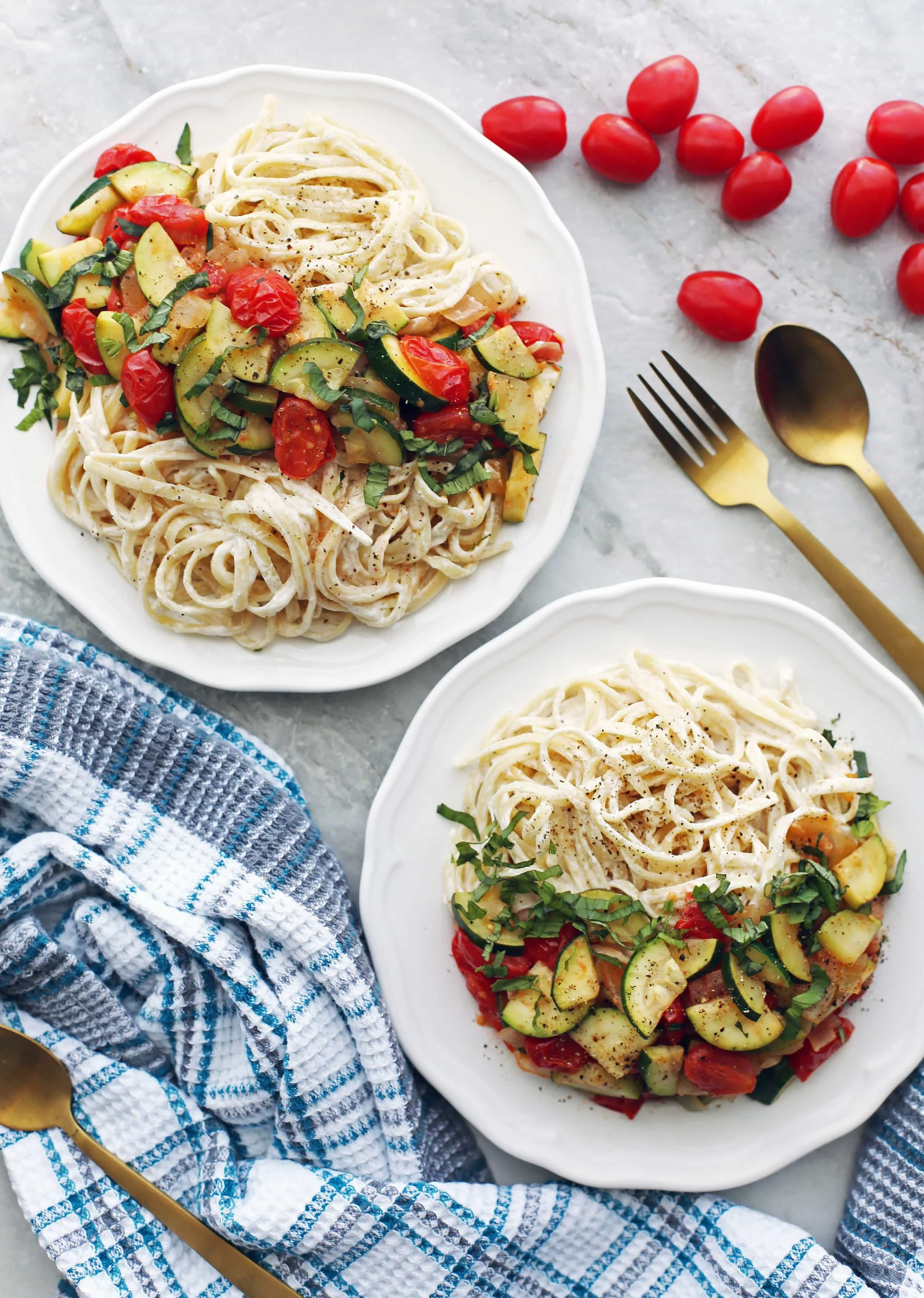 Overall, this summertime goat cheese pasta:
Is pure comfort food: Can't go wrong with pasta!
Is full of delicious fresh and light flavours:Yummy fresh vegetables along with the ultra-easy goat cheese sauce elevate this dish.
Has simple ingredients: This recipe has ingredients that are likely easy to find at your local supermarket or are probably in your food pantry already.
Is simple and quick to prepare: It takes less than 30 minutes from start to finish, so it's great to make for a quick weekday or lazy day meal.
Makes four servings: Perfect to serve the family or feed two hungry people (like me and my husband).
If you try this recipe, please rate and leave a comment down below. You can also connect with me on my social media by tagging me or commenting (I'm @yay_for_food on Instagram).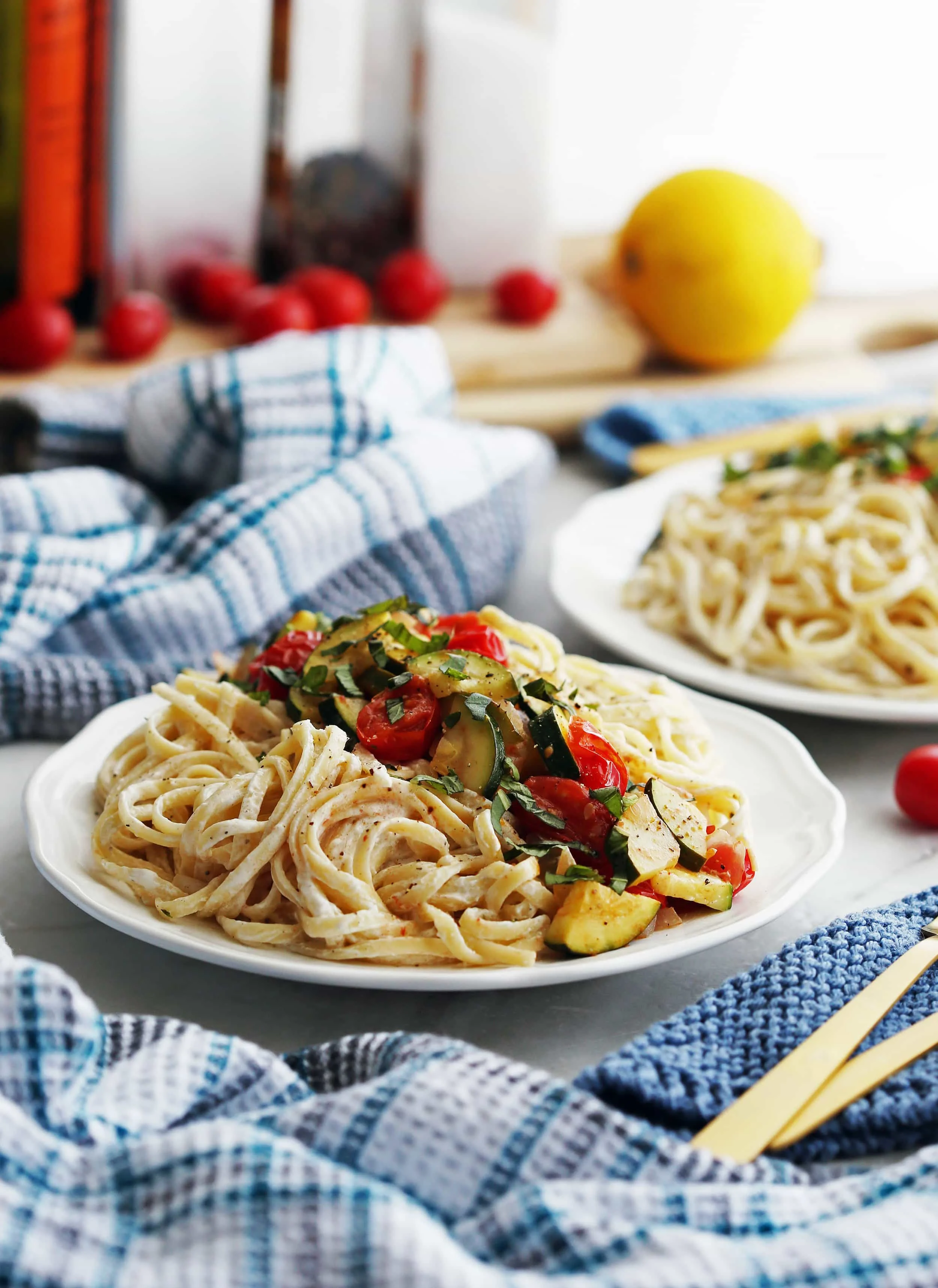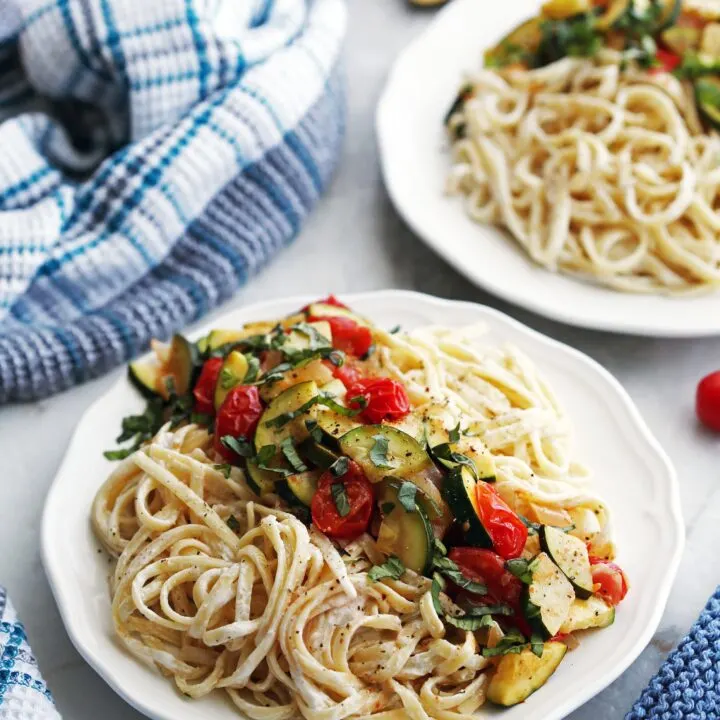 Creamy Goat Cheese Pasta with Zucchini and Tomatoes
Zucchini and tomatoes bring fresh summertime flavour to this quick and easy pasta recipe. Together with a creamy goat cheese sauce, it's a simple and delicious family meal.
Ingredients
8 oz uncooked linguine (or pasta of your choice)
6 oz soft unripened goat cheese
½ cup pasta water
1-2 tbsp lemon juice
1 tbsp extra virgin olive oil
1 small onion (8 oz), chopped
1 medium zucchini, quartered lengthwise and chopped
1 heaping cup (8 oz), grape tomatoes, halved
2 tbsp fresh basil, sliced
Salt and pepper, to taste
Instructions
Boil the linguine pasta in salted water according to package directions until al dente. Drain and reserve ½ cup of pasta water.
In a large bowl, whisk together the reserved pasta water with the goat cheese, lemon juice, salt, and pepper until the sauce is smooth and creamy. Place the pasta into the sauce and gently toss (using tongs) until it is well coated. Set aside.
In a medium skillet at medium-high heat, add the olive oil and onion and sauté until translucent, about 2-3 minutes. Add in the zucchini and tomatoes and stir occasionally, until the zucchini is tender-crisp, another 2-3 minutes.
Plate the pasta and then top with the sautéed vegetables. Sprinkle with fresh basil and taste for additional salt and pepper. Best served immediately.
Recommended Products
As a participant in the Amazon Services LLC Associates Program, I only link to products that I use and/or highly recommend. As an Amazon Associate, I earn from qualifying purchases if you purchase through these links at no additional cost to you.
Nutrition Information:
Yield:

4
Serving Size:

1
Amount Per Serving:
Calories:

279
Total Fat:

13g
Saturated Fat:

7g
Trans Fat:

0g
Unsaturated Fat:

6g
Cholesterol:

20mg
Sodium:

278mg
Carbohydrates:

27g
Fiber:

3g
Sugar:

3g
Protein:

13g