Whenever I see fried pickles on a menu, I have to order them. They are one of my favourite snacks or sides to go along with a loaded burger or sandwich.
Lately, I've been craving these tasty bites, so off I went to buy a jar of sliced pickles to make them at home.
These pickles are almost always fried, but since I have been eating a lot of sweets and carbs lately (I blame the holidays!), I decided to go a little bit healthier and baked them instead.
I hope you enjoy this recipe for Crispy Oven-Fried Pickles with Cheddar Cheese Dip!
How do you make these oven-fried pickles?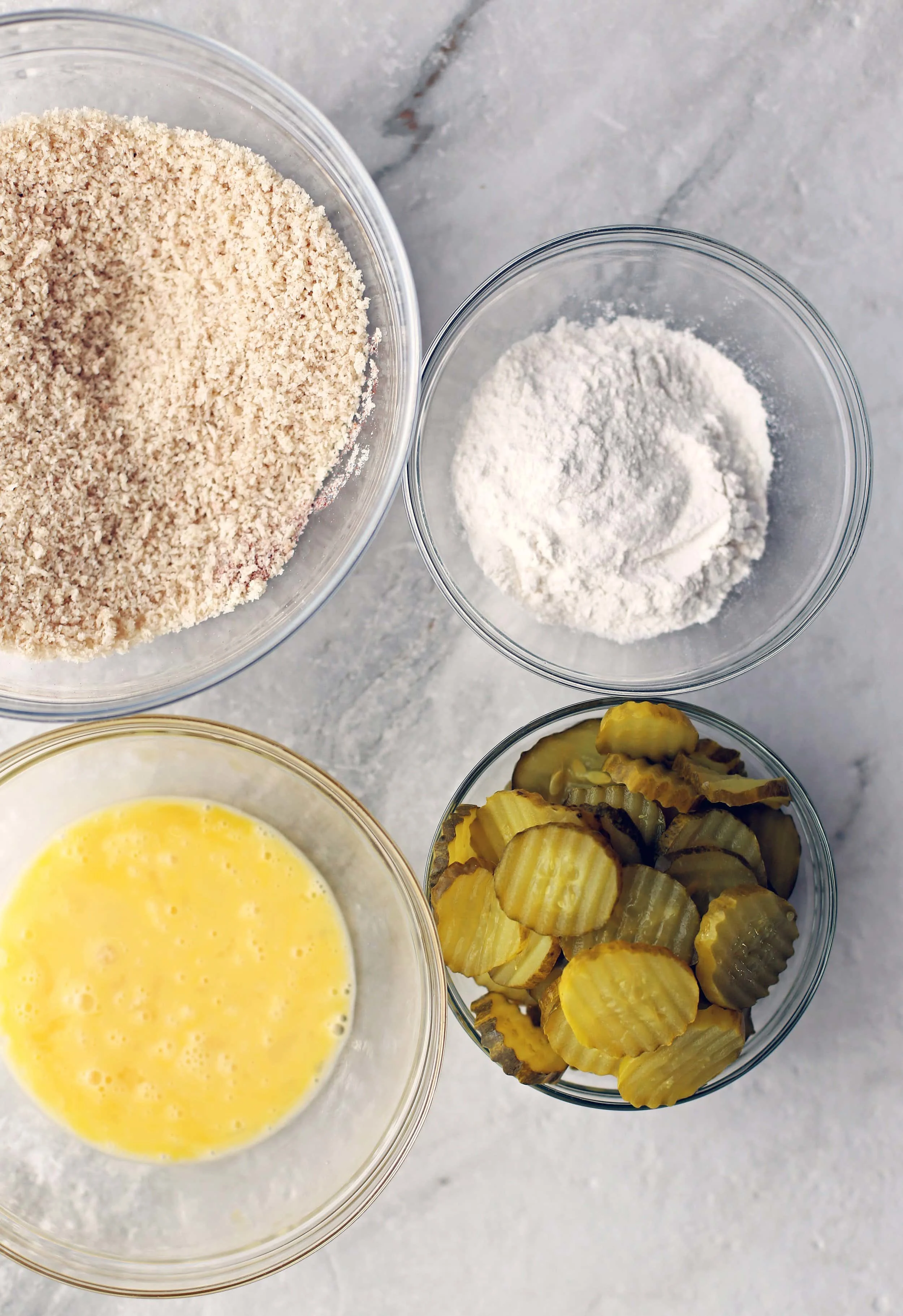 Place the sliced pickles, all-purpose flour, beaten eggs, and seasoned panko breadcrumbs in four separate bowls. Then coat (dredge) each pickle slice in the flour, then egg, and then the breadcrumbs.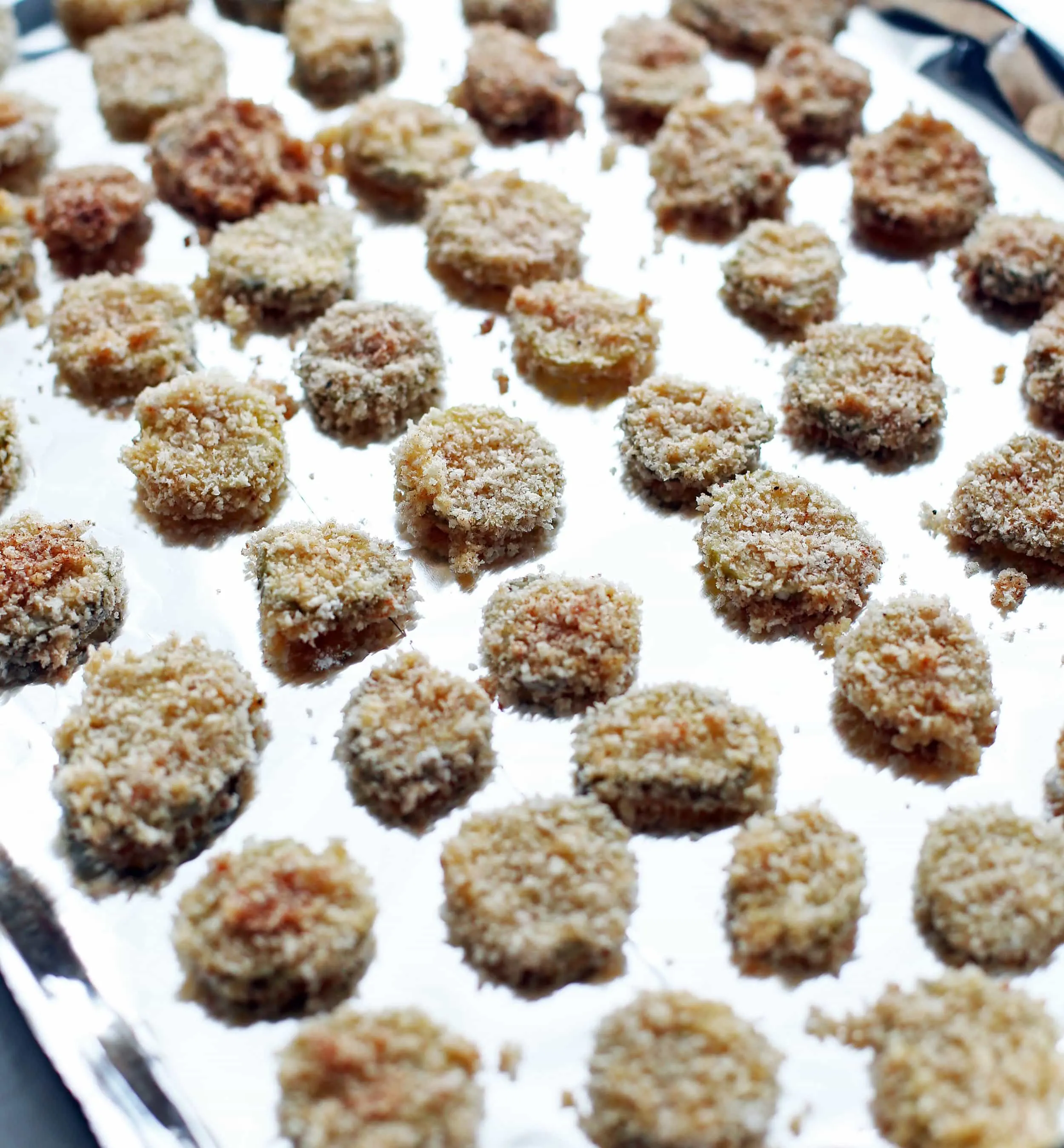 Place on a baking sheet in a single layer and bake at a high temperature (450 degrees F) for 10-15 minutes.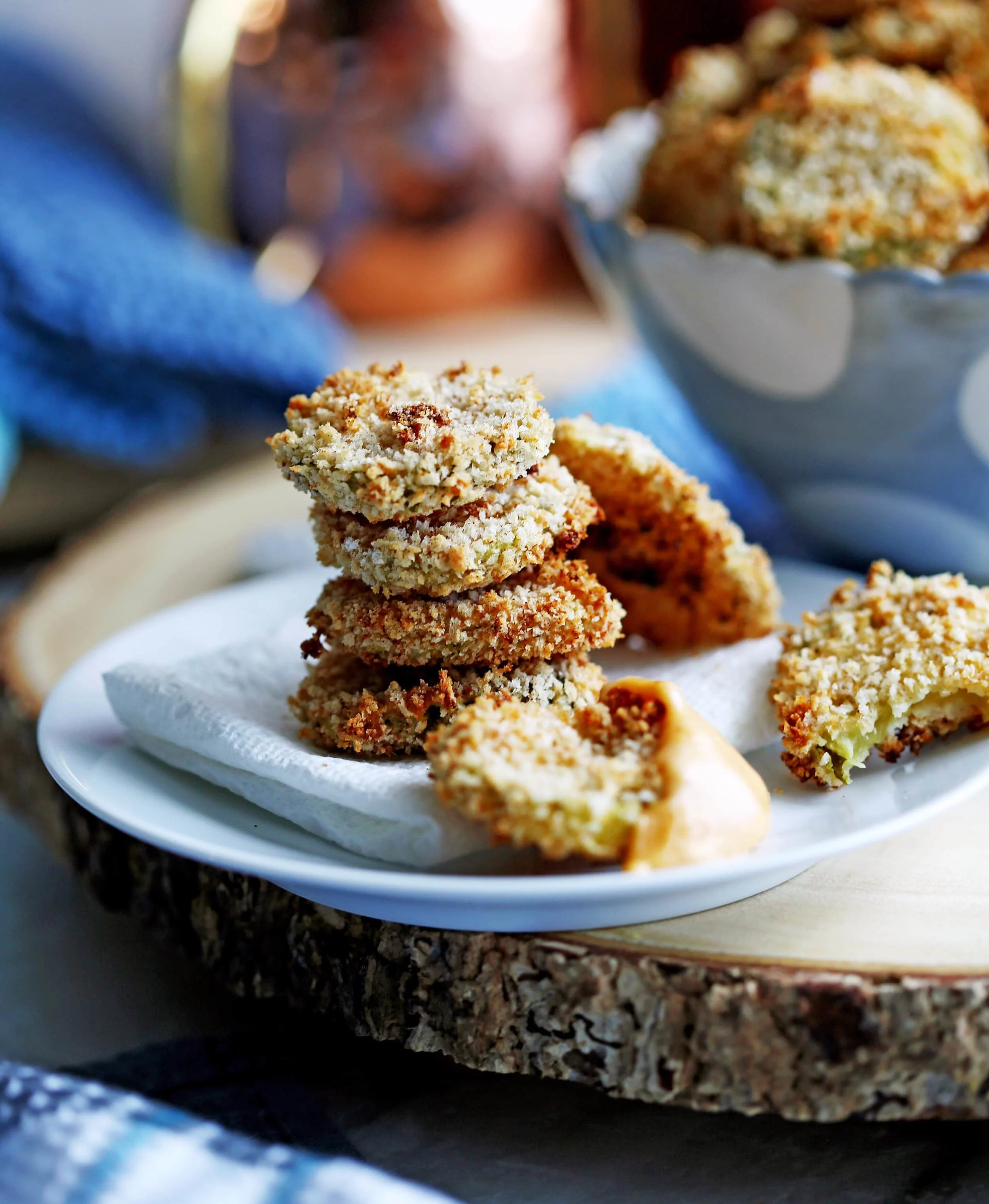 These oven-fried pickles are wonderful because:
It has a lot of tasty flavours: Savoury, sour, and a little heat from the spices. I used paprika, garlic powder, and black pepper (plus salt) to kick up the heat a tinge, which complements the vinegary flavour of the pickles.
You can use add or adjust the amount of seasoning to your liking.
The texture is lovely: The panko breadcrumbs make it super crispy on the outside, while the pickles maintain it's tender-crisp texture.
I prefer to use panko breadcrumbs because the crumbs are larger and flakier in texture compared to regular breadcrumbs, which makes the baked or fried food extra crunchy on the outside.
It is so snackable: This is a great snack to have with a cold beer or pop, a comfy couch, and your favourite television show or movie on.
It scales up really well and would make an ideal game-day snack to feed a crowd.
It's a simple and easy recipe: There are few ingredients, takes about 30 minutes from start to finish, and no fancy techniques are required to make them.
This recipe uses a basic dredging process (coating food in flour, egg, and breadcrumbs in that order) and then bake. No need to heat up oil and no risk of oil splatter either.
If you prefer to fry them, I have short instructions in the Notes section in the recipe card down below.
This recipe is best served warm out of the oven. Being a baked pickle, the texture doesn't hold as long it's fried counterpart as there is still a good amount of moisture in the pickle that will soften the breading the longer you leave it out. Enjoy soon after baking for optimum taste.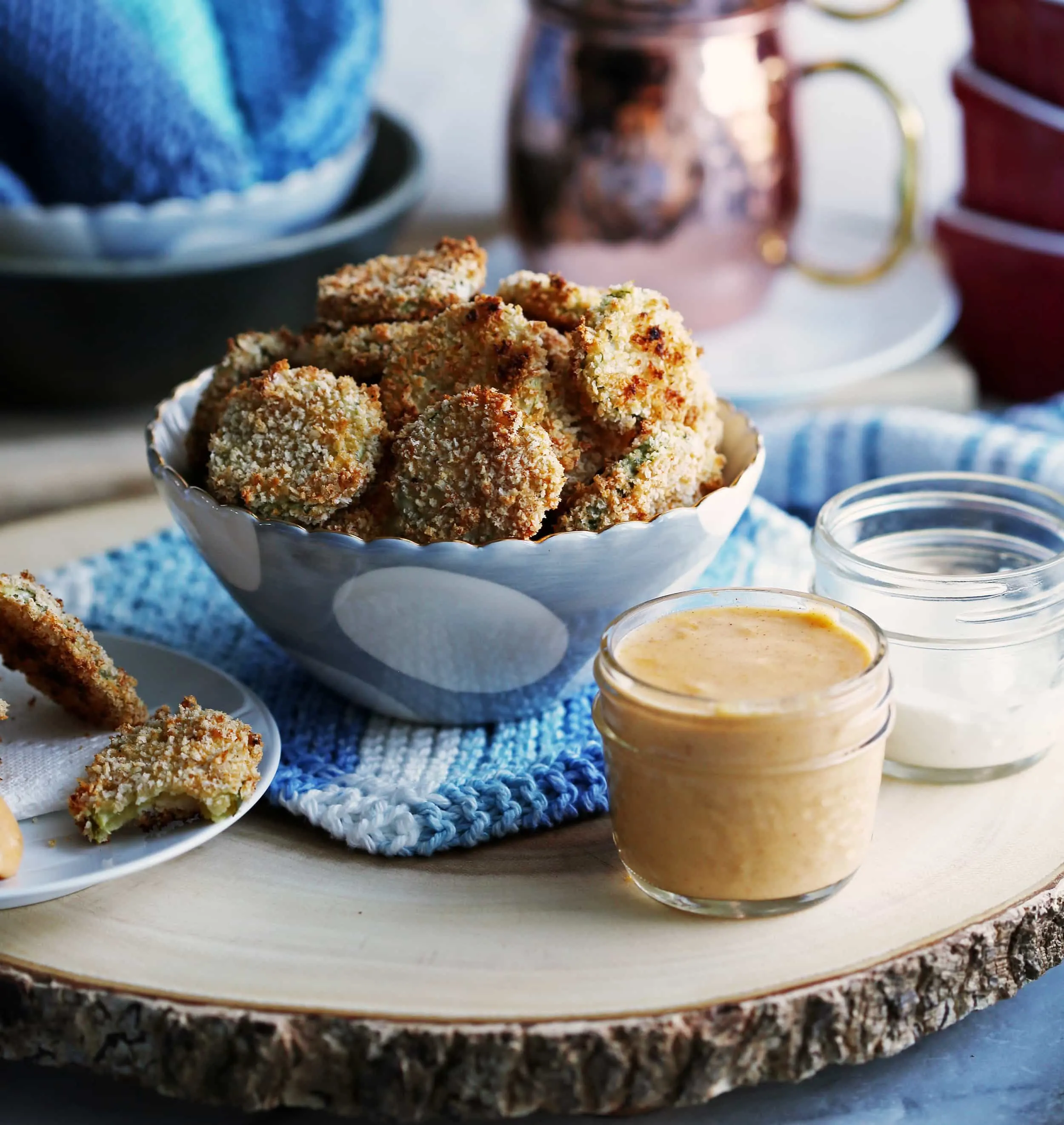 Of course, you can't have (oven) fried pickles without a dip.
A typical dip to serve with fried pickles is ranch dressing, which is fantastic. Along with ranch dressing, I decided to make a quick homemade cheddar cheese dip. It's a simple five ingredient recipe that can be made in less than five minutes and with basic pantry ingredients.
Scott was a particularly big fan of the cheese dip. He loved the creamy texture and how well the sharpness of the cheddar contrasted with the acidity of the pickles. I was glad I had both the ranch and the cheese dip on hand seeing as how Scott made short work of the cheese.
I hope you enjoy this oven-fried pickle recipe!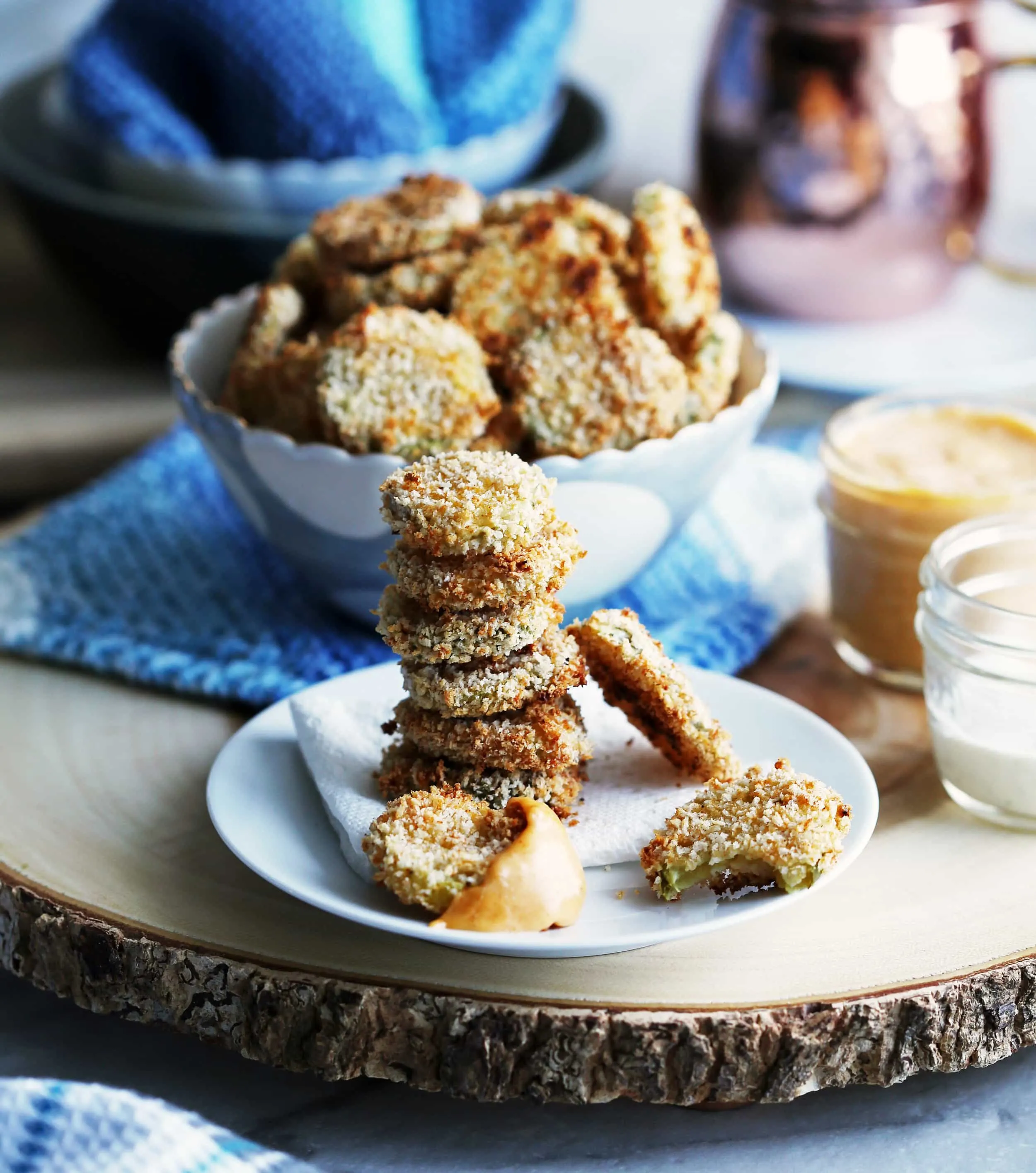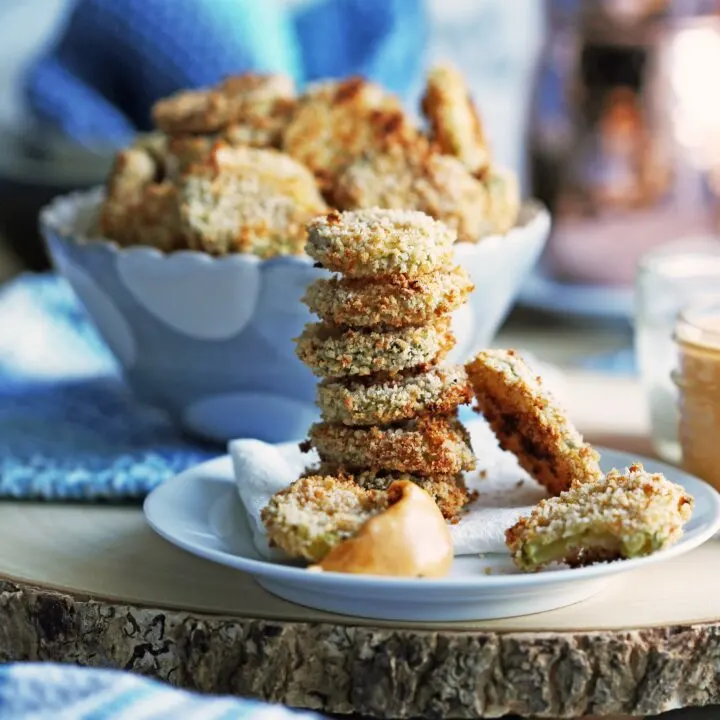 Crispy Oven-Fried Pickles with Cheddar Cheese Dip
Crispy panko breadcrumb crusted pickles are a quick, easy, and tasty snack choice that's baked not fried. Serve with a quick homemade cheddar cheese dip!
Ingredients
For the oven-fried pickles:
2 cups dill pickle coins/slices
1½ cups panko breadcrumbs
½ cup all purpose flour
3 eggs, beaten
1 tsp ground paprika
½ tsp garlic powder
Salt and pepper, to taste
For the cheddar cheese dip:
½ cup sharp cheddar cheese
½ cup milk
1 tbsp butter
1 tbsp all purpose flour
¼ tsp ground paprika
Instructions
For the oven-fried pickles Preheat the oven to 450 degrees F. Line a large baking sheet with aluminum foil.
Remove the excess liquid off the pickles by patting them dry using paper towels or a clean cloth.
Place the flour in one bowl, the eggs in another bowl, and the bread crumbs and spices in a third bowl. Take a pickle slice, coat it evenly with flour (shake off excess), then egg, and finish by covering it with breadcrumbs before transferring to your baking sheet. Repeat for the rest of the pickles.
Bake for 10-15 minutes, flipping halfway through, until the breadcrumbs are lightly golden in colour.
For the cheese dip. As the pickles bake, in a small saucepan at low-medium heat, melt the butter and then whisk in the flour until smooth. Add the milk and stir constantly until thickened. Last, add the cheese and spices and stir until completely smooth.
Serve immediately.
Notes
Along with cheddar cheese dip, I also like to serve the pickles with ranch dressing.
Naw. I want to fry them. Fry method: In a large saucepan or deep fryer, heat oil to 350 degrees F and fry pickles in small batches, for 2-3 minutes or until golden brown, flipping once. Drain on paper towels. Serve with dip.
Nutritional calories represent one serving of pickles including cheese dip with four servings total.
Recommended Products
As a participant in the Amazon Services LLC Associates Program, I only link to products that I use and/or highly recommend. As an Amazon Associate, I earn from qualifying purchases if you purchase through these links at no additional cost to you.
Nutrition Information:
Yield:

4
Serving Size:

1
Amount Per Serving:
Calories:

447
Total Fat:

19g
Saturated Fat:

9g
Trans Fat:

0g
Unsaturated Fat:

7g
Cholesterol:

178mg
Sodium:

1249mg
Carbohydrates:

47g
Fiber:

3g
Sugar:

4g
Protein:

20g