Is it snowing in your part of the world? Here in Alberta, it looks like we're going to have a white Christmas.
With the cold winter weather (arghhh winter is almost officially here!), I crave cozy, warm comfort food.
Comfort food like this delicious Instant Pot Hearty Vegetable and Brown Rice Soup!
How do you make this vegetable and brown rice soup?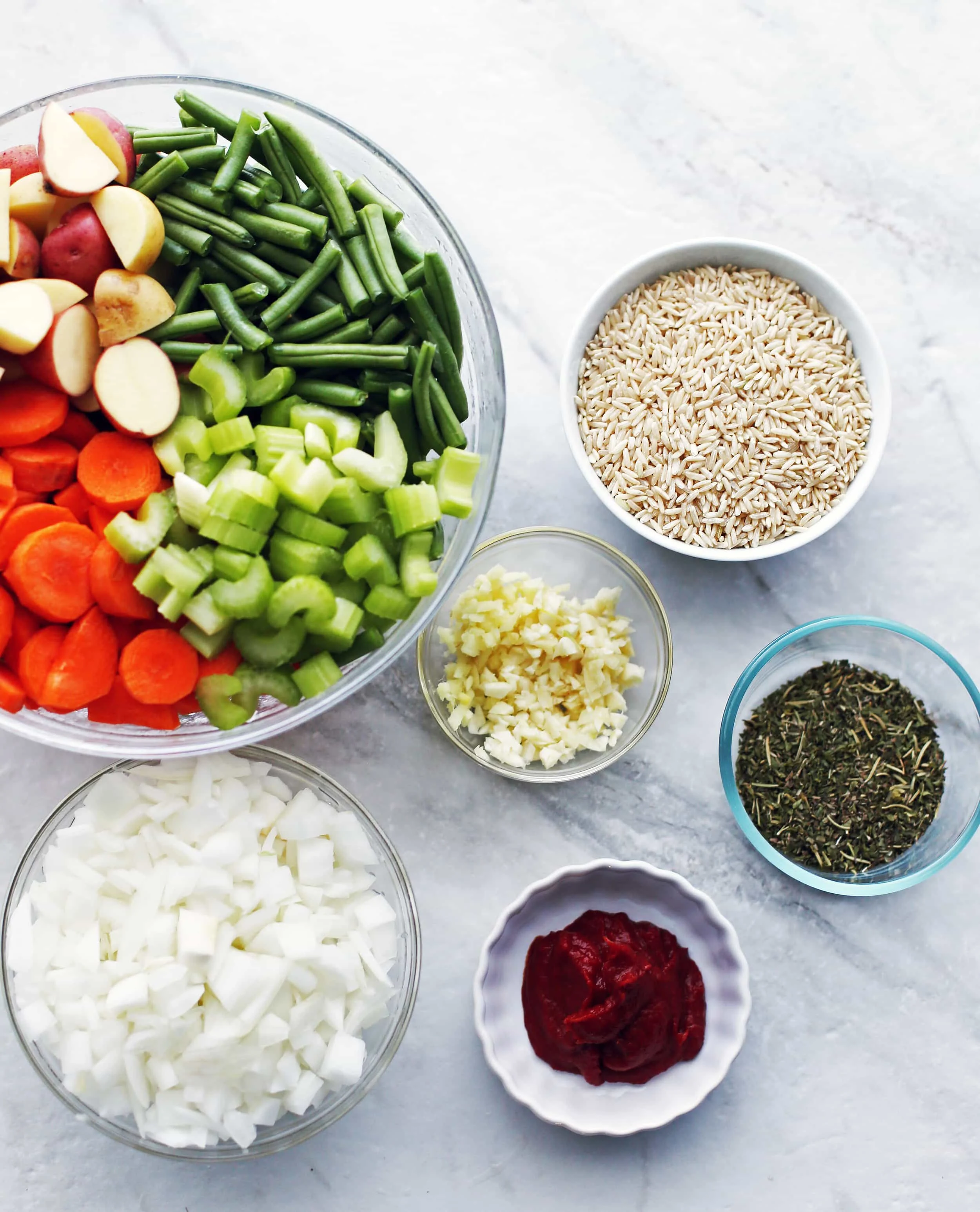 Here are all the ingredients except the broth. Prepare the ingredients before starting the Instant Pot. Complete ingredient amounts and full instructions listed below in the recipe card.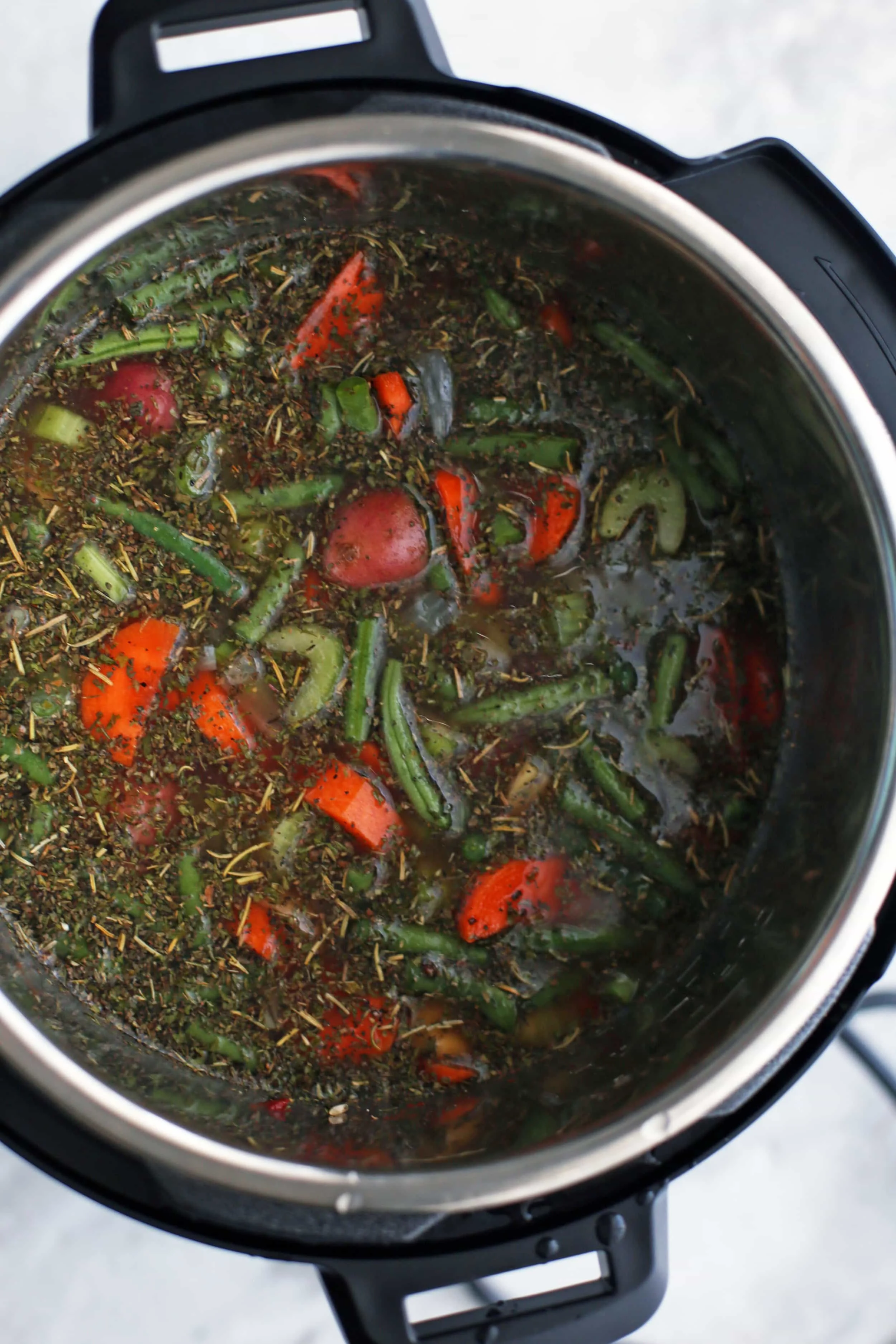 Sauté the garlic, ginger, and onions before adding in the remaining ingredients.
Give the mix a good stir before cooking at high pressure for 20 minutes, allow 10 minutes of natural release before applying a quick release.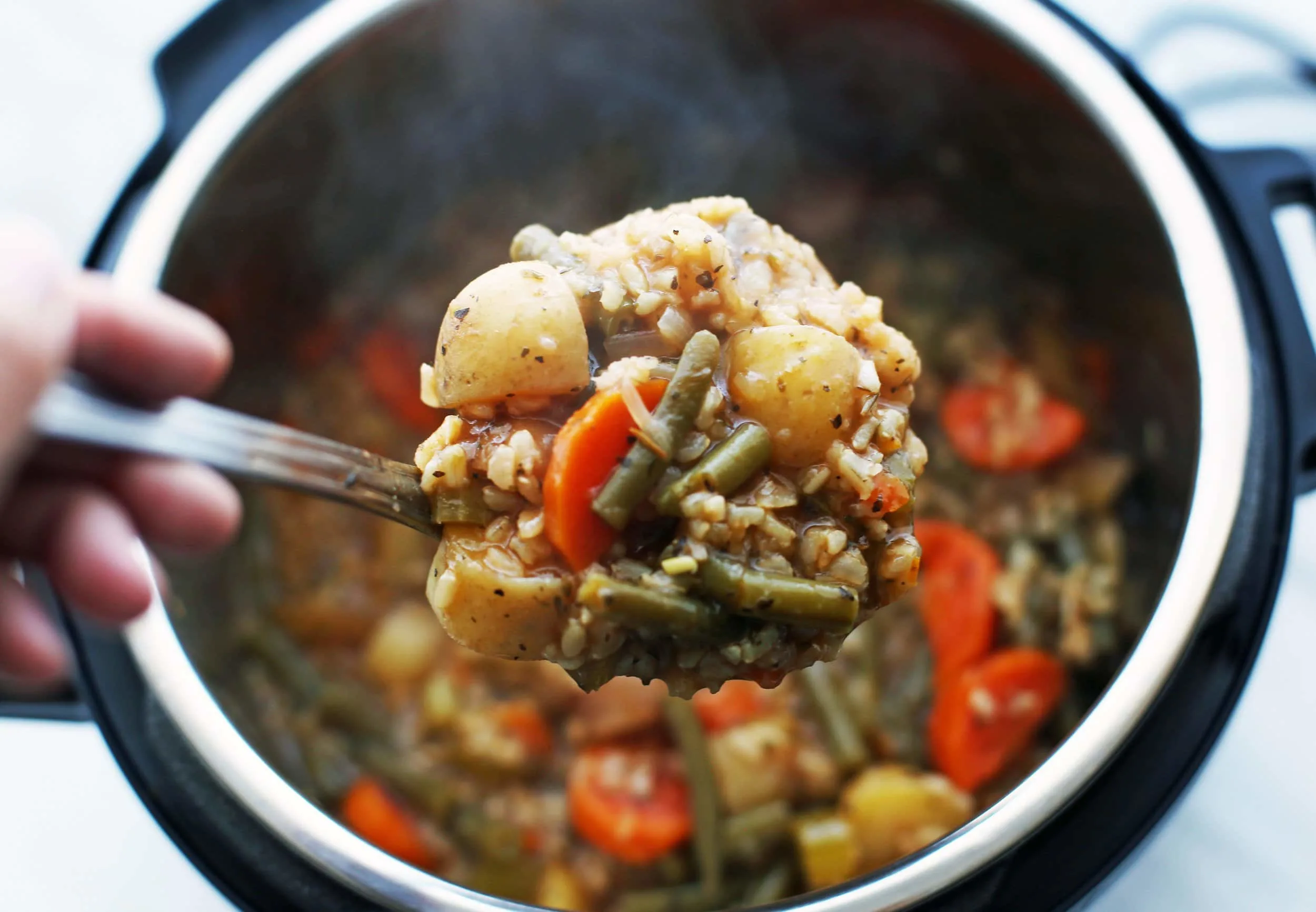 Open the Instant Pot and give it another stir. You'll find scrumptious, tender vegetables and brown rice soup ready to eat.
Add more broth (or water) to thin out the thick soup if you desire and taste for additional salt and pepper if needed.
Serve it with a thick piece of bread or alongside a light salad.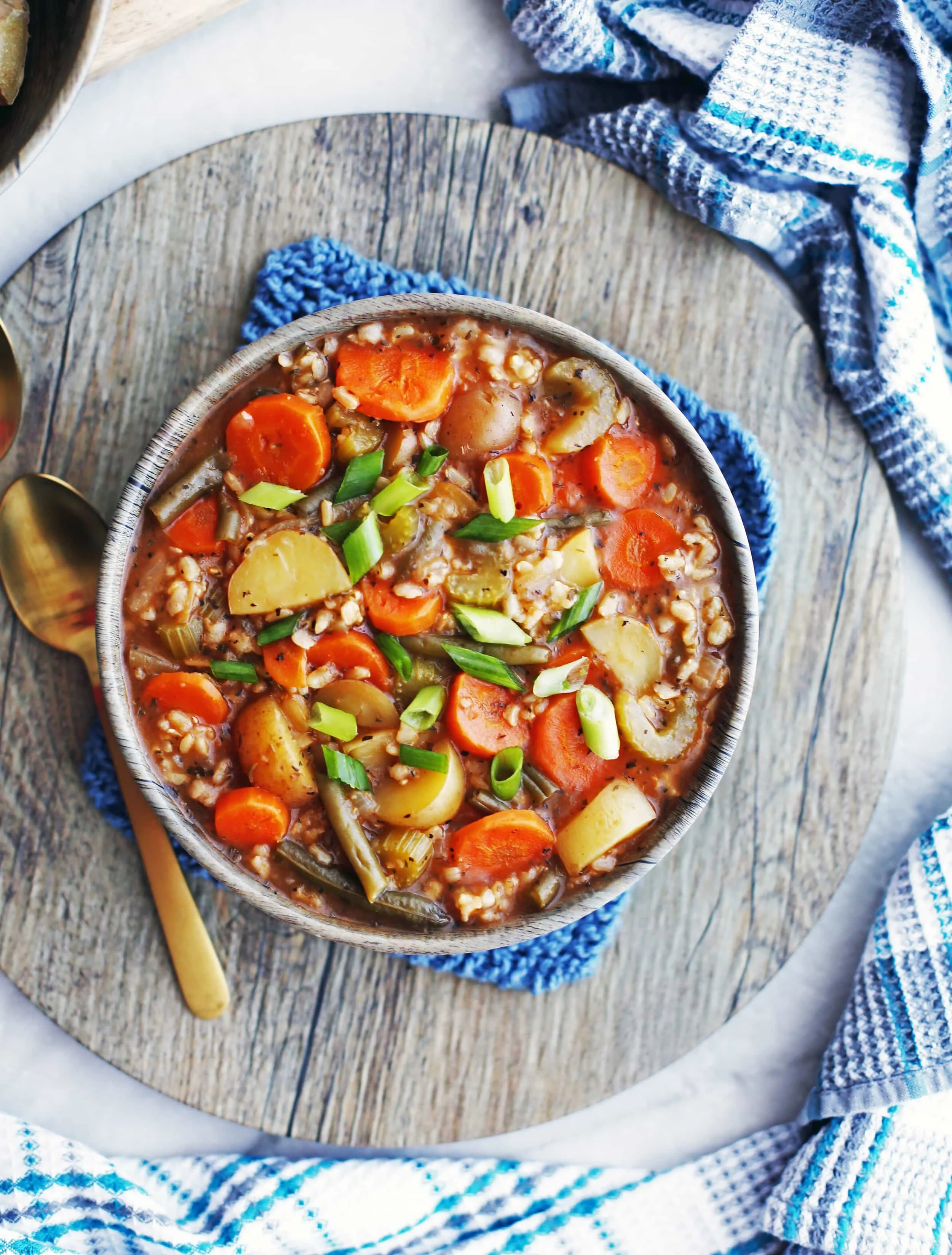 This Instant Pot vegetable soup is:
Flavourful:
Colourful vegetables that are savoury (e.g. potatoes), sweet (from the carrots), and have a mild bite (e.g. onions, ginger, and garlic).
Tender, filling brown rice that more than doubles in size once it is cooked. It has a nuttier flavour than white rice.
A generous amount of dried herbs which includes parsley, basil, rosemary, and thyme that are earthy and fragrant is added to give the soup another layer of flavour.
The tomato paste adds a lovely rich savoury tomato flavour to the soup.
Healthy:
It's nutritious and full of vitamins and minerals from the tasty fresh vegetables. For example, carrots are an excellent source of beta carotene (it converts to vitamin A), which assists in boosting immunity, eye health, and cell growth.
The brown rice is full of fiber and high in nutrients such as manganese and selenium.
It's a fantastic way to get back on track for eating a little bit healthier, especially if you're like me, have been eating too many sweets especially all the holiday desserts and snack mix.
The texture is thick and hearty:
It's thickened using the natural starch from the rice. The rice absorbs all the delicious flavours as it cooks in the Instant Pot.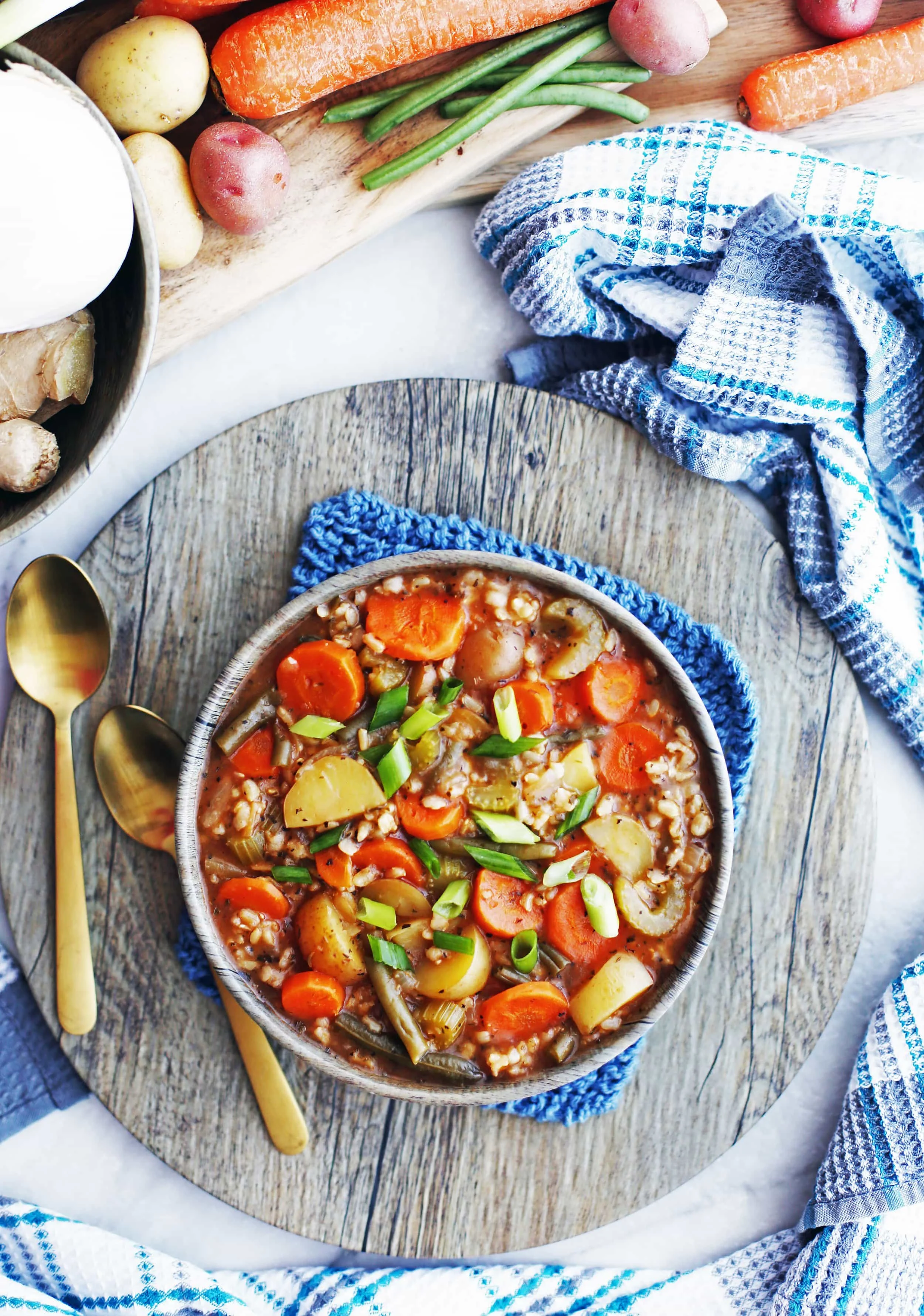 Quick and easy:
Everything is made in one (Instant) pot so clean-up is easy. The soup only requires 20 minutes of high pressure cooking for the the brown rice to be perfectly cooked and the vegetables to get nice and tender.
Makes a good amount of soup:
This recipe results in about 10 cups of soup full of vegetables and brown rice.
That's enough to feed the whole family or have great leftovers to eat during the week. No need to worry about what's for lunch (or dinner).
Vegan and gluten-free:
A lovely meal to serve those with these dietary restrictions.
So comforting! Enjoy this filling soup recipe!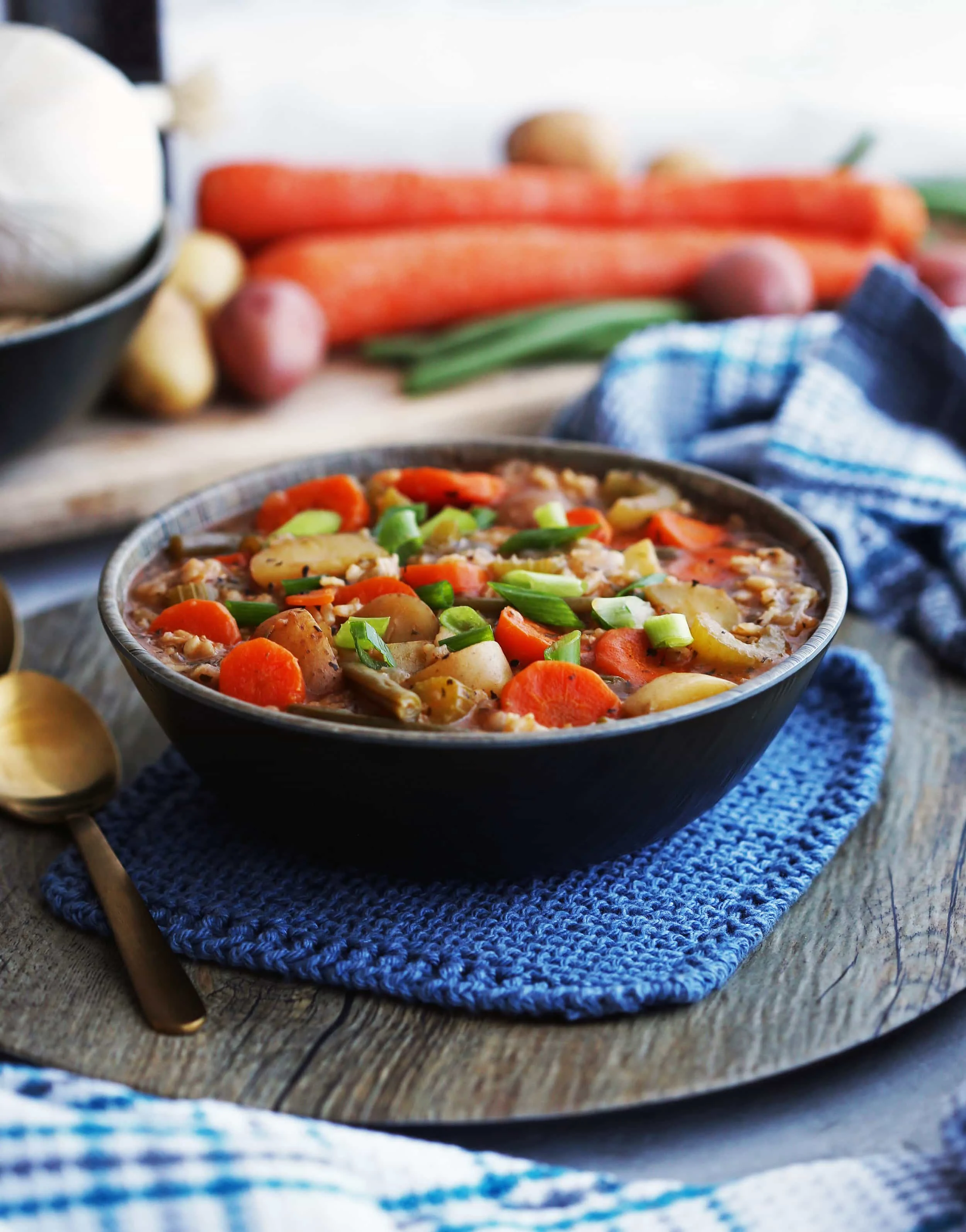 I hope you try this Instant Pot vegetable soup recipe! If you do, please leave me a rating and comment down below or tag me on any of my social media. I'm @yay_for_food on Instagram. I'll love a picture!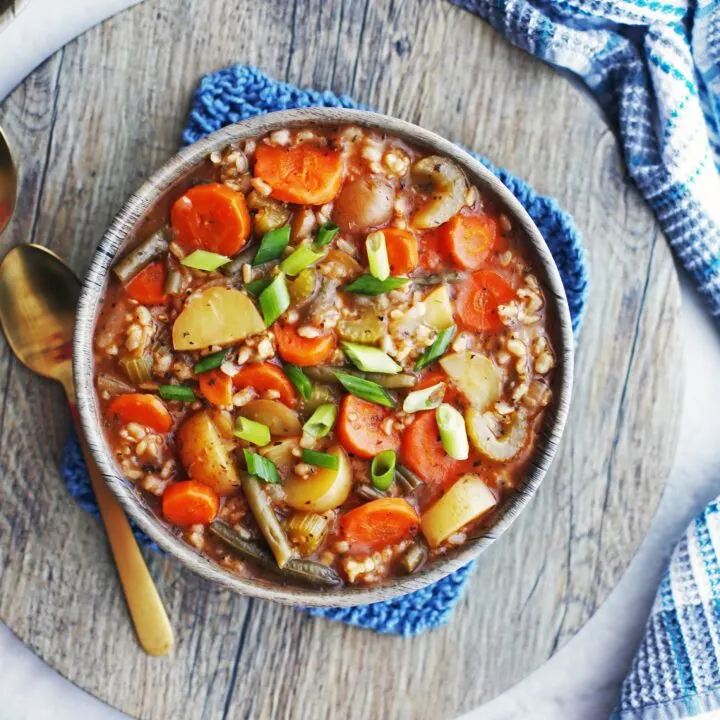 Instant Pot Hearty Vegetable and Brown Rice Soup
Additional Time:
15 minutes
Total Time:
1 hour
5 minutes
Delicious, comforting, and filling. This soup is full of healthy fresh vegetables and fiber-rich brown rice! It's vegan and gluten-free too.
Ingredients
1 tbsp olive oil
1 large onion (10 oz), chopped
3 garlic cloves, minced
2-inch fresh ginger, minced
1 lb. (3 cups) red (or white) potatoes, chopped
3 medium carrots (12 oz), chopped
10 oz (2½ cups) French green beans, trimmed and cut into 2-inch pieces
4 celery sticks (7 oz), chopped
1 cup dry brown rice
2 tbsp tomato paste
1 tbsp dried parsley
1 tbsp dried basil
1 tsp dried rosemary
1 tsp dried thyme
4 cups vegetable broth
2 cups water
Salt and pepper, to taste
Optional: green onions, chopped
Instructions
Set the Instant Pot to "sauté". Pour a tablespoon of olive oil into the pot and add the onion, stirring until soft and brown, about 4-5 minutes. Add in the garlic and ginger and stir for another minute.
Press "cancel" to turn off the Instant Pot. Add the remaining ingredients into the pot, starting with the vegetables, then rice, tomato paste, herbs, and top with the vegetable broth and water.
Season generously with salt and pepper. Give the ingredients a good stir to distribute the ingredients throughout the pot *(see first note).
Seal the Instant Pot and cook at high pressure ("manual"/"pressure cook" function) for 20 minutes. After the stew is ready, allow natural pressure release for 10 minutes before a quick pressure release to completely depressurize (until floating valve drops).
Open the Instant Pot and give the soup another stir. If necessary, add more broth (or water) to thin out the thick soup if you desire. Heat the soup by pressing the "sauté" function and letting the soup come up to a low boil so that it is heated through.
Taste for additional salt and pepper and top with chopped green onions if you like. Best served hot.
Notes
*The liquid should just cover the top of the ingredients. Add more broth or water if necessary.
Nutritional calories represent one serving (excluding optional toppings) with eight servings total.
Recommended Products
As a participant in the Amazon Services LLC Associates Program, I only link to products that I use and/or highly recommend. As an Amazon Associate, I earn from qualifying purchases if you purchase through these links at no additional cost to you.
Nutrition Information:
Yield:

8
Serving Size:

1
Amount Per Serving:
Calories:

76
Total Fat:

2g
Saturated Fat:

0g
Trans Fat:

0g
Unsaturated Fat:

2g
Cholesterol:

0mg
Sodium:

405mg
Carbohydrates:

13g
Fiber:

2g
Sugar:

3g
Protein:

2g