We bought an Instant Pot! After hearing about the virtues of the Instant Pot from friends and family and seeing so many fantastic recipes from my fellow food bloggers, my husband (Scott) and I decided to buy one of these popular devices during a pretty darn good sale. If you know me, I appreciate a good sale.
Since we purchased our Instant Pot over a month ago, we've been trying out different recipes.
It's a really handy kitchen gadget, but I didn't know if I should post any recipes that I've been tinkering with since it's a specialized piece of kitchen equipment.
Then I was reminded that slow cookers (aka crock pot) recipes have been around for decades and plus everyone I seem to know has been picking up and Instant Pot or is going to receive one for Christmas!
So why not? These recipes are quick and easy… just what my site is about.
In addition, the food coming out of it is so tasty! So without further ado, my first Instant Pot recipe on Yay! For Food: Chinese Five Spice Beef and Vegetable Stew!
Hold on… What is Chinese Five Spice?
If you're not familiar with Chinese five spice, it's most commonly used in Chinese and other Asian cuisine. The flavours in this spice mix is said to encompass diverse, but balanced flavours that include sweet, bitter, pungent, salty, and spicy tones.
Traditionally, the spices that go into Chinese five spice are star anise, cloves, cassia (Chinese cinnamon), fennel, and Szechuan peppercorns, but other ingredients such as turmeric, star anise powder, ginger, orange peel, or cardamon can also be found in five spice mix as well.
For this recipe, I used a pre-made blend (I prefer to steal my dad's five spice blend if I can), but ideally, you can make your own so the mix will be fresh and to your taste.
DIY mix: A basic recipe is measuring each of the five common ingredients in equal amounts and then grinding everything up using mortar and pestle, a spice grinder, or coffee grinder.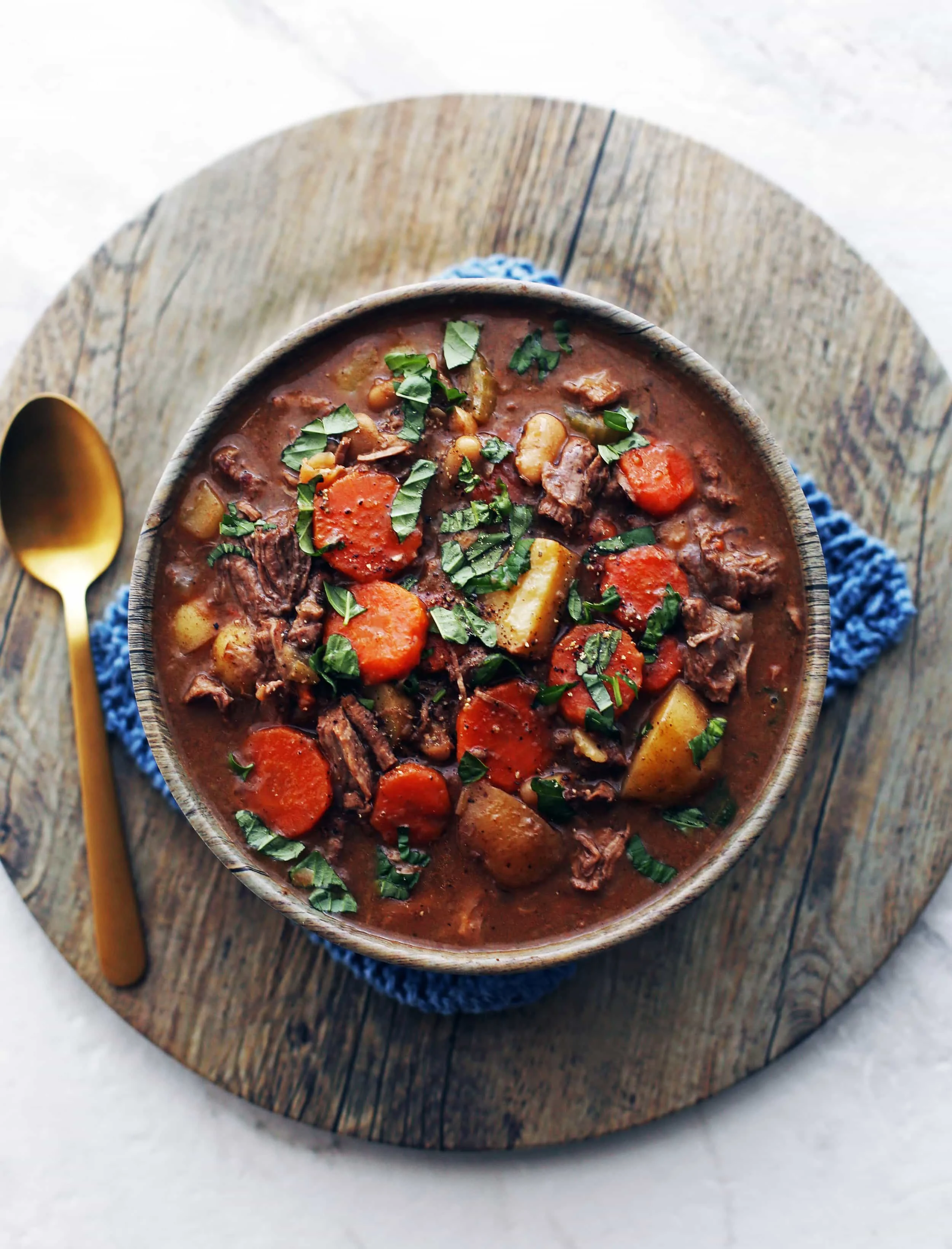 What else is in this beef stew?
This is one hearty and filling stew with tender beef pieces that can be shredded easily with a fork.
Tip: Make sure you get beef that is good for stewing such as chuck roast (preferred), round roast, or pot roast. These cuts are said to be the tough cuts of meats, but as they cook, the fat and connective tissue in these cuts will render and become so tender and flavourful.
Then there are the vegetables that include chopped onions, potatoes, carrots, and celery along with cannellini beans for extra fiber.
Healthy, colourful, sweet and savoury flavours that help bulk up this comforting stew. A few extra components ramps up the taste too.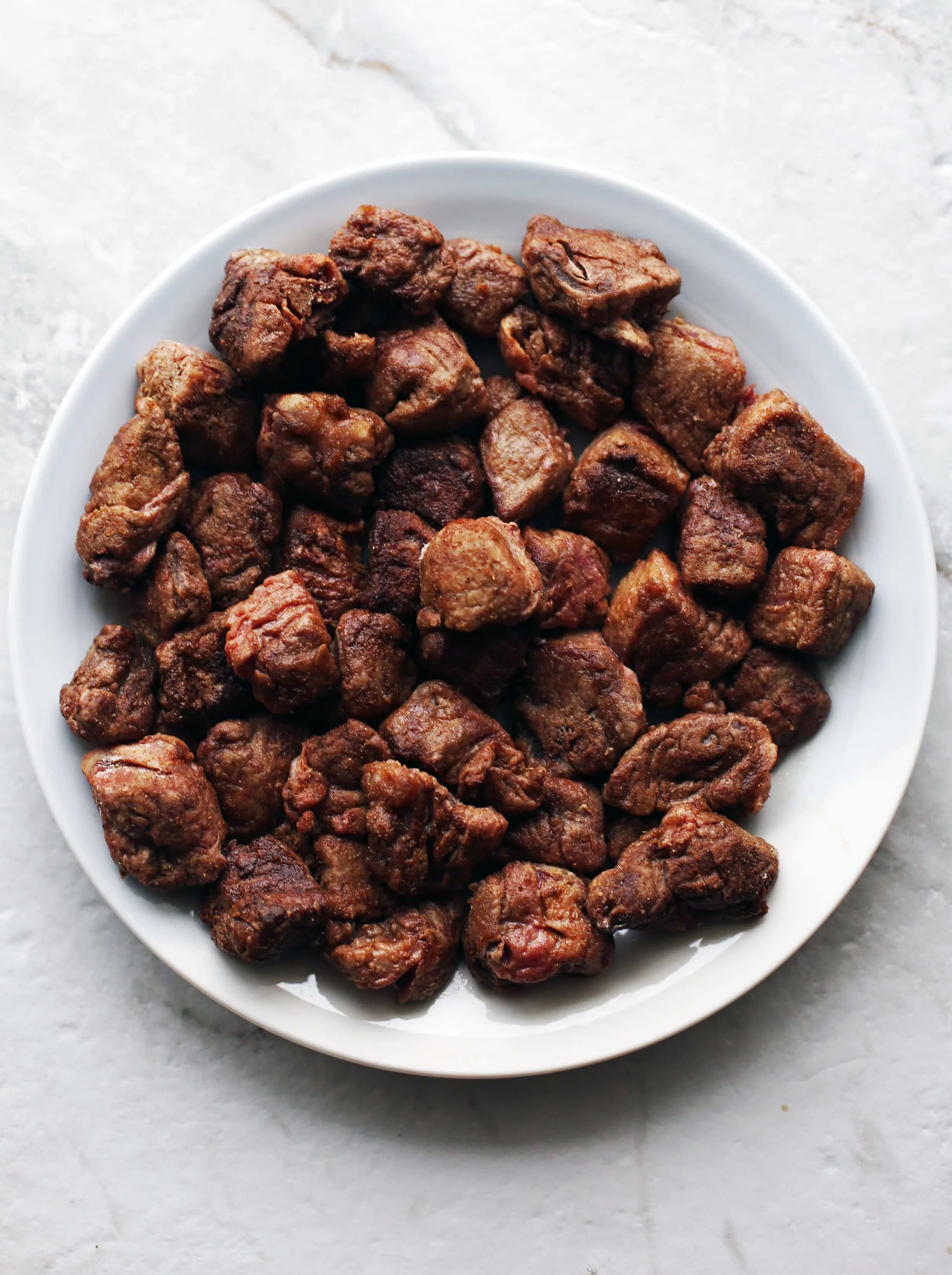 Browning the beef gives it a nice colour, better texture and flavour.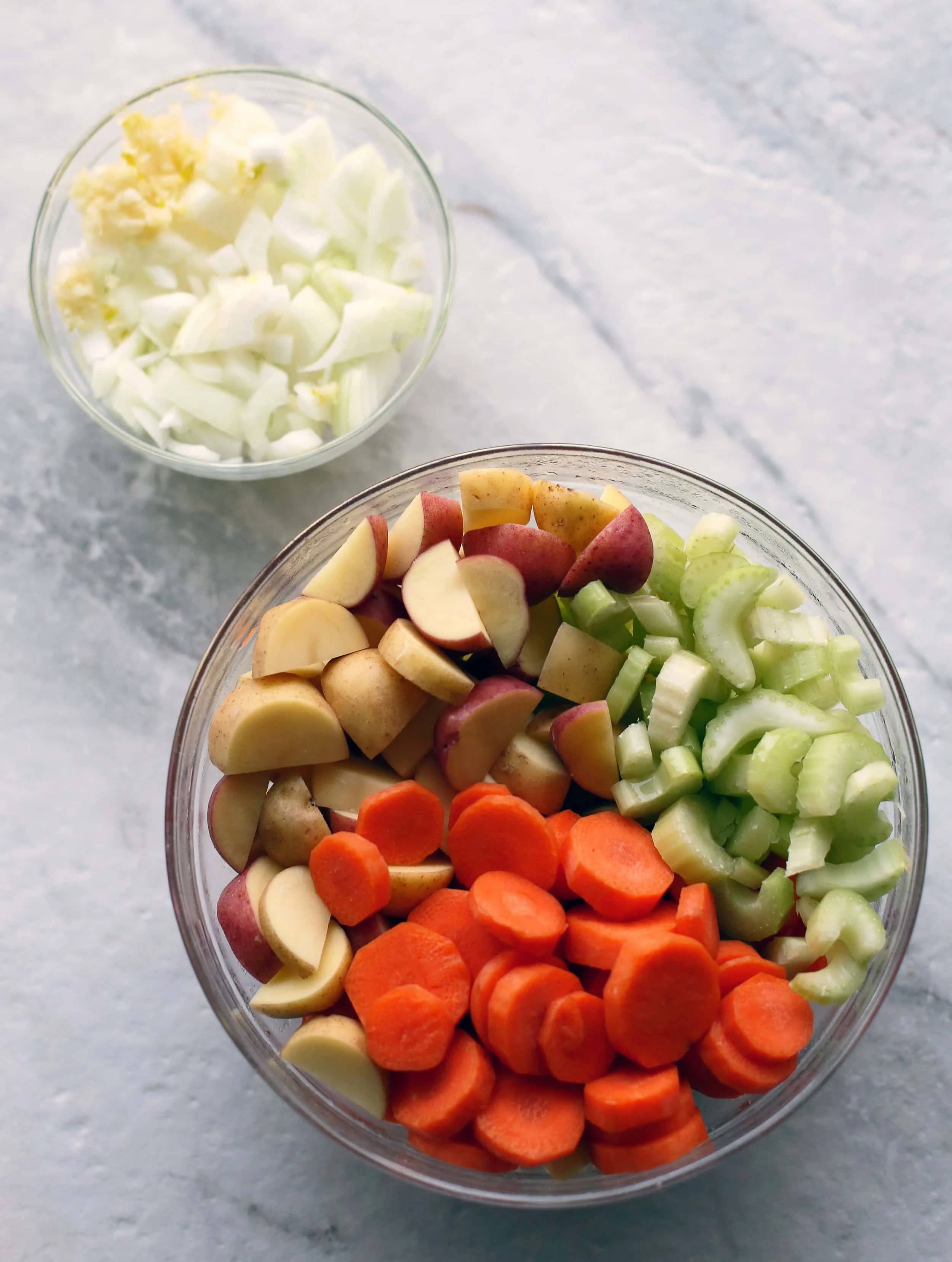 The vegetables are chopped up and ready to be added to the pot.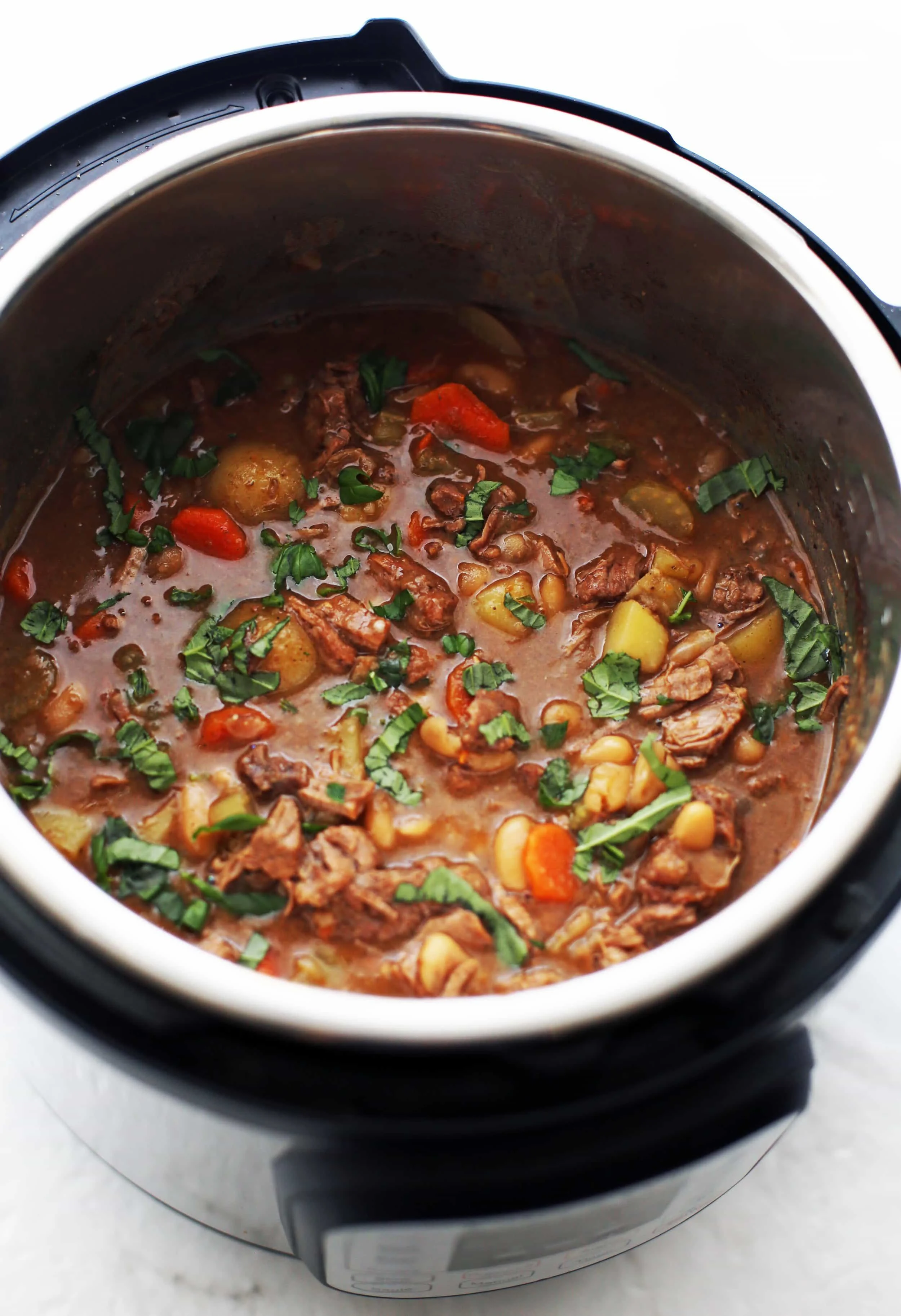 This comforting Instant Pot beef stew is ready! Top it with fresh basil if you like!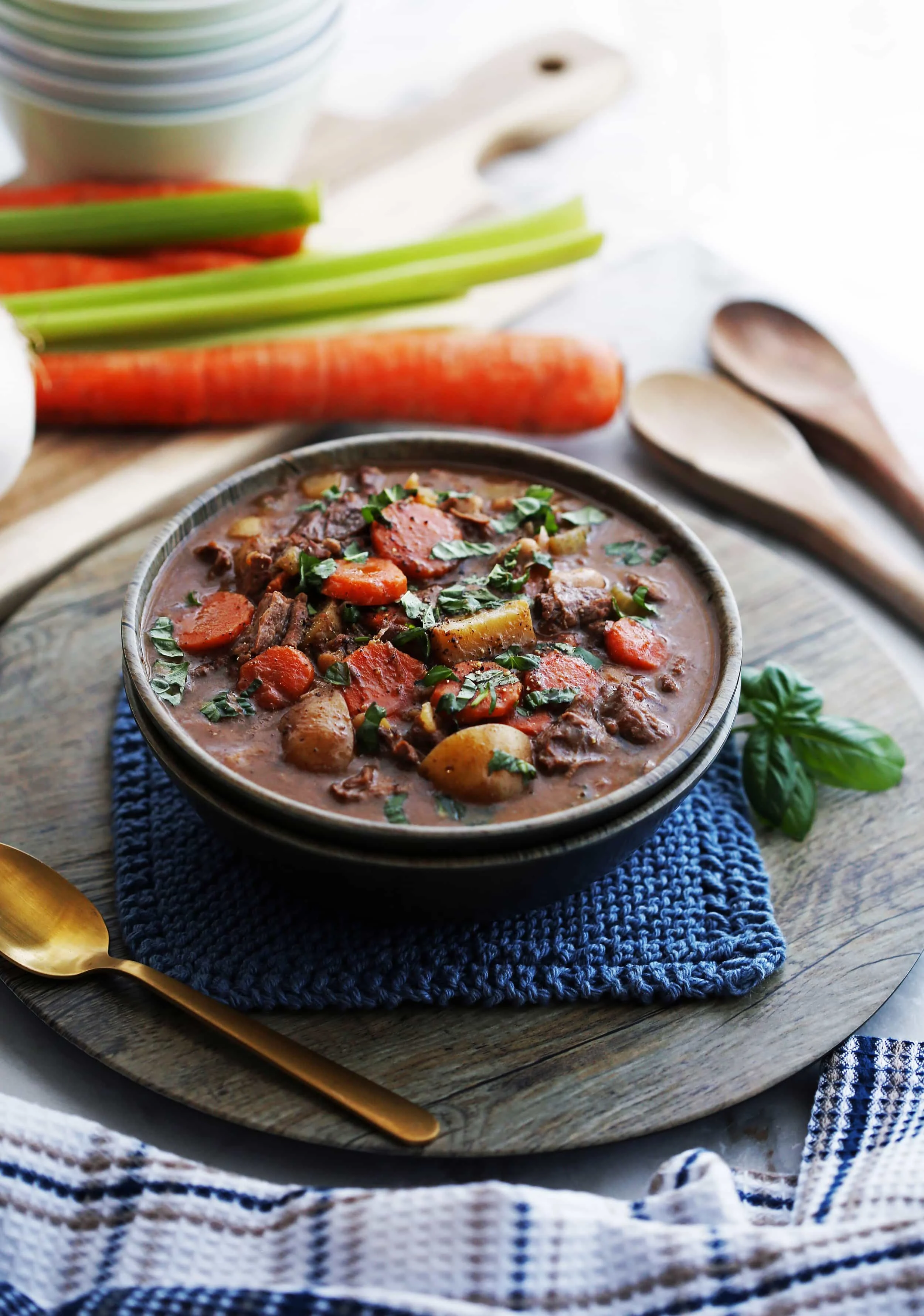 I like to ladle this stew into a big bowl and eat it as is, but it would be awesome served with crusty bread or even served over white rice.
I hope you enjoy this recipe!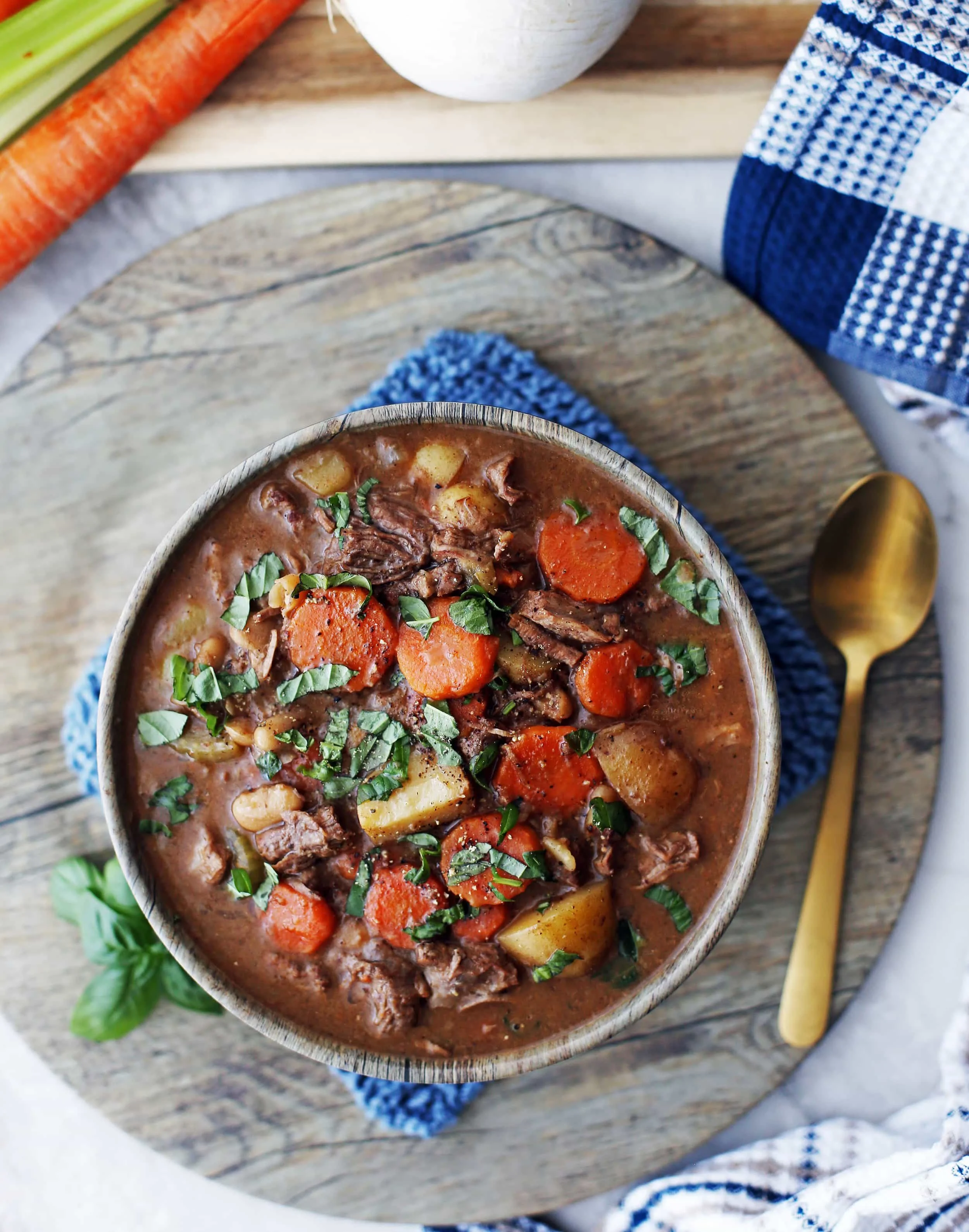 Did you make this Instant Pot Beef Stew recipe? Leave me a rating and comment down below or tag me on any of my social media. I'm @yay_for_food on Instagram. Please share your recipe pictures!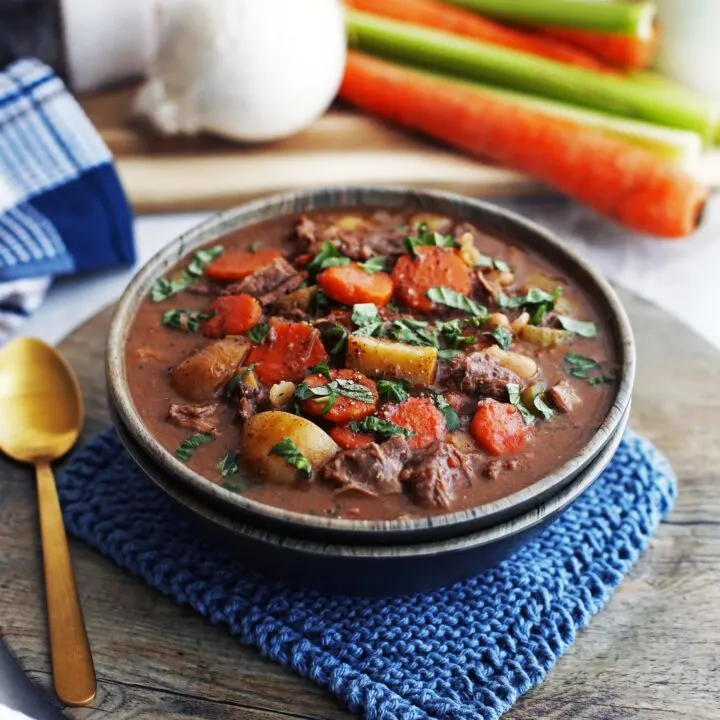 Instant Pot Chinese Five Spice Beef and Vegetable Stew
A hearty beef and vegetable stew featuring the robust savory flavour of Chinese five spice. Quick and easy to prepare with the Instant Pot!
Ingredients
2 lb. stewing beef (like chuck roast), cut into 1 - 1½ inch cubes
¼ cup all purpose flour
1½ tbsp Chinese five spice
2 tbsp olive oil, divided
1 medium onion, chopped
4 garlic cloves, minced
¼ cup dry red wine
2 medium red (or white) potatoes (13 oz), chopped
3 carrots (11 oz), chopped
3 celery sticks (7 oz), chopped
540 ml can of cannellini beans (2 cups), drained and rinsed
4-5 cups beef broth (I used low sodium)
2 tbsp tomato paste
2 tsp worcestershire sauce
1 bay leaf
Salt and pepper, to taste
Optional: fresh basil, chopped
Instructions
In a large ziploc bag, add the stewing beef, flour, and Chinese five spice then seal and shake the bag until the beef is well coated.
Using the "saute" function on the Instant Pot, add one tablespoon of olive oil and brown beef on all sides (you may need to do this in batches). Remove the beef and set aside.
Pour another tablespoon of olive oil into the Instant Pot and add the onion, stirring until soft and brown, about 4-5 minutes. Add in the garlic and stir for another 30 seconds, until the garlic starts to brown.
Add red wine to deglaze* (see first note), stirring and scraping the bottom of the pot to remove/dissolve the brown bits and allowing the wine to be absorbed into the onions. Press "cancel" to turn off the Instant Pot.
Add back in the beef as well as the potatoes, carrots, celery, beans, beef broth, tomato paste, Worcestershire sauce, and salt and pepper to taste. Give the ingredients a good stir to distribute the ingredients throughout the vessel** (see second note). Place a bay leaf on top.
Seal the Instant Pot and cook at high pressure ("manual"/"pressure cook" function) for 25 minutes. After the stew is ready, allow natural pressure release for at least 15 minutes before quick pressure release to completely depressurize (until floating valve drops).
Open the Instant Pot, remove the bay leaf and give the stew a stir. Taste for additional salt and pepper and top with fresh basil if you like. Best served hot.
Notes
*If you prefer not using red wine, you can deglaze with two tablespoons of beef broth or balsamic vinegar.
**The beef broth should cover the top of the ingredients. Add more beef broth (or water) if necessary.
Recommended Products
As a participant in the Amazon Services LLC Associates Program, I only link to products that I use and/or highly recommend. As an Amazon Associate, I earn from qualifying purchases if you purchase through these links at no additional cost to you.
Nutrition Information:
Yield:

8
Serving Size:

1
Amount Per Serving:
Calories:

428
Total Fat:

23g
Carbohydrates:

29.1g
Protein:

27.6g