Happy Friday! Let's cheers to the weekend! Do you like Moscow Mules?
It is one of our ultimate favourite drinks here at the Yay! For Food household ever since we collectively discovered our love of ginger beer at a Jamaican restaurant several years ago.
It wasn't until a few years later that Scott had a Moscow Mule for the first time after getting jealous of a coworker who had one at a retirement party. He came home that night and insisted on making me one and we've been hooked ever since. This time, I've added a little twist to the traditional Moscow Mule.
What is a Moscow Mule?
The Moscow Mule is a refreshing vodka cocktail that has the spicy bite of ginger beer. In a regular Moscow Mule, there are three main ingredients: vodka, lime juice, and ginger beer.
Ginger beer doesn't have any beer in it (it's non-alcoholic) and it is definitely NOT the same as ginger ale.
Ginger beer is brewed and fermented, which produces its distinct robust spicy gingery flavour, while ginger ale is a carbonated ginger-flavoured pop drink, which has less kick to it and is sweeter in taste.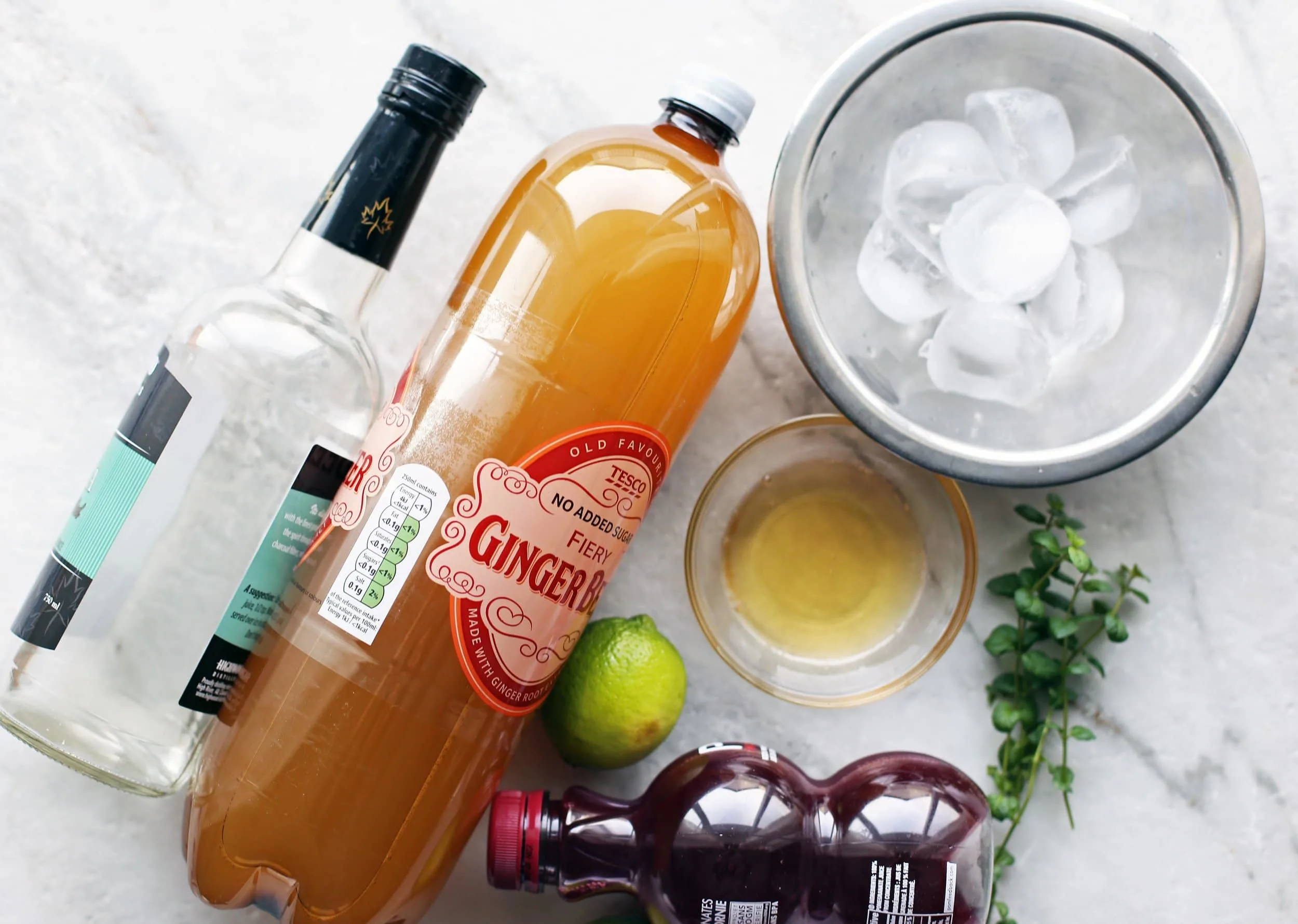 What's the twist in this recipe?
This simple beverage is delicious and zingy on its own, but the pomegranate juice gives it a wonderful tart sweetness and pretty purplish-red colour.
If you're not extracting juice straight from a pomegranate, make sure you use 100% pomegranate juice with no added sugar.
The pure honey gives a little more sweetness, which goes so well with other flavours in this drink. I use a clover honey, which has a sweet, floral, and delicate flavour profile.
It's there, but it also allows the ginger beer and pomegranate juice to be the dominant flavours. You can experiment if you like with different honeys (e.g. wildflower, berry, coffee).
I like to top it with a sprig of fresh mint, which can be stirred into the mix for a slight minty tone. Everything is mixed together with a good amount of ice making this drink nice, cold, refreshing and very easy to put together.
Of course, you can also remove the vodka to make a really tasty non-alcoholic drink that is suitable for the young ones and those who refrain from drinking alcohol.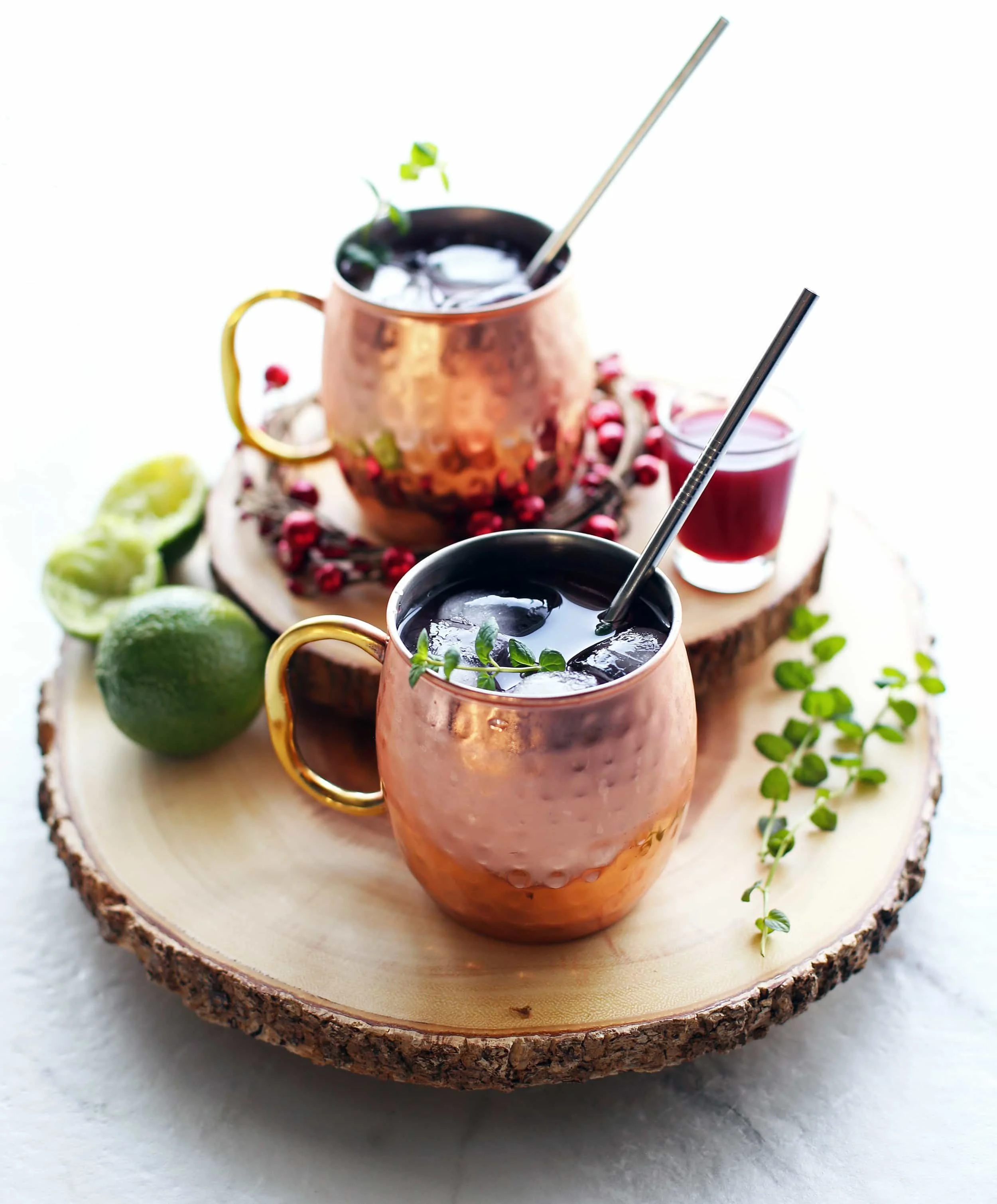 What to serve it in? Does a Moscow Mule need a copper mug?
If you would like to go the most traditional and popular route, serve your Moscow Mule in a copper mug. It will help the drink stay nice and cold too.
Scott (my husband) was very particular with the look and shape of the mug of that he wanted to own. Shiny, hammered-finished, a certain shade of copper, and a round body and handles. I just feel fancy drinking from a copper mug.
If you don't have a copper mug, it'll also look cool in a highball glass, but really, I'm not judging, any drinking vessel will do especially if you are making it for yourself.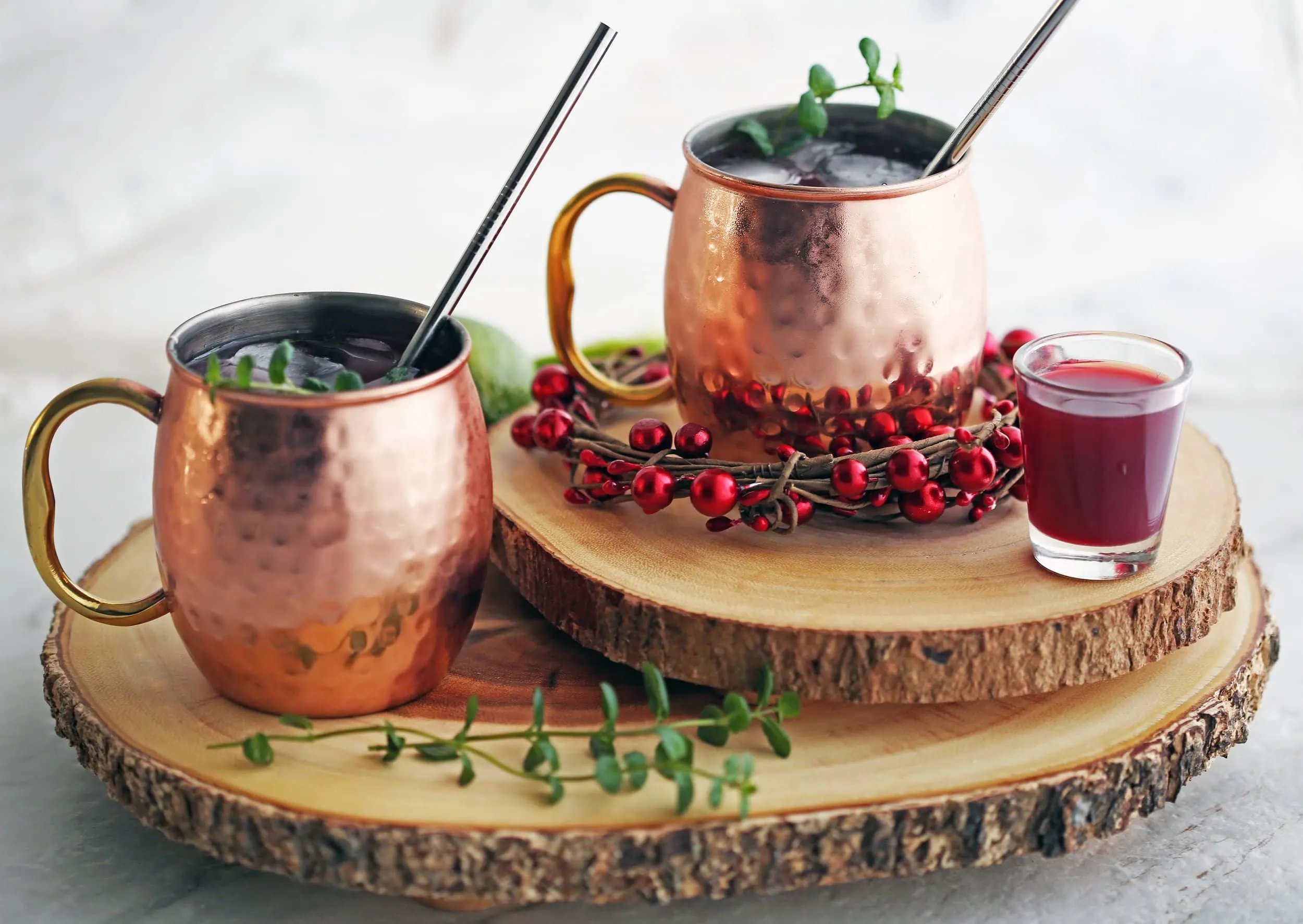 Looking for more cocktail recipes? Check out these ones!
Have a wonderful weekend! Enjoy this drink!
Did you make this simple Pomegranate Honey Moscow Mule recipe? Leave me a rating and comment down below or tag me on any of my social media. I'm @yay_for_food on Instagram. Please share your recipe pictures!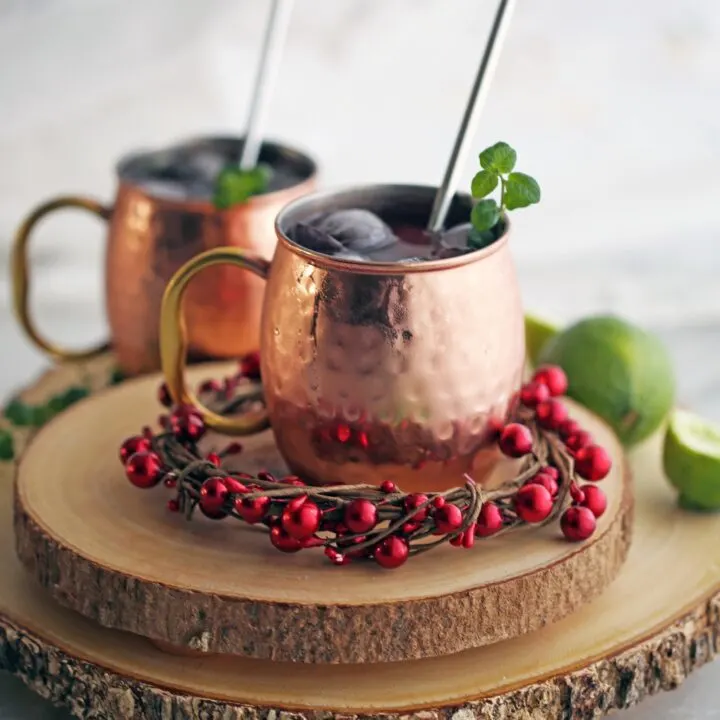 Pomegranate Honey Moscow Mule
Pomegranate Honey Moscow Mules are a lovely seasonal twist on the classic Moscow Mule. It's a festive and refreshing drink that's perfect to sip on during the holidays!
Ingredients
2 oz. vodka
½ oz. fresh lime juice
1½ tsp pure honey
2 oz. 100% pure pomegranate juice
4-6 oz. ginger beer
Plenty of ice
Optional toppings:
Sprigs of fresh mint
Lime wedge
Instructions
Pour the vodka, lime juice, and honey into a Moscow Mule mug (or other glass). Stir until the honey is dissolved.
Fill up the mug with ice until it is ¾ full to the top. Add in the pomegranate juice and top it off with ginger beer. Stir to combine.
Garnish with fresh mint and a lime wedge if you like. Enjoy.
Nutrition Information:
Yield:

1
Serving Size:

1
Amount Per Serving:
Calories:

199
Total Fat:

0.1g
Carbohydrates:

17.7g
Protein:

0.4g