Teriyaki chicken is one of my favourite chicken dishes! This recipe uses boneless skinless chicken thighs and a homemade teriyaki sauce.
By adding a carb (rice) and a vegetable (kale), it makes an easy-to-make, healthy, and filling meal option!
I hope you enjoy this filling recipe for Teriyaki Chicken Rice Bowls with Garlicky Kale!
How do you make this recipe?
(Full ingredient amounts and instructions available in the recipe card down below)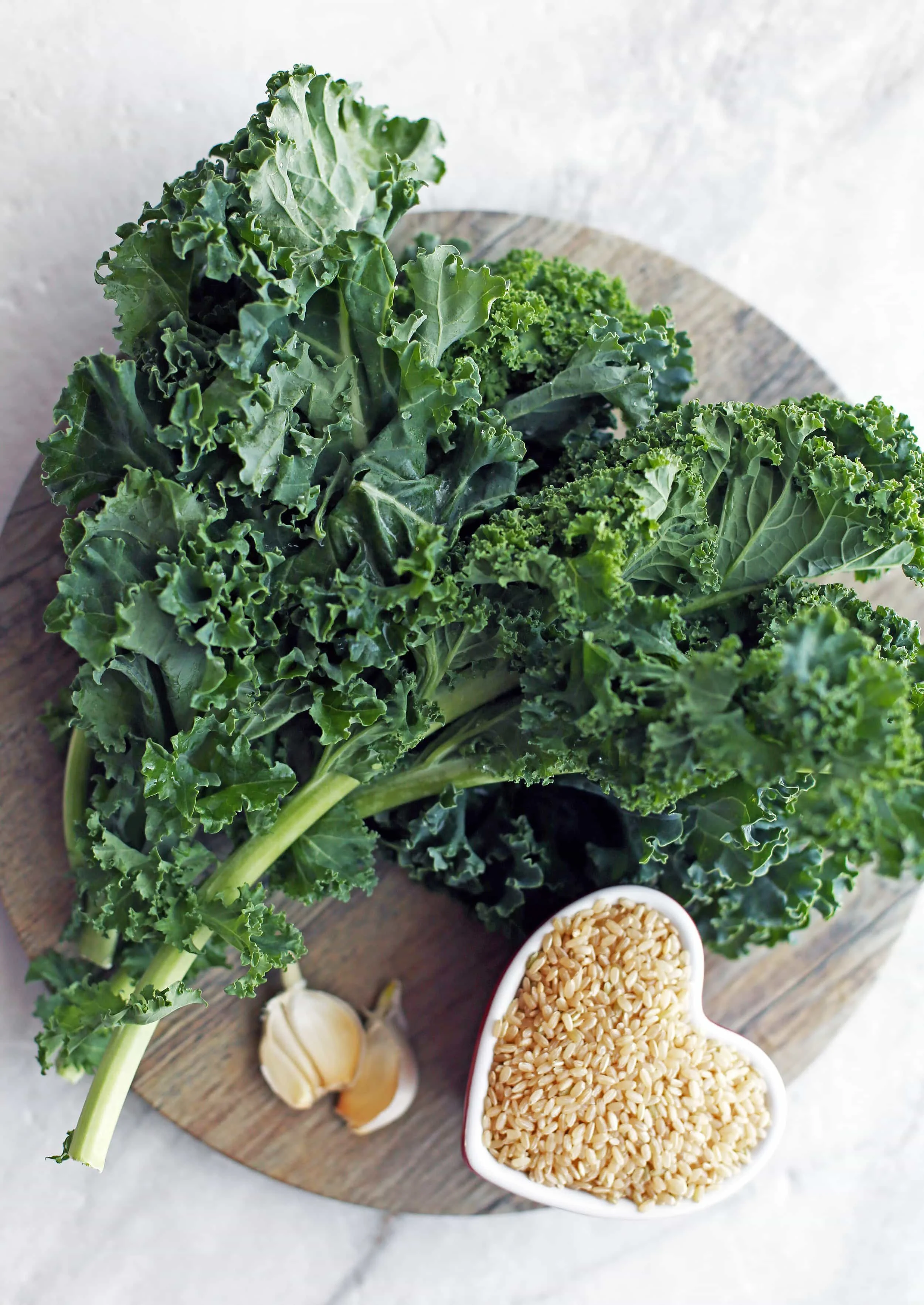 I like to start cooking the rice (cook according to package directions) before marinating the chicken.
You can use whatever type of rice you prefer.
I used brown rice since we have a bag in our house that will never run out. Not only are most dried rice varieties affordable, it also makes quite a bit once cooked.
Feel free to make more or less rice according to your rice bowl preferences.
While the chicken is marinating and the rice is cooking, I like to cook up the kale.
If you have looked around my site, you'll realize that I eat a lot of kale.
This recipes calls for 1 1/2 pounds (or around 2 bunches) of fresh kale. It may look like a lot, but like spinach, as the kale cooks (all together it will be less than 10 minutes), it will wilt, become tender, and decrease in amount.
Not only do I like the flavour, but kale is loaded with vitamins and nutrients, high in fibre, and has zero fat. So I decided to complement the tasty chicken and rice with a quick sautéed garlicky kale.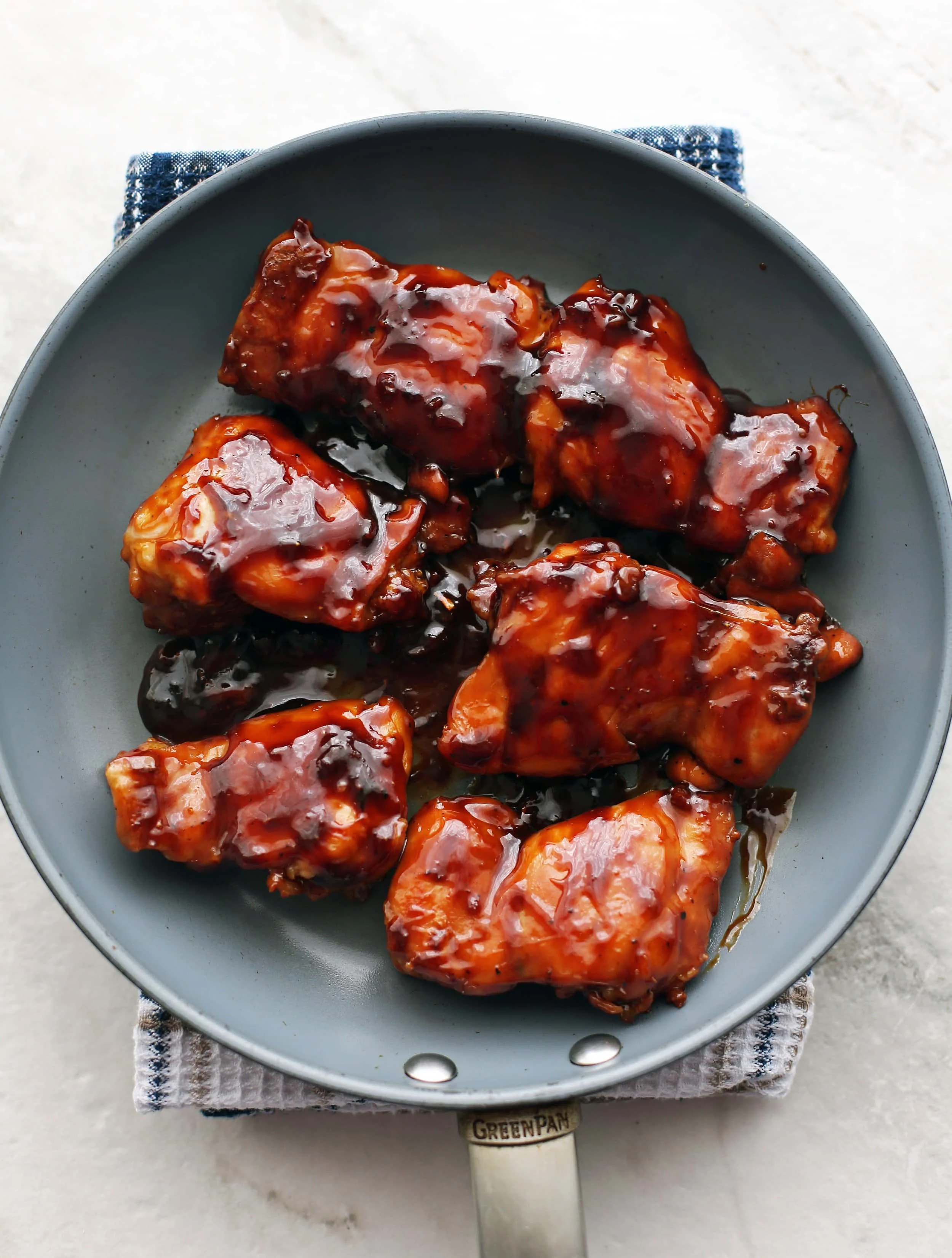 Making delicious teriyaki sauce (which also doubles as a marinade) is so simple, you won't need to buy a bottle from the store anymore. So what's in this stuff?
This teriyaki sauce only uses the following:
Soy sauce: Gives it a nice salty, umami flavour.
Mirin: A sweet Japanese (rice wine) cooking sauce that adds a layer of flavour. It's a perfect pairing with soy sauce for that salty and sweet combination.
Brown Sugar: Adds a little bit rich sweetness
Garlic: Adds a nice strong, pungent flavour
Ginger: Gives the sauce a little heat and zing
Cornstarch: Thickens the sauce as it cooks
Whisk it together and you've got a very flavourful combination that's sweet and savoury.
Marinade the chicken for 20 minutes in a large ziploc bag before cooking to impart flavour and tenderize the meat.
As the marinated chicken cooks on the stovetop in a large skillet, I like to spoon the sauce over the chicken, which allows the chicken thighs to form a shiny "crust" of teriyaki sauce on the outside. The sauce will thicken as it cooks.
Look at the saucy teriyaki sauce coating each chicken thigh.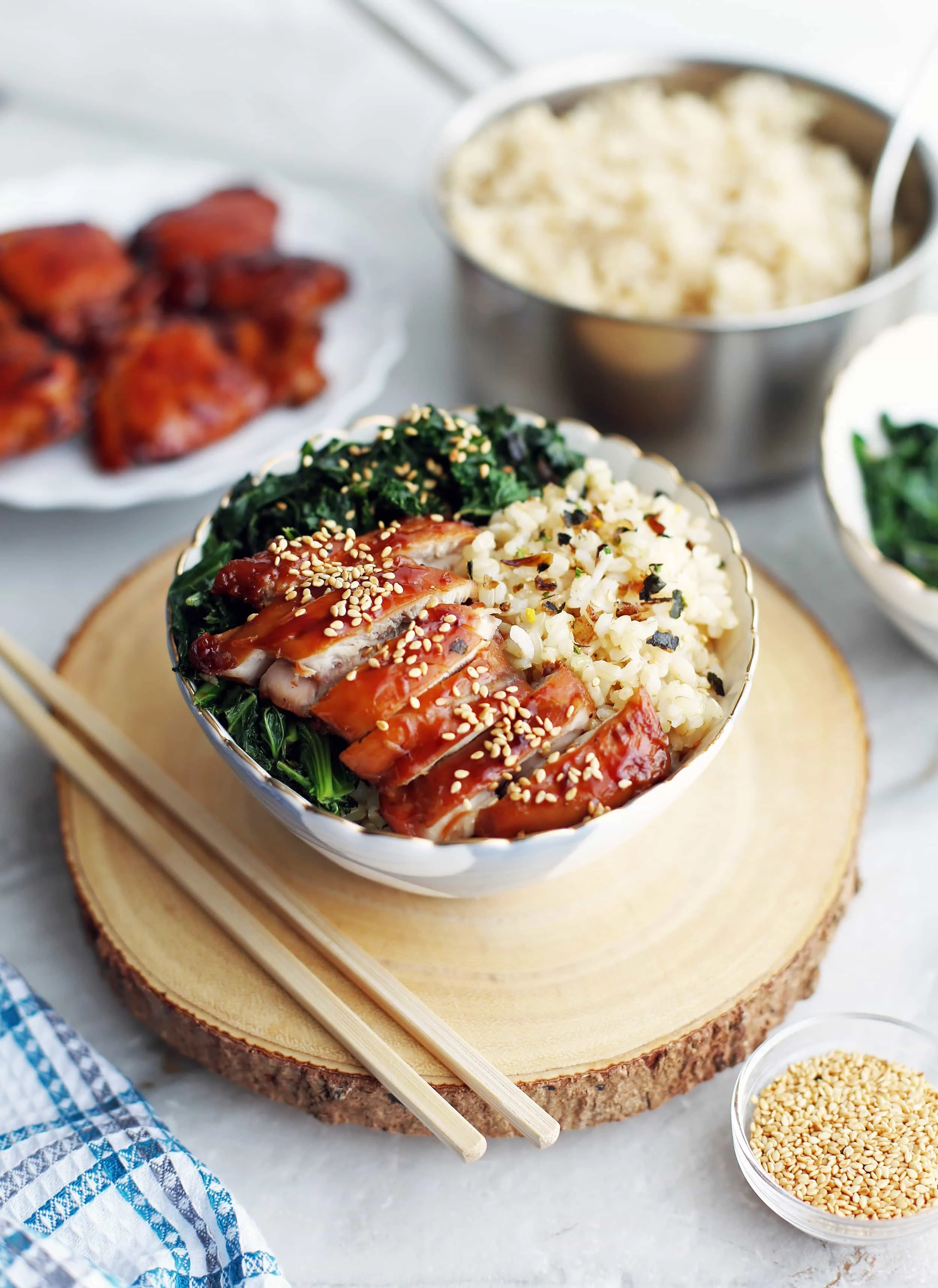 Assemble bowls or place in lunch containers for meal prep.
Finish by sprinkling some sesame seeds and furikake on top if you like. Furikake is a Japanese mixed seasoning that is made from a variety of dried ingredients.
It usually has mostly a savoury, a little sweet, and a little earthy flavour to it.
I like to use nori komi furikake, which contains seaweed flakes, sesame seeds, salt, and sugar.
Other furikake flavours may include salmon, wasabi, shiso, and/or bonito (fish) flakes as well as other ingredients.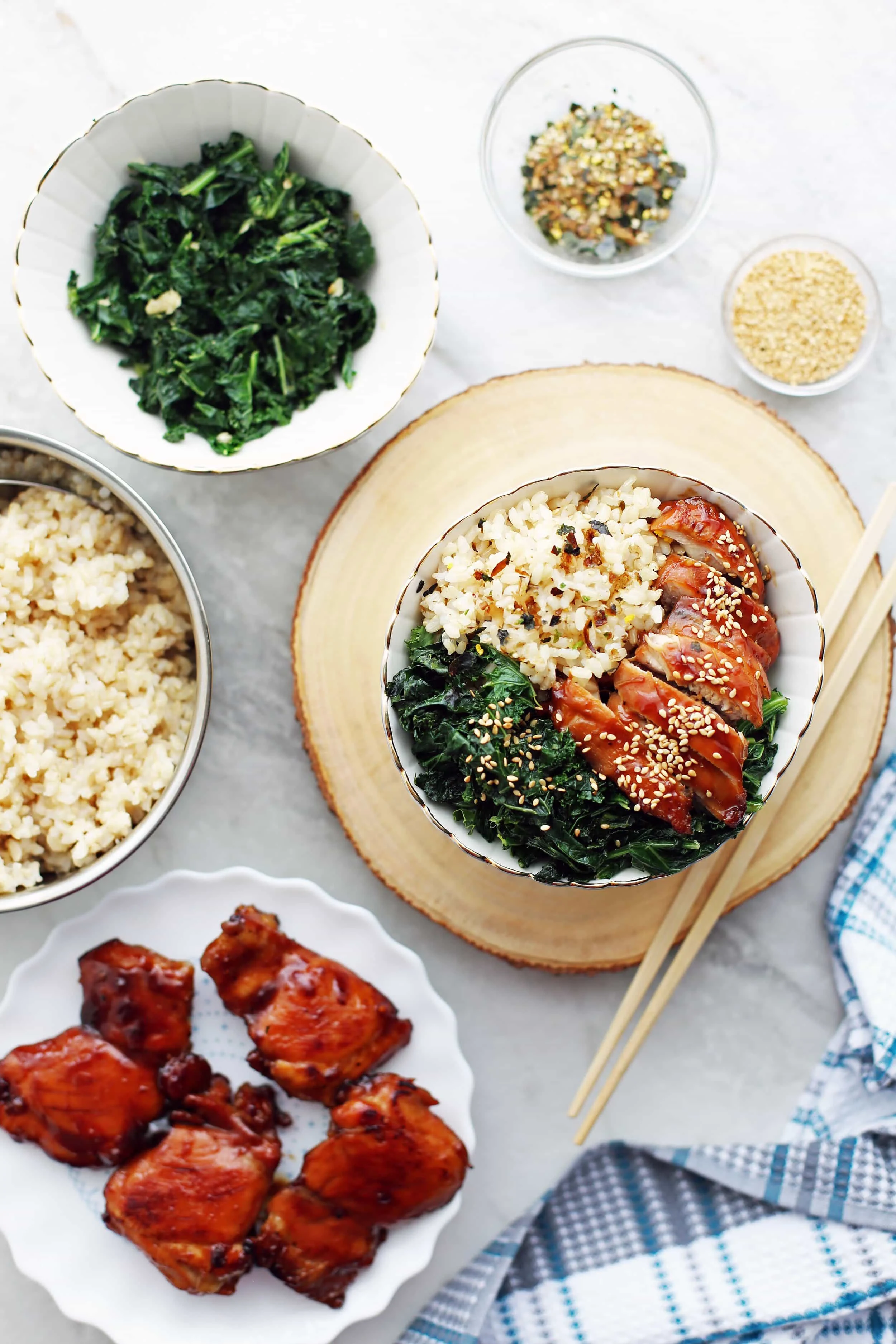 I hope you enjoy this Teriyaki Chicken Rice Bowls recipe!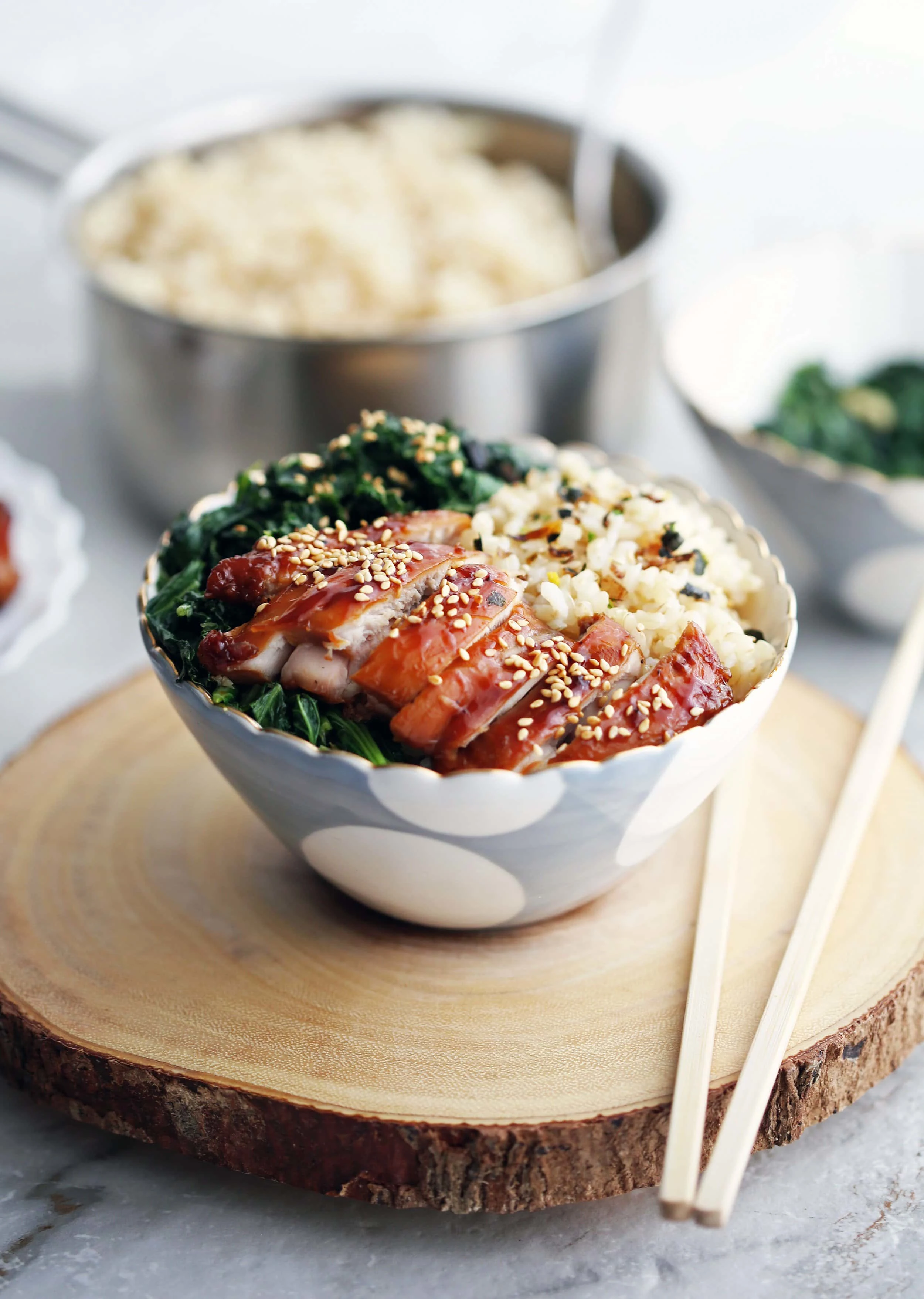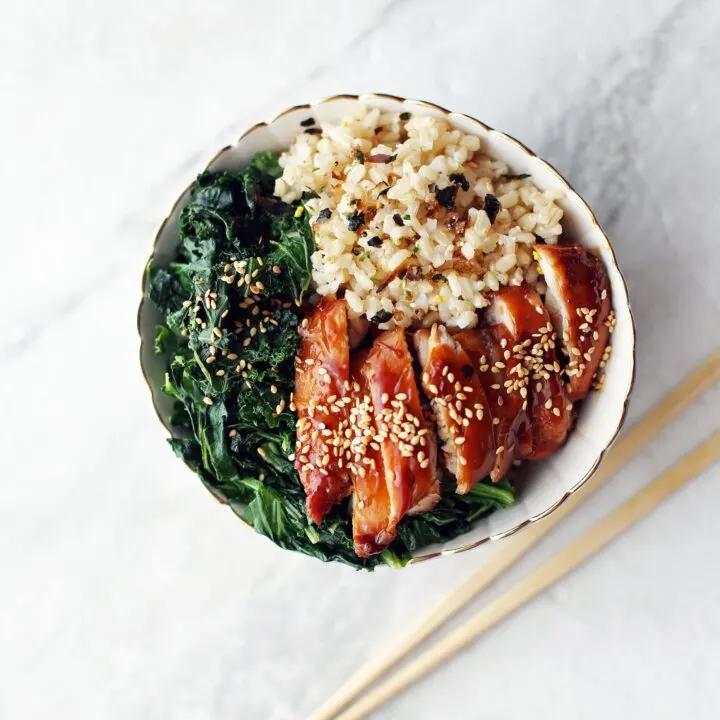 Teriyaki Chicken Rice Bowls with Garlicky Kale
A healthy, flavourful, and easy-to-make rice bowl with scratch-made teriyaki chicken thighs and leafy green kale with garlic! Everything is ready in less than a hour too.
Ingredients
For the rice:
1 cup uncooked brown rice* (see first note)
water** (see second note)
For the teriyaki chicken:
6 (3-4 ounce) boneless skinless chicken thighs
¼ cup light soy sauce
¼ cup mirin
2 garlic cloves, minced
1-inch fresh ginger root, grated
1 tbsp brown sugar
1 tbsp cornstarch
1 tbsp vegetable oil
For the garlicky kale:
1 tbsp vegetable oil
3 garlic cloves, minced
1½ lb. (2 bunches) kale, stems removed and chopped
¼ cup water
Salt and pepper
Optional toppings:
¼ cup toasted sesame seeds
¼ cup furikake (Japanese rice seasoning)
Instructions
For the rice. Cook the rice according to package directions.
For the teriyaki chicken (Part 1). As the rice cooks, in a medium bowl, whisk together the soy sauce, mirin, garlic, ginger, brown sugar, and cornstarch until well combined.
Place the chicken thighs in a large ziploc bag and pour the sauce over the chicken. Squeeze out excess air before sealing the bag. Gently squeeze the bag with your hands, making sure that the marinade coats the chicken.
Place the bag flat on a baking sheet and marinade the chicken in the refrigerator for 20 minutes.
For the garlicky kale. As the chicken marinades and the rice cooks, heat a large nonstick skillet to medium heat, add vegetable oil, and stir in garlic until lightly golden. Add in kale and water, and carefully stir to combine until the kale starts to wilt. Cover and let it steam for 5 minutes.
Remove the lid, season with salt and pepper, and stir occasionally until the liquid has mostly evaporated and the kale is tender, about 2-3 minutes. Remove from heat and set aside.
For the teriyaki chicken (Part 2). Heat a large non-stick skillet to medium-high heat, add vegetable oil and swirl to coat the skillet. Place the chicken thighs (along with the marinade) in the skillet so that they are not touching.
Cook the chicken, spooning the marinade (sauce) over the chicken occasionally and flipping once, about 6-8 minutes on each side or until completely cooked through.
Remove the chicken from the skillet onto a cutting board and let it rest for 5 minutes before slicing.
Assemble the bowls. Evenly divide the ingredients into separate bowls or containers***(see third note). Sprinkle chicken and kale with sesame seeds and rice with furikake if you like. Serve immediately or let it cool completely before sealing with a lid for meal prep or leftovers.
Notes
*1 cup uncooked brown rice yields about 3 cups cooked rice. Check your rice package instructions and make the amount of rice you desire.
**Cook rice according to package directions. Water amounts may vary based on type of brown rice or other rice used. Brown rice typically takes between 45-55 minutes to make.
***One small meal = 1/2 cup of brown rice + 1 chicken thigh + divided sautéed kale. This makes 6 meals total. Or slice the chicken first before evenly dividing to make 4 larger portions.
Nutritional calories represent one serving (excluding optional toppings) with six servings total.
Recommended Products
As a participant in the Amazon Services LLC Associates Program, I only link to products that I use and/or highly recommend. As an Amazon Associate, I earn from qualifying purchases if you purchase through these links at no additional cost to you.
Nutrition Information:
Yield:

6
Serving Size:

1
Amount Per Serving:
Calories:

374
Total Fat:

9g
Carbohydrates:

46.8g
Protein:

30.3g