Happy Thursday and the last day of November! Where has the year gone?
It's almost time for me to reflect on the events of the year and set goals for next year (I don't know if I ever keep them!), but not yet because more holiday shopping and celebrating Christmas is coming up soon… plus work and regular life stuff is ongoing.
With the busyness of the holiday season over the next few weeks (and beyond?), it's always good to have a tasty snack to munch on especially when you are on the go and don't have time to sit down for a long meal.
For me, I've been snacking on homemade Maple Chili Nuts and Chex Snack Mix.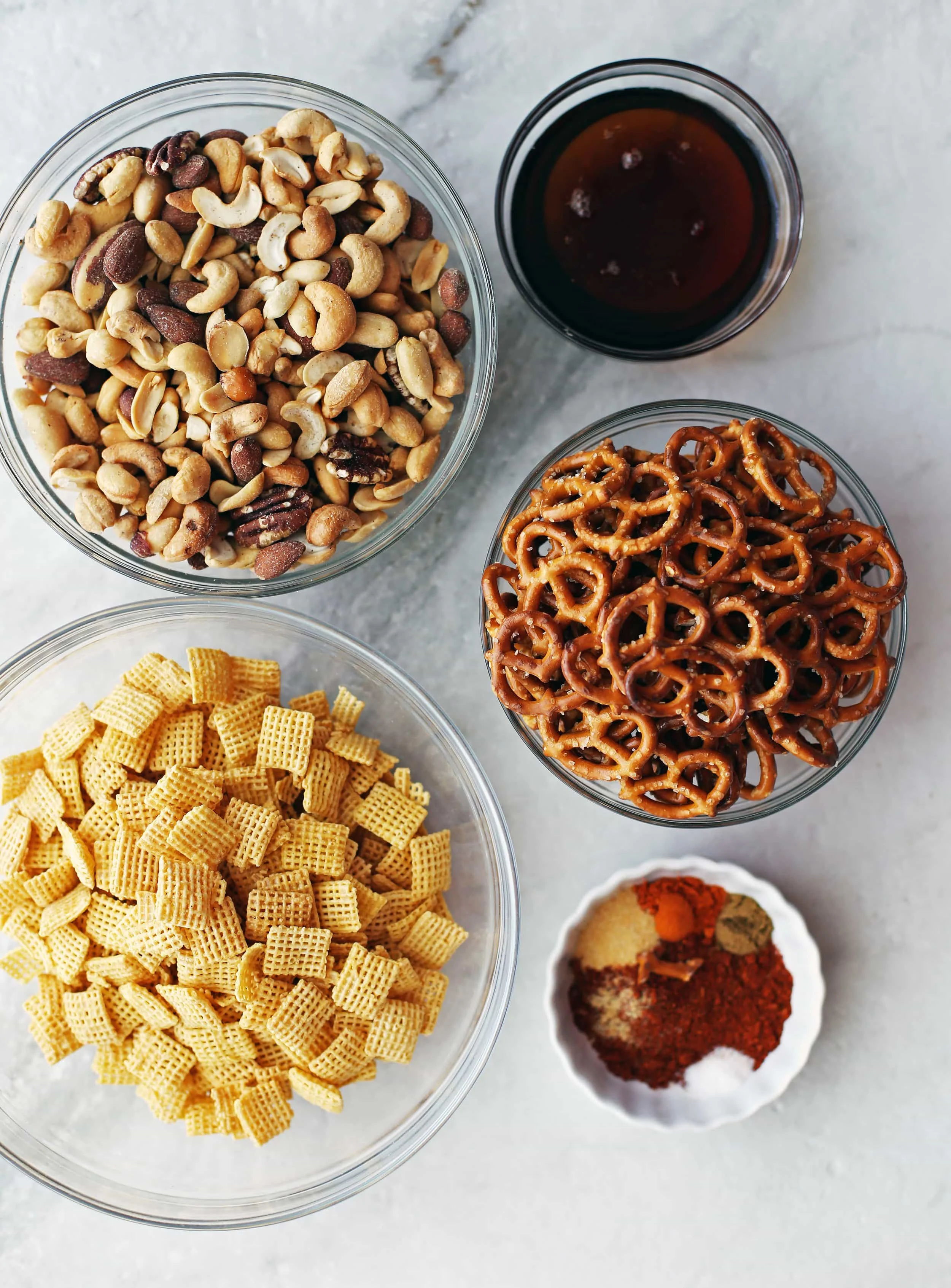 Here are the ingredients. Simple and easy. Ingredient amounts and full instructions are listed in the recipe card below.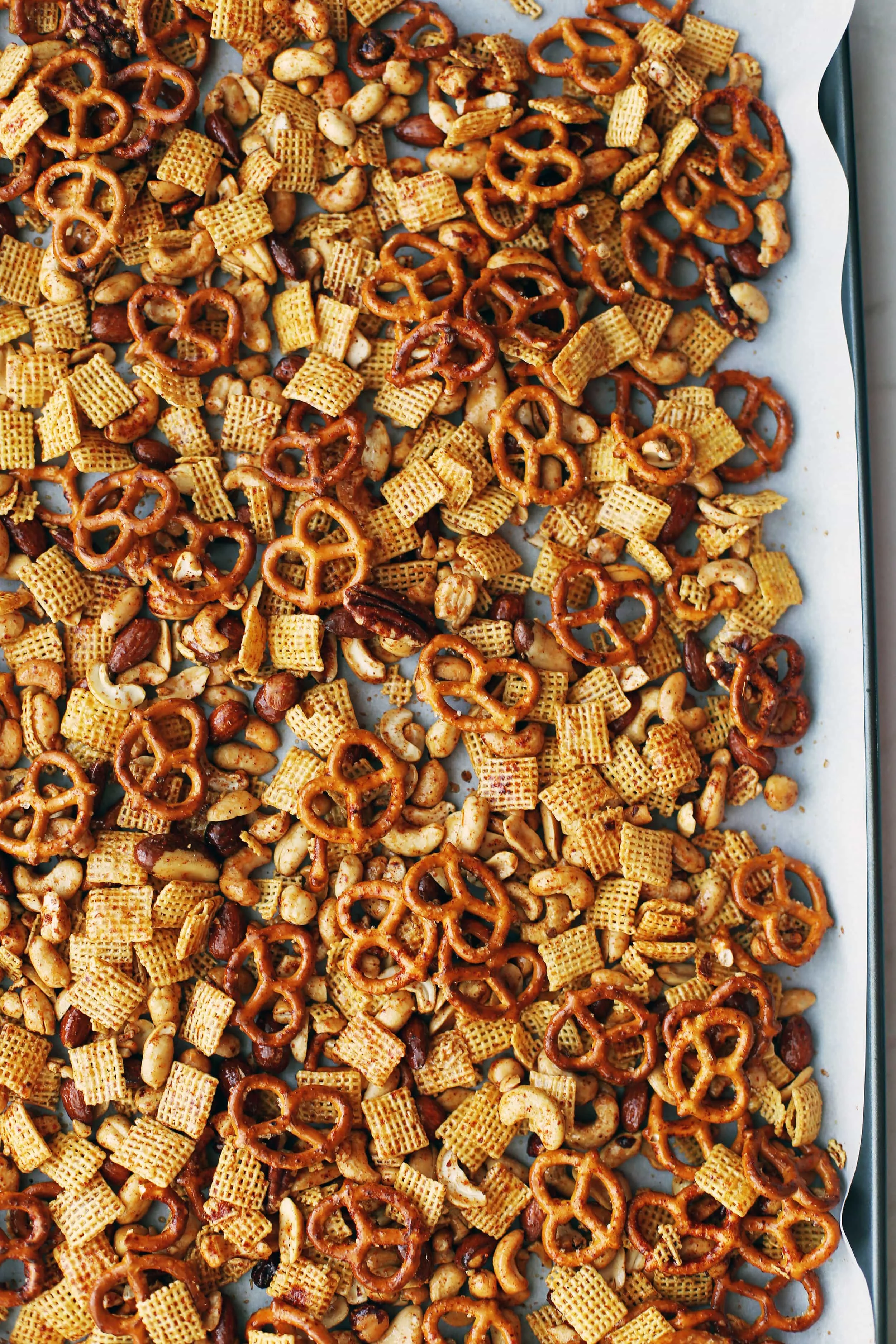 After the snack mix is baked, the spices and maple syrup are dried onto each piece. It is crunchy delicious goodness!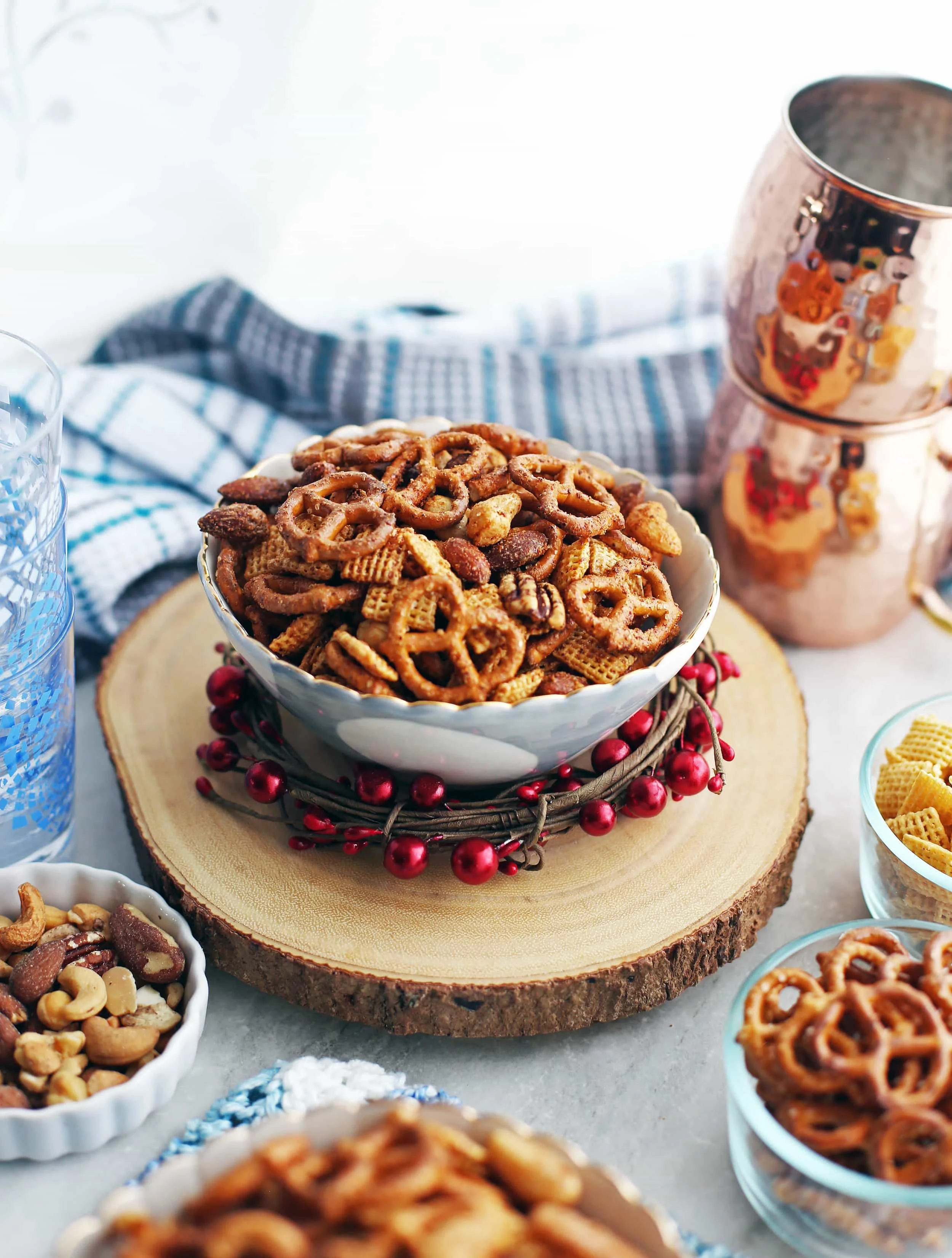 This Nuts and Chex Snack Mix is:
Sweet with heat! You first taste the sweetness of maple and finish with a little warm spice. The chili powder and other spices give it a nice heat with each bite. A delicious combination!
Crunchy texture: The crisp and crunchy texture of all nuts, pretzels, and Chex cereal makes it an easy-to-eat and additive snack to munch on.
This is a versatile recipe:

Change up the ingredients such switching the types of nuts or use a different flavour of Chex mix cereal.
You can also add in other ingredients such as mini bagel chips, cheerios, or chips. Whatever you think would go well in this mix.
Spice it up more if you like more heat or add a little more maple syrup (not too much because you don't want a soggy mix) for a little more sweetness against the savoury flavours of the main ingredients.

Can be scaled up or down: This recipe is easy to make more or less of so you can make as much as you want! Store the leftovers in an airtight container for up to a week.
Portable and sharable: Just pack this up and take it with you to go (on a road trip, to work, on a hike, etc.) or serve it up for a movie night at home or for a get-together.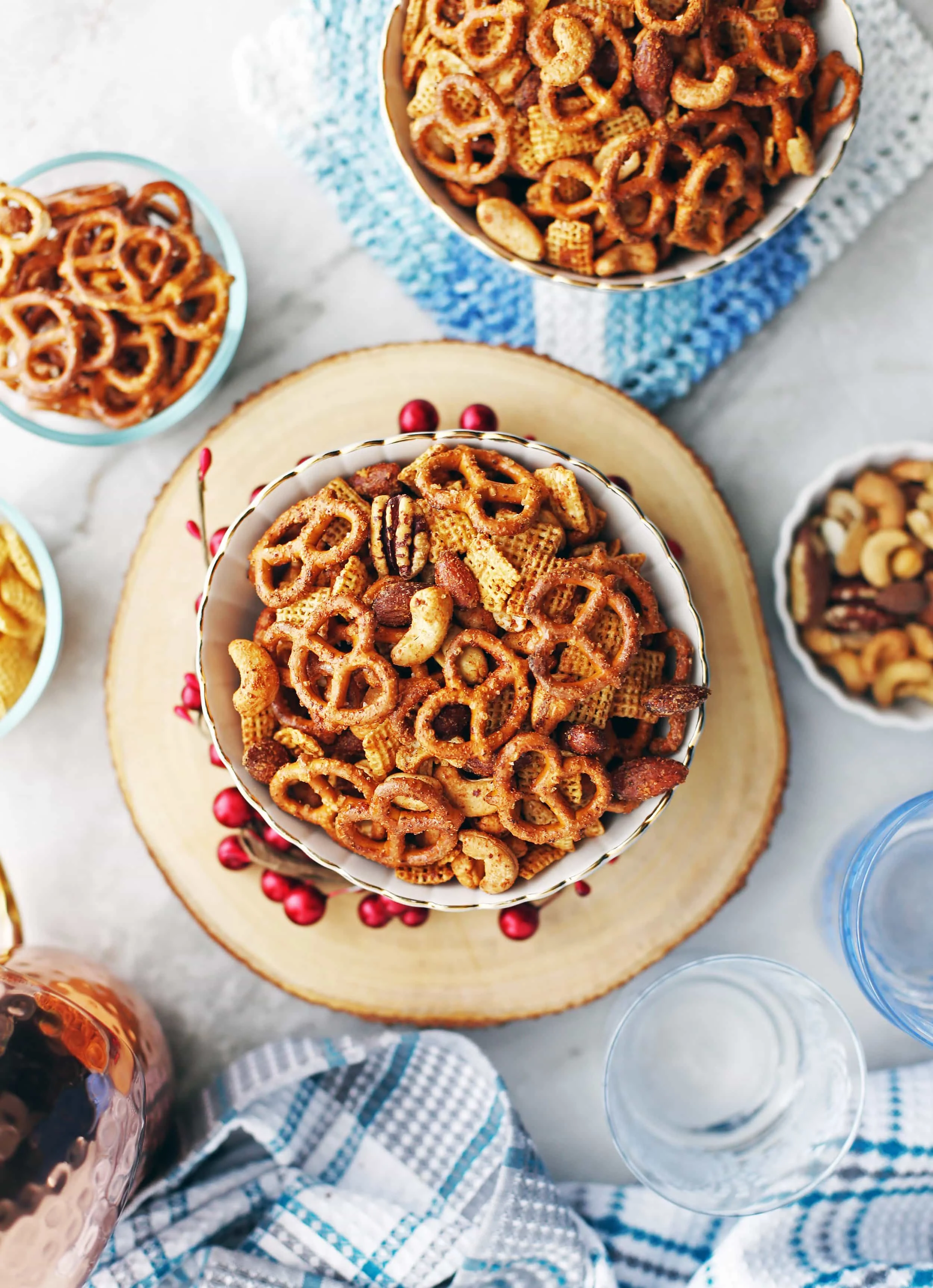 You may have noticed that this recipe doesn't use butter, which is often generously included in most Chex mix recipes. It is used as the glue to stick the seasoning to the snack mix and is said to help crisp up the ingredients.
I have experimented with and without butter and found that the buttery flavour distracts from the maple chili flavours and it doesn't make it much more crispier.
Plus the sticky maple syrup does a great job in allowing the spices to stick to the Chex, pretzels, and nuts. Butter is really tasty, but it is also fatty so by cutting out the butter, it makes this snack a little bit more healthier to eat. A little win!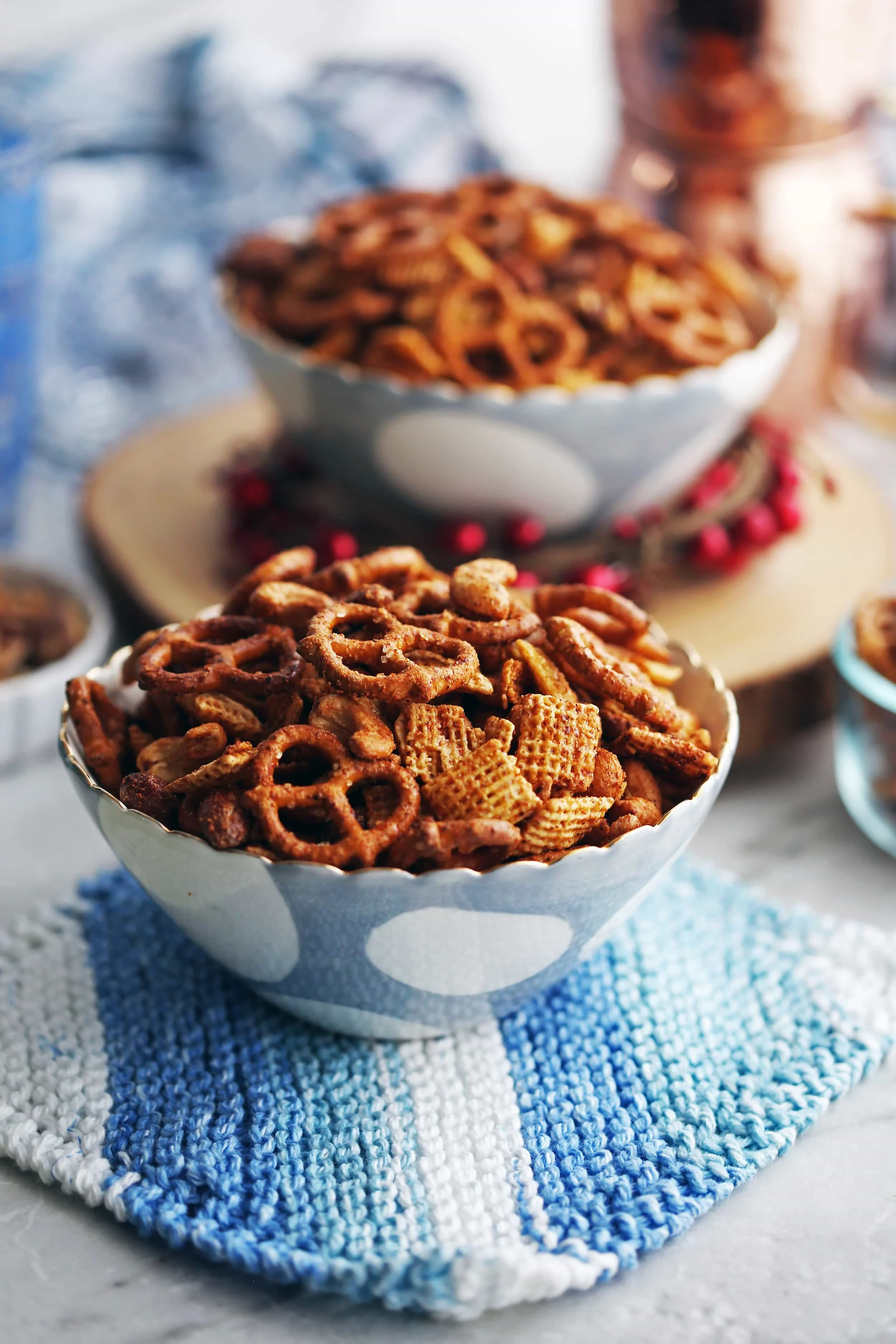 Overall, this recipe is the perfect sweet with heat snack that's hard to eat just one handful! I hope you enjoy this recipe.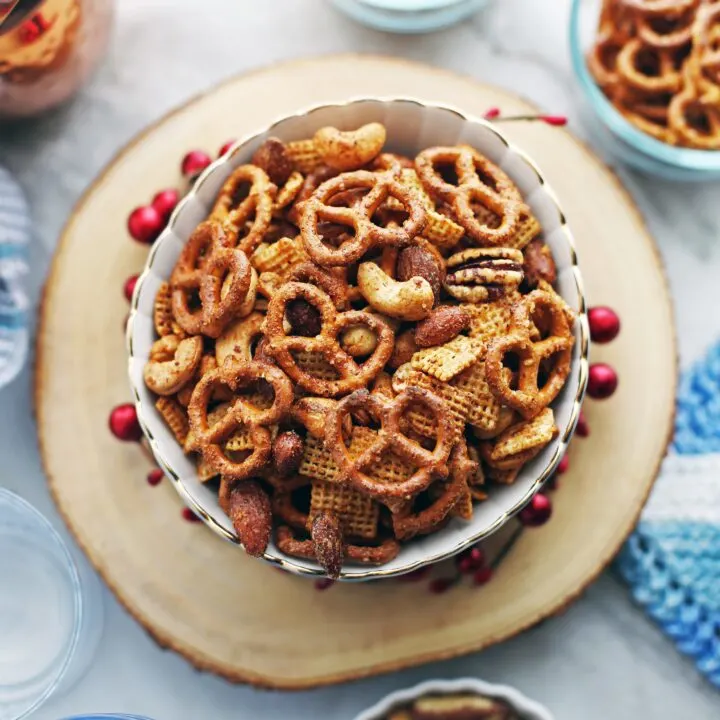 Maple Chili Nuts and Chex Snack Mix
Sweet with heat! This easy-to-make delicious sweet and savoury snack mix is full of crunchy goodness!
Ingredients
3 cups raw mixed nuts* (see first note)
3 cups mini pretzels
3 cups Honey Nut Chex cereal
½ cup pure maple syrup
1 tbsp chili powder
½ tsp cayenne powder
½ tsp garlic powder
½ tsp onion powder
¼ tsp cumin
Instructions
Preheat the oven to 325 degrees F and line a large baking sheet with parchment paper. Set aside.
In a large bowl, using your hands, gently combine all the ingredients, making sure that the maple syrup and spices coat the other ingredients well.
Pour the mixture onto the baking sheet into a single layer (slight overlap is okay). Bake for 20-25 minutes, stirring at the 10 minute mark and then every 5 minutes, until the snack mix is toasted, dry, and crisp.
Let it cool completely before eating. Store in an airtight container for up to a week.
Notes
*Use a variety of nuts of your choice. I used an assortment of peanuts, almonds, walnuts, Brazil nuts, cashews, hazelnuts, and pecans.
Calories are based on 1/2 cup servings.
Recommended Products
As a participant in the Amazon Services LLC Associates Program, I only link to products that I use and/or highly recommend. As an Amazon Associate, I earn from qualifying purchases if you purchase through these links at no additional cost to you.
Nutrition Information:
Yield:

18
Serving Size:

1
Amount Per Serving:
Calories:

216
Total Fat:

13g
Saturated Fat:

1g
Trans Fat:

0g
Unsaturated Fat:

11g
Cholesterol:

0mg
Sodium:

152mg
Carbohydrates:

23g
Fiber:

3g
Sugar:

8g
Protein:

6g