Hello! I'm back with another cocktail recipe that's showcases juicy sweet and tart blackberries and the bright citrus flavour of fresh lemon juice.
It's a lovely and pretty cocktail that's perfect to sip on while enjoying a warm day or night.
I hope you like this recipe for Blackberry Lemon Smash Cocktail!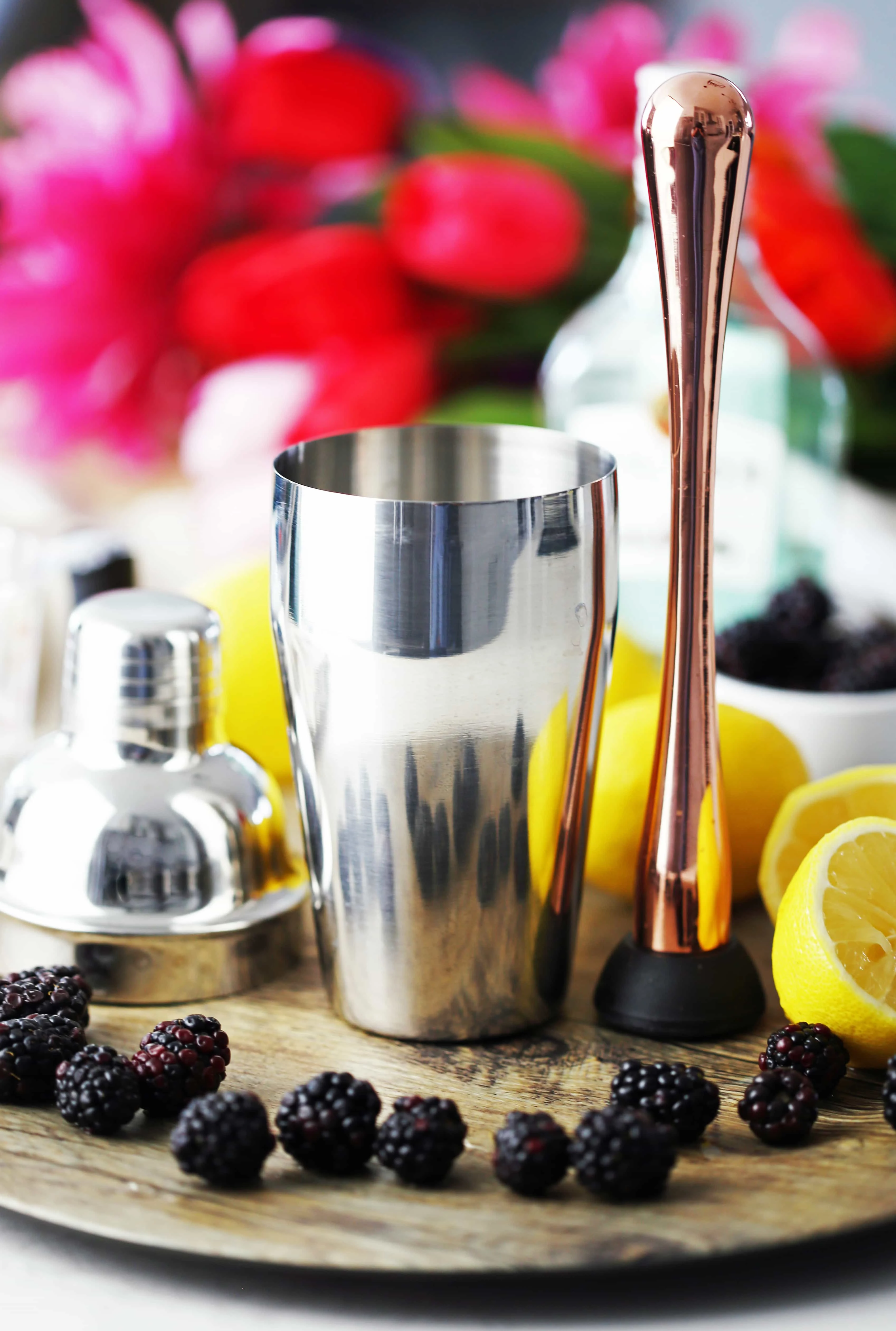 What's in this cocktail?
There are only five ingredients in this fruity cocktail!
Blackberries: Ripe blackberries have a sweet flavour with slight tart notes. They have been said to taste like a mix of black grapes and raspberries.
Lemon Juice: The juice adds bright, zesty, and sour flavours. It wonderfully complements the sweet blackberries.
Simple syrup: It's made with equal parts white sugar and water. You can purchase simple syrup or see the "Useful Tips" section of this post to see how to make it.
White Rum: The alcohol component of this cocktail. The subtle sweet notes of white rum let the fruit be the forefront of this cocktail.
Ice cubes: Keeps the drink nice and cold.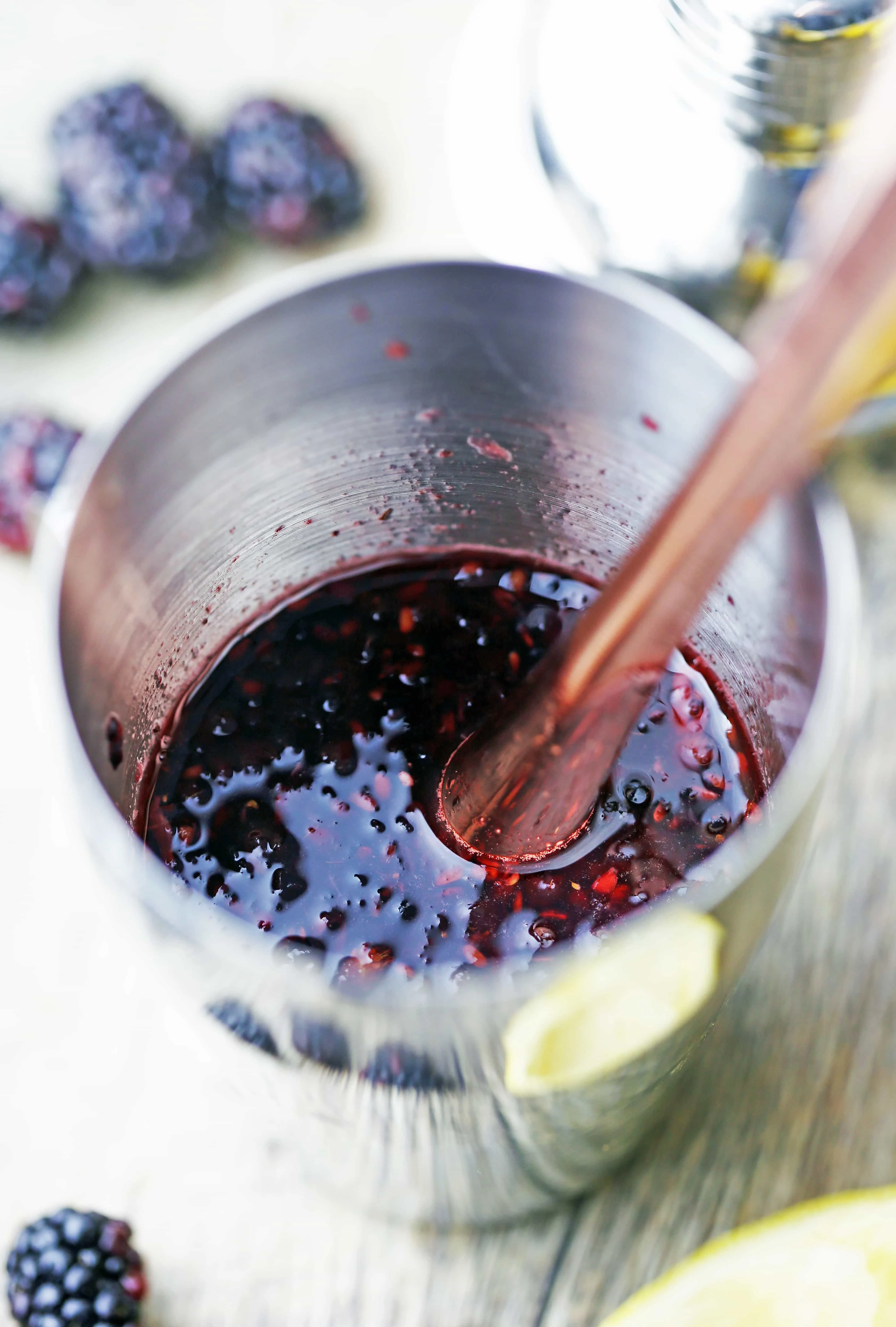 Here are Some Useful Tips
When looking for blackberries, choose ripe ones that are plump (soft, not mushy, and rich blue-black all over). They will taste sweet.

Underripe blackberries tend to be a lot more tart and can be bitter.

To get more juice out of a lemon, roll a room temperature lemon on a flat surface to break down the citrus membranes before cutting in half. Use a citrus juicer to get the most juice out.
How to make simple syrup? In a saucepan, combine one-part white sugar with one-part water. Bring to a boil and stir to completely dissolve the sugar. Remove from heat and let it cool. The resulting mixture should clear (not cloudy).

To keep for up to one month, pour the simple syrup into a sterilized container and store in the refrigerator.

Why not add sugar instead of simple syrup? Sugar may not fully dissolve into the drink, which results in sugar crystals settling onto the bottom of glass making the cocktail uneven in flavour and texture.
Switch it up with a different liquor such as bourbon, vodka, or gin if you like.

Just note that changes in alcohol will change the overall flavour profile of the drink, especially if the liquor is strong.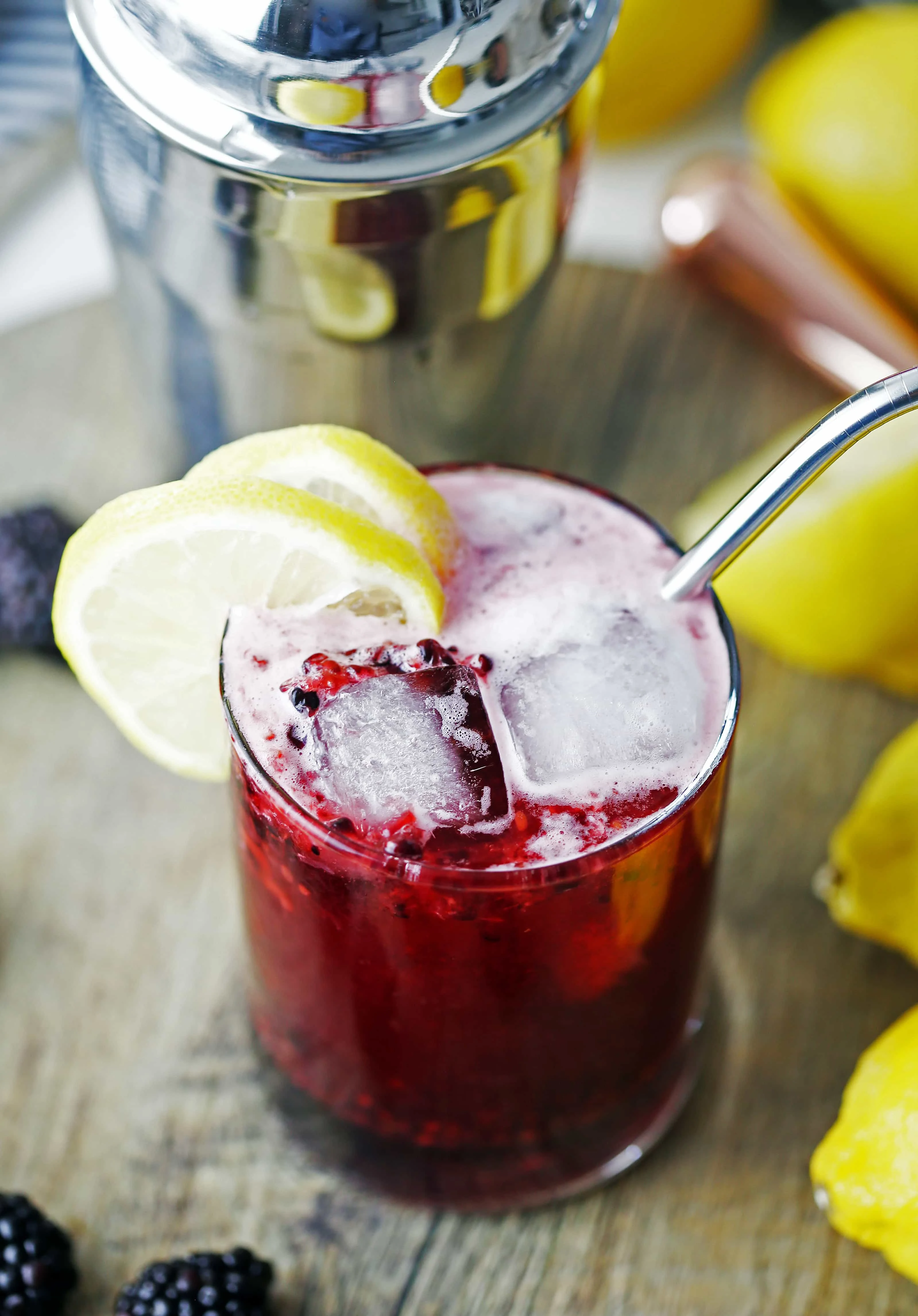 Check out these four easy fruity cocktails!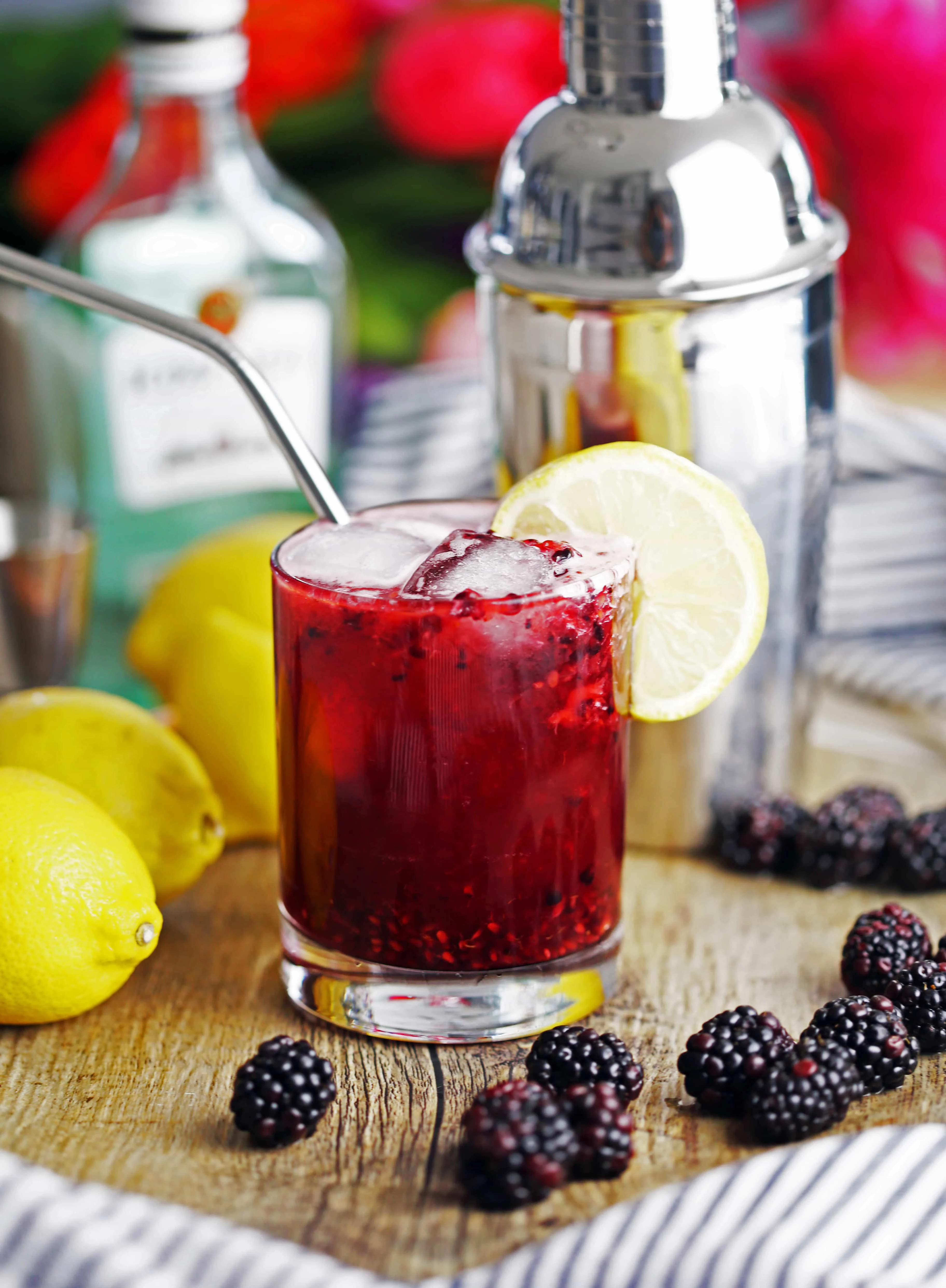 Overall, this blackberry lemon smash cocktail is:
Delicious and refreshing: A lovely sweet fruity drink to enjoy on warm day.
Full of blackberry and lemon flavour: The sweet, bright, and tart notes in this cool beverage are so good!
Quick and easy to prepare: This recipe uses a few ingredients and comes together in minutes.
Adaptable: Add more or less alcohol according to your personal tastes. Switch out the rum with gin or bourbon too.
Scalable: This recipe makes one (generous) serving, but can easily be doubled (or more) to make many drinks to serve a small group.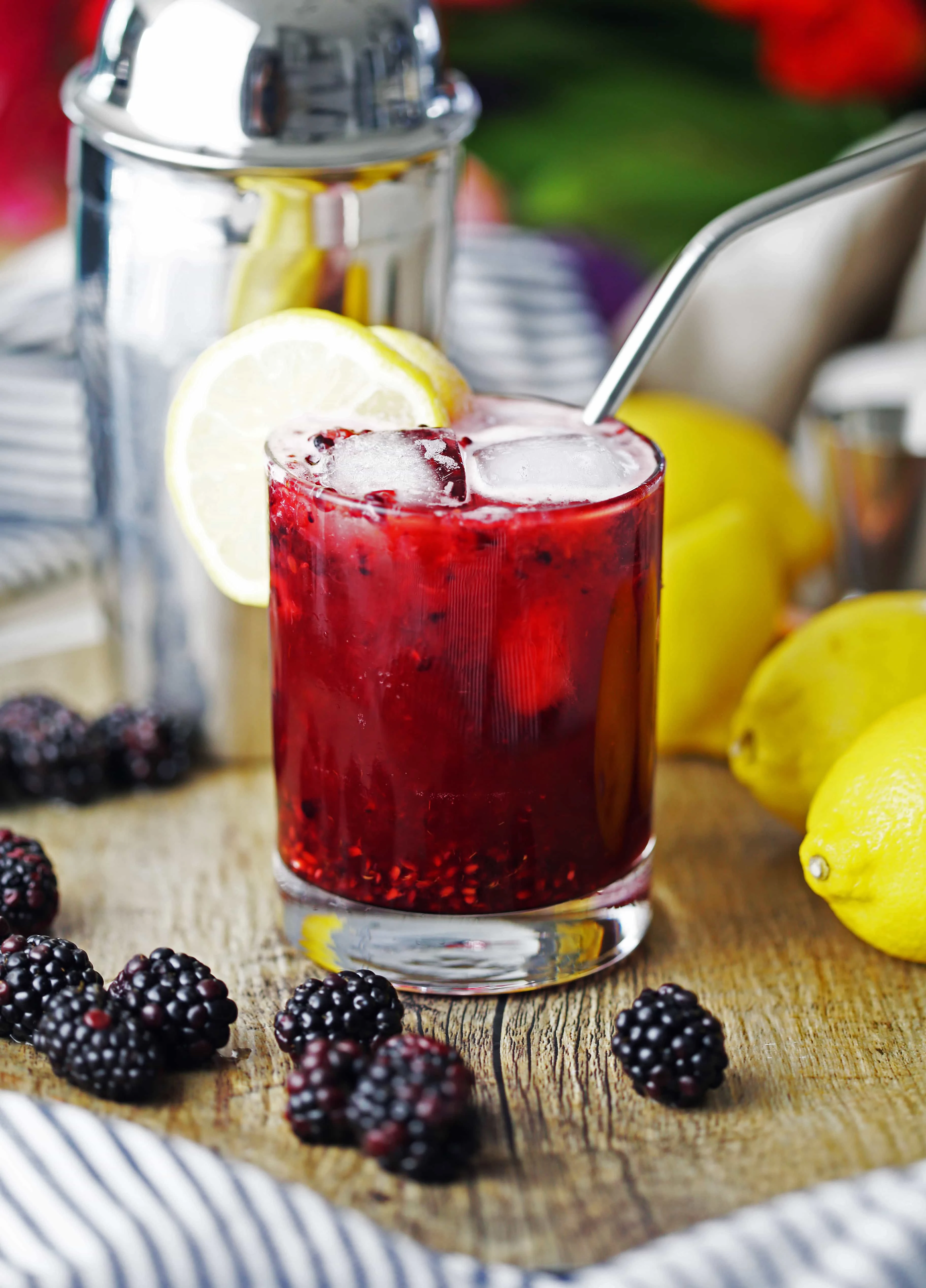 I hope you try this cocktail! If you do, please leave me a rating and comment down below or tag me on any of my social media. I'm @yay_for_food on Instagram. Please share your recipe pictures!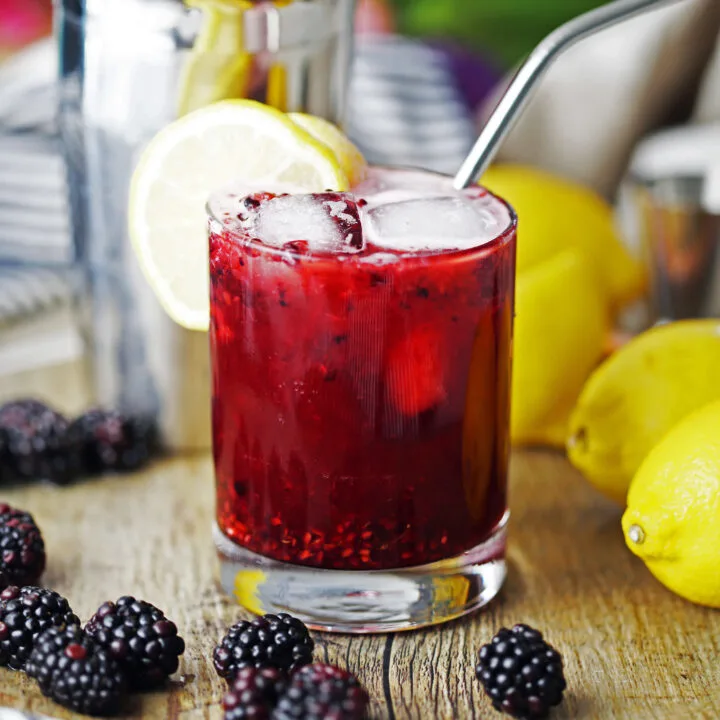 Blackberry Lemon Smash Cocktail
Yield:
1 (a full 12 fl. oz glass)
Looking for a sweet and tart fruity cocktail with the refreshing taste of citrus? Try this blackberry lemon smash recipe. Enjoy responsibly.
Ingredients
½ cup (10-12) fresh blackberries
¼ cup simple syrup *(see first note)
2 tbsp fresh lemon juice (½ lemon)
1½ oz. white rum
4-5 ice cubes
Instructions
Place the blackberries, simple syrup, and lemon juice into a cocktail shaker. Using a muddler (or the back of a wooden spoon), thoroughly mash the ingredients, allowing the blackberry juices to release.
Add the rum and three ice cubes to the cocktail shaker. Tightly seal the lid onto the cocktail shaker and shake vigorously for 45-60 seconds.
Strain the blackberry cocktail into a double old-fashioned glass. Top with additional ice. Garnish with a lemon slice and straw if you like. Serve immediately.
Notes
*To make simple syrup: In a medium saucepan, add one-part sugar with one-part water. Then bring the water to a boil, stirring, until the sugar is dissolved. The mixture should be completely clear (not cloudy). Let the simple syrup cool before using in cocktails.
Recommended Products
As a participant in the Amazon Services LLC Associates Program, I only link to products that I use and/or highly recommend. As an Amazon Associate, I earn from qualifying purchases if you purchase through these links at no additional cost to you.
Nutrition Information:
Yield:

1
Serving Size:

1
Amount Per Serving:
Calories:

250
Total Fat:

0g
Saturated Fat:

0g
Trans Fat:

0g
Unsaturated Fat:

0g
Cholesterol:

0mg
Sodium:

3mg
Carbohydrates:

40g
Fiber:

0g
Sugar:

38g
Protein:

0g
Nutritional values are estimated based on the ingredients used by the author; your ingredients may differ. These values are calculated using Nutritionix.