Hello there! Today's recipe is a quick and easy coleslaw recipe that showcases fresh carrots, red cabbage, and has a deliciously complimentary no-mayo, vinegar-based dressing.
It's refreshing, satisfyingly crunchy, and colourful.
Plus, it comes together in 15 minutes or less. It's no-bake recipe that can be made the day or two before. It's great as leftovers and for meal prep too. Just remember to give the coleslaw a toss before eating.
It's perfect as a side dish for lunch or dinner or to serve at a barbecue or picnic. In addition, it's wonderful to add to a pulled pork or chicken burger, tacos, or sandwiches.
I hope you enjoy this recipe for Healthy Carrot Cabbage Coleslaw!
What's in this homemade coleslaw recipe?
This tasty coleslaw is full of select colourful vegetables:
Nutrient-rich, crisp and crunchy orange carrots and red cabbage (which has a deep reddish-purple colour) shredded into easy-to-eat pieces.
Green onions and parsley give this coleslaw mild onion and earthy flavours.
It's simply mixed with a delicious and healthy dressing. The dressing is both tangy and sweet due to the:
Acidic and fruity notes from apple cider vinegar.
Rich and sweet flavour of pure maple syrup.
Tanginess of plain Greek yogurt (with the bonus of added protein)
Sea salt and pepper, which enhances all the flavours.
How do you make this easy carrot cabbage coleslaw recipe?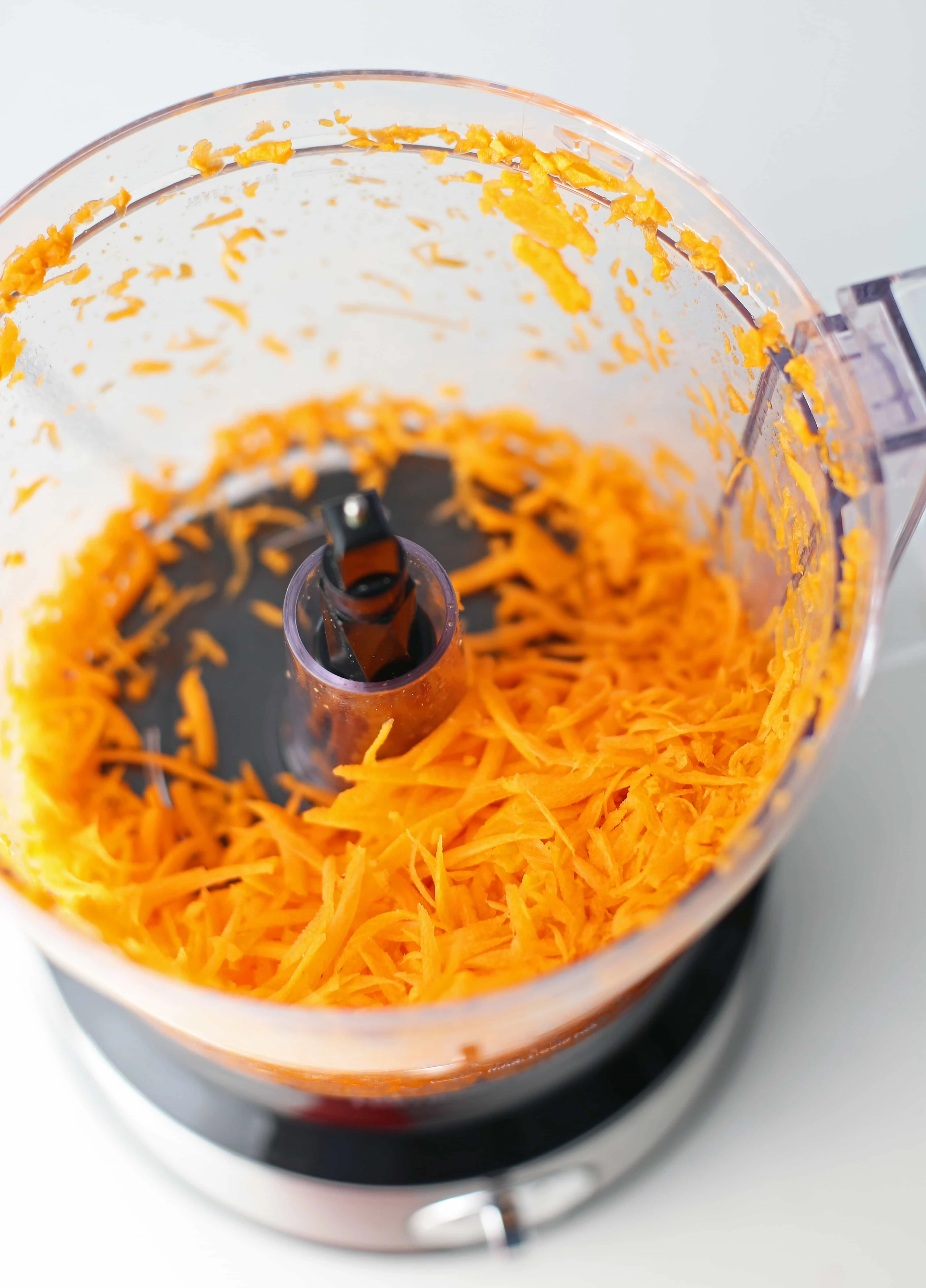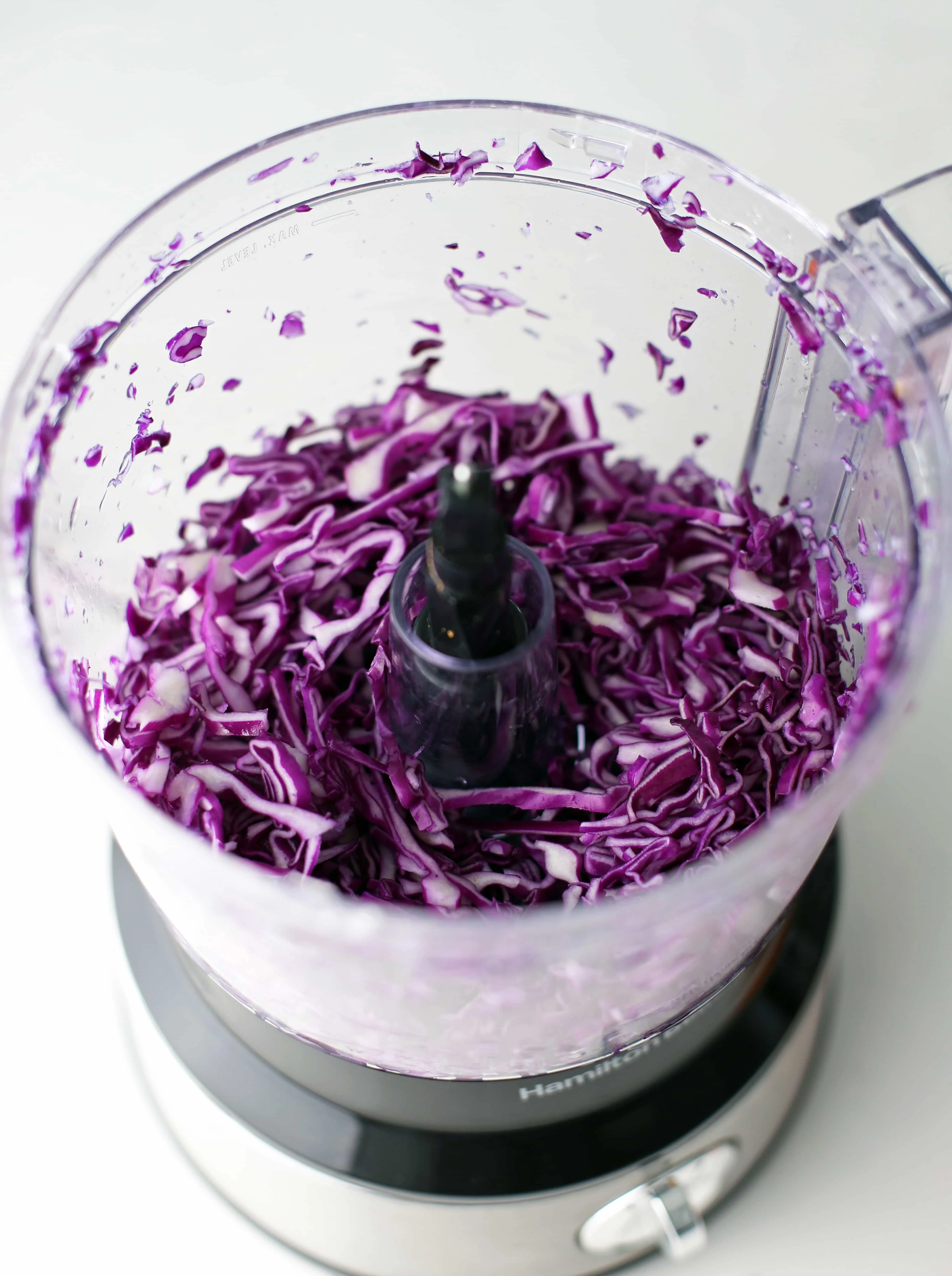 Shred the carrots and cabbage. Check out the "Helpful Tips" section of this post for shredding suggestions.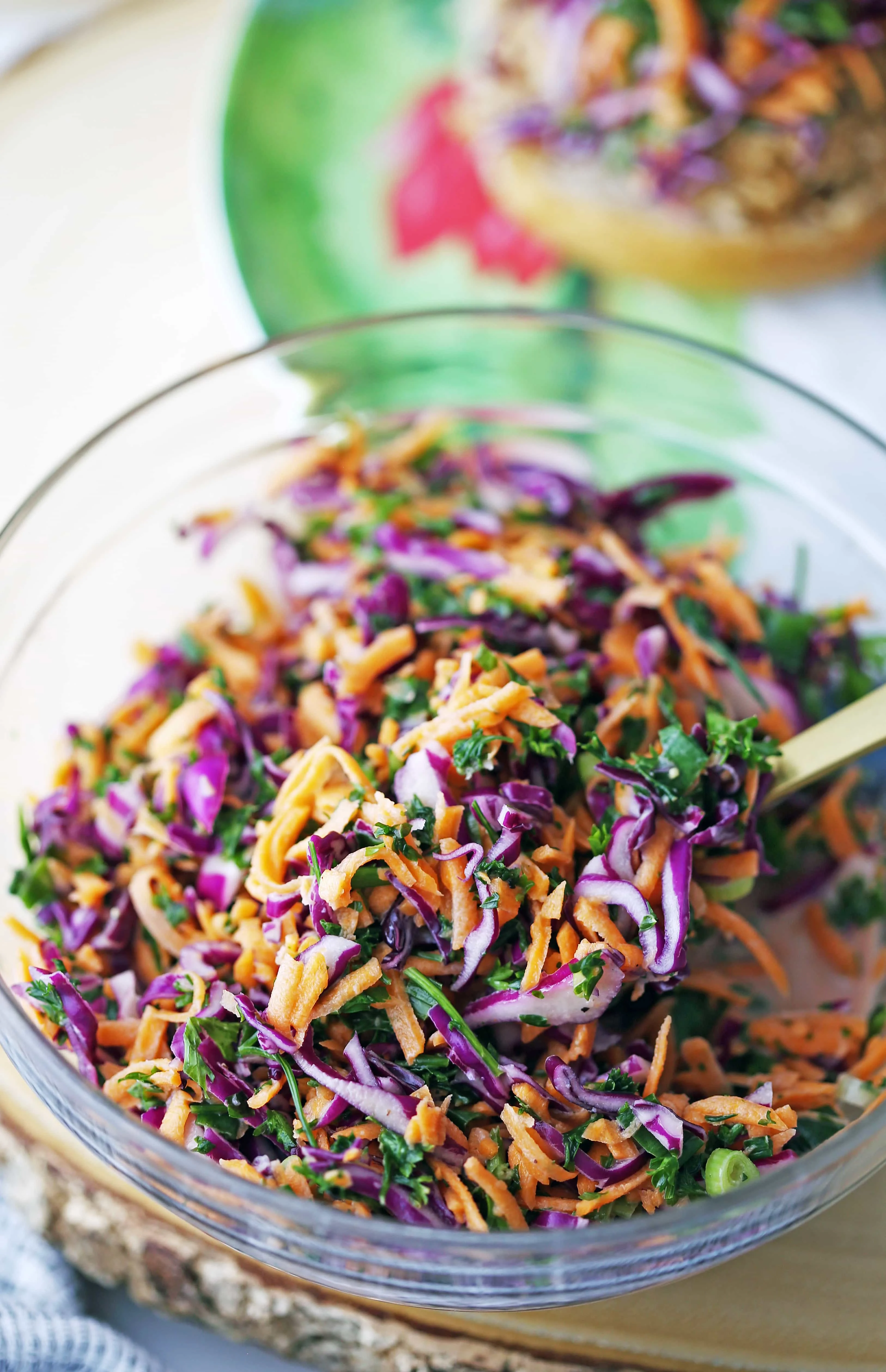 Then, place the carrots and cabbage in a bowl with minced fresh parsley and sliced green onions. Add the dressing ingredients to the vegetables and give it a good toss. Taste and adjust to your flavour preferences.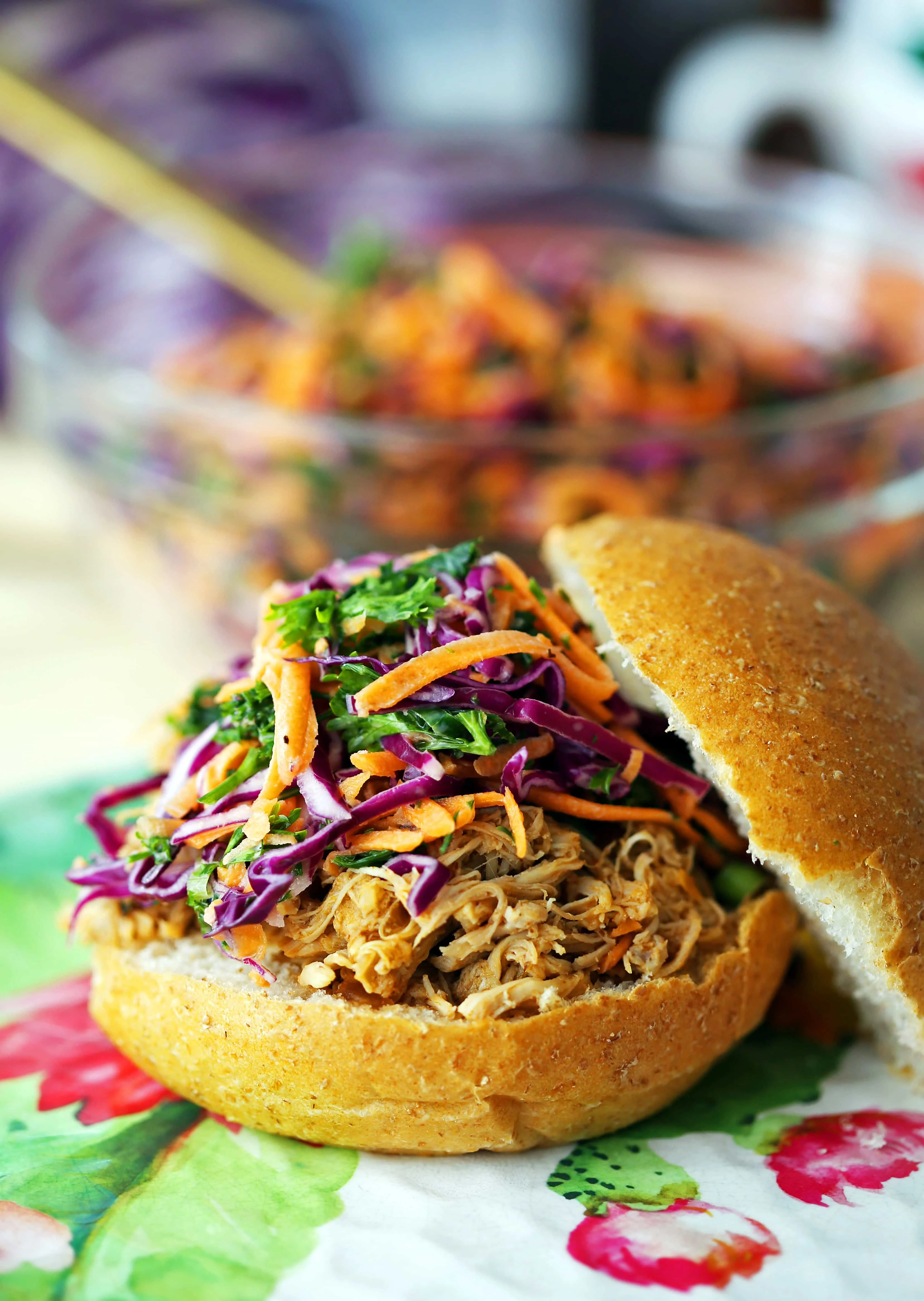 Enjoy as a side dish or as a topping for burgers or tacos!
Here Are Some Helpful Tips to Make This Coleslaw!
Note that this recipe doesn't use a whole cabbage and only 2-3 carrots.

This recipe only uses two cups of each. It can easily be scaled up to make more if you desire.

Use a food processor to quickly shred the carrots and red cabbage:

I like to use the shredding disc for the peeled carrots;

Chop the cabbage into large pieces so that they just fit into the food processor feed tube. Then I use the slicing disc for the cabbage so that that pieces are thin and ribbon-like.

Of course, you can manually shred the vegetables too.

Use a box grater for the carrots.

For the cabbage, use a shape knife to cut it in half through the stem, remove the core, then halve the two pieces (to make quarters). Lay a cabbage quarter on its flat side and thinly slice the cabbage into ribbons using the same knife or a mandoline slicer.

For the parsley and green onions, it's best to use a knife to chop.

A food processor may result inconsistent cuts or a pasty texture (depending on the blade or disc used).

Then there's the dressing: Thoroughly toss all dressing ingredients and vegetables together in a large bowl.

Always taste and adjust to your preferences if necessary.
Note that the Greek yogurt is to add tangy notes to this coleslaw and not to add creaminess.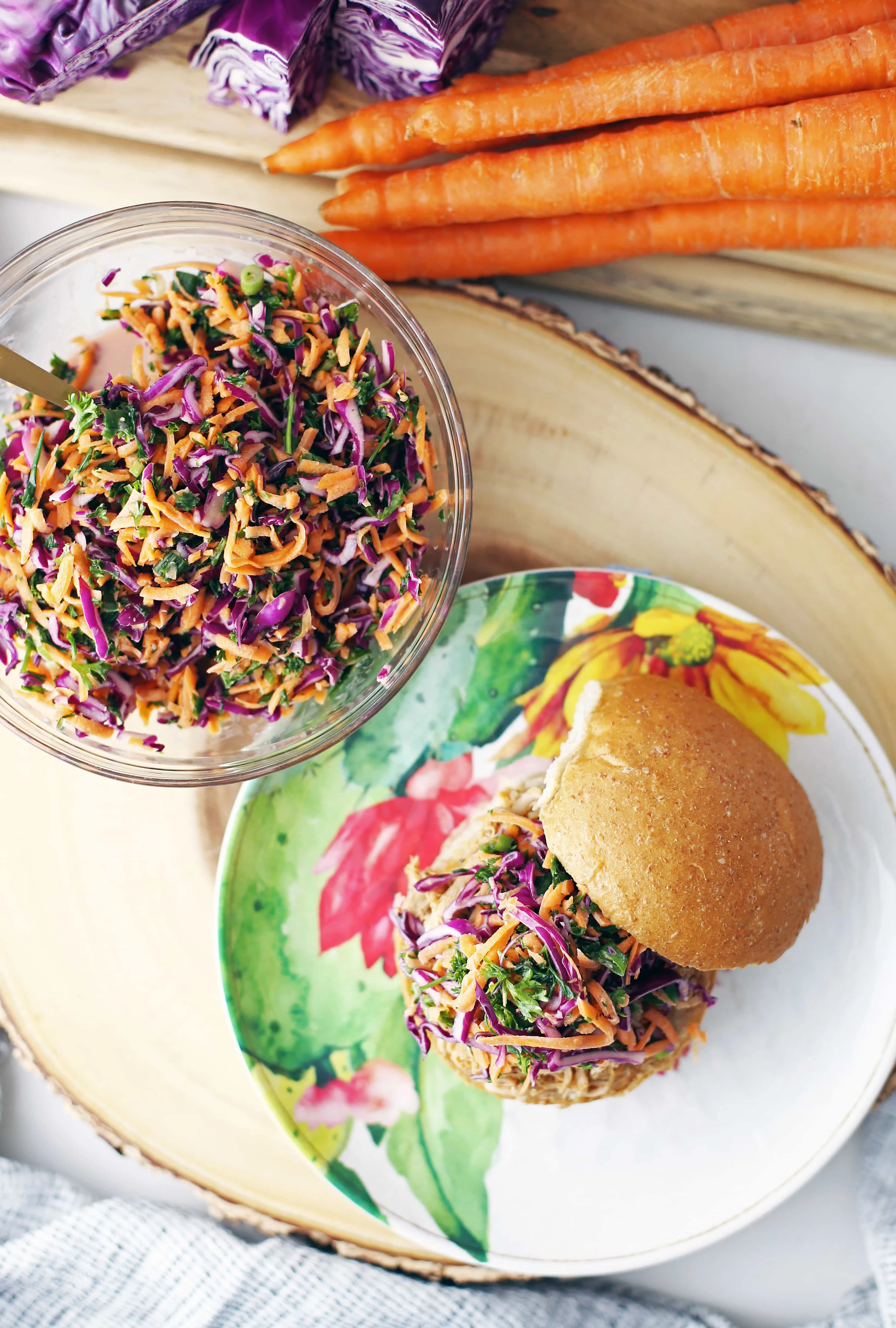 Looking for more easy vegetable side dish recipes?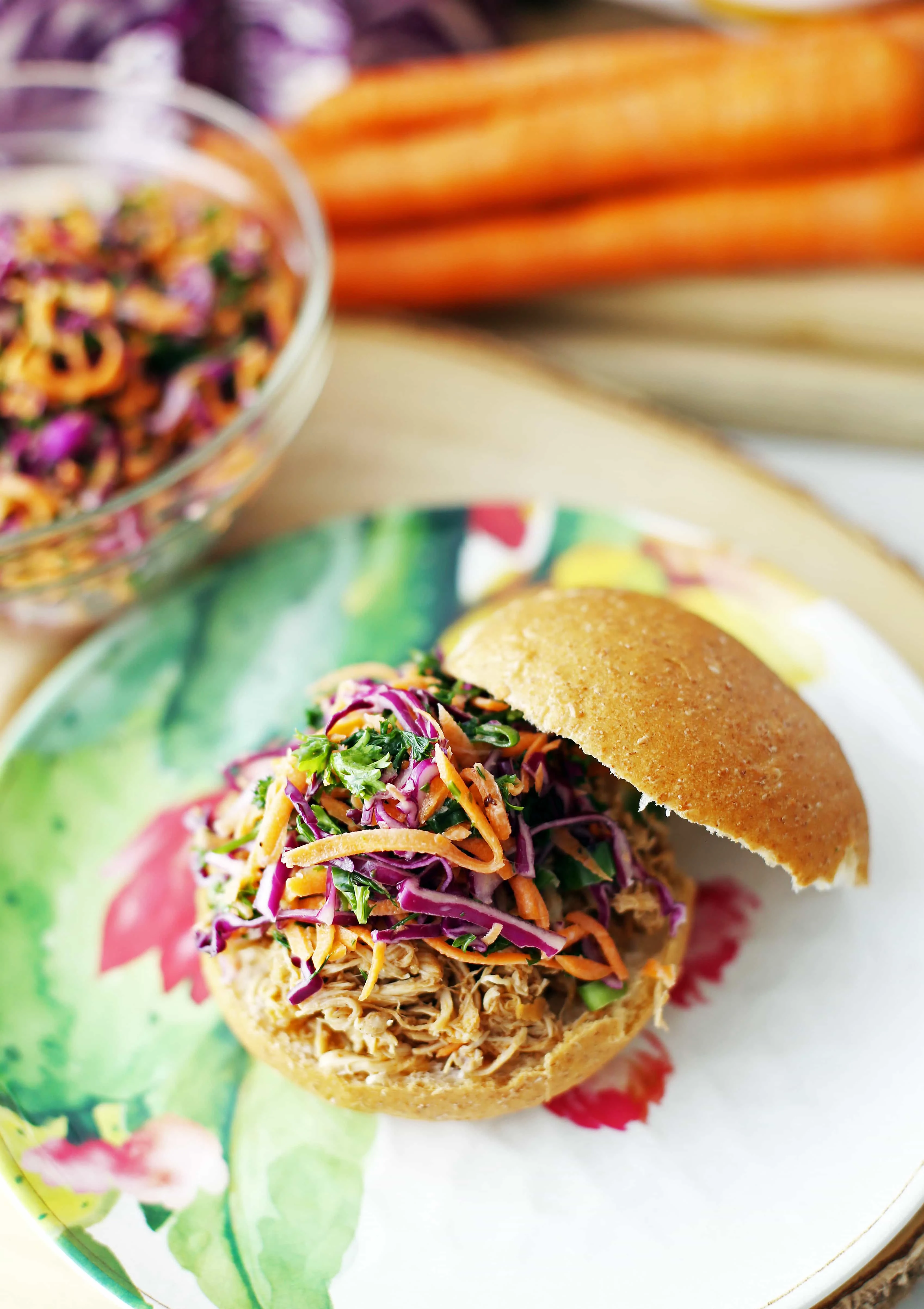 In summary, this carrot cabbage coleslaw recipe is:
Delicious and colourful: The fresh taste of red cabbage, orange carrots, and green onions and parsley is one tasty mix!
Crunchy and satisfying: The raw veggies have a wonderful crunch.
Combined with a healthy coleslaw dressing recipe: A simple tangy and sweet apple cider dressing that fits perfectly with the slaw.
Simple and quick to put together: No cooking required and comes together in 15 minutes or less.
Great to serve as a side dish or as a topping: Serve it on a shredded chicken or pulled pork burger.
Easy to scale up to make more if you like.
Great for making ahead of time: You can make it the day before and it keeps for up to four days. Store leftovers in the refrigerator and give the coleslaw a toss before serving.
It's also vegetarian and gluten-free.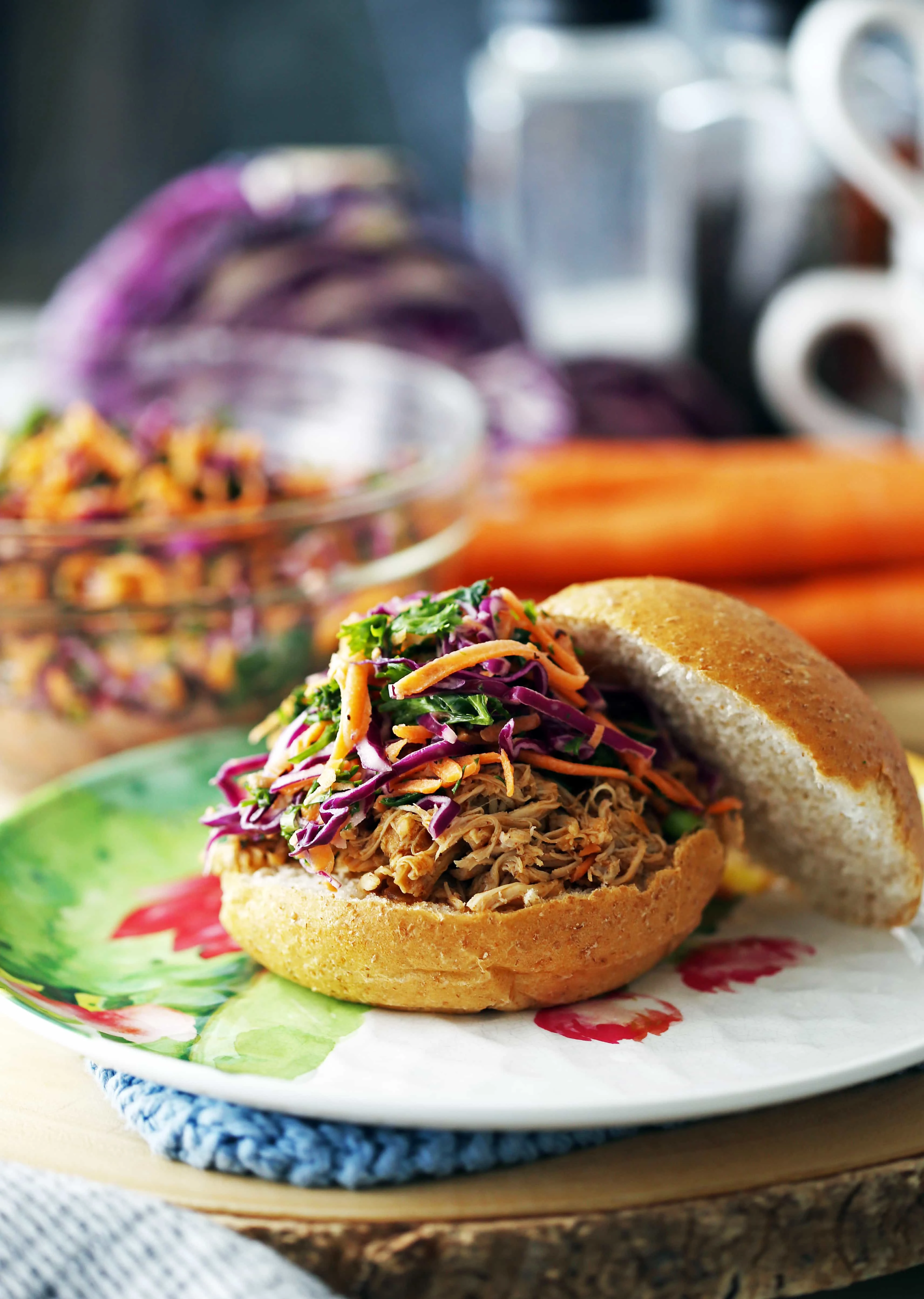 I hope you try this carrot cabbage coleslaw recipe!
If you do, please leave me a rating and comment down below or tag me on any of my social media. I'm @yay_for_food on Instagram. Please share a picture!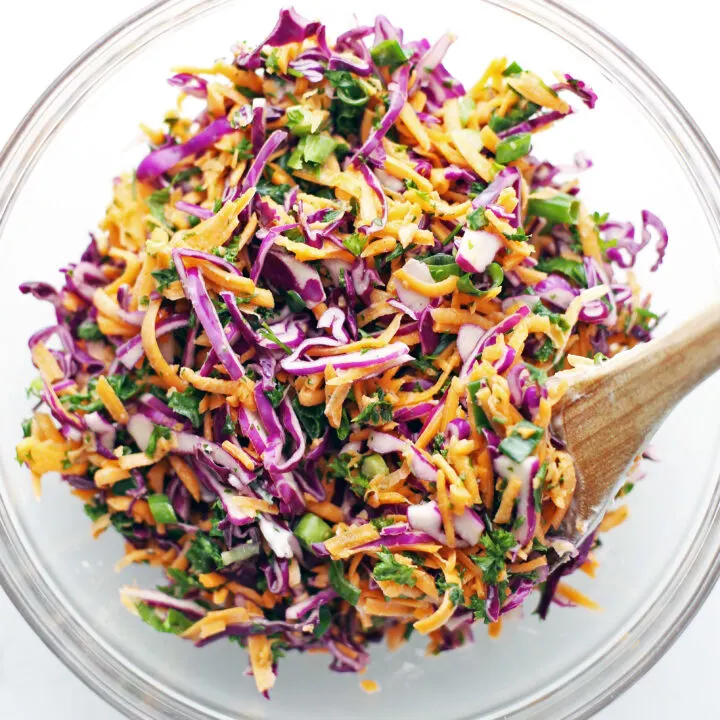 Healthy Carrot Cabbage Coleslaw
Looking for a healthy twist on a classic side dish? Try this crunchy carrot cabbage coleslaw recipe. The perfect topping for your next sandwich.
Ingredients
For the coleslaw:
2 cups carrots, peeled and shredded *(see first note)
2 cups red cabbage, shredded
1/2 cup green onions, thinly sliced
1/3 cup curly-leaf parsley, finely chopped
For the dressing:
1/4 cup plain Greek yogurt (preferably 0% fat)
2 tbsp apple cider vinegar
2 tbsp pure maple syrup
1/2 tsp sea salt
1/4 tsp freshly cracked black pepper
Instructions
Place the prepared coleslaw ingredients in a large bowl.
Add the dressing ingredients to the coleslaw ingredients.
Give the ingredients a good toss to evenly distribute.
Taste and adjust for flavour preferences such as adding more Greek yogurt for additional tanginess or more apple cider vinegar for more acidic flavour. Enjoy!
Notes
*Preferably, use a food processor to quickly prepare the carrots and cabbage. Use the shedder disc for the carrots and the slicer disc for the cabbage. See the "Helpful Tips" section of this blog for more information.
If making ahead of time or if you have leftovers, cover the bowl with plastic wrap and place in the refrigerator for up to four days. Give the coleslaw a toss to re-incorporate the ingredients before serving.
Recommended Products
As a participant in the Amazon Services LLC Associates Program, I only link to products that I use and/or highly recommend. As an Amazon Associate, I earn from qualifying purchases if you purchase through these links at no additional cost to you.
Nutrition Information:
Yield:

4
Serving Size:

1
Amount Per Serving:
Calories:

91
Total Fat:

0g
Saturated Fat:

0g
Trans Fat:

0g
Unsaturated Fat:

0g
Cholesterol:

1mg
Sodium:

368mg
Carbohydrates:

20g
Fiber:

5g
Sugar:

12g
Protein:

4g
Nutritional values are estimated based on the ingredients used by the author; your ingredients may differ. These values are calculated using Nutritionix.