Salted Chocolate Butterscotch Chip Cookies
These cookies are soft, thick, buttery, melt-in-your-mouth chocolatey butterscotch goodness. A no-fuss 30 minute cookie recipe that makes 24 sweet treats!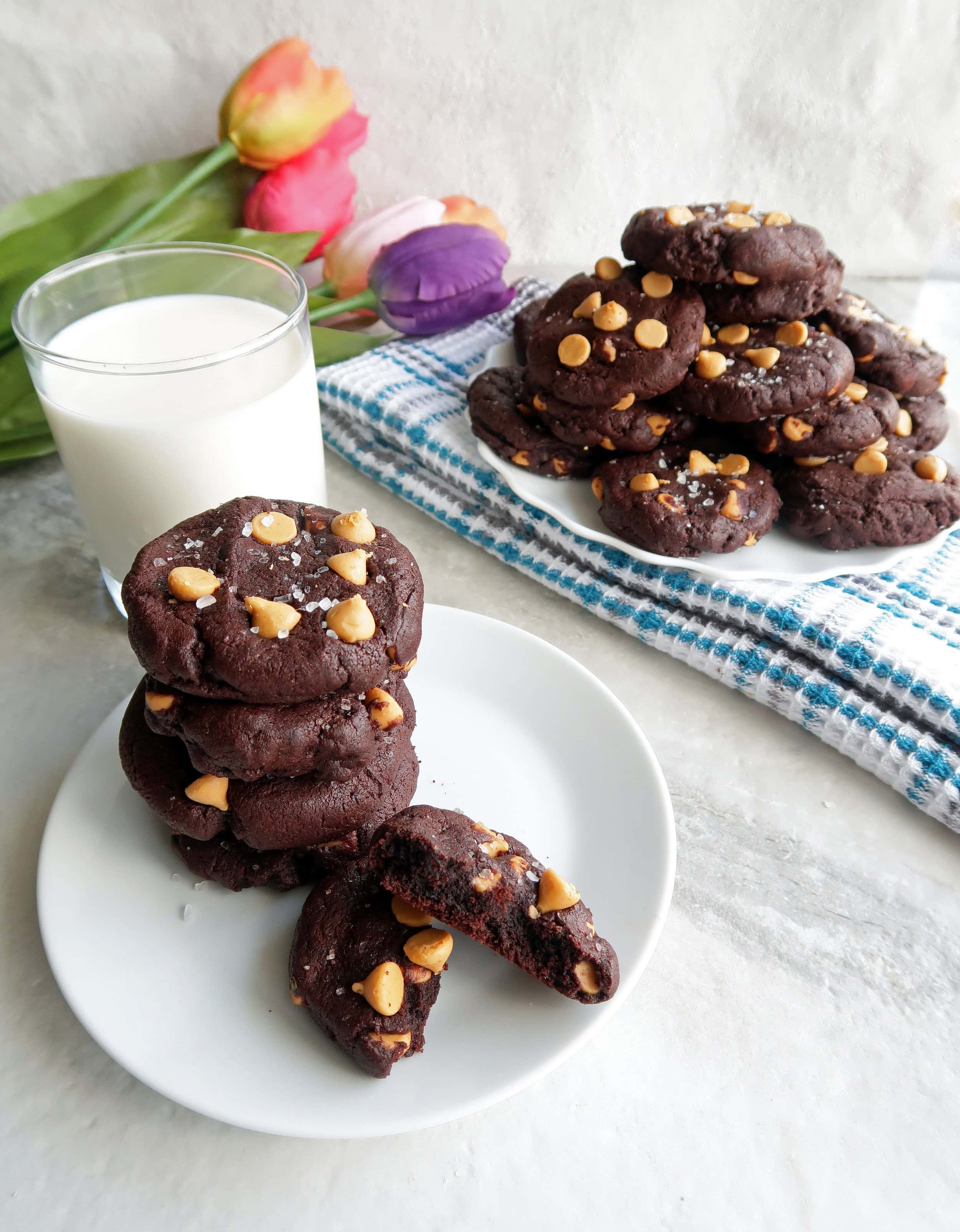 These cookies are so delicious that I want to eat them all with a large glass of milk!
Full of chocolate flavour with crunchy butterscotch chips and sea salt to heighten the overall flavour! Perfect for those with a sweet tooth, they are indulgent and cake-like in texture; somewhere between a cake and a soft cookie.
I recommend using a stand mixer or an electric mixer for easier cookie making, but it is possible to mix everything by hand if you really need to. You just have to put a little bit more elbow grease into it!
The cookie dough will be thick and hold together well once all ingredients are incorporated so scooping with a tablespoon and forming balls will be really easy. You can also use a small cookie scoop to drop each cookie onto the baking sheet.
I like to reserve a handful of butterscotch chips to press on top of each cookie and then sprinkle a little bit of coarse or flaky sea salt on top. Not only does it look pretty, but it ensures that each cookie has a decent amount of chips and the sea salt brings out the chocolate flavour and helps balance out the sweetness.
The cookie dough doesn't need to be chilled prior to baking either so the wait time between you and a freshly baked cookie is almost none!
Scott brought the first batch of these cookies into his workplace and they disappeared in no time. No word on who ate them all, but an empty plate in a hurry must mean that they enjoyed them, right? You know it's good when they keep coming back for a second or third cookie.
Yay! for a sweet tooth (and free desserts)!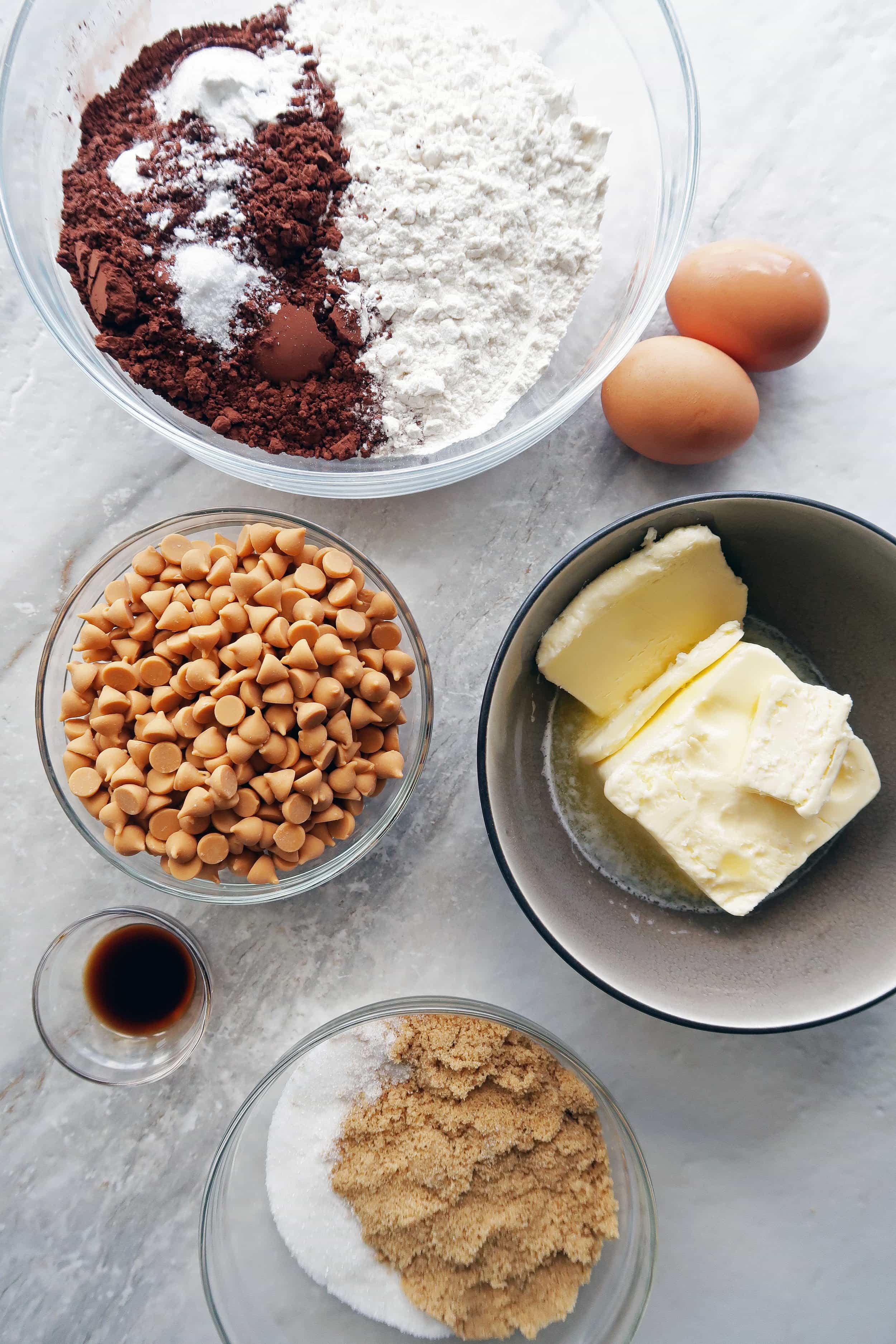 The cookie ingredients! Amounts listed in the "Ingredients" list below.
The cookie dough is ready to shaped into cookies.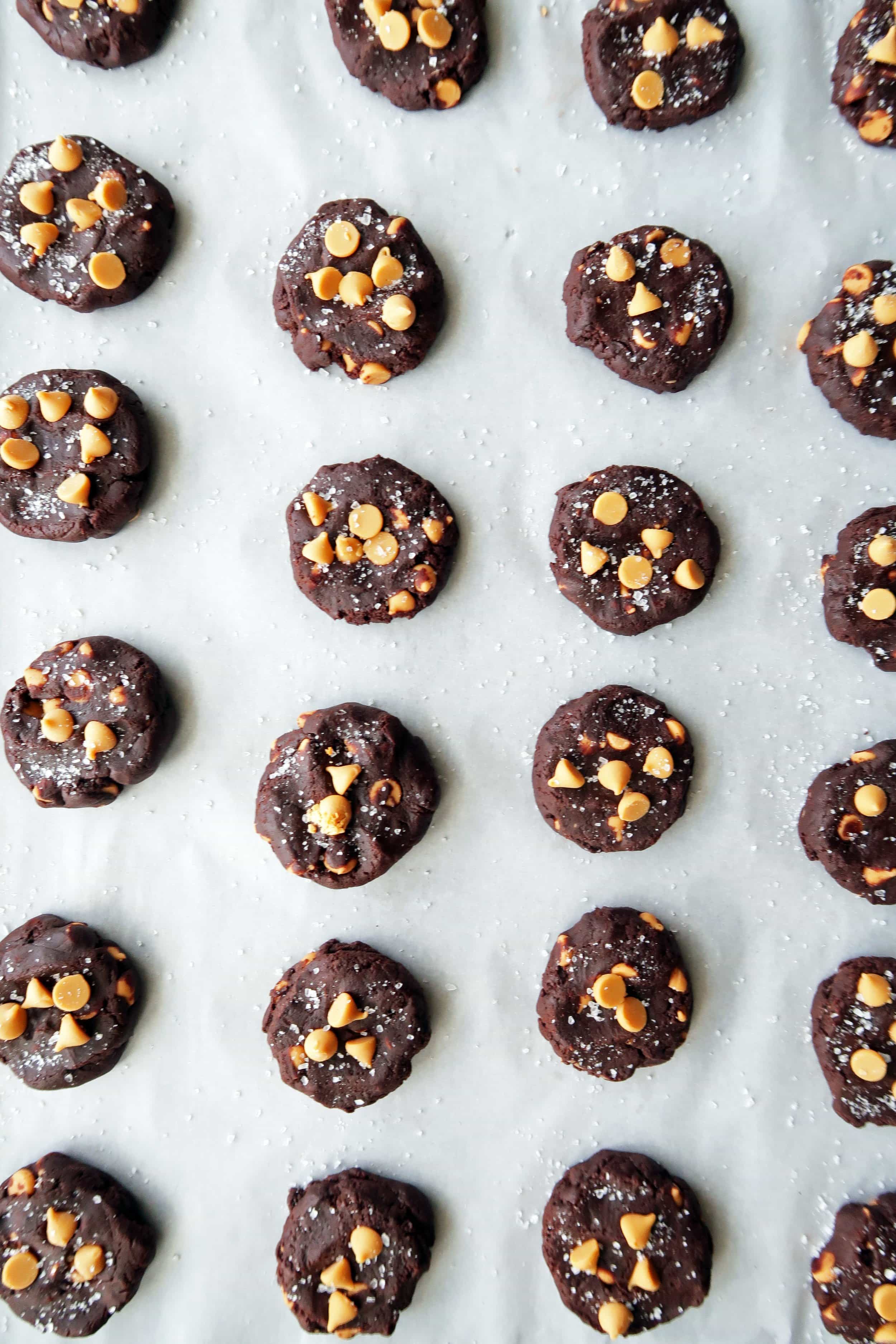 After the cookies are formed, top them with some more butterscotch chips and a little sea salt.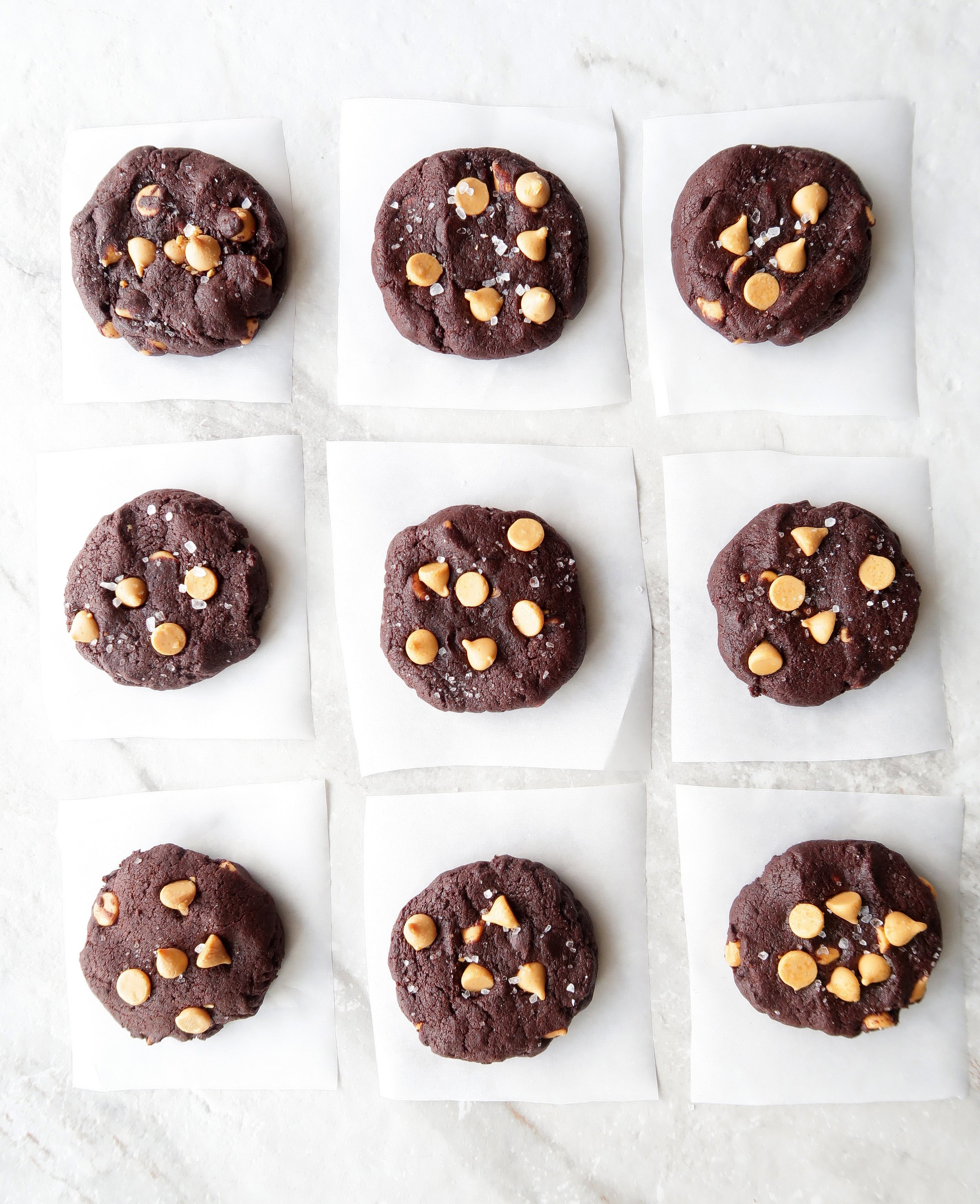 Bake at 350 degrees F for 10 minutes before letting it cool. This recipe makes 24 cookies.Perfect for sharing.
Serve it with a big glass of milk!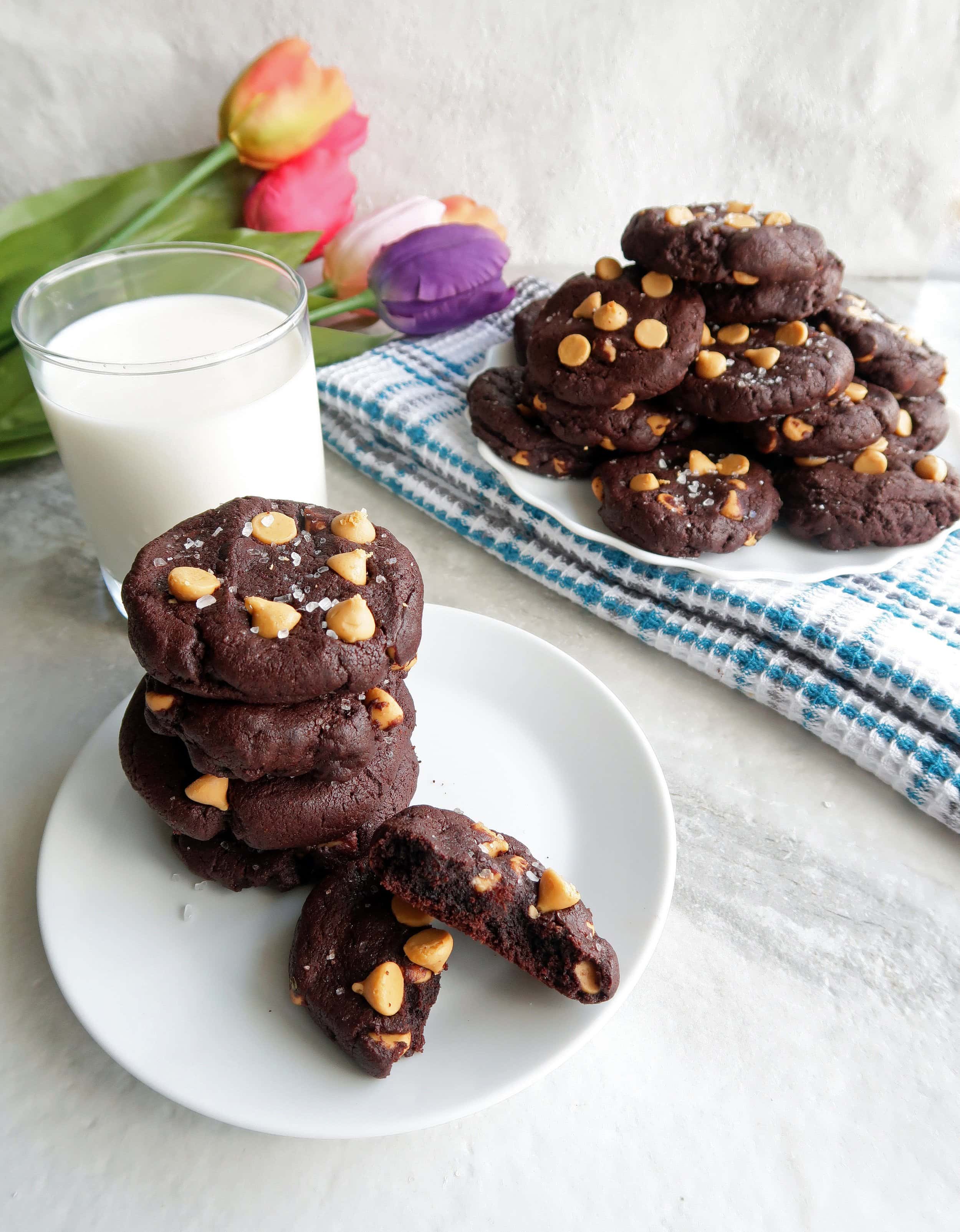 Soft, fluffy and rich with chocolate and butterscotch flavours! A scrumptious sweet snack!
Enjoy!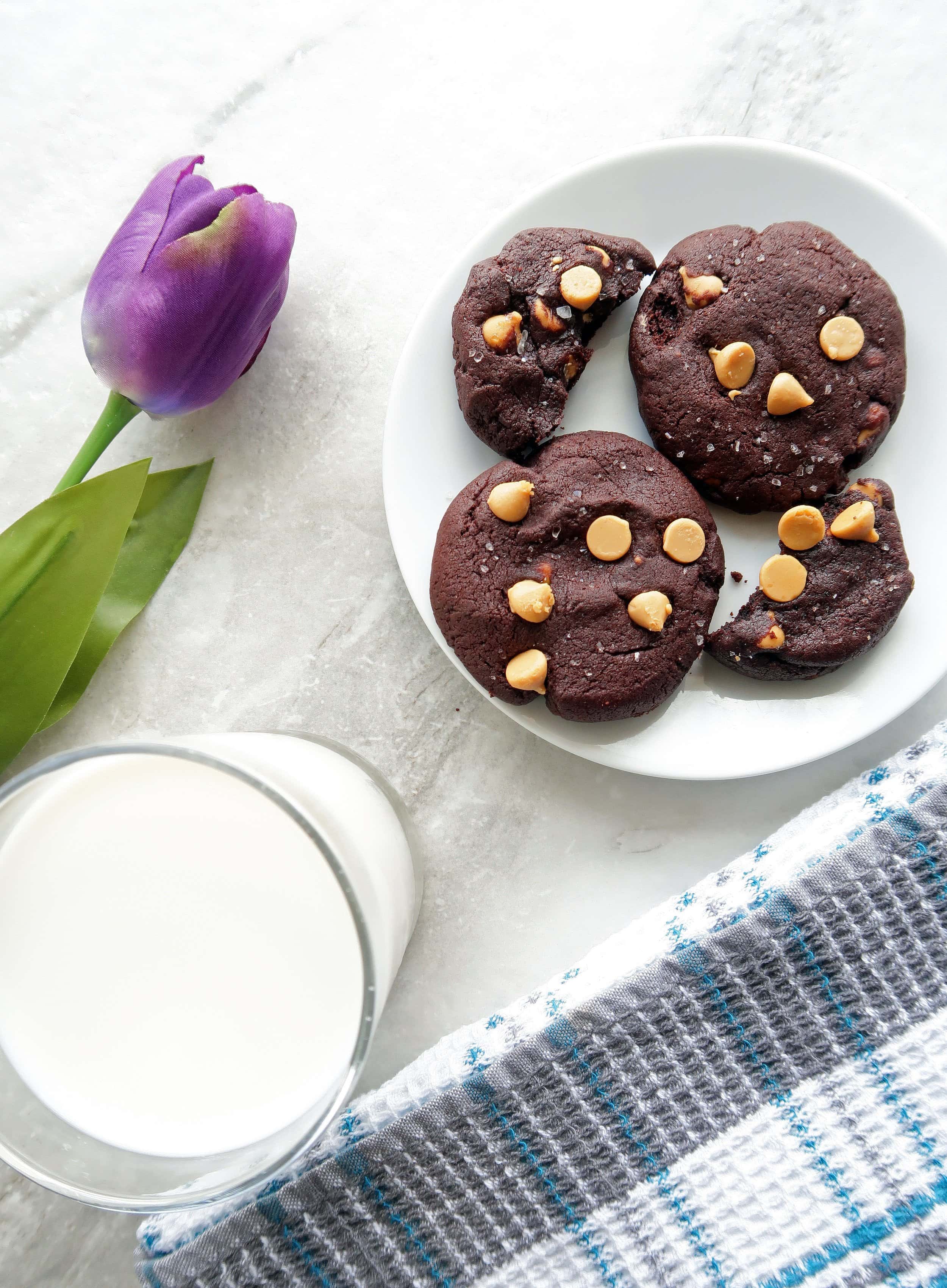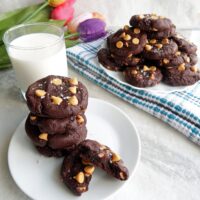 Salted Chocolate Butterscotch Chip Cookies
These cookies are soft, thick, buttery, melt-in-your-mouth chocolatey butterscotch goodness. A no-fuss 30 minute cookie recipe that makes 24 sweet treats!
Ingredients
1 cup (8 oz.) unsalted butter, softened
½ cup (packed) brown sugar
½ cup white sugar
2 eggs
1 tsp vanilla extract
2 cups all-purpose flour
¾ cup cocoa powder
½ tsp baking soda
½ tsp baking powder
½ tsp salt
1½ cup butterscotch chips
Coarse or flaky sea salt
Instructions
Preheat the oven to 350 degrees. Line a baking sheet with parchment paper.
Using an electric mixer, at medium speed, cream together the butter, brown sugar, and white sugar until fluffy and well-combined. Add eggs and vanilla extract until just combined.
In a separate bowl, whisk together the flour, cocoa powder, baking soda, baking powder, and salt. Set the electric mixer to low speed and slowly add the flour mixture in small batches into the mixing bowl until it is just combined to form an uniform thick dough, scraping the sides down if necessary.*
Then using a spatula, fold in ¾ of the butterscotch chips, making sure to distribute the chips throughout the dough.
Measure out two tablespoons of dough, form a ball with the palms of your hands, and place it an inch or two apart on a baking sheet, making 24 cookies.
Slightly flatten each cookie with your hand and press in the remaining butterscotch chips on the top of each cookie. Sprinkle each cookie with a small amount of sea salt.
Bake for 10 minutes, until puffed on top and slightly crisp on the bottom.** Let the cookies cool on the baking sheet for 3 minutes before removing to let them cool completely on a cooling rack.
Serve immediately or store in an airtight container in the refrigerator for up to a week.
Notes
* Stop mixing once you no longer see the flour. Over-mixing may result in a crunchier cookie.
** You want the cookies to be slightly underdone. They will continue to cook (harden slightly) when cooling on the baking sheet.
Recommended Products
As an Amazon Associate and member of other affiliate programs, I earn from qualifying purchases.
Nutrition Information:
Yield:

24
Serving Size:

1
Amount Per Serving:
Calories:

133
Total Fat:

4g
Saturated Fat:

3g
Trans Fat:

0g
Unsaturated Fat:

1g
Cholesterol:

17mg
Sodium:

129mg
Carbohydrates:

21g
Net Carbohydrates:

0g
Fiber:

1g
Sugar:

11g
Sugar Alcohols:

0g
Protein:

2g
Nutritional values are estimated based on the ingredients used by the author; your ingredients may differ. These values are calculated using Nutritionix.
---
---