I could not get enough of these yummy sweet and spiced cookies!
This recipe is adapted from an old Manitoba community cookbook with little instruction. I get a lot of great inspiration from these types of cookbooks, but there are many instances where there are no defined ingredient quantities or bake times listed.
One of my favourite instructions from these older cookbooks is this: "Bake until done." Done meaning what?
I guess, I'll bake it at 350 degrees Fahrenheit (it's a magic baking temperature a lot of time), turn on the oven light, and stare at these cookies through the oven door until they look baked to me. A solid plan. Maybe.
Always read through the entire recipe first, which I think is good practice for any recipe because you'll never know when an ingredient or two not listed in the official "Ingredients" list shows up randomly in steps three and four. It's a big bummer when you think you have the ingredients ready and then you realize you failed to pick up that one key ingredient at the grocery store.
After tinkering with the ingredients and instructions, I am happy to say that these cookies turned out so chewy and flavourful. It's really hard to eat just one cookie.Writing this, I wish I had one right now.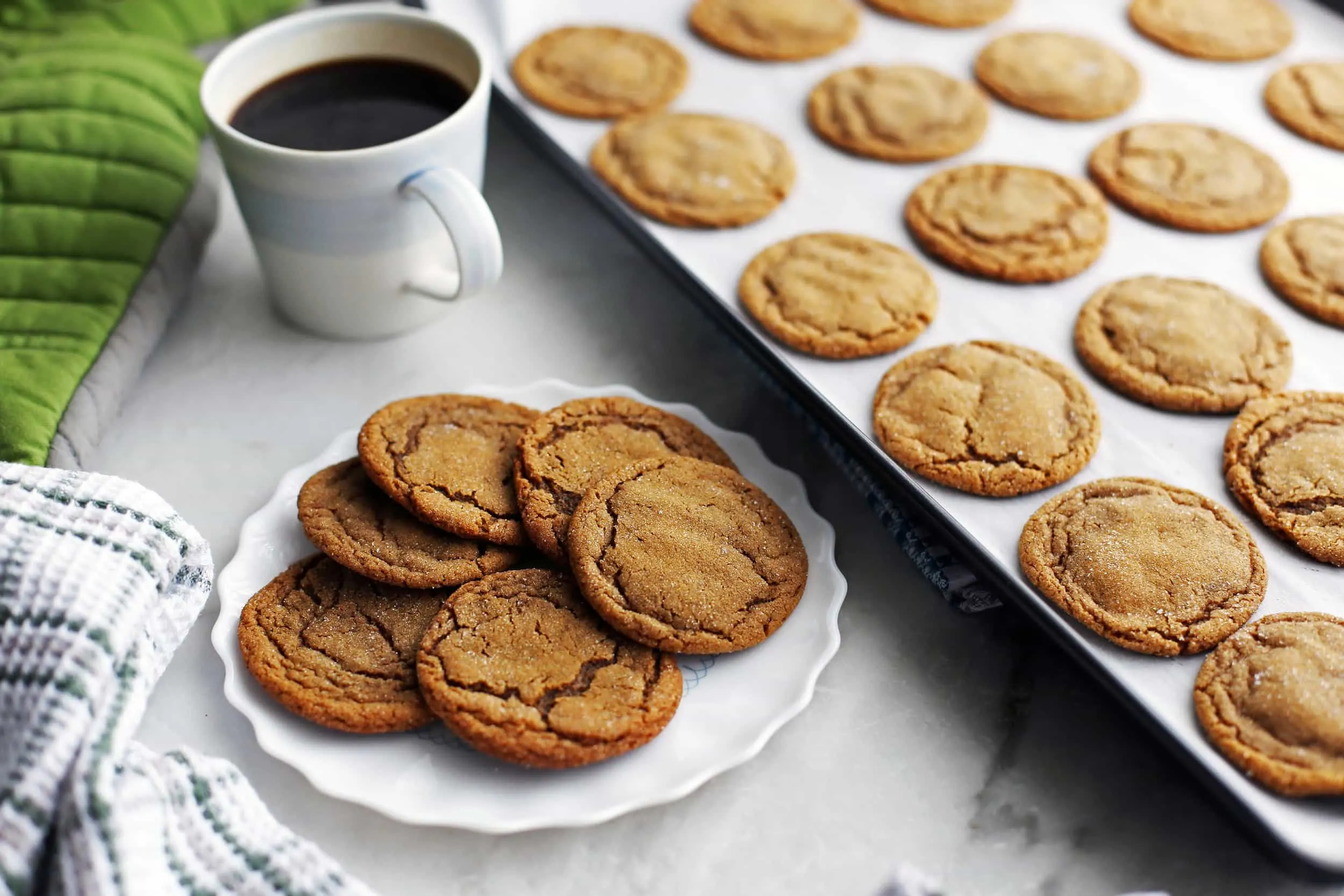 Why make these gingersnap (ginger molasses) cookies?
These are simply delicious cookies that are sweetened with white sugar and fancy molasses and spiced with ginger, cinnamon, and allspice.
So warm and cozy in flavour. The warming spices in these cookies are perfect for autumn and winter. Although, I wouldn't turn down these cookies any time of the year.
These cookies do not have a crunchy "snap." Instead they have a slight crispy exterior from the sugar coating and a lovely chewy interior that's just melts in your mouth.
It goes wonderfully with a hot cup of coffee, hot chocolate, tea, or a cold glass of milk.
Can you imagine making these simple and quick (it takes less than 30 minutes from start to finish!!) cookies for Thanksgiving, Christmas or for a holiday cookie exchange? I can. In fact, I'm looking forward to making these cookies again and again as the cooler months roll in.
These cookies have already made their way into my husband's workplace where they were devoured.
Usually, Scott brings in one recipe at the start of the week, but this time it was the battle of the cookies with these ginger molasses cookies up against my homemade 6-Ingredient Crunchy Almond Cookies.
Piles of each cookie were set out on separate plates in the kitchen as Scott hid behind the photocopier to watch (not really).
At first it appeared even with a few missing each time Scott walked by, but somewhere over the course of one hour, the Classic Chewy Gingersnaps took a commanding lead. Whether we found a clear preference among Scott's co-workers or one person ate 10 cookies, we'll never know, but within three hours, all the cookies were gone.
I hope you enjoy this recipe!
How do you make these gingersnap cookies?
(Full ingredient amounts and instructions available in the recipe card down below)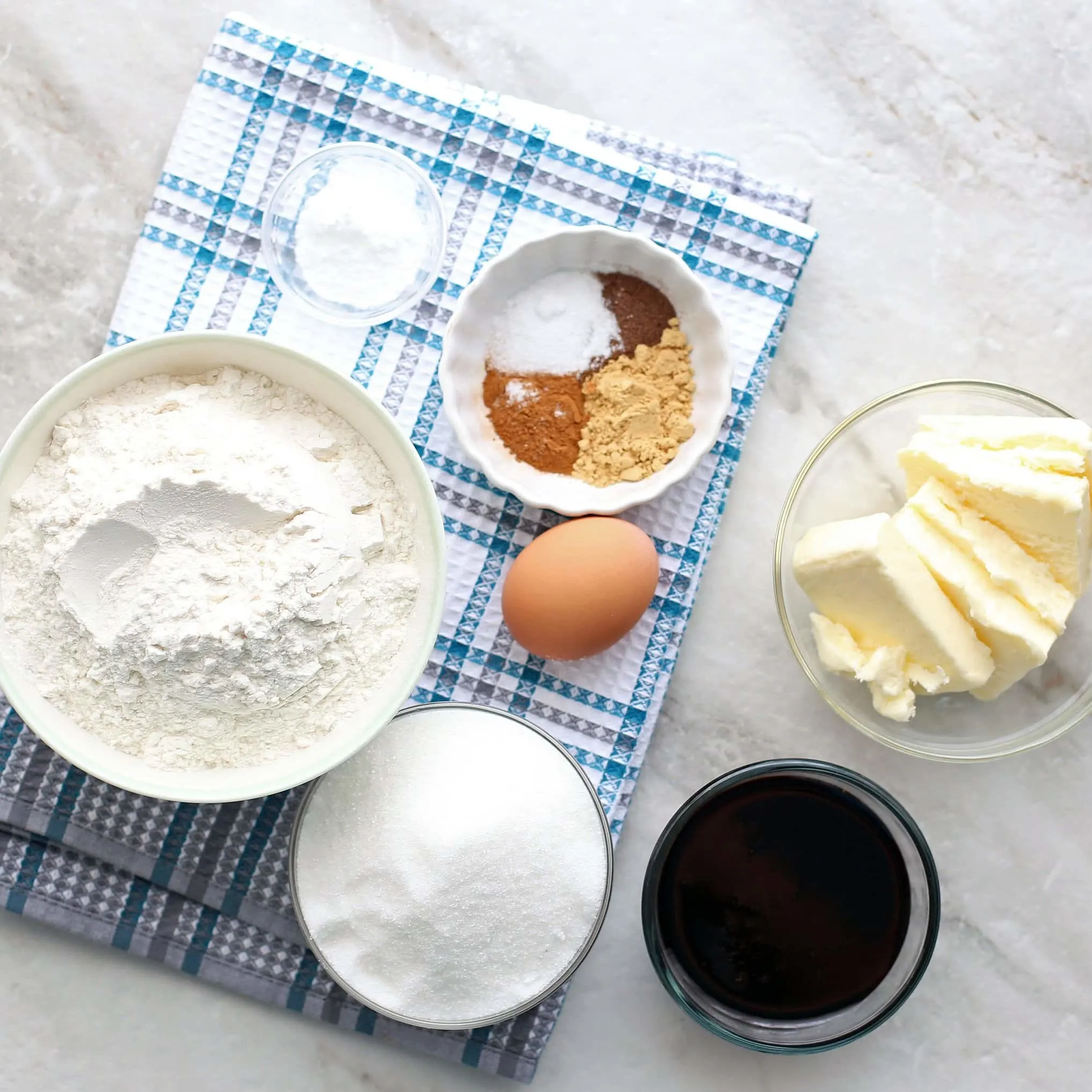 The ingredients are all measured and ready to use!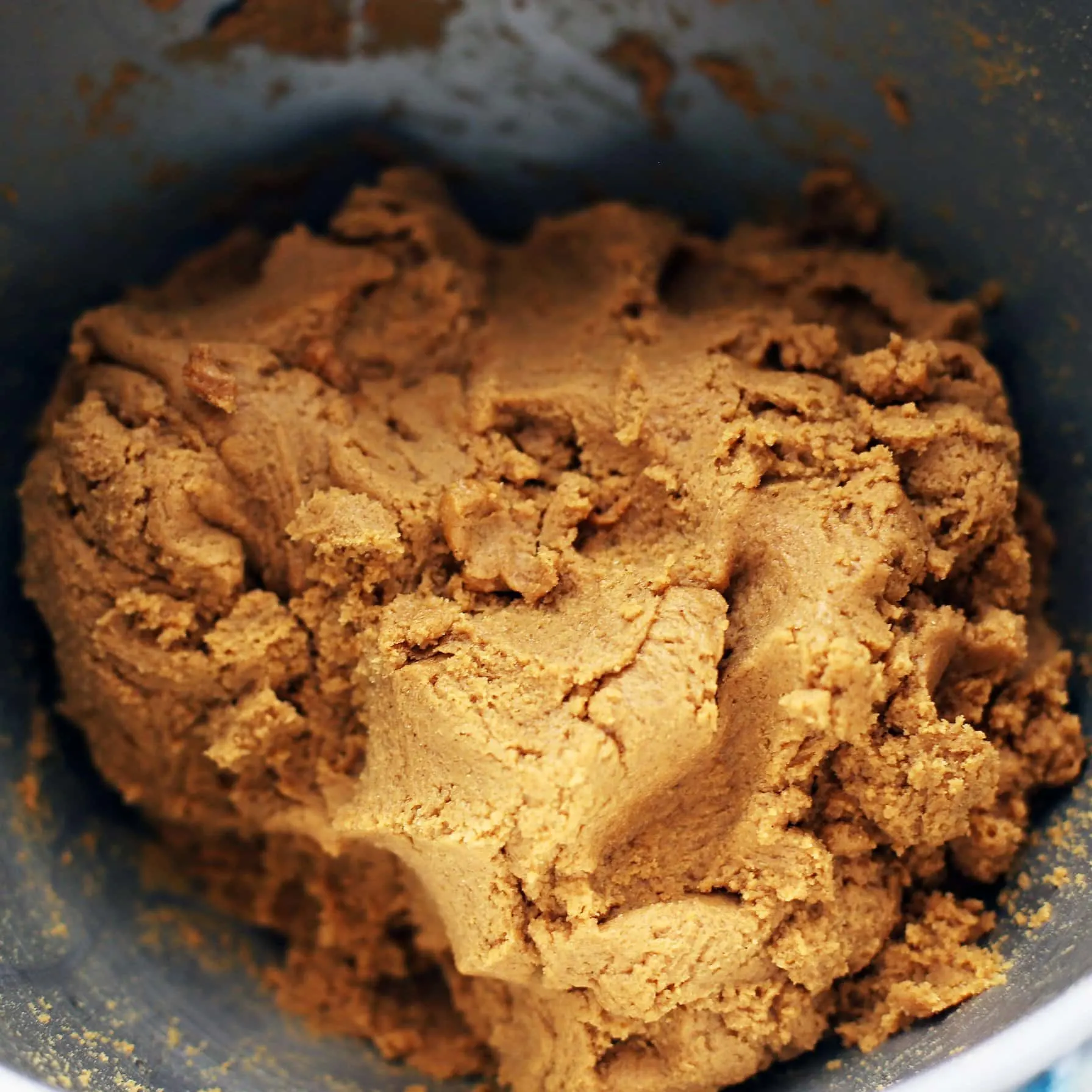 Once all the ingredients are combined together, you'll get an uniform, soft dough that's ready to be rolled into balls.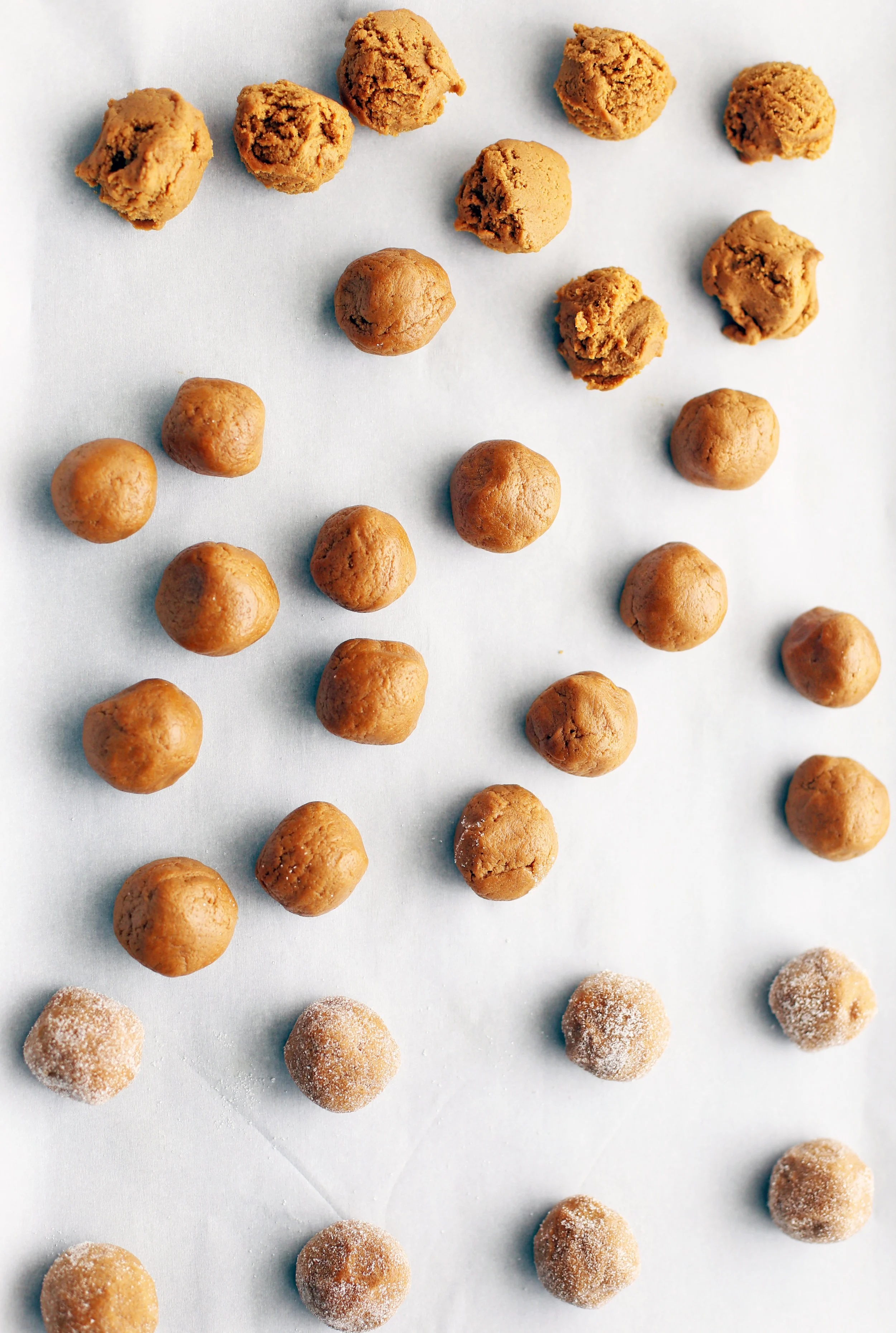 The process in steps from top to bottom – Measure out tablespoon balls, roll into smooth balls, and cover with a layer a white sugar.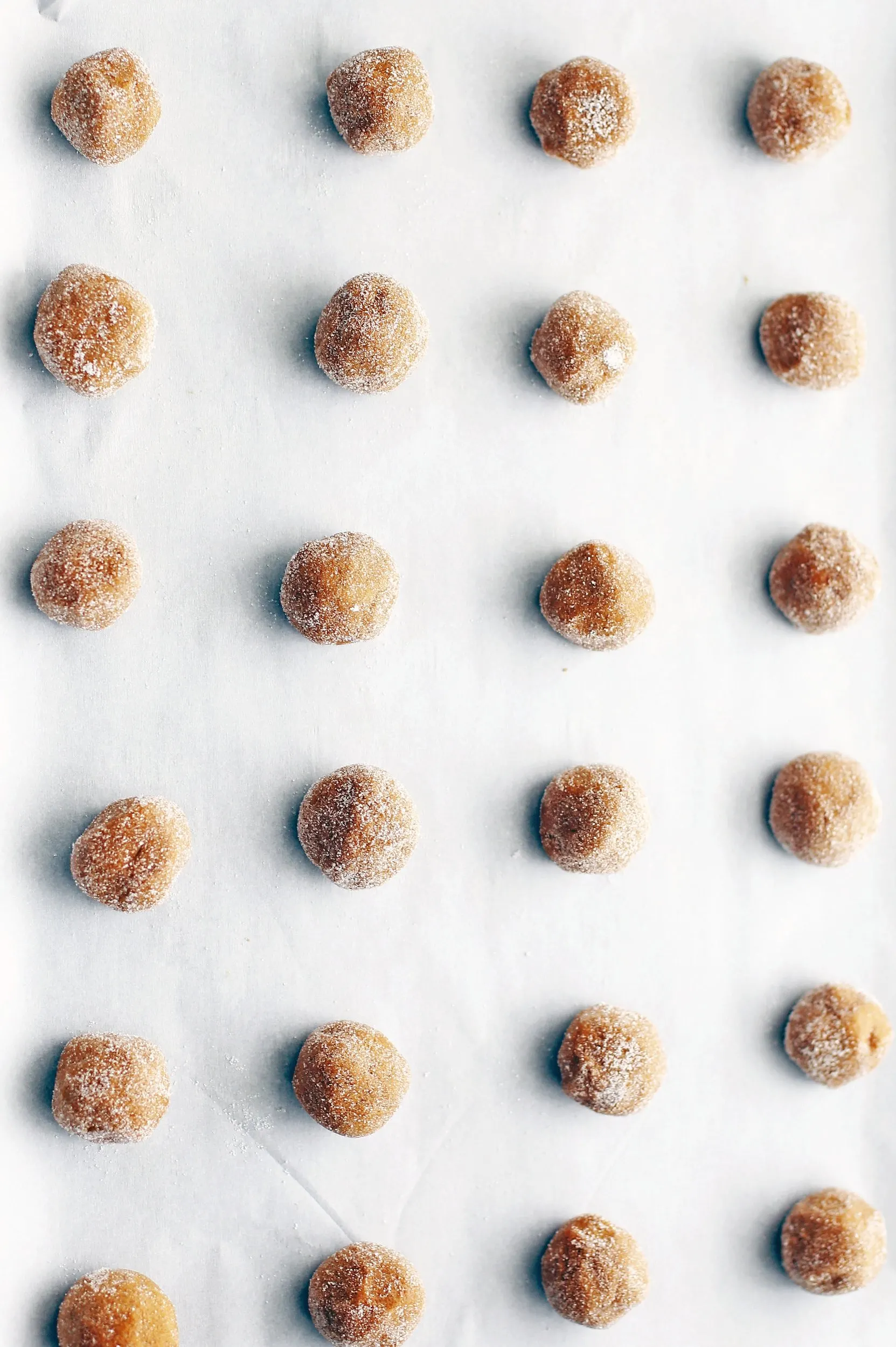 All ready to be baked! Remember to space the cookies at least two inches apart on a baking sheet and do not flatten.
The cookies only take about 9 to 11 minutes to bake at 350 degrees F. Each cookie will flatten out and form little cracks on top as it bakes. Once removed from the oven, the cookies will be soft, but will harden slightly on the outside they cool.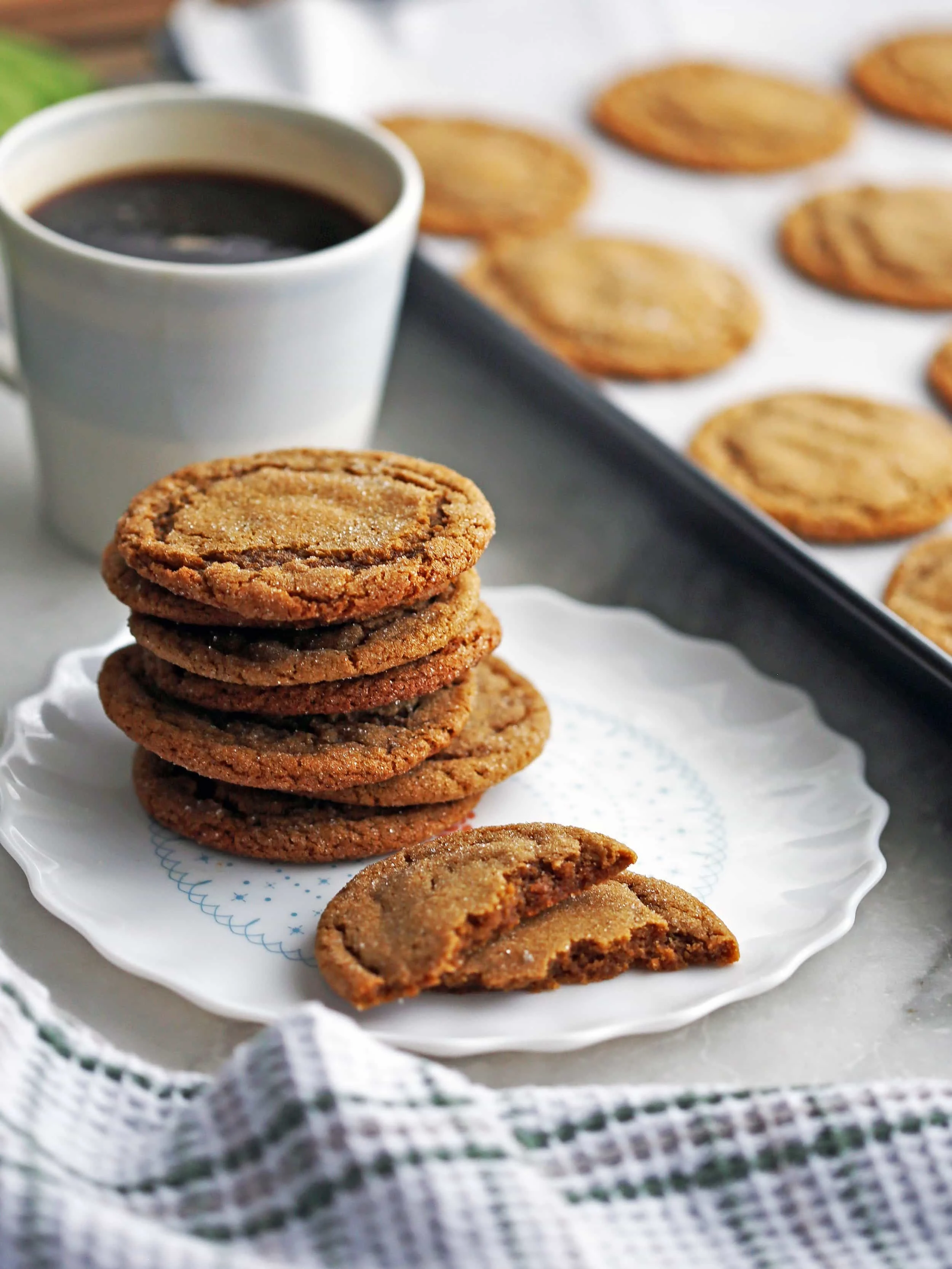 So chewy! Enjoy with a fresh cup of hot coffee, tea, or milk!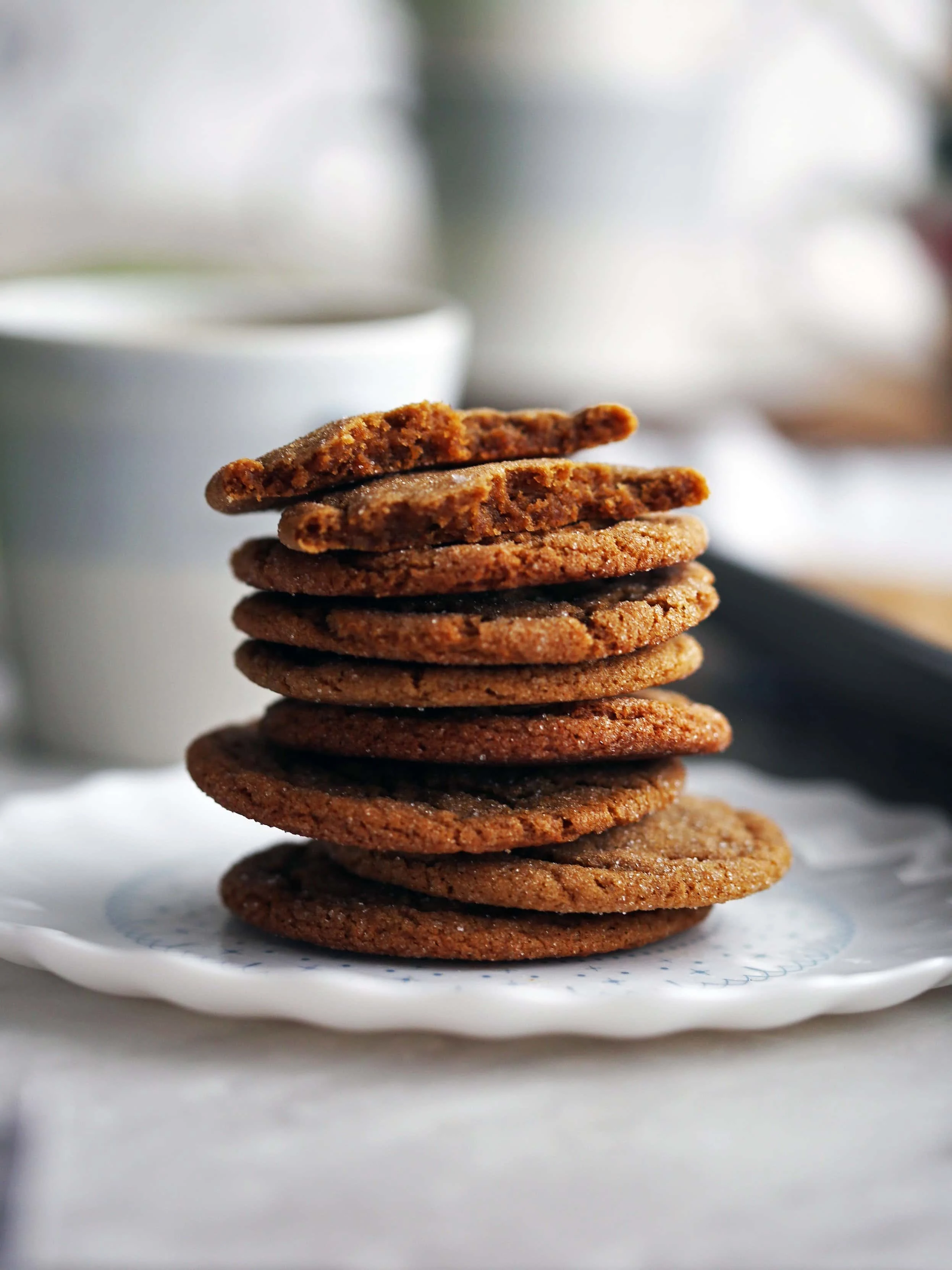 Did you make this easy and delicious chewy gingersnap cookie recipe? Leave me a rating and comment down below or tag me on any of my social media. I'm @yay_for_food on Instagram. Please share your recipe pictures!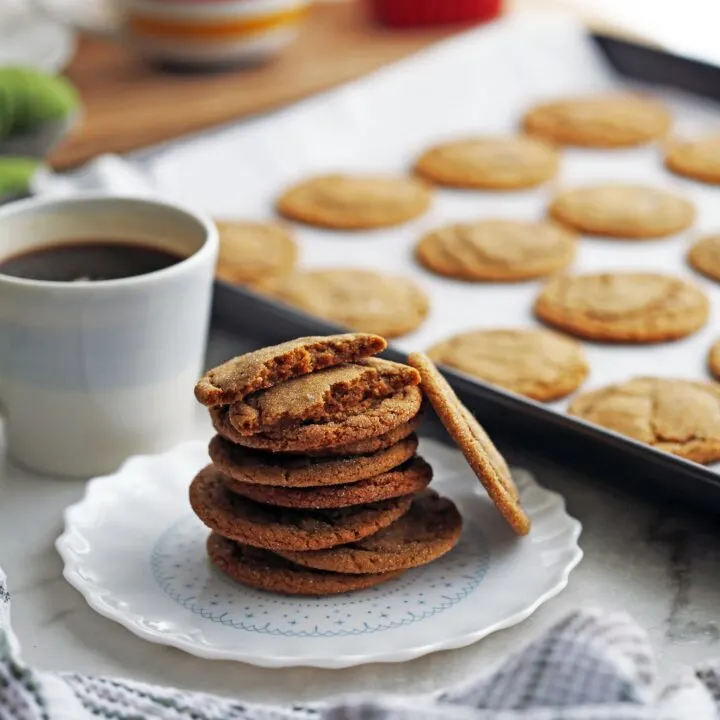 Classic Chewy Gingersnap (Ginger Molasses) Cookies
Check out these delicious sweet and spiced ginger molasses cookies! Makes 32 tasty classic cookies in under 30 minutes!
Ingredients
1 cup white sugar
¾ cup (6 oz.) unsalted butter, softened
½ cup pure fancy molasses, room temperature
1 egg
2¼ cup all purpose flour
2 tsp baking soda
1 tsp ground ginger
1 tsp ground cinnamon
½ tsp ground allspice
½ tsp salt
Topping
Instructions
Preheat the oven to 350 degrees F. Line a large baking sheet with parchment paper.
Using a electric or stand mixer at medium speed, cream together the butter and sugar until fluffy. Add the egg and molasses until well combined.
In another bowl, whisk together the flour, baking soda, and spices well. Reduce the mixer to low speed, and slowly add the flour mixture into the wet ingredients, scraping down the sides of the bowl if necessary. Increase the speed to medium speed to combine the ingredients into a soft, uniform dough.
Scoop out one tablespoon of dough, form a ball with the palms of your hands, and roll the ball in sugar. Place the dough balls at least two inches apart on the baking sheet, making 32 cookies. DO NOT flatten the balls.
Bake for 9-11 minutes. The cookies will be soft and flattened. As they cool, the cookies will harden on the outside. Let cool before eating.
Notes
Store in an airtight container at room temperature or in the refrigerator for up to a week.
Recommended Products
As a participant in the Amazon Services LLC Associates Program, I only link to products that I use and/or highly recommend. As an Amazon Associate, I earn from qualifying purchases if you purchase through these links at no additional cost to you.
Nutrition Information:
Yield:

32
Serving Size:

1
Amount Per Serving:
Calories:

83
Total Fat:

1g
Saturated Fat:

0g
Trans Fat:

0g
Unsaturated Fat:

0g
Cholesterol:

7mg
Sodium:

122mg
Carbohydrates:

19g
Fiber:

0g
Sugar:

12g
Protein:

1g