Today's recipe is Parmesan Kale Salad with Garlic Lime Dressing and Pita Chips!
You'll love the flavours in this easy green kale salad – it's savoury, cheesy, and zesty thanks to the addition of freshly grated parmesan cheese and a homemade yogurt-based dressing.
The addition of easy-to-make baked pita chips is the perfect crunchy addition this salad.
Plus, it all comes together in under thirty minutes and is easily scalable so it's wonderful as a quick meal or as a side dish for the whole family.
I hope you enjoy this recipe!
How do you make this green salad and pita chips recipe?
(Full ingredient amounts and instructions available in the recipe card down below)
Slice each pita into eight triangles and lay them flat in a single layer on a parchment paper lined baking sheet.
Brush the olive oil mixture over the each pita triangle.
I used a simple combination of olive oil, salt, pepper, and garlic powder, but you can change up the spices (and/or herbs) if you like. This makes a great snack on its own!
Bake at 400 degrees until golden-brown and crispy. Check frequently to make sure the pita chips don't burn. Let it cool while you make the salad.
Chop the kale into small pieces and massage the kale with olive oil and salt (with your hands) for several minutes to evenly coat the kale (left photo).
This will give the kale a more tender texture that's easier to chew.
Then top the massaged kale with freshly grated parmesan cheese and give it a light toss. I like to use Parmigiano-Reggiano, which has sharp and rich flavour (right photo).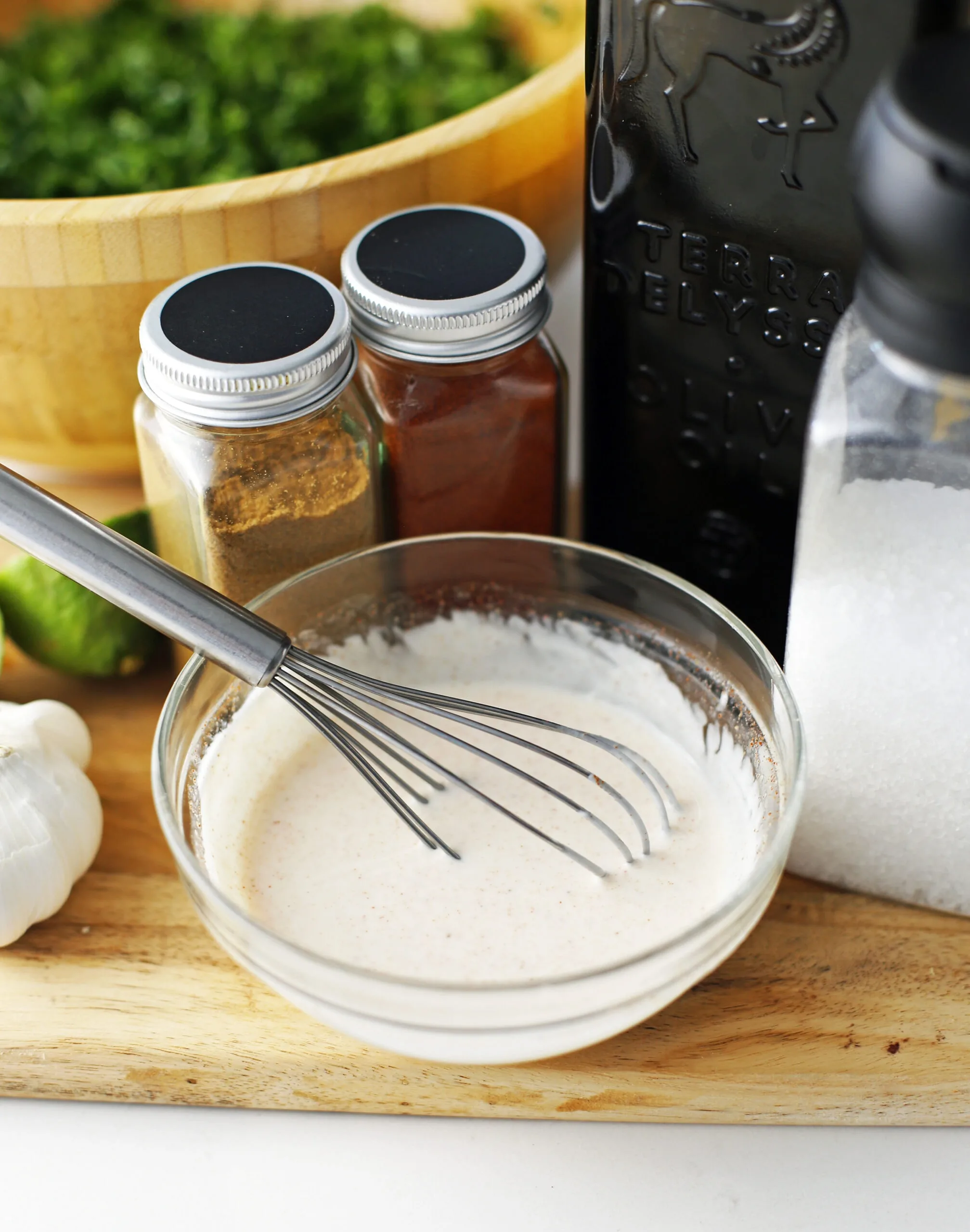 To make the dressing, simply combine all the dressing ingredients in a small bowl. To mix it together, I used a wired whisk, but a fork would work too.
The tangy combination of plain Greek yogurt with fresh minced garlic, lime juice, and spices (e.g. paprika and cumin) gives this easy, homemade dressing bright, tangy notes with a slight warming kick.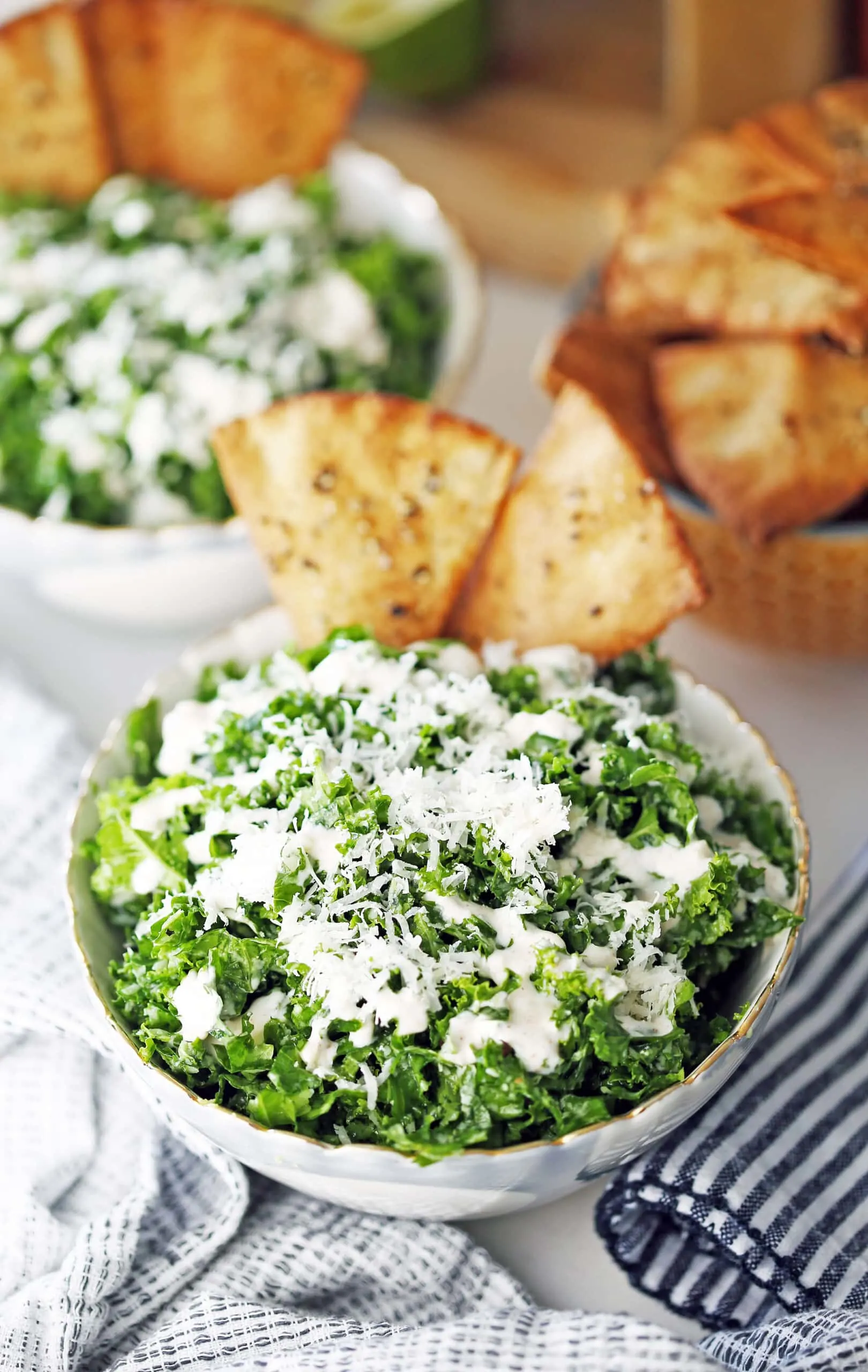 Place the salad into individual bowls and drizzle your desired amount of garlic lime dressing. Serve with the pita chips.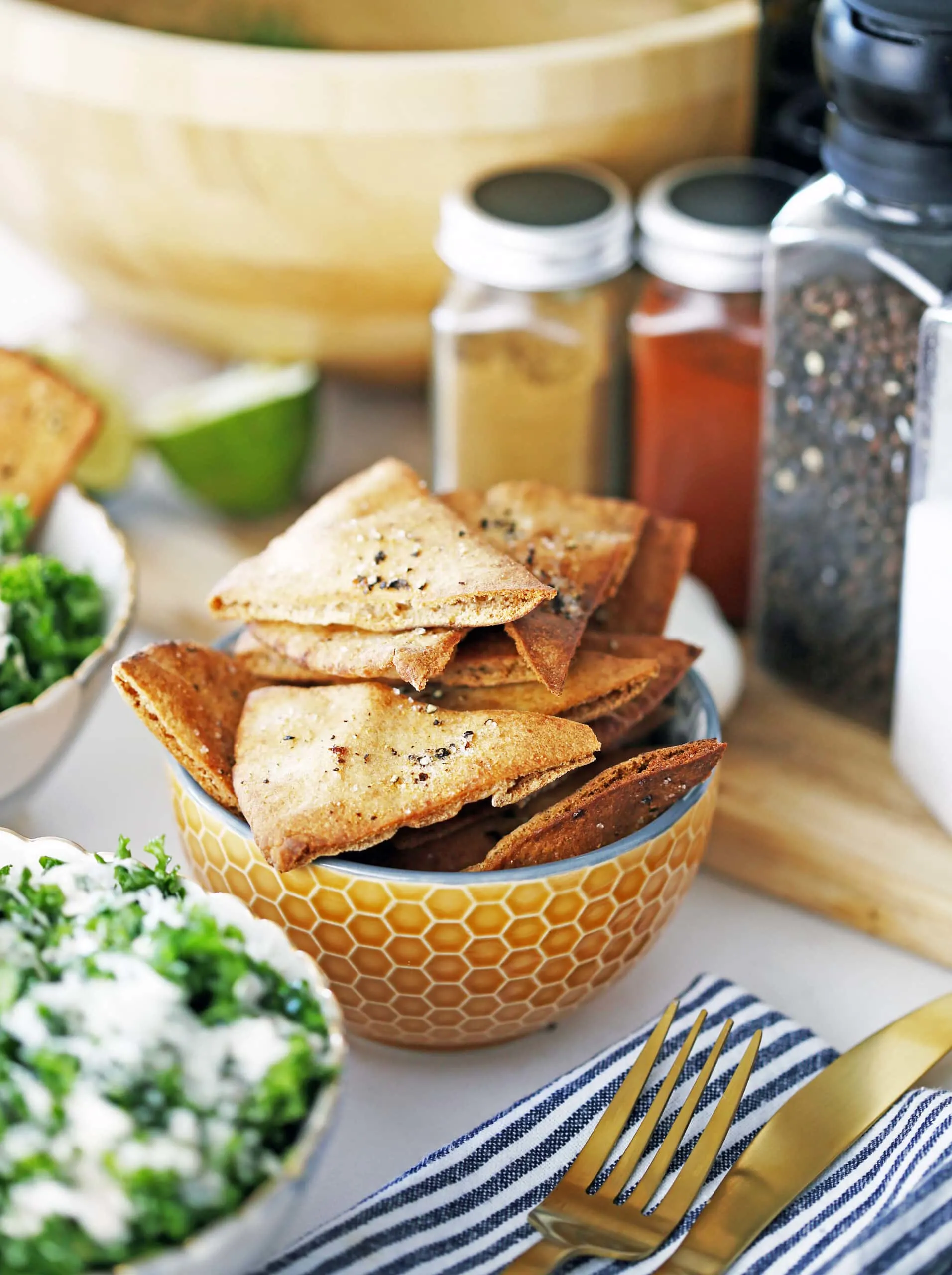 Here are four more delicious green salad recipes to check out!
To sum up, this wonderful kale salad recipe is:
Delicious and healthy: The combination of savoury and zesty flavours is so tasty!
Quick and easy to put together: It's ready in around 30 minutes.
Full of satisfying textures: This salad is full of chopped kale, creamy dressing, and crunchy pita chips.
Filling enough to eat as a meal or to serve as a side dish.
Versatile: The dressing can be used in different salads and the pita chips can be made as a standalone snack.
Scalable: This recipe is easily halved or doubled (or more) if you want.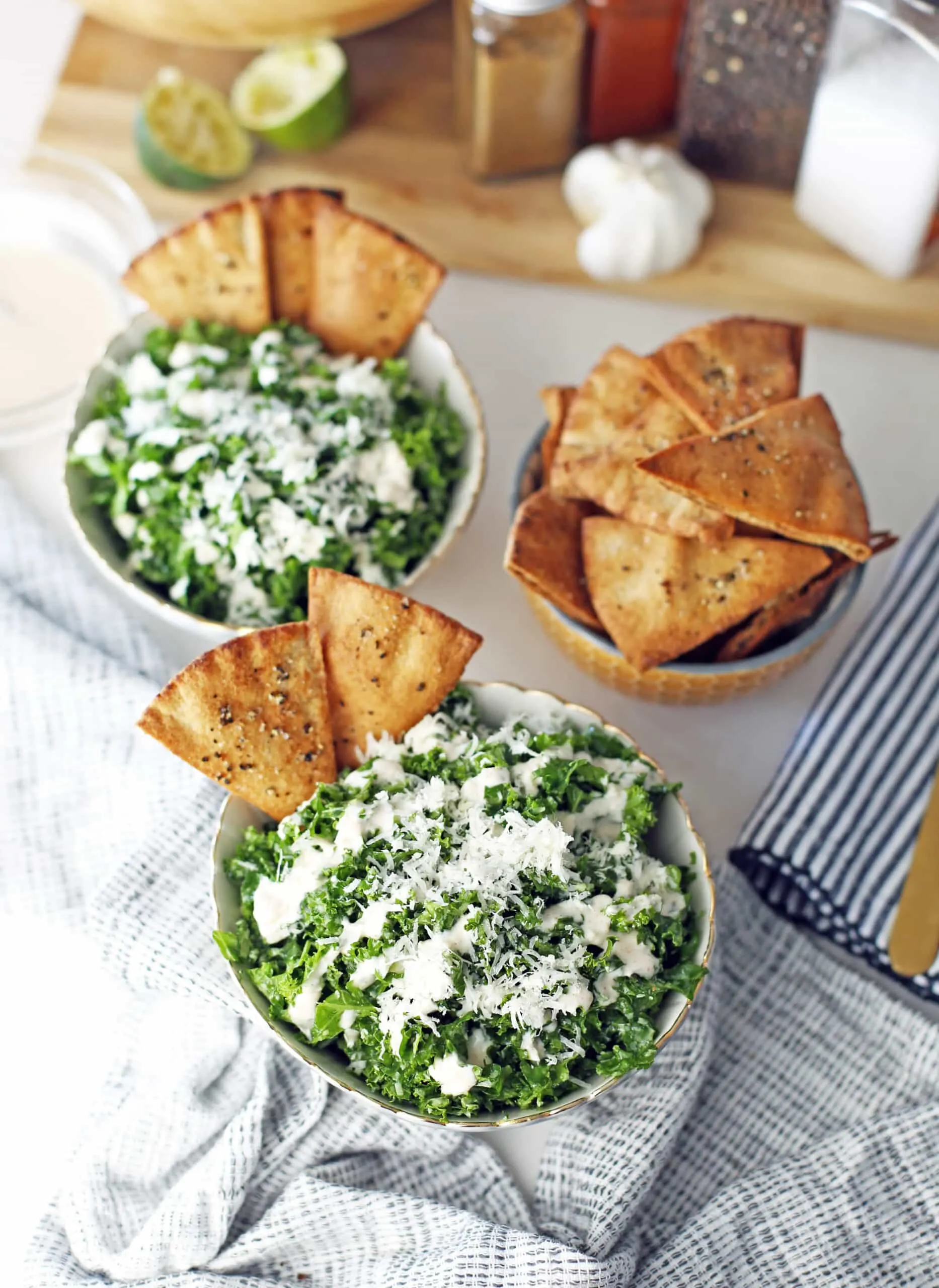 Did you make this tasty parmesan kale salad recipe? Leave me a rating and comment down below or tag me on any of my social media. I'm @yay_for_food on Instagram. Please share your recipe pictures!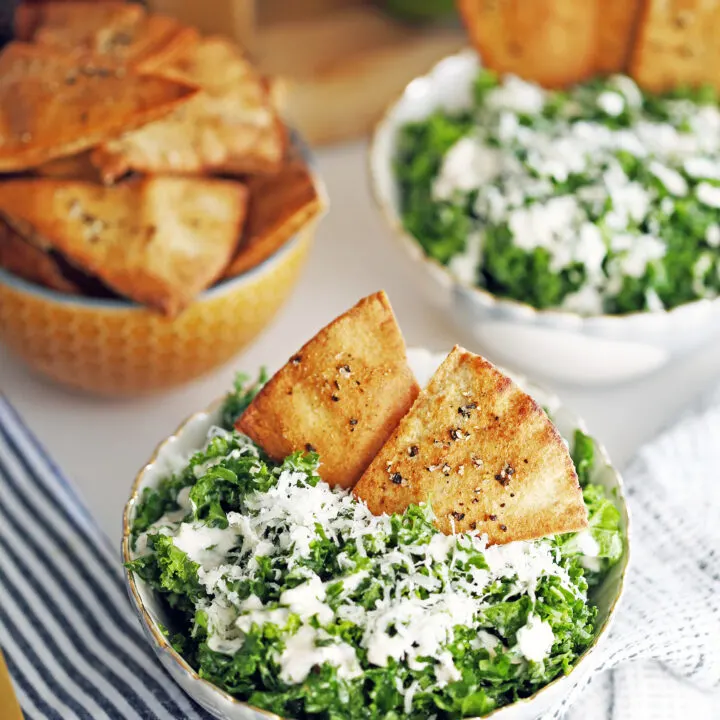 Parmesan Kale Salad with Garlic Lime Dressing and Pita Chips
Quick homemade pita chips are the perfect compliment to this simple and delicious parmesan kale salad. Finished with a bright and tangy lime dressing.
Ingredients
For the salad:
6 packed cups curly kale (8 leaves), de-stemmed and finely chopped
2 tbsp extra virgin olive oil
Salt and pepper, to taste
1½ oz. parmesan cheese (Parmigiano-Reggiano), freshly grated
For the dressing:
¼ cup plain Greek yogurt (0% fat)
1 garlic clove, minced
2 tbsp fresh lime juice
¼ tsp sea salt
1/8 tsp ground paprika
1/8 tsp cumin powder
For the pita chips:
3 whole wheat pitas (I used 8-inch round ones)
1 tbsp extra virgin olive oil
¼ tsp sea salt
¼ tsp black pepper
¼ tsp garlic powder (optional)
Instructions
For the pita chips. Preheat the oven to 400 degrees F and line a baking sheet with parchment paper. Cut each pita into 8 even triangles and place them flat and spread apart on the baking sheet.
In a small bowl, combine together the olive oil, salt, pepper, and garlic powder. Brush the mixture evenly onto the top of each pita triangle.
Bake for 6-8 minutes until golden-brown and crunchy (watch closely to prevent the chips from burning). Let it cool while you prepare the salad and dressing.
For the salad. Place the finely chopped kale in a large bowl and top with olive oil, salt, and pepper.
Using clean hands, massage the kale making sure to evenly coat the kale pieces with olive oil until they start to soften, about 2-3 minutes. Add the parmesan cheese on top and give it a gentle toss. Set aside.
For the dressing. Place the dressing ingredients in a small bowl and whisk to combine the ingredients. Taste and adjust according to preferences.
Put it together. Divide the kale salad into bowls and drizzle your desired amount of dressing over the salad. Top with additional parmesan cheese if you like. Serve with pita chips. Enjoy!
Notes
Nutritional information represents one serving for a total of 6 servings.
A serving represents one packed cup of kale salad with dressing and 4 pita chips.
Recommended Products
As a participant in the Amazon Services LLC Associates Program, I only link to products that I use and/or highly recommend. As an Amazon Associate, I earn from qualifying purchases if you purchase through these links at no additional cost to you.
Nutrition Information:
Yield:

6
Serving Size:

1
Amount Per Serving:
Calories:

188
Total Fat:

9g
Saturated Fat:

2g
Trans Fat:

0g
Unsaturated Fat:

7g
Cholesterol:

7mg
Sodium:

548mg
Carbohydrates:

21g
Fiber:

2g
Sugar:

2g
Protein:

7g
Nutritional values are estimated based on the ingredients used by the author; your ingredients may differ. These values are calculated using Nutritionix.