I love a good stir-fry! It's one of my go-to methods of cooking when I just don't have the time or I'm too lazy to cook up a meal that requires more attention or has more complicated instructions.
It's also a great clean-out your fridge and pantry type of meal. I use the vegetables and protein that I have at home and quickly cook them up in the wok. Mix in with some noodles (or rice) and a yummy sauce and you've got dinner ready in a hurry.
Don't have a wok? Use a flat and wide pan with sides that distributes heat evenly, like a large sauté pan.
Check out two of my favourite noodle dishes that I make frequently in the wok: Vegetarian Pad See Ew with Tofu and Chinese Eggplant and Lo Mein Noodles with Chinese Sausage and Gai Lan!
Scott's a big noodle fan. So much so that, when we order takeout, he will substitute whatever rice is included in the dinner combo with a noodle option. When testing out recipes, we often have leftovers, but I know if there are noodles involved and Scott's eating, there won't be any for tomorrow.
The first time I made Vegetarian Pad See Ew with Tofu and Chinese Eggplant , we must have had it at least three times in two weeks. Part of this was trying to perfect the recipe, but part of it was Scott wanting it again.
I hope you enjoy this recipe for Stir-Fried Vegetables and Noodles with Peanut Butter Sauce!
How do you make this stir-fried recipe?
(Full ingredient amounts and instructions available in the recipe card down below)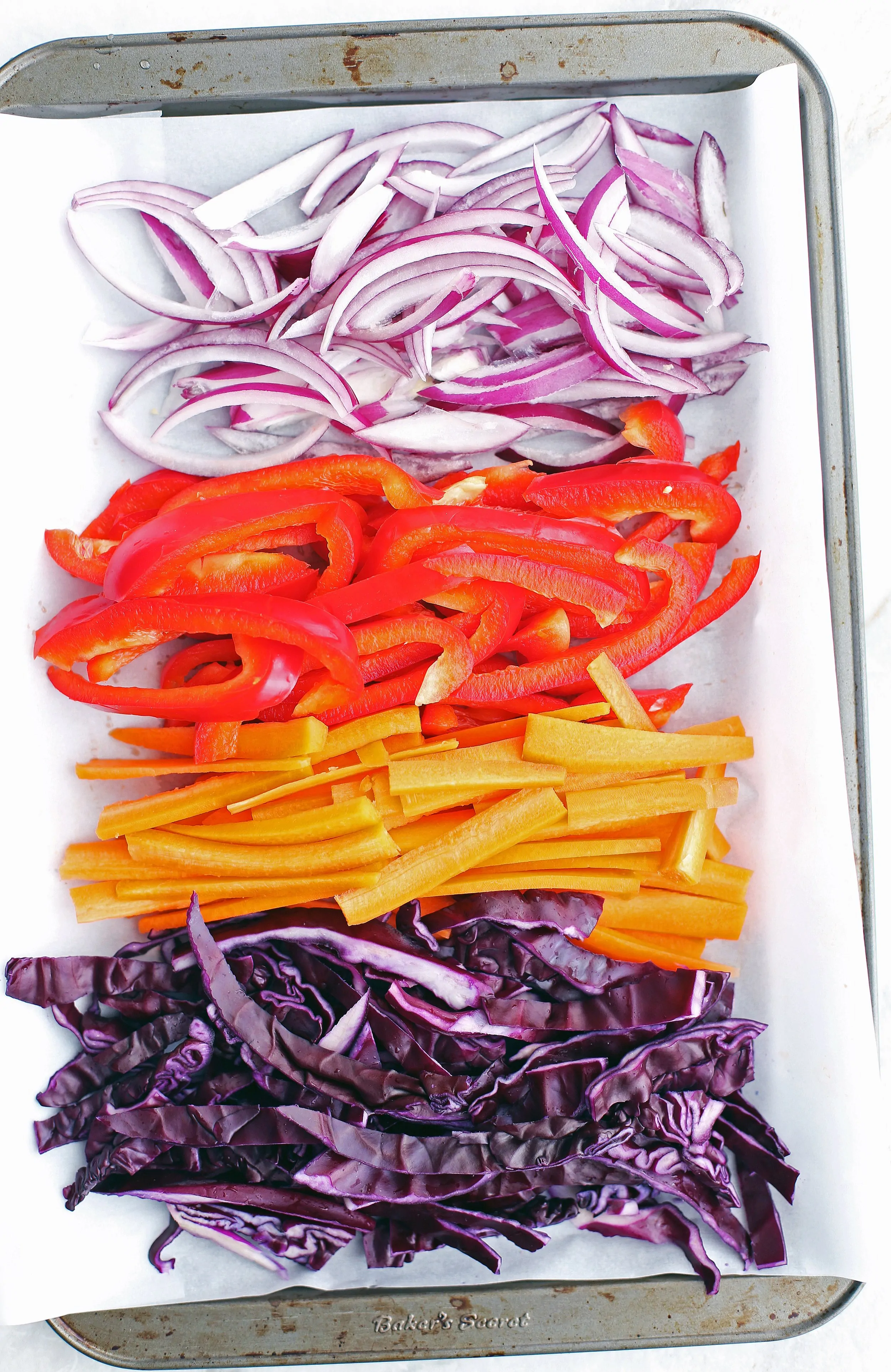 Sliced red cabbage, carrots, red bell pepper, and red onion on a baking sheet. So colourful! I like to cut them into relatively similar sized strips that's close to the width of the noodles. Slice them thinner to cook even faster.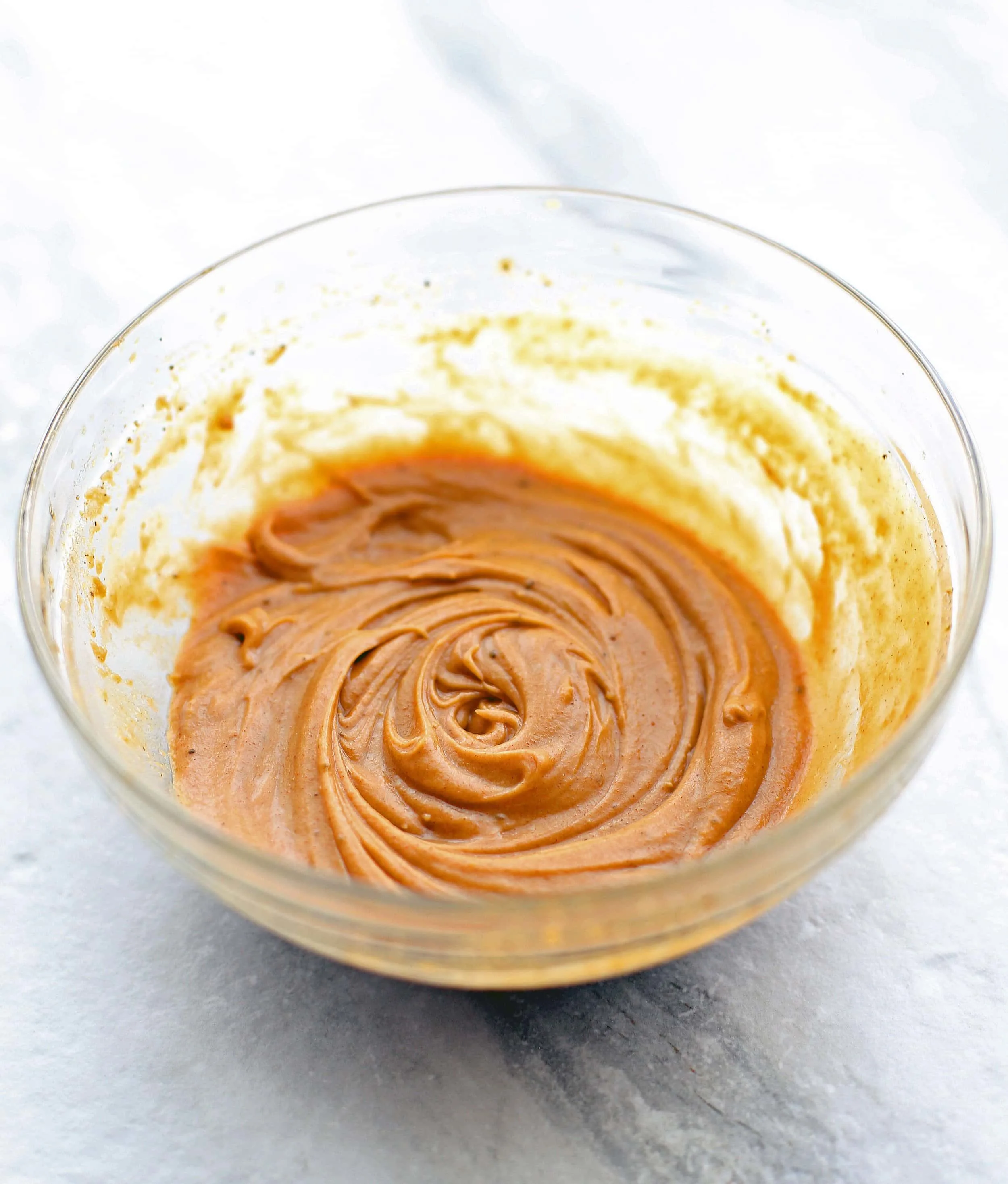 Yum! The peanut sauce is simply whisked in a bowl. The peanut butter may appear to separate from the other ingredients at first, but if you continue whisking, everything will combine together into a creamy sauce.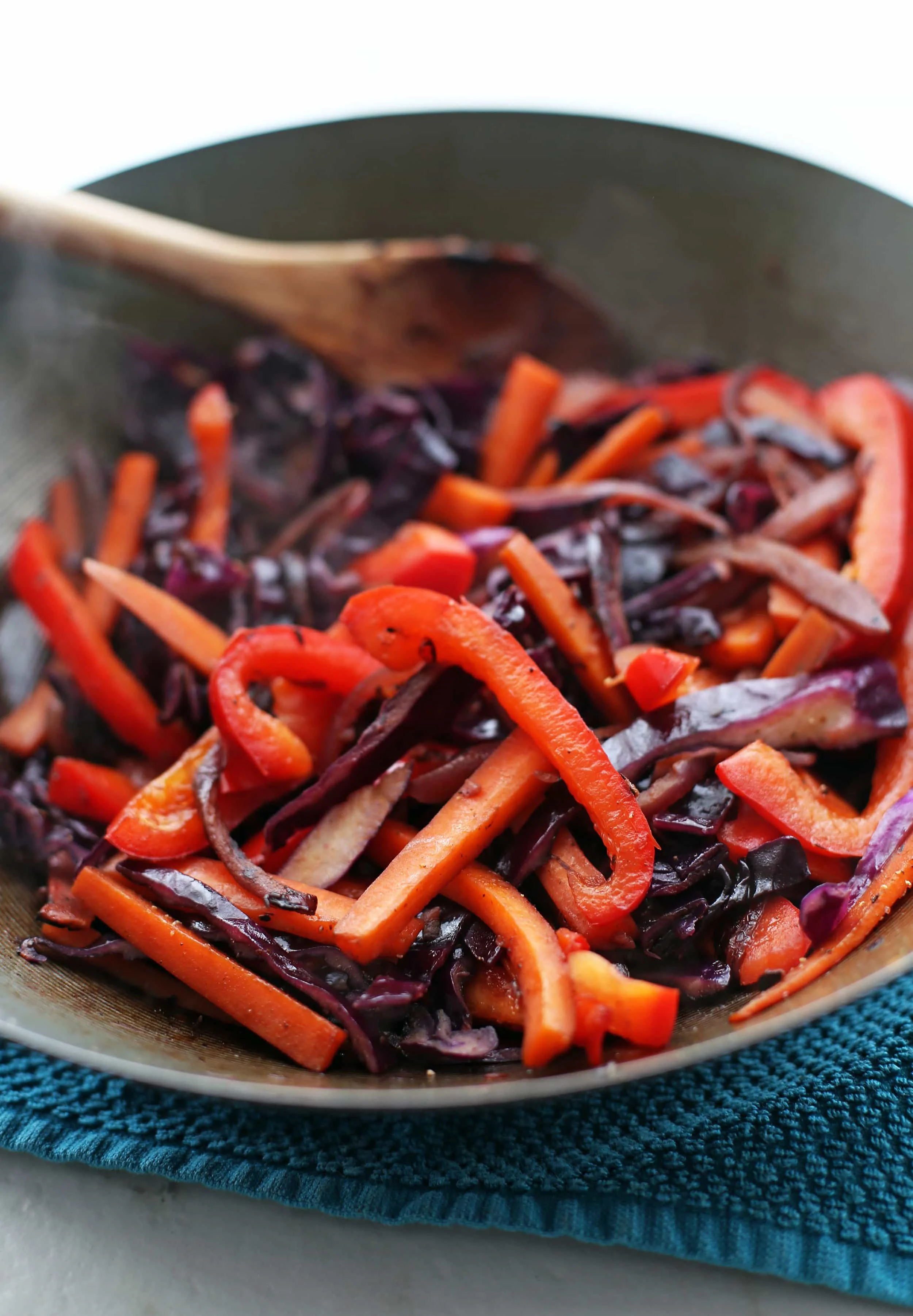 TIp: Stir-fry the carrots first (with the aromatic onions and garlic) for a couple minutes as it's the "hardest" vegetable and then the rest so they all end up tender-crisp at the same time.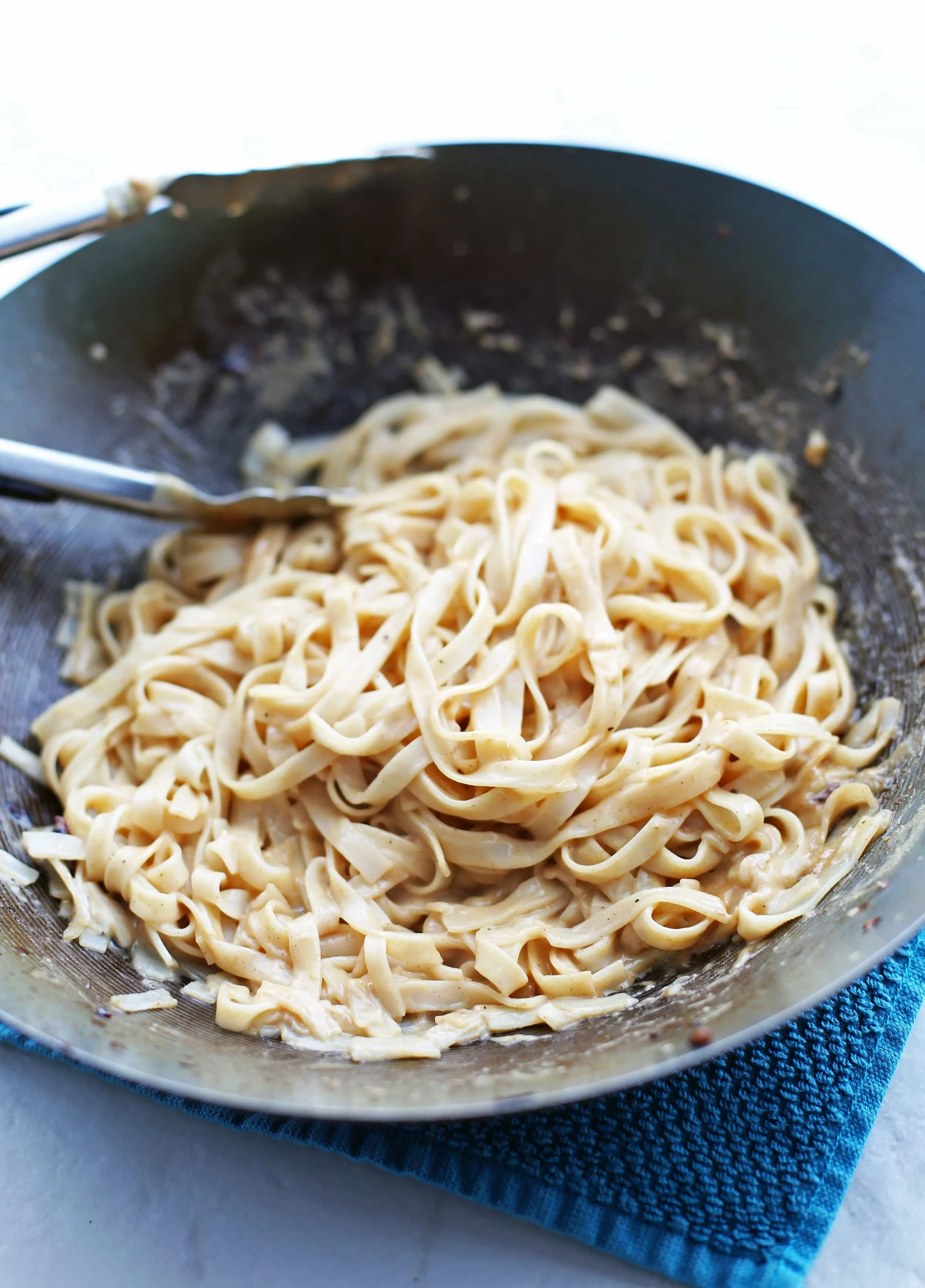 Another Tip: Use kitchen tongs to easily toss the noodles with the sauce. The noodles will suck up the sauce and give it a creamy and tender texture.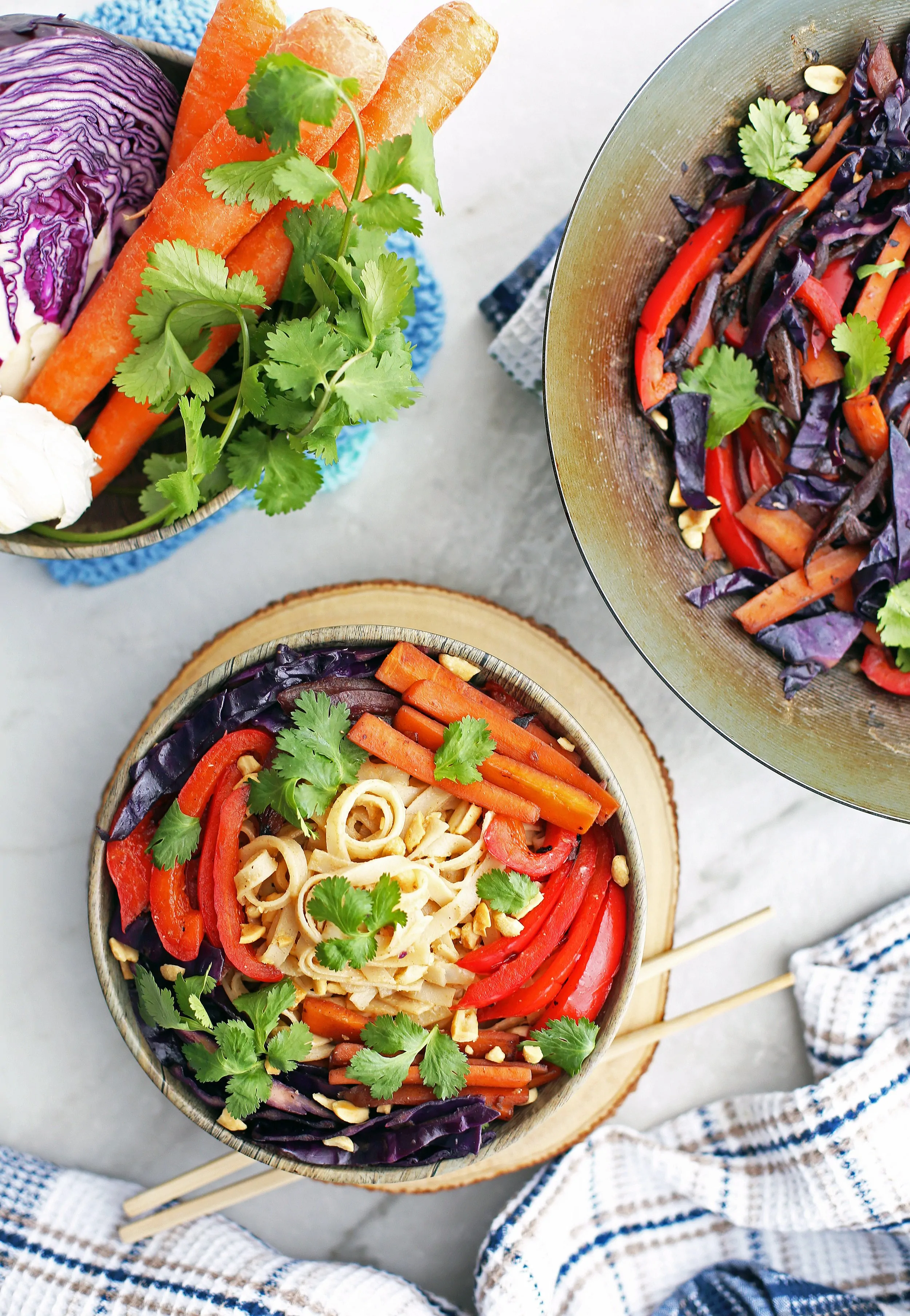 This vegetable and noodle stir-fry is:
Tasty and filling: It's full of colourful and healthy vegetables, which includes tender-crisp orange carrots, red cabbage, red bell pepper, and red onions!

The rainbow veggies are combined with the soft, flat, wide rice noodles that's tossed in a quick homemade sweet, salty, and slightly sour peanut butter sauce and then topped with fresh green cilantro and chopped roasted peanuts.
This vegetable and noodle dish is simply delicious. It has sweet, salty, sour, and umami flavours that are so satisfying.
If you like more protein, add in some tofu to keep this a vegetarian/vegan meal or add chicken or beef to bulk up the protein in this meal.

Quick and easy: This recipe takes 25 minutes or less from start to finish so it's great to make for a weeknight or lazy day meal.

The key is to prepare all the ingredients before you start cooking.
For this recipe, I sliced the vegetables into strips, but chop the veggies into little pieces if you want instead. I like to cook the noodles while preparing the vegetables and mixing the sauce ingredients together at the same time.
Once the wok gets hot and you start stir-frying, the process goes fast and you have dinner ready in no time at all!

Substitutable: The best thing about stir-fry meals is the versatility. Switch out or add more vegetables such as snap peas, broccoli, and green beans or throw in some mushrooms for that earthy, meaty flavour.
Scalable: Make as much as you like! This recipe is easy to scale up or down so you can just feed yourself or a crowd. This meal is great for leftovers too!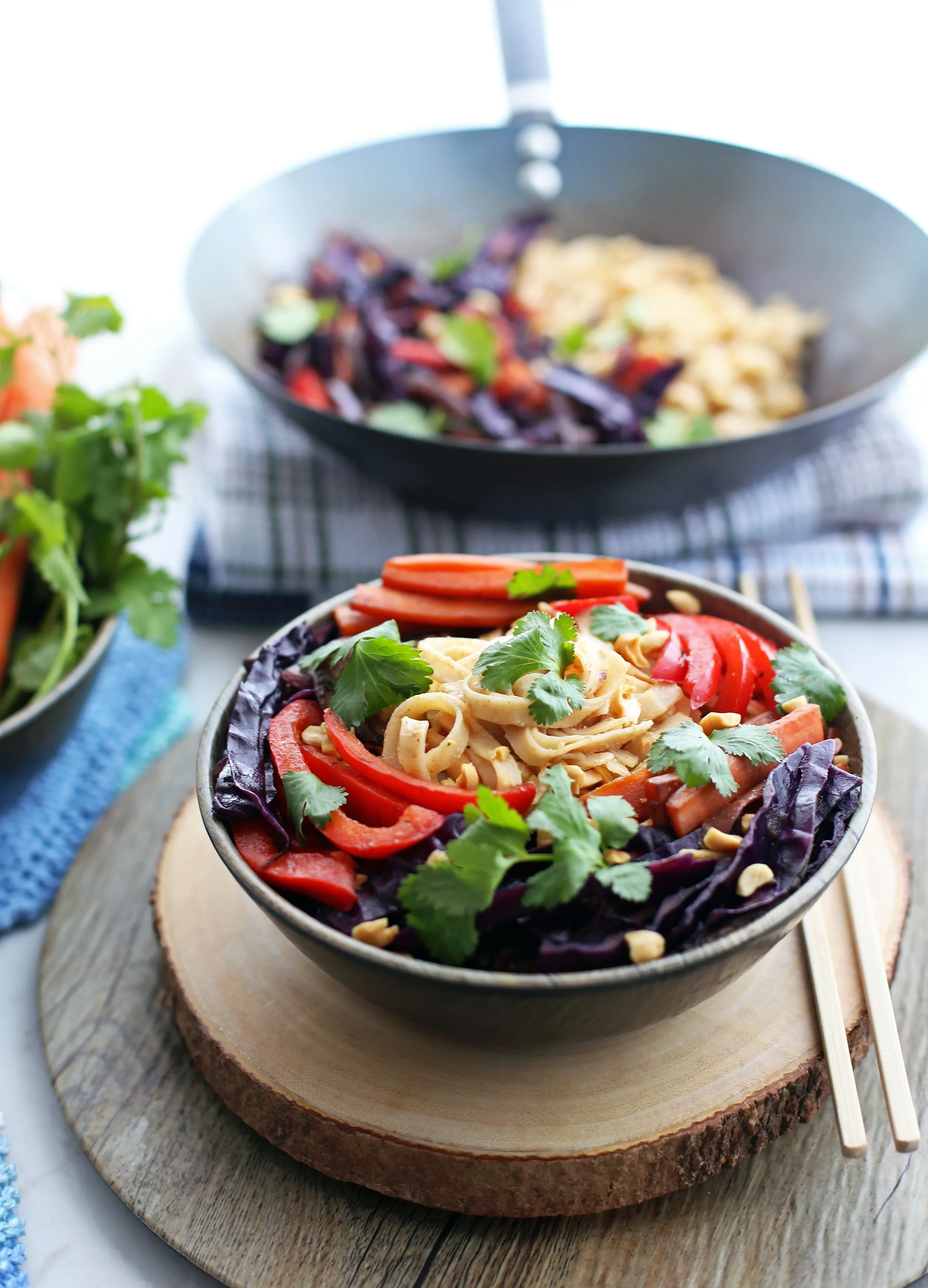 I hope you enjoy this recipe! If you try it out, make sure to rate and comment below or tag me on any of my social media.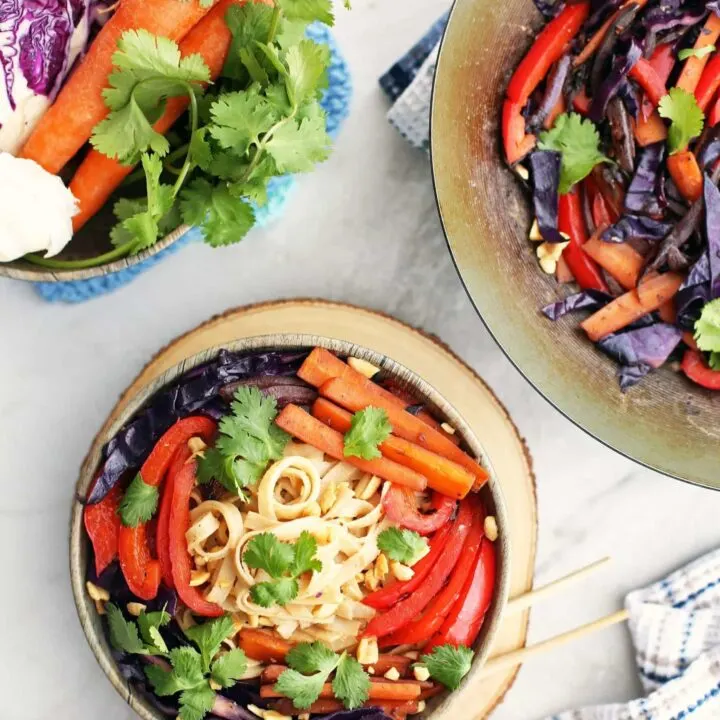 Easy Stir-Fried Vegetables and Noodles with Peanut Butter Sauce
Fast and delicious! Check out this simple and colourful stir-fry dish with a tasty peanut butter sauce!
Ingredients
For the stir-fry:
6 oz dried rice stick noodles *(see first note)
2 tbsp vegetable oil (or sesame oil), divided
1 red onion, sliced
2 garlic cloves, minced
2 carrots, sliced into strips
8 oz (2 ½ cups) red cabbage, sliced
1 large red bell pepper, sliced into strips
For the peanut sauce:
½ cup creamy peanut butter
2 tbsp light soy sauce
2 tbsp warm water
1 tbsp rice vinegar
2 tsp brown sugar
¼ tsp black pepper
Optional toppings:
Fresh cilantro
Chopped peanuts
Instructions
Cook the noodles according to the package directions until al dente, rinse with cold water and drain. Set aside.
In a small bowl, whisk together the peanut sauce ingredients until well combined. Set aside.
Place a large wok (or sauté pan) on the stovetop at medium-high heat. Add 1 tablespoon of oil, onions, garlic, and carrots to the wok, stirring frequently until onions become translucent and carrots just begin to soften, about 2-3 minutes.
Add the remaining vegetables (bell pepper and cabbage) to the wok and stir-fry until the vegetables are tender-crisp, about 2-4 minutes. Remove the ingredients from the wok into a bowl.
Decrease the temperature to medium heat and add 1 tablespoon of oil into the wok along with the noodles and sauce on top. Using tongs, toss the ingredients until the noodles are well-coated with sauce. Remove from heat.
Return the vegetables back into the wok and gently combine together or plate noodles with vegetables on top if you prefer **(see second note). Optionally, top the noodles with fresh cilantro and chopped peanuts. Best served immediately.
Notes
*Substitute rice noodles with spaghetti or linguine if you like.
**Mixing the vegetables back into the noodles will result in the noodles picking up a greyish-purple colour from the cabbage. Serve the vegetables on top of noodles to prevent that from happening.
Recommended Products
As a participant in the Amazon Services LLC Associates Program, I only link to products that I use and/or highly recommend. As an Amazon Associate, I earn from qualifying purchases if you purchase through these links at no additional cost to you.
Nutrition Information:
Yield:

4
Serving Size:

1
Amount Per Serving:
Calories:

465
Total Fat:

24g
Saturated Fat:

4g
Trans Fat:

0g
Unsaturated Fat:

17g
Cholesterol:

0mg
Sodium:

740mg
Carbohydrates:

55g
Fiber:

10g
Sugar:

16g
Protein:

15g