Updated with some new pictures, additional text, and recipe re-write (originally posted March 13, 2017).
If you're still dealing with cold, snowy weather like we have been here in Alberta, you'll want to try out this soup; it will warm you up in a hurry! It's also great for any weather when you are in the mood for soup.
The vibrant orange colour of this soup is like sunshine in the bowl! It's simply delicious. The sweetness of the carrots, the bright citrus flavour of the oranges, and the mild zing of the ginger really shines. The creamy texture (without using actual cream) is lovely too.
Plus, it's good for you.
It's wonderful to make when you need something healthy with vitamins and nutrients to help get over a cold or the flu. Or after you eat half a large pizza the night before…
Carrots are a rich source of beta-carotene (which converts into vitamin A), fibre, vitamin K, potassium and antioxidants, which is linked to lowering cholesterol levels and maintaining healthy vision (which is great because my vision is horrible without my glasses or contacts).
One large orange can provide over 100% of your daily recommended intake of vitamin C. It is also a good source of fibre, thiamin, folate and antioxidants.
Ginger (fresh or ground) is an ingredient I love to put in all types of meals because of its unique spicy, pungent flavour. It's wonderful because ginger is also known for its powerful anti-inflammatory and antioxidant effects.
I hope you enjoy this recipe for Carrot Orange Ginger Soup!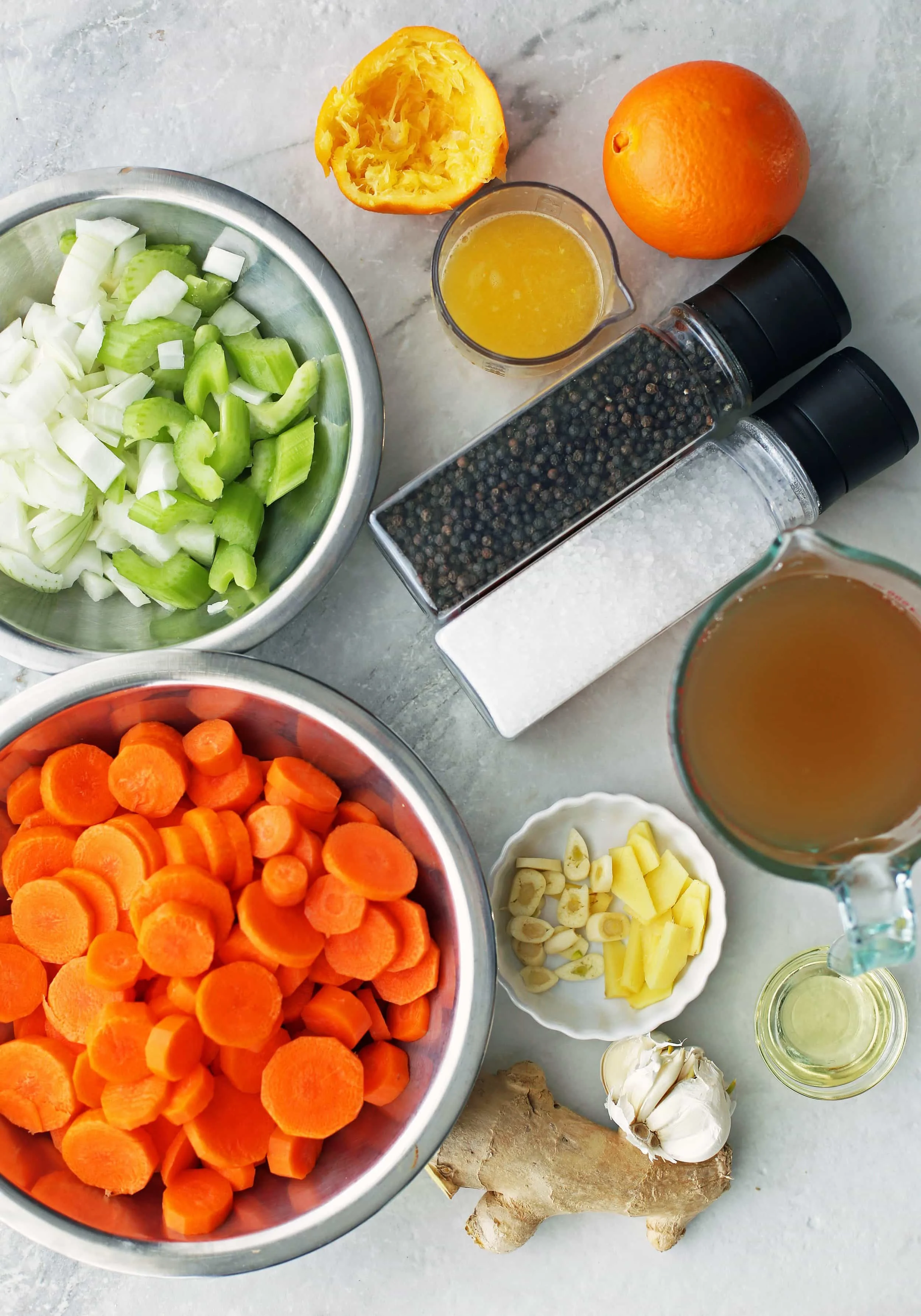 All the ingredients in the soup. Amounts and full Instructions listed below in the recipe card.
How do you make this recipe? (stove-top)
Instant Pot instructions in the recipe card down below.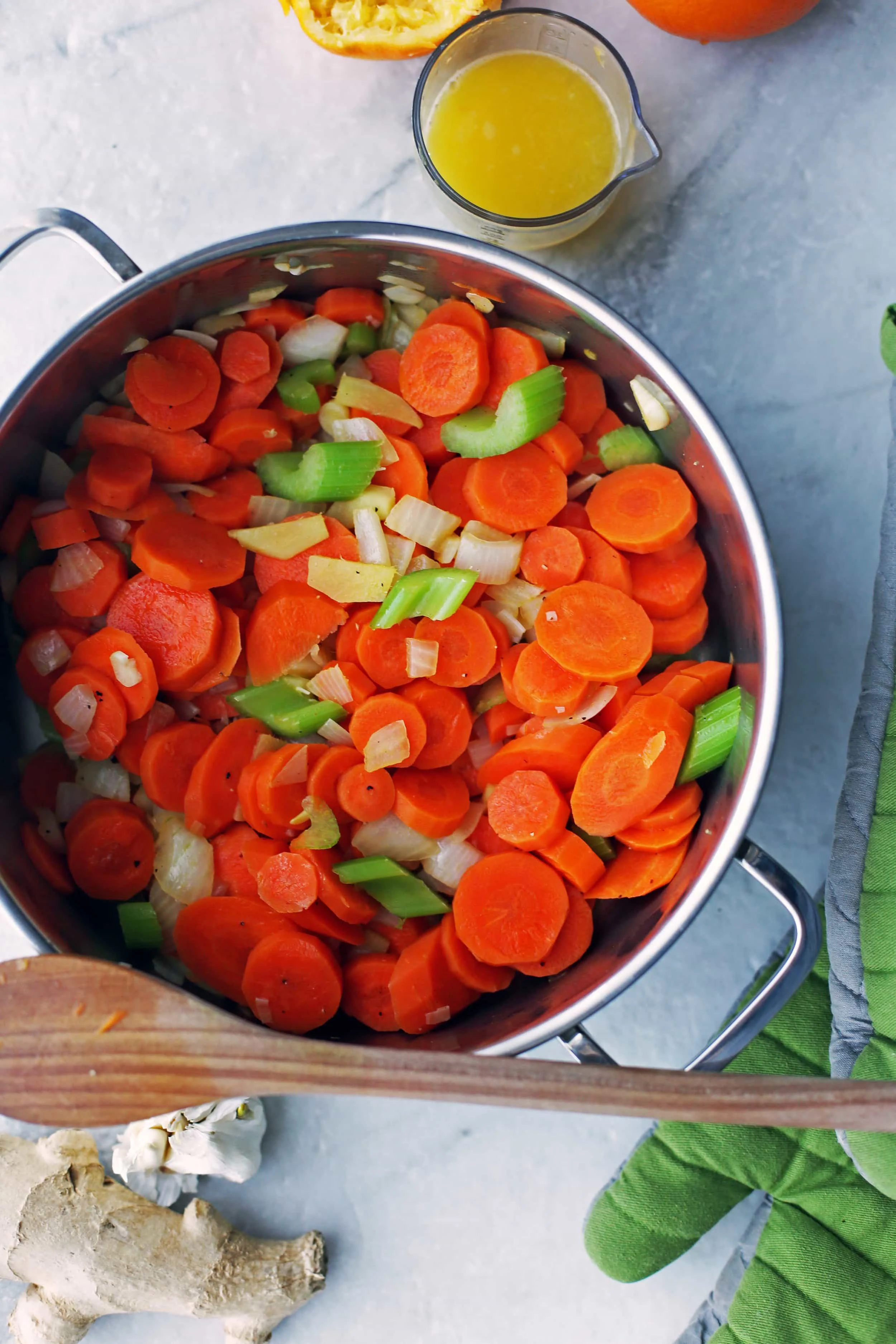 At medium-high heat, add vegetable oil and stir in the carrots, onion, celery, garlic, ginger, salt and pepper, until onions are golden, 3-4 minutes.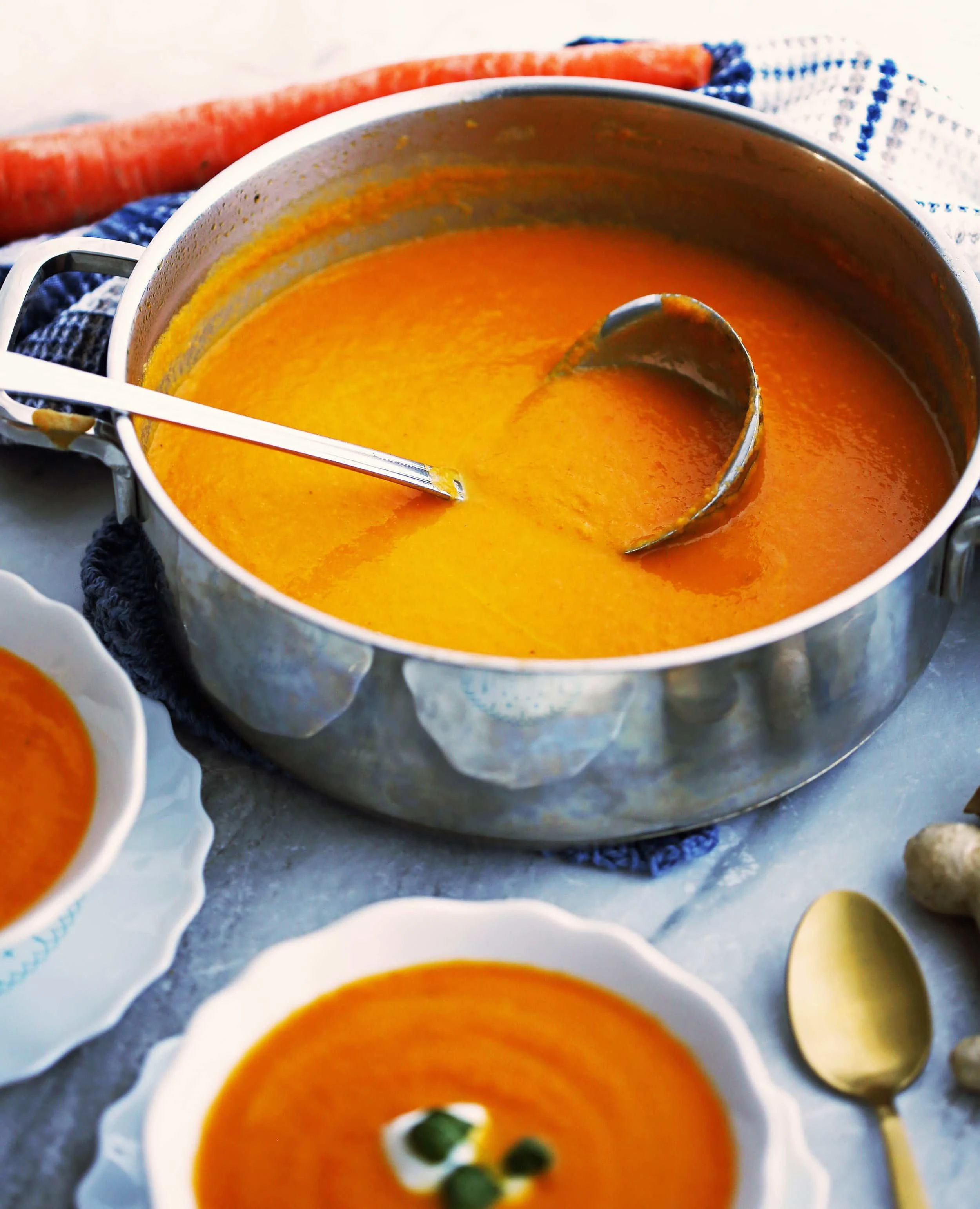 Pour in vegetable broth and orange zest. Bring to a boil and then reduce to a simmer and cook until carrots are tender, about 20 minutes. Then blend until smooth.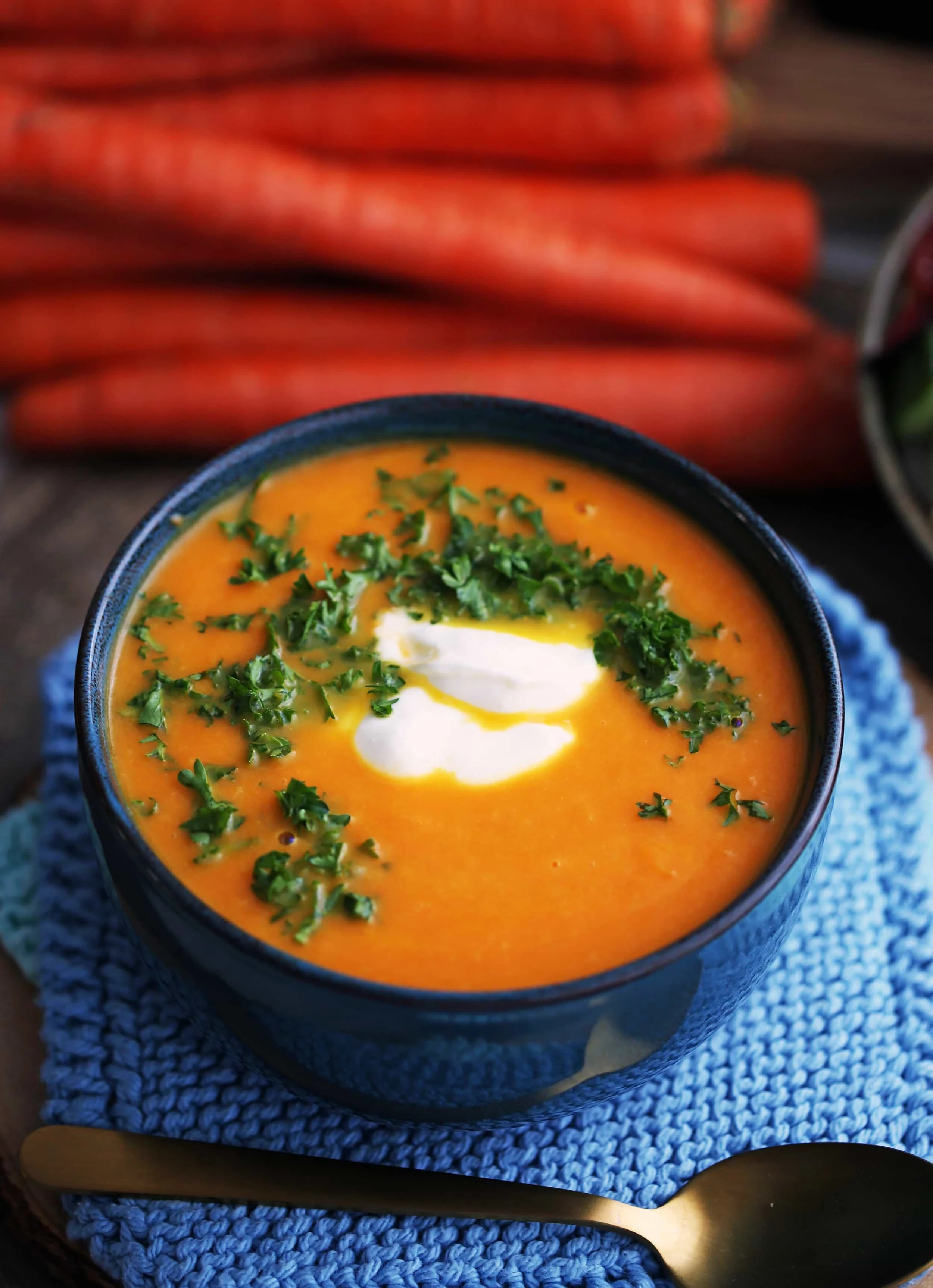 Stir in orange juice and taste for additional salt and pepper. Scoop into bowls, stir in whipped coconut cream (or sour cream or plain yogurt), and top with fresh parsley (or cilantro) if you like. Enjoy!
Two Quick Notes:
I enjoy making this recipe because the vegetables only need to be coarsely chopped; you don't have to make them look neat, just relatively similar in thickness (especially the carrots so they cook to tenderness around the same time). After all, the tender vegetables are all going to be blended together in the end.
I recommend using a handheld immersion blender to puree the soup in the pot until it is creamy and smooth. It's easy and has less clean-up than using a regular blender.
That said, a stand blender will work; it is more powerful so you may get a smoother soup texture, but blend in batches as the liquid is hot and you don't want the soup to splatter everywhere!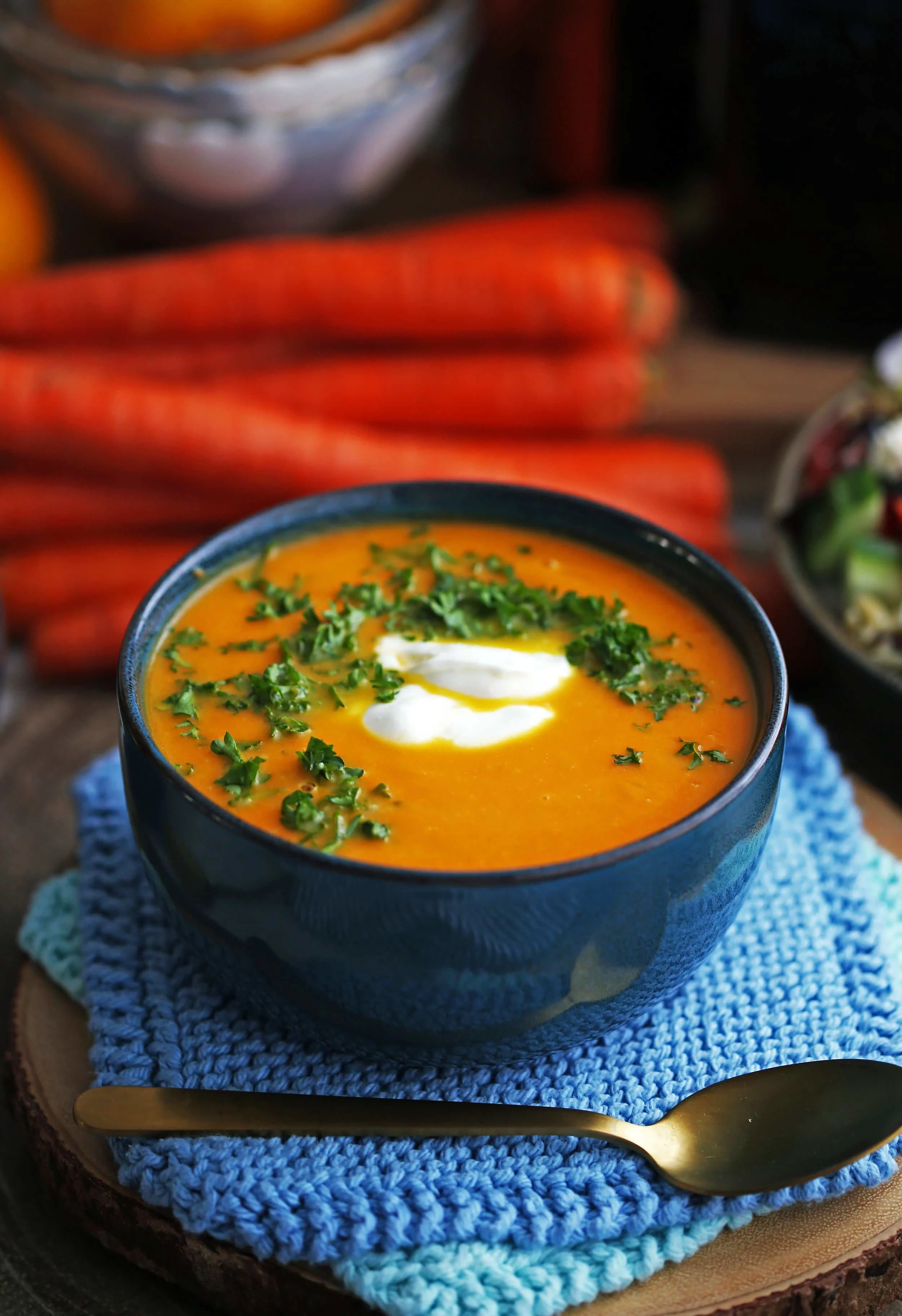 Got extra carrots? Check out these four recipes to use up those carrots!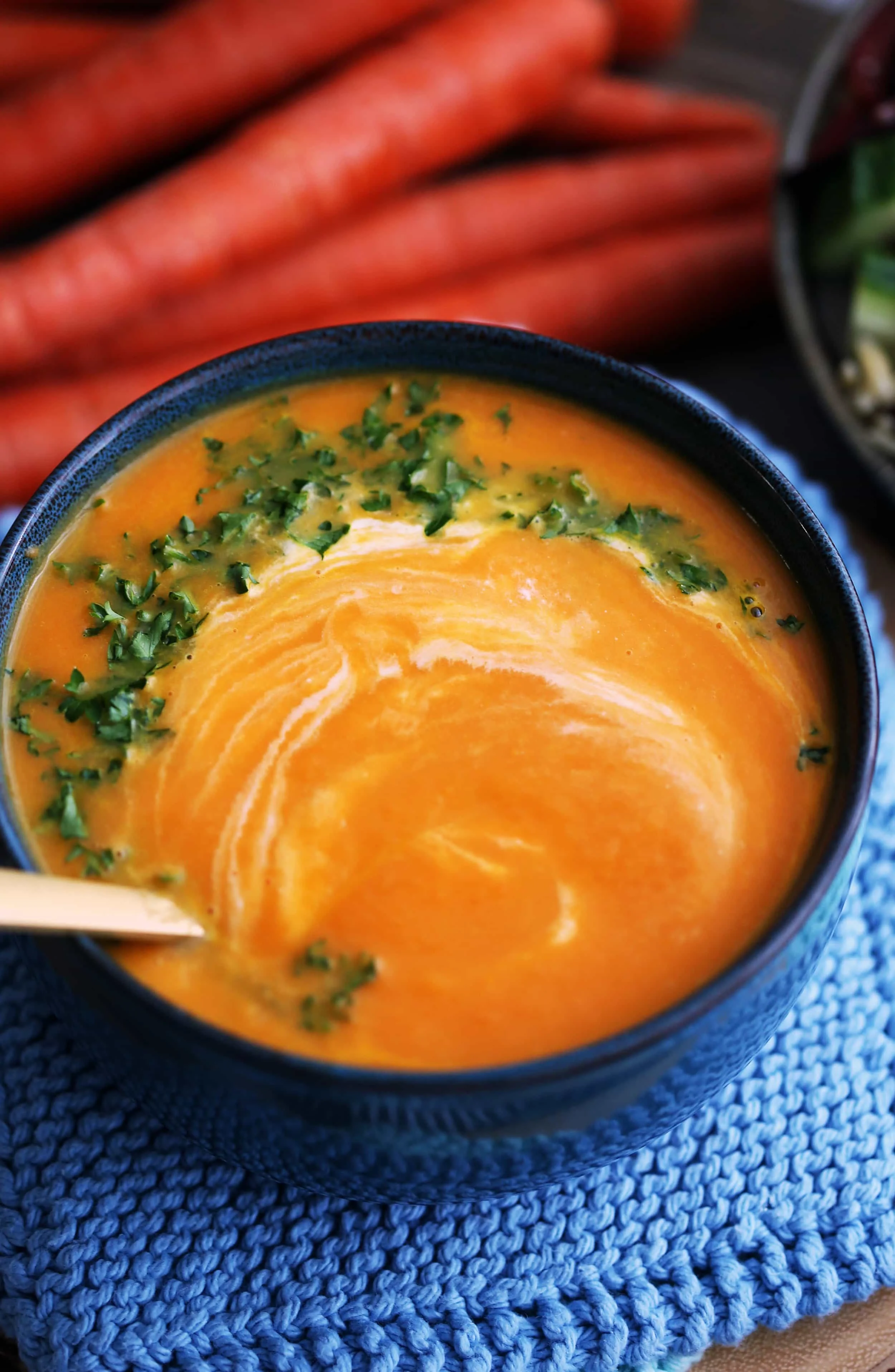 This yummy carrot soup is:
Healthy and flavourful.
Pretty: Such a happy orange colour!
Easy to make.
Perfect to make on a cold day.
One-pot: Make it on the stove-top or in the Instant Pot.
Creamy (without using cream).
Vegan and gluten-free too.
I hope you try this simple soup recipe! If you make this recipe, please leave me a rating and comment down below or tag me on any of my social media. I'm @yay_for_food on Instagram. Please share your recipe pictures!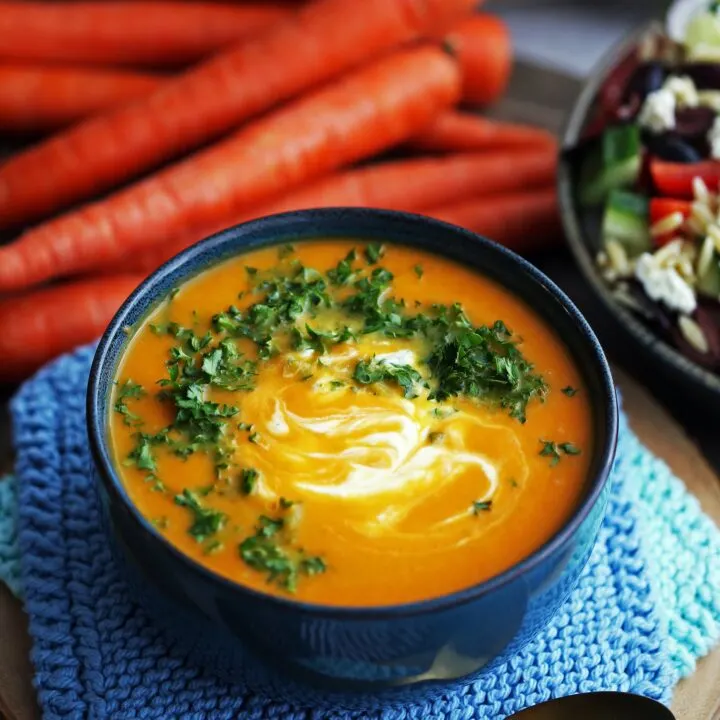 Carrot Orange Ginger Soup
Yield:
4-6 (makes six cups)
Carrot Orange Ginger Soup is fresh, delicious, and nutritious. This one-pot soup recipe is an easy weekday meal or side dish that's vegan and gluten-free! Stove-top and Instant Pot instructions available.
Ingredients
2 tbsp vegetable oil
1 ½ lb. (680 g) carrots, peeled and chopped
1 medium onion, chopped
1 large celery rib, chopped
2 garlic cloves, sliced
2-inch fresh ginger, sliced
1 tbsp orange zest
1 cup fresh orange juice (about 2 large navel oranges)
4 cups vegetable broth (low sodium)
Salt and pepper, to taste
Optional toppings:
¼ cup whipped coconut cream (or sour cream, or plain yogurt if not vegan)
¼ cup fresh parsley (or cilantro), chopped
Instructions
In a large saucepan, heat vegetable oil over medium heat and then add the carrots, onion, celery, garlic, ginger, salt and pepper. Stir occasionally, until onions soften and take on a golden colour, about 3-4 minutes.
Stir in vegetable broth and orange zest. Bring to a boil, cover and simmer for 20 minutes or until carrots are fork tender.
Remove from heat and, using an immersion blender *(see first note), blend the soup until smooth or to your desired consistency.
Stir in orange juice and season with additional salt and pepper if you like. Divide into bowls and stir in coconut cream and top with parsley or cilantro if you like. Serve immediately or warm.
INSTANT POT INSTRUCTIONS: In the Instant Pot, add oil and sauté carrots, onions, celery, garlic, ginger, and salt and pepper, until onions soften. Stir in broth and orange zest. Seal with the lid and set to high pressure ("manual"/"pressure cook" function) for 6 minutes. Allow natural release for at least 5 minutes before applying a quick release. Puree soup until smooth. Stir in orange juice and season with more salt and pepper if necessary. Top with optional ingredients if you like.
Notes
*You can also use a regular blender by blending the soup in batches, starting at low speed and slowly increasing to a high speed. Careful as it's hot and may splatter if you add too much soup at once.
Nutritional information represents one serving for a total of six servings and excludes the optional toppings.
Recommended Products
As a participant in the Amazon Services LLC Associates Program, I only link to products that I use and/or highly recommend. As an Amazon Associate, I earn from qualifying purchases if you purchase through these links at no additional cost to you.
Nutrition Information:
Yield:

6
Serving Size:

1
Amount Per Serving:
Calories:

120
Total Fat:

5g
Saturated Fat:

0g
Trans Fat:

0g
Unsaturated Fat:

4g
Cholesterol:

0mg
Sodium:

222mg
Carbohydrates:

19g
Fiber:

4g
Sugar:

9g
Protein:

2g