If you know me, I love a hearty soup, especially when it's chilly and dreary outside, but really, I enjoy eating soup year-round.
You can make a generous batch at once and feed a small crowd or have leftovers and savour the soup over a few days.
I've been making a lot of soups in the Instant Pot lately, so I decided to make a simple stove-top soup recipe this time around.
This one is a Curried Red Lentil and Quinoa Vegetable Soup that's made easily in one pot and finished in a blender for a creamy and chunky texture. This soup also happens to be vegan and gluten-free too.
How do you make this soup?
(Full ingredient amounts and complete instructions in the recipe card below).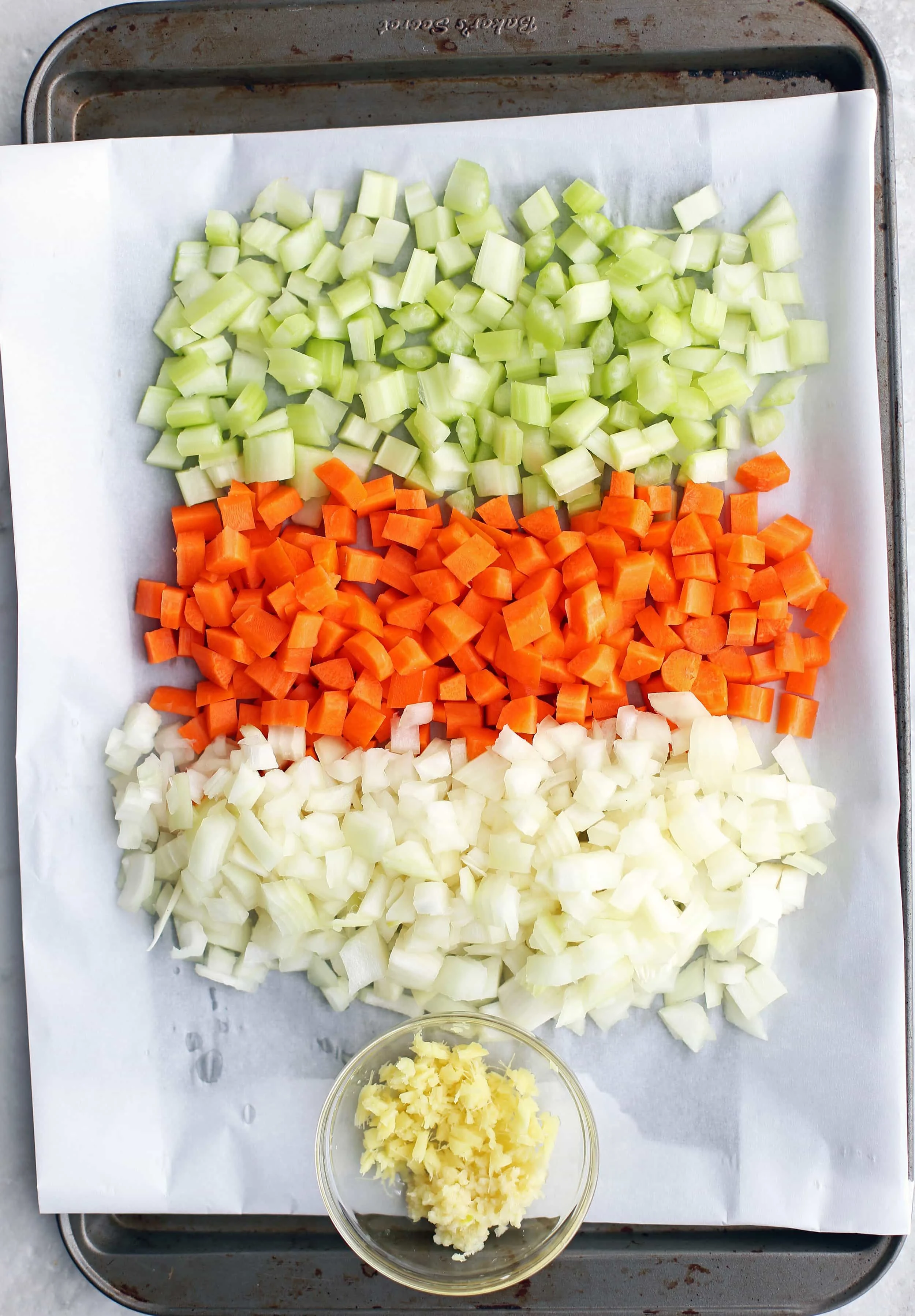 Carrots, celery, and onions all diced up along with finely minced garlic and ginger! This makes one delicious, aromatic vegetable base for this soup.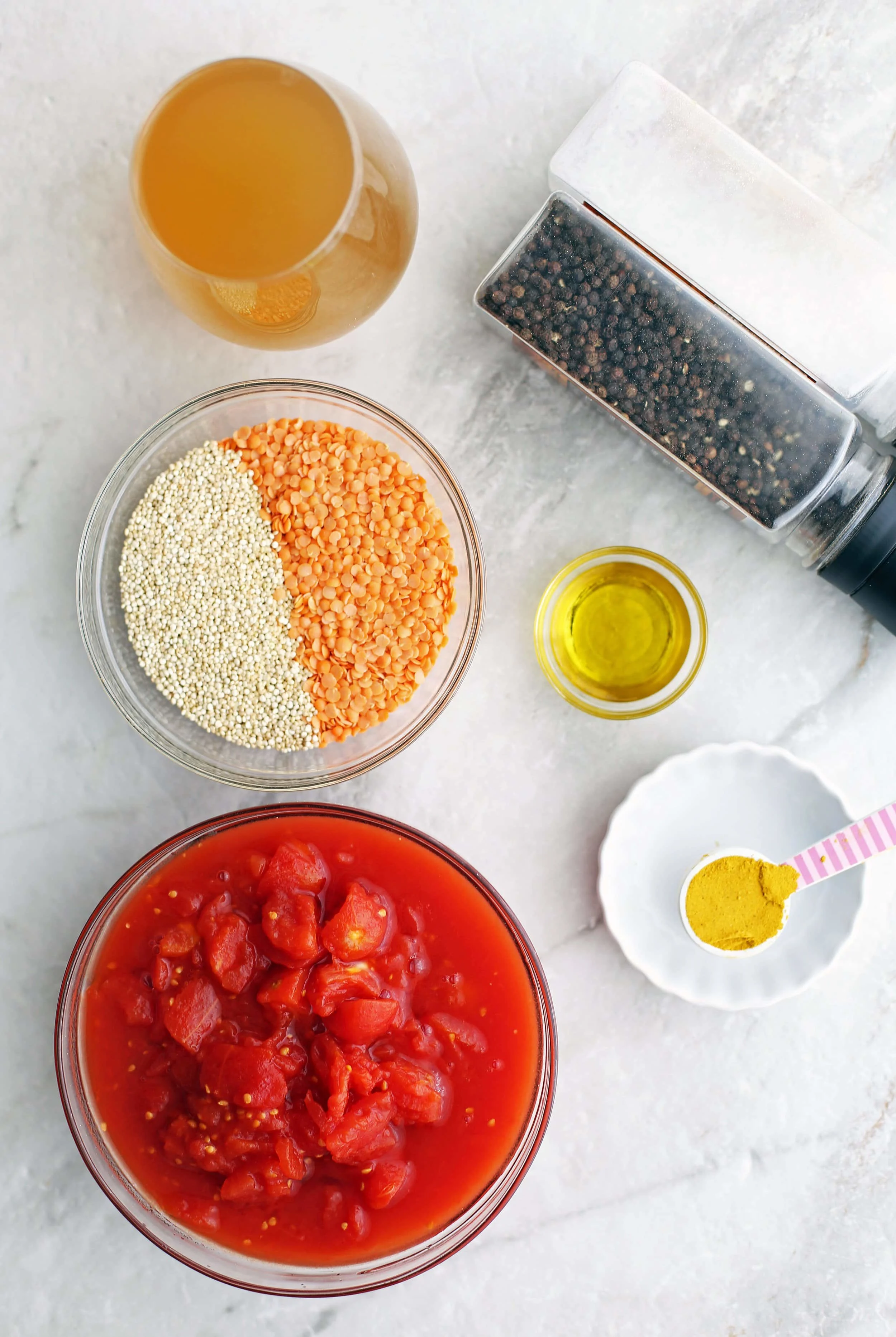 White quinoa and red split lentils (they expand in size as they cook) along with curry powder (I used the mild type) as well as diced tomatoes (with juice), veggie broth, olive oil, salt, and pepper.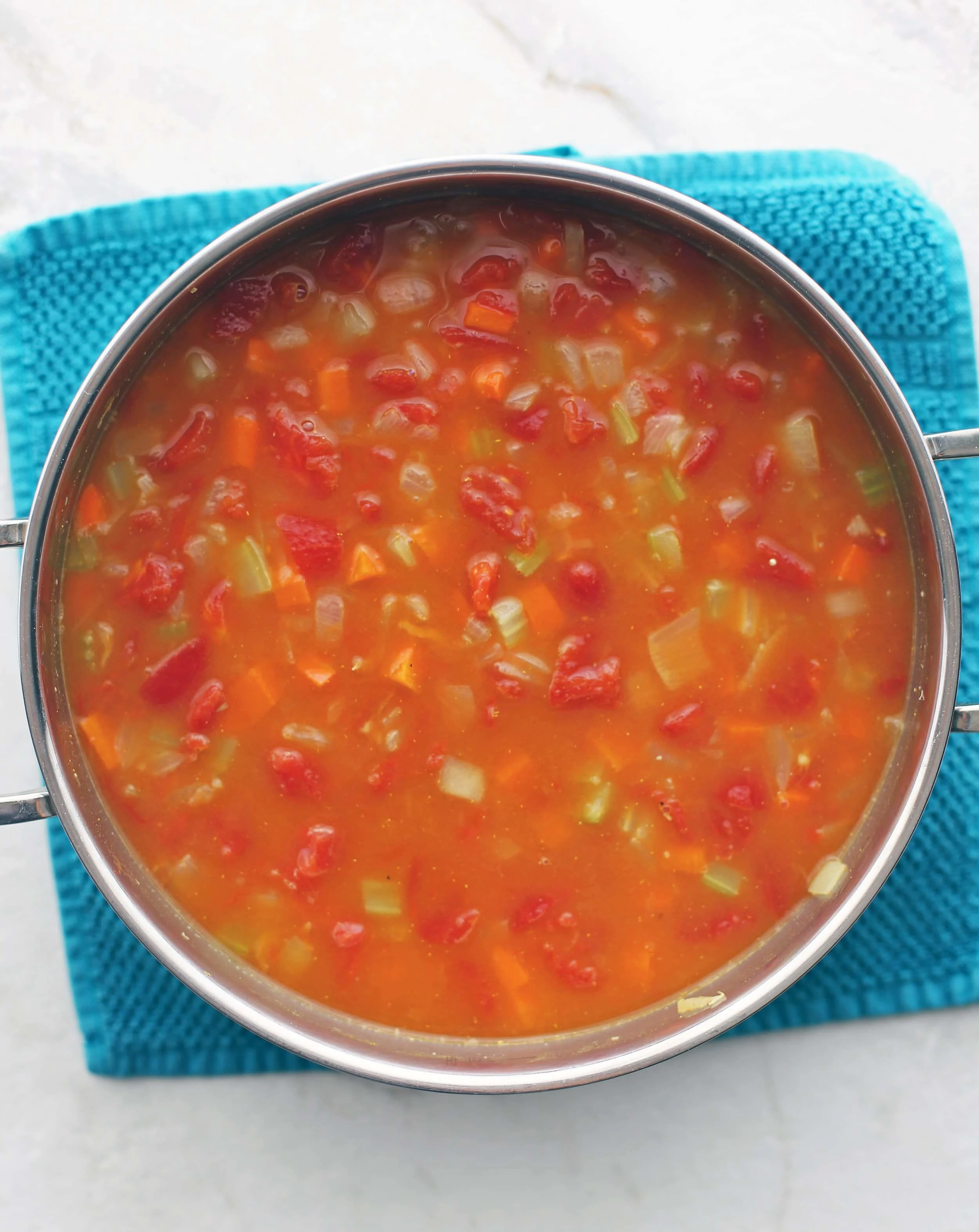 This is what the soup looks like before it is brought to a boil and simmered until all the vegetables are tender and the quinoa and lentils are cooked through. About 20-25 minutes.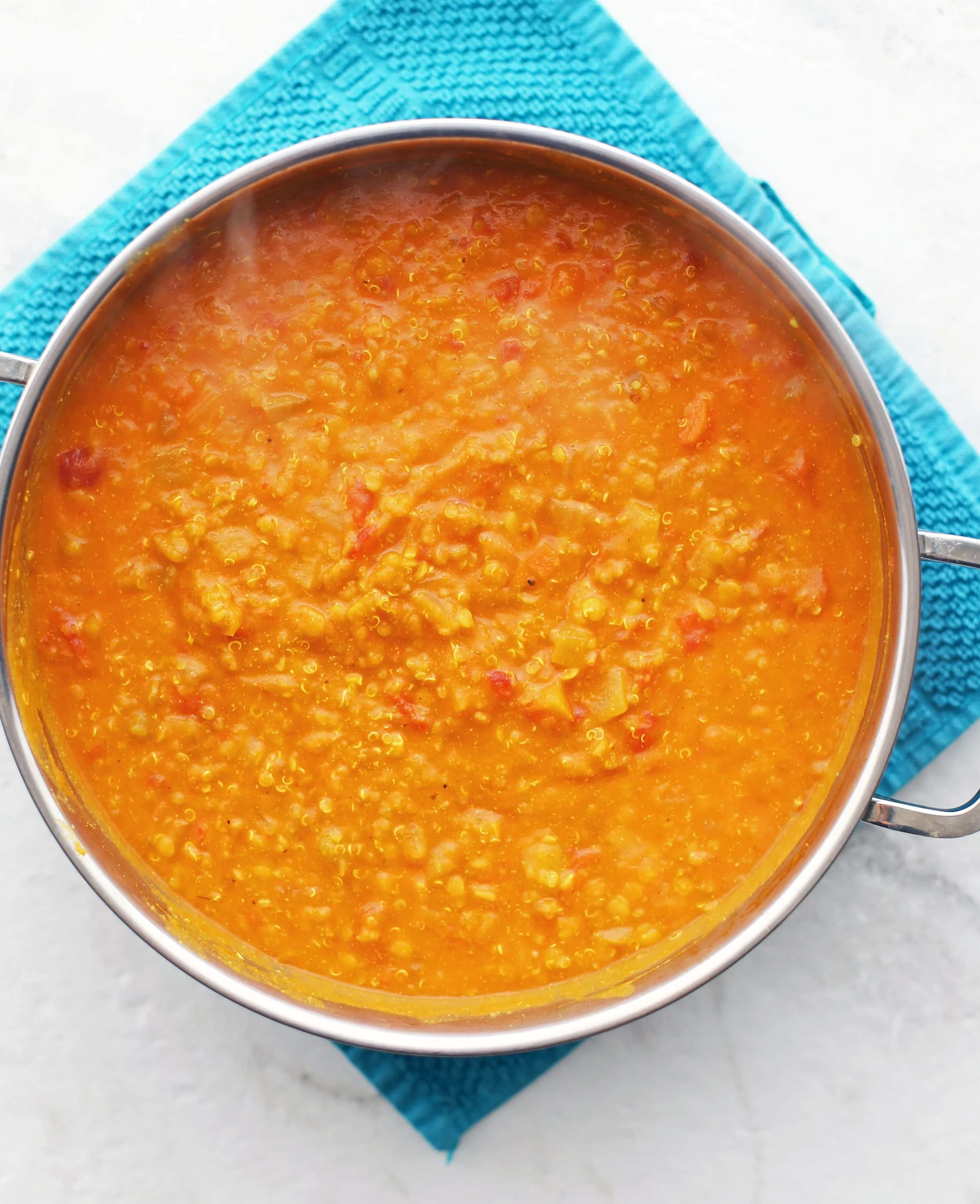 This is what the soup looks like when it is ready to be served! I puree (in a blender) a small amount of the soup to give it a creamy, but mostly chunky texture. Puree more or all for additional creaminess.
What's in this Hearty Soup?
Red split lentils: It is a high protein, high fiber, and low-fat legume that doesn't require pre-soaking (unlike other beans) and it cooks quickly (faster than the other lentils).
Check out my recipe for Lentil and Butternut Squash Chili, an easy one-pot wonder!
TIP: Place the lentils in a sieve and rinse with cold, running water to remove any fine particles and debris.
Quinoa: Quinoa is one of my pantry staples. It's affordable, easy and fast to make, and healthy. For instance, quinoa is high in protein, fiber, and contains iron, manganese, and magnesium.
TIP TWO: Like red lentils, give the quinoa a rinse under cold running water before adding to the soup. It will remove saponins, a compounds that coats the quinoa, which can give quinoa a slightly bitter taste.
As noted above, lentils and quinoa are protein-packed making a healthy substitute for meat. Perfect for meatless Mondays (or any day).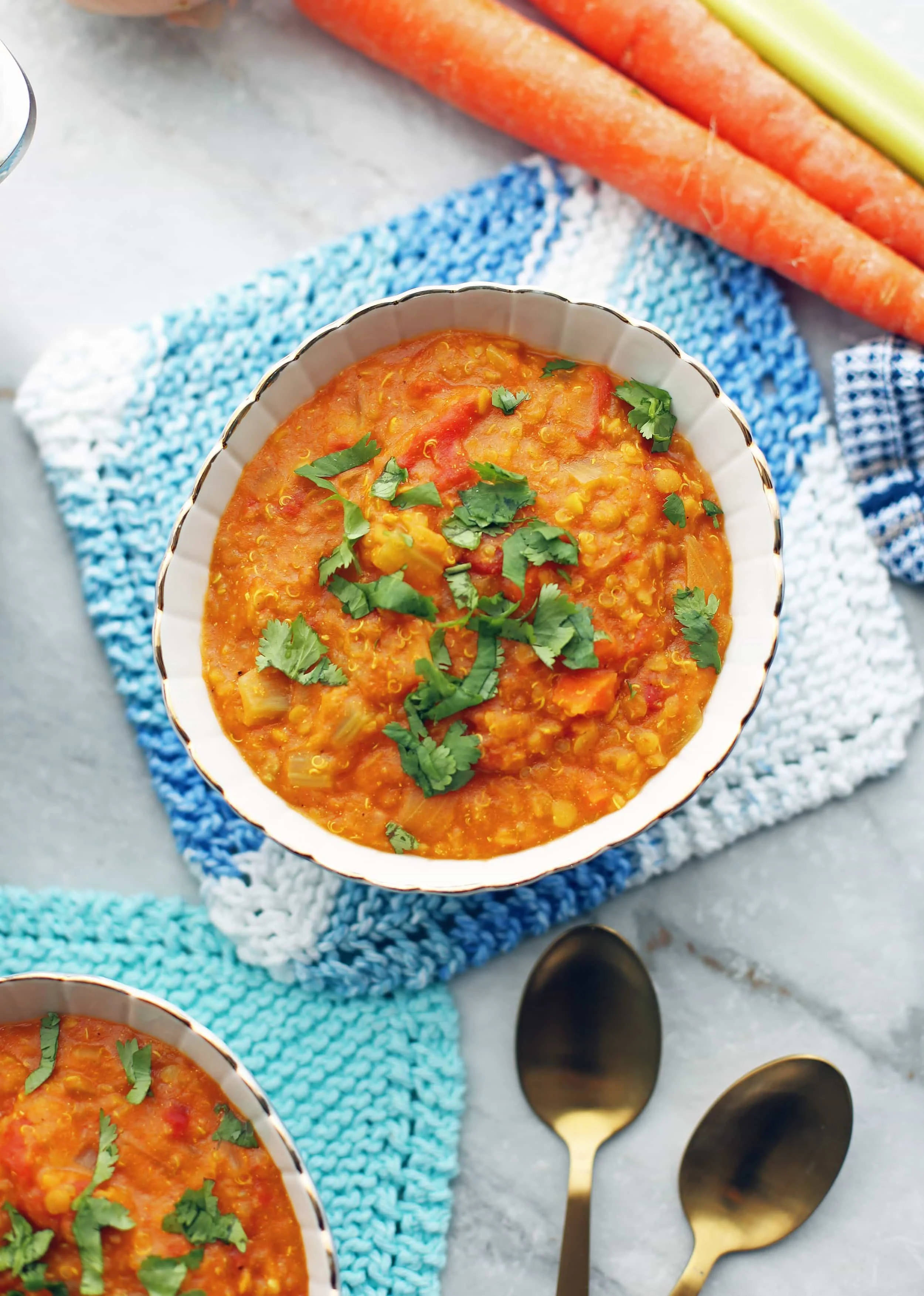 Vegetables:
This includes that ever-popular combination of carrots, celery, and onions (aka mirepoix or the trio of aromatics) as the vegetable base of this soup.
The addition of fresh garlic and ginger (deliciously pungent and spicy) along with canned diced tomatoes (sweet and slightly sour) is just so delectable.
I usually like to top soup with a fresh herb; cilantro is always a go-to herb for its unique, bright flavours. If you don't like cilantro, leave it out or replace with parsley.
Curry powder: A spice mix that is fragrant and flavourful. I used a mild store-bought Indian curry powder, which includes cumin, coriander,cayenne, and chili powder.
ANOTHER TIP: Chose a curry powder (or DIY your own) that suits your personal taste preferences (from mild to hot) as it's one of the stronger flavours in this soup.
If you already have a mild curry powder on hand, but like it spicier, add more spices such as hot paprika and red pepper flakes to increase the heat level.
Vegetable broth (or water): Can't make soup without a liquid (or two). I like to use a low sodium or no salt broth combined with water.
In the directions, I use four cups of both in total for a thick, creamy, and chunky soup, but if you prefer it thinner, you can always add more (or account for having extra broth on hand if you use it).
Salt and pepper: It makes food taste so much better!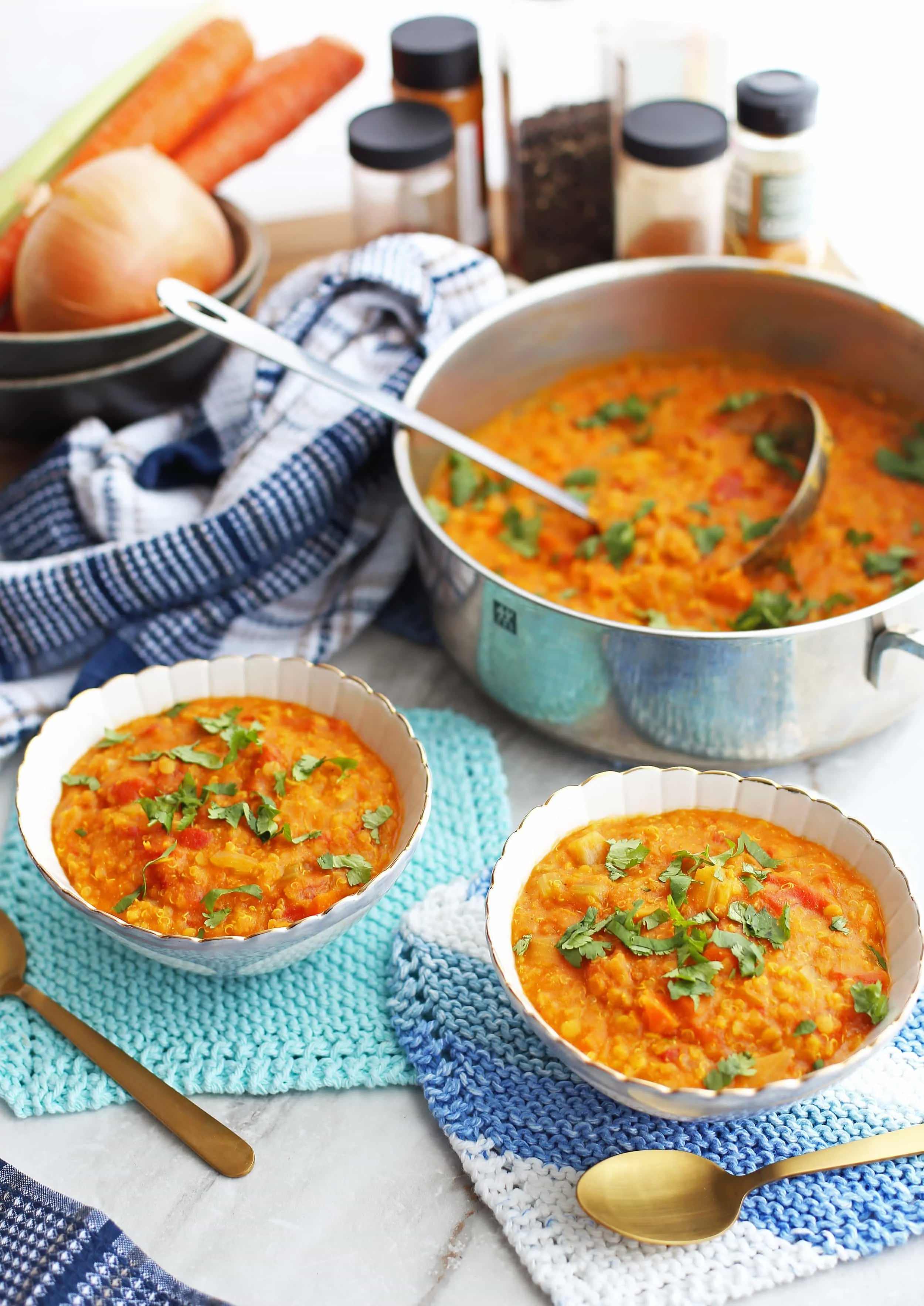 In summary, this tasty red lentil and quinoa vegetable soup is:
Hearty and filling
Healthy
Flavourful and savoury
Quick and easy
Uses one pot and a blender (aka easy clean-up)
Vegan and gluten-free
Great for leftovers and freezable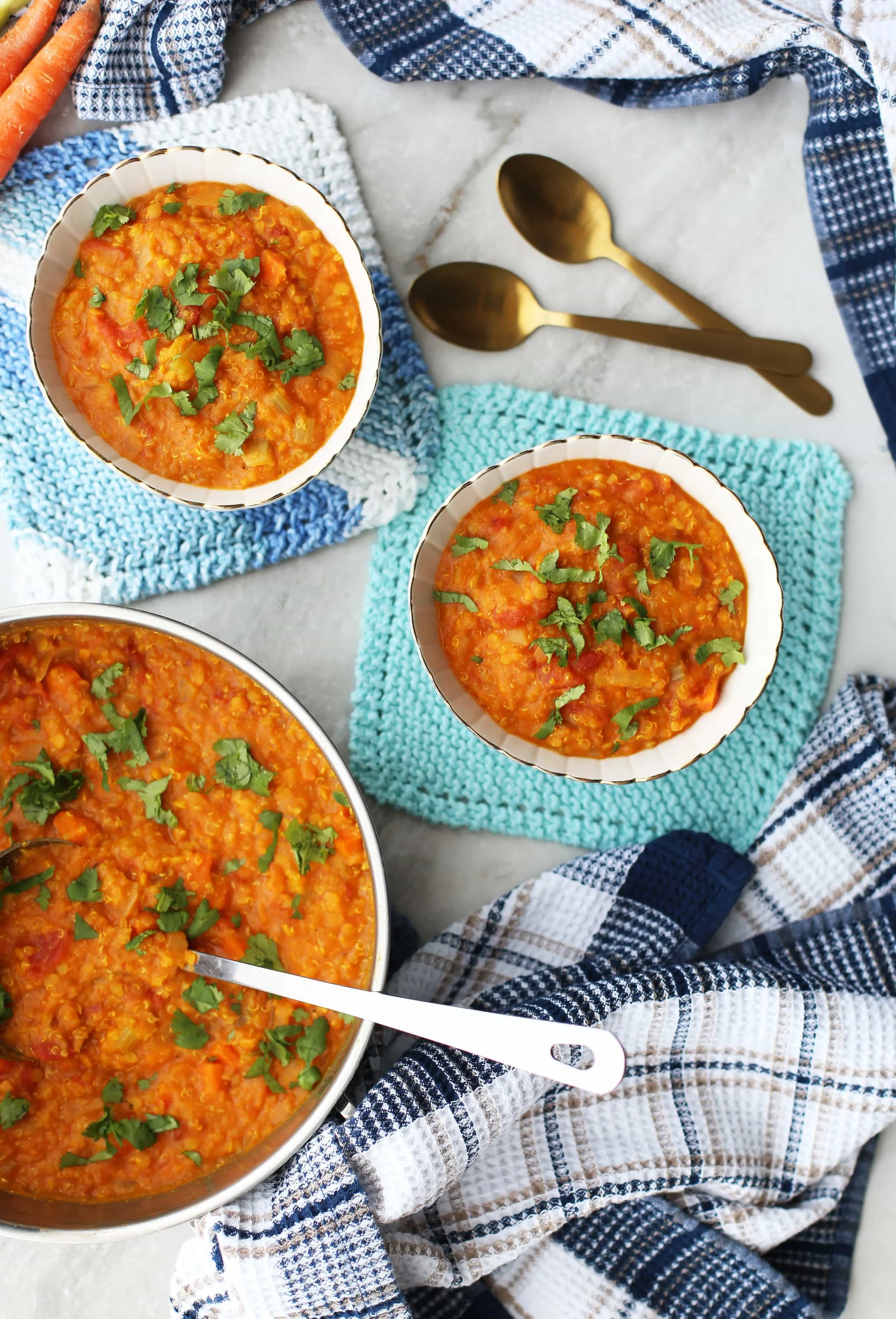 I hope you enjoy this recipe! If you try out this recipe, please leave me a comment and rating below or tag me on any of my social media.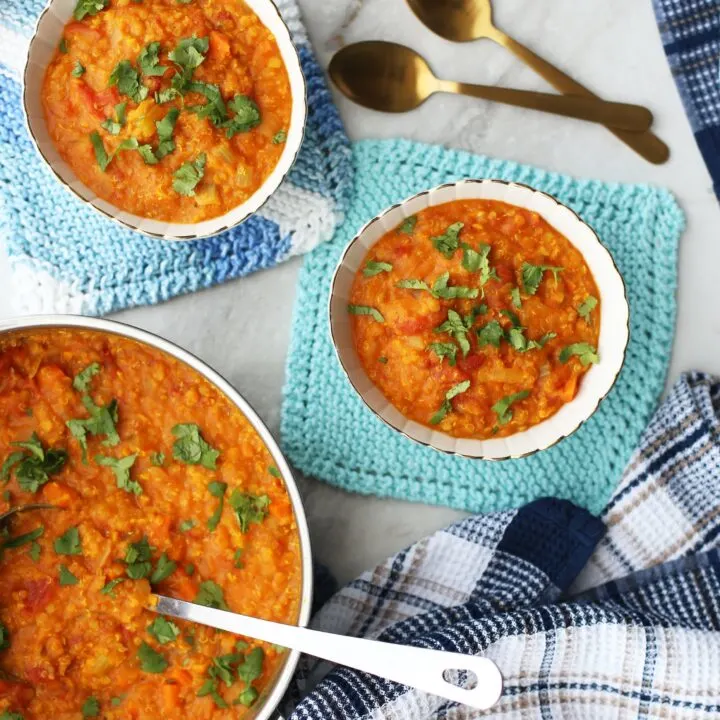 Healthy Curried Red Lentil and Quinoa Vegetable Soup
Hearty and delicious! This easy soup is loaded with healthy protein and fiber-rich ingredients! It's vegan and gluten-free too.
Ingredients
1 tbsp olive oil
2 carrots (8 oz), diced small
2 celery ribs (4½ oz), diced small
1 medium onion, diced small
4 garlic cloves, minced
1-inch fresh ginger, minced
1 tbsp curry powder
1/2 cup dry red split lentils, rinsed
1/2 cup uncooked quinoa, rinsed
796 ml (28 fl oz) canned diced tomatoes
4 cups vegetable broth or water (or combination of both)
Salt and pepper, to taste
Fresh cilantro (optional)
Instructions
Using a large pot on medium-high heat, pour in olive oil, then add carrots, celery, onions, and a pinch of salt and pepper. Stir occasionally, until onions are translucent, about 4 minutes.
Add in the garlic and ginger and stir frequently for 2 minutes. Then add in the curry powder and stir until fragrant, about 1 minute.
Add the lentils, quinoa, diced tomatoes, and vegetable broth (or water). Give the mixture a good stir so that the ingredients are well distributed.
Bring the soup to a boil and reduce the heat to a simmer. Cover with a lid and let it simmer for 20-25 minutes, until vegetables are tender.
Remove 3 cups of soup and place in a high powered blender. Puree until smooth (careful as soup is hot) and stir back into the soup *(see first note).
Taste for additional salt and pepper. Top with cilantro if you like. Best served warm.
Notes
*This is a chunky and thick soup. Increase the amount of broth or water if you prefer a thinner soup. Or if you like, puree all the soup for a completely thick and creamy soup.
Makes about 9 cups of soup.
Nutritional calories represent one serving with eight servings total.
Recommended Products
As a participant in the Amazon Services LLC Associates Program, I only link to products that I use and/or highly recommend. As an Amazon Associate, I earn from qualifying purchases if you purchase through these links at no additional cost to you.
Nutrition Information:
Yield:

8
Serving Size:

1
Amount Per Serving:
Calories:

154
Total Fat:

2.5g
Carbohydrates:

26.8g
Protein:

6.3g