Updated with new pictures, updated instructions, and additional text (originally posted October 4, 2016).
Pad See Ew (also sometimes called Phat si-io, pad siew, or pad siu) is one of the dishes that I always seem to order from Thai restaurants.
For those of you unfamiliar, it is a stir-fried noodle dish consisting of the following key ingredients:
Wide rice noodles cooked in soy sauce (and a few other sauce components)
Protein of your choice (beef, pork, chicken, tofu)
Vegetables, usually gai lan (aka Chinese broccoli)
Optional: egg
Pad See Ew usually calls for fresh wide rice noodles can Sen Yai that you can find at most Asian supermarkets, but if you don't feel like making the extra trip (like me), you can substitute with any dried flat rice stick noodles, like Pad Thai noodles, that are more readily available at most supermarkets.
For this vegetarian version, I decided to replace the traditional meat-based protein with sliced cubes of firm tofu. As it stir fries in the wok, it won't fall apart and it absorbs the sauce wonderfully.
Then, I used two of my favourite vegetables: gai lan and Chinese eggplant.
Gai lan has large dark blue-green leaves that taste similar to broccoli, but a tiny bit more bitter. When stir-fried, the leaves get super tender and wilt, while the thicker stems maintain a tender-crisp texture.
If gai lan is not available, regular broccoli, broccolini, or bok choy would be great substitutes.
As for Chinese eggplant, it is longer and more slender than other eggplant varieties. It also has a delicate and slightly sweet flavour that lends itself well to the salty notes in the sauce.
Plus, the deep purple skin is very thin and edible while the insides are off-white in colour, semi-firm, and contains few seeds.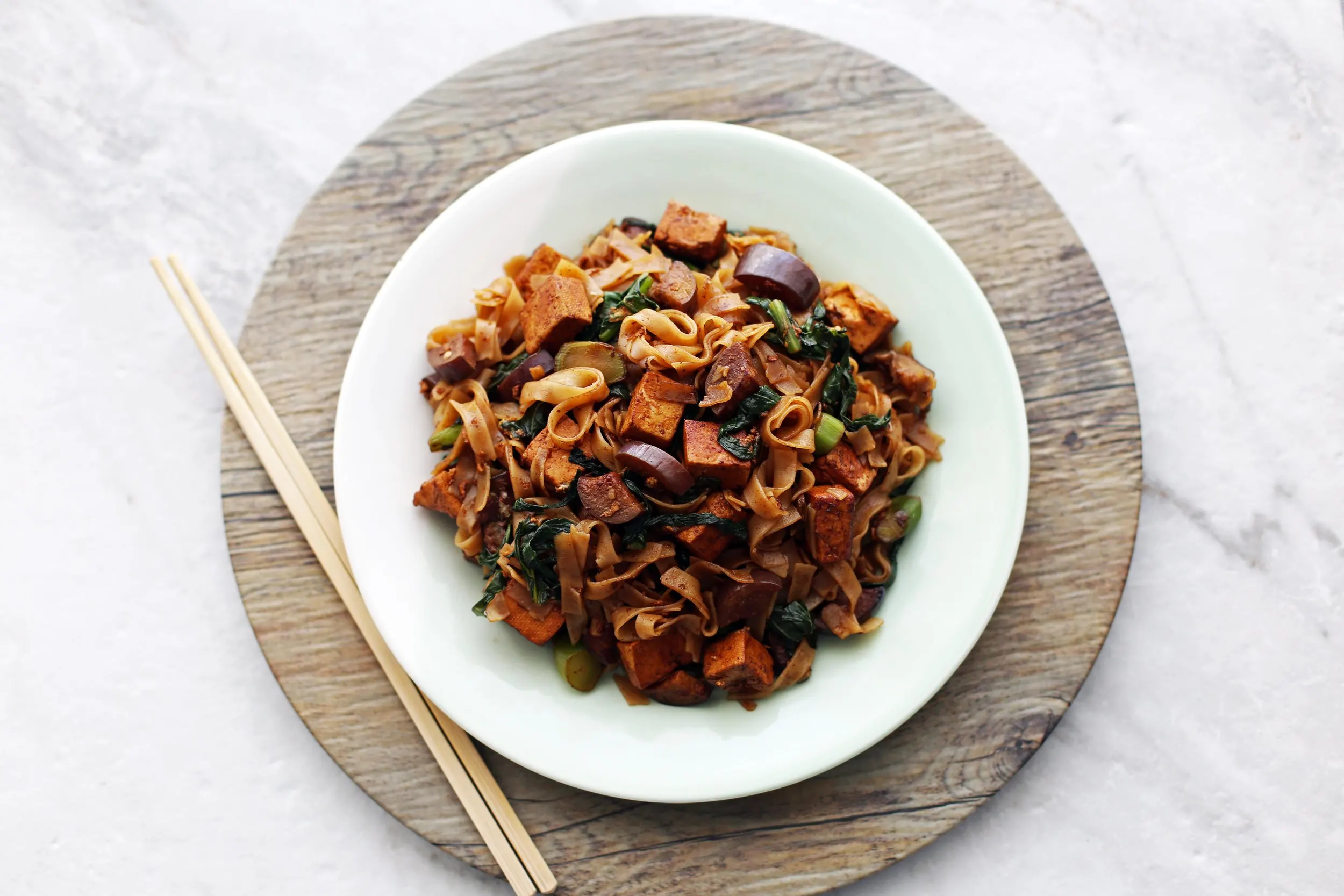 Finally, the sauce is heavy in rich, savoury flavours. Light soy sauce is lighter in colour, but more intense in flavour (i.e. saltiness) and aroma than dark soy sauce.
Dark soy sauce is aged longer than its lighter counterpart and tends to be richer and sweeter due to the addition of a sweetener like molasses.
In addition, I like to add vegetarian oyster sauce (it's made from mushrooms) for a great umami flavour, and fresh lime juice (and some sugar) to give the sauce a bright, citrus, sour flavour to balance out the saltiness of the other ingredients.
If you cannot find vegetarian oyster sauce, you can substitute with hoisin sauce or more soy sauce. If you're not vegetarian and just like to eat mostly meatless recipes you can go with regular oyster sauce, which has oyster extracts in it.
How do you make this Vegetarian Pad See Ew recipe?
(Full ingredient amounts and instructions available in the recipe card down below)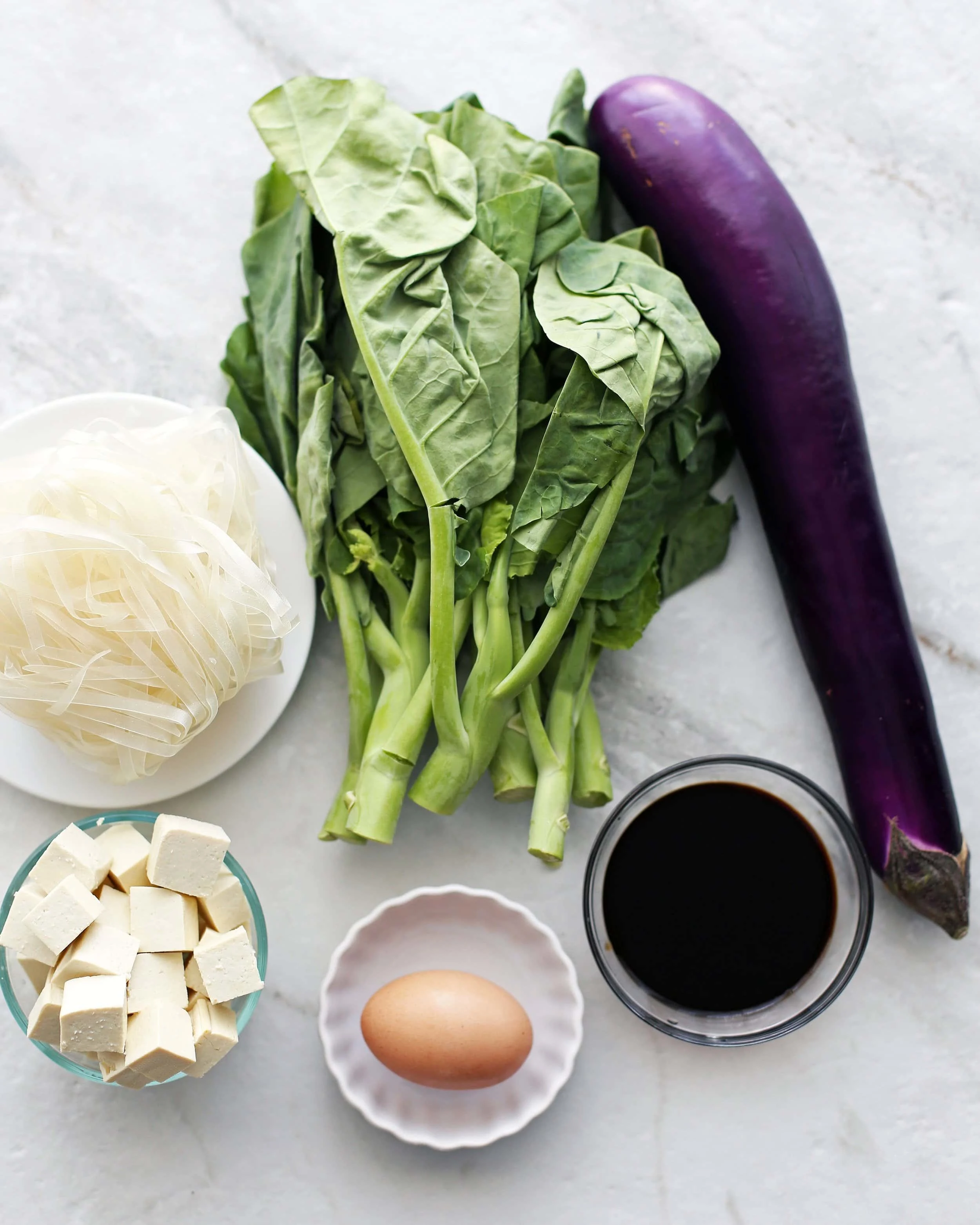 Tip: Make sure you prepare all the ingredients such as chopping up the vegetables and tofu prior to stir-frying as the process goes fast once you heat up the wok.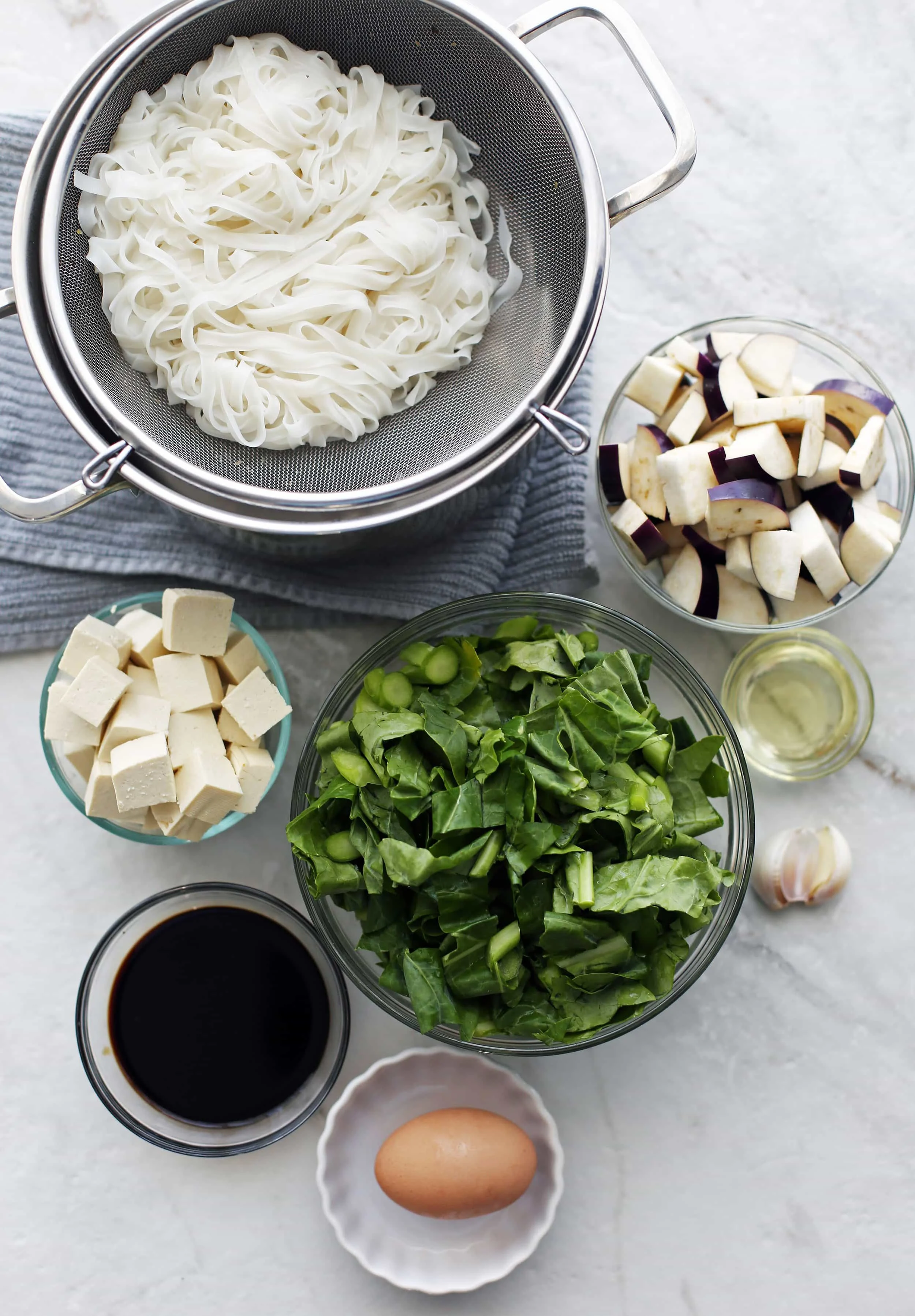 Cook noodles according to package directions. Prepare vegetables and tofu. Combine sauce ingredients in a separate bowl.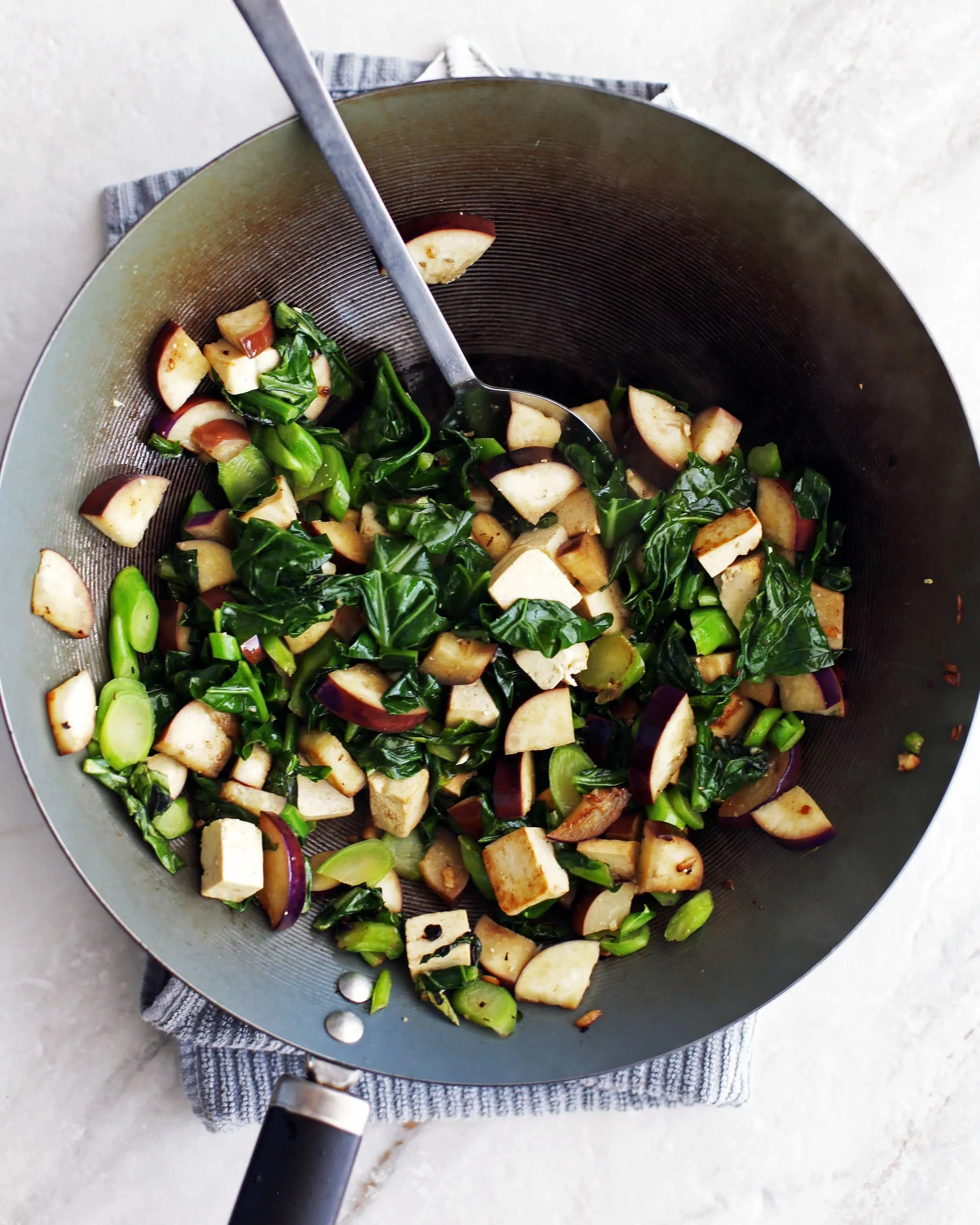 Heat a wok to high heat and add in your ingredients. First, brown the minced garlic in oil, then stir in the gai lan, eggplant, and tofu.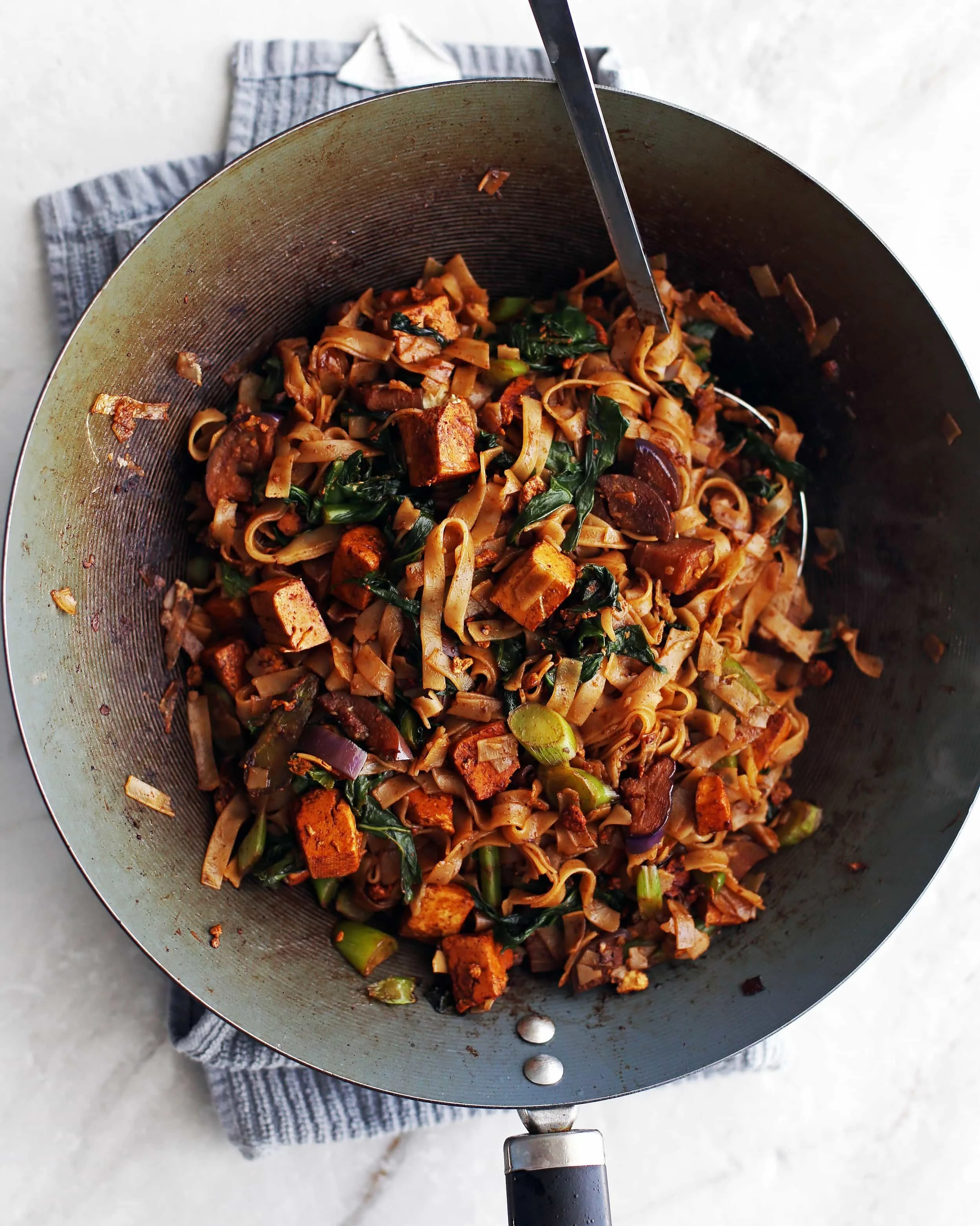 Scrabble in an egg. Then, add the sauce and cooked noodles. Toss everything together.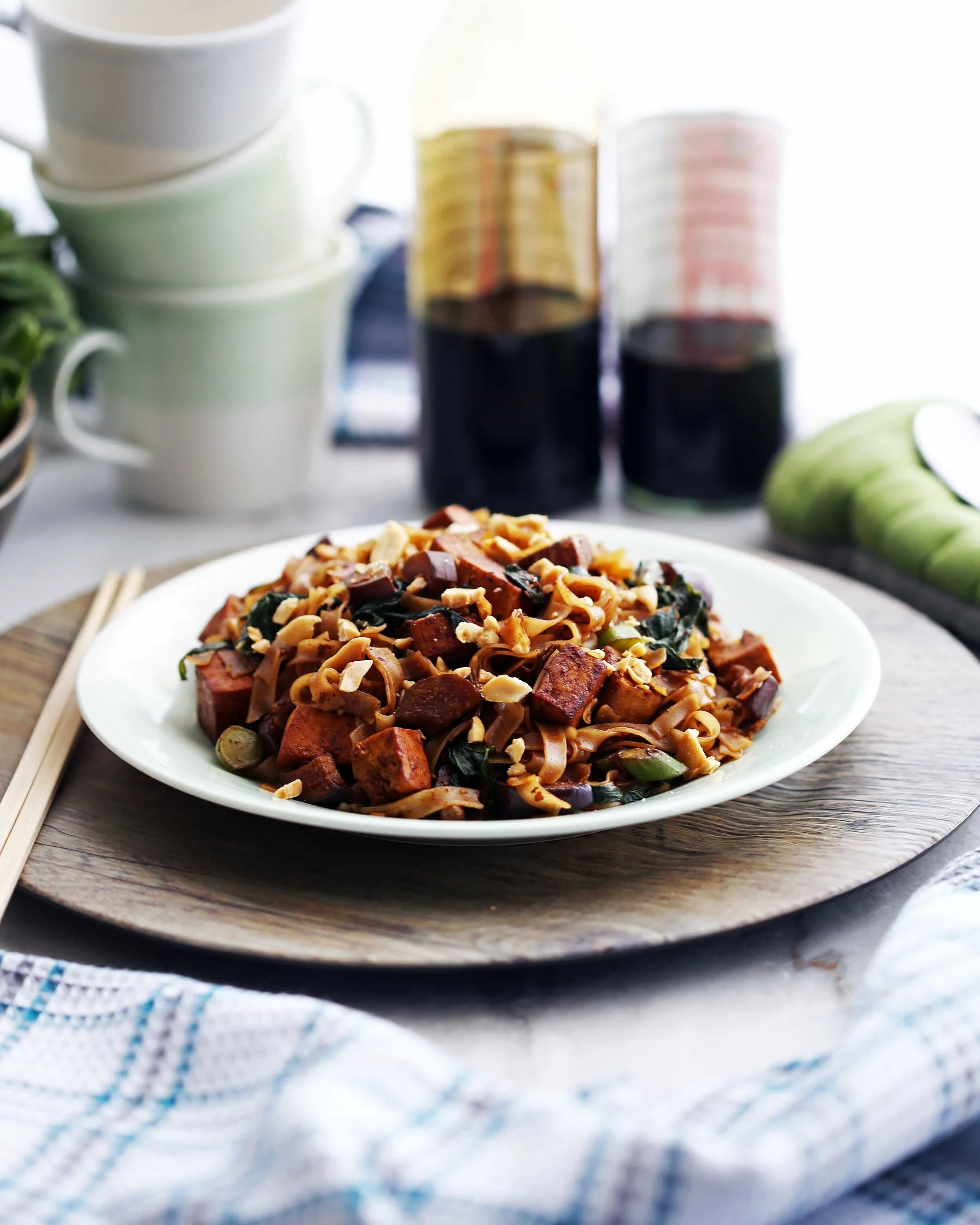 Top with chopped peanuts, Thai basil, and/or Sriracha sauce (not shown) if you like.
I hope you enjoy this recipe!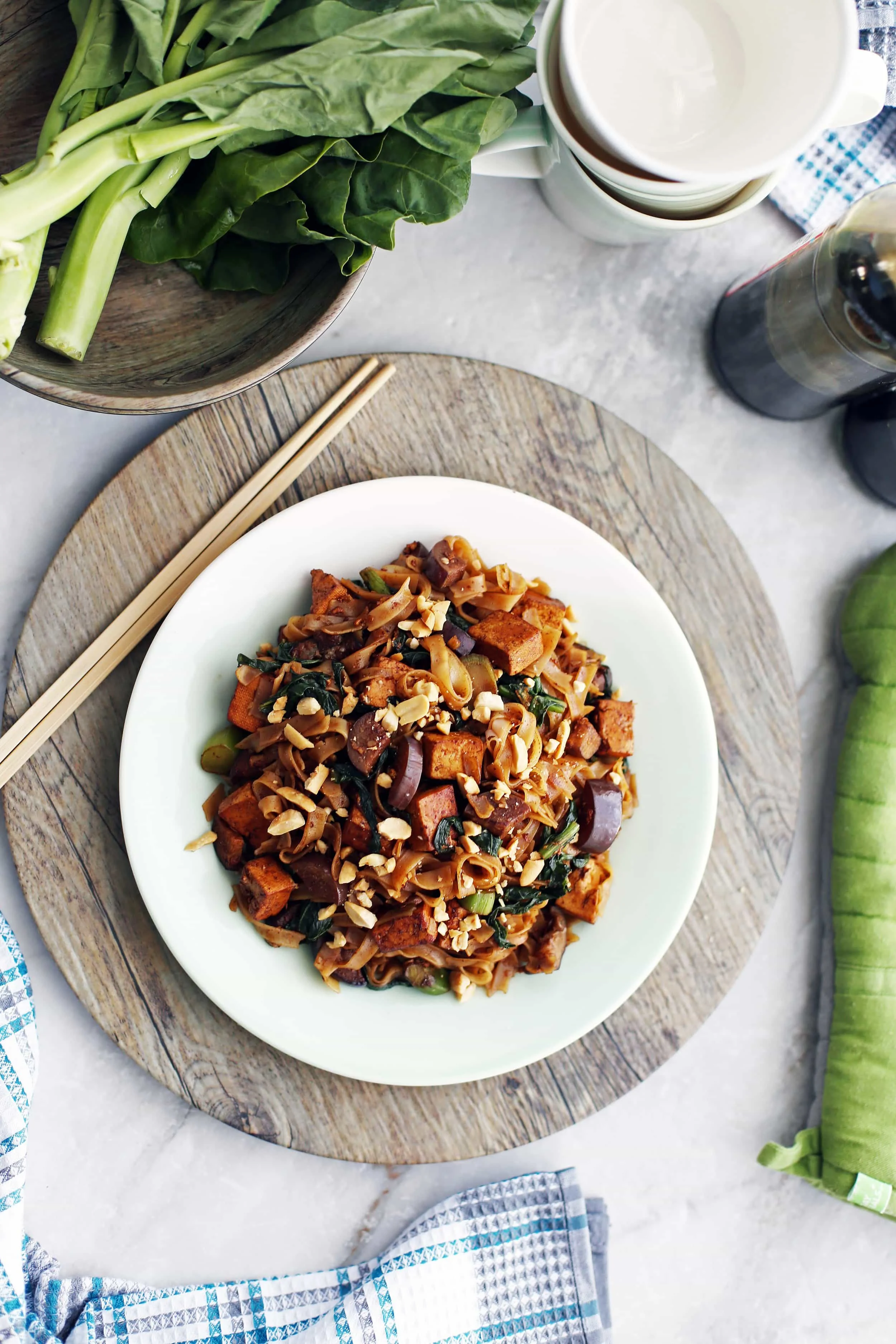 Did you make this simple vegetarian pad see ew recipe? Leave me a rating and comment down below or tag me on any of my social media. I'm @yay_for_food on Instagram. Please share your recipe pictures!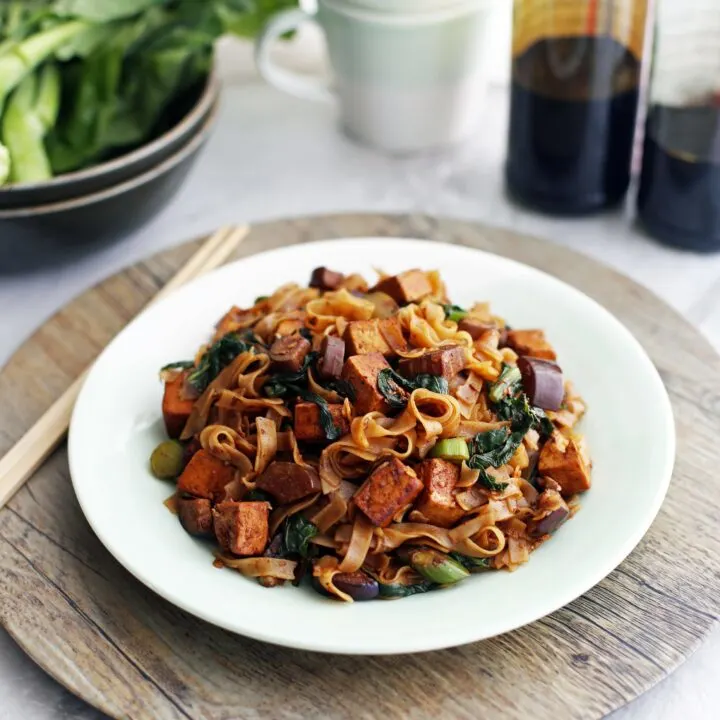 Vegetarian Pad See Ew with Tofu and Chinese Eggplant
Pad See Ew or Stir-Fried Soy Sauce Noodles is a popular Thai street food that's quick and flavourful! Check out this vegetarian version featuring tofu, gai lan, and Chinese eggplant.
Ingredients
For the Pad See Ew:
180g (6 oz) dried wide rice stick noodles
2 tbsp vegetable oil
3 garlic cloves, minced
250 g (8 3/4 oz) firm tofu, cut into 1-inch cubes
3 cups (7 oz) packed gai lan (Chinese broccoli), leaves chopped and stems sliced thinly
2 1/2 cups (5 oz) Chinese eggplant, sliced lengthwise and then quartered
1 large egg (optional)
For the sauce:
2 tbsp vegetarian oyster sauce (or hoisin sauce)
1 tbsp light soy sauce
1 tbsp dark soy sauce
1 tbsp fresh lime juice
1 tbsp white sugar
1 tbsp water
Optional toppings:
chopped peanuts
fresh Thai basil
Sriracha sauce
Instructions
Soak noodles in boiling water in a separate bowl until al dente or per package instructions while you prepare the other ingredients. Drain and rinse with cold water before setting aside.
Meanwhile, whisk together the sauce ingredients in a separate bowl. Set aside.
Using a wok at high heat, add the oil and garlic and stir until the garlic begins to slightly brown, about 30 seconds.
Add the tofu, gai lan, and eggplant. Stir fry until stems are tender-crisp, about 3-5 minutes.
Make a well in the wok to one side, crack an egg in it, and stir to scramble the egg.
Add the noodles and the sauce. Using tongs, carefully fold the ingredients until all ingredients are covered in sauce, about 2-3 minutes.
Top with crushed peanuts, fresh Thai basil, or Sriracha (for heat) if you like. Serve immediately.
Notes
Gai lan can be replaced by almost any other Asian leafy green such as bok choy or with regular broccoli or broccolini.
Recommended Products
As a participant in the Amazon Services LLC Associates Program, I only link to products that I use and/or highly recommend. As an Amazon Associate, I earn from qualifying purchases if you purchase through these links at no additional cost to you.
Nutrition Information:
Yield:

4
Serving Size:

1
Amount Per Serving:
Calories:

349
Total Fat:

11.5g
Carbohydrates:

48.1g
Protein:

14.4g