Updated with new pictures, additional text, and updated recipe write-up (originally posted July 13, 2017).
Make these delicious vegetable pancakes (fritters)! It's a great way to use up some vegetables and incorporate more healthy ingredients into your diet.
My dad has a little garden where he grows a variety of different vegetables, including massive zucchinis that are as long as my forearm and thick as both my fists put together.
I'm not sure if he is going for the record for largest organic zucchini grown in an urban garden in Western Canada, but he could be a contender if he really tried.
My mom has a habit of seeking out deals, particularly food deals. So, rest assure, if there is a deal on a 10-pound bag of carrots, they are being bought and I get to hear all about it and must take some home.
For this recipe, I bought the carrots and zucchini from the supermarket as the aforementioned zucchinis are not yet ready to be harvested and I guess, the carrots were not on sale.
When that day comes, I will be making this recipe again and again to use up the all the veggies.
These pancakes were a hit in our household of two (just me and the husband).
He described them as the best zucchini recipe he's ever had, saying that they taste like a vegetarian breakfast sandwich in one bite.
Eat this for breakfast, lunch, dinner, snacks… okay, anytime is great for this easy-to-make savoury pancake filled with a delicious mix of zucchini, carrots, and green onions!
I like to eat them with sour cream or Greek yogurt (for some extra protein). It's great finger food too with condiments as a dip!
I hope you enjoy this recipe for Easy Zucchini Carrot Pancakes!
How do you make this vegetable pancake recipe?
(Complete ingredient amounts and instructions available in the recipe card down below.)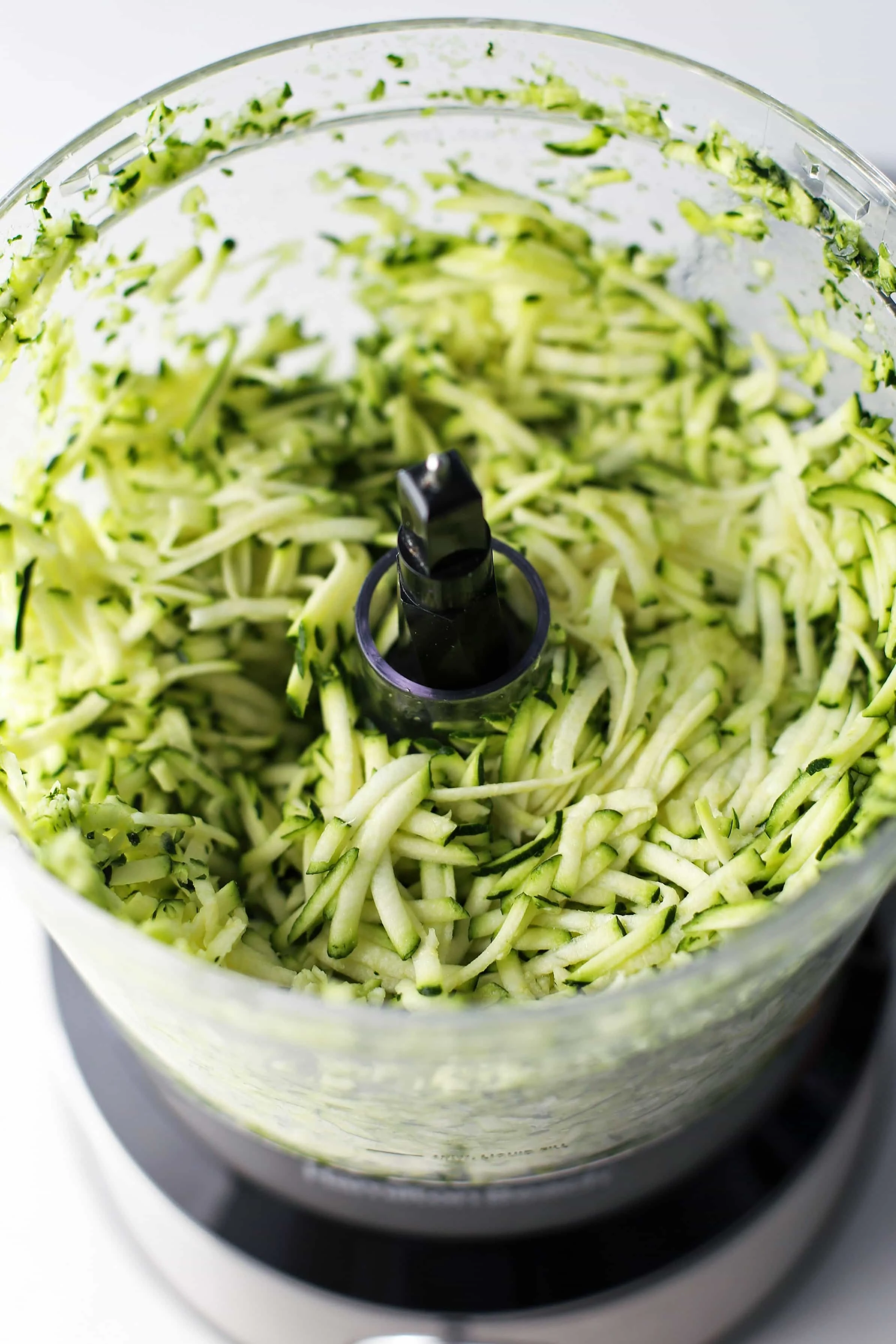 Shred the zucchini using a food processor fitted with the grater (shredder) disc (or by hand with a box grater).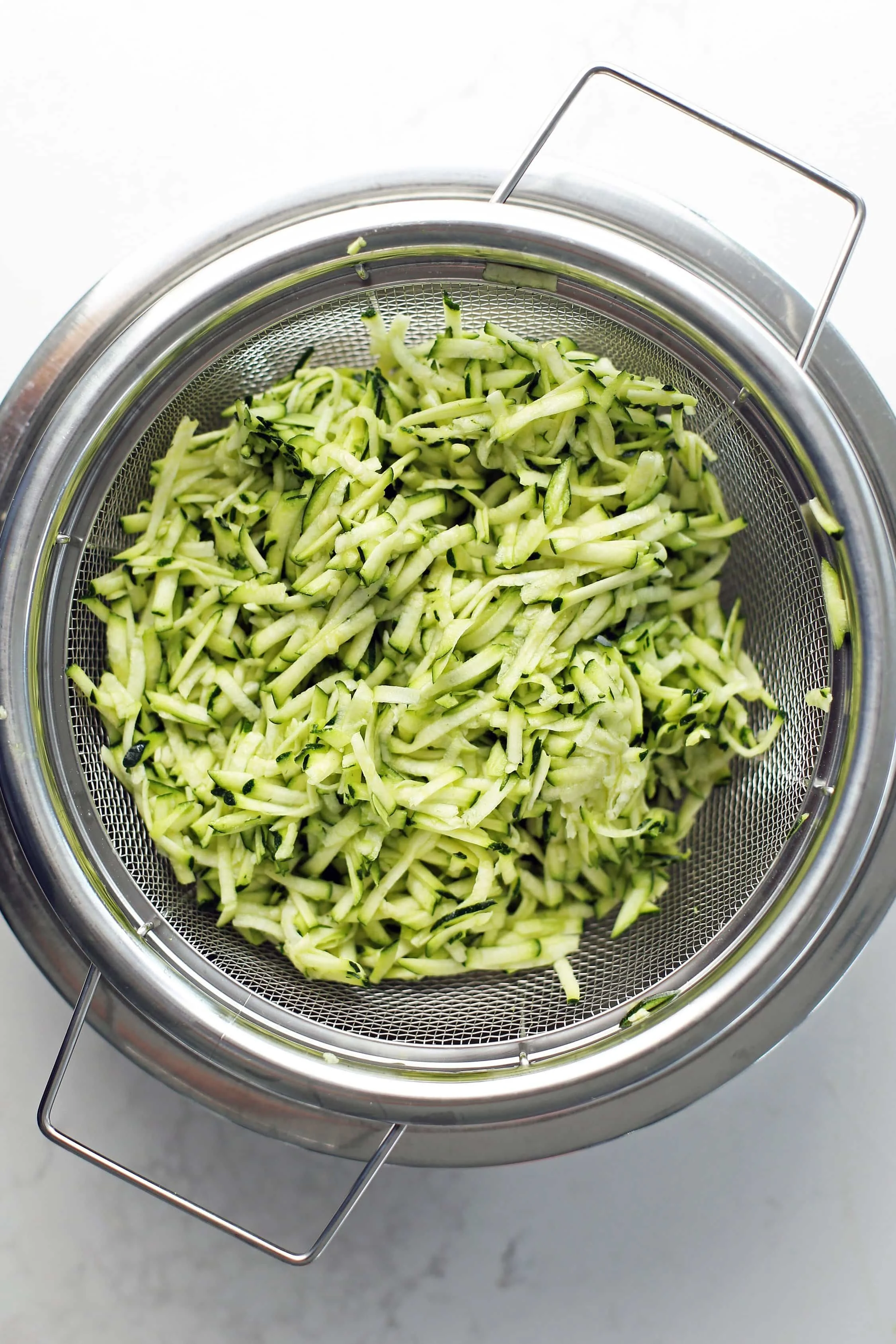 Place the grated zucchini in a strainer with a bowl on the bottom and gently toss with salt. Let it sit for 10 minutes to allow the liquid to draw out of the zucchini.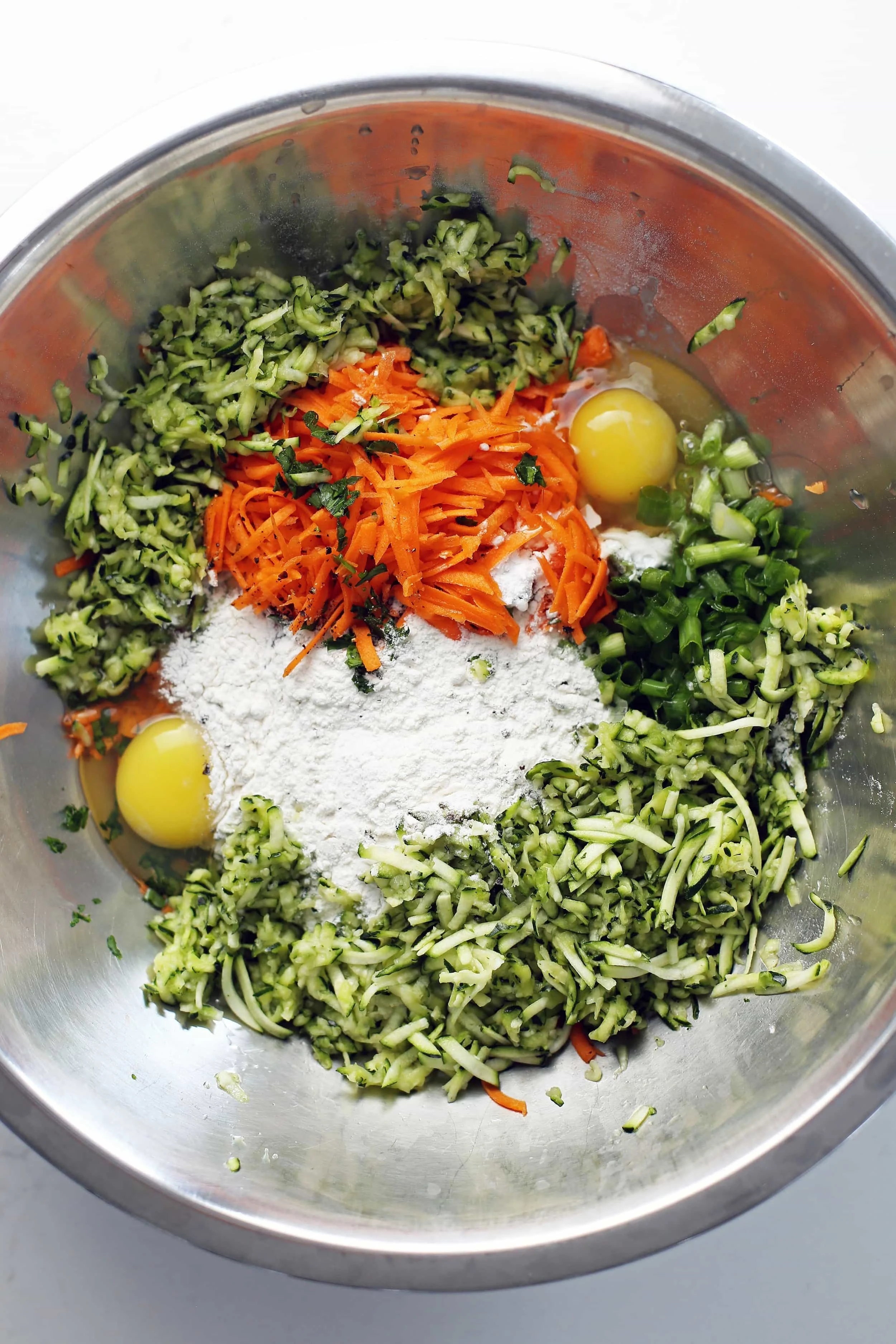 Prepare and place the remaining ingredients (except the oil, salt, and optional toppings) in a large bowl. The flour gives it more bulk, eggs bind it together, and the baking powder allows each pancake to puff slightly as it cooks.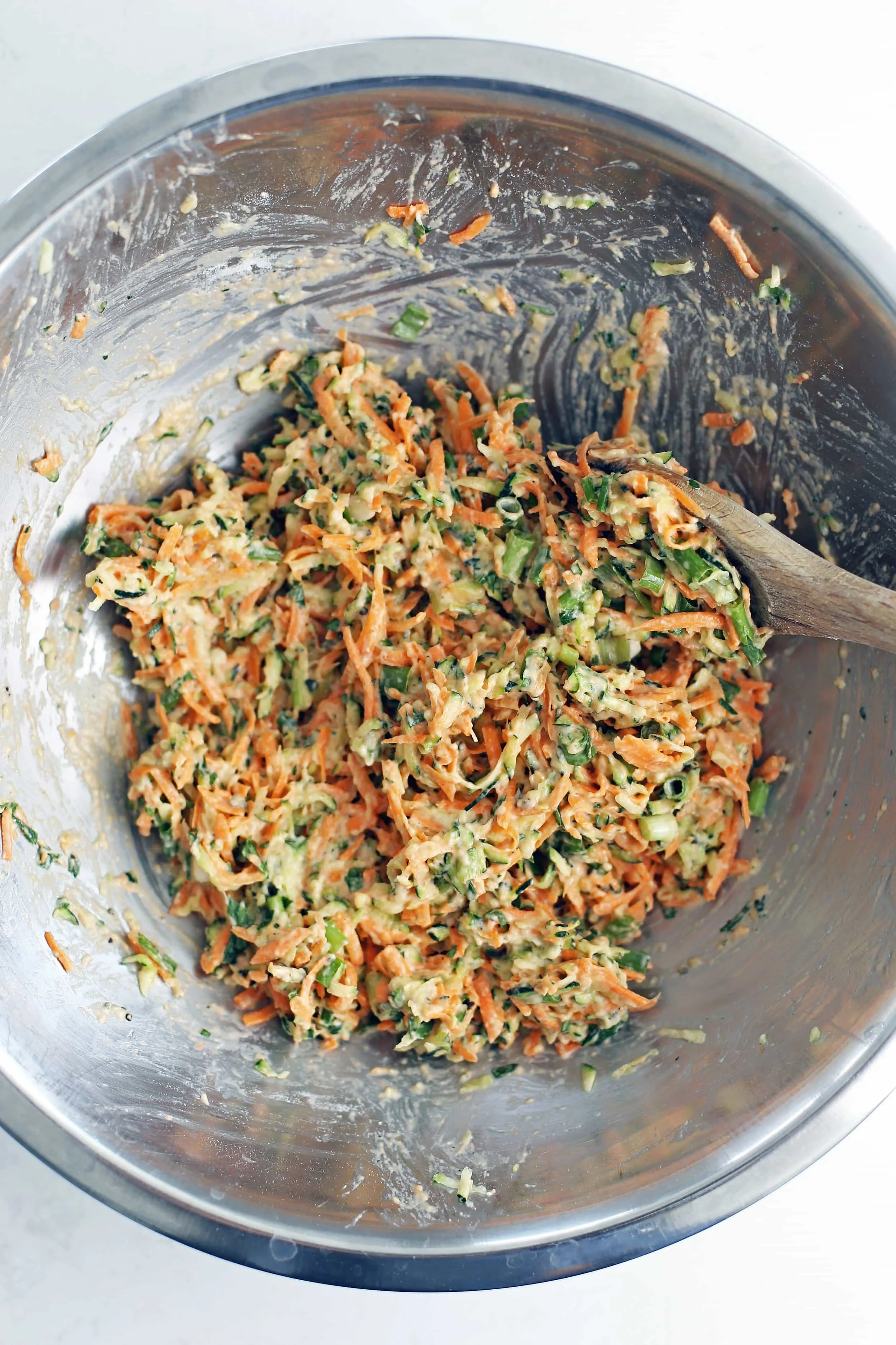 Mix all the ingredients together until well-combined.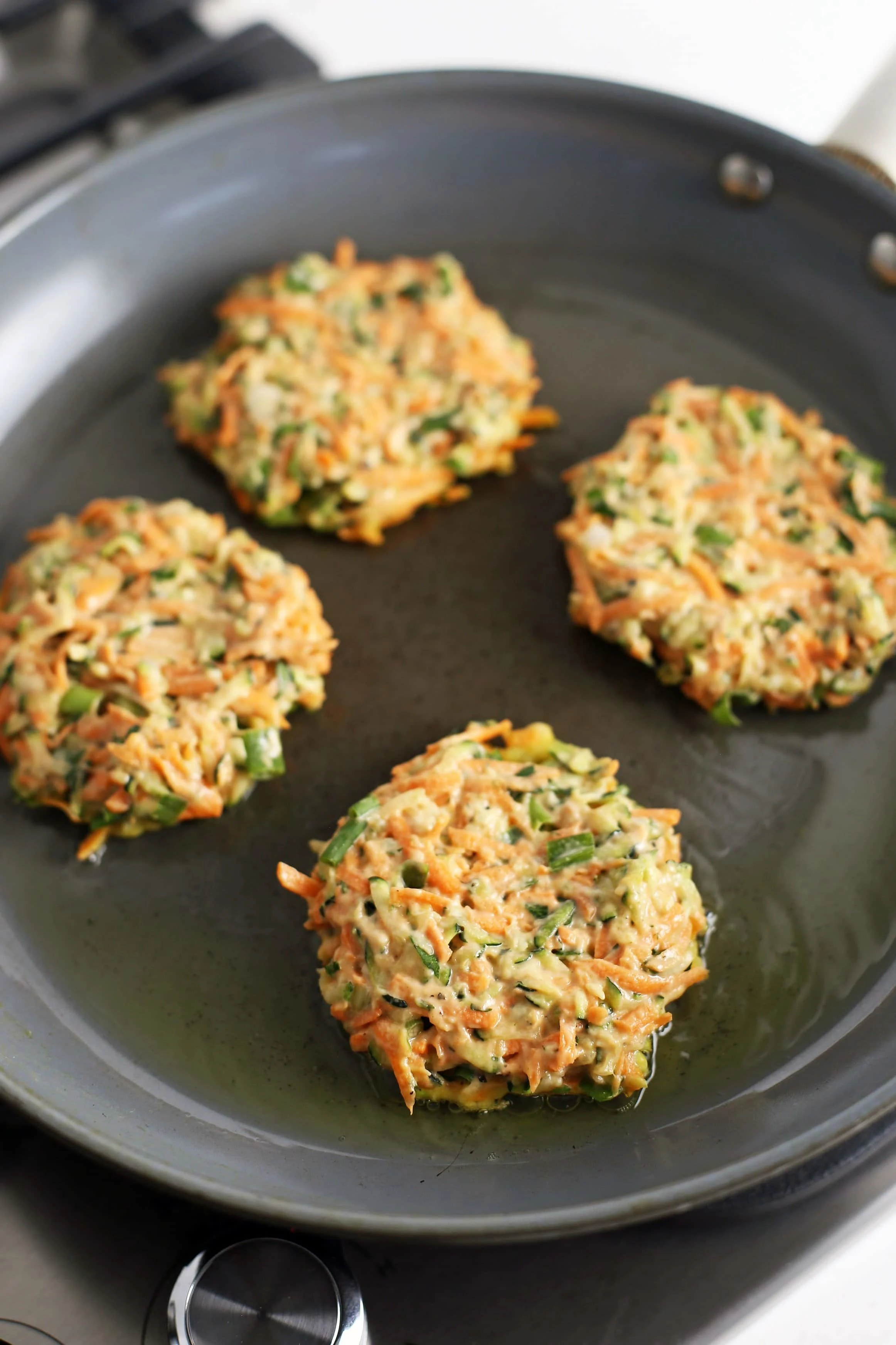 Heat a frying pan/skillet to medium-high heat and form the zucchini mixture into pancakes. Add oil and pan-fry 3-4 minutes on each side, until golden-brown.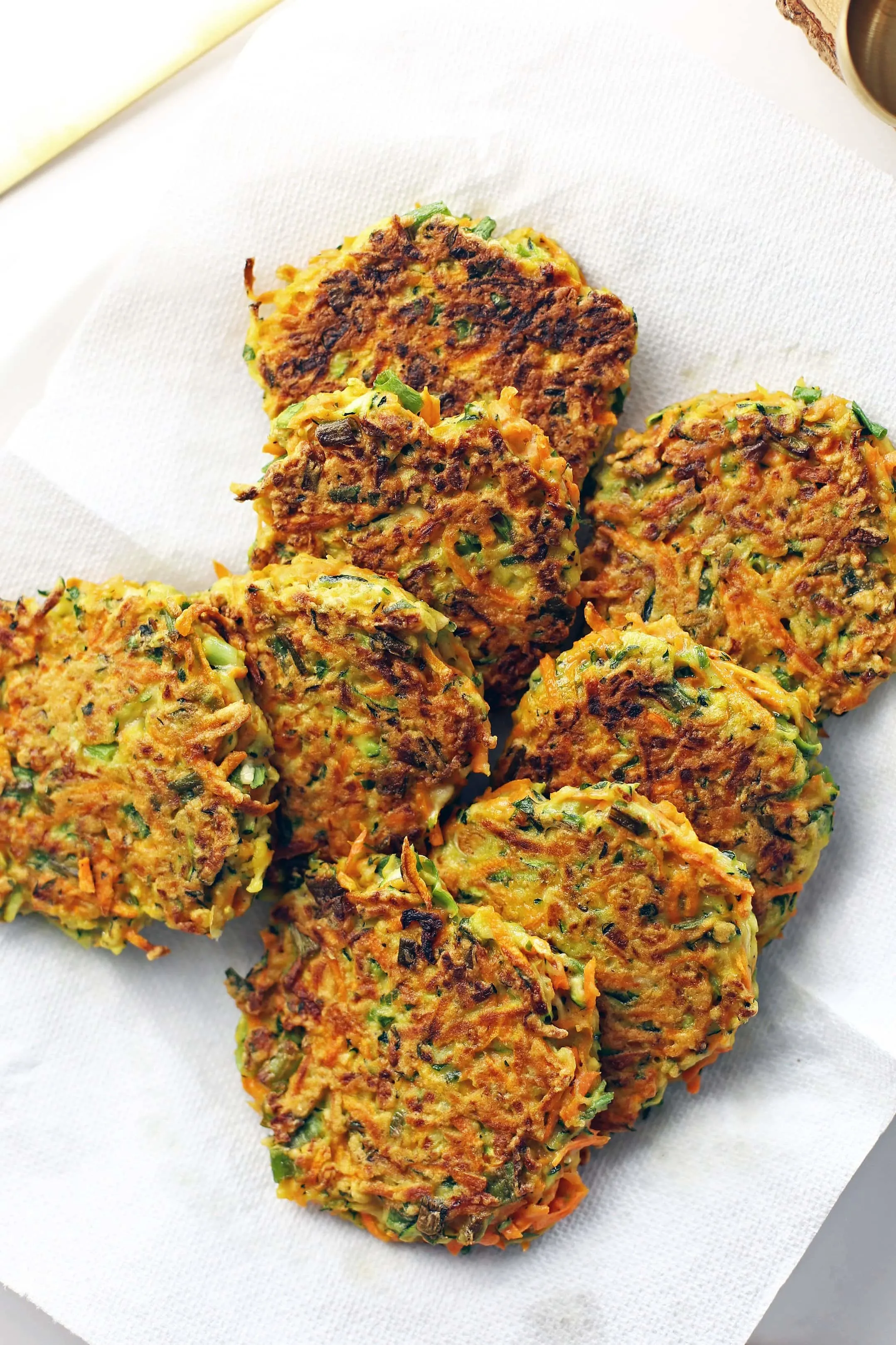 After the pancakes are cooked, place them on a paper-towel lined plate to remove excess oil. Best served immediately with sour cream or plain Greek yogurt. Enjoy!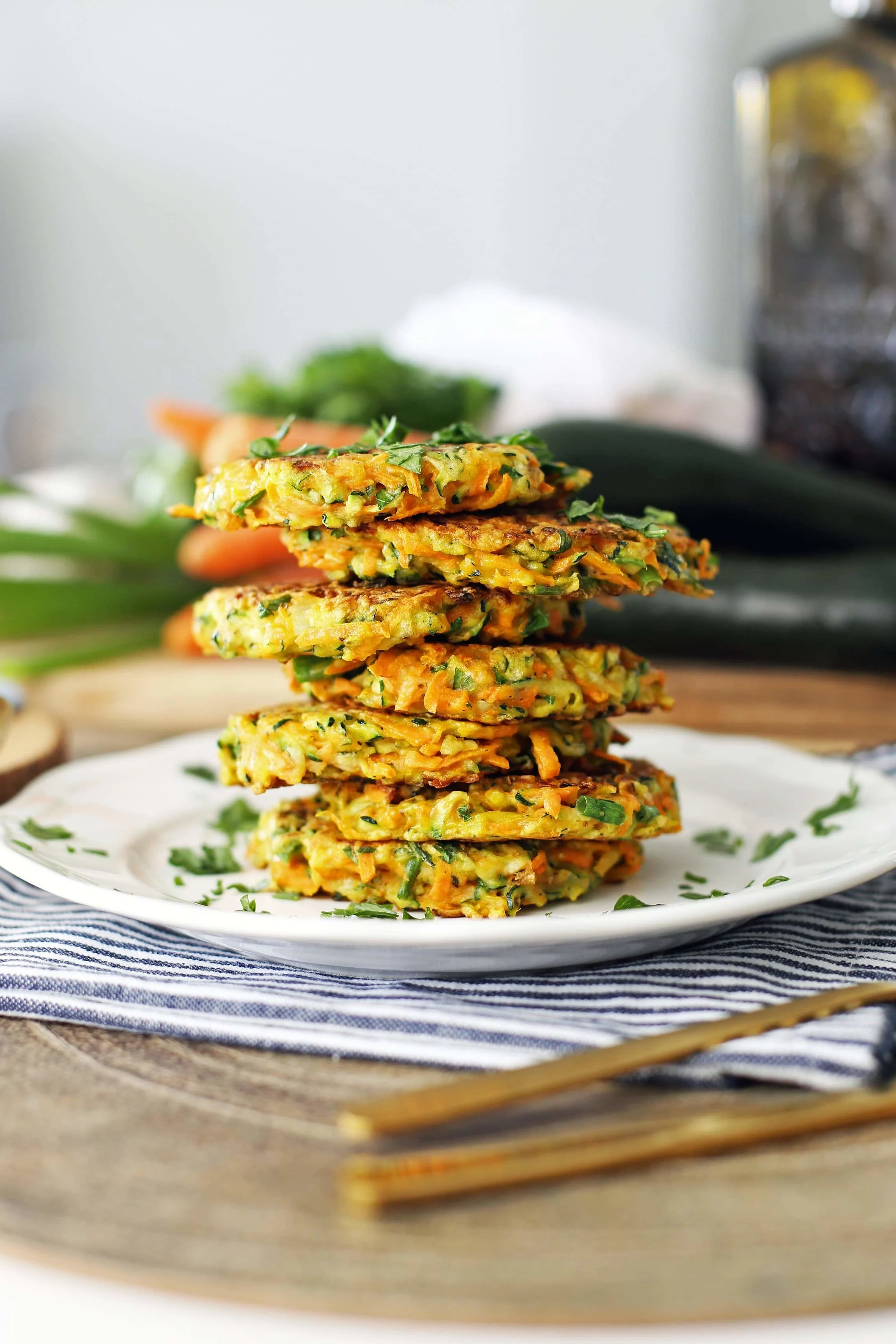 Looking for more recipes featuring zucchini? Check out these three easy recipes!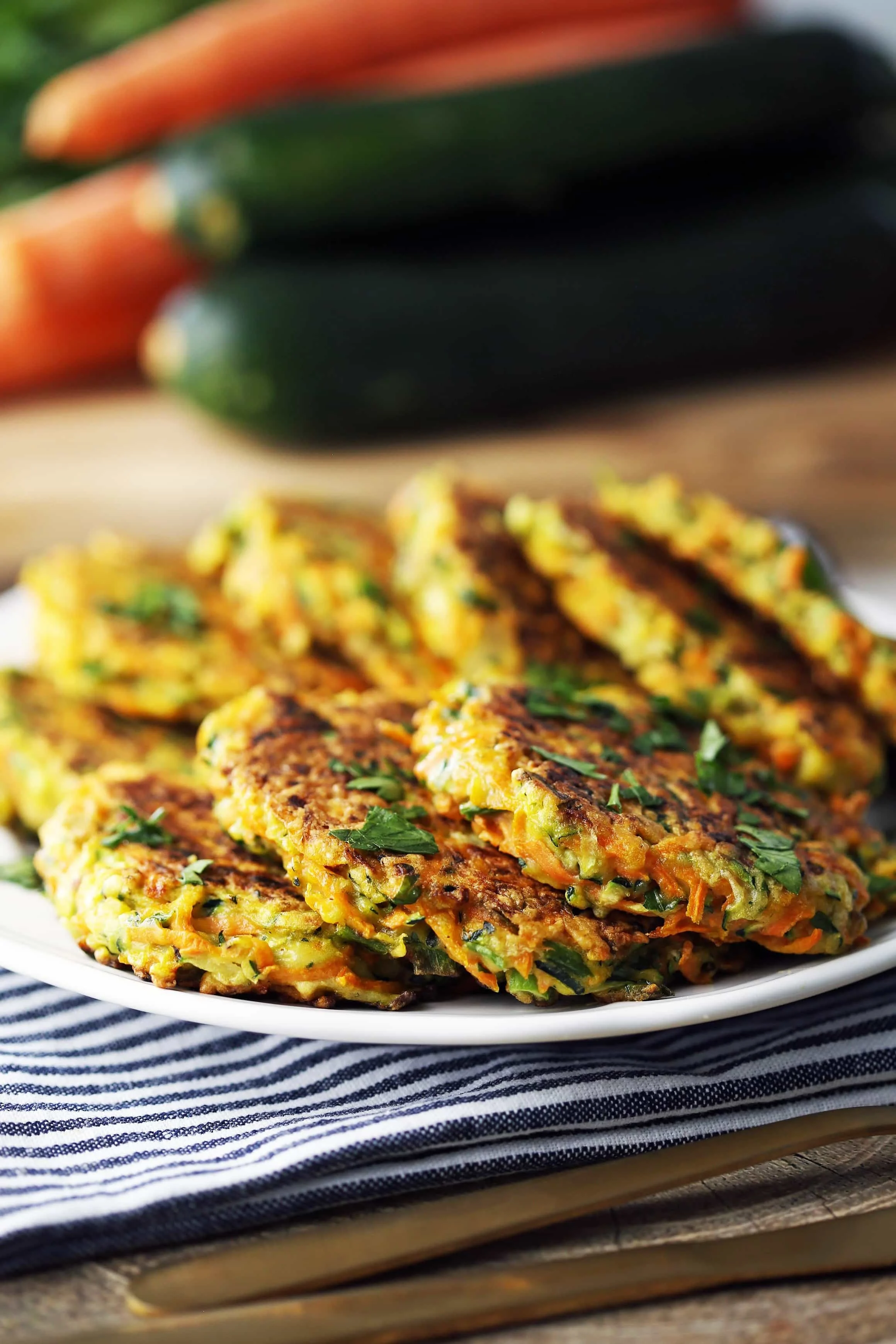 Overall, these zucchini carrot pancakes are:
Delicious: The tasty combination of fresh zucchinis and carrots (along with a few other ingredients) is so good!
Pan-fried on the outside and tender on the inside: It's easy to eat with a knife and fork or as finger food.
A wonderful breakfast, side dish, or snack option: These savoury pancakes are great to have for any meal!
Easily scalable: This recipe can be easily scaled up to make more or halved to make fewer pancakes.
Great to eat on their own, but also wonderful to serve with sour cream or plain Greek yogurt: The tangy flavour of either one of these condiments goes wonderfully with the vegetable sweetness of the zucchinis and carrots.
Vegetarian too!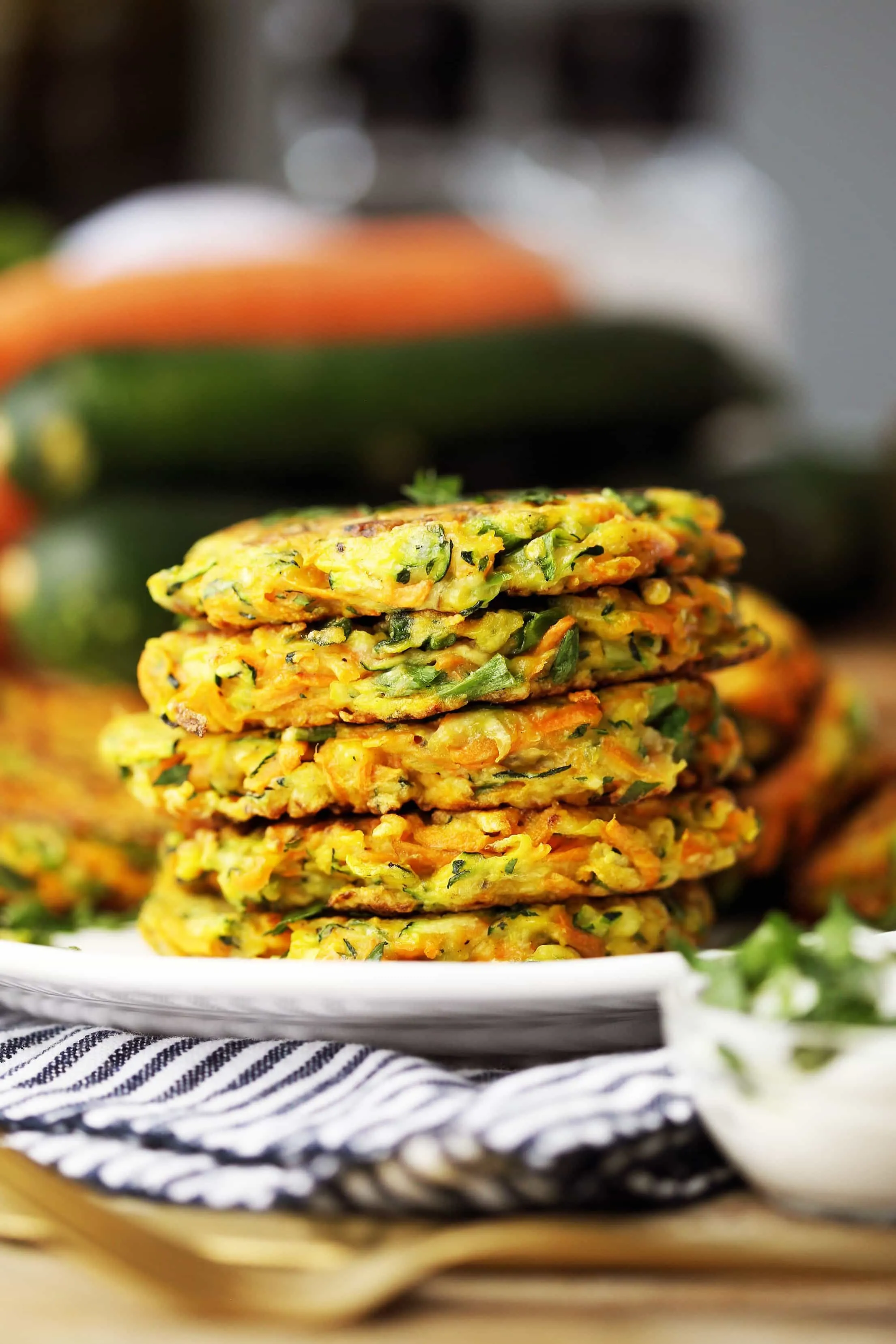 Did you try this zucchini recipe? If you did, please leave me a rating and comment down below or tag me on any of my social media. I'm @yay_for_food on Instagram. I'd love a picture!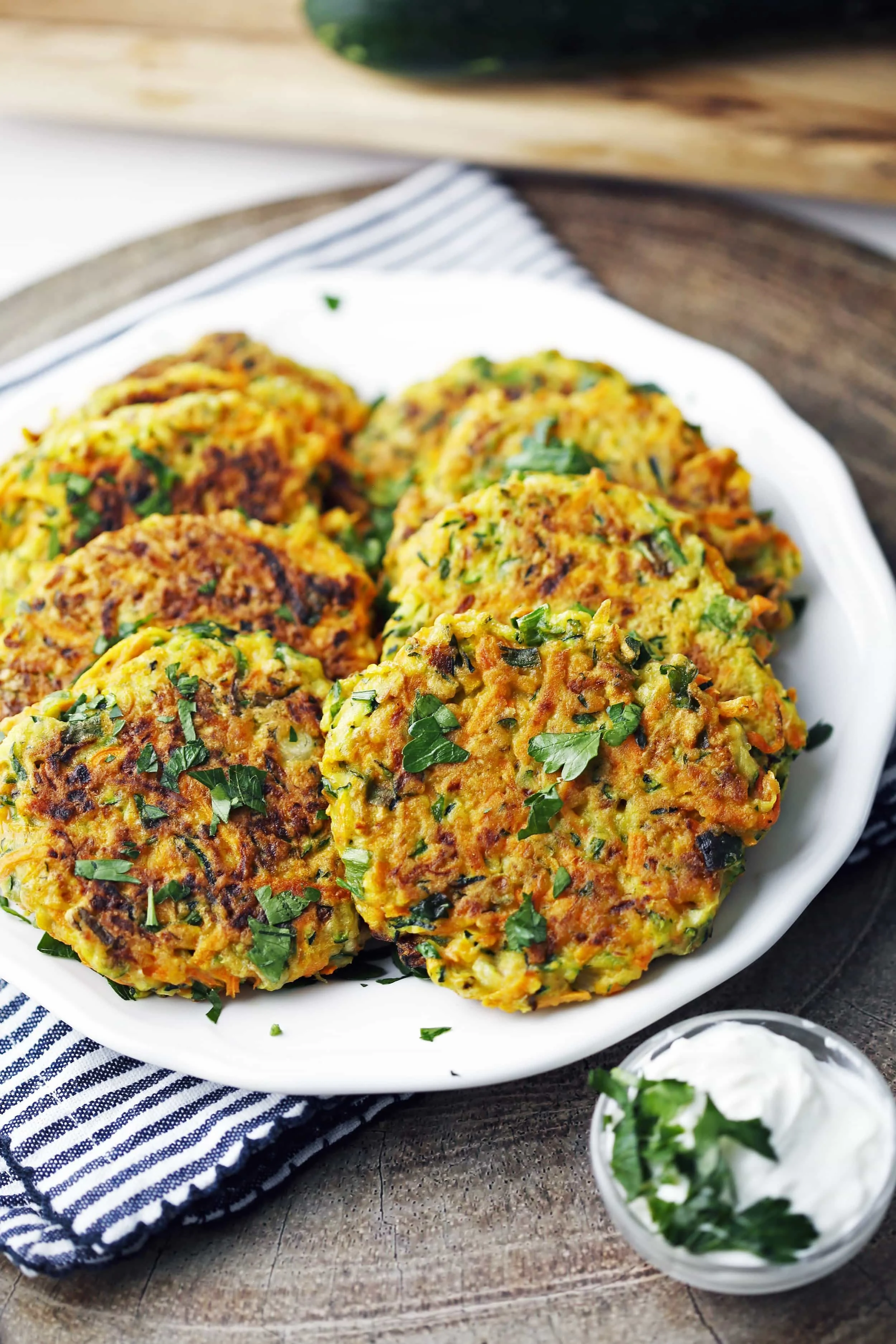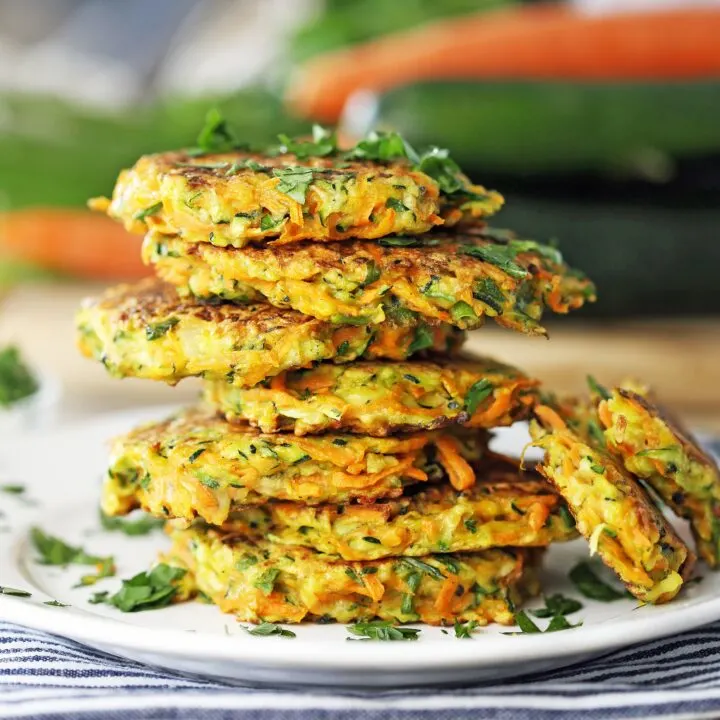 Easy Zucchini Carrot Pancakes
Crispy and pan-fried on the outside with soft, vegetable-filled insides! These Zucchini Carrot Pancakes are a tasty and colourful dish that can be served for breakfast, lunch, or as a snack!
Ingredients
2 cups (packed) zucchini, grated
2 cups (packed) carrots, peeled and grated
½ cup green onions, sliced
1 tbsp fresh parsley, chopped
2 eggs, beaten
1 cup all-purpose flour
1 tsp baking powder
1 tsp salt
½ tsp black pepper
Olive oil for frying
Optional toppings:
Sour cream or plain Greek yogurt
Instructions
Using a food processor with a grater (shredder) attachment (or a box grater), shred the zucchini and place it in a fine mesh strainer (with a bowl below). Sprinkle salt over the zucchini and give it a gentle toss. Set aside for 10 minutes.
In the meantime, prepare and measure the other ingredients (except the olive oil, salt and optional toppings *(see first note) and place them in a large bowl.
Then, using your hands, squeeze the grated zucchini to drain excess liquid (it's okay if it is not completely dry) before adding it with the other ingredients.
Combine the ingredients until well incorporated.
Heat a large skillet on medium-high heat and add a tablespoon of olive oil, swirling the skillet to cover the surface. Scoop ⅓ cup of the mixture in the pan and gently press down with a spatula to form a pancake **(see second note). Repeat the process until the pan is filled with pancakes, but the pancakes are not touching.
Pan-fry until golden-brown, about 3-4 minutes on each side. Transfer to a plate lined with a paper towel. Add another tablespoon of the olive oil to the skillet and repeat the frying process until the mixture runs out.
Garnish with additional fresh parsley and serve with sour cream or plain Greek yogurt if you like. Best enjoyed immediately.
Notes
*Since the zucchini is already salted to draw out the liquid, you don't need to add additional salt to the mixture, just black pepper. You can always add salt (to taste) after you cook it.
**One-third cup of mixture per pancake yields 8 pancakes. Feel free to adjust the quantity to get the size of pancake that you want. You can also form pancakes all at once prior to pan-frying.
Nutritional information represents one zucchini carrot pancake for a total of eight pancakes and excludes optional ingredients.
Recommended Products
As a participant in the Amazon Services LLC Associates Program, I only link to products that I use and/or highly recommend. As an Amazon Associate, I earn from qualifying purchases if you purchase through these links at no additional cost to you.
Nutrition Information:
Yield:

8
Serving Size:

1
Amount Per Serving:
Calories:

108
Total Fat:

3g
Saturated Fat:

1g
Trans Fat:

0g
Unsaturated Fat:

2g
Cholesterol:

48mg
Sodium:

379mg
Carbohydrates:

14g
Fiber:

1g
Sugar:

1g
Protein:

6g